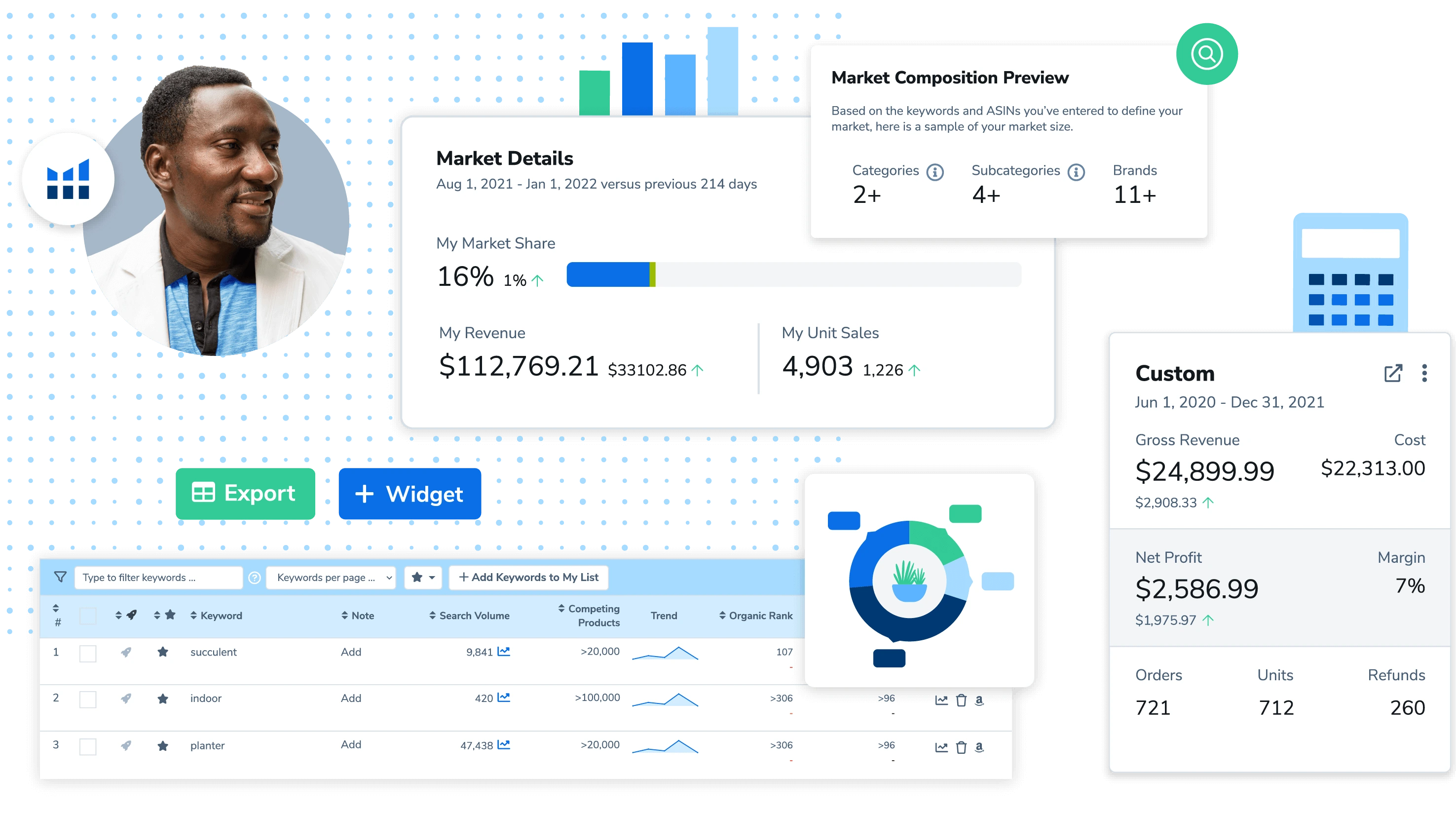 Amazon Seller Analytics Tools
Get the data-driven insights you need to scale your business on Amazon.
Get Started with Analytics
Use advanced analytics to become the top seller in your niche.
Sign Up
Analyze your marketplace
Fight off the competition
Receive insights that matter
FAQs
Amazon seller analytics tools are first party and/or third party software solutions that provide Amazon sellers with pertinent information on the performance of their product listings.
Amazon provides its sellers with a platform (called Amazon Brand Analytics) to see important data points on the performance of their product listings. It includes an Amazon Search Terms Report to see how many clicks and conversions your product listing is receiving for specific keywords, a Repeat Purchase Behavior Report to see how many first-time and repeat buyers you have for a given product, a Market Basket Analytics Item Report to see the other items commonly purchased during the same transaction when they buy your product, along with a few additional reports.
Beginning in 2020, Amazon Brand Analytics (ABA) is free to all registered Brand owners. However, you do need to go through the Amazon Brand Registry steps in order to see this in your account.
In order to access Amazon Brand Analytics, you have to login, click on 'Reports', and click on 'Brand Analytics'. Brand Analytics is the primary dashboard that allows you to access all of the Amazon seller reports they provide.
While Amazon Brand Analytics is extremely helpful, there are a few tools that are necessary to analyze product listing performance that ABA doesn't provide.
Keyword Tracker enables you to see how your product listing is performing for your keyword targets, which can signal if you need to re-optimize your listing.
Market Tracker is necessary for seeing your products' overall market share.
Profits enables you to track sales metrics (gross revenue, net profit, orders, units, refunds, etc.).
While you don't necessarily need these tools, they dramatically improve your ability to make informed decisions and maximize your Amazon Store's profitability.
What you should look for in an Amazon Brand Analytics tool is something that will provide you with meaningful insights that will help you see the full picture of your product listings' performance. Amazon Brand Analytics provides you with roughly 60-70% of the full picture, but you'll need a keyword tracker to see how well each product is performing for important keywords, a market tracker to see how you stack up against the competition for those sets of keywords, and a sales tracker to understand the financial health of your products. All of which Helium 10 provides.
You need an Amazon analytical tool because it will enable you to identify which products are performing well and can be left alone, as well as identify underperforming products that may need optimization or to be removed all-together from your store to remain profitable.
The best Amazon analytics tool for Amazon sellers won't be an individual tool, but a combination of tools such as Amazon Brand Analytics and Helium 10's Profits, Keyword Tracker, and Market Tracker. These tools will provide you with a comprehensive look into areas of your Amazon Store that are performing well, but also enable you to identify what's underperforming and may need some improvements.
Helium 10's Full Suite Pricing
A plan for every seller's experience level
14,515
People signed up last week.
Start Using Helium 10's Analytics Tools Today!
If you'd like to try out our Analytics tools for yourself, sign up to check it out today!
Sign Up
The Details
What to Look for In an Amazon Analytics Tool
Are you an Amazon seller suffering from "analysis paralysis?" Amazon analytics is a monolithic task, but don't get bogged down by the details! Details are what the Amazon game is all about, after all. Details are your arsenal, and Helium 10 is your utility belt. However, a successful product launch is only the first step. Your product launch is your Big Day, but it isn't going to guarantee your continued success. It's the Big Data that follows that makes or breaks you.
With the right analytics strategies, you'll save yourself from the proverbial sharks already circling your slice of the pie. Fight off those sharks, analyze the battlefield, get the right insights, and you'll be on your way to success. But how do you know you are getting the right help? A good Amazon Analytics tool should cover 5 principal components, enabling you to easily:
Monitor keywords
Monitor market size
Spy on your competitors
Keep your inventory flowing
Strategize and manage your money
The Best Amazon Analytics Tools
Helium 10 provides some of the best Amazon analytics tools on the market. The tools are largely geared towards helping you achieve a few main things. #1: Appear on page one of the search results. This is essential, as you need eyeballs on your products, or else you will never maintain a high rate of growth beyond launch. You need to find a way to get your product in front of customers, then entice them to follow you. Only a handful of people scroll past the first few listings in the search results; fewer still make it to the second page. Things like discounted promotions, securing outside traffic, and Amazon Sponsored Ads, all covered by Helium 10 tools, will greatly aid you in boosting your placement in the search results. #2: Keep a close eye on everything and anything in your product space like a data warehouse. For example, Market Tracker alerts you to niche sellers trying to sneak up and dethrone you and your product. #3: Receive advanced tracking & big data. Helium 10's tool Profits is an all-in-one financial analytics tool that will assist you in tracking: Orders, ROI, profits, inventory, and much more.
Keyword Tracker
Never lose track of product rankings again with this Amazon keyword tracker. Keyword Tracker's intuitive dashboard helps you get a handle on all your organic and sponsored keyword positions in real-time.
Big advertising decisions often stem from the most current ranking metrics. Use Keyword Tracker's "Boost" feature to check product ranking data every hour for 10 days.
Market Tracker
Helium 10's Amazon market research tool gives you the bird's eye view, health report, and competitor analysis of your market niche. Create your own targeted markets to view all crucial competitor data such as new entrants to the market, product reviews, estimated sales, pricing, BSR, revenue and more.
Market Tracker effectively gives you a detailed look into your market's past to give you the inside lane on its future. We won't call it magic, but it's technologically pretty close.
Profits
Think of Helium 10's Amazon sales tracker as the stethoscope to listen to the heartbeat of your FBA business.
Analytics for gross revenue and net sales (after estimated costs) for today, yesterday, the last seven days, or any custom time frame you want.
Discover which of your products are trending upwards or downwards based on real sales data.
Receive dynamic forecasts for all SKUs with restocking suggestions, inventory heat maps, and create custom purchase orders.
---