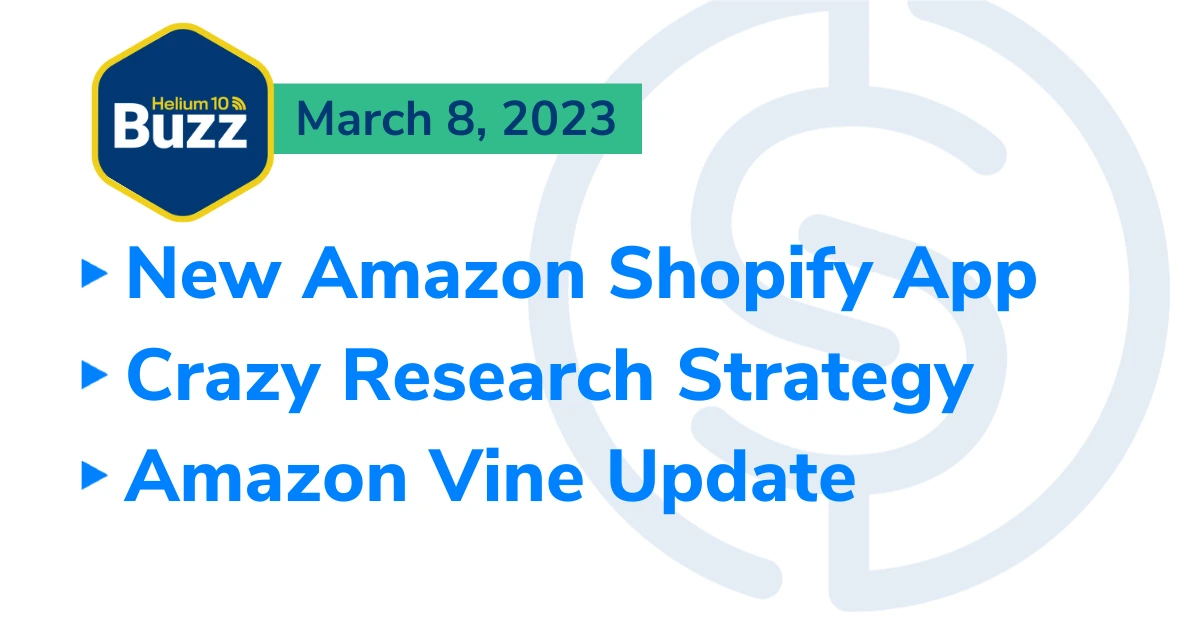 Helium 10 Buzz 3/8/23: New Amazon Shopify App | Crazy Research Strategy | Amazon Vine Update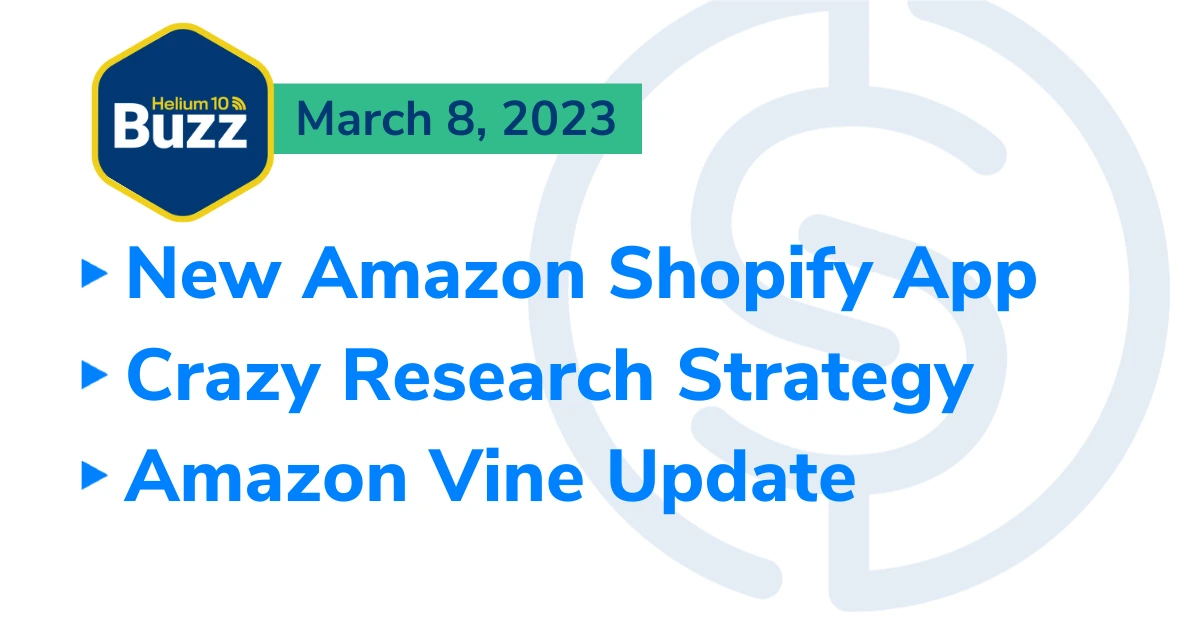 We're back with another episode of the Weekly Buzz with Helium 10's Chief Brand Evangelist, Bradley Sutton. Every week, we cover the latest breaking news in the Amazon, Walmart, and E-commerce space, interview someone you need to hear from, and provide a training tip for the week.
 
Walmart will derive more profit from services, ad sales in next 5 years –CFO 
https://www.reuters.com/business/retail-consumer/walmart-will-derive-more-profit-services-ad-sales-next-5-years-cfo-2023-03-07/
 
Mark your calendar: Amazon Accelerate Seller Conference is September 13-14, 2023 
https://sell.amazon.com/blog/amazon-accelerate-registration
 
Amazon is set to launch its own NFT marketplace next month, with the option of having digital collectibles linked to physical goods delivered to customers' doorsteps, according reports. 
https://uk.finance.yahoo.com/news/amazon-launch-nft-marketplace-crypto-cryptocurrency-bitcoin-ethereum-web3-blockchain-112832271.html
 
Amazon Business announced the launch of 3-Way Match on the Amazon Business mobile app to help business customers improve their smart business-buying strategies and automate reporting. 
https://press.aboutamazon.com/2023/3/amazon-business-launches-3-way-match-for-mobile-app
Crush Your Goals by Becoming Part of an Elite Community of Sellers. Sign up for Helium 10 Elite today! And remember: Registration is only open for a limited time, so you've got to act now.
 
Our episode continues with a clip from the TACoS Tuesday program where our guest, Mansour answers a question about a PPC strategy when doing product launches. And lastly, Bradley shares this week's Pro-Training tip on how to use Helium 10's free URL-builder tool called Gems.
In this episode of the Helium 10 Weekly Buzz, Bradley covers:
01:30 – Amazon Shopify App 
02:40 – New FBA Limits 
03:50 – Walmart Growth 
05:15 – Amazon Accelerate 
06:10 – Vine Update 
08:00 – Amazon Compliance 
08:55 – Amazon NFT Marketplace 
11:35 – Amazon Business Update 
13:00 – Sign Up Now For Helium 10 Elite 
14:30 – TACoS Tuesday: PPC Strategy When Launching Products 
16:45 – Pro-Training Tip: How To Use The URLs Inside helium10.com/gems
Transcript
Bradley Sutton:
Hello everybody, and welcome to another episode of the Serious Sellers Podcast by Helium 10. I am your host, Bradley Sutton. This is a show that is our Weekly Buzz, where we give you a rundown of all the important news that's going on in the e-commerce world. We give you training tips of the week that will give you serious strategies for serious sellers of any level in the e-commerce world. And we also give you interviews with people in the industry you need to hear about. Let's go ahead and see what's buzzing. We've got a jam-packed episode today. Whew. You know, sometimes it seems like some weeks there's like zero as far as news out there, but there's a few different news bys that are, I think, important for sellers. Some, some compliance things. Amazon Accelerate got announced for this year as far as the save the date and some interesting updates to Amazon.
Bradley Sutton:
And I want to get your feedback, too, on what's going on with how that new inventory restrictions or guidelines have either helped or hindered you in any way. So we're gonna be talking about that. We've got an interview with an expert on PPC today, as well as a cool training tip that I can't remember the last time I've shared. And I would think that one of them, at least one of these training tips I'm gonna give you guys at the end, 99.9% of you have probably never even realized that it's possible to do. So it's kind of like a cool under the radar thing that actually you don't even have to be a pain Helium 10 member to use. So how cool is that? Pretty cool I think. Anyways, let's go ahead and hop right into the news to see what's buzzing.
Bradley Sutton:
The first news article of the day is actually from Amazon, and it was one of their updates here entitled, easily Integrate FBA and MCF with a new Shopify app. All right, so this is kind of interesting. Amazon there's always been maybe in the past some friction between Amazon and, and Shopify. But now there's a multi-channel fulfillment app for Shopify. It says it offers free, reliable integration between your Shopify store and multi-channel fulfillment with Amazon. All right, so then this new app from Amazon, it says, it helps you fulfill Shopify orders using your FBA inventory, and it helps you manage your inventory with automated SKU mapping, which links to your Shopify SKUs, to your Amazon SKUs, and realtime updates about inventory levels. So on at the end of March of this year, actually, if we're already in March, that's kind of crazy.
Bradley Sutton:
The old integration with Shopify is gonna be discontinued. And the other integrator apps though, will continue to work. So interesting. There's a link in your seller central dashboard if you want to download this Shopify app. How many of you guys are using multi-channel fulfillment for your Shopify orders? Let me know. All right, the next article not really an article, but there was something in the seller central dashboard that was inviting you to like this, ask me anything on March 14th about the new FBA capacity limits. I'm just curious, those of you out there as, as we reported a while back on March 1st, Amazon was changing kind of like their capacity limits the inventory restrictions and making it a little bit different. You know, like kind of like size base and then also allowing you to bid on your, like, storage limits, right?
Bradley Sutton:
So I'm just curious, let me know. Are any of you still not able to send in inventory or did this new system kind of fix that? And then for those of you who were worried and bid on extra space, like maybe you knew you were gonna do a Valentine's product or not Valentine's product that's already passed, right? I don't even know how to celebrate Valentine's Day. What's the next holiday coming up? Easter maybe, or other holidays that are coming up, March, April, maybe you wanted to get some extra space to send some inventory in. Did you actually use that bidding and let me know how it worked? Did Amazon actually take you up on that bidding? Let me know in the comments below if you're watching this online. The next article here is actually coming from Reuters.
Bradley Sutton:
I think that's the way you pronounce this. And it's entitled Walmart will derive more profit from services and ad Sales in the next five years. And this is coming directly from the Walmart CFO. So this to me is interesting because it's kind of like mimics, not mimics, but like parallels, like I should say, the path that we know Amazon has taken over the years. So it says here, more Walmart's future profitability is likely to come from its sales of ads on Walmart.com. Does that sound familiar to you guys? And from the fees it collects from merchants using its online marketplace and delivery services, rather than sales of merchandise at its 10,000 stores. So right now it says their CFO said, Hey nowadays, right now the majority of our profits yeah, is brick and mortar stores, right?
Bradley Sutton:
But if you fast forward five years, we're gonna be much less dependent on that as an income stream than some of these other faster growing parts of our business. So this is that's how Amazon grew so fast. And we all know you know that for Amazon at least, is a very big revenue generating stream advertising on, on Amazon. So we're gonna see very similar on Walmart. It's kind of you know, I'm not trying to do this to scare people, like, oh my goodness Walmart advertising's gonna go through the roof. No, but it's just shows that Walmart themselves are dedicated to making their platform online for third party marketplace sellers work. Next article back to Amazon News is Amazon had a save your date, all right, so Amazon Accelerate Seller Conference September 13 and 14, 2023 last year.
Bradley Sutton:
It kind of came up outta nowhere that they were gonna do this event. Like we didn't even know, like when we had scheduled our Sell and Scale event last year. But now this is kind of cool. They're announcing it super early. So you know, everybody else can kind of plan events for that part of the year around, but I have not been to it. I don't think I've been to it, except, no, you know what, I take that back. I've been to one accelerator, it was either Accelerator or Unboxed like years ago. So it was a really cool conference where put on by Amazon itself. So guys, it's gonna be in Seattle. I don't think there's anything to register for yet, but it's gonna be September 13 and 14. Washington, Seattle, Washington. So I'll definitely see you there.
Bradley Sutton:
Helium 10 will definitely have a presence there. So save the date for that. Another update coming out of Seller Central is now that you can enroll 200 ASINs in Vine. So before you can only do 60 different ASINs, you can enroll in Vine for Vine Reviews, and now you can do up to 200. But just a word of caution, guys. You know, I was talking to a seller the other day and he launched a tea. It's actually a good tea I had complete side note, I went and bought it just to check it out. And I think it's delicious, but it's kind of a unique tea. And if you're not a tea connoisseur, I'm not sure if I consider myself a tea connoisseur, but I drink it a lot.
Bradley Sutton:
If you're not a tea connoisseur, it might be a little bit weird for you. Like you don't know how it doesn't work like a regular teabag and things like that. But anyways, he did 30 for Vine and a lot of his reviews came in kind of on the negative side because it, it wasn't his target market. Like these people weren't understanding exactly what this t is designed for and then how the bag worked and things like that. So don't think that, oh, I'm going to enroll in Vine and it's a g automatic five star reviews. Obviously you've gotta have a five star product if you wanna send something to Vine, and I think this tea is a five-star product, but in this case it might have been better. Like when you know it, it really takes a person, like a specific target market to appreciate this product.
Bradley Sutton:
You might not wanna send to Vine, like, for example, coffin Shelf. I don't think I used, I don't even know Vine existed back then, but I don't, I'm pretty sure we didn't use Vine. Pretty sure. I could be mistaken, but in retrospect I wouldn't have, cuz I'm like, you send a shelf shaped like a coffin to a regular person who's just a vine reviewer, they might be like, what the heck is this spooky thing? And they might just give it a bad review just because it's not like their cup of tea. But anyways, that's that's something just to keep in mind. But for those of you who have products that you think would be great for mine, now you can do up to 200. So that's kind of a cool little news story right there. Next article here is just a couple of compliance things that are coming out of Amazon, some reminders.
Bradley Sutton:
The first one, request remove multiple FBA inventory by April 15th. All right, so in the summer months, Amazon does this every year. They're not gonna accept multiple inventory at our fulfillment centers between April 15th and October 15th. This includes heat sensitive products, chocolate gummies, select jelly, and wax based products. So if there's any after April 14th, they're gonna be disposed of for a fee. So you want to go ahead and try and remove that inventory. Also, as far as compliance goes, another announcements that Amazon made this week. New documentation for magnets excluding toys will be required after March 23, 2023. So if you're selling magnets or a product that has magnets outside of toys, make sure to check that announcement on your dashboard. Next article is, I'm actually very keen on, like, I think this might fly under the radar of most, but since I'm into NFTs as you guys know this actually articles from Yahoo Finance and it's entitled Amazon to launch NFT Marketplace next month.
Bradley Sutton:
What can we expect? All right, so Amazon or n NFT marketplaces are, there's like this war going on with a lot of different marketplaces like OpenSea and Blur and different things like that and generating millions and hundreds of millions of dollars for people who are investing and people who are getting into their airdrops. And a bunch of weird terminology, maybe you don't understand, but like this is a big deal like marketplaces. Now, Amazon jumping into this. This is kind of crazy because according to reports, there is going to be the option of having digital collectibles or NFTs linked to physical goods delivered to customers doorsteps. Now, in the past we've had Kevin King on the show and we've had others talking about the potential of making an NFT project with your Amazon products and possibly building into that community.
Bradley Sutton:
But this, this like takes it to another level. Like if you launch your NFT project on this Amazon marketplace, if this report is correct, you're even going to now be able to tie it to physical products, like actually in the platform itself. And when you use these other marketplaces such as you know, OpenSea, Blur, and Magically, I use all of those. You have to have like a meta mask wallet or another kind of wallet that's super hard to set up for some people like they're like, I just can't even handle understanding how to set this up. And then you have to like buy cryptocurrency with your cash. And so a lot of people don't have cash on hand. You can't like, use credit cards usually to just buy to put crypto into these marketplaces.
Bradley Sutton:
But this is, this article is talking about how you are not going to have to have access to a crypto wallet. You can just buy it with your Amazon account, right? Which is crazy. That means you can technically, if this is correct buy like with credit cards and, and things like that. So this is a potential thing that I think most Amazon sellers might be sleeping on, but me as a NFT enthusiast these days cuz the Bulls and Apes Project this to me is something interesting that will be worth keeping an eye on. And this will be one of those things that early adopters this is something that could give you a leg up on your existing competition. You know, a lot of people are worried about all the saturation of a lot of Chinese factory selling and things, but this is one of those things that potentially could completely differentiate yourself down the line.
Bradley Sutton:
So it'll be interesting to look at over the next couple years what results in this. Another update here from this was actually a press release from Amazon. It's a new release for their Amazon Business. So Amazon business is something that you can activate on all your products where it gives like business customers a certain discount. And now for the Amazon Business mobile app, I didn't even know that there was a mobile app that these businesses are using to shop on Amazon, that kind of like goes to those, those discounted items is there's a three-way match for mobile app. So in a nutshell, what if a business buys this business product on Amazon, right? Or on their business app and it arrives, they're gonna just be gonna be able to scan the package themselves and it'll like integrate with their own inventory or something and like check it into their inventory and things like that.
Bradley Sutton:
But basically just adds another level, another incentive for business buyers to get this product. And so the takeaway for you Amazon sellers is if possible, and if you think that you have business customers, you, you should activate that in your seller central accounts because Amazon is incentivizing more businesses to use, but they're not gonna find your product or they're not gonna use your or buy your product compared to your competitors if they have the business option available and you don't. So that's it for the news this week. A quick shout out reminder, there's only now T minus 10 days remaining for you forever to join the Elite program and include the highest member or the highest kind of version of Helium 10 membership. So, so we had this webinar we did last week where we talked about the elite program, but it's closing forever as far as you know, including Helium 10 Elite, you'll be able to get Helium 10.
Bradley Sutton:
I mean, it's gonna close for no matter what in March 19th, but you'll be able to add it on later but that's gonna be like $400 just by itself in addition to your Helium 10 membership, which is how it was years ago. But right now you have a chance until March 18th to join the Elite program. So let's say you have like a Diamond account, you're paying 249, right? You only have to pay $150 more in order to get Elite, right? So that's what's going away after the 18th. So if you guys want to join the Elite program, we still have the elite workshop that's coming up in Vegas this weekend. I'll get you guys in for free to that if you join Elite. But just make sure to check out the information, h10.me/elite, h10.me/elite to join.
Bradley Sutton:
You can even book a one-on-one calls with me and anybody who signs up to Elite. This week I'm gonna hook you up with my personal sourcing agent, It's personal sourcing agent who handles all of our Project X products all before that killer pro training tip that I wanted to show you guys. Let me give you a clip from yesterday's TACoS Tuesday that we did. This will be coming out in the podcast next Tuesday, but just to give you a preview, actually, this clip is not gonna be in the actual podcast version. Here is a question that a user asked Mansour about how your PPC strategies especially around launch. So let's listen to his answer to that question. Assuming budget is pretty good, five to $10,000 a month for a product launch, is it better to go with a less is more approach? Meaning what are the least amount of keywords I can use to get, get the most amount of reach then building out from there?
Mansour:
That's a great question. To be honest, five to 10K for lunch is not, it's not a huge budget unless you are in a sub niche with less competition. Yes, sure, it's good, but overall, that budget is a low budget. The way I look at it is that I will have an estimation of the conversion rate, what should be, and this estimation, if you don't know anything, you can't go to Product Opportunity Explorer, find the niche. There in the trend tab, you can see conversion rate average for that sub niche. So I'll take into that into account. I'll go to Amazon advertising dashboard, create a campaign and see what are the average cost per click. And I will assume that my cost per click is toward higher range of the bit, because I want to try to be on top of search.
Mansour:
I don't wanna be anywhere else. I wanna be on top of search based on conversion rate, based on customer click and my budget. I will see how many clicks I can generate that can lead to how many sales, that number of sales will show me what keywords I have to choose. Let's say I can generate on a daily basis, 15 sales. I will look at the keywords. That combination of their CPR in terms of daily is around 15 to 2025. It's not as easy calculation and needs another, like going more into the detail. But I will go back for, from how many sales I can generate with this many sales that I can generate. What are the keywords, number of keyboards, and what keywords I have to target?
Bradley Sutton:
All right, thank you for that Mansour, and thank you whoever asked that question out there. Now let's get into a little known tool, all right, that people thought maybe was irrelevant way in the past because there's no more two-step URLs. So two-step URLs for ranking is forbidden by Amazon now. But there's still a lot of URLs that can help you on Amazon. So let's go over them. And by the way, guys, this is a hundred percent free page. It's always been free on Helium 10. Anybody can go there. Even if you're not a Helium 10 member, go to helium10.com/gems. Let's talk about how you would use some of these URLs. For example, the Canonical URL. This is especially good for like ranking on search engines like Google and Bing, if you wanna put different keywords into your URL as opposed to the ones that Amazon gives, right?
Bradley Sutton:
And so it's especially good if you're doing this with your attribution links, right? But like for example, for this Canonical URL for the coffin shelf, I'm like, Hey, let me put coffin shelf spooky gothic and Decor needs five words. And then I put my ace in, I generate, and then I have this URL now that I know you can't like really zoom in on this right now, but you guys can't see it. But now the URL is amazon.com/coffin-shelf-spooky-gothic-decor, et cetera, et cetera, and the ASIN. So theoretically speaking, you're gonna get a little bit of rank juice on Google or Bing if you run an ad with this URL, as opposed to just your regular URL if it didn't have optimized keywords. The other one add-to-cart URL. All right, so this is great. Like if you're doing some kind of campaign on social media or an email campaign where you want the least amount of friction for your customers, like you don't care.
Bradley Sutton:
You're not trying to do ranking or anything. There's not, this has nothing to do with keywords. You're just like, Hey, I have this promotion where I want my customers to buy two of my product or one of my product or whatever, right? All you have to do is put the ASIN into this, add-to-cart URL, put the ASIN, and put the quantity, and then generate the URL. And what that comes up to, if somebody clicks on it, it goes directly to their shopping cart and they've got that product added to their cart however many there are, one, two, or three. And now all they have to do is just, you know hit finish that add-to-cart and just go ahead and check out. So that could be a URL that you guys use. The one that's not that Amazon is changing up.
Bradley Sutton:
So I'm, I'm gonna have to have the team change this. The buy together is a cool u r URL that worked before, but now Amazon is kind of blocked that. So we're gonna have to see if there's a workaround there. But here's the one that I think is super cool. This is the targeted ASINs search URL. So a lot of times people might have a whole list of just random ASINs, like however you collected these ASINs where whether you've been, you have this list of ASINs, or whether you searched something in Black Box or you have this list of ASINs from some supply or something, or whatever the case. Let me give you my example. I used right here, black box product targeting. And I wanted to see what were all of the products, what were all of the products that have been detected in Frequently Bought Together for my coffin shelf in the last 30 days plus.
Bradley Sutton:
And there was 28 products that came up here. There's spiderweb shelves and there's Ice Cube gothic ice cube makers and stuff. So if I wanted to actually see this on Amazon, all on the same page. These are products all in different categories. I mean, there's stickers here, there's picture frames, there's skull necklace holders from the beauty category, there's decor, there's rugs. I mean, there's all kinds of weird products here, right? If I want to see them all on one page on Amazon, so that I can run Xray, check this out, all I would do is I would just download this list of frequently bought together into Excel, And I would open it up in Excel, and then I would just copy these ASINs. I'm just gonna copy the ASINs.
Bradley Sutton:
And again, you could've gotten your ASINs any other way, right? So I just copy the ASINs and then I go to this Helium 10 Gems, and I just paste all these ASINs up to 50 in the targeted ASINs search URL. And then I generate this URL. And this URL is only for my use. This isn't a URL I'm sharing with others. I'll give you a use case for that too. And then it goes to Amazon and take a look. All of these products and all their is now all of a sudden inside of one Amazon results page, even though they're all over the place, you would never have these products on the same page ever. And now, if I wanted to, I can go ahead and run Xray on this page, and now I'm gonna see the information like where's the seller country of region and what are the estimated sales for all these products, and how long have they been on Amazon?
Bradley Sutton:
What's their dimensions? All of this, just with a couple of clicks here of products I would never be able to run Xray on unless I was doing it one by one. Another potential customer facing option for this is like, let's just say, hey, you wanted, you're doing some kind of promotion for your own customers offline, and you're like, Hey, I want to give my customers the option to just buy one of these five products. Well, you can put those five products in this and then generate the generate the URL, and then when they navigate to Amazon, all they're gonna see in the one page is those exact products and nothing else. So super cool guys. Targeted ASIN Search URL. That's the one. I bet you, I bet you 99.9% of you guys have not used. If any of you actually use this, let me know in the comments or let me know if you never knew that this was possible before, right?
Bradley Sutton:
And this is completely free. Another couple URLs that we have here on this Helium 10 Gems page is our Walmart two-step URL. So two-step URLs in order to get ranking on Amazon. Those aren't allowed anymore. Nothing wrong with it to date as of March 2023 on Walmart. So for example, I can, I can go grab the Manny's mysterious Oddities brand from our, from our Walmart listing, and then I put the, the keyword I'm trying to rank for a coffin shelf, and then I generate the URL and then that brings me to Walmart for a search, just for that product, or for my brands products that have that in the name or in the brand. And then now that's another way, like if somebody clicks this and then buys it, it's going to give me some Walmart ranked juice in order to help me with my ranking there.
Bradley Sutton:
So guys, this is a very powerful tool, Helium 10 Gems. I think that you guys should start using it, especially those of you who just like free stuff these are all free. So make sure to go to helium10.com/gems to be able to use it. All right guys, that's it for this week. Don't forget, guys, like I said before, sign up for Elite. It is closing forever under the current format, so you only have a few days left in order to do that. h10.me/elite. Anyways, guys, we'll see you next Wednesday to see what's buzzing.
---
Enjoy this episode? Be sure to check out our previous episodes for even more content to propel you to Amazon FBA Seller success! And don't forget to "Like" our Facebook page and subscribe to the podcast on iTunes, Spotify, or wherever you listen to our podcast. 
Get snippets from all episodes by following us on Instagram at @SeriousSellersPodcast
Want to absolutely start crushing it on Amazon? Here are few carefully curated resources to get you started:
Achieve More Results in Less Time
Accelerate the Growth of Your Business, Brand or Agency
Maximize your results and drive success faster with Helium 10's full suite of Amazon and Walmart solutions.