Leveraging Sponsored Brand Ads to Increase Brand Awareness
With Amazon's Sponsored Brand ads, your message gets to the right shopper at the right time, but you also get to build your brand. Find out what's next for Sponsored Brands.
Updated on: February 10, 2020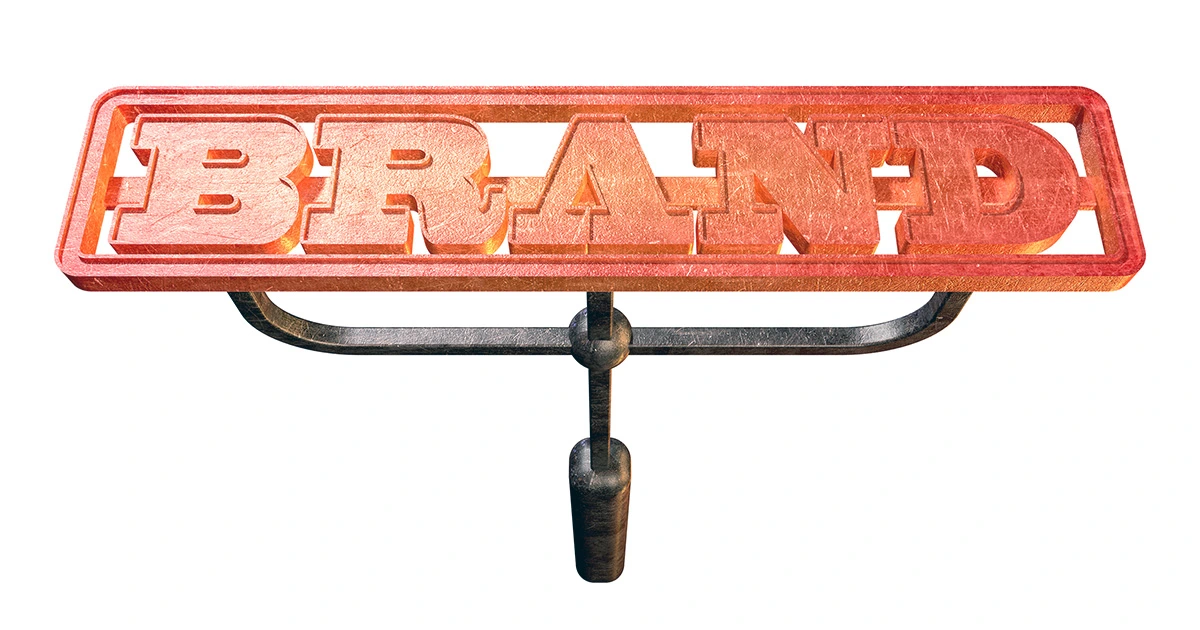 How do you brand something?
Considering the practice of "branding" goes as far back as ancient Egyptians, who engaged in livestock branding as early as 2,700 BCE, the default image many think of is a hot branding iron and a very unhappy cow.
Luckily, there's more than one way to leave an impression.
One can argue that "brands" are mostly created by those on the receiving end of the product, not necessarily by the companies themselves.
Why do shoppers create brand identities for products they buy?
All humans have a need for self-actualization, and many others are also fueled by personal growth and realizing their full potential.
This is subjective and very personal in nature.
It's also where brand marketing lives.
To further understand this, take a cue from the following list of product slogans. Each one elicits a specific feeling that consumers attribute to the brand.
Nike – "Just Do it"
Apple – "Think Different"
L'Oreal – "Because you're worth it"
KFC – "It's finger lickin' good"
Coca-Cola – "Open Happiness"
McDonald's – "I'm lovin' it"
Simply put, a brand is a way a company, organization, or individual is perceived by those who are on the receiving end.
More importantly, brands are perceptions.
For sellers intent on making sure that Amazon buyers take a look at their products, it's clear that those that are "branded" in the eyes of the consumer will have an advantage.
Through Sponsored Brands, Amazon has created the best possible way for sellers to brand their own message for Amazon's audience to see, in a coveted position just below the search bar.
Amazon Sponsored Brands
Sponsored Brand Ads (formerly Headline Search Ads) are keyword-targeted ads that feature a brand logo or product image, a custom headline, and up to three products.
Available only to Brand Registered sellers, these ads appear above all search results to dramatically increase a sellers brand's profile and discoverability.
Think of billboards on the side of the highway that may catch your attention as you drive by. The chances of remembering all the different products you saw an hour later are pretty slim…unless it's relevant to you.
Even if it's not relevant at the moment, driving by those billboards enough times, the products or messages eventually become engrained. They become "branded" in your mind.
Sponsored Brand Ads are like a billboard in that they can have a branding effect on shoppers minds over time. This is important for future organic sales when shoppers come back and search for products by brand name.
Unlike a billboard, the powerful difference is these select products are relevant to every shopper that sees it.
Essentially, Sponsored Brand ads reach customers at the exact moment when they're looking for what to buy.
Take the below example: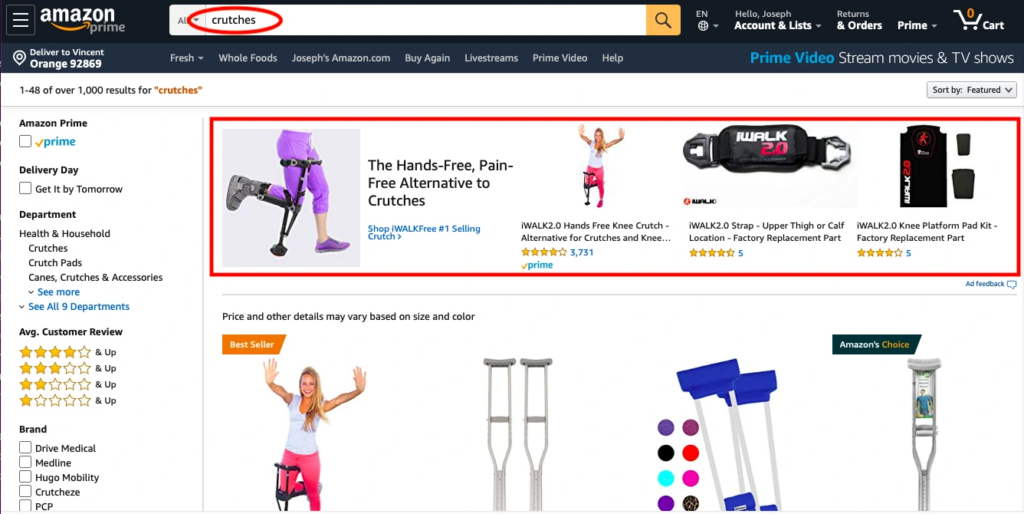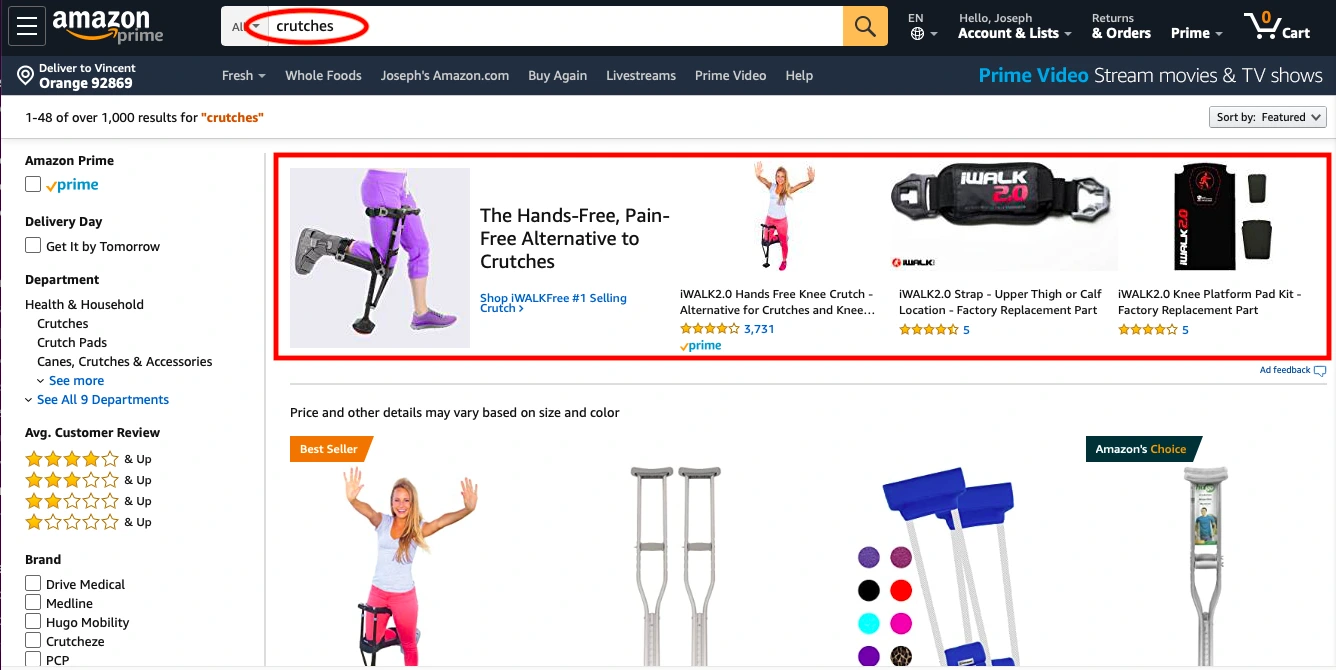 Anyone looking for regular "crutches" are immediately presented with an alternative for crutches they probably never knew existed. Listing the functional benefits in the title and including a detailed image, this product is seen before all of the listings for standard crutches.
Why this is important
Amazon is exploding in popularity as a portal of discovery according to a 2019 Amazon Consumer Shopping Study.
"75% of shoppers are using Amazon to discover new products or brands".
That's a 25% increase over the previous year and thats likely to rise again this year.
During the company's 2019 fourth-quarter earnings call, David Fildes, Amazon's director of investor relations, shared that the company is working to "deepen brand engagement,". That likely means more innovation with video, mobile and Amazon Brand Stores.
And within Amazon, the best way to get shoppers to your Store is, you guessed it, Sponsored Brand ads.
How Sponsored Brand ads work
Sponsored Brand ads are displayed in three distinct locations; at the top of search results on Amazon, on the left-hand rail, and two spots at the bottom of page in search results.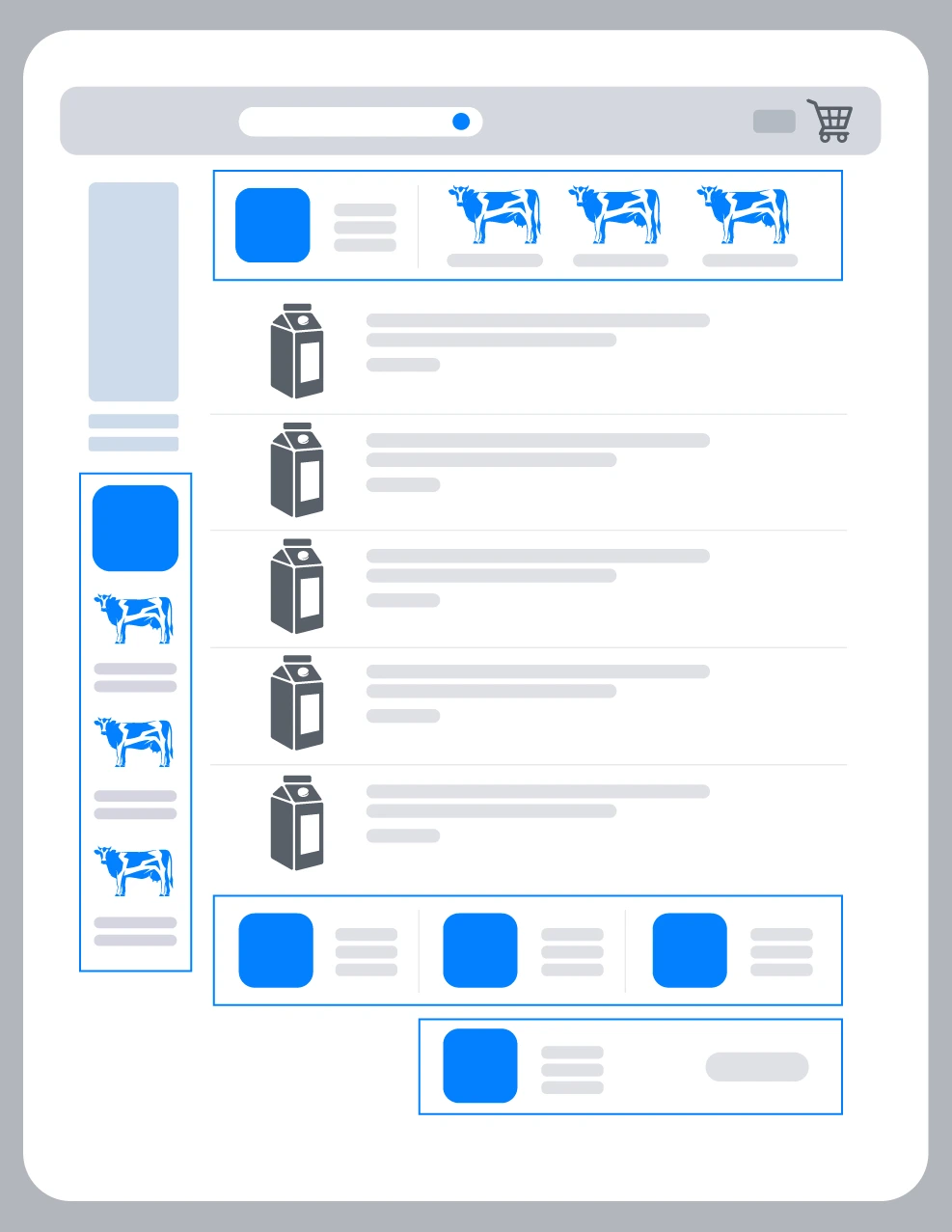 That gives sellers four opportunities to mark their "brand" on Amazon's search results page for shoppers to see.
By appearing in high-impact placements on desktop and mobile, Sponsored Brand ads maximize exposure to an engaged audience on Amazon.
Like Sponsored Product ads, Sponsored Brands are also cost per click, so you pay only when customers click your ad. You control how much you spend by setting your budget and choosing how much to bid per keyword.
Choosing the right keywords could give you a competitive advantage.
As always, it's through keywords that sellers connect buyers with their product. Using branded keywords and unbranded keywords can help sellers play both offense and defense.
To explain, Branded keywords contain the sellers company or brand name. Unbranded keywords relate to the product, but don't include the company or brand name.
To brand your products in the eyes of the shopper, you'll want to target relevant, unbranded short to mid-tail keywords, and display your best-selling products in your ad so that shoppers who are interacting with your brand for the first time can see the best of what you have to offer.
The principal objective is to match a buyer who is using Amazon for "discovery" with your products.
That's "playing offense" because all of your competitors are doing the same thing.
Sellers should also "play defense."
Whether or not your brand is well-established, it's smart to also focus on your branded keywords in order to defend your market share from other sellers who may be targeting your product to steal potential buyers. (This is also something you can employ in your "offense" strategy.)
Sponsored Brands include even more metrics
Unlike Sponsored Products, Sponsored Brand ads have additional metrics that can help sellers reach new customers. These are called, "new-to-brand" metrics.
New-to-brand metrics determine whether an ad-attributed sale was made by an existing customer or by one buying a sellers product on Amazon for the first time in the last 12 months.
The four metrics provided by Amazon are new-to-brand orders, new-to-brand sales, % of new-to-brand orders, and % of new-to-brand sales.
These metrics allow sellers to estimate the cost of acquiring new customers on Amazon, as well as measure the effectiveness of using Amazon Sponsored Brands Ads to achieve specific campaign goals.
When you add the ability to gain additional "insights" on shopper interactions with your products once they land on your Brand Store, it's easy to see how powerful the data received from Sponsored Brand ads can be.
There's gotta be a catch, right?
Well, you can expect to pay a little higher CPC (Cost per Click) for Sponsored Brand ads. That should be expected though considering how valuable the branding effect of these ads can be.
The goal is then, to appear at that top of search position most of the time. As we outlined above, there are technically four placements Sponsored Brand ads can appear.
Amazon does give some control over where Sponsored Brand ads will appear. At the campaign level, within "Campaign settings", this involves turning off Automated bidding, which is the default setting for all Sponsored Brand campaigns.
Automated bidding will automatically decrease the bids for different placements based on the expected conversion rates compared to the top of search placement. With automated bidding on, you can't adjust bids for your placements.
Once turned off though, custom bid adjustments for placements below top of search appears.
Sellers can then choose to, for example, decrease the bids for placements that are NOT top of search by .99%. This practically ensures that your Sponsored Brand ad will only appear in the top of search position.
Setting up Sponsored Brand ads
Again, sellers can select up to three products to be displayed in Sponsored Brands Ads. These should feature best selling products, or the products that your brand is known for.
Keep in mind that the product's star ratings will be displayed in the ad and can have an influencing factor on the CTR (click through rate).
In recalling the brand slogans mentioned above, Sponsored Brands ads also display a custom message (50 characters or less), so make it compelling and memorable. But also make sure the copy and required 400 x 400 image are in line with Amazon's Creative Acceptance Policy, as Amazon requires an approval before ads enabled.
This generally takes 48 to 72 hours, but if the copy and/or image do not follow the policy, the campaign WILL be rejected and will appear as "Disabled" in the Status column of Seller Central.
Engagement is "whats next" for Sponsored Brands
Amazon is currently testing two new versions of the ad unit that are only visible on shoppers' mobile phones. One is called Store Spotlight and highlights just the title and images of products. It is currently available in Beta for all sellers.
This version of the ad unit can only be used to link to an Amazon Store with four or more pages, each with one or more unique ASIN's per page.
There is also a video based Sponsored Brand ad unit that will appear as a third option for select sellers on the campaign builder page:

While also still in Beta, this could be a significant boost to branding products with well-done, short-form videos.
Consumers are generally more engaged on their mobile phones, leading them to watch a video as it autoplays once the ad appears after a search.
We've also learned this new video based Sponsored Brand ad will soon be released on desktop as well, so take advantage now or plan on making informative videos for your products soon.
Amazon's Sponsored Brand Ads offer a unique opportunity to accelerate brand reach and consumer perception, while delivering immediate, meaningful messages to relevant shoppers at their point of interest.
By taking advantage of the increasing engagement opportunities on Amazon, sellers can capitalize by improving the standing of their brand, potentially leading to a loyal consumer fan base who have their product or message engrained in their mind over the competitions.
It's time to stoke the fire of imagination for those "branding" irons.