Selling on Newegg: More Than Just a Tech Market
What was once a niche electronics e-retailer is now an e-commerce hub. Is expanding to Newegg the right move for your Amazon business?
Updated on: July 21, 2021
With Etsy on the rise and eBay continuing to thrive 20 years later, the e-commerce landscape heading into 2021 is perhaps not one many of us would've predicted. And you know what? That's okay. Adapting to the unforeseen – whether it be logistical hiccups, niche product trends, or a global pandemic – is what we do best as internet business owners. It's precisely why we thrive where other, more rigid businesses fall by the wayside. 
In the spirit of looking ahead for new selling opportunities, we are going to take a look at one of the darkhorse e-retailers of the last 20 years – one that is expanding its reach and giving sellers with a whole new world to play in.
Or should I say a whole "Newegg."
(and the audience groans) 
What is Newegg?
Newegg is an online retailer, started in 2001, with a strong focus on tech-based products (predominantly PC components, video games, laptops, and mobile accessories). Over the years, Newegg built a relationship with younger, tech savvy consumers as the go-to online marketplace for products they could trust and stellar customer service they could count on. 
In 2010, Newegg relaunched its marketplace to include non-tech product categories and officially began its journey onto the larger e-commerce stage. Ever since, they have been quietly strengthening their consumer electronics market while expanding to accommodate for e-commerce sellers of different categories.
Newegg by the Numbers
Those who have read my last couple articles about off-Amazon markets will be familiar with this section. I find it helpful, before digging into what makes these marketplaces unique, to first hit some quick numbers. This gives us a surface-level understanding of where the marketplace in question stands currently and (hopefully) gives us an idea where things are trending. 
Newegg:
Sales revenue (as of 2017): 2.7 billion
Newegg's strongest consumer base: Tech-savvy men aged 18-35
Registered users (as of 2017): Over 32 million
In the case of Newegg, we can see that as of 2018, it is the second most popular electronic retailer website – second only to Best Buy. While it's important to qualify this as an "electronics-only" study, over 48 million unique monthly visitors is nothing to scoff at.

Find more statistics at  Statista
However, in the context of which markets Amazon sellers are using to supplement their brand, Newegg remains a fertile field. Whether this is due to the continuing misconception that Newegg only sells electronics or a general preoccupation with louder marketplaces like Walmart and Shopify, I can only speculate.

Find more statistics at  Statista
If you are looking to expand your e-commerce business and have the ability to cater to a consumer pool with sharper buying eyes, wading into these waters before your fellow Amazon competitors may very well be worth your while.
Expanding Beyond Tech
Like we mentioned before, Newegg has made it a point to confidently branch out to new horizons. While 10 years ago, you may have expected a gamer-fueled jungle of computer monitors and hard drives, Newegg in the 2020's looks a bit different.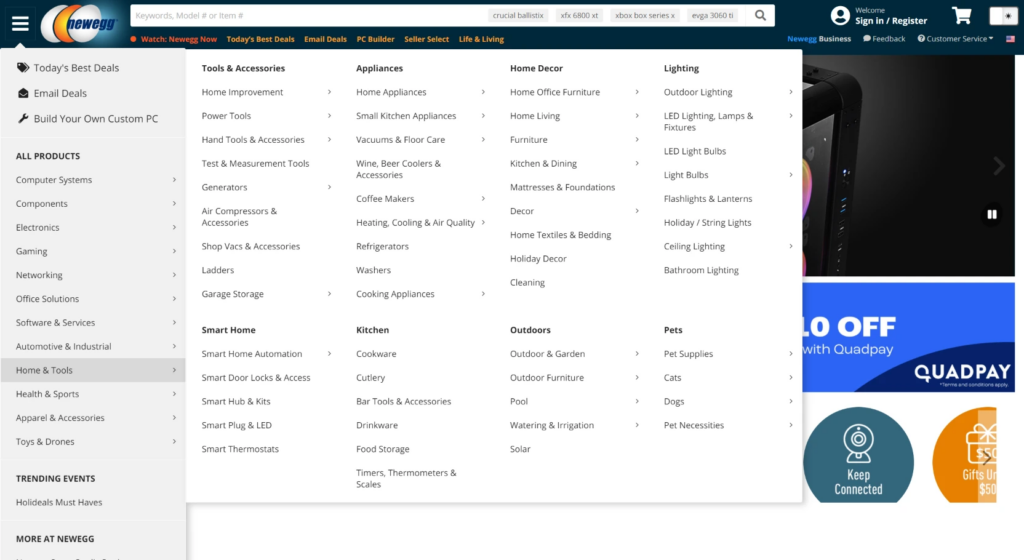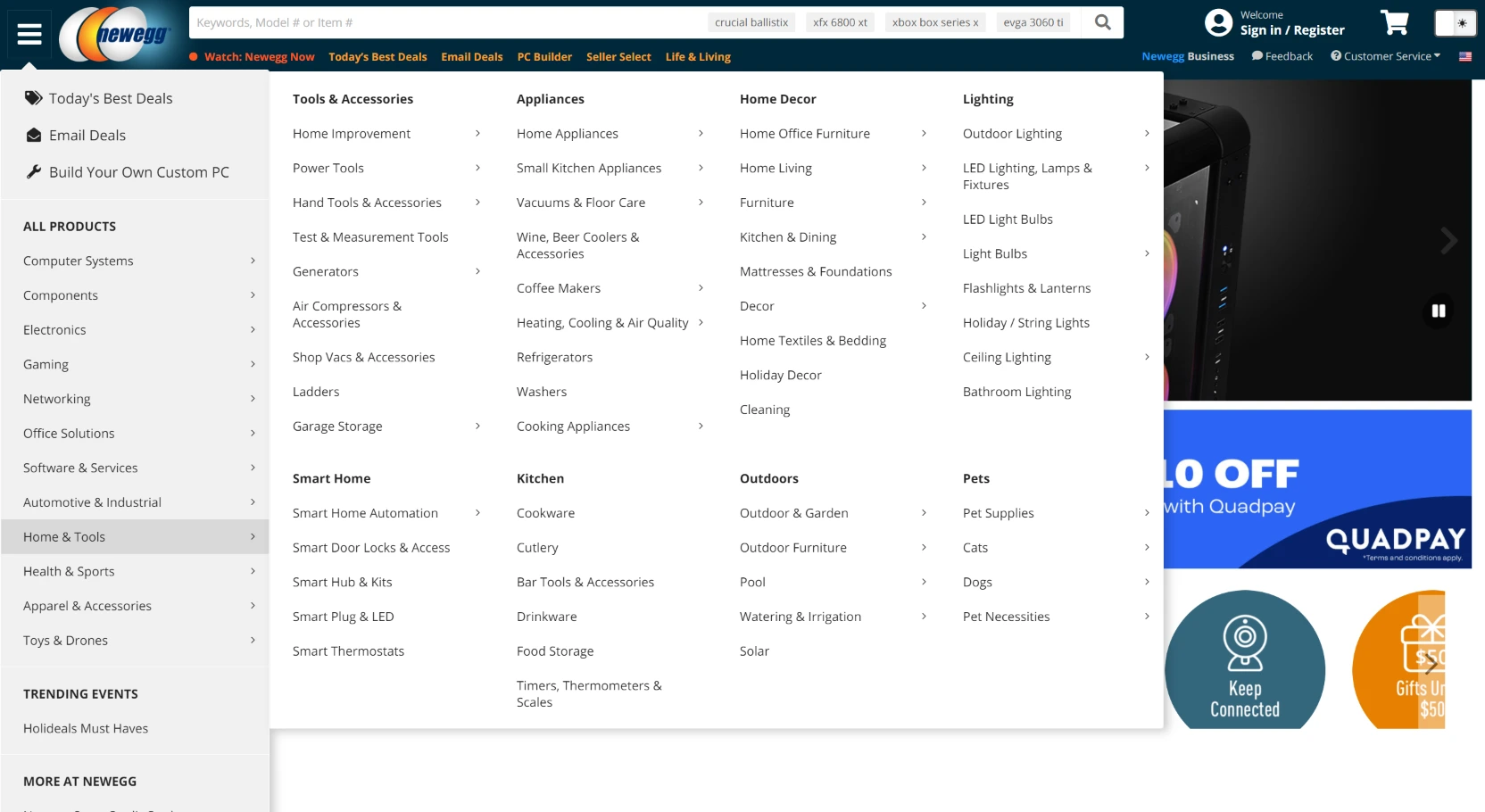 To illustrate just how much the Newegg marketplace has grown, we can take a look at the platform's categories with the highest year-over-year sales:
Office supplies
Consumer electronics
Health & Beauty
Automotive
In fact, Newegg has identified Home Living and Personal Grooming, specifically, as areas they expect to see some major growth in the next year. This includes products like vacuums, cordless appliances, air purifiers, and smaller appliances.
Even with the consumer electronics market, Newegg's bread and butter, they are noticing a shift. Due to the COVID-19 pandemic and everyone subsequently spending more time at home, Newegg has noticed (and pivoted towards) electronics and office accessories that cater to "work-from-home life," rather than hardcore gaming electronics. That being said, as a gamer myself – I assure you, Newegg still delivers the goods for your next PC build.
To hear more from your recent podcast featuring two Newegg employees talk about their changing landscape, check out the Serious Sellers Podcast episode here.
You can bet Newegg will continue to expand their market's offerings. After all, why wouldn't they? They have the infrastructure to do so and have been in the game long enough (right alongside Amazon) to hold their own.
How Does Newegg Stack Up with Amazon?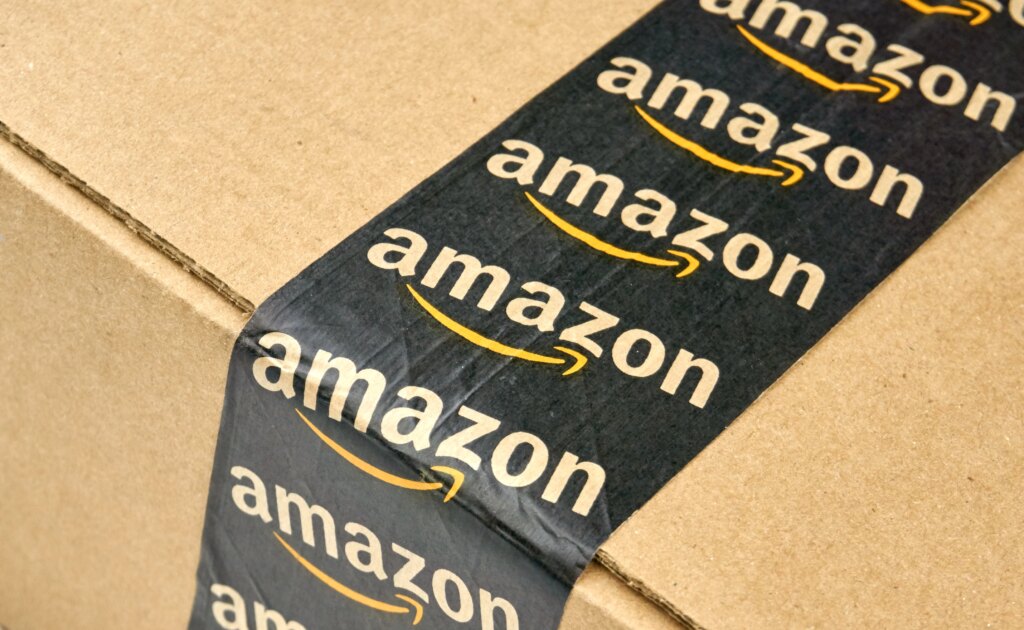 Speaking of playing in the big leagues, Newegg maintains big league expectations for their sellers. Sellers must ship items within 72 hours and all customer inquiries must be addressed within 24 hours. (read up on more of Newegg's marketplace policies here)
Are you already enjoying the hands-off nature of Amazon FBA? If so, you're in luck. Newegg has something very similar. 
With Shipped by Newegg (SBN), sellers enjoy a price-conscious and comprehensive suite of product fulfilment services including processing, product packaging & storage, and shipment. Newegg gives participating sellers a "shipped by Newegg" badge. Those familiar with the power of the "Prime" seal of approval know how much this affects customer trust (and sales). 
So where does Newegg edge out Amazon? Well (although Amazon is not mentioned outright), Newegg claims to offer a 5% lower pick and pack fee along with 14% lower handling costs than their competitors.
Newegg also boasts shipping "99.6% of orders within 24 hours."
What if I'm Not a US-Based B2C Business?
Although Newegg.com is the flagship platform for online sellers, Newegg offers other options as well.
Newegg Global offers businesses who have scaled internationally to sell in 20 currently available countries. You can view commission rates and participating countries on the Newegg Global page.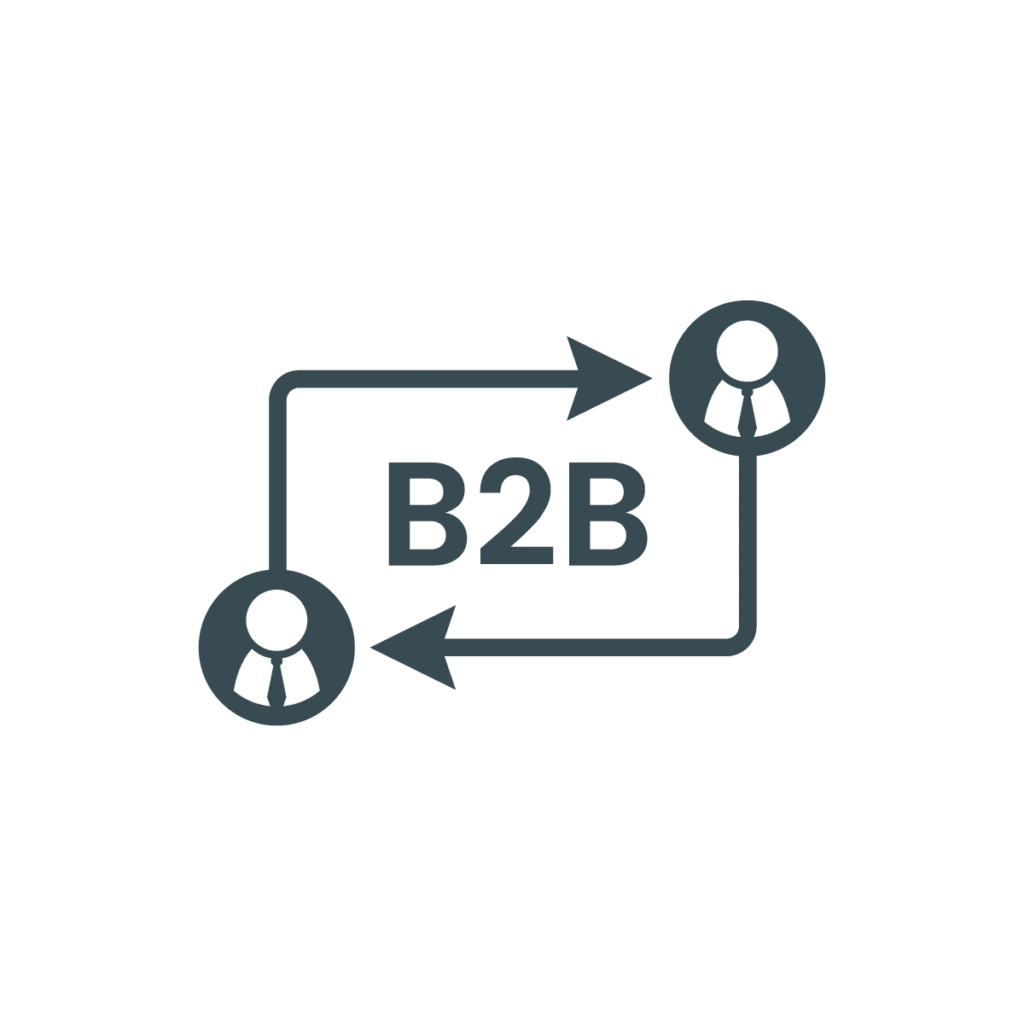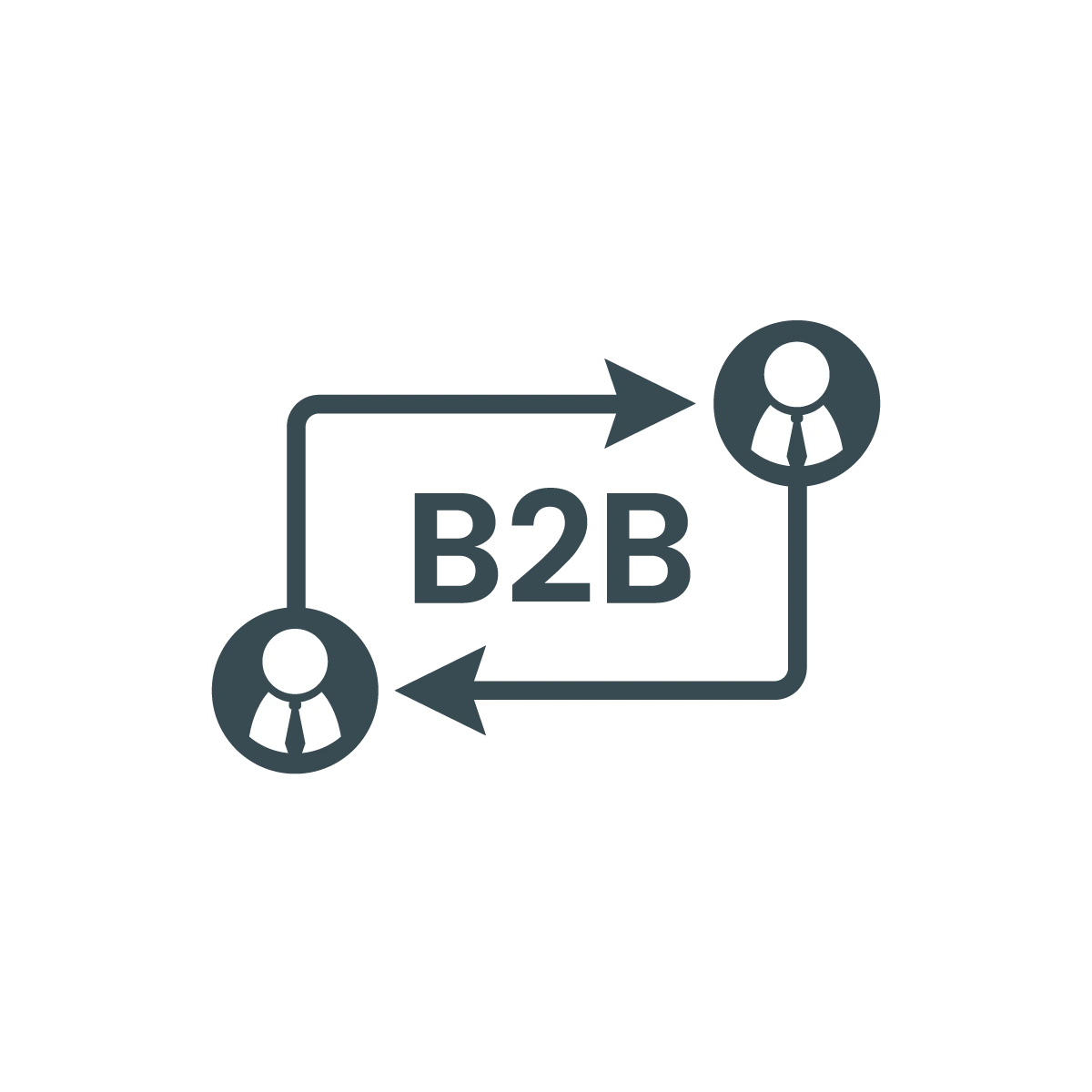 Newegg Business is a specialized platform focused on B2B selling with low commission rates, no selling fees, multi channel fulfilment, and a dedicated staff of account managers. With over 350,000 verified businesses to sell to (including small businesses, large businesses, educational institutions,  and government), Newegg Business comes as a welcome addition and solidifies Newegg as a bonafide e-commerce platform. Learn more about Newegg Business here.
Newegg Canada is dedicated to the unsaturated and growing Canadian marketplace. Newegg Canada is perfect for Canadian sellers looking to win their domestic market as well as US sellers who are ready to expand their reach.
How to Get Started Selling on Newegg
For the purposes of this blog, we will focus on Newegg.com, the flagship platform.
First, visit https://www.newegg.com/sellers/
Click "start selling on Newegg"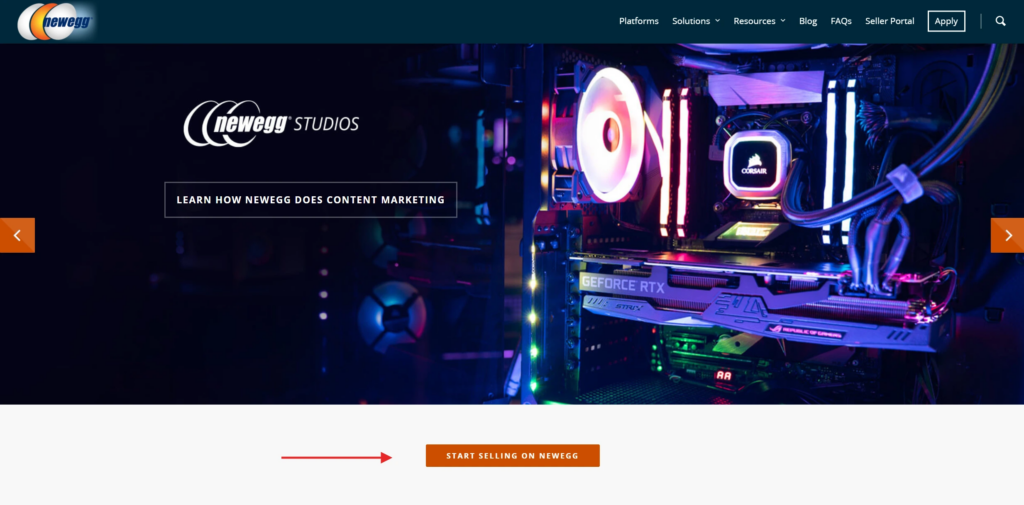 You will be prompted to create an email address and password for your account setup. 
Next, select your seller region (country).
It's time for your seller introduction!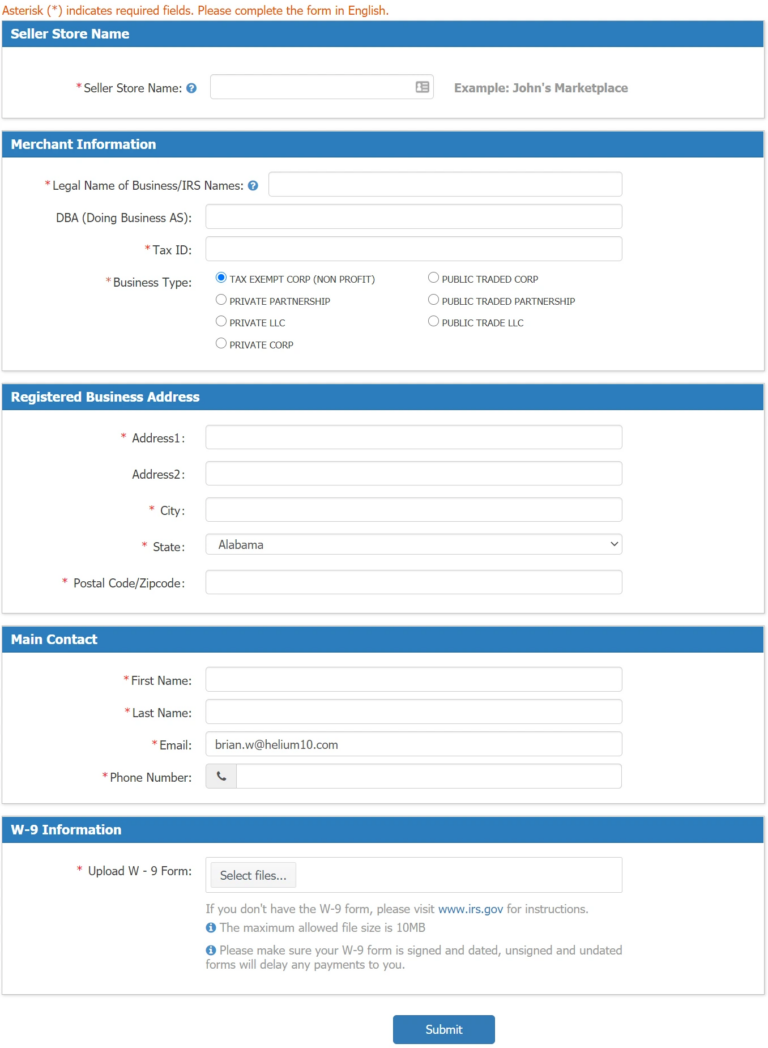 You will need the following information:
Website URL
Seller business model (retailer/reseller, manufacturer,distributor)
Annual sales (range)
Number of employees (range)
Years in business (range)
Countries you are interested in selling in
Primary and secondary merchandise category
Number of SKUs for sale (range)
Percentage of inventory stocked in warehouse
Whether or not you sell your own brand
Now the fun part: Business Registration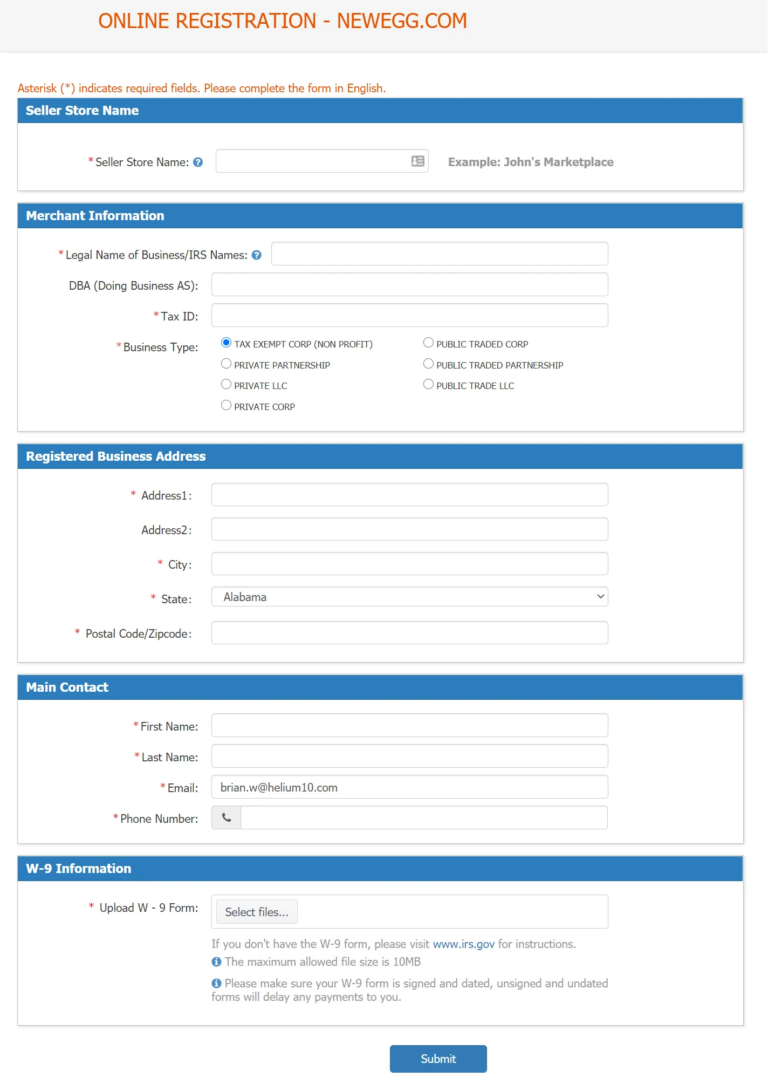 Input your seller store name – this is the store name that will display on Newegg once your account is complete. For inquiries about changing your name after account setup, you will have to contact your account manager.
Next you will need to disclose your legal business name, Tax ID, and type of business, and business address.
Newegg will also ask for a main contact name, email, and phone number.
Finally, attach your business's most recent W-9 form at the bottom of the page.
Click submit.
Your Newegg seller application will now go off to the Newegg team for processing (this may take up to two business days) and approval!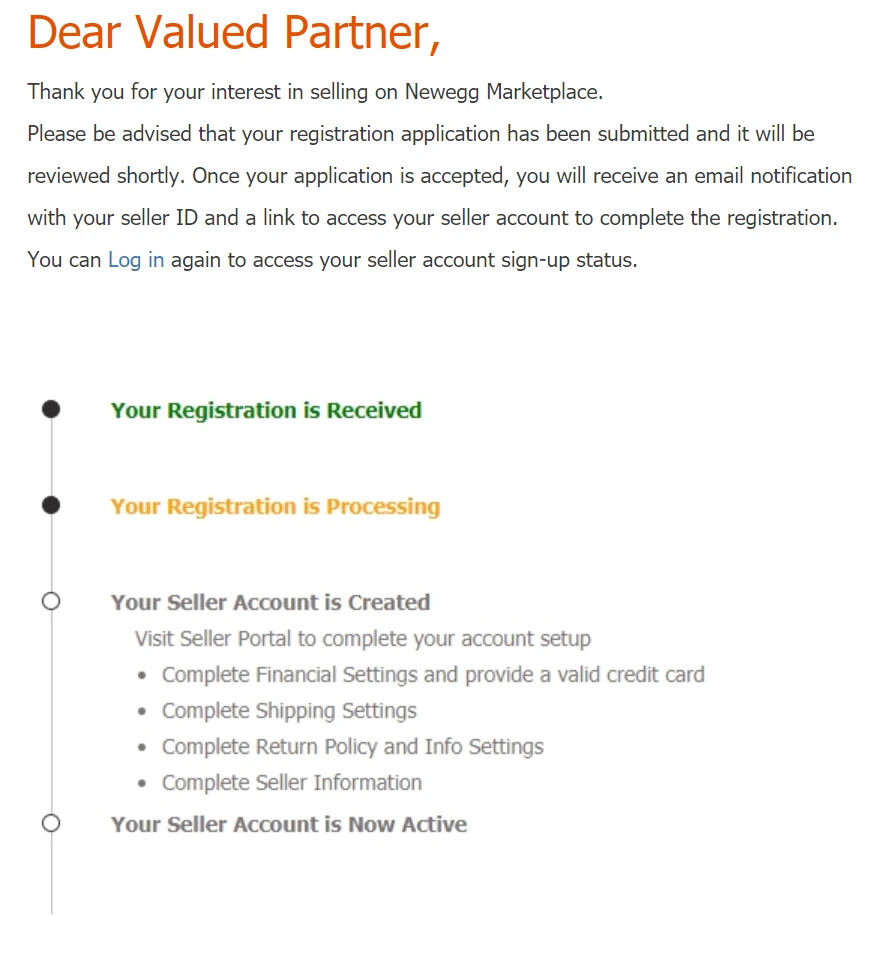 A team member may reach out to you if they have any additional questions about your business. Once your application is approved, you will be sent a link to complete your account creation and list your first product! A category manager will review your listing and provide you additional resources to succeed on Newegg.
Go Forth and Grow
If you're on the fence about expanding your business beyond the lush borders of the Amazon marketplace, hopefully this series highlighting external opportunities has given you some food for thought. Amazon is a big space and one that takes time to master – rest assured, there is no pressure to scale beyond your means. However, if your brand is to survive and thrive on the internet, it follows that exploring these new market opportunities may just be the fuel injection your brand needs to truly take off.