Selling on Amazon vs. eBay: An E-Commerce Comparison
Can't decide on selling on Amazon vs. eBay? We've broken down seller fees, fulfillment methods, shopper popularity, and more!
Updated on: September 23, 2022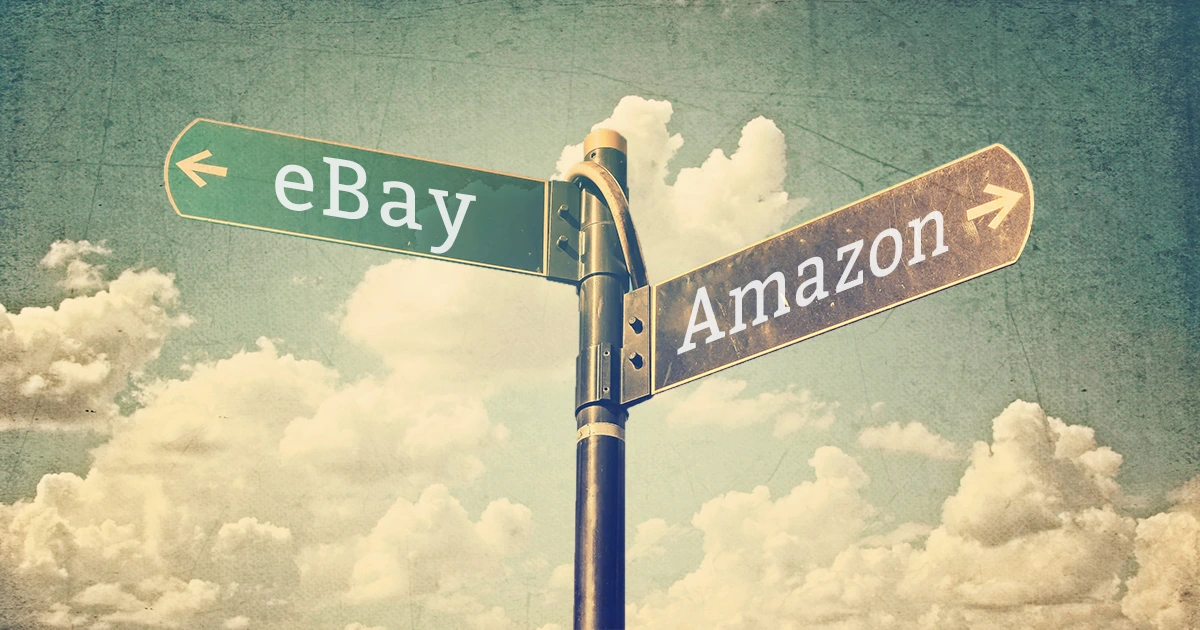 Apple or Microsoft, Star Wars or Star Trek, pancakes or waffles… Amazon or eBay?
Life is full of deliciously difficult decisions.
If you've spent half as much time as I have on the internet over the last year, chances are that you've at least heard the distant proclamations of e-commerce success. As 21st-century business moved (or was not so gently shoved) online during the global COVID pandemic, it became clear that this was more than just a temporary trend.
You may still be deciding if starting your own online business is something that excites you or will inevitably be a new source of grey hair. You may have recently started selling on Amazon and are still curious about alternatives.
Today we're revisiting an old friend. They used to have bleached tips and wear lots of denim, but now they're holding a steady job and are a bit more mature than you may have remembered. Their name is eBay.
When faced with the decision to sell with two of the largest pioneering e-commerce juggernauts on the internet, which is better for business? Amazon or eBay?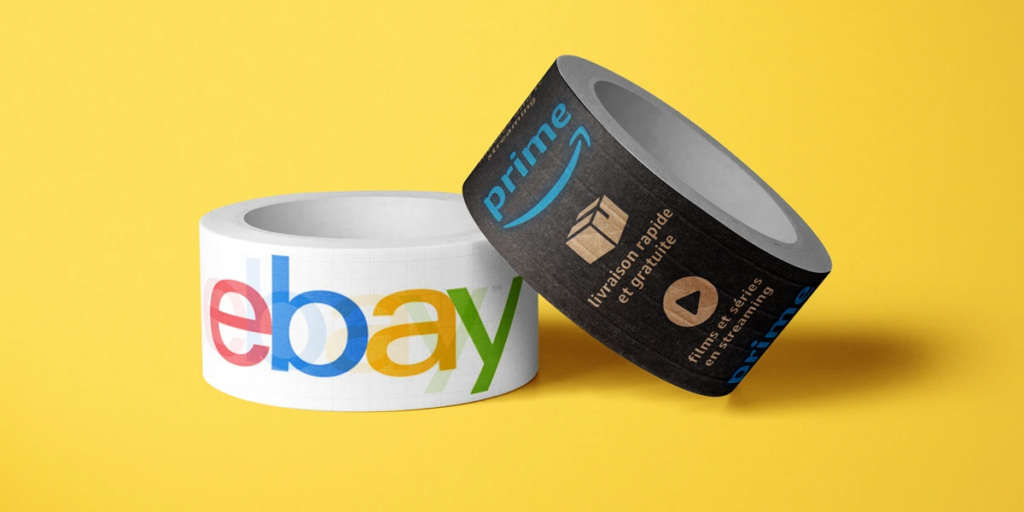 When considering selling on Amazon vs. eBay in 2022, what are the factors that matter most?
By the Numbers: Amazon vs. eBay
Shopper popularity
Fulfillment methods… do they matter?
Seller competitiveness
Amazon vs. eBay fees
Let's dig in. In the meantime, I'll try to convince Helium 10 to let me write a piece comparing pancakes and waffles.
By the Numbers: Amazon vs. eBay
First, a couple of big picture data points for you. While these statistics won't be directly relevant to you as an online business owner, it is worth noting the context here. Amazon is (obviously) huge. Like, turning Jeff Bezos into a space cowboy-huge. Comparing Amazon and eBay in 2022 is sort of like comparing Coca-Cola and Dr. Pepper. Both will most likely give you what you want, both cater to different preferences, but one simply dwarfs the other in total market share.
If you're already familiar with Amazon's world domination, you may skip to the next section.
Net Revenue Over the Last Five Years
Amazon [in Billions… with a capital B]
135.99 (2016)
177.87 (2017)
232.89 (2018)
280.52 (2019)
386.06 (2020)
469.82 (2021)

5-year revenue trend: +184%
eBay [in millions]
9,298 (2016)
9,927 (2017)
8,650 (2018)
8,636 (2019)
8,894 (2020)
10,420 (2021)

5-year sales trend: +10%
In the specific arena of e-commerce (online retail companies), Amazon claims 41% of the market share. Within this narrower pool, eBay (and Walmart) take home the second and third biggest pieces of the pie with around 6.6% market share each.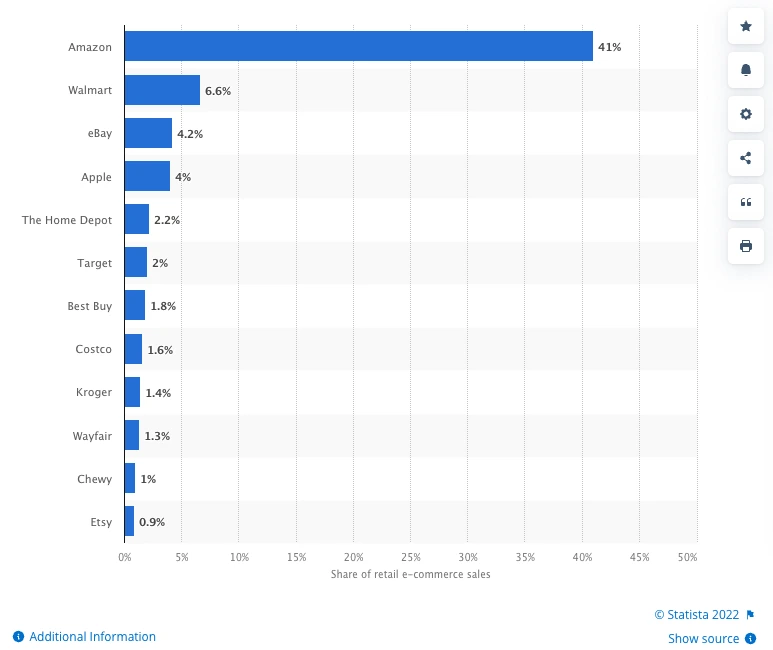 Going one step further (and just to blow your mind), take a look at the list of the most valuable brands worldwide. Not just e-commerce, not just tech, all brands in the world.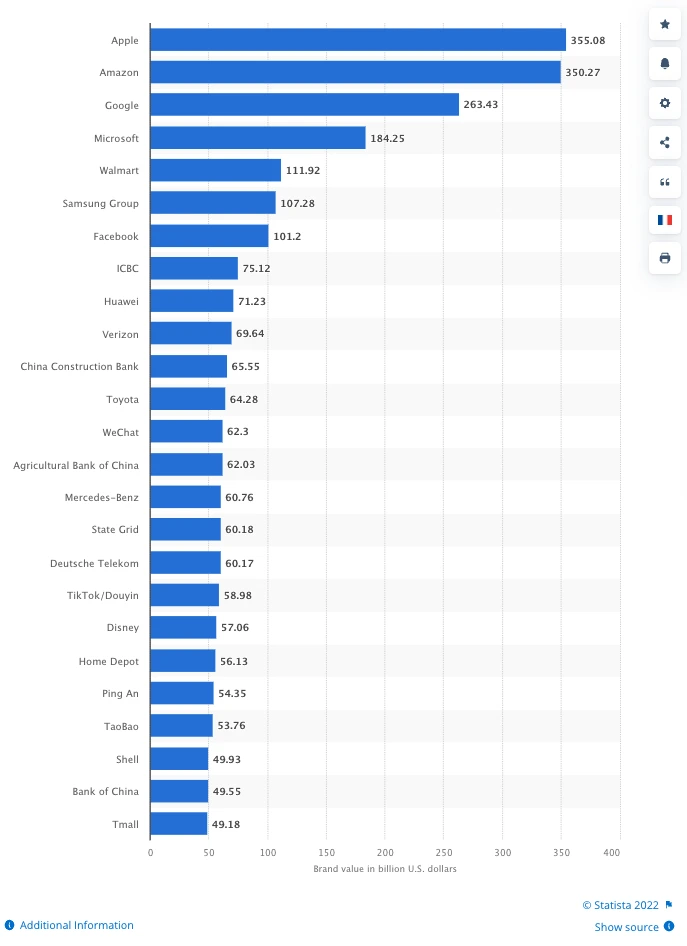 Verdict: Do we even have to say it? Long Live the King.
(But that certainly doesn't mean there isn't strong professional seller potential on eBay… more on that in a bit)
Shopper Popularity: Where do People Like to Spend Their Money… and Why?
This one shouldn't come as a surprise either. Prime subscriptions are like grocery store club cards these days.
Number of Amazon Prime Members, Worldwide – 200 million
Number of eBay total active buyers, Worldwide – 182 million
Here's the average monthly traffic breakdown: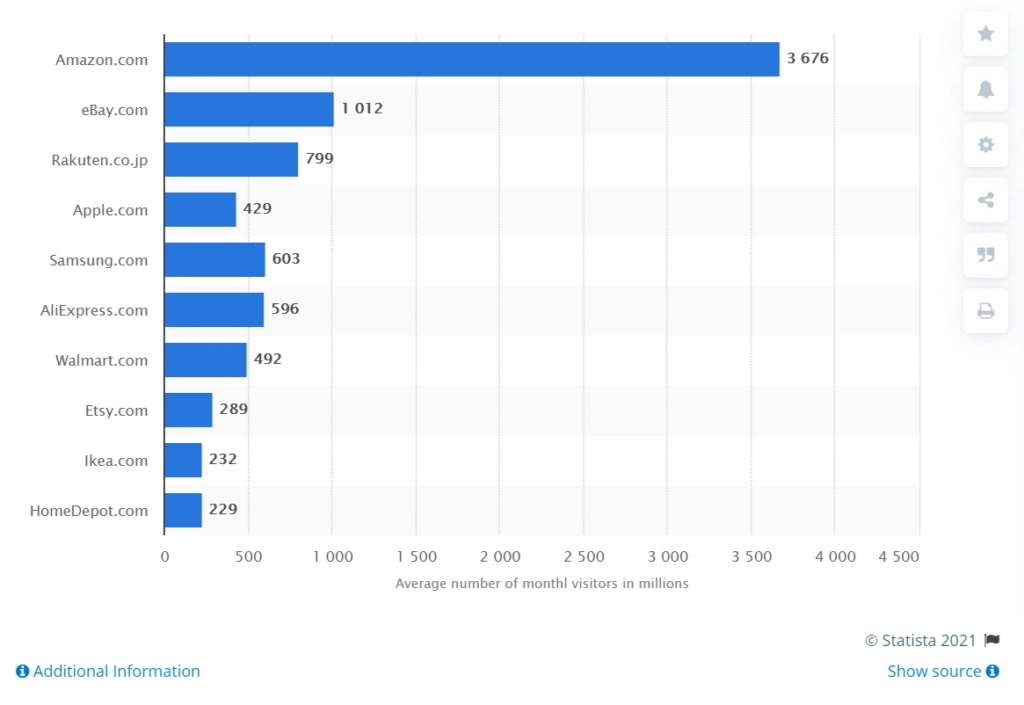 Most Popular Product Category as of 2019
Amazon – Electronics
eBay – Mobile & Accessories
Another mind-bending tidbit. When looking at unique monthly US visitors to Amazon sites – 213.56 million – that number ranks Amazon as the #5 most popular multi-platform web property in the United States. That's out of the top 15 most visited websites of any category, including corporate behemoths like Google, Facebook, and WarnerMedia.
Customer Demographics: Who's Your Audience?
A note on generational shopping habits. When it comes to teenage shopping habits, it's Amazon or bust. Why does this matter? Well, if you are choosing a new product to sell geared towards a younger demographic, this may work in your favor. Amazon is most likely the selling arena you'll want to focus on. Many Gen Z's just don't have the nostalgic know-how to visit a dot-com bubble darling like eBay.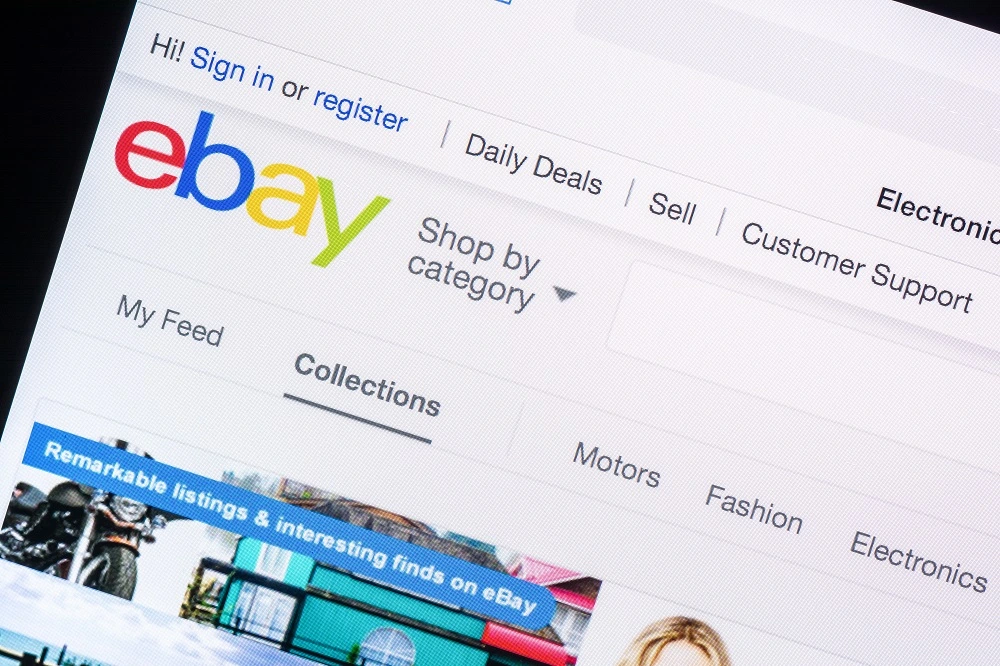 However, if your new product skews towards an older demographic (say 30+ years old), eBay begins to look like a wonderful auxiliary marketplace to reach customers with the patience and know-how to scour eBay for that perfect product.
How Much Money Are People Spending on Amazon vs. eBay?
Average annual spending of shoppers:
Amazon – $1,400 (2019)
eBay – $495 (this information is from 2017, but was on the decline even then)
WHY do People Shop Online?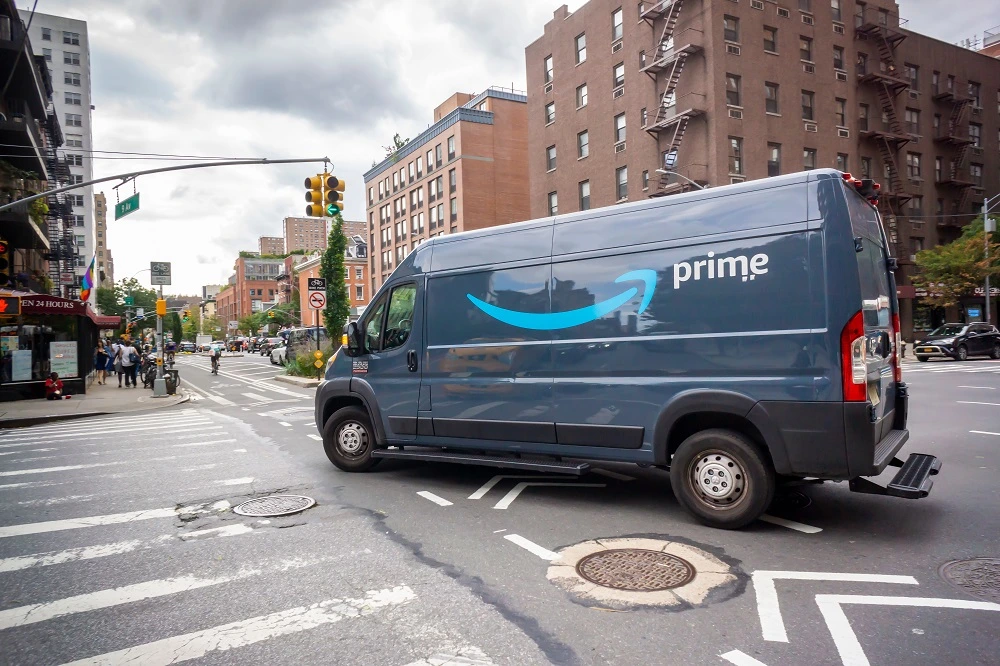 These big numbers are flashy and all, but they don't mean a thing unless we have a peek into customer motivation. Understanding which features shoppers value most may help sway your decision regarding the platform you choose to sell on and your eventual fulfillment method.
Most Important reasons shoppers choosing Amazon and eBay
Amazon buyer motivation – Fast, free shipping
eBay buyer motivation – Price point or unique/obscure products
If you are looking to create your own brand, sell in bulk, and scale quickly, Amazon was built for you.
If you're selling niche products, collectibles, hard-to-find, or offbeat merchandise, you were born and bred for the eBay shopping audience. Just don't make the mistake that so many do in thinking eBay is just an online flea market for used products. 80% of all products sold on eBay are new!
Here's the full breakdown of online shopping priorities, regardless of platform: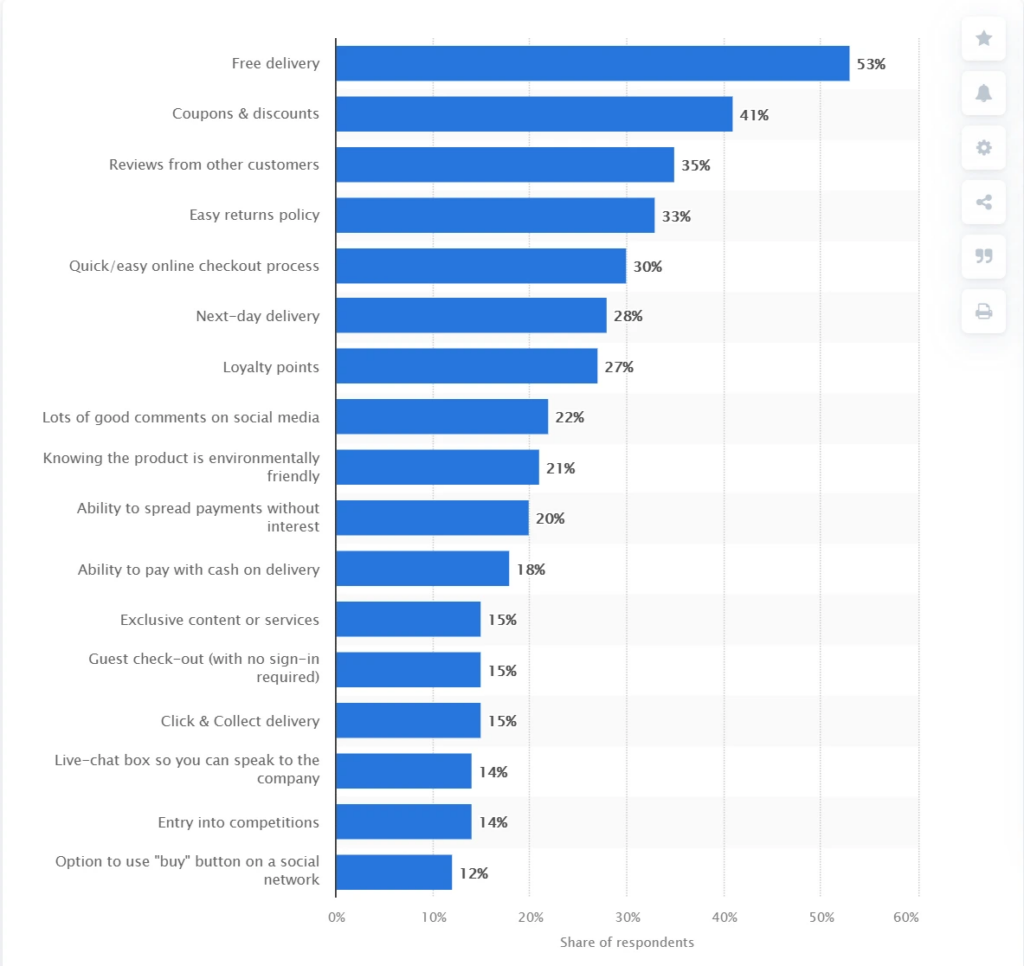 Verdict: Amazon is going to win the popularity contest 10 times out of 10. But remember, more popularity means more people flocking to sell on the platform. At the end of the day, this may only cause more competition for you, depending on your product niche.
Fulfillment Options: Amazon vs. eBay
Amazon Fulfillment Options
This is really where Amazon soars when it comes to quality of life for online sellers. There are two main fulfillment methods you may choose from if you want to sell on the Amazon marketplace.
FBA (Fulfillment by Amazon) – As the name suggests, FBA was designed to take most of the logistical shipping work off your plate. This is by far the most popular way of doing business on Amazon (or anywhere online for that matter) and remains the easiest way to get started with your online business. Not to mention your product gets the coveted "Prime" badge (the biggest incentive for people to make a purchase).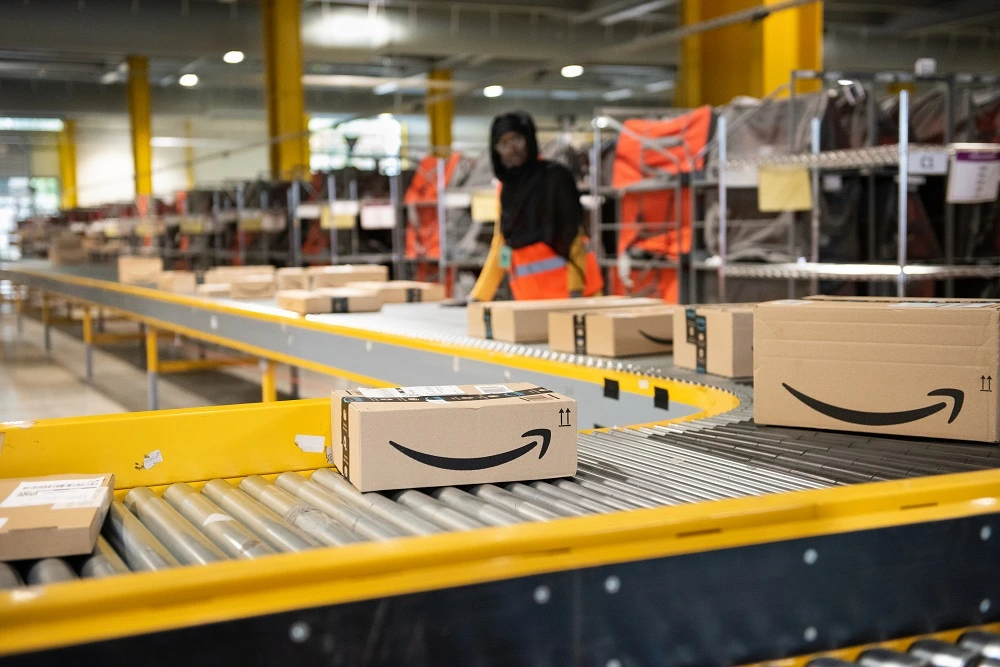 Here's how it works.
You research and choose the product you want to sell.
You find a supplier/manufacturer to produce said product (using resources like Amazon product research tools or alibaba.com).
Sign up for an Amazon professional or individual seller account.
Amazon receives, stores, packs, and ships your product from an Amazon warehouse (one of many around the world).
You manage your product listing, returns, inquiries, and inventory shipments all without touching a cardboard box.
FBA is easy, but it isn't free. You will have to budget in Amazon FBA fees if you want to take advantage of these services.
Here's a deeper look into Amazon FBA fees and the difference between the "individual" and "professional" selling plans they offer.
FBM (Fulfillment by Merchant) – For those who have the storage space available or use third-party logistic companies (an outside company that stores and ships your products), Amazon still allows you to sell on their platform using Amazon FBM. This means the merchant (that's you!) is responsible for receiving shipments from your supplier, storing them until sold, packing, and shipping them to your customers. Depending on the size of your product and physical workspace, Amazon FBM could prove to be a massive headache or money-saving machine.
eBay Fulfillment
Currently, the only way to fulfill your orders for eBay customers is the old-fashioned way… doing it yourself (the equivalent of what we talked about with Amazon FBM). This means boxing your product, securing the product with packing materials (bubble wrap, newspaper, etc.), printing the shipping label (this will be supplied to you within your eBay account), then finally shipping your product out via shipping services like UPS or USPS.
While this makes sense for sellers with storage space and manageable inventories, if you are new to online selling, this level of involvement may be more than you bargained for.
Note: eBay did recently test their own version of Amazon FBA, called Managed Delivery, with a pilot program late last year. Since then, the pilot program has closed. While eBay continues to dial in the right approach for handling their sellers' fulfillment needs, there have been rumors of eBay Managed Delivery launching later this year in parts of Europe and Australia, and possibly even a 2022 US launch. Keep your eyes on the horizon, as a new eBay fulfillment service could be game-changing for the world of e-commerce and open up the doors for huge opportunities. Especially if it comes with fewer seller fees than Amazon FBA.
Verdict: Until eBay gets their professional seller fulfillment service up and running, this one isn't close. Amazon consistently offers the best fulfillment options for sellers at every stage of the game.
Competitiveness: Amazon vs. eBay
Amazon
Remember all that popularity we talked about earlier? It comes at a price. Like a pristine beach on a hot summer day, Amazon is crowded. There are 6.2 million sellers currently selling on the platform.
In fact, third party sellers (regular people like you and I) are now outselling Amazon on Amazon…
While more competition isn't always a bad thing (your success on Amazon will most likely hinge more on savvy product selection), it does mean there is a much steeper challenge in ranking on page one of Amazon search results.
Because no one really knows exactly how the Amazon algorithm chooses who controls the Buy Box, we can only assume that price is a large contributing factor. You want to be careful that you don't get stuck in a "race to the bottom" within your product field. A lower price will most likely mean more Amazon sales, but it will also tell you're tanking your profit margin. And no business survives long without a healthy one of those.
eBay
eBay on the other hand, while hosting dramatically fewer sellers than Amazon, also operates under a different online marketplace functionality. Where Amazon places a focus on pushing shoppers to one unique product listing and promoting the best version of each product towards the top of the list, eBay is centered around promoting different versions of the same product.
Remember, eBay was built as an online auction site and still maintains much of that same numbers-driven selling. Don't worry, they still offer "buy it now" listings. But this means they encourage customers to compare multiple listings hosting the same exact product. Ultimately, eBay sellers generally have a better opportunity to fine-tune their listings for different groups of people. It also means shoppers are more willing to click around to pages two and three of search results to find exactly what they're looking for.
On Amazon, the territory beyond the sunny paradise of page one is not as friendly. As we've learned from Kevin King, "the best place to hide a dead body is on page two of search results."

Verdict: eBay gets the edge when it comes to the less competitive field for online sellers.
Fees: Amazon vs. eBay
Amazon Seller Fees
When selling on Amazon, there are two primary fees to be aware of: the referral fee and the fulfillment fee.
Referral fee: Every time you sell a product on Amazon, you pay Amazon a portion of the total price or a minimum amount, whichever is more. The total price includes the item price, shipping cost, and any extra wrapping charges.
Fulfillment fees: This selling fee will entirely depend on which fulfillment method you are using (FBA or FBM) and how big/heavy your product is.
Referral fees tend to average around 15% (depending on product category) and the flat referral fee minimum is $0.30.
View the full Amazon Fees Table here.
And now a list of fulfillment fees for Amazon FBA users…
Keep in mind that you may still encounter additional fees like inventory fees, premium account services, and advertising costs.
Get the full Amazon selling fee breakdown here.
eBay Seller Fees
eBay also has two main types of seller fees: insertion fees and final value fees.
The insertion fee is charged after you create a new listing on eBay. eBay gives sellers their first 250 listings free per month, then begins charging $0.35 per listing.
The final value fee is paid to eBay after you make a sale and is represented by a percentage of that sale plus $0.30 per order.
Below is an eBay fee chart, sorted by product category.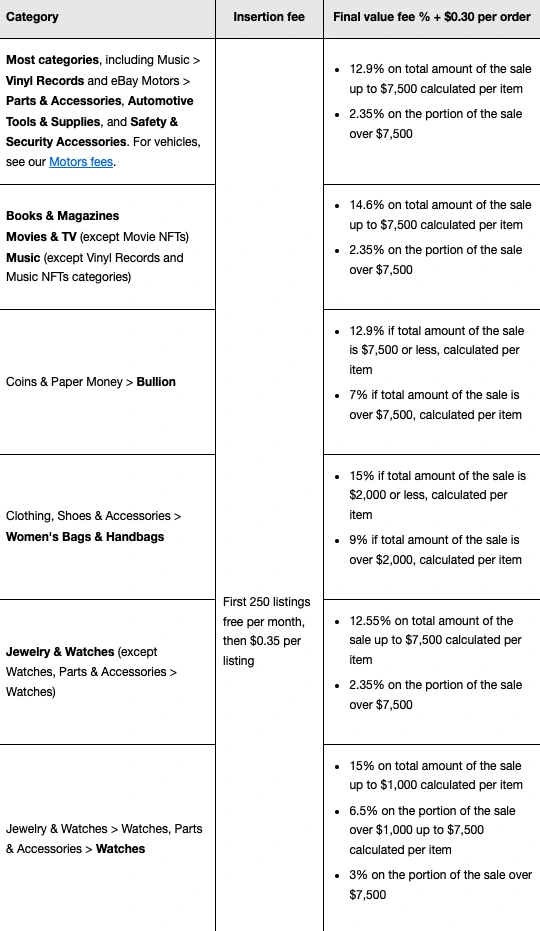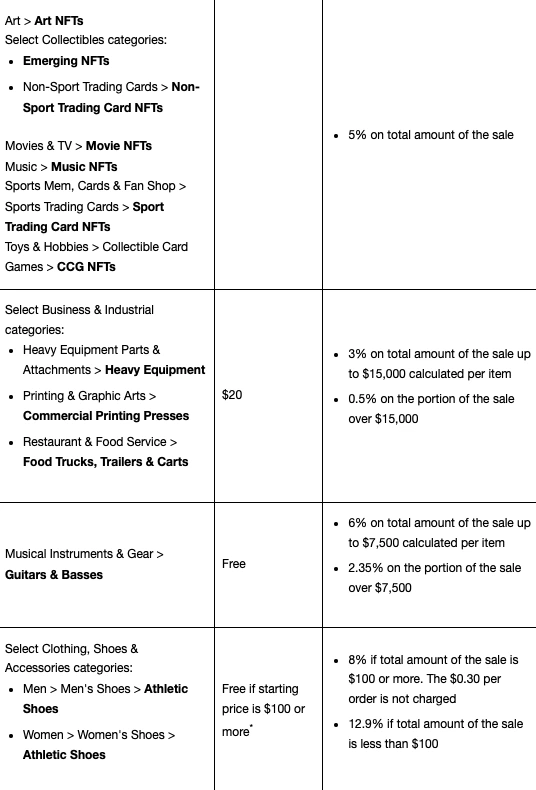 ---
As you can see, the question of Amazon vs eBay is not as simple as choosing one and discarding the other. There are so many factors that go into success in e-commerce. Product niche, keyword research, listing optimization, advertising efforts… the list goes on and on.
If you had to pick one, Amazon will give you the most stability, deepest library of resources, and biggest opportunity for growth. But since you don't have to pick one, you should consider eBay as a smaller selling pond to nab sales Amazon sellers are too preoccupied to compete with.
Why have Lennon or McCartney when you could have The Beatles?
Frequently Asked Questions