Sell on Amazon Europe – How to Expand Your Business
Thinking of expanding your Amazon FBA business into Europe? Veteran Amazon EU seller Alina walks you through what you need to know.
Updated on: October 21, 2022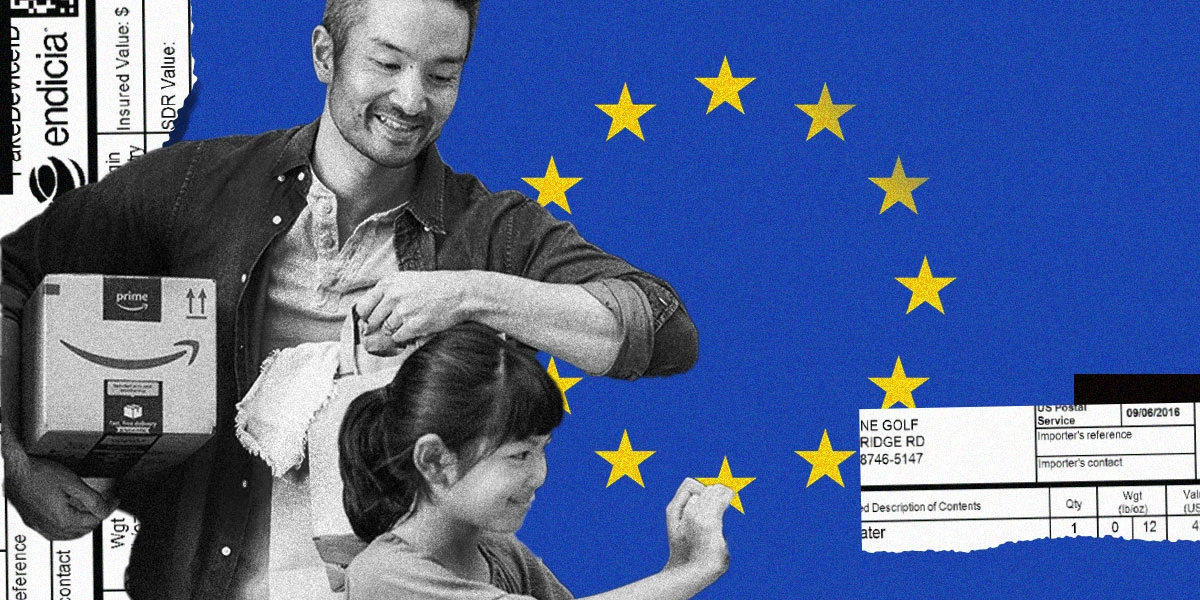 7 out of 10 Europeans, when asked, answer that traveling across the ocean to the United States is on their bucket list. At the same time, a lot of Americans dream about visiting Paris or drinking beer at Germany's Oktoberfest. An ocean apart, these two continents share great stories through hundreds of years of history.
But What About Amazon?
Well, let's look at the facts.
Amazon first started an adventure called the "European marketplace" in 1998 in the UK. This was the first marketplace opened after the US marketplace, followed by Germany in the same year and France in 2000.
That should tell us something, right?
Amazon Europe – How Are Things 20 Years Later?
I would answer this question with just one word: OPPORTUNITY!
European marketplaces are constantly growing, and Amazon is expanding in more and more countries. Recent ones include the Netherlands and Sweden, which are only in the very early stages, but hey, we all need to start somewhere, right?
The best ones so far have been in the UK and Germany, followed by France, Spain, and Italy.
At this very moment, you can still start selling in any or all of these marketplaces after you set up your selling account for Europe.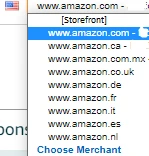 Fortunately, that's not very difficult and can be done from your existing seller account. Just file an application to sell, provide all the requested information and documents, and wait for approval. You will be able to manage all your marketplaces from the same seller account, which is awesome!
PROs and CONs for Expanding to Amazon Europe
What comes next is a challenge for many Amazon sellers… and not many people manage it right.
VAT.
In all the EU marketplaces, there is an additional TAX (included in the product price), called the VAT – Value Added Tax.
20% in the UK
19% in Germany
20% in France
22% in Italy
21% in Spain
21% in the Netherlands
25% in Sweden
This needs to be collected and paid in the country that you do FBA in, not the country you sell in because you can send your inventory to the UK, for example, in FBA, but sell on all existing marketplaces. Amazon will fulfill orders across Europe from your FBA inventory in the UK. This is great, right?
You need to keep in mind, though, that there are certain limitations from Amazon, which state the following: you can only keep your FBA inventory in one of the countries, sell in all seven of them, and pay VAT only in one (the first one, where you have the products in), but in certain limitations.
All this information is to be found in Seller Central. Here is a small part of it…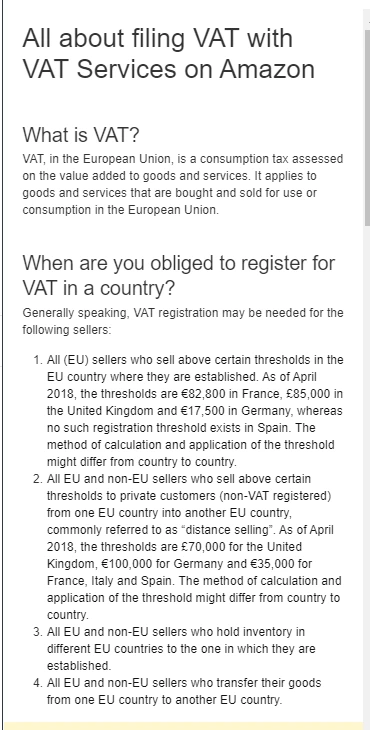 That means you have to pay the VAT in the UK (per our example.)
No matter the number of sales you have in the country you have your inventory, you are obliged to declare and pay VAT in that country. All the tiers above are for SALES in all the other marketplaces.
There are services that do that for you – connect to your seller central, download the reports, calculate the amounts and send you the notification with the amount to be paid, which you can also track and see in your Seller Central account.
Make sure to check out the services that Alta by Helium 10 offers for VAT registration and payment.
But the whole process is not easy. You have to register for one of these services or register directly with the State Finance department in the country you have your FBA inventory. It's a lot of paperwork.
Or, you can hire an accounting company that can also do this for you, but again more paperwork and work.
The filling and registration is the easy part – the struggle comes with accounting. It's a pretty complicated process, and you might not be able to find a company that can help you in all the countries simultaneously.
Check out our recent Serious Sellers Podcast episode specifically about accounting for international Amazon sellers.
If you decide to go with FBA in more than one marketplace, you might be able to find a company to do all this accounting and paperwork for you, however, even these services are prone to mistakes. They may also ask for huge fees – it's happened to me before. That's why I don't advise you to do that.
The process may be pretty scary at first, dealing with fiscal authorities. Rest assured, things will not look so scary once you've been doing this for a few months.
For example, I was put in a situation where the company I hired to do this did not send the documents in time to the HRMC in the UK (that's the IRS's equivalent there). I was receiving multiple emails per day from them asking for the VAT payment, which was done, but they couldn't see it. That cost me 10 hours of phone calls to straighten out.
This happened in the UK. I know from reliable sources that setting up an account for Amazon Germany, for example, is more difficult. You need a ton of documents, a company to keep the books, and so on. But once done, you're safe. Stick to it and keep Amazon FBA to Germany, for starters. At least until you grow and can afford to pay a different company in France to do all this, and so on.
What I want to say with the story above is that these taxes are extremely important(need to be paid). Remember, Amazon has all your information, and they will hand it over, if asked, in order for the Fiscal Institutions to have their share of the pot.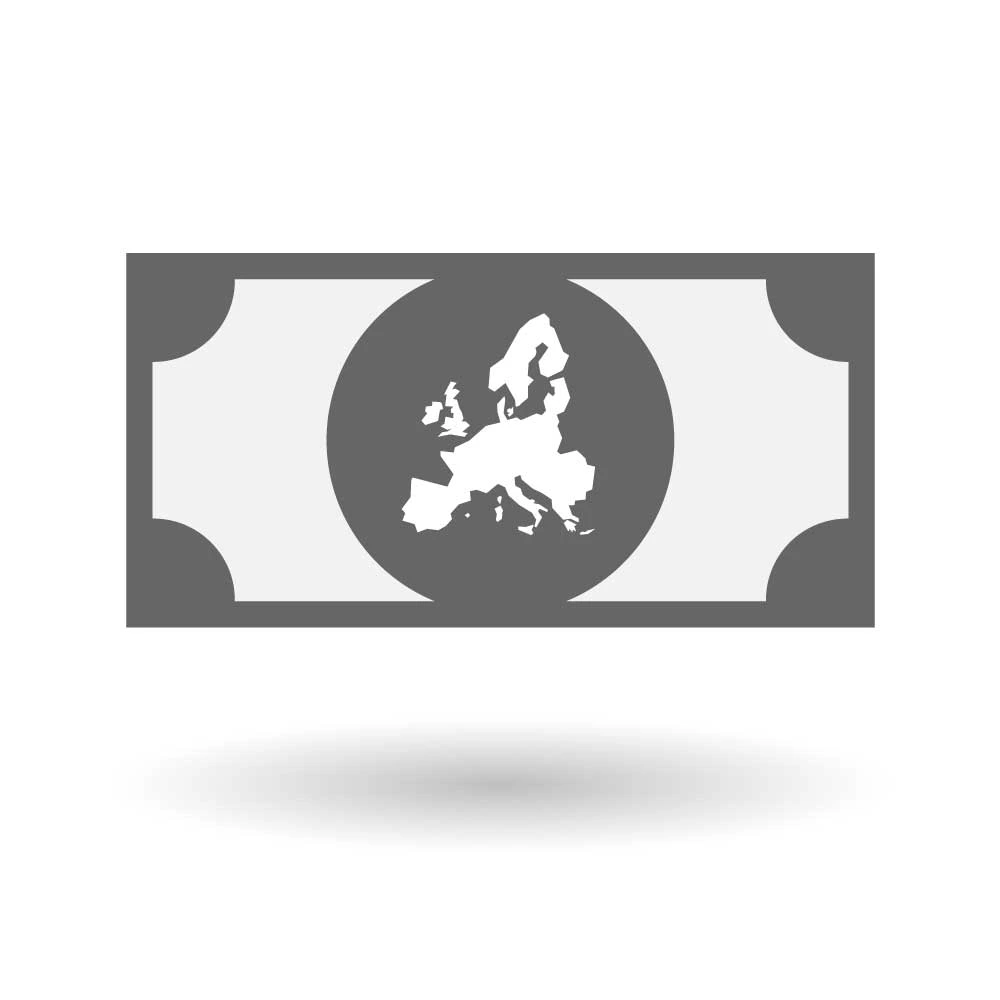 Why Did I Tell You This?
Well, if you never had any contact with these marketplaces before and you go right now to do a search on the main keyword for your current product selling for $25 in the US, you will be very surprised to see that in the UK it's selling for 10-15 GBP. How is this possible?
The first answer is taxes. There are a lot of sellers out there who found different ways to get the products inside the EU without paying customs and sell on Amazon without paying the VAT in any of the countries. These sellers have found great opportunities in the EU and especially in the UK so far, but fortunately, that ended in 2021, and I will explain everything here later.
Those sellers are mostly from a country we all know, and they do all kinds of Black Hat stuff on Amazon.com as well. You can easily find their info because in Europe, it has been public for years, not just from September. Just go to their store and find out.
There aren't many things you can do about them, but just FYI!
What you can do, on the other hand, is use everything you know from selling on amazon.com and still beat them.
Because either you take over your existing listings from Amazon.com or build new ones, you already know so many things about keyword research, listing optimization, photos, A+, PPC, and so on.
What is she talking about?
Well, just take a look at some listings on amazon.co.uk or amazon.de, listings that sell a substantial amount per month, and are extremely basic.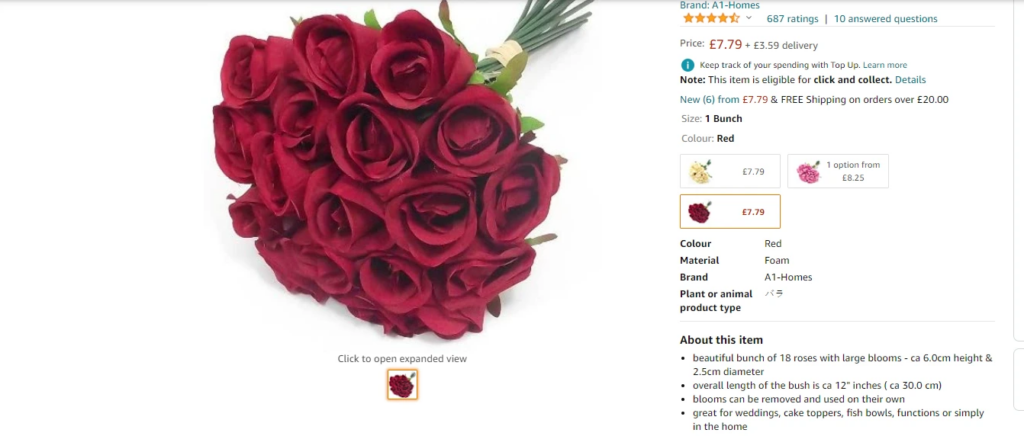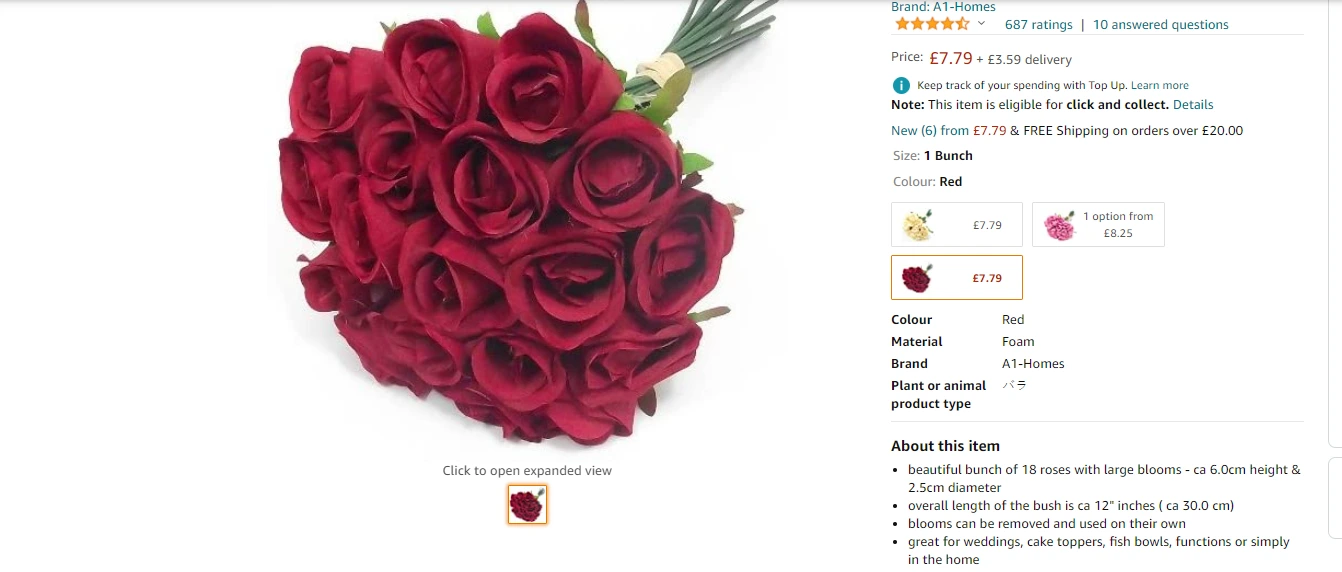 A single photo, barely any listing, and look at the sales:


Here is another example:
One photo, no listing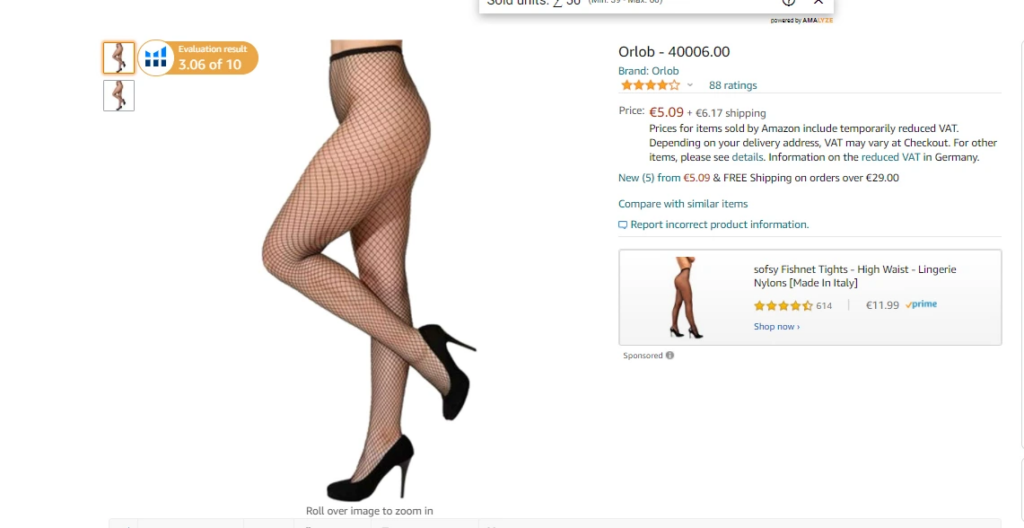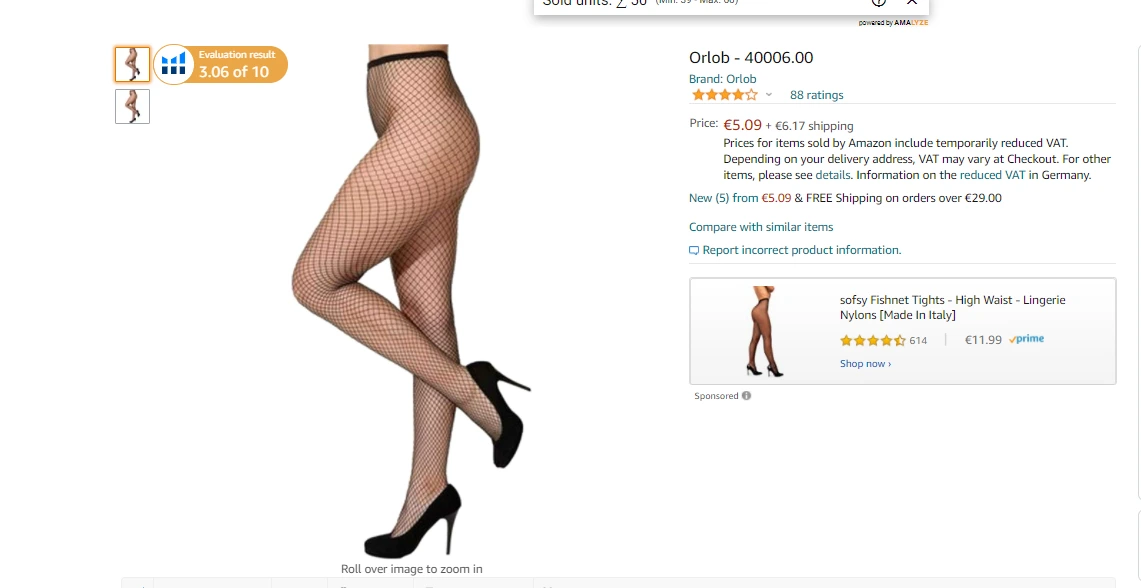 And here are the sales…


The conclusion is that, at this point, you can easily differentiate yourself with a good listing and beautiful photos to get in the game.
Also, one more thing that I consider worth mentioning is that there are also many other good opportunities to sell your products once you have them in a 3PL in the UK. Or, you can even ship them directly to these companies without any other middle-man.
For instance, a huge marketplace in France is www.cdiscount.com. They buy products and sell them through their own platform. You get in touch, list the products, and that's it. As long as they like your product and brand, of course.
Another one is www.real.de for Germany.
It is way easier to get to these European companies than it is in the US because there is not so much competition.
The Real Gem of Amazon Europe…
As I've said in the beginning, the two most important marketplaces in Europe are the UK and Germany.
This brings me to something I really really think it's very valuable. That is Amazon Germany.
Not many sellers are attracted to it, first of all because of the language barrier. The German language can be tough. Once you get that solved, and there is an ocean of opportunity. I've seen, in several Helium 10 events, a company that offers a great translation service: YLT Translations. You will be surprised by what you'll find on amazon.de.
German people like to buy online, as long as you have a great product and you convince them through photos and listing. They are very loyal, but at the same time quality is very important.
But if you put together a great product, explain very well what it does and how it can help them, show them in photos what it does and how it works, plus have decent customer service (at least decent), you'll see miracles happen.
My personal opinion is that at this point, amazon.de represents the biggest opportunity in Europe, followed by Spain which is growing very very fast.
Remember, Germany has 83 million people – The UK, France and Italy have 60-65 million and Spain only 46 million. So, it's by far the biggest market and also the "richest" one.
It's true, German people care deeply about their culture, traditions, and language. So make sure to have German writing on your packaging, including translated instructions. Actually, these details are very important in all the countries you plan on selling in. Europeans are very proud of their history and culture, and your product will always win against a competitor's showing only English (or Chinese).
How to Sell on Amazon Europe – What About Ranking in Europe?
Well it's the same as in the US… but at the same time, very different.
We, at AZ Rank, cover the UK and Germany. What we've seen so far is that the search volume is not always the most important aspect in terms of ranking.
Yes, of course it matters, but if your product is a very specific one, for example, "Charcoal Toothpaste," you need to be ranked very high on those specific keywords (as well as long tail keywords) and then target the general toothpaste keywords which have larger search volumes.
In the US, you can easily go for a high-volume keyword like "Whitening Toothpaste" from the beginning and get very good results. Giveaways also work.
In contrast, we've had many, many campaigns in the EU which did great after ranking for low-volume keywords first and then focusing on the broader ones.
One very important thing to observe is that reviews don't matter that much. You can have success with few to no reviews at all.
Take a look at these products below: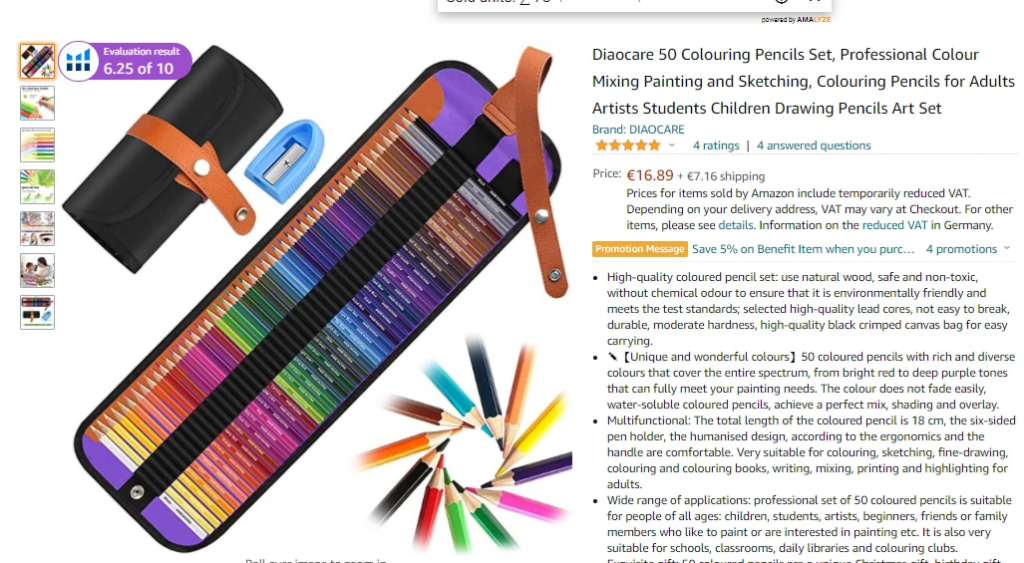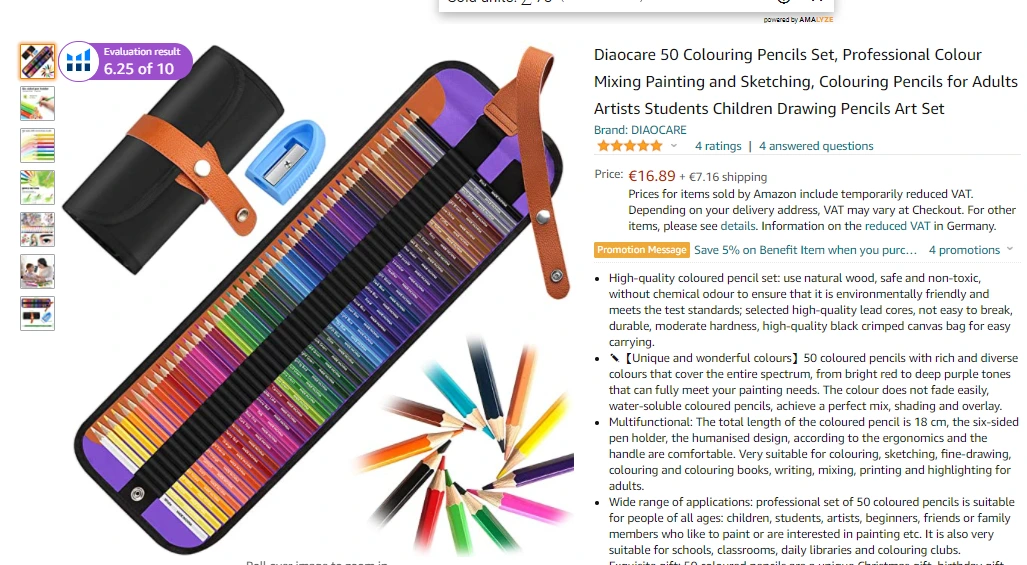 Four ratings, good listing – 115 sales

And, another one in Amazon Germany: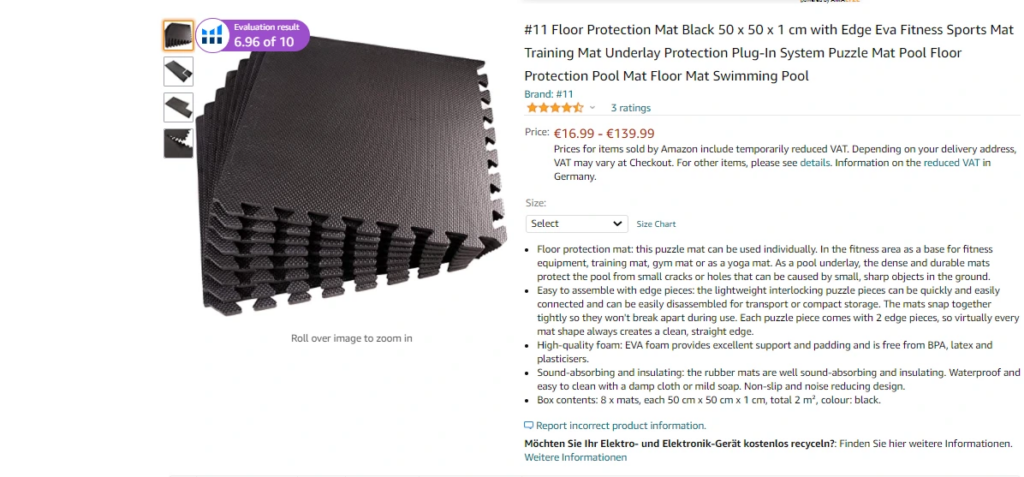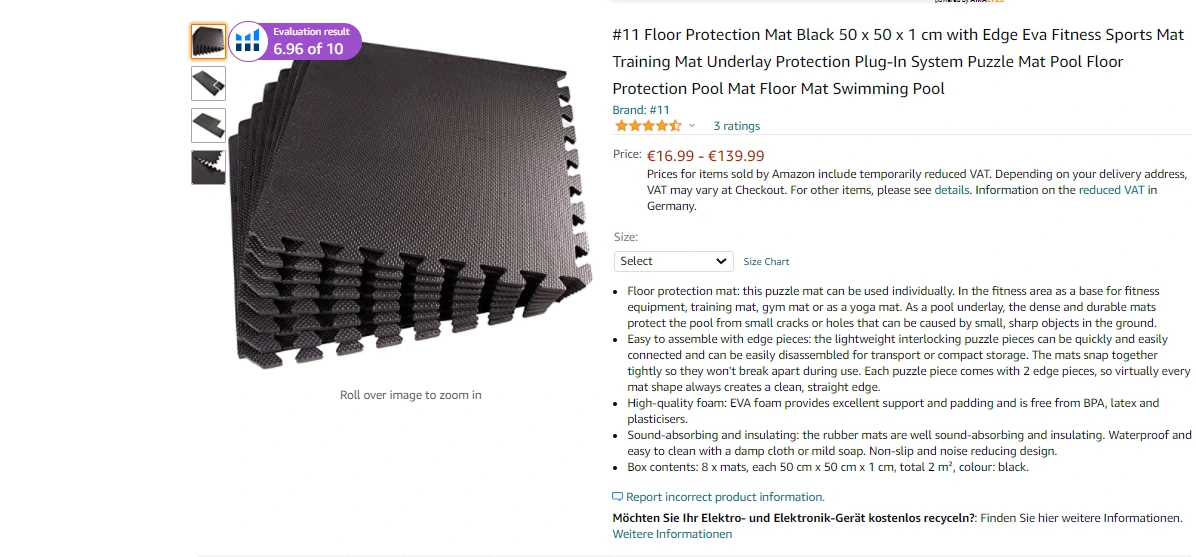 Three ratings, decent listing, 121 sales

Amazon in Europe – A Note On PPC
Well, those who are in love with PPC and not selling in Europe will have some nice surprises. In Europe, you can get sales at CPCs like 0.2 and 0.4 and have campaigns perform very, very well.
This is because there are not as many sellers who know the game as there are in the USA. It is so much easier to advertise and get extraordinary results, by far.
In my own experience, when I was just learning PPC and Amazon a couple of years ago – I got 25-30% ACOS on average on some high-value seasonal products, just with basic PPC. Well, basic might even be too much! If I could do it back then, so can you!
To conclude, make sure you choose keywords that are very relevant to your product for ranking, PPC, and also in your listing.
One other thing: Keep in mind the differences between American English and British English.
For example, you can say
"Soccer" in the US, but in Europe you need to say "football"
"Candy" in the US, "sweets" in Europe
"Closet" in the US, "wardrobe" in Europe
"Diaper" in the US, "nappy" in UK
"Crib" in the US, "cot" in UK
And many, many more. These are all basics, but they can make a huge difference in your listing and indexing.
Moving Forward
Starting July 1st 2021, all products, no matter the value, are held in customs for inspection and will be charged customs duties and VAT when imported into the EU.
This is not a small thing because the time the products take to get into Amazon has increased a lot, and the added fees reflect in the price. No one is allowed to bring anything into the EU without paying taxes and VAT.
This will represent a major advantage for sellers who already have inventory in the EU or who have found suppliers in the EU for their products!
Frequently Asked Questions
Everything for your business on Amazon.
Find out more about our products by signing up or speaking with one of our
Customer Success representatives today. With us in your corner, you can enjoy
more sales and increased engagement from your Amazon business.
Chat with a Support Specialist