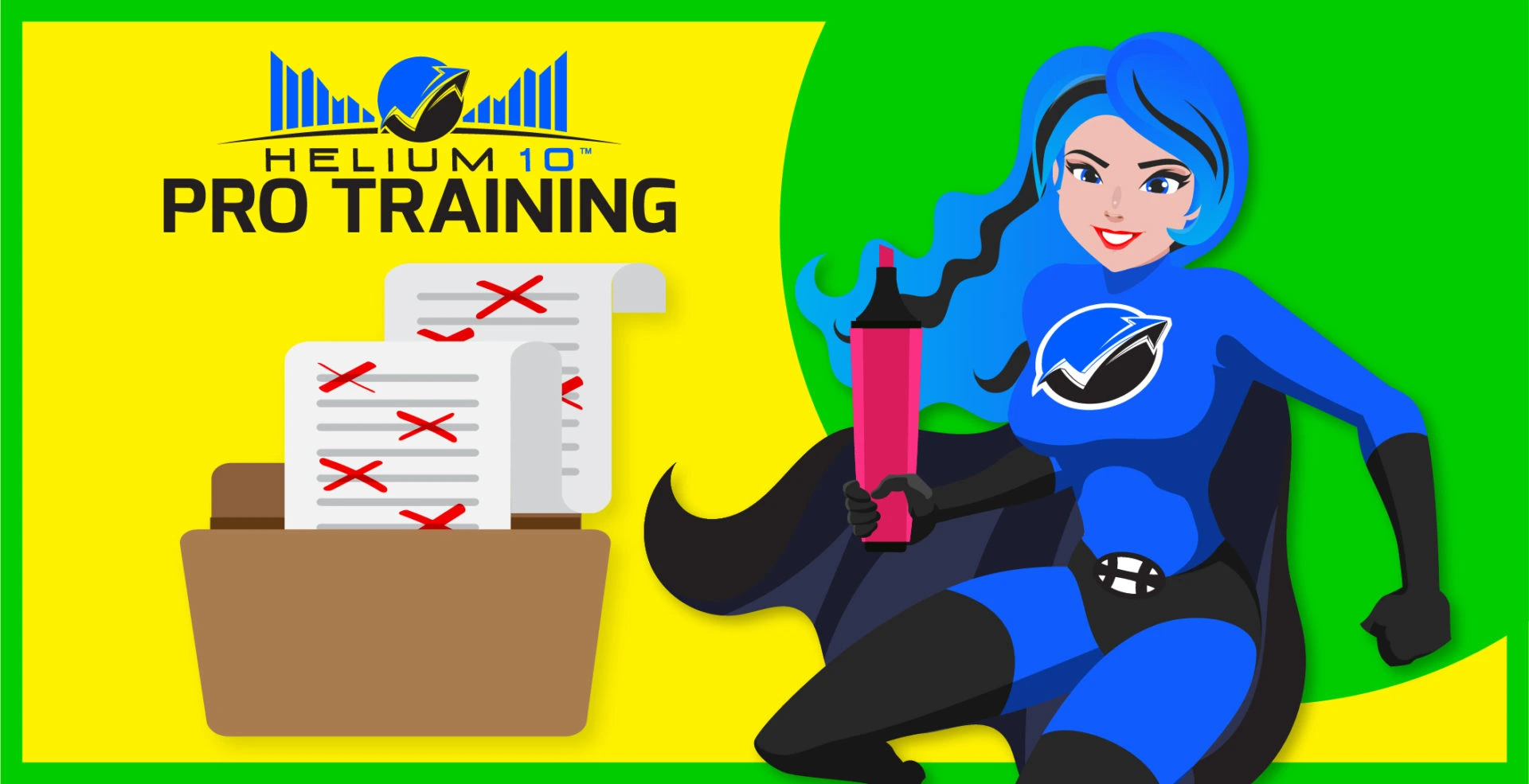 Posted on: March 12, 2018, By: Helium 10
How to Remove Unwanted Words to Optimize Amazon Keyword Lists – Helium 10 Cerebro Common Words Feature
Removing unnecessary terms using the Common Words feature in Cerebro by Helium 10 can help optimize Amazon keyword lists. Sign up for Helium 10 today to get an unfair advantage over your competitors with tools like Cerebro.
Removing unnecessary terms using the Common Words feature in Cerebro by Helium 10 can help optimize Amazon keyword lists.
When compiling your lists of keywords and phrases for your Amazon product listings, you always want to ensure that you optimize Amazon keyword lists as much as possible. Optimization often involves going through massive lists and picking out the unnecessary words and phrases that do nothing for product ranking.
Getting rid of these small but annoying words that appear often enough is annoying and time-consuming. Thankfully with Cerebro by Helium 10, you don't have to worry about intrusive common words obstructing your attempts to optimize Amazon keyword lists.
The Common Words feature in Cerebro allows users to compile a list of words that are not desirable to show up in keyword lists and filters them out when you are updating lists or building new ones across all product profiles.
Check out the Common Words tutorial by Manny Coats here:
Some keywords are not very useful for any strong keyword list, such as "set of" and "set for" pictured below. These words are considered "common words" that do not add value to any key phrase or a seller's ability to optimize Amazon keyword lists. Common words can be quite time-consuming to find and remove manually, so filtering them out of all keyword lists is super-helpful for the busy seller.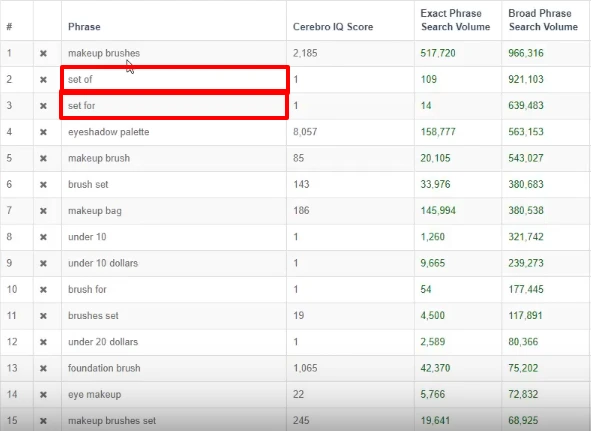 To access the Common Words button, log into Helium 10 and select Cerebro from the sidebar. Common Words can be found on the top toolbar within Cerebro.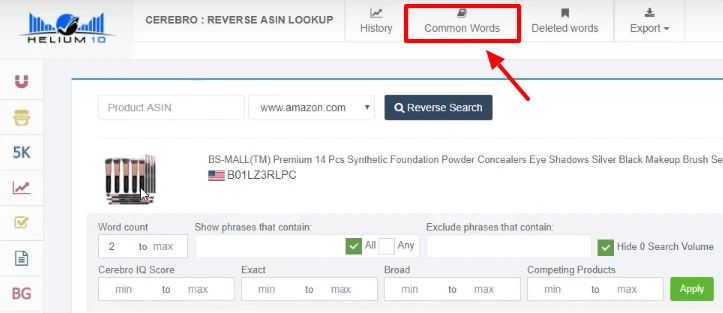 To add words or phrases to the Common Words list within Cerebro, select the Common Words button. A new window will appear and present you with a list of words currently being filtered out if any have been placed here.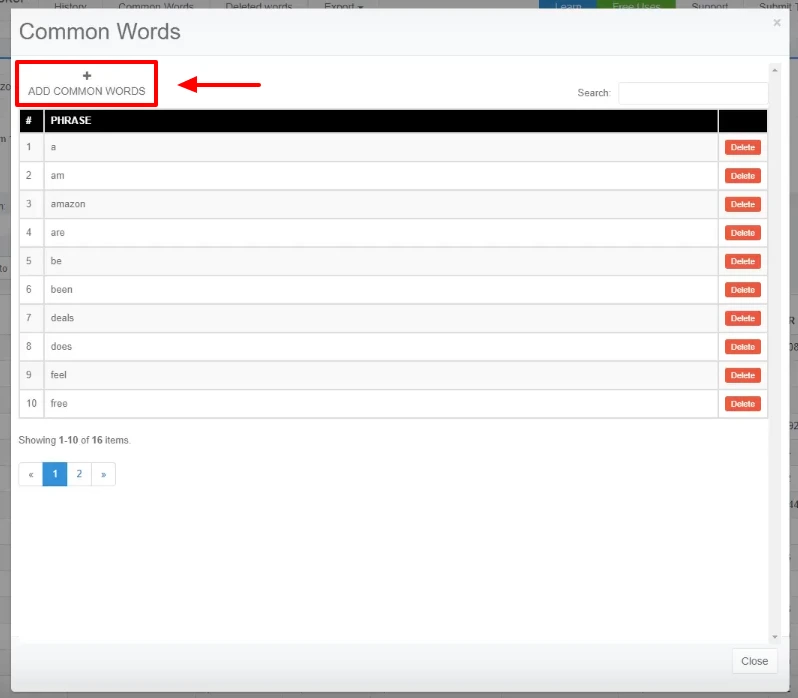 Select the "Add Common Words" button, and another subwindow will appear. Type the words you wish to filter out of your product keyword lists in the text box and select "Add Common Words" to finalize. Now the common words you specified will no longer appear in any of your keyword lists for any product in your Helium 10 account.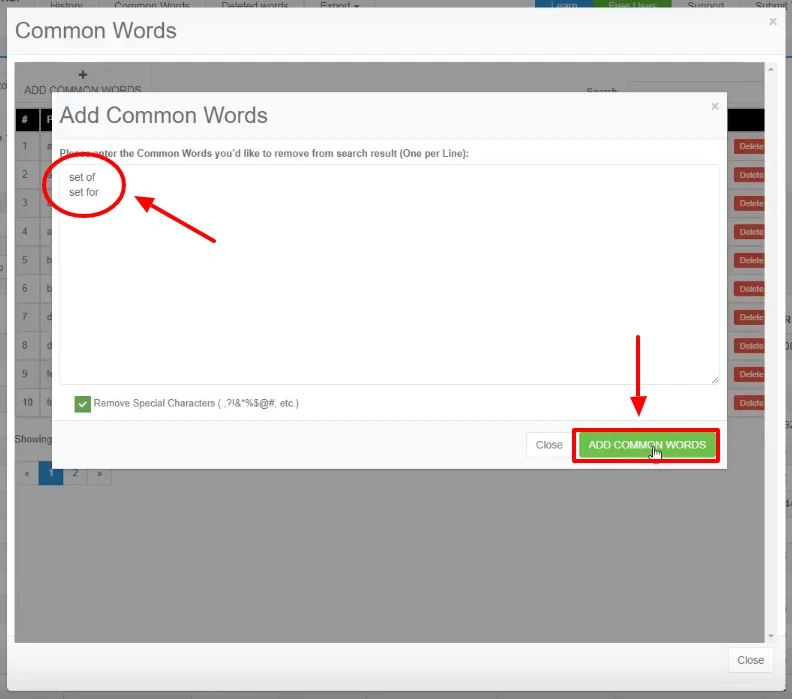 PLEASE NOTE:
The Common Words Feature differs from the Deleted Words feature and does not share word lists. The Common Words list is a permanent list made up of pre-determined words that are always filtered out of your keyword lists in Cerebro. The Deleted Words list is a temporary list that only contains words that were deleted from the keyword list of the product you are currently on; once you switch to another product list, the words in the Deleted Words list will disappear forever.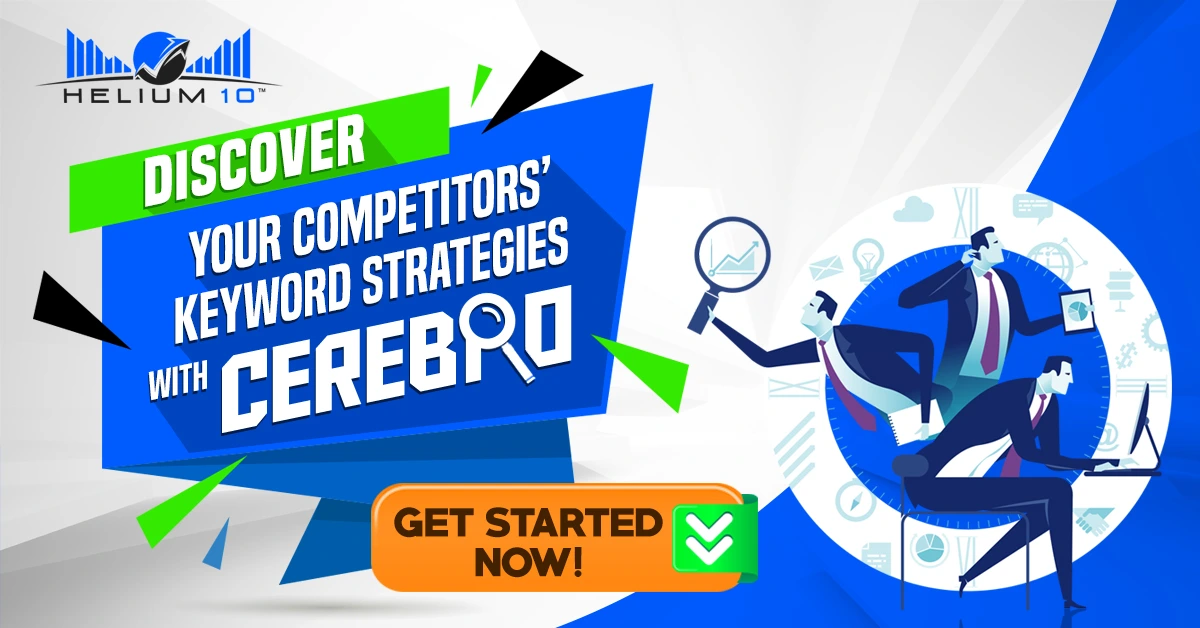 If you're not a Helium 10 member yet and you sell on Amazon, what's holding you back? Sign up here today to take advantage of great tools like Cerebro: https://members.helium10.com/user/signin
Get more Helium 10 updates from our Facebook page: https://www.facebook.com/Helium10Software/
Miss last week's tutorial? Check out the Deleted Words Feature tutorial!
Do you have more questions about Cerebro and the Helium 10 suite of software tools? Let us know in the comments below!

Latest posts by Helium 10
(see all)