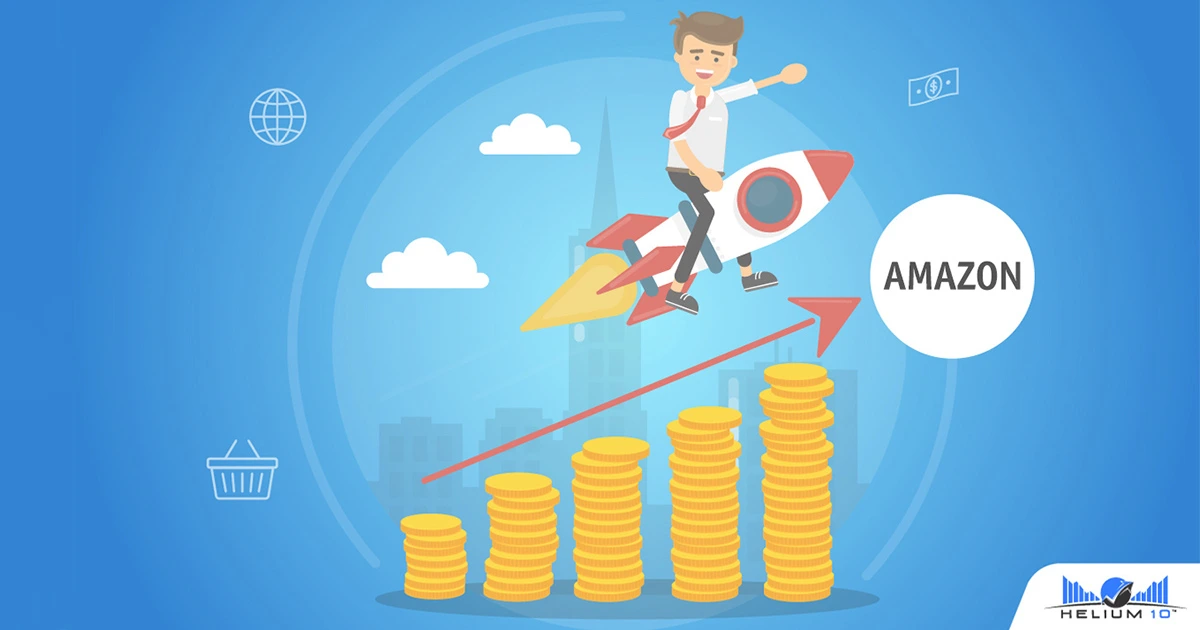 How to Increase Amazon Sales with Helium 10 + New Dashboard!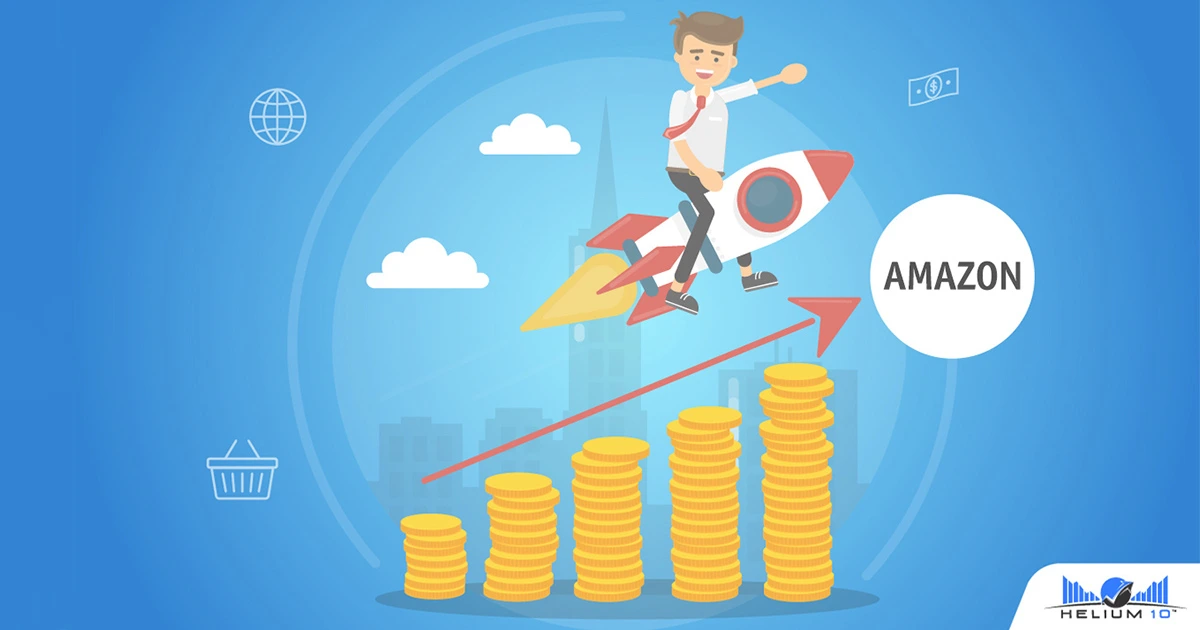 Learn how to increase Amazon sales by following the Helium 10 Amazon Seller Journey! Also, the dashboard gets a facelift!
We have some great announcements from Helium 10 for better navigation of our tools and more opportunity to increase Amazon sales with your listings! Firstly, we have updated our Helium 10 dashboard interface to be much more user-friendly and intuitive than ever before! Members can access all the tools right from the new main menu on the homepage in addition to the column on the left.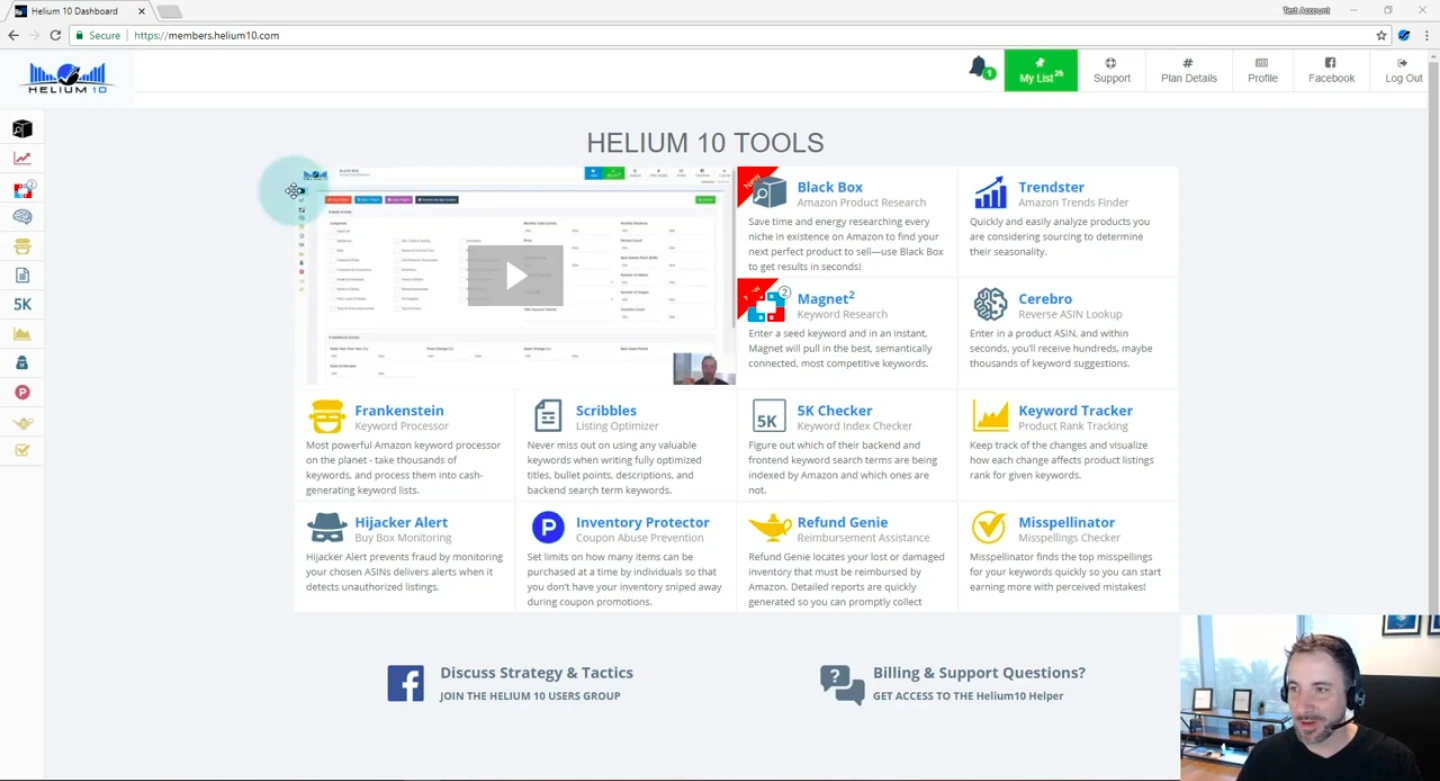 Additionally, we have moved most of the tool-specific buttons to a second toolbar below the main one, which will be used primarily for whole-account functions.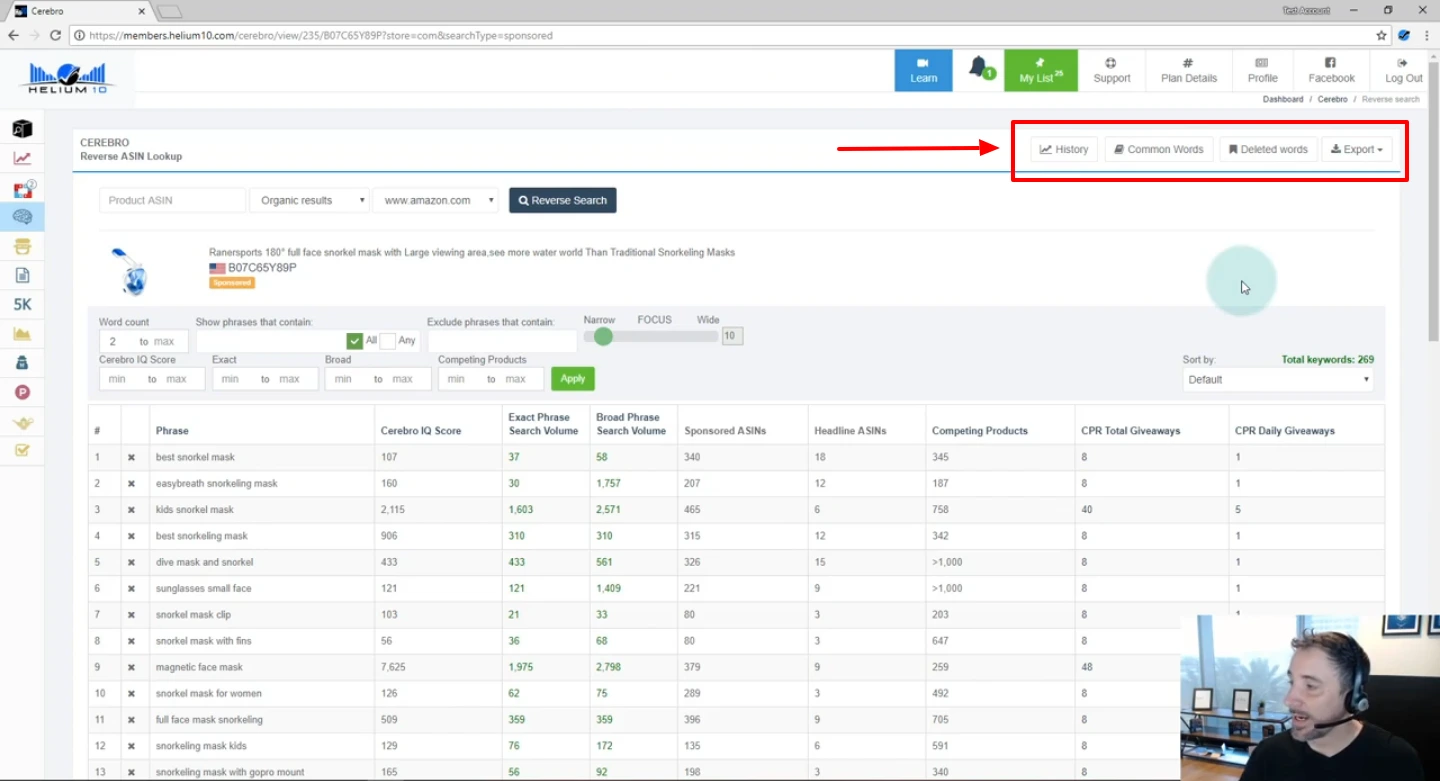 On the left column, we have also reordered our tools to represent the order in which Amazon sellers would use them, beginning with product research tools at the top and money-saving ongoing maintenance tools at the bottom.
Check out the video here:
If you are new to Helium 10 or have heard of us but aren't sure how all the tools fit together to increase Amazon sales, the infographic below will explain how the Helium 10 Amazon Seller Journey works and which tools help you with each step: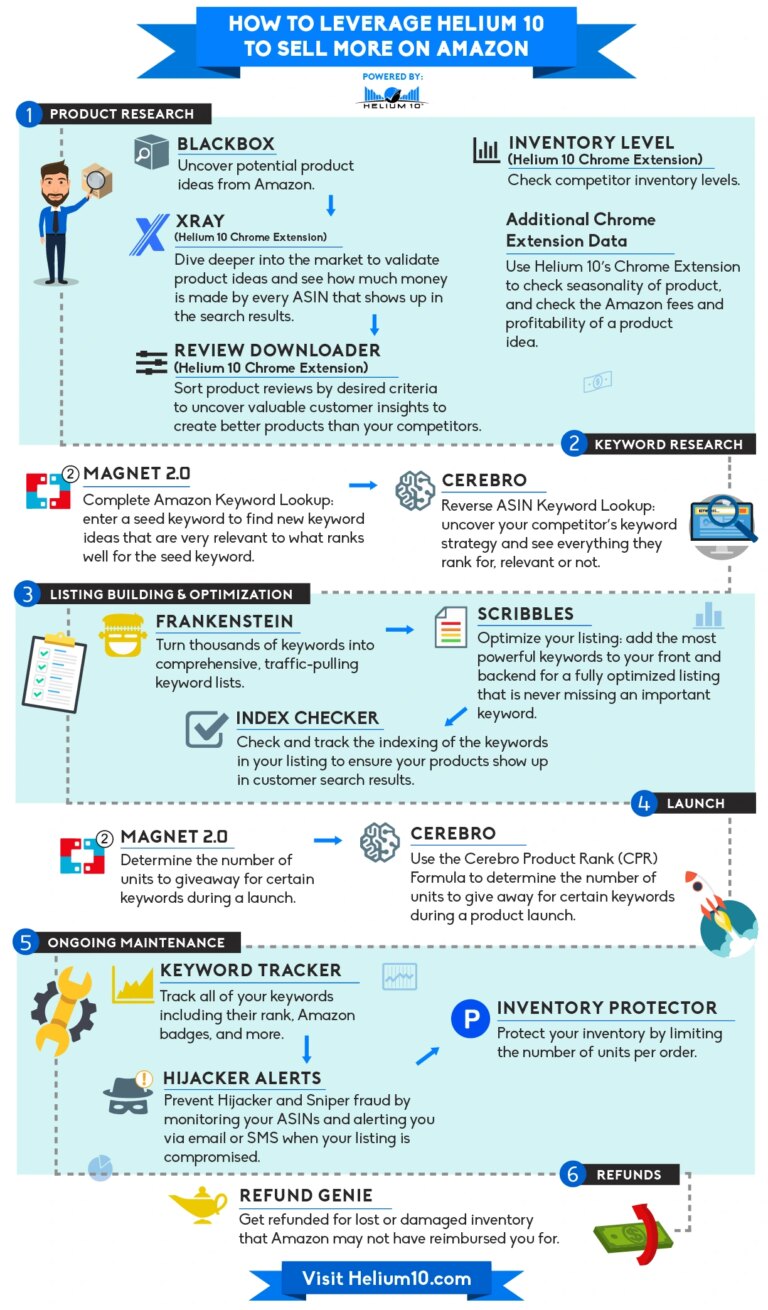 IMPORTANT: Helium 10 derives its data estimates from Amazon trends, rendering the most accurate product trends and information you'll find among other tools for Amazon sellers. Other tools may derive their information from search engines like Google or Bing, but we feel estimating data from the more reliable source provides our customers with the most accurate numbers and highest satisfaction.
We also suggest using the tools in the order they are listed below for to fully utilize the power of the Helium 10 suite of tools so you can increase Amazon sales with your listings and launch more successful products with a top ranking.
Here are the six steps of the Amazon Seller Journey; this infographic should provide you with a little extra clarity on how to use the Helium 10 suite of tools to help you increase Amazon sales on your seller journey:
1 Product Research
In this first group of tools, you'll find software designed to help you find your next perfect product to sell. These tools include:
Black Box – Uncover potential product ideas from Amazon with access to data from over 450 million products currently listed on Amazon.
Xray (Helium 10 Chrome Extension) – Dive deeper into the market to validate product ideas and see how much money is made by every ASIN that shows up in the search results.
Review Downloader (Helium 10 Chrome Extension) – Sort product reviews by desired criteria to uncover valuable customer insights to create better products than your competitors.
Inventory Level (Helium 10 Chrome Extension) – Check competitor inventory levels to see how much they have in stock so you can gauge the strength of competitors.
Additional Chrome Extension Data – Use Helium 10's Chrome Extension to see extensive, highly-accurate data on individual products on Amazon at a glance, check seasonality of products, and check the Amazon fees and profitability of a product idea.
2 Keyword Research
In the second group of tools, you'll be able to find the best keywords to target to get your product to rank higher on the results pages. These tools include:
Magnet 2.0 – Complete Amazon keyword lookup—enter a seed keyword to find new keyword ideas that are very relevant to what ranks well for that seed keyword.
Cerebro – Reverse ASIN keyword lookup—uncover your competitor's keyword strategy and see everything they rank for, relevant or not.
3 Listing Building & Optimization
In the third group of tools, you will take your chosen keywords and apply them optimally to create a useful product listing to increase Amazon sales and keep track of how your product is ranking for particular keywords. These tools include:
Frankenstein – Turn thousands of keywords into comprehensive, traffic-pulling keyword lists.
Scribbles – Optimize your listing, add the most powerful keywords to your Amazon storefront and backend for a fully optimized listing to prevent missing vital keywords.
Index Checker – Check and track the indexing of your keywords in your listing to ensure your products show up in customer search results.
4 Launch
In the fourth group of tools, you revisit critical features of Magnet and Cerebro to successfully launch a new product and quickly climb the rankings to page one:
Magnet 2.0 – Determine the number of units to give away for specific keywords during a launch.
Cerebro – Use the Cerebro Product Rank (CPR) Formula to determine the number of units to give away for specific keywords during a product launch.
5 Ongoing Maintenance
In the fifth group of tools, we provide continuous monitoring software to ensure your listings stay protected and profitable once launched. These tools include:
Keyword Tracker – Track all of your keywords including their rank, Amazon badges, and more.
Alerts – Prevent Hijacker and Sniper fraud by monitoring your ASINs and alerting you via email or SMS when your listing is compromised or altered.
Inventory Protector – Protect your inventory by limiting the number of units per order.
Profits – Know your numbers because profitability can make or break any Amazon business.
6 Refunds
In the sixth group, we offer Amazon sellers that have been selling for at least several months and may be owed refund money by Amazon for damaged or missing goods:
Refund Genie – Get refunded for lost or damaged inventory that Amazon may not have reimbursed you for.
Have questions about any of our products or services? We love questions about how we can increase Amazon sales, so leave a comment below! Visit www.helium10.com/tools for a full overview of each tool we offer.
---
If you're not a Helium 10 member yet and you sell on Amazon, what's holding you back?
SIGN UP HERE TODAY TO START ACCELERATING YOUR AMAZON BUSINESS
Get more Helium 10 updates by giving us a "Like" on our Facebook page: https://www.facebook.com/Helium10Software/
Want to see more Helium 10 Pro Training tutorials? Check out the rest of our videos on the Helium 10 YouTube channel! Don't forget to subscribe for regular updates!
Want to absolutely start crushing it on Amazon and make more money? Follow these steps for helpful resources to get started:
Get the Ultimate Resource Guide from Manny Coats for tools and services that he uses every day to dominate on Amazon!
New to Selling on Amazon? Freedom Ticket offers the best tips, tricks, and strategies for beginners just starting out!
CLICK HERE TO SIGN UP FOR FREEDOM TICKET
Trying to Find a New Product?
Get the most powerful Amazon product research tool in Black Box, available only at Helium 10!
Want to Verify Your Product Idea?
Use Xray in our Chrome extension to check how lucrative your next product idea is with over a dozen metrics of data!
GET THE HELIUM 10 CHROME EXTENSION
The Ultimate Software Tool Suite for Amazon Sellers! Get more Helium 10 tools that can help you to optimize your listings and increase sales for a low price!
CLICK HERE TO GET STARTED TODAY
Protect Your Amazon Brand with a Trademark!
Protecting your brand from hijackers is vital. SellerTradmarks.com provides a streamlined process for obtaining a trademark for your business and shielding your products from fraud!
CLICK HERE TO GET YOUR TRADEMARK
Ready to Get Serious About Your Amazon FBA game?
The Helium 10 Elite offers cutting edge training for advanced Amazon sellers who are ready to grow their business and take it to the next level.
CLICK HERE TO JOIN HELIUM 10 ELITE
Does Amazon Owe YOU Money? Find Out for FREE!
If you have been selling for over a year on Amazon, you may be owed money for lost or damaged inventory and not even know it. Get a FREE report to see how much you're owed!
Achieve More Results in Less Time
Accelerate the Growth of Your Business, Brand or Agency
Maximize your results and drive success faster with Helium 10's full suite of Amazon and Walmart solutions.