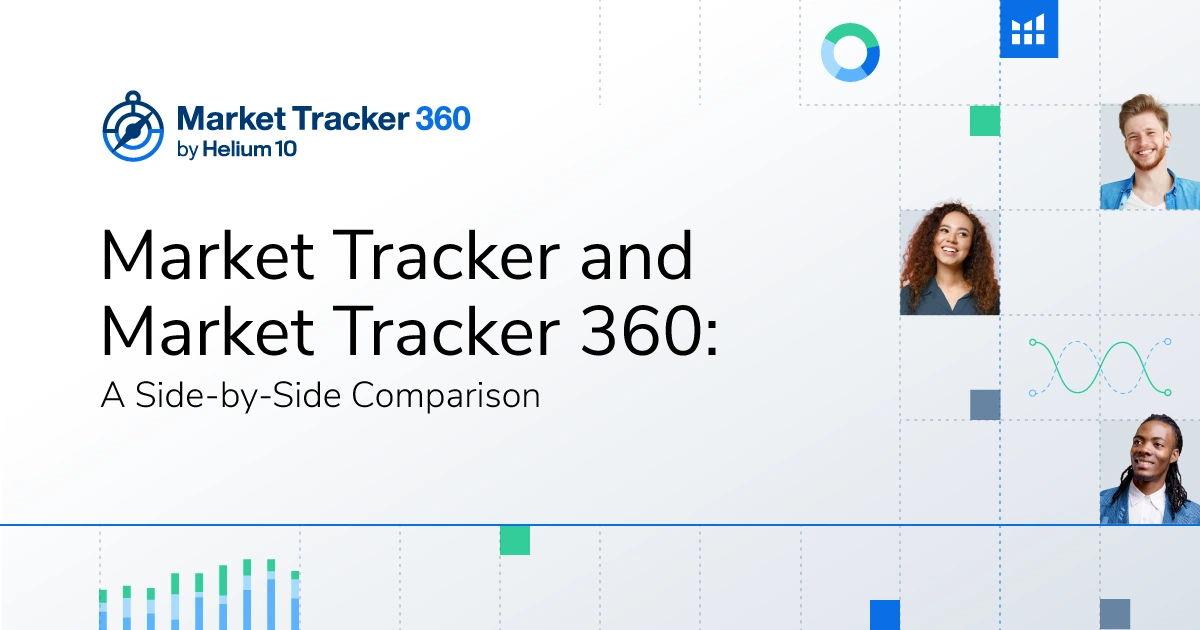 Market Tracker and Market Tracker 360: A Side-by-Side Comparison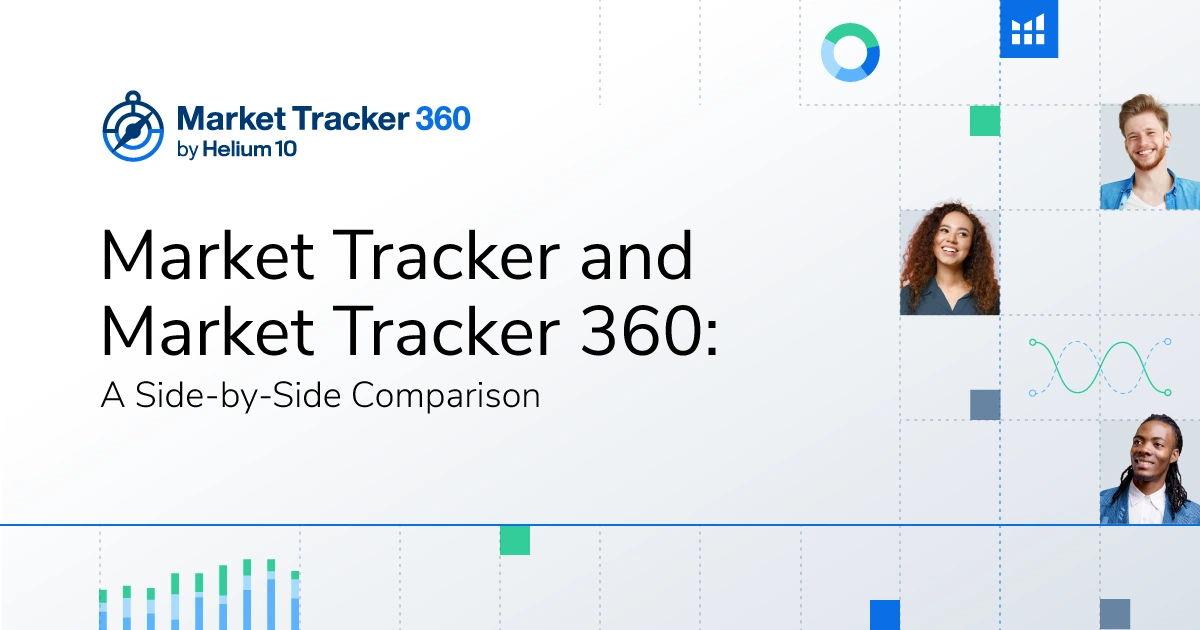 In this blog post, we dive into the details and uncover the unique features and limitations of Market Tracker and Market Tracker 360. By outlining and understanding these distinctions, you can make an informed decision on which tool best suits your specific needs. When it comes to harnessing Amazon's market intelligence, businesses must rely on comprehensive tools that help track market performance and assess competition.
Helium 10 offers two potent solutions: Market Tracker and Market Tracker 360.
These tools provide varying degrees of market insights, ensuring businesses of all sizes can keep an eye on their competition and the market as a whole. Let's dive deeper into these Amazon market research tools to understand their unique features and how they differ from each other.
Market Tracker
Market Tracker is a tool that offers essential Amazon market intelligence to businesses, especially those dealing with a single product. Here are its key features:
Time-bound Data Access: Market Tracker collects data from the day you set your market, offering you insights into your Amazon market space from that point onward. It's important to note that you can't access historical data prior to the date your market was set with this tool.
Limited Scope: The tool offers a narrow market view, providing product-level data only. This limited scope makes it highly useful for in-depth Amazon competitor analysis on a product-by-product basis.
Ideal for Single-Product Companies: As a tool designed for narrow, focused analysis, Market Tracker is ideal for businesses dealing with a single product on Amazon.
Pricing and Support: Market Tracker is included in the Helium 10 Base Plan. It is primarily a do-it-yourself (DIY) tool as it doesn't offer a customer success representative.
Keyword Limitation: You can select up to 5 keywords with Market Tracker, but it's worth noting that these cannot be changed after the market is created. This encourages the careful selection of the most relevant keywords for effective Amazon competitor analysis.
Manual Tracking: Users manually select the products they want to track, ensuring they are in control of their Amazon competitive intelligence efforts.
Market Tracker 360
Market Tracker 360, on the other hand, is an advanced Amazon market research tool offering a host of features that make it suitable for scaling businesses with multiple products. Here are its distinguishing features:
Historical Data Access: Unlike the basic version, Market Tracker 360 provides access to historical data, enabling you to review and analyze market trends over time using keywords and ASINs. This feature is invaluable for comprehensive Amazon market intelligence.
Scaling Businesses' Companion: Market Tracker 360 extends beyond single-product analysis, making it the tool of choice for growing businesses handling multiple products on Amazon.
Comprehensive Market Intelligence: It provides brands and agencies with in-depth market intelligence, providing a complete picture of their position in the Amazon marketplace.
Immediate Historical Data Access: Users gain immediate access to up to 2 years of historical market data upon creating a market, a boon for accurate Amazon competitor analysis.
Wide Market View: This tool offers insights into keywords, brands, product performance, and top performers, providing a comprehensive Amazon competitive intelligence platform.
Speedy Market Creation: With average market creation times of 30 minutes or less, you can quickly set up and start gaining valuable insights.
Dynamic Updates and Integration: With dynamic product updates and cross-platform integration, Market Tracker 360 is designed to keep you updated in real-time and enhance your ability to gain insights swiftly.
Detailed Product Analysis: Users can compare and analyze historical sales and keyword information for products, making it an invaluable Amazon market research tool.
Brand Performance & Analysis: Users can delve deep into a brand's performance and compare or explore similar brands in their market.
Customer Success Manager: To ensure that users maximize the tool's potential, Market Tracker 360 assigns a personal Customer Success Manager to each user.
Pricing: Market Tracker 360 is available as an add-on to any Helium 10 base plan with an annual agreement.
In conclusion, both Market Tracker and Market Tracker 360 serve as comprehensive Amazon market intelligence tools. The choice between the two depends on the scale of your business, your specific needs, and the depth of market insights you seek. Regardless of whether you're a single-product company or a scaling brand with a diverse product portfolio, Helium 10's market tracking tools can equip you with robust Amazon competitive intelligence to stay ahead in the game.
Table View
| | | |
| --- | --- | --- |
| Feature | Market Tracker | Market Tracker 360 |
| Access to Historical Data | No (From set date onwards) | Yes (Up to 2 years) |
| Market View | Narrow (Product-level) | Wide (Keywords, Brands, Products) |
| Ideal For | Single-Product Companies | Scaling Businesses with Multiple Products |
| Included in Helium 10 Base Plan | Yes | Available as an add-on |
| Customer Success Manager | No | Yes |
| Keyword Limitations | 5 (Fixed after market creation) | Unlimited |
| Tracking Mechanism | Manual | Dynamic |
| Market Creation Time | | 30 minutes or less |
| Data Visualization | | Yes |
| Detailed Product Analysis | | Yes |
| Data Exporting | | Yes |
Achieve More Results in Less Time
Accelerate the Growth of Your Business, Brand or Agency
Maximize your results and drive success faster with Helium 10's full suite of Amazon and Walmart solutions.