How to Grow Your Amazon Storefront with Affiliate Marketing
Learn about affiliate marketing in the Amazon space. Take advantage of a promotional strategy utilizing affiliates, influencers, or publishers to generate conversions for the brand.
Updated on: August 26, 2022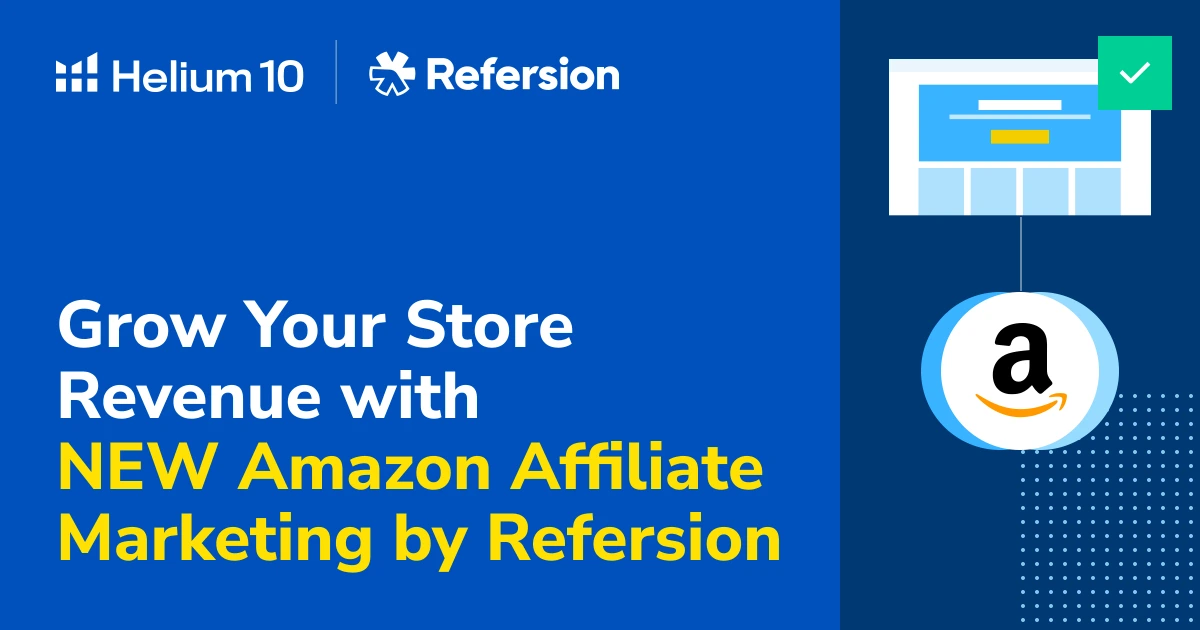 E-commerce brands on Amazon have tons of potential and opportunities for growth and sales. This is, in part, due to the fact that Amazon is host to over 300 million active customers. At the same time, these consumers trust Amazon, which has resulted in the average conversion rate for an Amazon product listing reaching between 10 and 15 percent.
However, Amazon is also an immensely crowded platform, with more than 500,000 brands enrolled in Amazon's Brand Registry. That number doesn't even account for everyday Amazon sellers who aren't a part of the program.
As a result, most brands turn to various paid marketing strategies like Amazon Sponsored Products Ads. The problem is that, while these campaigns can be quite expensive, they do not guarantee conversions. However, there is a way around this problem.
This is where affiliate marketing comes into play. Affiliate marketing platform Refersion and Helium 10 have partnered to introduce the first and only affiliate marketing platform that offers Amazon integration.
As a way to help you increase external traffic to your Amazon listing, elevate sales, and boost your marketing ROI, today, we will cover what Amazon Affiliate Marketing by Refersion is, how it works, and what benefits your brand can reap from its deployment.
But first, let's take a moment to define affiliate marketing.
What is Affiliate Marketing?
Affiliate marketing is a promotional tactic whereby affiliates, influencers, or publishers earn a commission for marketing a company's products and generating conversions for the brand. These conversions could be leads, downloads, or (in the case of Amazon brands) product sales. Through this type of performance marketing, companies only pay for the conversions that an affiliate successfully generates.
Affiliate marketing is a powerful strategy for Amazon sellers to adopt due to its low-risk, high-ROI structure, making it a cost-effective alternative to paid adverts and other expensive, potentially risky marketing efforts.
Through this means of product promotion, brands can get their items in front of relevant audiences with a minimal marketing budget, invest nominal amounts of time and effort (thus allowing you to focus your energy elsewhere), keep risk to a minimum, and only pay for actual results, thus guaranteeing a higher ROI.
Now, let's take a look at how Amazon Affiliate Marketing by Refersion works.
Understanding Amazon Affiliate Marketing by Refersion
Once e-commerce brands on Amazon are qualified and enabled within the Refersion platform, brands can go to their account, then settings, and tracking and add their Amazon by clicking the Add Tracking button and selecting Amazon icon.Within the platform, brands select 'Manage', followed by 'Products', and then add Amazon as a tracking method by selecting the Amazon icon. 
From there, sellers can simply follow the prompts to connect their Amazon store, import their Amazon product catalog, and create a default commission offer for their offerings. Generally speaking, it is encouraged for brands to set this at no less than 10 percent, for reasons that will be covered momentarily.
After creating their offers, brands can choose which products they want to promote on the Marketplace. This is a key function in order to be discoverable by affiliates searching for new offers.
As affiliates search through products and offers in the Marketplace, there are two options to begin promoting a brand. The affiliate will either apply to work with the merchant, or if they are already signed up to work with the merchant, they will be able to access the link to begin promotion.
There are three ways for merchants to begin connecting with affiliates and publishers:
Affiliates discover merchants within the Marketplace.
Merchants identify Amazon affiliates through Affiliate Discovery.
Refersion matches merchants with premium content publishers.
Once brands are set up with affiliates and publishers to help market their merchandise, Refersion's Amazon integration handles the heavy lifting of management. Through this integration, retailers will be able to manage their affiliate relationships, promotional campaigns, procure tracking links for Amazon product listings, track conversions, and even pay affiliates.
Moreover, if you already use Refersion for your dedicated website, you will be able to manage your DTC and Amazon storefront programs with a single Refersion account.
Why Adopt Refersion's Amazon Integration?
Many brands use Amazon PPC advertising tools like Sponsored Products ads to increase visibility and sales. While these can be useful tools, there are two major downsides to their deployment:
They are expensive
Results are not guaranteed
This dynamic means that there is a possibility sellers will generate fewer sales than expected, thereby resulting in a poor ROI.
However, e-commerce brands that are enrolled in Amazon's Brand Registry are eligible to sign up for Amazon Affiliate Marketing by Refersion.
Through this solution, brands will be enabled to pay less for conversions, only pay for the results obtained, and grow Amazon sales much more quickly and efficiently. Because sellers are only paying affiliates and publishers for the sales they generate, brands are capable of generating a much higher ROI than other forms of paid marketing.
However, this is just one of the many benefits of utilizing Refersion's Amazon affiliate marketing integration.
The Benefits of Amazon Affiliate Marketing by Refersion
Amazon Affiliate Marketing by Refersion is accompanied by a variety of tangible business benefits, including:
A Lift in Conversion Rates
Because Amazon boasts an unusually high conversion rate, coupled with the fact that trusted affiliates will be sending targeted traffic to your Amazon product listings, brands will see a significant uptick in their Amazon conversion rates.
Superior ROI
Since Amazon gives brands a 10 percent bonus on sales made from external traffic sources, it is in a merchant's best interest to bring customers to Amazon's platform to purchase. Affiliate marketing is the perfect vehicle for this, as affiliates and publishers will be directing audiences to Amazon product pages.
This means that brands can potentially increase their ROI by 66 percent over Amazon PPC campaigns, according to Refersion. This is because the average Amazon ROAS is roughly 3x. Meanwhile, Refersion's affiliate marketing generally sees a 5x return on investment.
In essence, this means that brands will be paying less for conversion while generating more on sales, thereby enabling storefronts to grow faster than they would with paid adverts.
Greater Organic Visibility
For those who are familiar with how Amazon's algorithm works, external traffic can significantly help drive up organic search ranking for a merchant's products. With affiliates directing high-volume traffic to a brand's product page, Amazon sellers are sure to see a significant lift in page rankings.
As a result of traffic velocity increasing, certain product listings are likely to become more visible on the platform, thereby leading to even more sales.
Cultivate a Profitable Network of Top-Tier Affiliates
Integrating Amazon Affiliate Marketing by Refersion into your marketing strategy allows sellers to forge direct partnerships with top-tier affiliates and publishers, exercise a greater degree of control over promotional efforts, and even pay affiliates directly through the platform.
Campaign Transparency
Through the Amazon Affiliate Marketing by Refersion integration, merchants will be able to establish which of their affiliates are top-performers, track conversions and affiliates, and other insights that will allow Amazon brands to optimize their campaign efforts.
Scaling Your Amazon Storefront with Affiliate Marketing
Affiliate marketing is an ideal marketing modality for increasing brand awareness, traffic, sales, and ROI, all while maintaining low levels of risk. Moreover, given that Amazon offers a bonus for sales made via external traffic, affiliate marketing can really help merchants to scale their storefronts fast and efficiently.
Since Refersion is the only affiliate marketing platform to offer Amazon integration, this is the easiest and more streamlined way to build an affiliate network around your Amazon storefront.
If you want to integrate affiliate marketing into your brand's Amazon efforts, then sign up through the landing page in your Helium10 dashboard and discover how Amazon Affiliate Marketing can help to scale your storefront to new heights.
Everything for your business on Amazon.
Find out more about our products by signing up or speaking with one of our
Customer Success representatives today. With us in your corner, you can enjoy
more sales and increased engagement from your Amazon business.
Chat with a Support Specialist