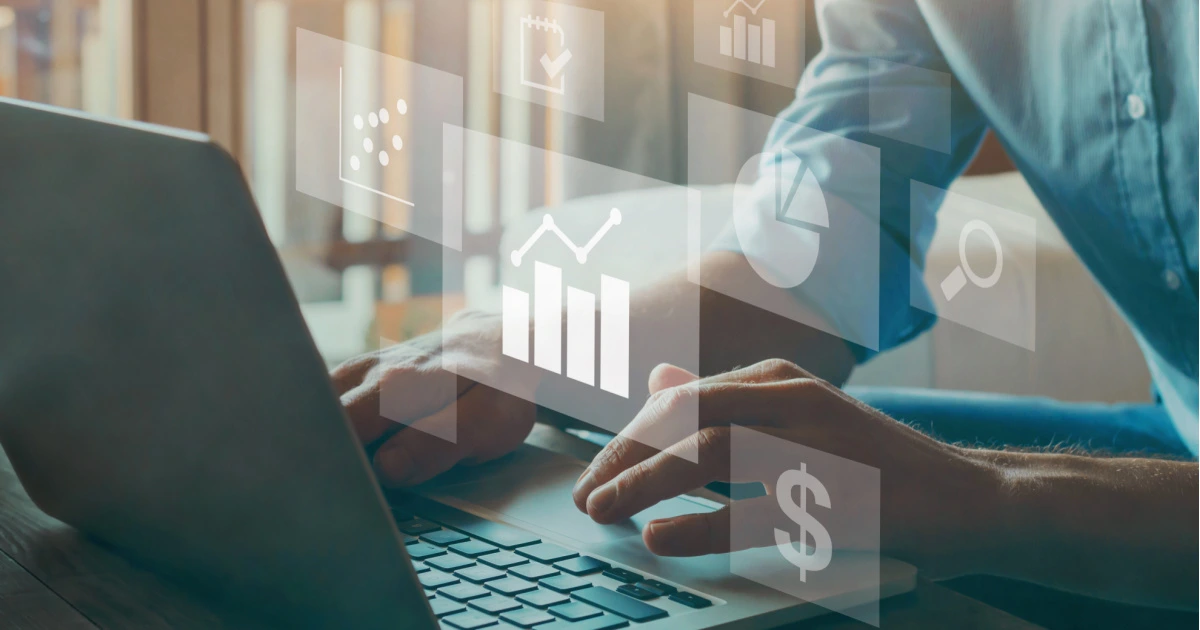 How to Conduct an Amazon Competitor Analysis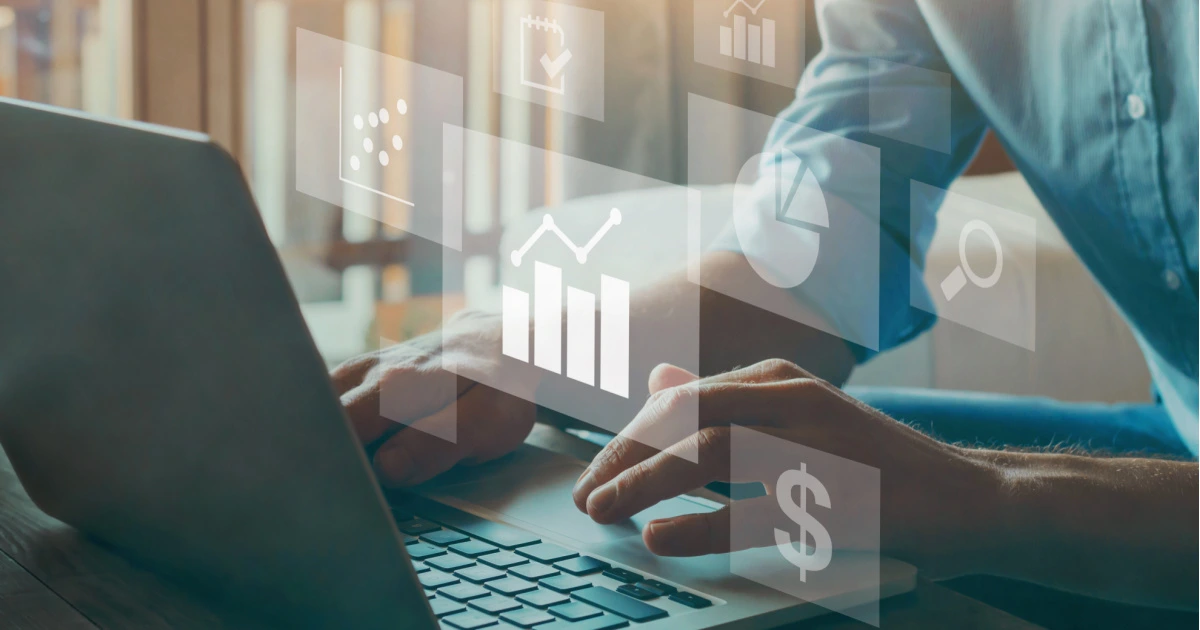 Successful Amazon sellers are familiar with the never-ending grind it takes to stay ahead and outrank competitors. Knowing your competitors' strengths and weaknesses allows you to learn from their successes and failures. Amazon competitor analysis is commonly known as a time-consuming, difficult, and uninteresting activity. Sellers can become quite overwhelmed by the daunting task, but when done correctly competitor analysis can change the game for your business.
The goal of conducting an Amazon competitor analysis is to find gaps in your own marketing strategy in which you can grow and benefit your business. Analyzing and monitoring your competitors' marketing strategies gives you a competitive advantage and an opportunity to implement strategies that will push your product above and beyond your competitors.
What Is a Competitor Analysis On Amazon?
Competitor analysis on Amazon is the process of studying your competitors' strategies in order to improve your own. Competitor analysis examines specific companies on Amazon that are selling your products or adjacent.
This includes things like prices, keyword strategy, product offerings, marketing strategies, sales history, and inventory.
This is different and more niche than a market analysis, which looks at the overall market for a product or service. This includes things like the size of the market, growth rate, trends, and customer needs. It helps understand the target market.
What Is the Benefit of Conducting an Amazon Competitor Analysis?
By doing an Amazon competitor analysis, you can learn about specific companies and how to better compete against them. In comparison, market analysis helps with a more general opportunity in the market. Competitor analysis keeps a close eye on your competition in order to stay ahead of them in real-time as in:
Compare how your listings are performing to your competitors
Learn strategies to distinguish your products from your competitors
Guarantee that your pricing is reasonable
Decipher which products are worth selling
Identify and fill any other marketing gaps
How to Find Your Amazon Competitors
Defining your market and your specific business goals are most important in order properly analyze your competitors. Are you looking to generally improve your product listings? Increase organic traffic to your product pages? Boost your conversion rate? Keeping your goal in mind as you analyze your competitor is key to making sure the data you are collecting is relevant to your business needs.
Market Tracker 360
Helium 10's dynamic tool, Market Tracker 360, does most of the work for you by tracking your competitors' performance at scale. It also gives brands a pulse on everything they need to know about their specific product market, from the birds-eye view all the way down to the granular and specific. Market Tracker 360 provides sellers with everything they need to run an extensive and customizable competitor analysis instantly with updates to give you a snapshot of the market most helpful to you.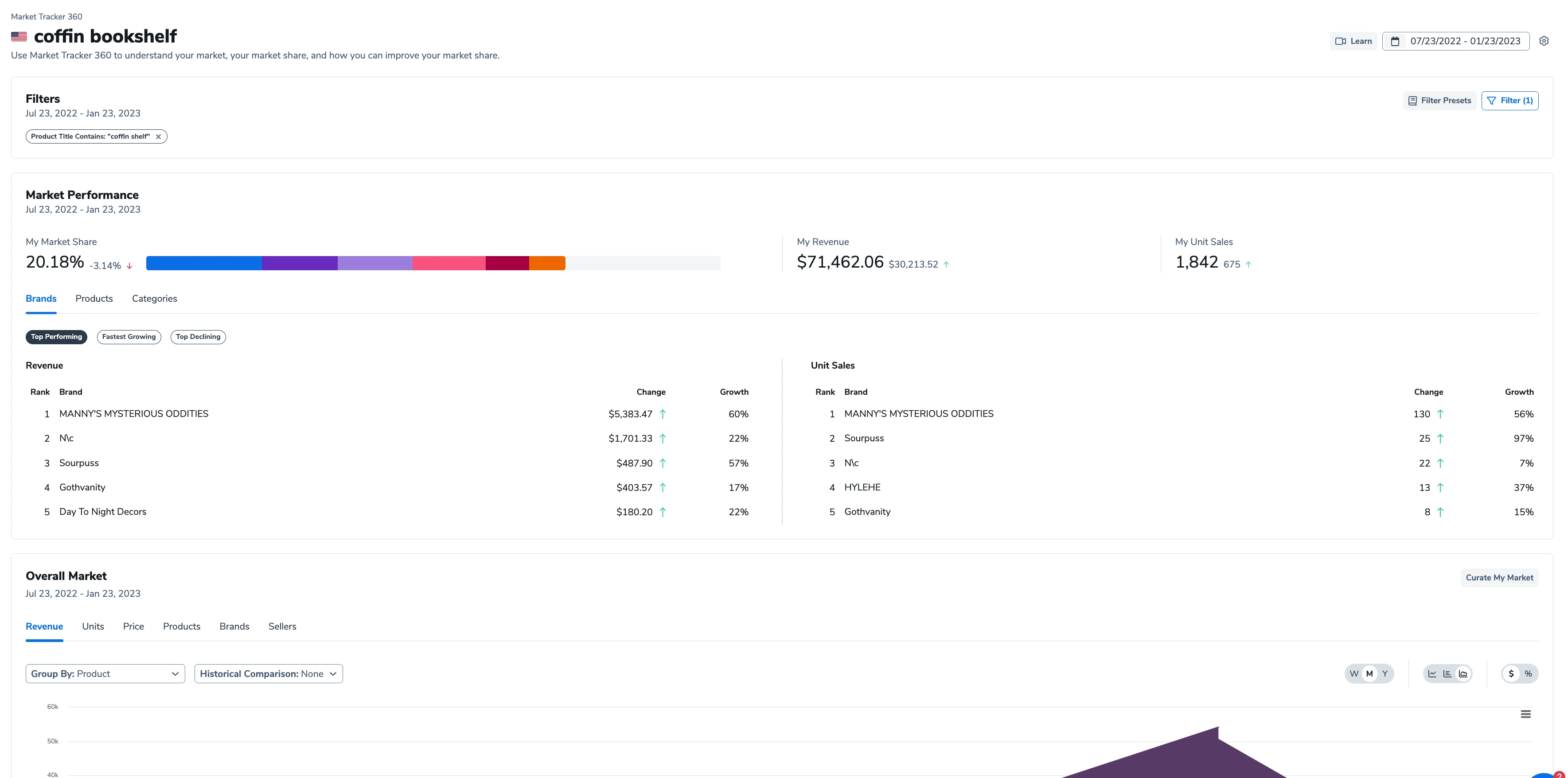 Get a live demo of Market Tracker 360
How to Analyze Your Amazon Competitors
Sellers have a plethora of data at their fingertips to use for Amazon competitor analysis to improve their listings and sell more products. But where do sellers even start? Focus on analyzing a specific product listing; not the competitor as a whole.
Good product listings are so important in the competitive landscape of Amazon that many of the Helium 10 tools have been created especially to organize and generate strong listings or to research the content needed to develop those listings.
The Listing Analyzer tool helps users get a broad, top-level view of their current or potential competitors' listings simultaneously. You'll receive a Listing Quality Score which displays a score on a scale of 1 (lowest) to 10 (highest) based on the number of Amazon best practices that were followed. This score is broken down in detail in the Listing Quality Score (LQS) Analysis section.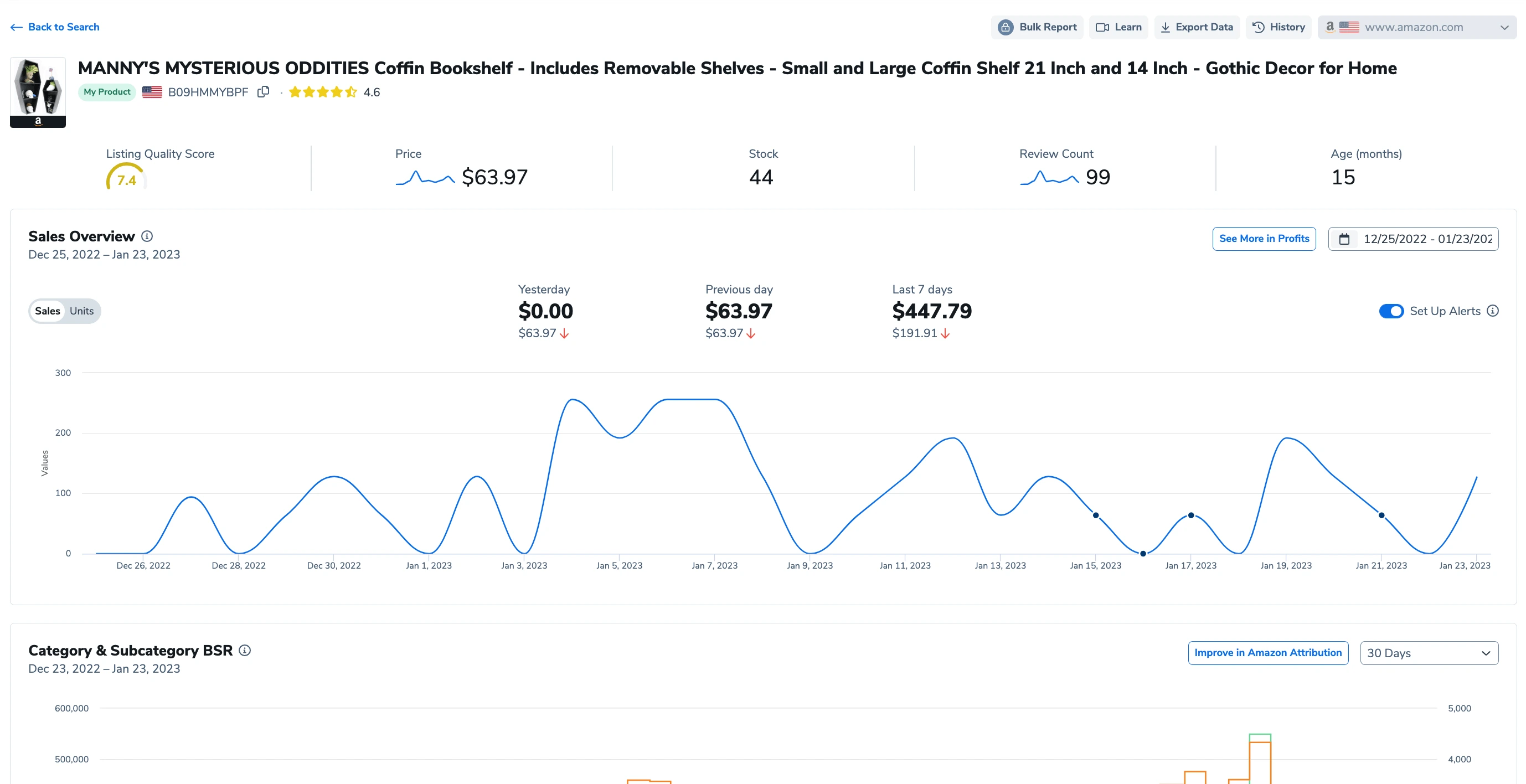 Once you have a complete list of all your targetted keywords, import your competitor's ASINs to analyze their keyword strategies and adapt your own with Listing Builder.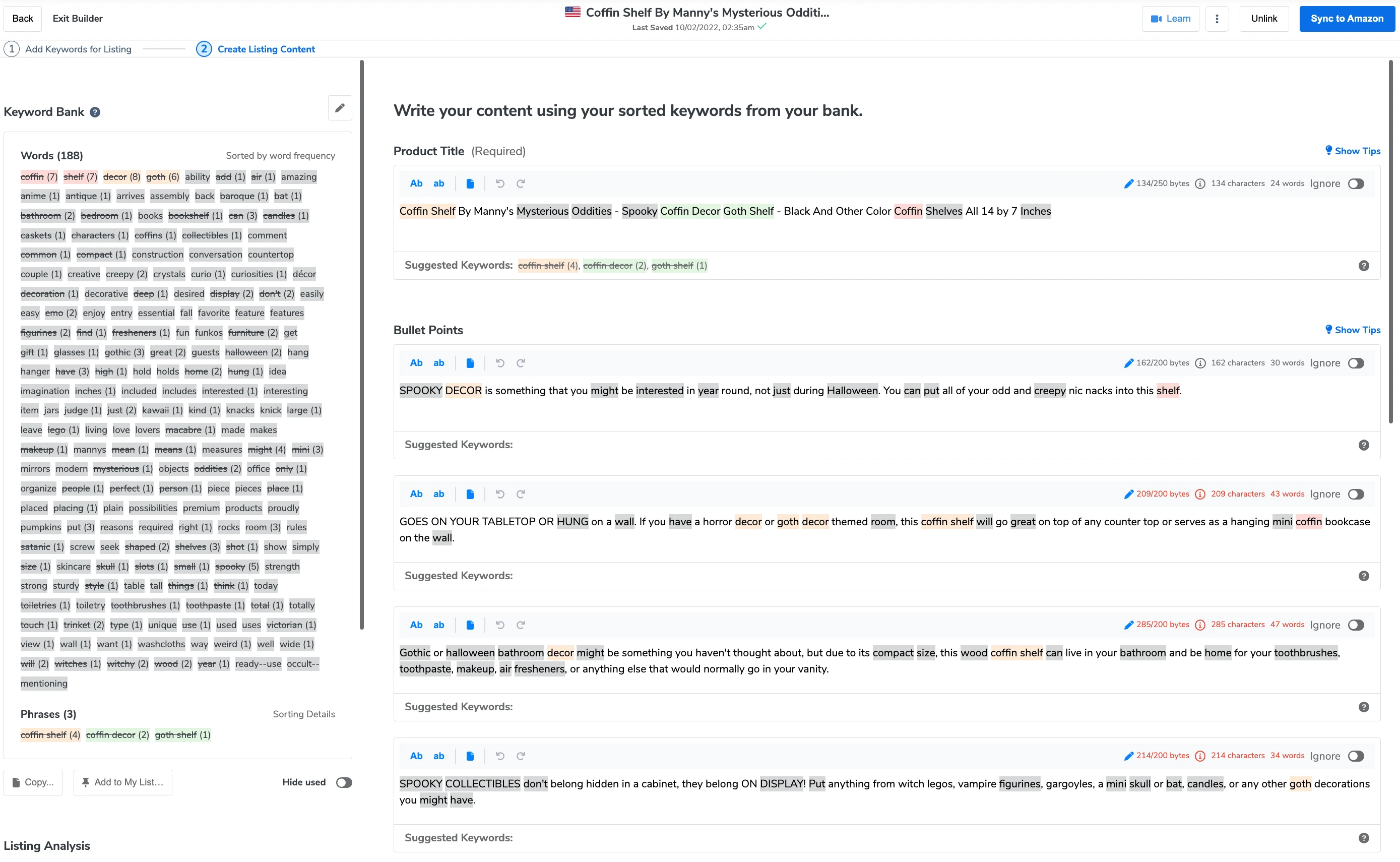 Here are several key things to analyze in a product listing when performing an Amazon competitor analysis:
Product Title
Examine the competing titles sellers are using for their products. Take note of things that could be added or removed from the titles to improve them. Pay attention to the keywords other sellers use in the product title to describe their products. Consider how to differentiate your product title from theirs.
Product Images
Hands down, images are one of the most crucial elements of an Amazon listing. Successful sellers have high-quality, eye-catching images and often videos of their product's best angles and special details. Check out your competitors' product images and note the things that do/don't work.
Bullet Points
Think of bullet points as the highlights of why customers should purchase your product over your competitors. Note the common trigger words your competitors are using and find ways to counter those advantages in your own bullet points.
Product Description
Read your competitors' product descriptions. What are they not including that you could in your own product description? Though this section is the fine print that follows your bullet points, take note of the tone your competitors are using and find your own to stand out from the rest.
Q&A's
Take advantage of this section of product listings for it is very telling of what customers are asking in real-time. See what questions customers are asking your competitors and implement those answers in sections like product title, bullet points, and/or description.
Competitor's Ad Campaigns
Before you start running your own ads on Amazon, you need to analyze your competitors' Amazon ad campaigns. To remain competitive, your ads cost should be the same or more per click than what other sellers in your niche are paying. Note where your competitors are running their ads i.e. Amazon or Google Shopping ads.
Find where your desired audience is shopping and get your ads in front of them. A simple way to find your competitors audience is in the search bar. Simply enter one of your primary keywords on Google and see whether you see any ads for Amazon products in the Google Shopping ads section.
Website
Check out your competitors' websites in addition to their online marketplaces. Examine these websites with the following in mind: design and user interface, the types of forms and pop-up windows used to provide information, offer discounts, request email information, the e-commerce website builder they use, etc. Based on your market niche, you may find that it's not necessary to have a website or you're missing out on an opportunity for your desired audience.
Social Media
Similar to websites, competitor brands may be on various social media platforms, so you should do the same. After identifying your targeted audience (particularly with younger demographics) social media pages can be a great source of organic traffic to your Amazon listings. When browsing your competitors' social media accounts, notice which platforms have the most traffic and engagement and put your brand out there!
Which Keywords Do They Rank For?
It's key to know what keywords your competitors are ranking for to know which keywords your customers are searching. Cerebro makes keyword research much easier with the option to compare competitor keywords to your own ASIN! With the Competing ASINs option in Cerebro, users can directly compare their keyword targeting efforts with their strongest competitor ASINs.
The benefit of using this new reverse ASIN strategy allows you to find trends among top keywords and your competitors, then use their strategies to your advantage. For example, if you notice that many of your top competitors are all ranking highly for a particular keyword and are all on page one, you may want to target said keyword yourself.
Cerebro has other helpful insights for comparing competitor keywords like:
Relative Rank – Where you rank among your selections
Competitor Rank Average – Where your selected competitors rank collectively
Ranking Competitors – Number of your selected competitors that are ranking in the range you have set in the filters
Competitor Performance Score – How well your competitors are doing overall for particular keywords
What Is Their Keyword Market Share?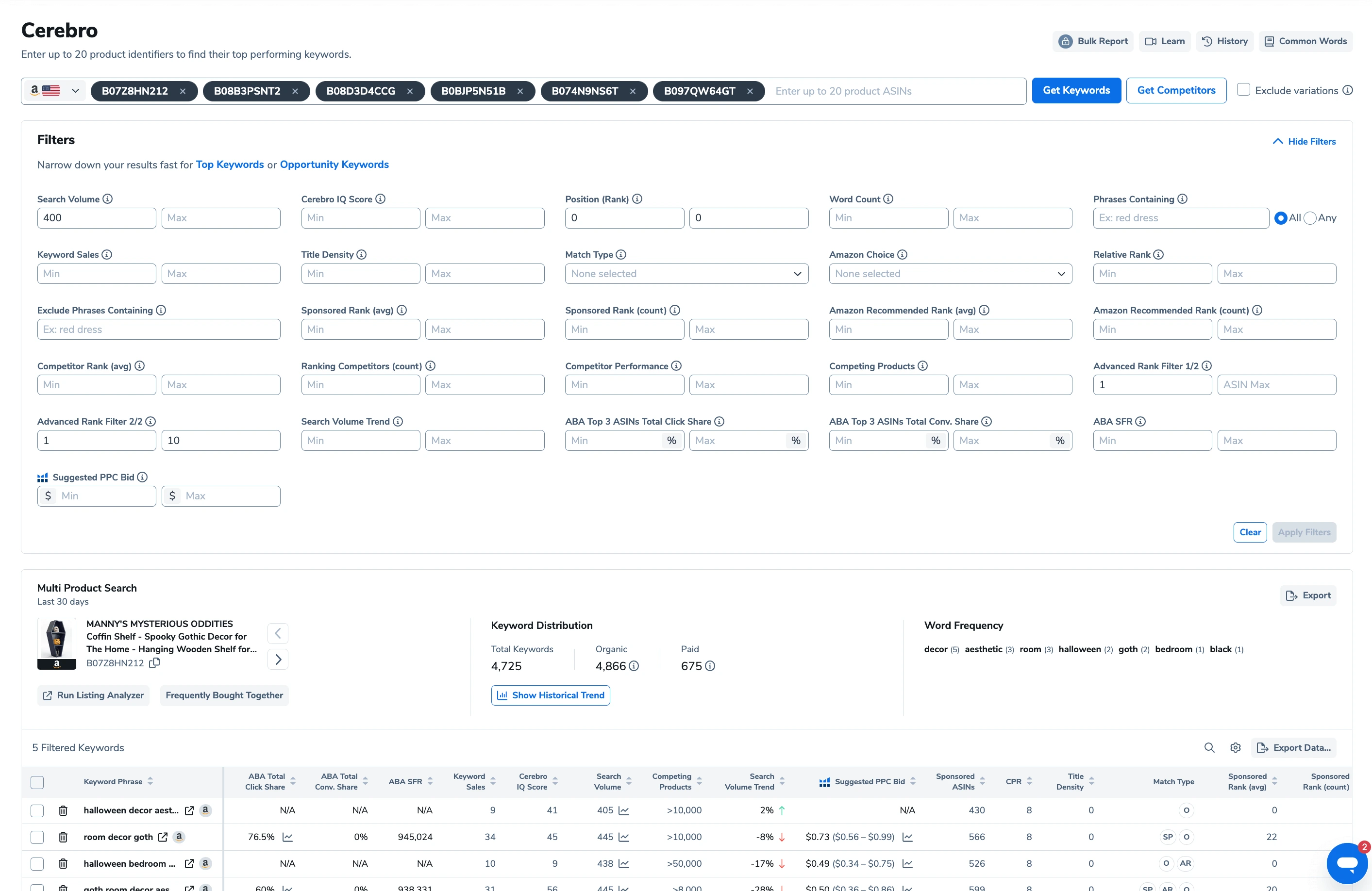 Maybe the most crucial step within Amazon competitive analysis is studying your competitors' keyword strategies. It helps you to evaluate particular keywords used by other companies in the product pages and check whether they're using trending keywords or evergreen ones to boost their product's ranking. With this information, you can adjust the relevant keywords in your product listing page to get better product visibility, optimize conversions, and gain a competitive advantage over other merchants.
Go beyond tracking a few products or keywords with Market Tracker 360. Sellers can view market share, new entrants, reviews, competitor data, sales, pricing, BSR, revenue, and more.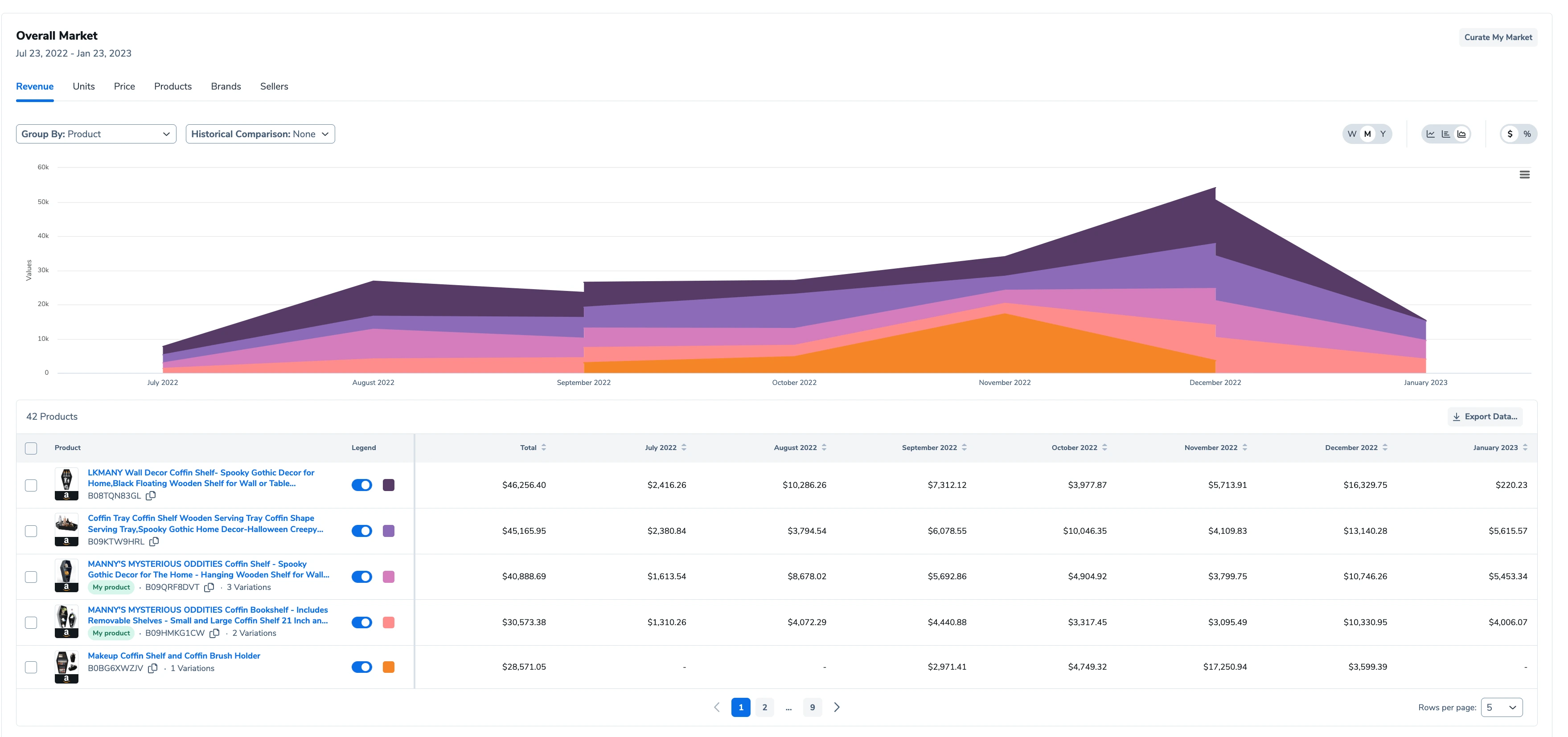 Have Their Prices Changed?
Price is always going to play a huge role in a buyer's decision to click "at to cart". Ideally, you want to sell your product at a slightly lower price than your competitors, but if the product's quality is a little better than your competitors' products, the price should be the same or slightly higher. Always make sure you are maintaining a high enough price to make a profit and not lose money on your Amazon business.
Check your competitors' pricing strategy history to see which seasons their prices were adjusted and note if their pricing strategies were successful or not and if you should implement the same.
It pays to pay attention! Use Helium 10's Trendster to see how prices and sales have fluctuated over a given period of time. By entering any product ASIN and get back visual results in seconds. Pull the trend data you need to determine what product is searched for the most every season. Clearly identify market trends and take advantage of them to increase sales.
Trendster helps sellers:
Determine product seasonality with historical data
Capitalize on Amazon product trends to take advantage of demand spikes
Easily study the correlation between price changes and sales rank over time
What Are Their Inventory Levels?
To help you learn more about your competitors, Helium 10 has developed the Inventory Level tool within the Helium 10 Chrome Extension. As one of the more useful inventory management tools out there, you will be able to see how much inventory your competitors currently have available and who is close to running low.
Not only does this provide you with a sneak peek at your competitors, but it can also provide you with an idea of how many units your most successful competitors keep on hand at any one time. This knowledge can help you to develop your own Amazon inventory management strategy that keeps your stock at reasonable levels to keep pace with sales velocity and within your budget.
What Is the Quantity & Quality of Their Customer Reviews?
Amazon product reviews can provide you with a trove of information about your competitors. Pay extra attention to how many reviews are negative, as they will show you precisely what you need to do to beat your competition. Just make a note of all the things reviewers didn't like about a competing product and use this information to improve the product you're offering.
Conclusion
Now you can see how tedious Amazon competitor analysis can seem, but how much information you have at your fingertips to utilize, learn from, and adapt to create an elite marketing strategy for yourself. Something about keeping your friends close, but your enemies closer- It's important to keep an eye on your competition so that you can rise above them.
By following the steps outlined in this guide, you can create a comprehensive competitor analysis that will help you identify areas where you can improve.
Remember to keep your focus on your goals as you analyze competing sellers, and don't get discouraged if you see that a competitor is doing better than you in some areas. You can learn from them and implement your own better version and crush the competition with Helium 10's tools that make Amazon competitor analysis easier.
Achieve More Results in Less Time
Accelerate the Growth of Your Business, Brand or Agency
Maximize your results and drive success faster with Helium 10's full suite of Amazon and Walmart solutions.