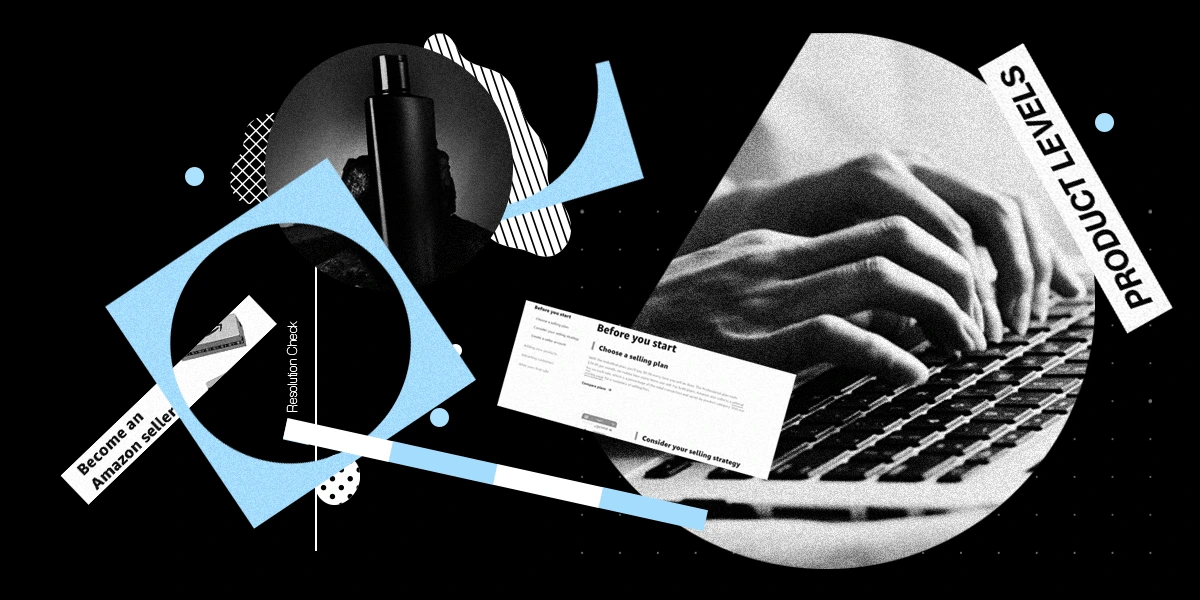 How to Find an Amazon Product Using Third-Party Sites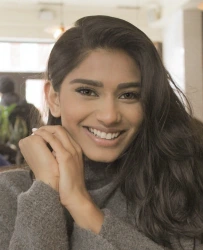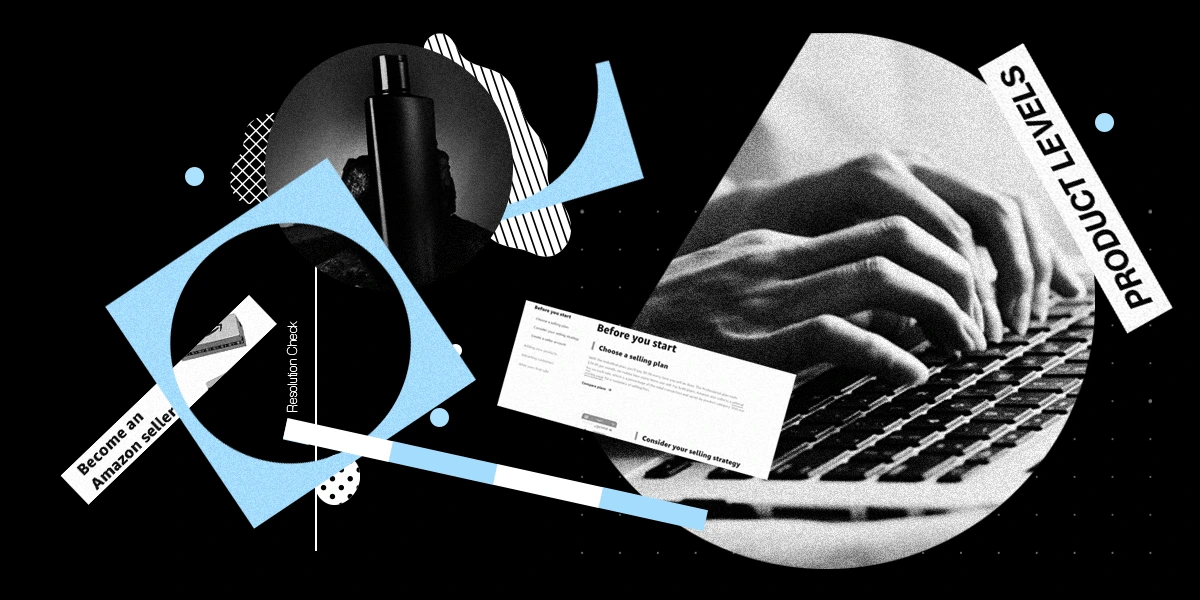 The world runs on businesses and when it comes to starting your own physical products line, there is really no shortage of what your potential product could be.
But make no mistake. There's a lot that needs to be factored just so a product can be considered a "good" product opportunity.
While Helium 10's Black Box is there to have your back a majority of the time, Project X fans also know the benefits of using third-party sites like Shopify, Etsy, Pinterest and Walmart to find products ramping up in demand.
So…what IS the best way to analyze demand for products or keywords on those third-party sites?
The answer? Helium 10's Demand Analyzer. The tool located within our Chrome Extension can now be used on third-party sites to check demand ON Amazon!
See the Demand Analyzer in Action for Shopify
To better understand the process, let's say you are on a Shopify website like BOOM! by Cindy Joseph (created by Ezra Firestone, a recent Serious Sellers Podcast guest) that has sold over 100 million dollars worth of products in the last few years.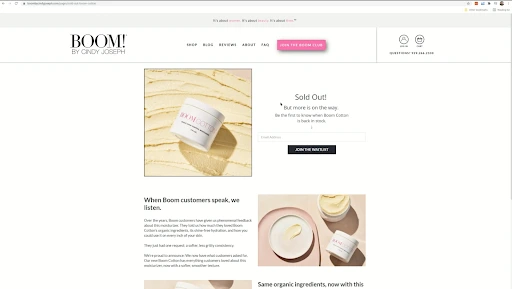 Once you are on the product page, you can hit the icon for the Chrome Extension and select Search with Demand Analyzer.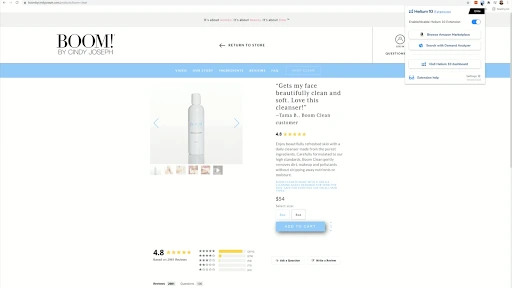 The Demand Analyzer would then prompt a pop-up and showcase what some of the main keywords associated with that third-party page are under the search bar as Suggested Keywords.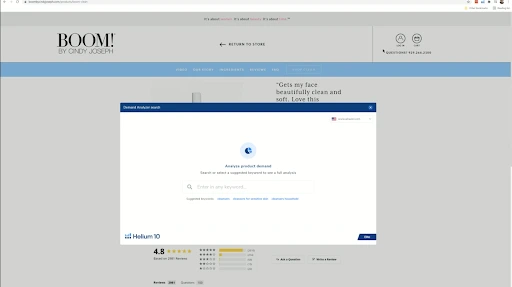 In this example, those keywords are cleansers, cleansers for sensitive skin, and cleansers household.
Of course, cleansers household may not be the most relevant term for a skincare product, but you always have the option of just entering in another keyword if you do not wish to select one of the suggested keywords.
When we choose a recommended phrase like cleansers for sensitive skin, the tool works in the same manner as it worked on alibaba.com. Demand Analyzer provides the Amazon search volume for your inputted keyword, word frequency for particular recurring keywords, and top matching keywords with corresponding search volume alongside a number of competing products.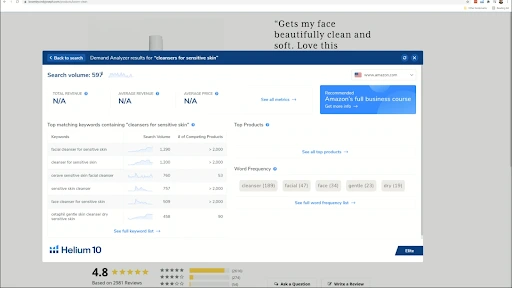 Keep in mind that when used on pages that are not product listings, the Demand Analyzer could potentially return no suggested keyword queries, and you would have to manually input a keyword to gain insight.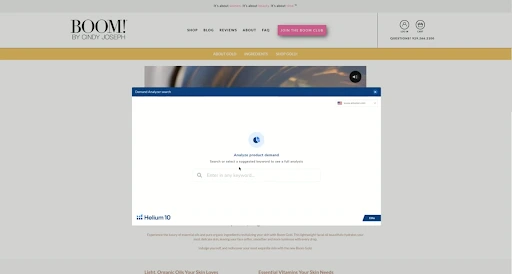 On pages absent of products, you can opt to check brand demand instead by typing in the brand name. Autocomplete is a wonderful indicator of demand.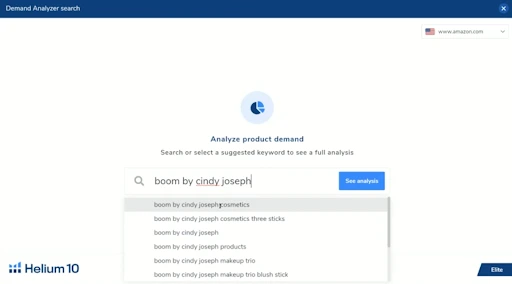 Pictured here, you can see the average search volume per month for Boom by Cindy Joseph is 684. Under the total revenue, average revenue and average price quotes, you can see some of the main keywords and a few of the top current products on the right-hand side.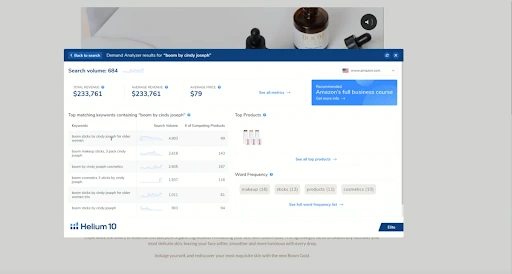 Take advantage of this tool the next time you are doing research on a competitor or any random Shopify website. See if there is demand for some of the keywords on that page on Amazon.
Demand Analyzer Also Works on . . .
Demand Analyzer also works on Etsy, Pinterest, Pinterest Trends and Walmart with little changes required to the actual process.
Similar to using the tool with Shopify, you would navigate to the third-party website you want to check demand for, click the Helium 10 Chrome Extension Icon and select Analyze Product Demand on Amazon.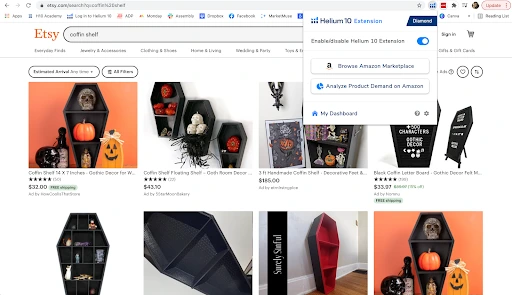 The same process would then follow. A pop-up appears with the suggested keywords listed under the search bar.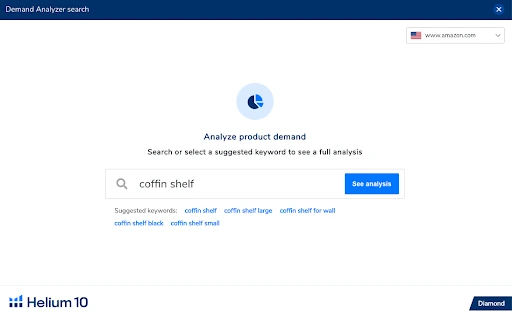 Clicking See Analysis would take you to the data portion of the tool that presents you with all the information you are familiar with on Demand Analyzer.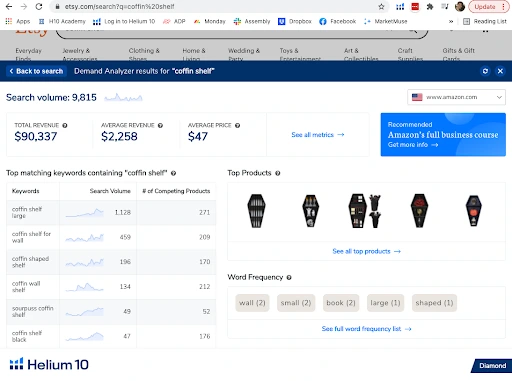 The Demand Analyzer Button is Inactive?
The Demand Analyzer is created to work on any third-party site to present you with keyword search volume information, but if you ever come across a site without product listings that elicit creative ideas for you, just click the Helium 10 icon to press the Browse Amazon Marketplace button instead!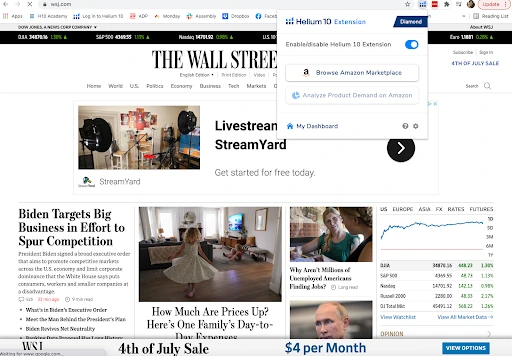 We are consistently adding functionality to our tools and enjoy making things easier for you so If something catches your eye, in two clicks you can quickly navigate to Amazon to do further research.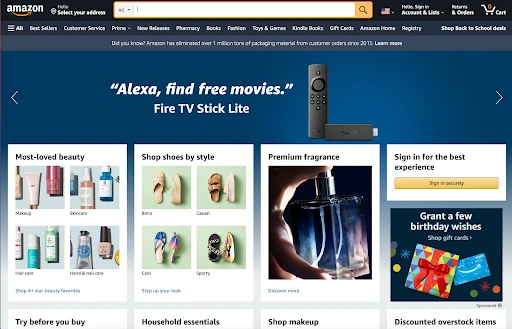 Once you are on Amazon, you can use Helium 10's Xray to decipher if what you are looking at is a good product opportunity.
Thinking of a website you want to see some added functionality for on the Demand Analyzer? We've got your back. Just be sure to submit a query to Customer Support!
Achieve More Results in Less Time
Accelerate the Growth of Your Business, Brand or Agency
Maximize your results and drive success faster with Helium 10's full suite of Amazon and Walmart solutions.