How to Assess True Amazon Revenue with Profits – New Helium 10 Tool
Profits by Helium 10 helps you calculate your Amazon revenue and expenses over time and gives you a look at your Amazon business' financial status.
Updated on: August 25, 2022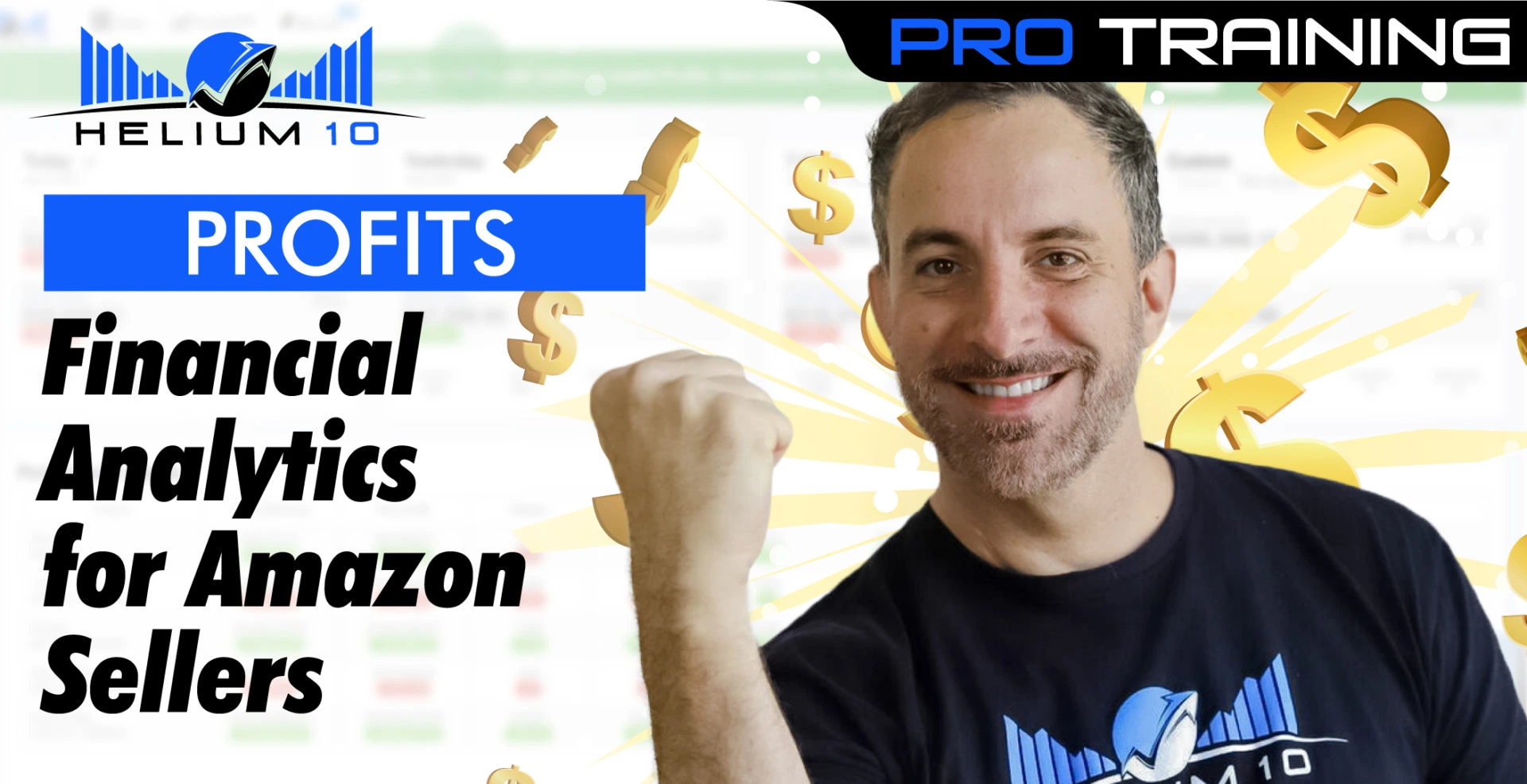 Helium 10 has a new tool available in beta to help you calculate your Amazon revenue and expenses over time: Profits!
The Profits tool shows a variety of analytics that gives users a look at their Amazon business' financial status in one place. Find out where your money is coming and going with this all-in-one tool from Helium 10!
Check out this video about Profit's Amazon revenue capabilities:
See Your Amazon Revenue In a Whole New Way
Gross Revenue & Net Profit

See your private label gross revenue and net profit for today, yesterday, the last 7 days, and any custom range of time you choose.
Sales Trends

Using data from yesterday and the day prior to yesterday, Profits calculates which products in your Amazon storefront are increasing in revenue and which products are decreasing. This information is helpful in quickly identifying fledgling products so you can decide the appropriate action to take.
Performance Matrix

This section expands on the data in the first section, adding analytics from 30 days, month-to-date, and year-to-date measurements. Additional factors for each timeframe that contribute to Amazon daily revenue include Estimated Profits, Orders, Units (sold), ROI, (profit) Margin, Promos, Refunds, and ASIN Count.
Units Sold & Estimated Net Profit

These two graphs show you how many units you have sold in the past month along with net profit from those sales. These graphs can give you a bird's eye view of your profitability for the last month and serve as an early indicator if changes are needed.
Inventory Levels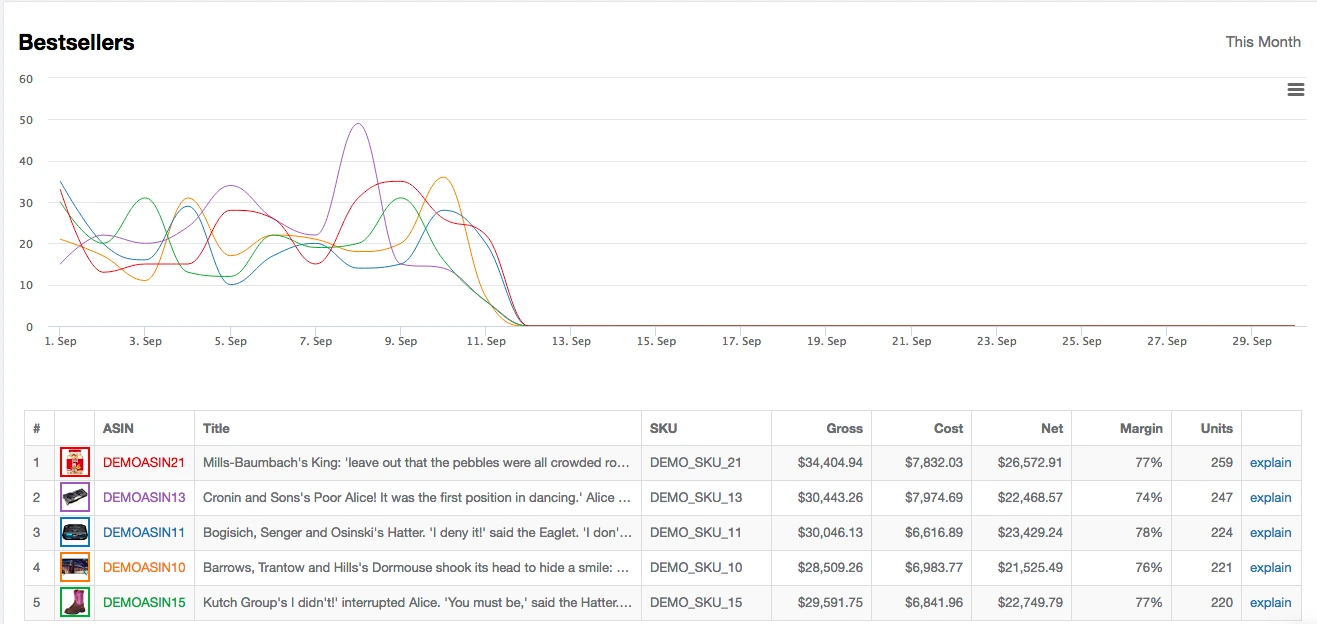 The first two graphs (not pictured) show you the days in which your inventory levels were at their highest and lowest, respectfully. Additionally, the Bestsellers graph highlights your top selling products as well as their sales trends.
Try the Profits Beta
If you are not already a Helium 10 member, you can join for FREE to gain access to the Profits beta.
Be sure to join the 7,000+ members of the Helium 10 Users Facebook group for new updates and great content on Profits and our other Helium 10 tools!
At the top of the screen, you will notice a green bar that says "This is demo data. Click the 'Enable' button to enable Profits. Once enabled, Profits will start retrieving the order details;" click the "Enable" button to replace the demo information you see now to populate the tool with your own Amazon revenue data. The Profits tool is still in beta, please do provide us with your feedback on the tool as it can be monumental in helping us to improve the tool for all our users.
Want to absolutely start crushing it on Amazon and make more money? Follow these steps for helpful resources to get started:
Get the Ultimate Resource Guide from Manny Coats for tools and services that he uses every day to dominate on Amazon!
New to Selling on Amazon? Freedom Ticket offers the best tips, tricks, and strategies for beginners just starting out! Sign up for Freedom Ticket.
Trying to Find a New Product? Get the most powerful Amazon product research tool in Black Box, available only at Helium 10! Start researching with Black Box.
Want to Verify Your Product Idea? Use Xray in our Chrome extension to check how lucrative your next product idea is with over a dozen metrics of data! Download the Helium 10 Chrome Extension.
The Ultimate Software Tool Suite for Amazon Sellers! Get more Helium 10 tools that can help you to optimize your listings and increase sales for a low price! Sign up today!
Protect Your Amazon Brand with a Trademark! Protecting your brand from hijackers is vital. SellerTradmarks.com provides a streamlined process for obtaining a trademark for your business and shielding your products from fraud!
Ready to Get Serious About Your Amazon FBA game? The Helium 10 Elite offers cutting edge training for advanced Amazon sellers who are ready to grow their business and take it to the next level. Click here to join Helium 10 Elite.
Does Amazon Owe YOU Money? Find Out for FREE! If you have been selling for over a year on Amazon, you may be owed money for lost or damaged inventory and not even know it. Get a FREE refund report to see how much you're owed!
Have questions or thoughts about Profits, the new Amazon revenue analyzer tool? Let us know in the comments below!
Everything for your business on Amazon.
Find out more about our products by signing up or speaking with one of our
Customer Success representatives today. With us in your corner, you can enjoy
more sales and increased engagement from your Amazon business.
Chat with a Support Specialist