Can Amazon Outlet Help You Get Rid of Overstocked Products?
Are you missing trips to the Outlet Mall? Here's a way to use Amazon Outlet to shop for deals as well as sell your overstocked products!
Updated on: October 24, 2022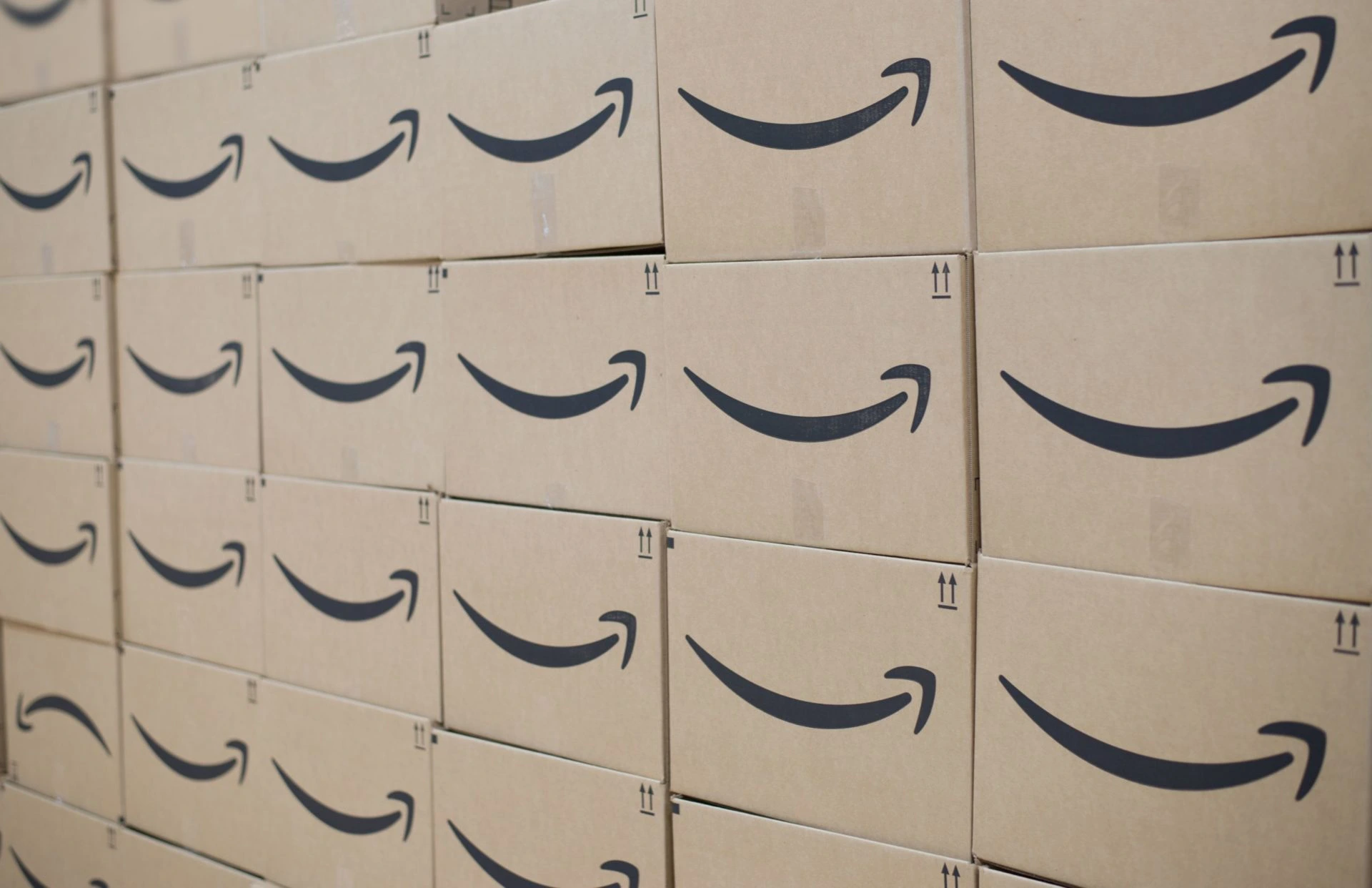 Growing up, whenever my family went to Las Vegas, my mom would always make sure that we took the opportunity to shop at the Outlet Mall there. When I became an adult, I too made it a habit to buy brand name items at a discount by shopping at the Outlets.
Due to the pandemic, I haven't been to any outlet in over a year, however today, I took a trip back to the Outlet mall…and this time it was online on Amazon!
Say what?
Every now and then I like to browse different pages on Amazon to see what's new, browse the special deals, new widgets, and things like that.
Today I saw something at the bottom of the home page I don't remember seeing before.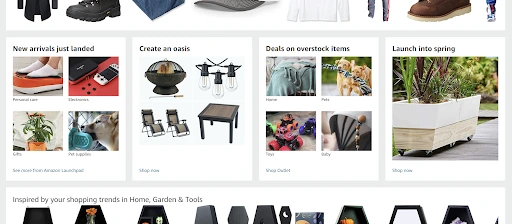 Do you see it?
Deals on Overstock Items
Amazon has an overstock store? It's actually called "Amazon Outlet." I was today years old when I learned that there was such a thing.
When I clicked through, I found a new section of Amazon that I had not seen before with over 6000 different deals, some with discounts of more than 70%!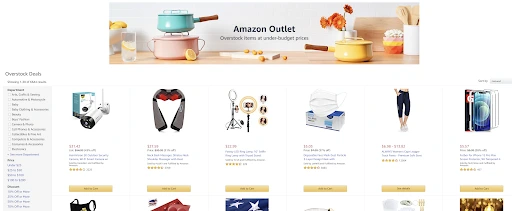 At first, I thought that these were possibly similar to "Amazon Warehouse Deals," returns or refurbished goods, or items that were shipped and sold by Amazon. But if you look at the fine print above, you can see that these are Fulfilled by Amazon (FBA), but sold by a 3rd party seller.
I decided to investigate further. I picked a random product I had seen on page two; dog nail clippers.

According to the discount, it's promoted as 66% off. On the product page, it shows that the list price is 15.99, with the sale price marked down to $5.49.

The first thing I was curious about was, "Is this just some exclusive part of Amazon? Or is this product available in regular search as well?" To find out, I searched for the ASIN in the Amazon search bar.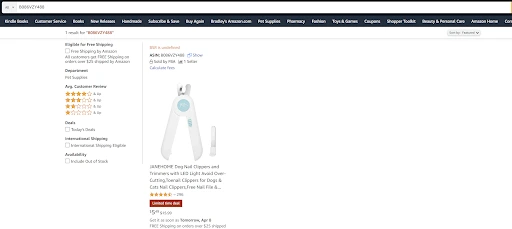 Sure enough, the product came up.
Interestingly, it has a "Limited Time Deal" badge. Next thing I wondered was, how long has this product been on discount, and did this seller have an uptick in sales due to being featured on this outlet page.
Taking a Closer Look at Pricing
To do that, I used the Helium 10 Chrome Extension to look at its price history.

One of the first things that stuck out to me, was that in the last few weeks I did not see the product listed for sale at $15.99. That list price must be what the seller has in the back end of the listing. I saw also that on April 3, the price dropped down to the current $5.49, so that must be when it went live on the outlet page. If you look at the maroon line above, you can see a steep drop in BSR.
Do you know what that means? Yup….increased sales.
But how much? To see that, I turned to Helium 10's Xray tool to see the estimated daily sales over the last few weeks.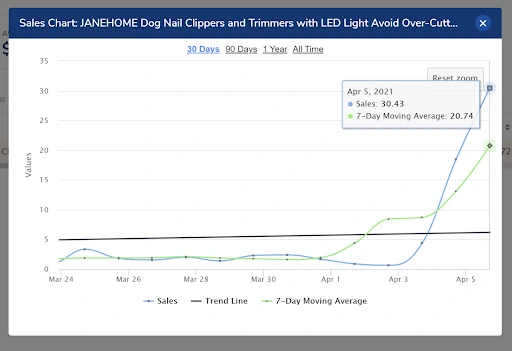 Wow!
This product wasn't selling very much, but as soon as the outlet deal went live, daily sales jumped to four the first day, 18 the next day, and 30 the following day!
At this price, and after looking at the older sales history, I imagine that the seller just wanted to unload this product. However, I was curious if just being part of such a deal, and getting such a bump would give the product a corresponding lift in keyword rankings.
Searching for Relevant Keywords
I have no idea what keywords are relevant to this product so I put this into the Helium 10 Reverse ASIN tool, Cerebro to see all of the keywords where it has been detected to show up in the search results for.
It found over 1000 keywords.
I selected some of the highest searched for keywords and entered them into Helium 10's Keyword Tracker, a tool that will give me the historical ranks of this product for each of these keywords.
The results were QUITE interesting to say the least!
The keyword, "dog nail clippers" has a whopping 93,000 estimated monthly searches, and this product has never shown up in the first 306 results…until yesterday.
Now, all of a sudden it's now on page two!
"Dog toenail clipper" is a keyword with 6,000 monthly searches, and historically this product has ranked on page two.
Take a look at the graph to see what happened just one day after the product got posted to the Amazon Outlet page.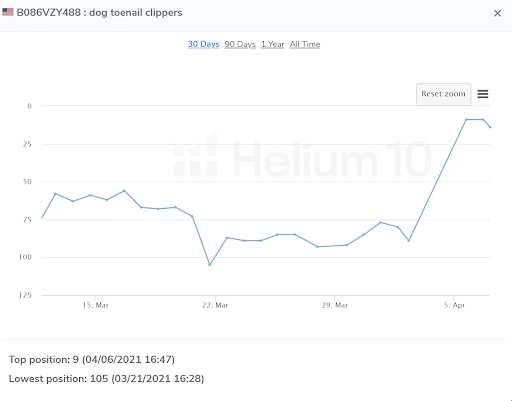 It jumped straight up to page one!
Back to the Maldives
I saw many such jumps on various keywords related to this product. It almost reminds me of the Maldives Honeymoon Effect. Interesting results to say the least.
Perhaps you are wondering who can take advantage of listing on the Amazon Outlet. Let's ask Amazon directly:
In seller central, Amazon outlet is described like this:
Sellers submit promotional offers with a minimum discount of 20% via the Create Outlet deal section of the Manage Excess Inventory page, and selected deals are featured on the Outlet page for a fixed period of one to two weeks.
You have to have a professional selling plan and an overall customer rating of at least 3.5 stars. Here is the list of criteria, per Amazon, for a product to be eligible:
Have inventory in Amazon fulfillment centers for at least 90 days
Have more than 10 units of inventory on-hand
Have a sales history
Be in new condition
Have a product rating of at least three stars or no reviews
Not currently enrolled in Subscribe & Save
Not currently enrolled in another Deal promotion such as Lightning Deals
Not on Outlet deals in the past 60 days
Setting Up an Outlet Deal
From the Inventory drop-down menu in Seller Central, select Inventory Planning.
Click the Manage Excess Inventory tab.

To filter for eligible inventory, click Create Outlet deal in the Show recommendations by setting. You can also follow the links to the Manage Excess Inventory page by clicking on the Improve Your Cash Flow card on the Seller Central home page.
From the drop-down menu to the right of the eligible item, select Create Outlet deal.
In the pop-up window, enter your price in the Outlet deal price box. Your price must be less than or equal to the maximum price, which is filled in by default.
Review the start and end dates for your Outlet deal.
---
Unlike "Deals of the Day" and "Lightning Deals," there are no additional fees to use Amazon Outlet, only the standard fulfillment and referral fees apply.
I'm not sure why one would want to, but you could stack a coupon with an outlet deal. If you have an outlet deal for 50% off the regular price, and a coupon active for 10% off, the customer would get a total of 60% off.
I found out that the above example is an "Outlet Deal" instead of "Outlet Sale" based on the discount percentage. Outlet deals require a higher discount (at least 30%) than sales, and are set by Amazon to last two weeks beginning the next deal cycle. Outlet deals take priority in consumer promotions, are featured more prominently on Outlet, and display the limited time deal badge in the ASIN detail page.
Amazon goes on to explain that Outlet sales follow the same eligibility criteria as deals but are open to items with lower recommended discounts (between 25% and 30%). While you can choose to discount items for a longer period, Outlet sale items will be featured on Outlet only for the duration the item is at an Outlet eligible price, and for no more than two consecutive weeks.
Who Should Use Amazon Outlet?
I would imagine anyone wanting to liquidate inventory might want to use Amazon Outlet. If you are stuck paying Amazon storage fees for a product that has been dormant, this could be a good way to move it.
However, due to the crazy sell through rate these deals have, plus the added bonuses of keyword ranking, I imagine other sellers might be interested in experimenting with this program as a launch or relaunch method.
That being said, I do not want to get your hopes up…out of all of the accounts that I manage in my case studies, NONE of them had products that were eligible for an Amazon Outlet sale or deal. I have no idea what the exact criteria is to have a product eligible, but it seems like very few meet that criteria.
Check your account and see if you have any products that are eligible, and let me know in the comments below if you will take advantage of this feature!
At the very least, check out the page on the buyers side of Amazon and see if you can find yourself any cool deals such as a five dollar pair of pet nail clippers!
Frequently Asked Questions
Everything for your business on Amazon.
Find out more about our products by signing up or speaking with one of our
Customer Success representatives today. With us in your corner, you can enjoy
more sales and increased engagement from your Amazon business.
Chat with a Support Specialist