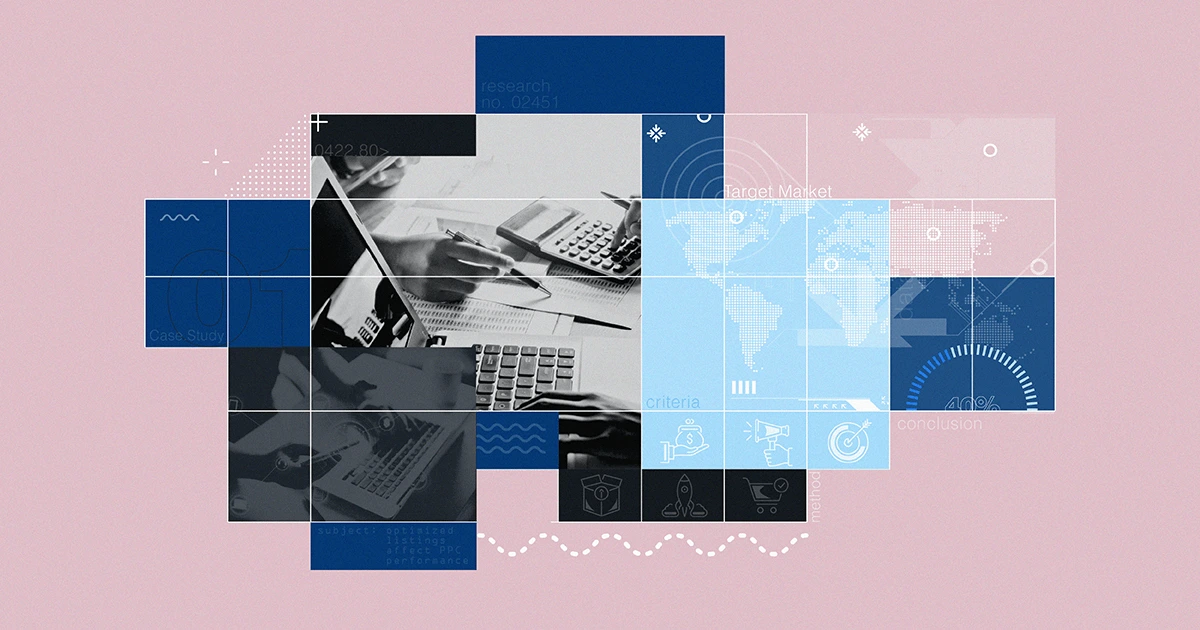 Case Study: How an Amazon Listing Makeover Affects PPC Sales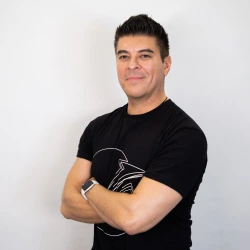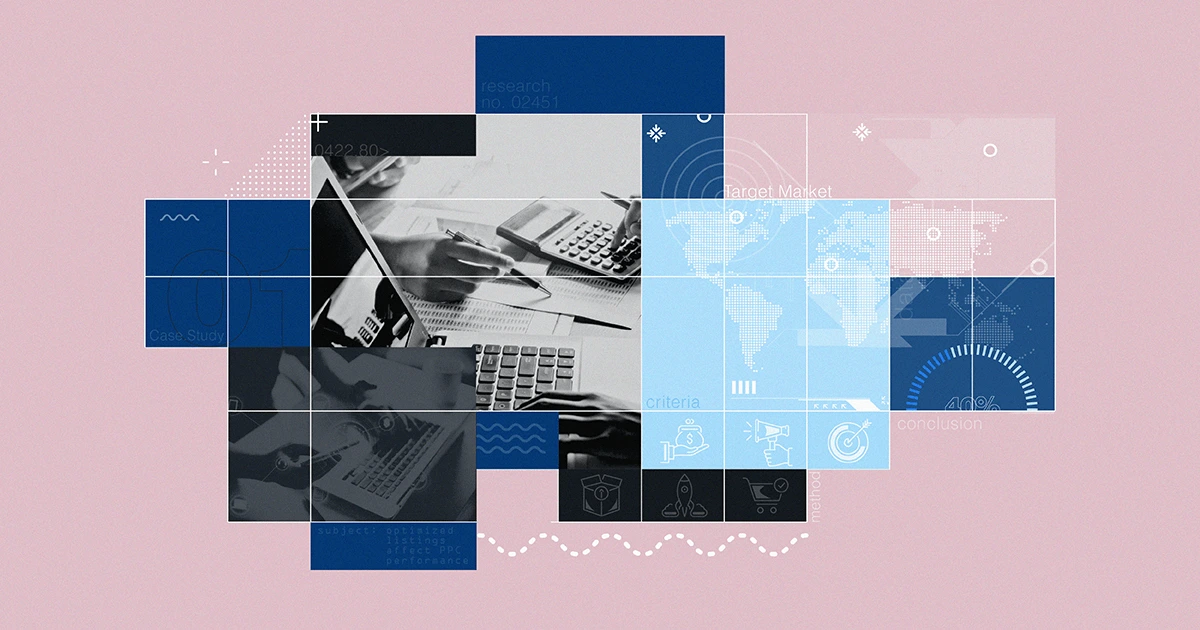 Earlier this year, I had the opportunity to conduct a training webinar for new Amazon sellers. In partnership with Amazon Advertising, we took a deep dive into the newest campaign type available only to Brand Registered sellers – Sponsored Display.
Part of that webinar included a case study with an Amazon brand by the name of Bear Grips to identify the potential overall PPC sales lift that would result by adding Sponsored Display product targeting campaigns to the mix.
You can read the results of that case study here.
Now, in this newest case study, Karyn Thomas, a Helium 10 Brand Evangelist and listing specialist teamed up with me to assist Bear Grips' brand owner in determining the effectiveness (and ultimately, the change to sales and ACoS) of fully optimizing his product's Amazon listing.
If you are looking for in-depth Amazon PPC software, be sure to go to Helium 10!
Great PPC Strategies Cannot Save a Poor Listing
During my years working as a PPC consultant for various Amazon sellers, I learned that it didn't really matter how good I was at crafting a perfect PPC strategy for the client if the listing was subpar. A bad listing meant we were always going to lose out to a competitor with a better one.
That's why the very first thing that I would do is take a look at their listing and do an audit of their keyword research. Was there additional information that they needed in their listing? That was always step one, phase one.
Our user, Bear Grips, markets exercise products on Amazon designed for weightlifting and CrossFit. Their original listings were really good, but not fully maximized.
Helping them take the next big step on Amazon was our goal.
Here's a look at one of their previous "before optimization" Amazon listings: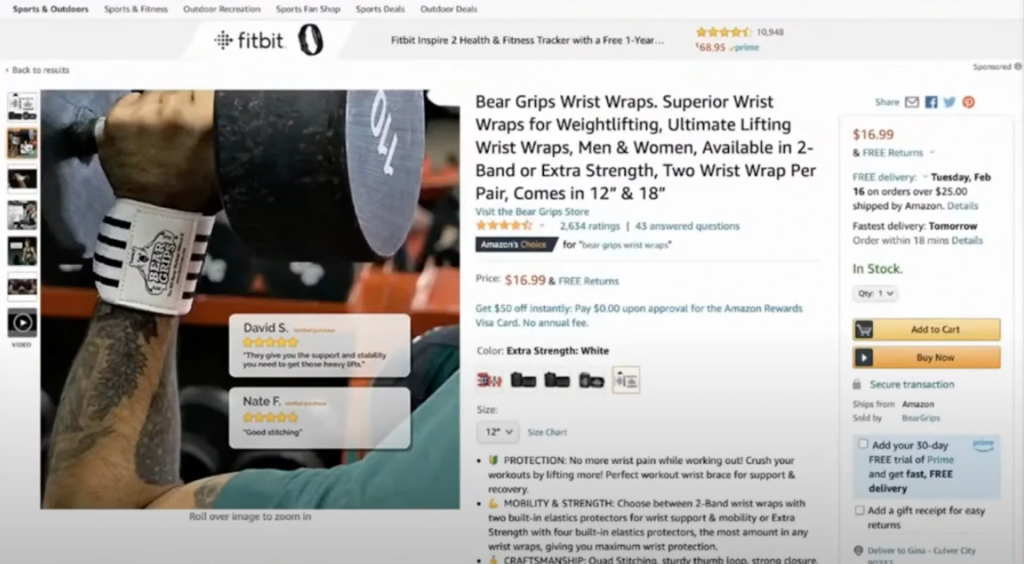 And here is another:
I'm going to let Karyn describe what she saw when she first looked at these "before" images from Bear Grips.
Karyn: A lot of times we don't realize all the cool stuff that you can do with an image. It's such a valuable space. And I think most big sellers would agree that your images, your title, and your video are the most powerful parts of your listing. So when you think about listing optimization, these are the places where you want to start.
Karyn is talking about not taking full advantage of the real estate of the images. The images are great, but they're stand-alone. So they're not really fully connecting to a message as much as they could. We'll show you the "after" below.
Amazon's A+ Content Really Matters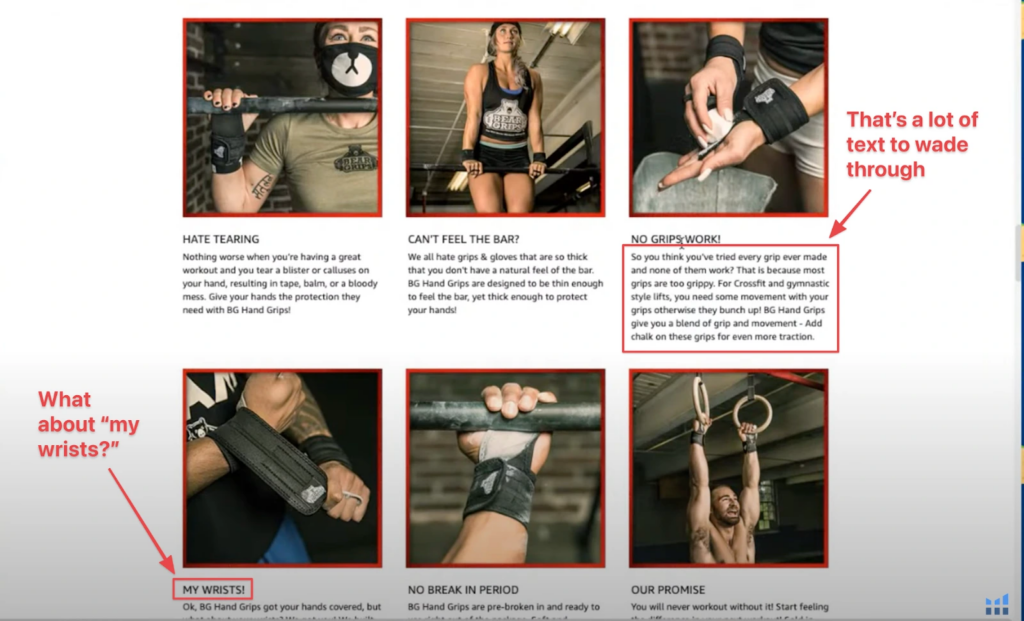 Now, let's look at the A+ content. Again, this is an example of good, not but great A+ content. It's relatively descriptive and includes some highlights, benefits, and features of the product. The problem is that there is a lot of text. Here's what Karyn has to say about a lot of text in A+ content.
Karyn: I think these are beautiful images that they have. Still, what's working really well with Amazon listings right now is less text and more banner images. For example in the above screenshot, in the lower-left corner the text reads, "My Wrists," but it doesn't tell us (quickly) what they want us to understand about the point that they are making. There's a lot of text in there, but it just becomes a fuzzy noise in my brain, where I don't want to pay attention.
After Optimization
What Karyn is saying is that as quickly as possible, you want to clearly explain the principal benefits and features of your product.
Previously, the listings were good, but they could be so much better.
After Karyn and I completed our audit and offered our suggestions, Bear Grips went to work on the refresh…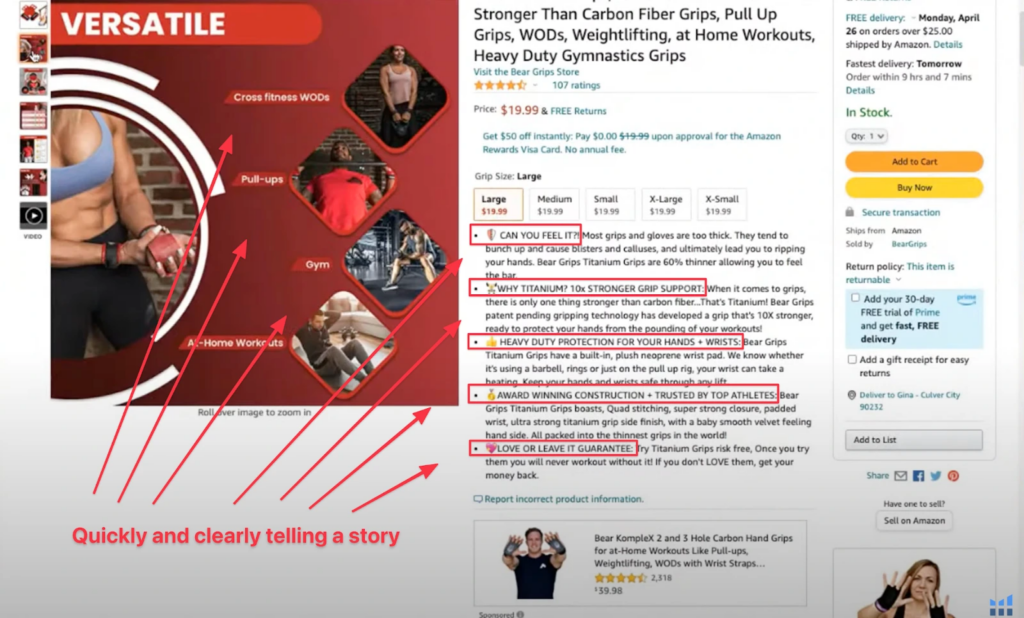 The above screenshot highlights the changes that Bear Grips made after our optimization suggestions.
In the image above you can see that they have also used clear explanations and bullet points to help them in quickly telling their brand's story. This is exactly what Karyn suggested. For example, in the infographics on the left of the screen, they quickly demonstrate all the different ways you can use the product.
Why Choose Our Product?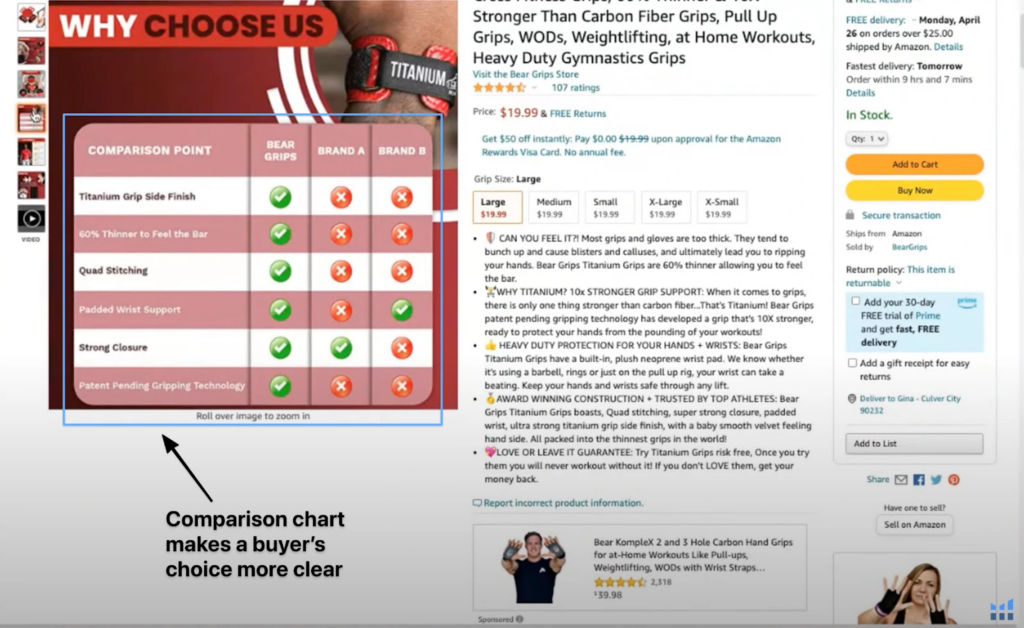 Another suggestion that Karyn had for Bear Grips was to show why the customer should choose their product. A comparison chart is a great way to do that. They also did a very good job of showcasing previous customer's testimonials by rebranding them as the "Customer's Voice."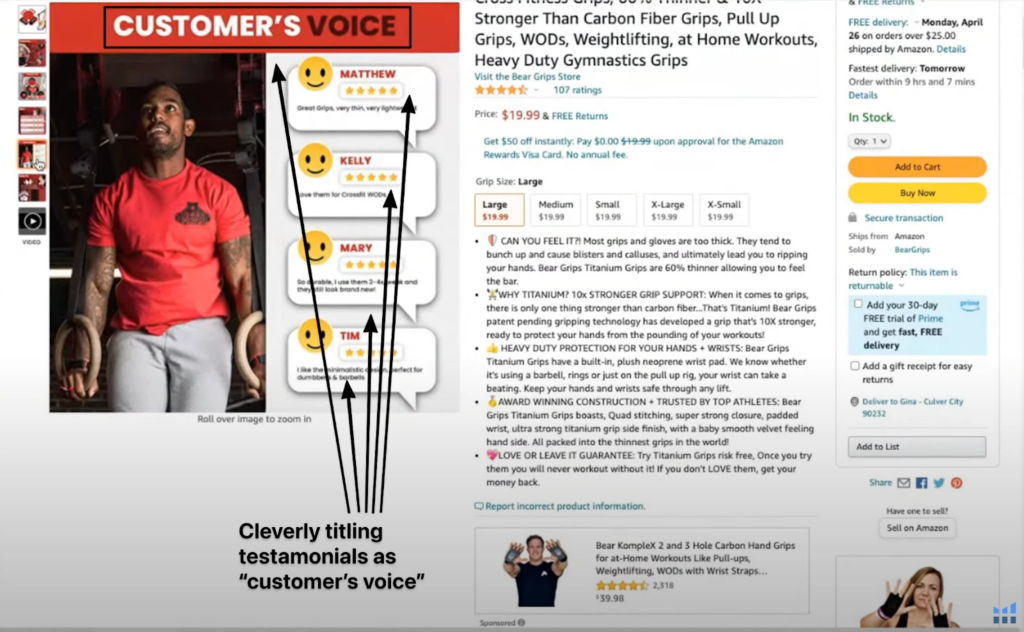 Below you can see that they even added a little bear logo that Karyn had recommended that they do, even using a bear claw as a way to measure the product.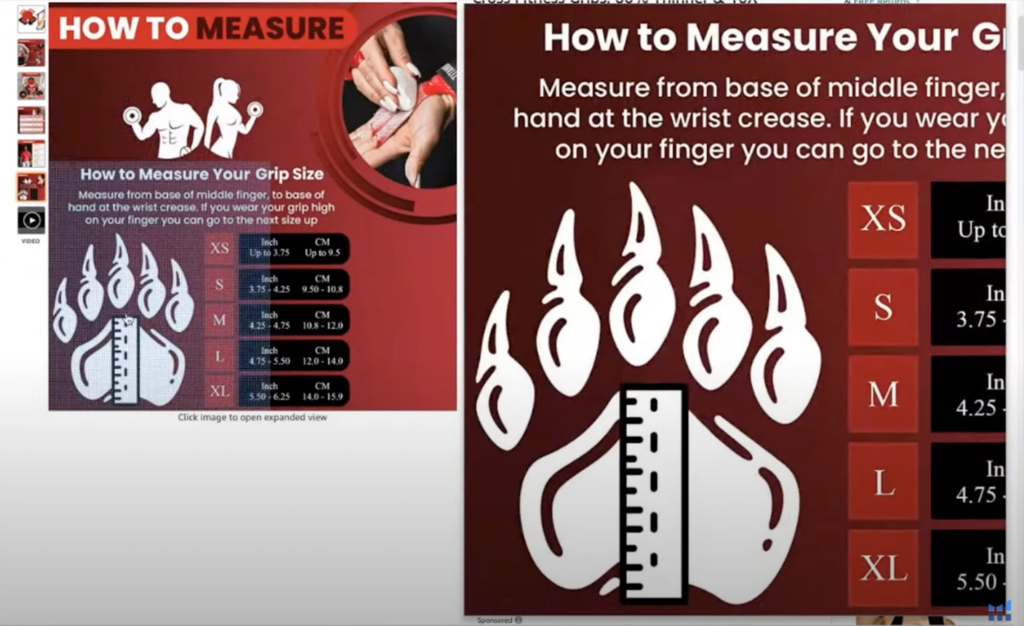 They created a solid story with images and video, then repeated the same flow in their A+ content.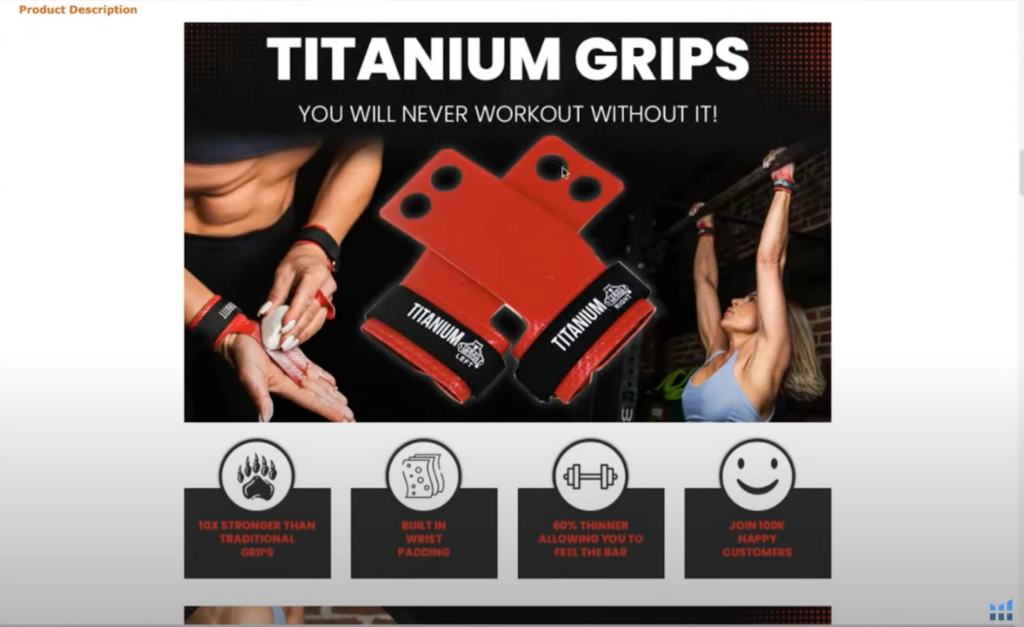 When you compare the A+ content above with their original content shown below, the differences are immediately evident.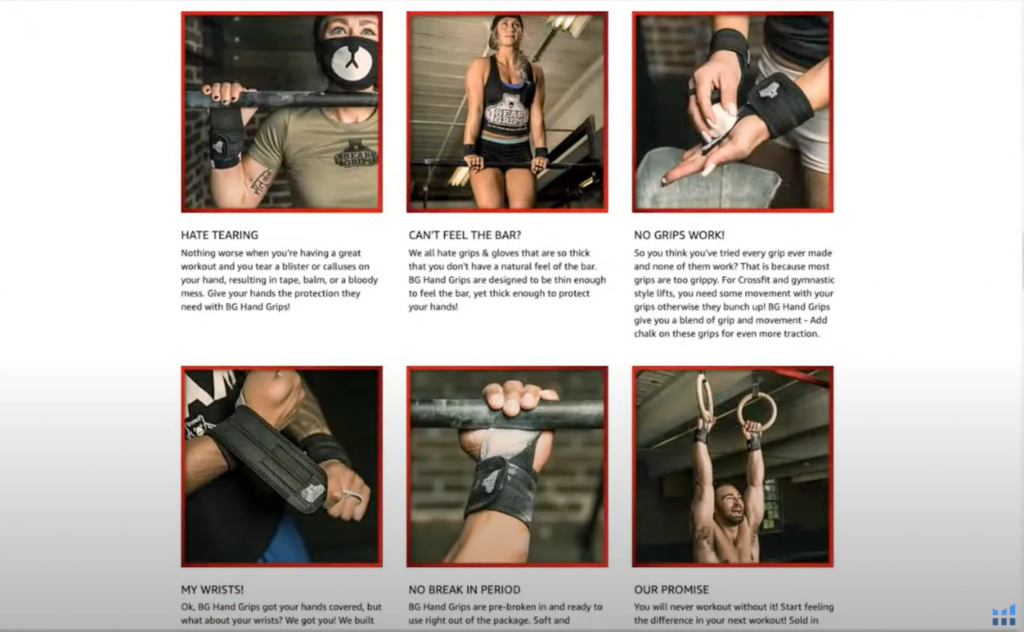 When it Comes to Text, Less is More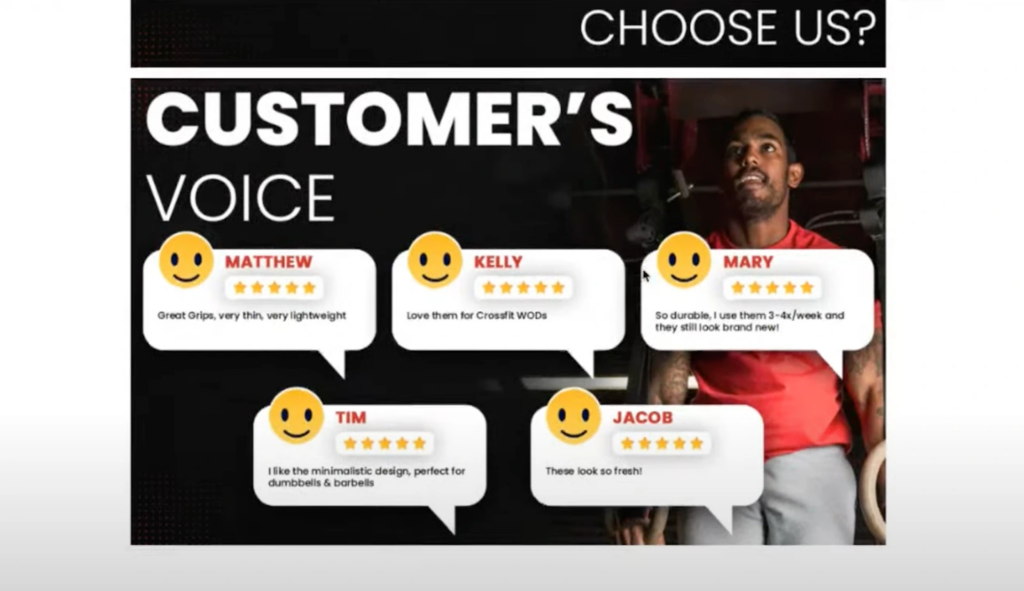 In this case, no text whatsoever helps get the message across.
Who doesn't like a smiley face?
In the image below you can see the results of the changes that Bear Grips had made after we recommended the use of 3D-style images. This following image helps show that one great feature of the gloves is that you can use them with touch screens, including your cell phone. Even though there were no words employed in the image itself, we know what it is saying.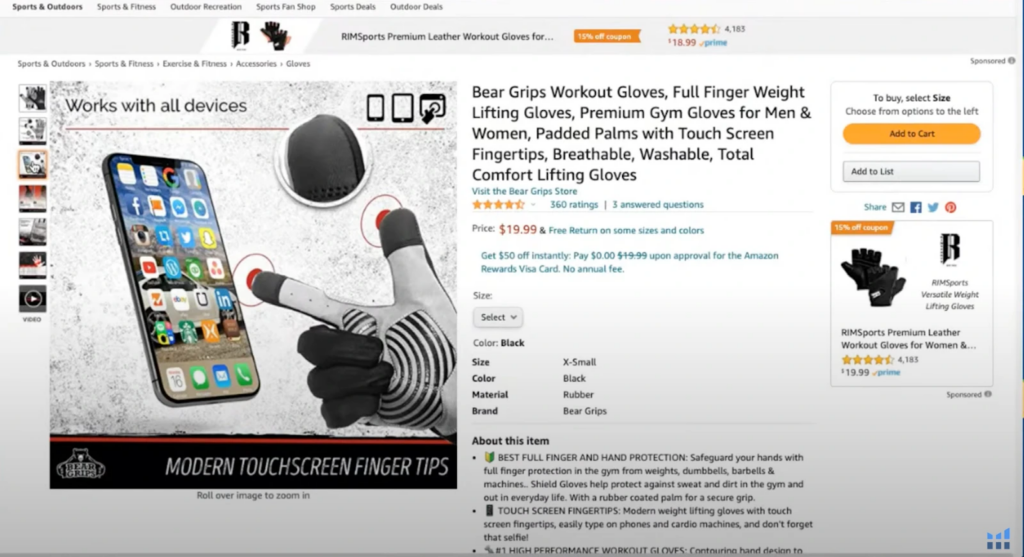 Every single image here tells a story, explains a benefit, or makes clear why you should choose their product. And again, they have repeated the flow of the story with their A+ content below.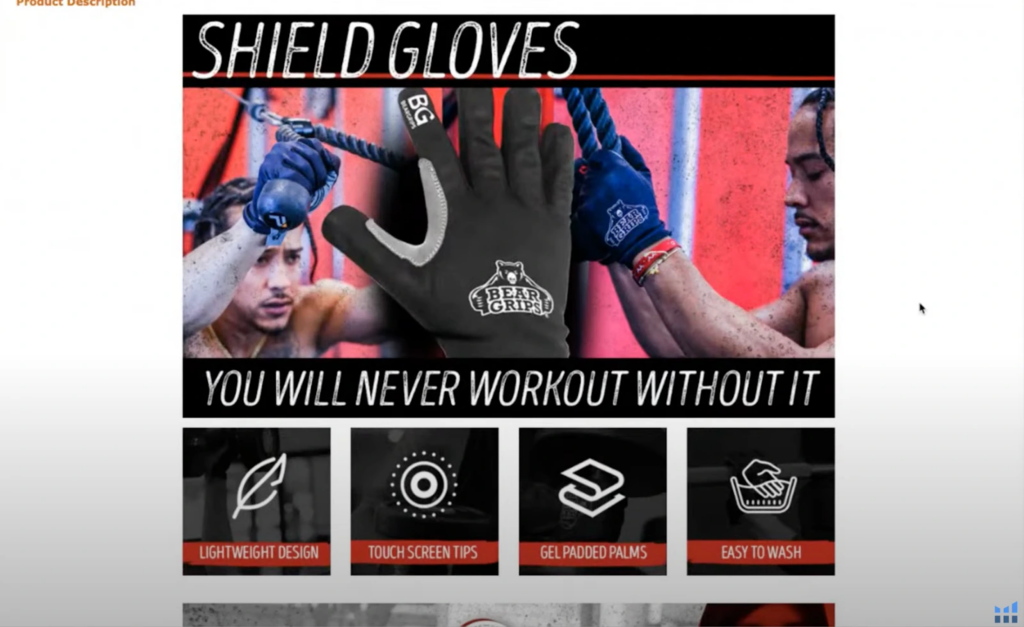 That's why if you're looking at redoing your listings, it makes a lot of sense, while you're doing your main images, to take the opportunity to work on your A+ content at the same time. That way you can make sure that the style and voice mirror each other.
Karyn Thomas has optimized thousands of listings in her career as an Amazon listing optimization specialist. Here's what she has to say about this:
Karyn: In sales, they talk about the concept that you need to see something seven times before you make a decision. So hopefully with this process, you're cementing that same thing.
If you really want people to understand that one of the attributes of your product is that it can easily be used with touchscreens, you have it in the title, and you have it in your bullet points. Then, you follow it up in your images, video, and in your A+ content.
Because Amazon sellers have so much more room with the A+ content, it gave Bear Grips the chance to really highlight that their gloves can be used exercising at the gym with whatever touchscreen-enabled cardio machine you might be using.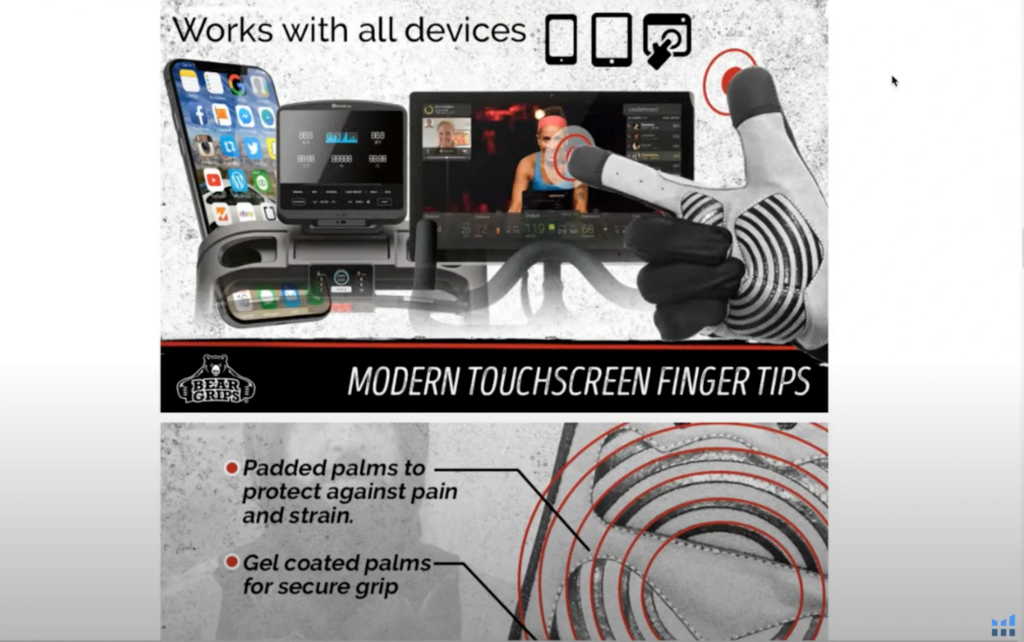 Now, Let's Look at the Results in Amazon's Seller Central
After a month, we wanted to see what the effects were overall to their PPC.
To begin, we'll look at Amazon's Seller Central to see where Bear Grips' sales and ACoS were in the month prior to the optimizations.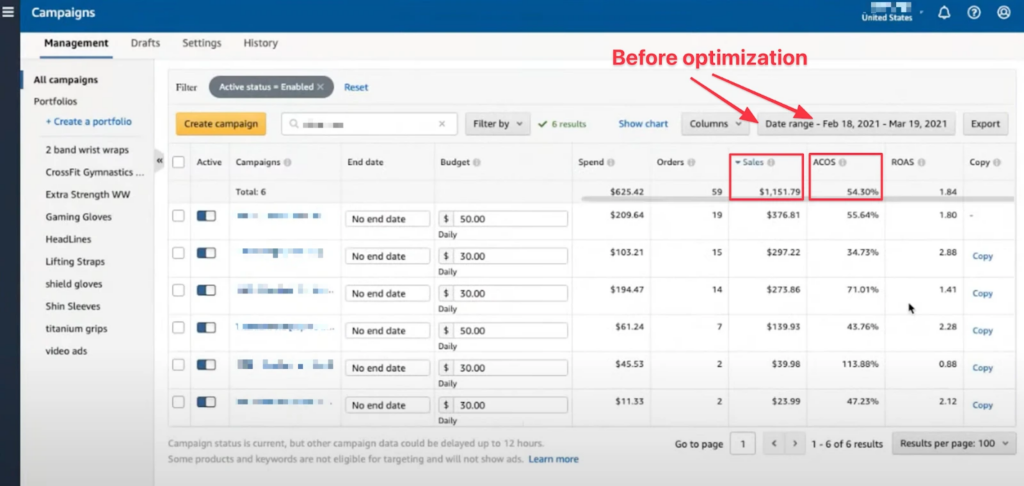 For the 30 days before the optimizations, Bear grips had sales of $1151.79 and an ACoS of 54.30%. That's not great.
After optimization, and allowing another month to pass, we see sales of $1916.41 and an ACoS of 38.72%. That's a 66% increase in sales and a decrease in ACoS of 15.58%.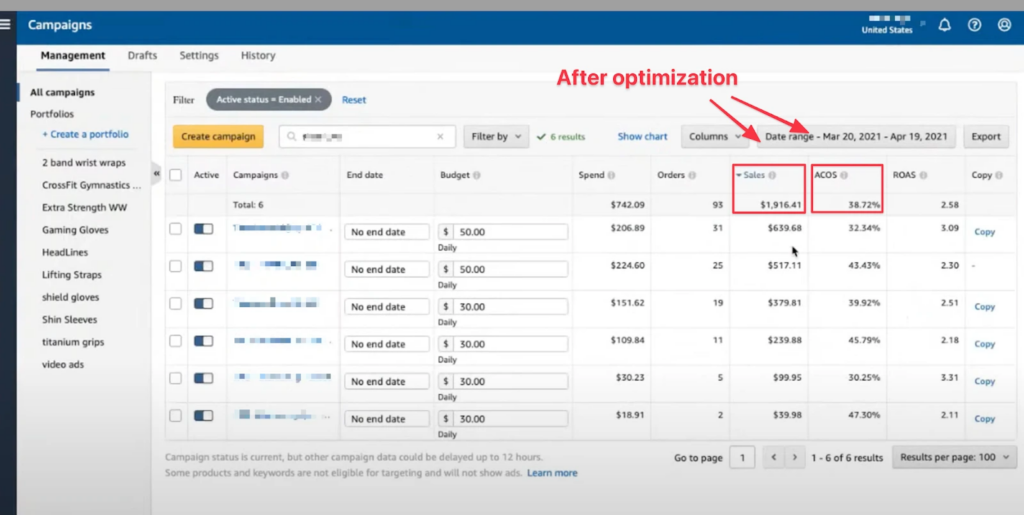 Here's a view of the second product on Seller Central, the month previous to our recommended optimizations.
Here we see sales of $1379.31 and an ACoS of 56.85%.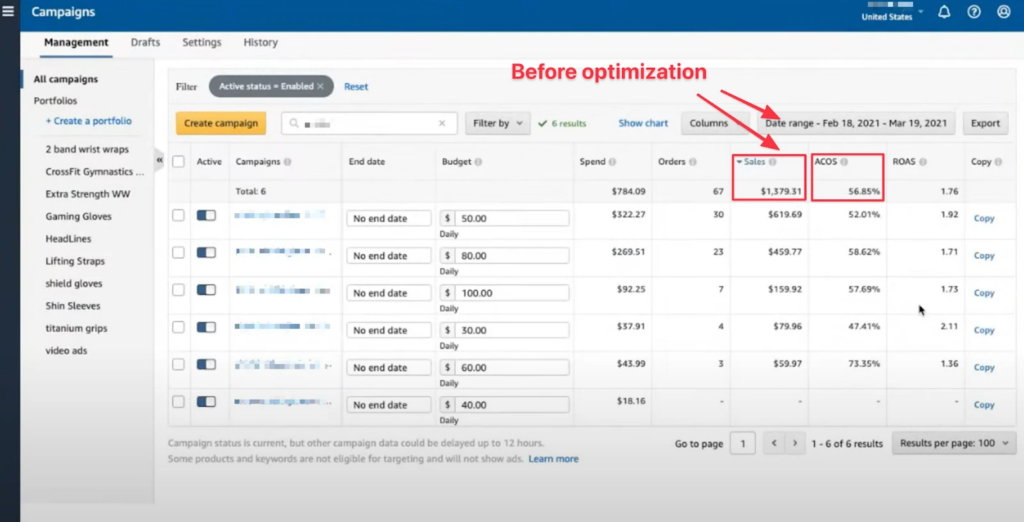 To really have success on Amazon, we need to try to move both these numbers in a positive direction. After our optimizations, we see sales of $2038.98 and a decrease in ACoS to 28.89%.
That's what I'm talking about!
Those numbers represent a sales increase of 48% and a decrease in ACoS of almost 28%.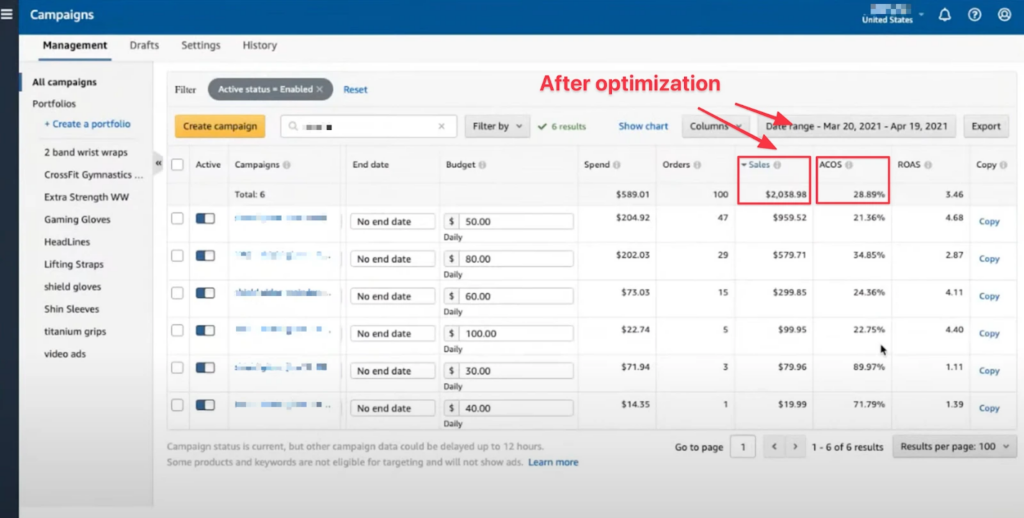 By studying these two examples, it's easy to see that an important step for any Amazon seller is to take the time to fully optimize their listings. Doing this will give you an up-front advantage, but updating your listings after they have been live for a while is also effective as we can see in these examples.
Combining a great listing with Helium 10's industry-leading Adtomic Amazon Advertising Platform is one of the best ways to make sure that you are doing everything in your power to maximize your sales.
From there, the sky's the limit!
Achieve More Results in Less Time
Accelerate the Growth of Your Business, Brand or Agency
Maximize your results and drive success faster with Helium 10's full suite of Amazon and Walmart solutions.