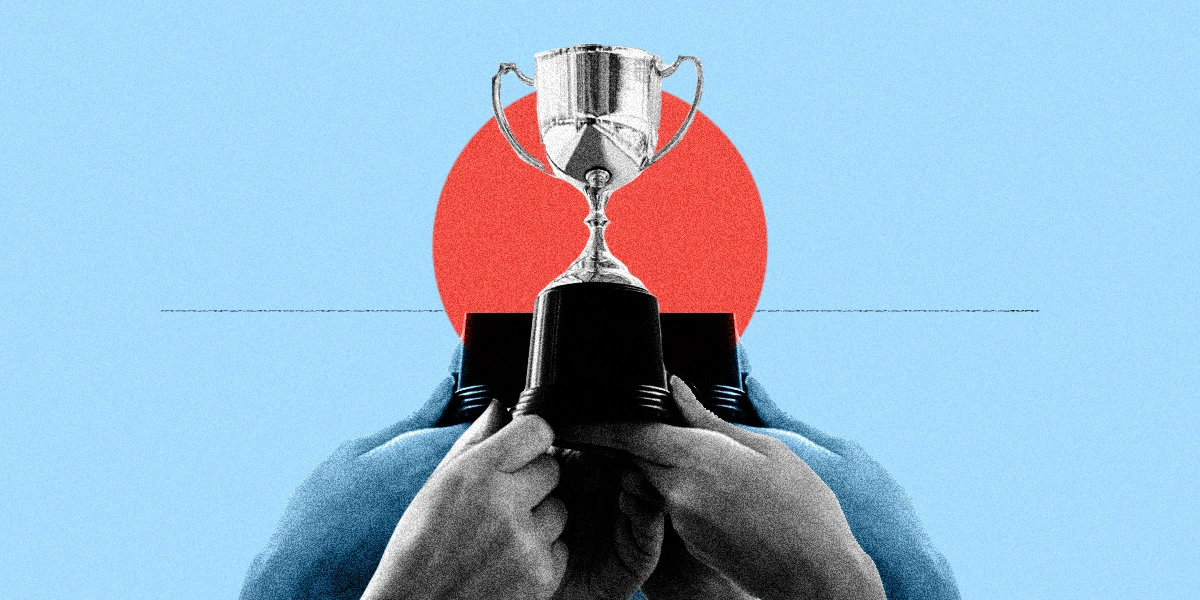 This Amazon Listing Competition Teaches Us 4 Valuable Lessons About Listing Optimization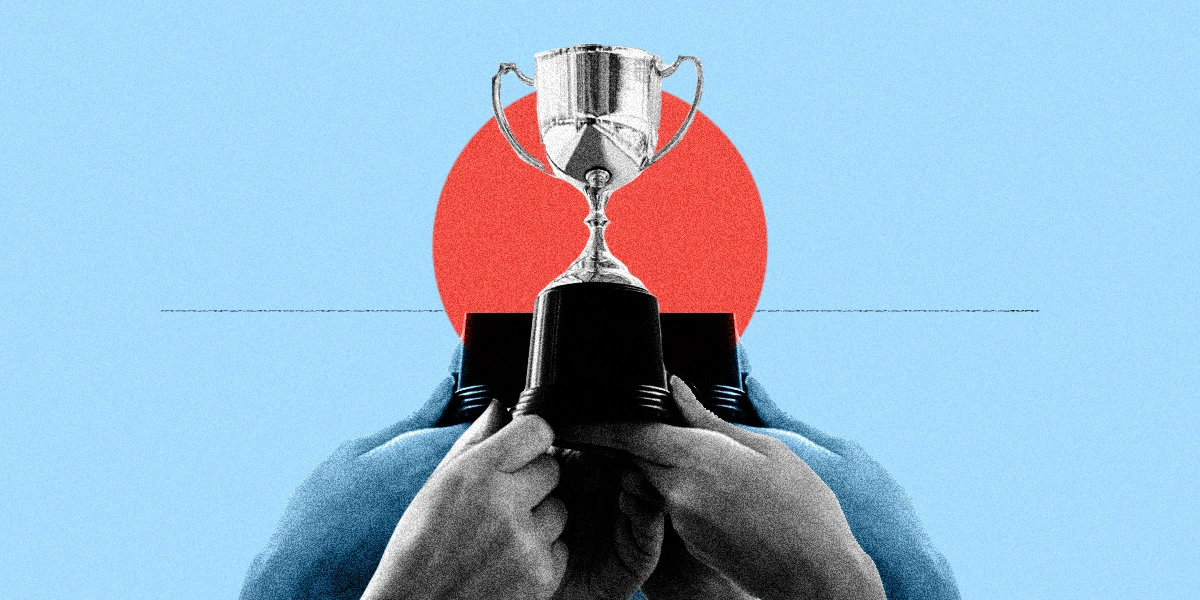 Amazon sellers know that optimizing a product listing with the right keywords, images, and copy isn't an option. It's a must if they want it to convert.
I've worked for Amazon and as a seller, so I'm especially fascinated with this stuff. In my current role at PickFu, we help sellers run polls and get unbiased consumer feedback so they know exactly how to improve their listings.
Amazon listing optimization takes effort and know-how. Whether or not you hire an agency or do it on your own, it can be daunting. But it's something every seller should take the time to understand and do.
With that in mind, we decided to launch The Amazing Listing, a one-of-a-kind contest in partnership with Helium 10 and expert seller Kevin King. We challenged four agencies from around the world to reinvent the Amazon listing for Germ Shark, a hand sanitizer brand that Kevin launched early in the pandemic.
How did they do it? Who did it best? And what are the key takeaways you can use to optimize your listings? Let's find out.
The Amazing Listing: Contest Recap
The four competing agencies were Kenji ROI (Canada); Prime Label Studios (Philippines); Share It Studio (Miami, Florida); and ZonPhoto (Latvia). Joining Kevin as a judge was Karyn Thomas, Helium 10's Customer Advocate and Brand Evangelist.
We asked the agencies to bring a fresh perspective to Germ Shark and create several assets in these four categories:
Photography
Graphic design
Copywriting
Video
For graphic design alone, they had to create five infographics emphasizing different aspects of Germ Shark, plus an alternate version of the product's packaging.
The agencies had unlimited use of PickFu to run as many polls as they wanted. Due to COVID-19 restrictions, they weren't allowed to hire professional models or do paid location shoots. Kevin and Karen judged them on creativity and execution, ranking their work in each category to determine an overall winner.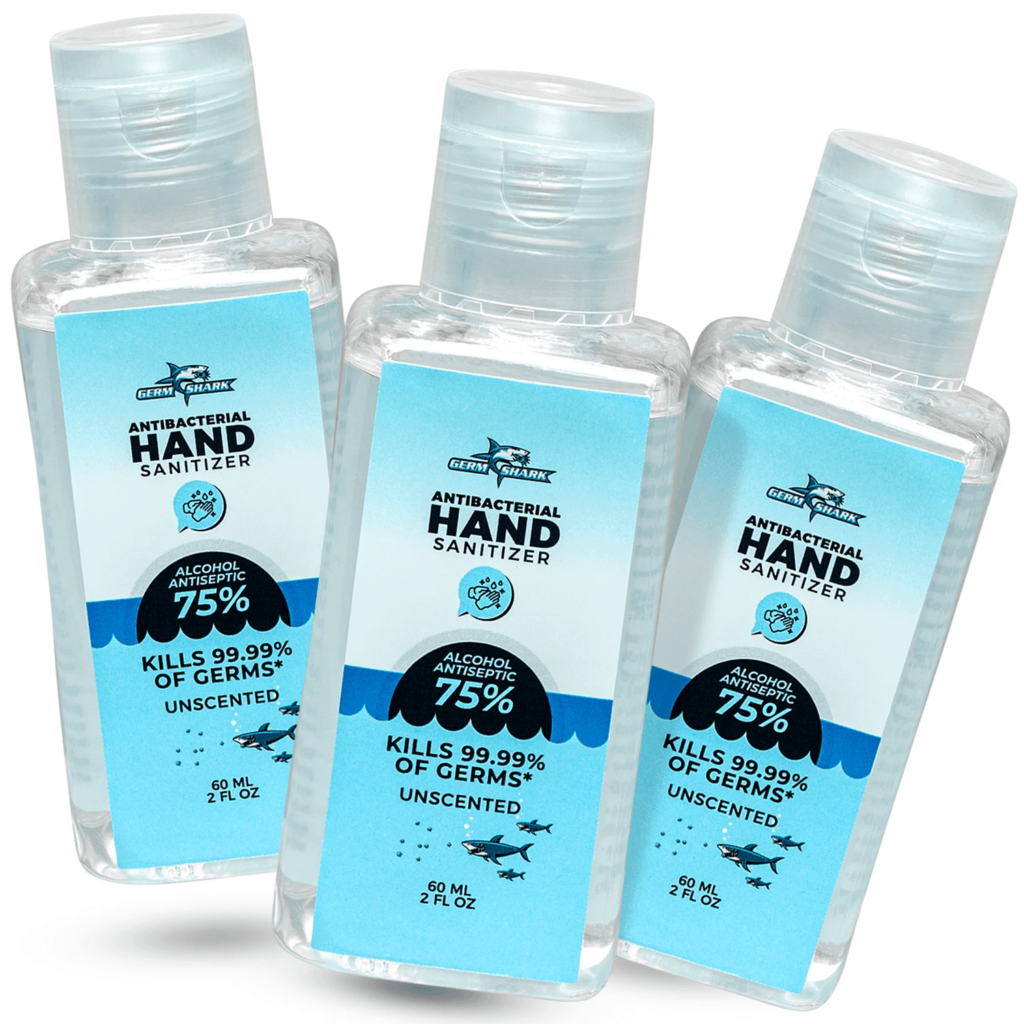 And the Winner is…
The Amazing Listing gave the agencies room to stretch creatively. For our audience, it was a chance to see how listing optimization and split testing go hand in hand.
Share It Studio and Prime Label Studios used the free access to PickFu to test their creativity (36 total polls for Share It!) and get valuable feedback. We ran polls of our own along the way to gauge audience reaction to the agencies' work.
In the end, Share It Studio, run by the husband-and-wife team of Rafael Veloz Zambrano and Anna Akumova, was the ultimate winner. Thanks to the incredible work from all the agencies, we compiled the following tips that can help take your listing from good to amazing.
Top Tips for Amazon Listing Optimization
Photography
Given Amazon's strict main image guidelines, there's only so much you can do to make a product pop on a plain white background. That's where testing — and taking visual risks — comes into play.
Test the limits with secondary images
This was one of the agencies' tasks: to create a secondary main image that intentionally pushed the boundaries of what Amazon allows. These images usually perform better, though they may get flagged by Amazon. Either way, it's good to have options.
Use logic in lifestyle photos
Would you really use hand sanitizer before walking into a public restroom? Or while sitting in a car? They were among the images some of the agencies submitted as lifestyle photos for Germ Shark, and they just didn't make much sense.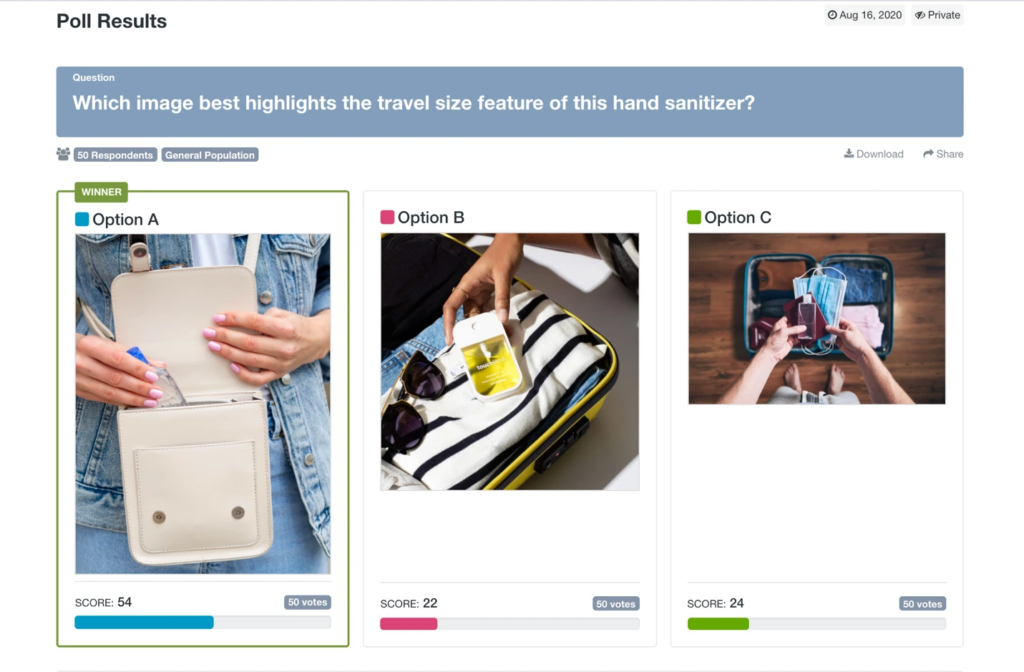 Share It Studio tested different settings for a lifestyle image on PickFu to confirm it was headed in the right direction.
Graphic Design
Less is more when it comes to designing visuals for e-commerce. As for your physical product packaging, it can almost always be improved. Test your designs to help drive the development process.
The simpler, the better
Stick with simple, easy-to-understand, mobile-friendly infographics. Most Amazon shoppers use their phones to browse and buy. They'll scroll right past graphics that are too crowded. Prime Label Studio's option below looked sharp, but our judges agreed that it was still too busy.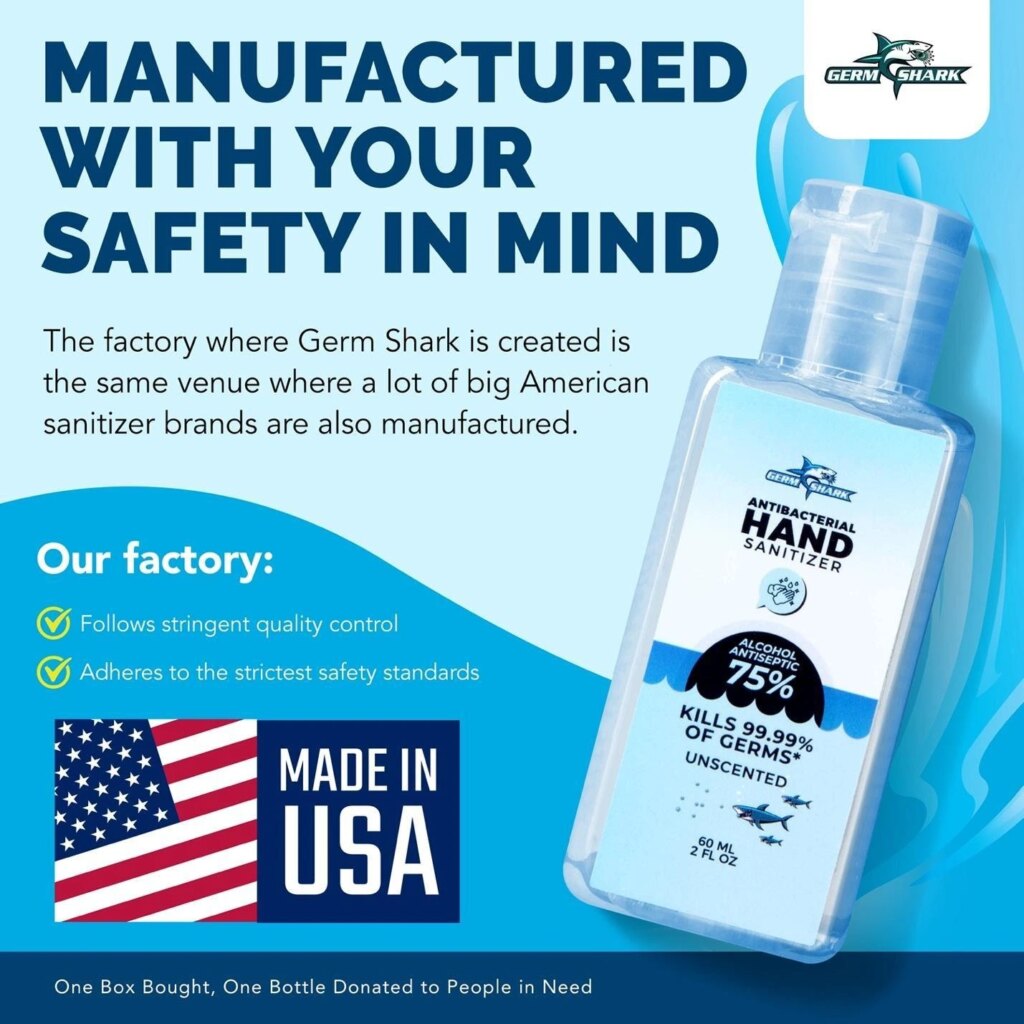 Test, tweak, repeat
Take your designs through multiple rounds of testing and iteration, as Share It Studio did throughout the competition. You'll be amazed at how much you can change or cut. You'll end up with more effective graphics and a stronger product overall.
Copywriting
Good copy alone doesn't carry your listing, but it's a big factor in getting buyers to click. For this contest, we paired copywriting pros Sacha Gorelik and Amy Wees with the agencies who don't do copywriting, ZonPhoto and Share It Studio, respectively. No surprise they ended up the strongest contenders in this category.
Research before you write
Keyword research helps you write copy that will resonate with shoppers and Amazon's search engine. (Kevin did the Amazon keyword research for The Amazing Listing to ensure that all the agencies were working with the same terms). Use a seller tool like Helium 10 for keyword and product research and apply that to your product title, description, and bullet points. Then, test different versions to see if and where the text needs work.
Test copy on a micro level
The text on your infographic or packaging may seem minor, but it can have a big impact. Optimize these shorter forms of copy by testing different versions and refining as needed.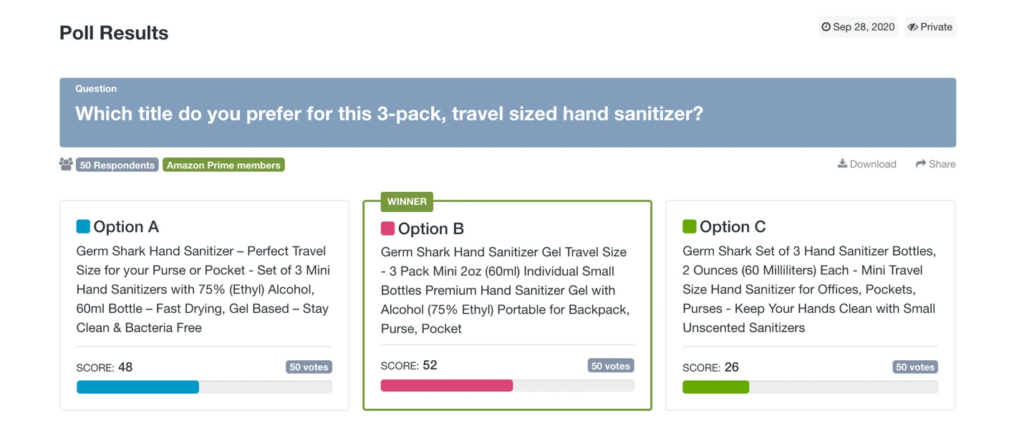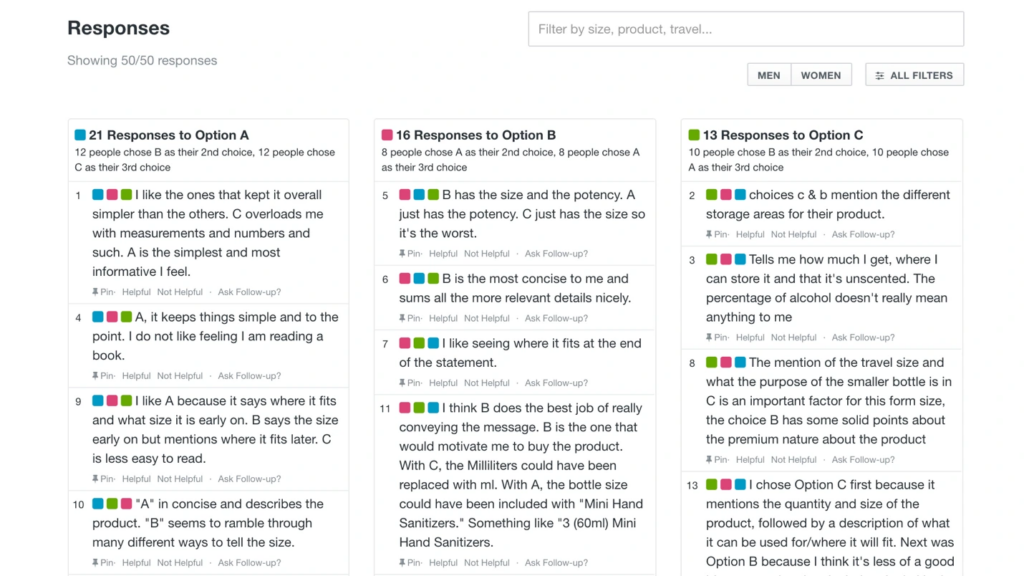 Video
If you're going to invest in video — and it's absolutely worth investing in — sweat all the details until you're 100% confident with the final product.
Be picky with the voiceover
Your voiceover should sound professional and appealing. If people notice the voice, and not in a good way, reconsider your selection. ZonPhoto and Prime Label used friends or employees for their voiceovers, and the judges definitely noticed. (Granted, they were limited somewhat by the contest rules.) Running an open-ended poll on PickFu would've given them valuable feedback to choose a different voice.
Revise and reshoot
Video is an expensive asset that'll be on your listing for a long time. Commit to quality. If you've hired an agency to produce it and it falls short of what you asked for, edit and reshoot until you're satisfied.
Visual first, audio second
Remember: most people are on mobile devices. If they watch your video without sound, would they understand it? In other words, the video should work just as effectively with the sound off as it does on. Check out Share It Studio's winning video to see what I mean. It focuses on the text and graphics to get the message across; the catchy music is the icing on the cake.
Planning and Pre-Production
Running The Amazing Listing around everyone's schedules was no small feat, but we did it with careful planning and communication. If you work with an agency to optimize your listings and grow your sales, you need that same level of coordination. Here are a few final tips.
Be specific
Don't just email your design brief to an agency. Have a meeting and talk through each deliverable so that everyone is clear on your needs.
Build in extra time
Give yourself a buffer on deadlines. Even the best agencies get backed up.
Ask for referrals
Agencies often collaborate with other e-commerce pros. If you need copywriting or another service outside of your agency's expertise, they can probably refer you.
Have a wish list
Let the agency know your long-term goals and wish-list items. They might offer to do the extra work for a nominal fee. If anything, you're setting the tone for a strong relationship. Two of our Amazing Listing agencies went above and beyond by creating bonus items for Kevin. He ended up signing them on to more projects.
Conclusion
We learned something every step along the way with The Amazing Listing. We hope you did too. I think we can all agree, there's no middle ground when it comes to your Amazon product listing. It either draws in customers, or it gets lost in the online shuffle. Find an agency you like. Use these tips to optimize your listings. Go be amazing.
Achieve More Results in Less Time
Accelerate the Growth of Your Business, Brand or Agency
Maximize your results and drive success faster with Helium 10's full suite of Amazon and Walmart solutions.