Why Amazon Lightning Deals Are Essential to Black Friday Profits
Whether Black Friday, Cyber Monday, or Prime Day, Amazon Lightning Deals let sellers feature their products during the biggest sales days of the year.
Updated on: November 12, 2019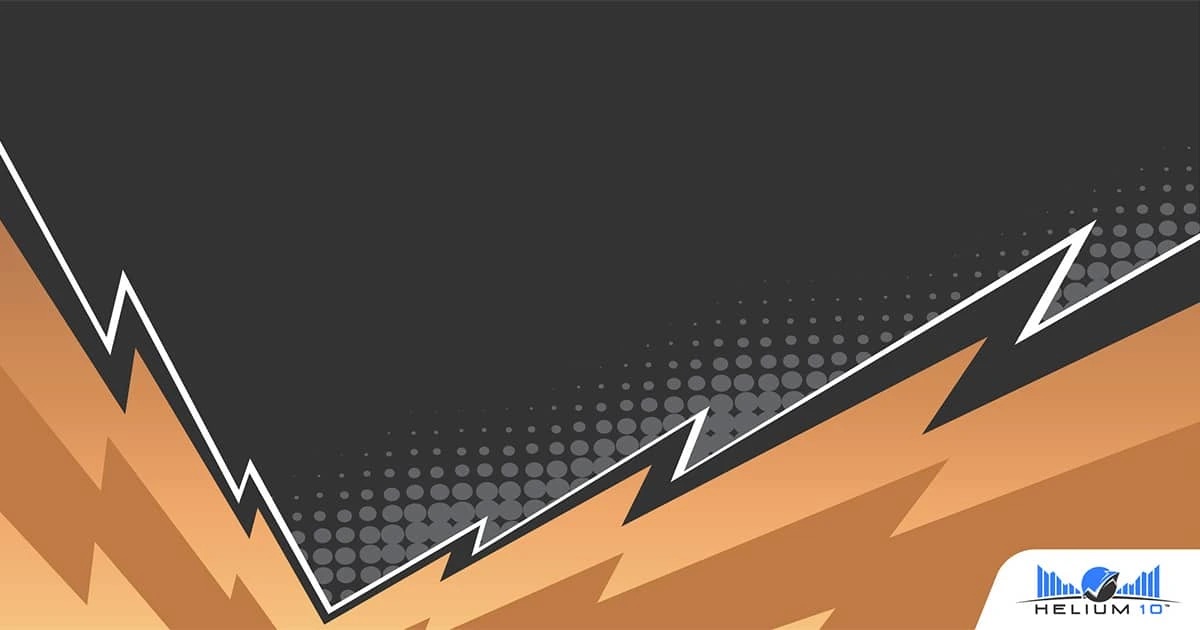 Is your product eligible for money-making Amazon Lightning Deals for Black Friday & Cyber Monday?
Whether the occasion is Black Friday and Cyber Monday, or Prime Day, Amazon Lightning Deals have become a new way for sellers to feature their product during the biggest sales days of the year. Customers can see a Lightning Deal price on both Amazon's desktop platform and mobile app for participating product variations.
What Are Amazon Lighting Deals?
Much like a flash sale, these Amazon deals offer a product at a significant discount in limited quantities for a limited amount of time. There are Amazon Lightning Deals all day, every day during the sales periods since Amazon has continued to expand the time span of these major sales.

Lightning deals should not be confused with Deals of the Day, which feature different products every 24 hours with a significant discount. Both sale types offer a deal price to customers with a sense of urgency in an attempt to prompt sales through manufactured scarcity in the form of a time limit.

However, Amazon Lightning Deals typically appear only during major sales events such as Black Friday, Cyber Monday, and Prime Day. It should also be noted that most Amazon Lightning Deals do not have a waitlist after all products have been claimed, or if the timer runs out. Once the deal is done, that is it.
The Anatomy of the Lightning Deal
The multiple looks of Amazon Lightning Deals are distinct, and each signifies a different part of the process. Features that each Lightning Deal shares include the following:
Professional product image
Current sale price
Regular listing price (crossed out)
The percentage off for the sales price
The "% Claimed" progression bar showing how much of the limited inventory has been purchased already
Countdown of time left for sale
Product title
Actionable button such as "Add to Cart"
However, the three main types of Amazon Lightning Deals vary in some of these aspects:
Prime Early Access Deals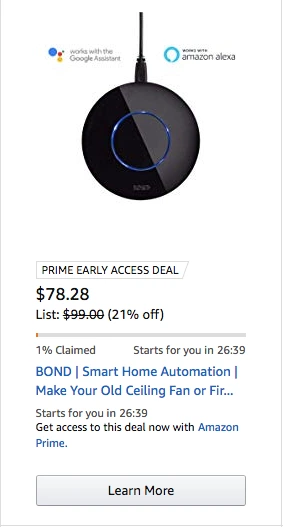 These products appear only to Amazon Prime members as an early access look at a deal that has not yet begun and will offer early access to purchasing the item before the general public.
Rather than having a purchase option, the actionable button instead says "Learn More" to show the Prime member information on the product. Additionally, the countdown shows the time left until the Prime Member will be able to purchase the item ahead of everyone else.
Sponsored or Regular Deals
These deals are the most common and are what most people see, Prime member or not. Those deals that are "Sponsored" are sellers who have paid extra to ensure that their product gets prime real estate during the sales event.
The countdown shows how much time is left to purchase (one per customer) at the sale price. Just above the actionable button, the seller's brand name and the star rating is shown.
Price Range Deals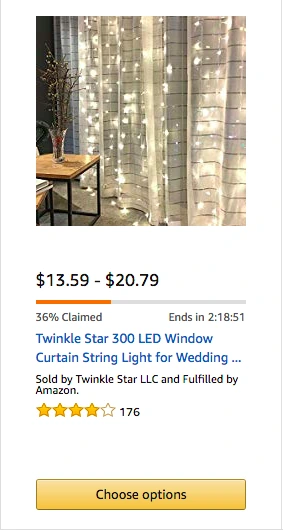 These deals differ in that you see a price range instead of a definite discounted price. The range is to cover all variations of the product, whether it's sizing, color, or other differentiating factors.
How to Ensure Your Product is Eligible for a Lightning Deal
You cannot simply buy a Lightning Deal like you would advertising space, but sponsored placement can be purchased for a steep fee. Amazon chooses which product listings will be featured on the Amazon homepage and the individual category pages.
Also, your listing must be very attractive to customers in terms being informative and visually appealing for both desktop and the Amazon app, so make sure your listing as fully optimized with our guide:

If your product is chosen by Amazon for a Lightning Deal, you will pay a fee via debit or credit card for the deal placement. Fees for Amazon Lightning deals can vary based on the time of day, the length of time it will be active, and the day it is activated. The better sale days like Black Friday, Cyber Monday, and Prime Day are typically much more expensive than other days of the year.
To be chosen for an Amazon Lightning Deal, your product must already have a good sales record. After all, Amazon wants to make more money, and so only high-performing products will be chosen.
If you wish to add your product to the candidates for Amazon Lightning Deals, your product listing must also meet strict criteria to be considered:
The sale price must be at least $5 and offer a discount of 20% off or more of the lowest site price from the past 30 days AS WELL AS be the lowest price since January 1st of this year
Possess sufficient inventory to sustain a Lightning Deal promotion for a maximum of 4-6 hours
Product rating of 3 stars or higher
Product listing has an exceptional listing that is attractive to buyers, including high-quality images, a captivating title, and detailed bullet points and description
ASIN must be unique and have no other offers
Must be compliant with Amazon TOS and all policies, and not be considered a restricted product
Your product must not be bundled with any Add-On items (FBA products only)
Your product must be in new condition
Your product must be Prime eligible in all US states and Puerto Rico
If you feel you are eligible for a Lightning Deal, be sure to submit your request via Amazon Seller Central at least 4 weeks in advance.
NOTE: Submission is not a guarantee of receiving a deal spot from Amazon
Do you have the experience to share about Amazon Lightning Deals? Share it in the comments!