Use the Powerful Amazon Keyword Tool Combo Cerebro and Frankenstein for Creating Effective Lists
Sellers can create a more precise list of search terms using the Amazon keyword tool combo of Cerebro and Frankenstein from Helium 10. Export juicy keywords from Cerebro to Frankenstein to create powerfully targeted keyword lists that will calibrate your search terms for relevant matches.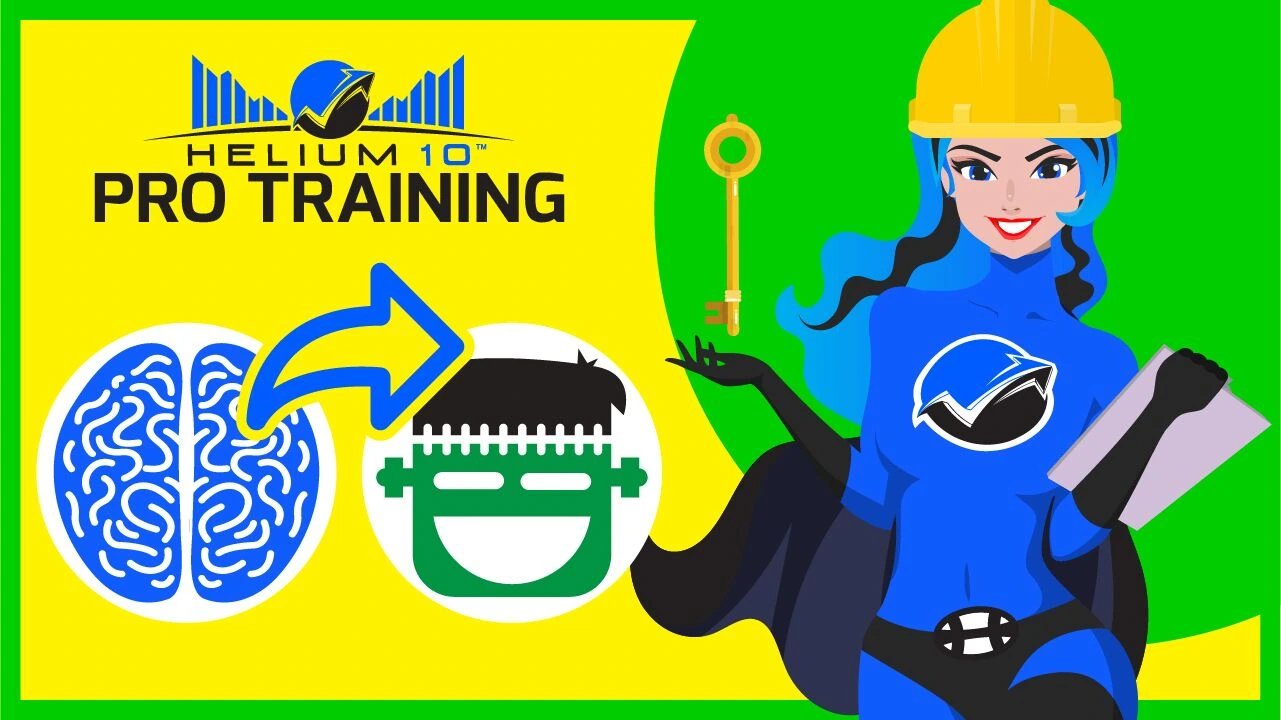 Amazon sellers can create a more precise list of search terms using Cerebro and Frankenstein, Helium 10's Amazon keyword tool combo.
The challenge to find the most relevant keywords is at the forefront of what Amazon sellers need to compete, and Helium 10 has created a killer Amazon keyword research tool combo to help sellers create powerful keyword lists.
Combining different tools in Helium 10 can help sellers create even stronger keyword lists. Cerebro, the reverse ASIN tool, and Frankenstein, the keyword list creator, are particularly useful when used together.
Using Cerebro to export keywords to Frankenstein can be used to create targeted keyword lists is a powerful way to calibrate your search terms for relevant matches.
Check out the video tutorial below to learn how the Amazon keyword tool combo of Cerebro and Frankenstein, can work in sync to get you the ultimate keyword list:
Before launching the Helium 10 tools, find the product of interest on Amazon and locate its ASIN.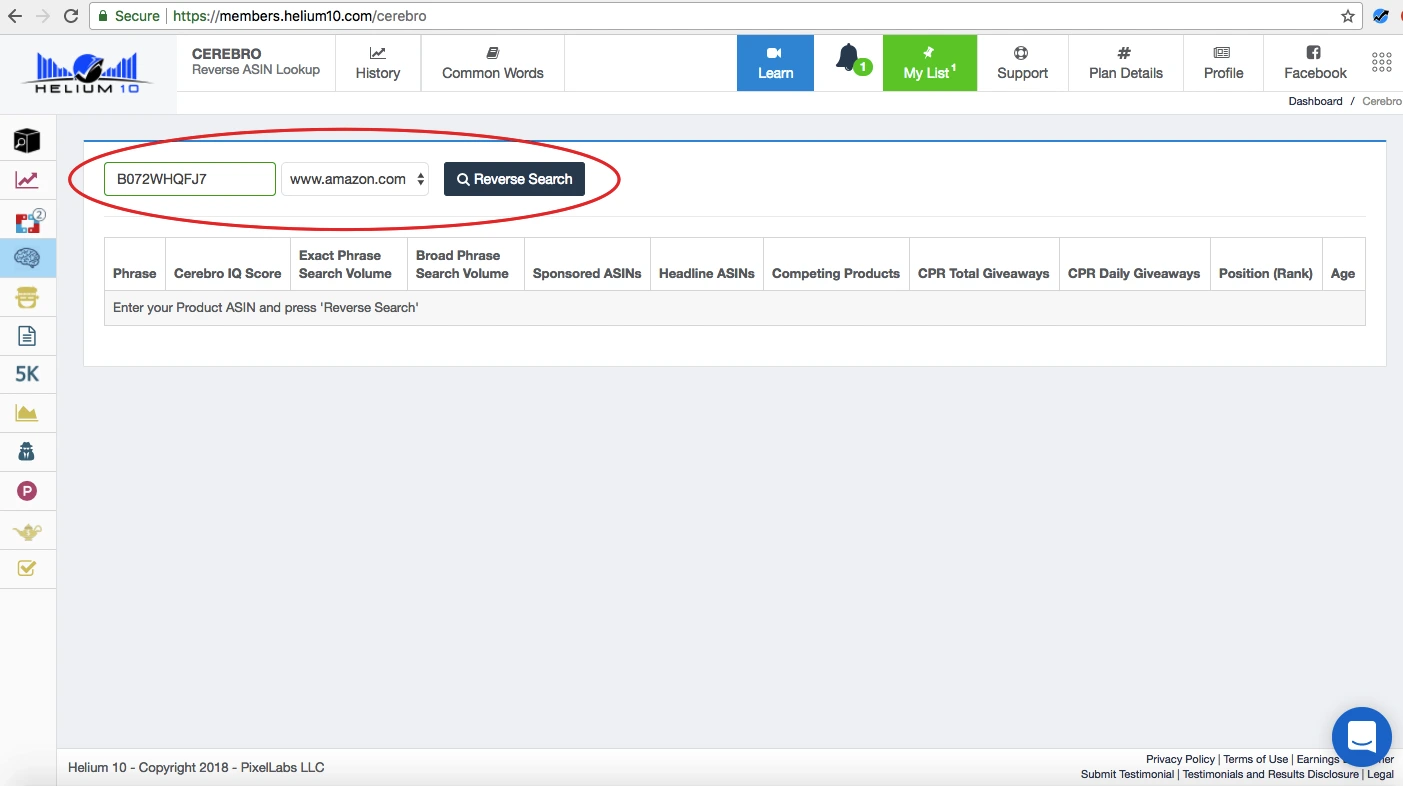 In the Helium 10 suite, use Cerebro to find the first set of keywords with the ASIN. Enter the product's ASIN in the search box but set the focus before hitting "apply." In this example, we set the focus to "narrow," so the search isn't too broad.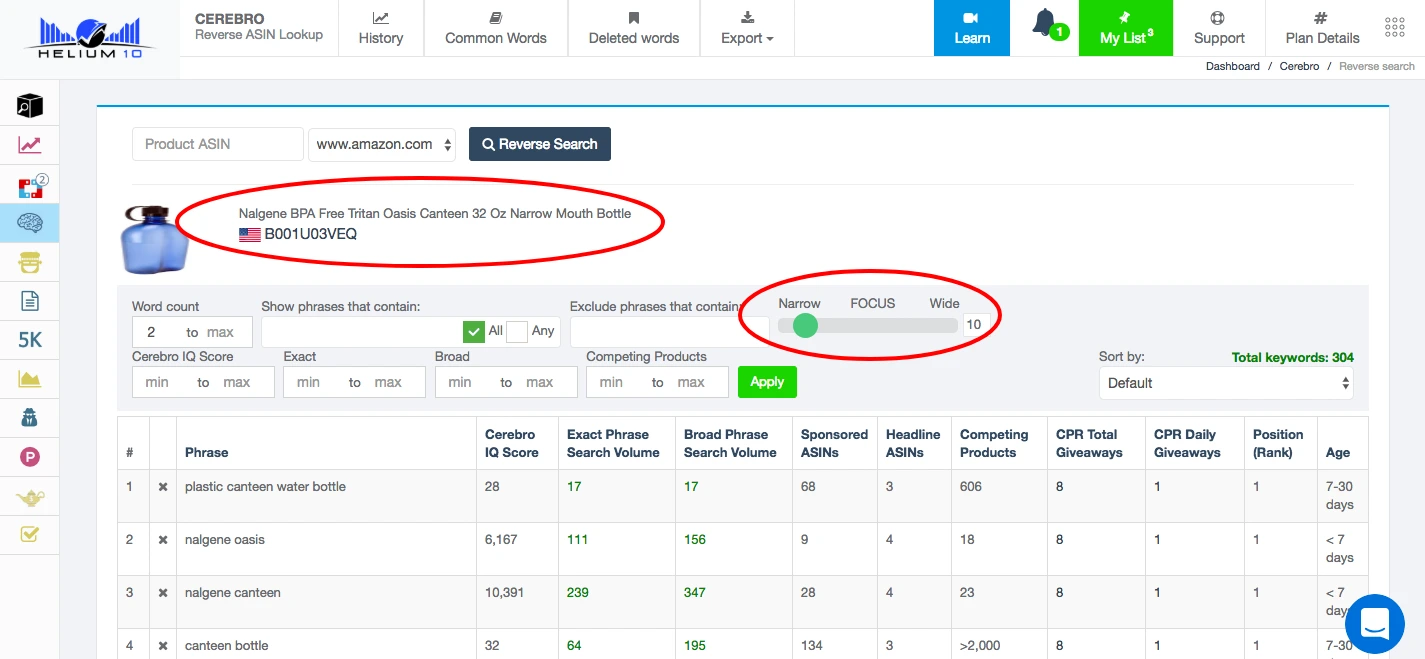 Then use the "export" button at the top of the page to begin the export to Frankenstein.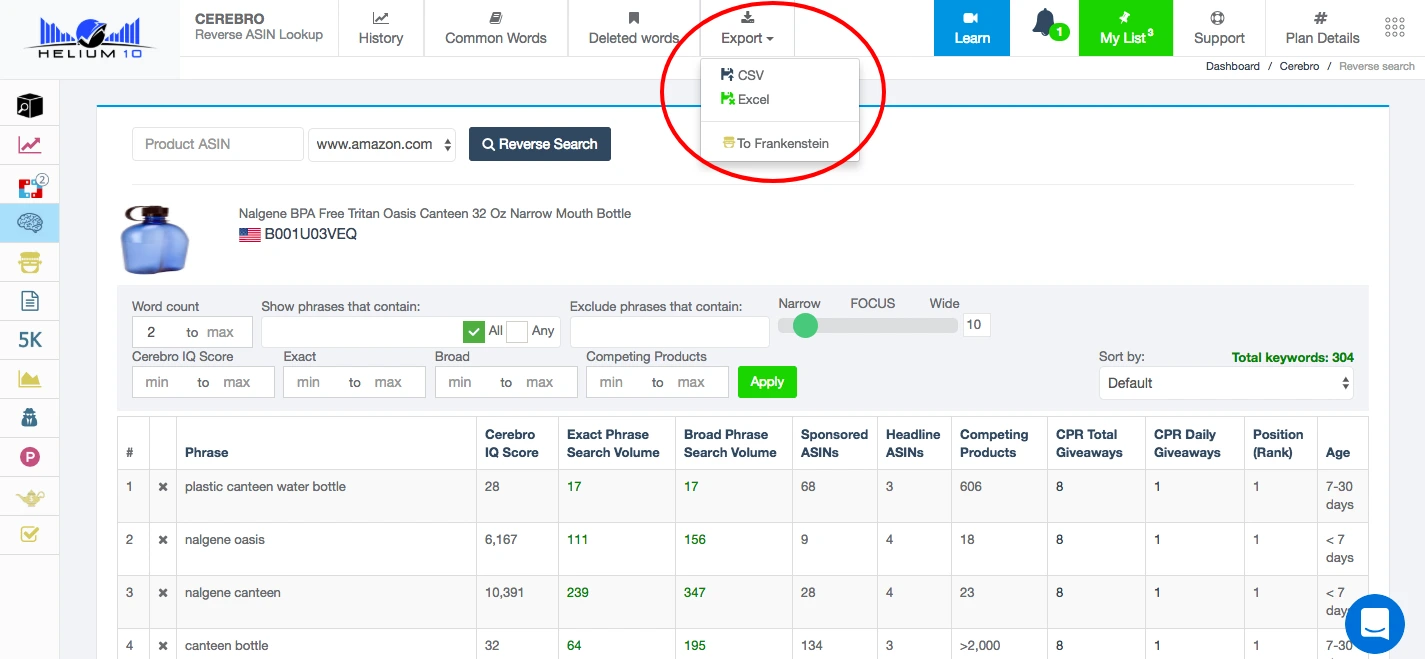 In Frankenstein, you can change or modify your Cerebro-generated keyword list. At the top, you'll find the original list from Cerebro. Below it, you'll find options to change settings so you can get a more relevant list for the product you want to sell.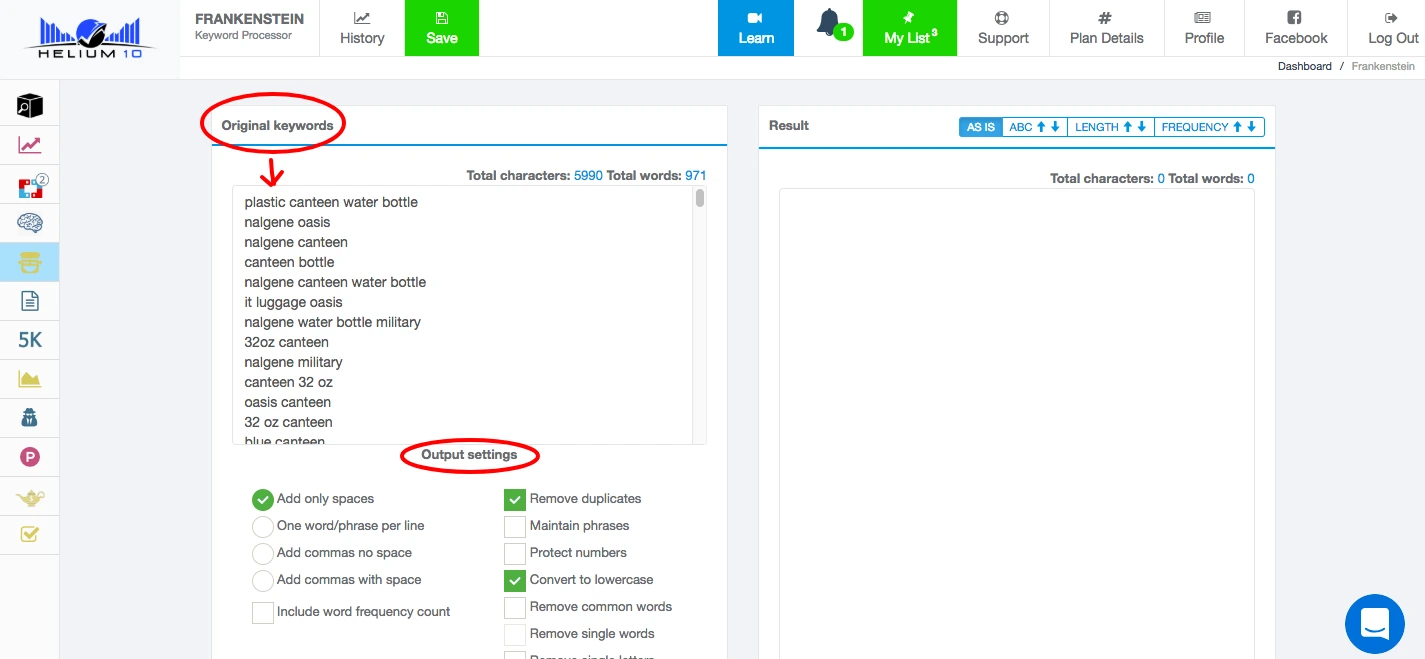 Under the output settings, you can manipulate your list to "one word/phrase per line," "remove duplicates," or use any of the other alternatives to see what the tool generates. You can also sort the list in alphabetical order, by length of words, or by frequency.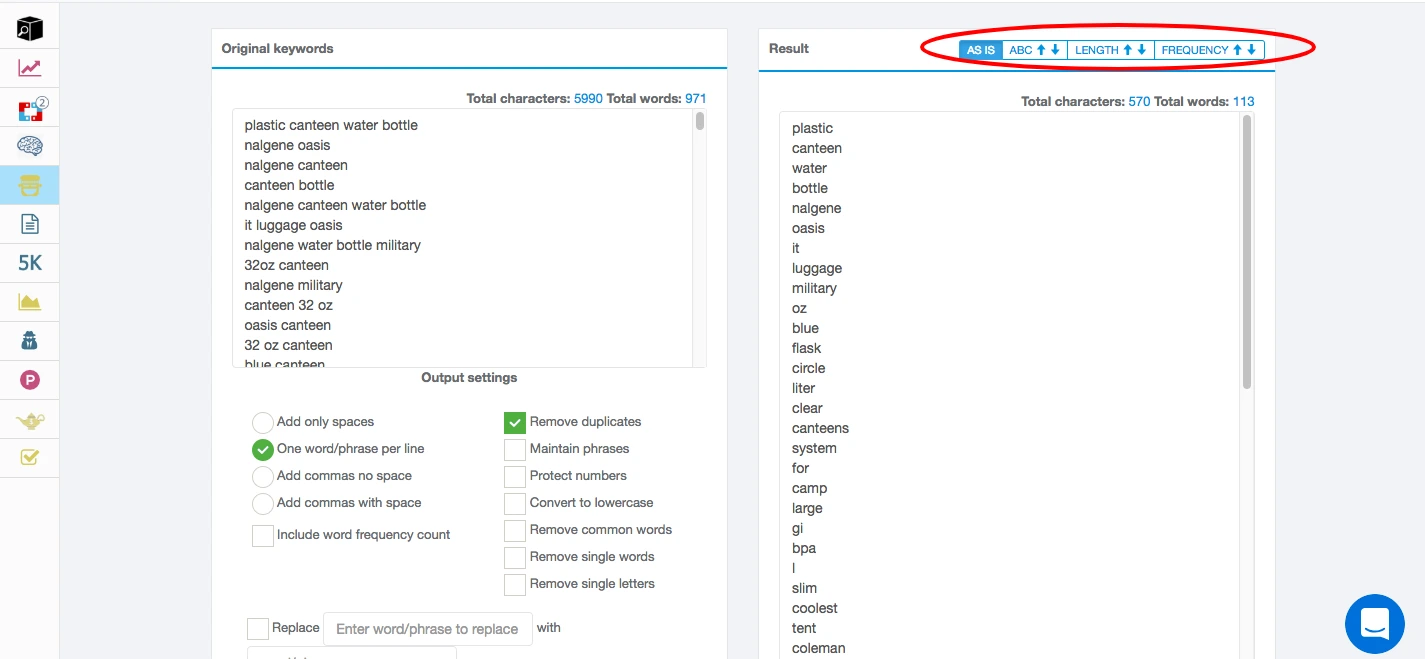 Cerebro and Frankenstein are two keyword generator tools that work really well to give you a strong keyword list and fine-tune it to suit your needs. Once you have a more defined list, you can import it to other Helium 10 tools like Scribbles to tighten it further.

Do you have more questions about Amazon keyword tool like Cerebro, Frankenstein, or the new and improved Magnet 2? Let us know in the comments below!
If you're not a Helium 10 member yet and you sell on Amazon, what's holding you back?
SIGN UP HERE TODAY TO START ACCELERATING YOUR AMAZON BUSINESS
Get more Helium 10 updates by giving us a "Like" on our Facebook page: https://www.facebook.com/Helium10Software/
Want to see more Helium 10 Pro Training tutorials? Check out the rest of our videos on the Helium 10 YouTube channel! Don't forget to subscribe for regular updates!
Want to absolutely start crushing it on Amazon and make more money? Follow these steps for helpful resources to get started:
Get the Ultimate Resource Guide from Manny Coats for tools and services that he uses every day to dominate on Amazon!
New to Selling on Amazon? Freedom Ticket offers the best tips, tricks, and strategies for beginners just starting out!
CLICK HERE TO SIGN UP FOR FREEDOM TICKET
Trying to Find a New Product?
Get the most powerful Amazon product research tool in Black Box, available only at Helium 10!
Want to Verify Your Product Idea?
Use Xray in our Chrome extension to check how lucrative your next product idea is with over a dozen metrics of data!
GET THE HELIUM 10 CHROME EXTENSION
The Ultimate Software Tool Suite for Amazon Sellers! Get more Helium 10 tools that can help you to optimize your listings and increase sales for a low price!
CLICK HERE TO GET STARTED TODAY
Protect Your Amazon Brand with a Trademark!
Protecting your brand from hijackers is vital. SellerTradmarks.com provides a streamlined process for obtaining a trademark for your business and shielding your products from fraud!
CLICK HERE TO GET YOUR TRADEMARK
Ready to Get Serious About Your Amazon FBA game?
The Helium 10 Elite offers cutting edge training for advanced Amazon sellers who are ready to grow their business and take it to the next level.
CLICK HERE TO JOIN HELIUM 10 ELITE
Does Amazon Owe YOU Money? Find Out for FREE!
If you have been selling for over a year on Amazon, you may be owed money for lost or damaged inventory and not even know it. Get a FREE report to see how much you're owed!