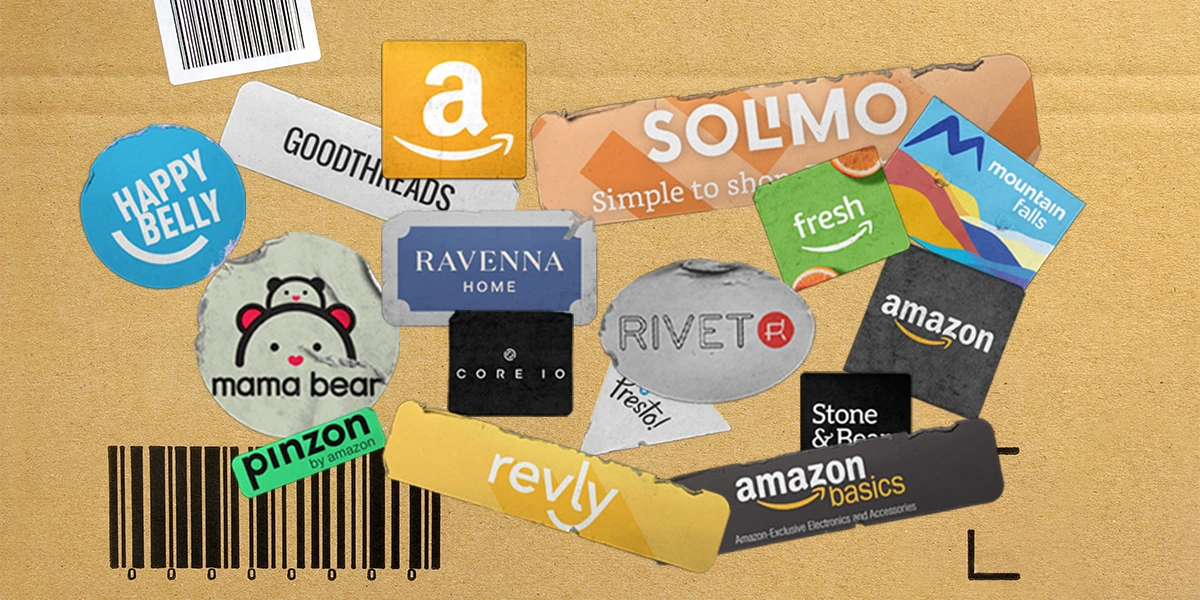 How Amazon's Private Label Brands Can Teach You To Scale Your Business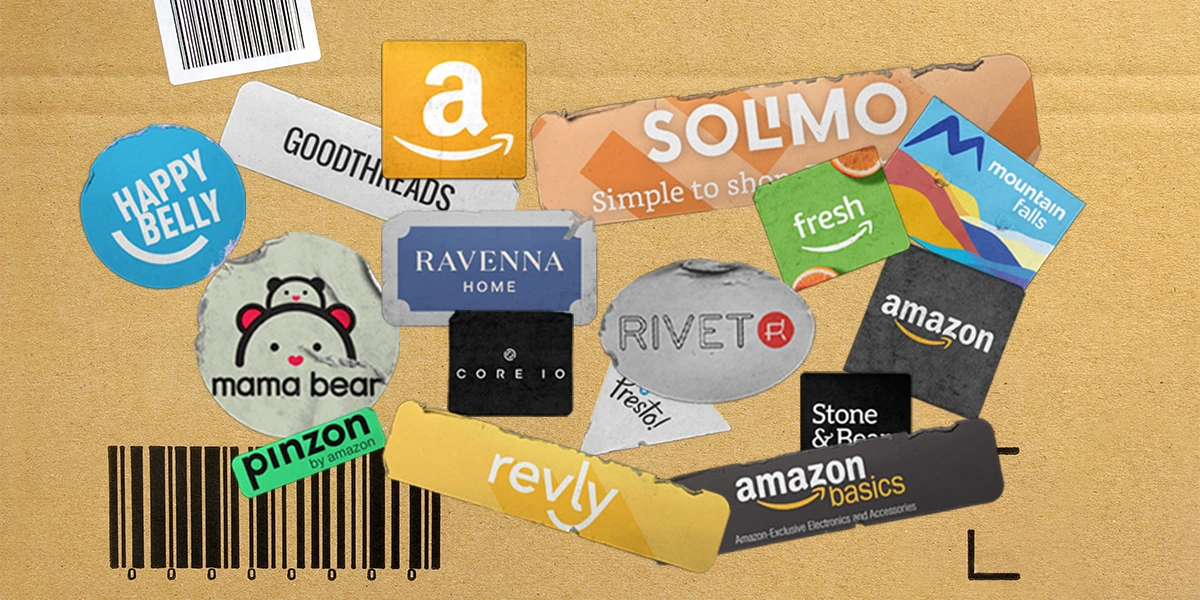 It's impossible to overstate the role that Amazon plays in e-commerce. Even without meaning to, they can effect huge change on everyday events. When they act with intention, their influence can completely destabilize the entire business landscape.

While that might introduce an untold number of complicated problems for large companies trying to compete with the e-commerce giant, I think you'll see that it's a very good thing for small, private label Amazon sellers like yourselves.
Amazon's Tug-of-War Prowess
For me, Amazon's nimble market-based footwork brings to mind sunny afternoons watching Basque villagers compete in lengthy battles of tug-of-war using a long knotted cord.

The most effective technique was to surprise your opponents by allowing them a substantial amount of "won" cord, which would temporarily unbalance them at which point the first team would, upon an unspoken signal, collectively pull the cord and drag the startled, losing team over the center-line.

The combined ability of Amazon's sheer economic power and knack for contracting and expanding the market to closely match their e-commerce aptitudes is just good business. It's also extremely difficult for their competitors to keep pace with.

Amazon holds an almost insurmountable advantage because their global financial position is absolute in scale and allows them the luxury to play a very long game.

Almost immediately following Amazon's nativity as an overachieving bookseller, merchants started carving out lucrative niches for themselves.

Amazon's Rapid Rise
They made that happen by finding gaps in the marketplace, sourcing corresponding products at increasingly low prices, then offering those handpicked products as third-party sellers. This phenomenon allowed Amazon to rapidly scale up, while virtually eliminating risk.

Amazon has been very busy since they unveiled their first private label brand Pinzon, in August of 2005.

Now, Amazon not only creates their own in-house brands, they also encourage other companies of all sizes to help them populate their increasingly vast e-commerce market with "Amazon exclusive" brands.

According to TJI Research (which provides information and analysis about Amazon across industries), as of 2021, there are over 100 distinct Amazon private label brands, including Amazon Elements, Amazon Basics, and Rivet in addition to over 500 Amazon exclusive brands.

Recently, Amazon's investment in men's and women's fashion has so dramatically accelerated that within the next year, according to Morgan Stanley, Amazon should overtake Walmart as the largest clothing seller in the United States.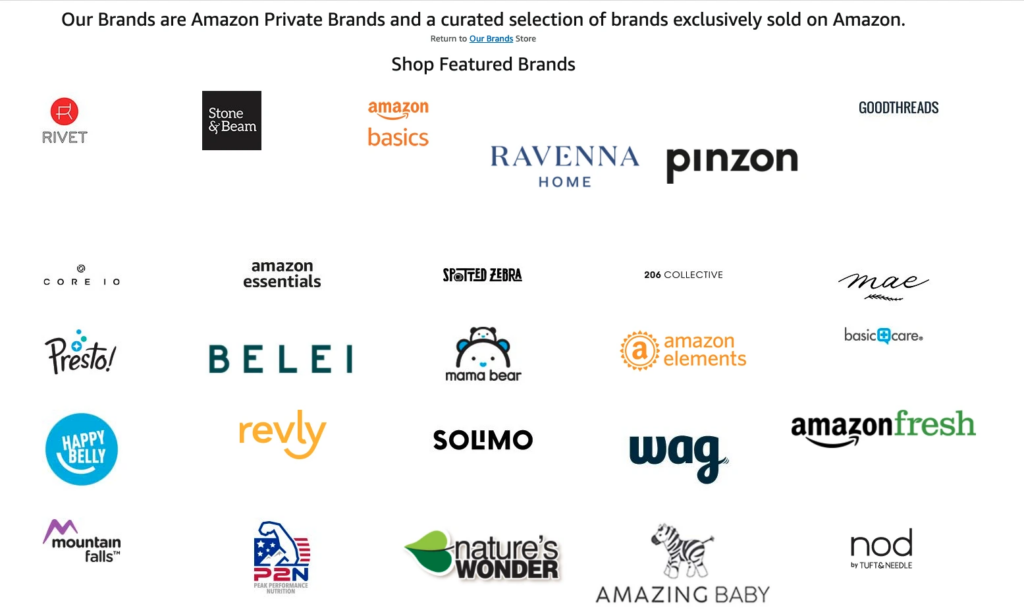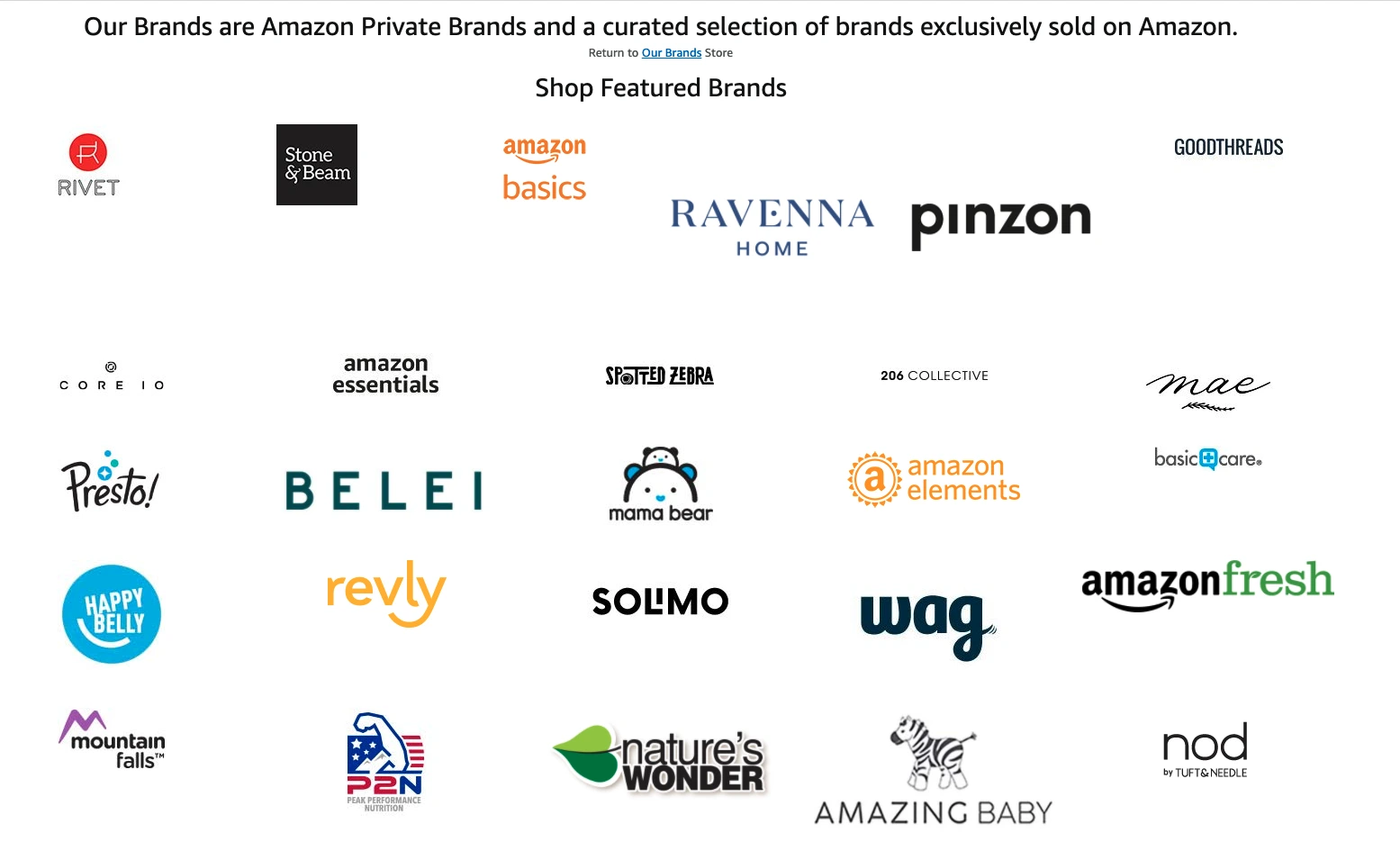 Competing Companies Help Amazon Build Out the Business Landscape
In the last few years, after exponentially increasing their own in-house private label products, Amazon appears to be moving into another phase of their business model.

Their new tactic seems to be to motivate competing companies to create brands that will sell exclusively (and compete directly with Amazon) on its own e-commerce platform.


Helping Companies "Accelerate-or" Their Brands
After using the rapid deployment of their own private label brands and effectively "homesteading" or populating the e-commerce frontier, Amazon is now trying to encourage the rush to settlement by other more established brand manufacturers.

Launched in late 2018, Amazon Accelerator was created to offer sellers prominent placement on Amazon's website and individualized support from Amazon's marketing team. According to the Wall Street Journal, it also gives the Amazon the exclusive right to buy the brand for a predetermined price on just 60 days notice.

Amazon says that Amazon Accelerator participants will receive both onboarding and marketing support, as well as be able to use Amazon's vast marketplace as a venue to test products to learn and grow their business.
---
Amazon Accelerator offers:
---
While Amazon might be bringing about huge, possibly unsettling changes for the larger companies operating on their marketplace, they are also creating tremendous opportunity for the far more agile individual private label Amazon sellers.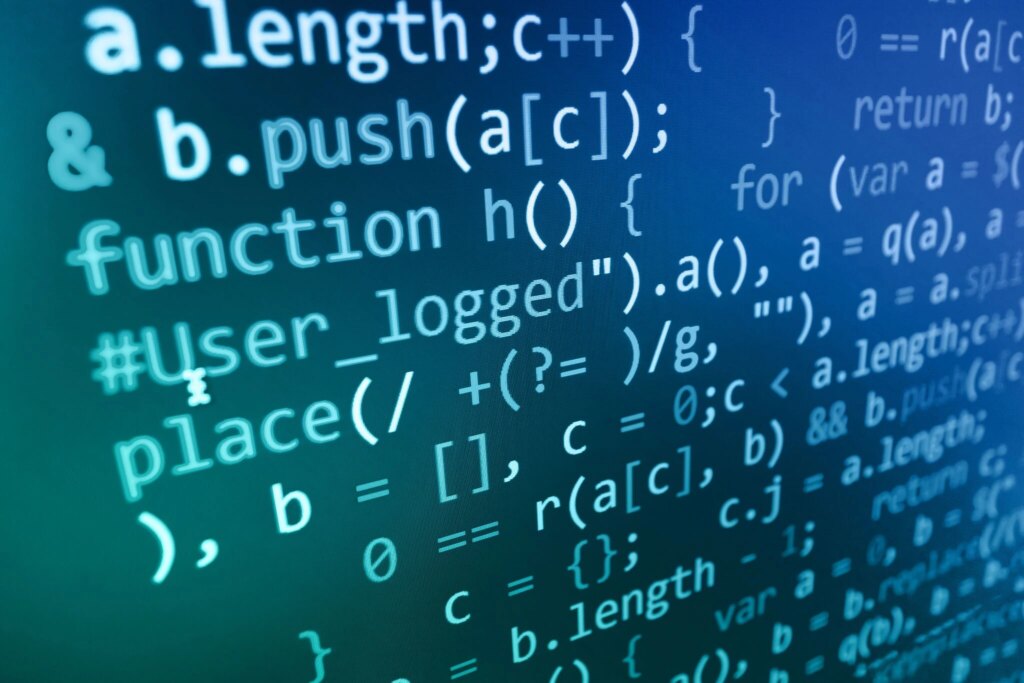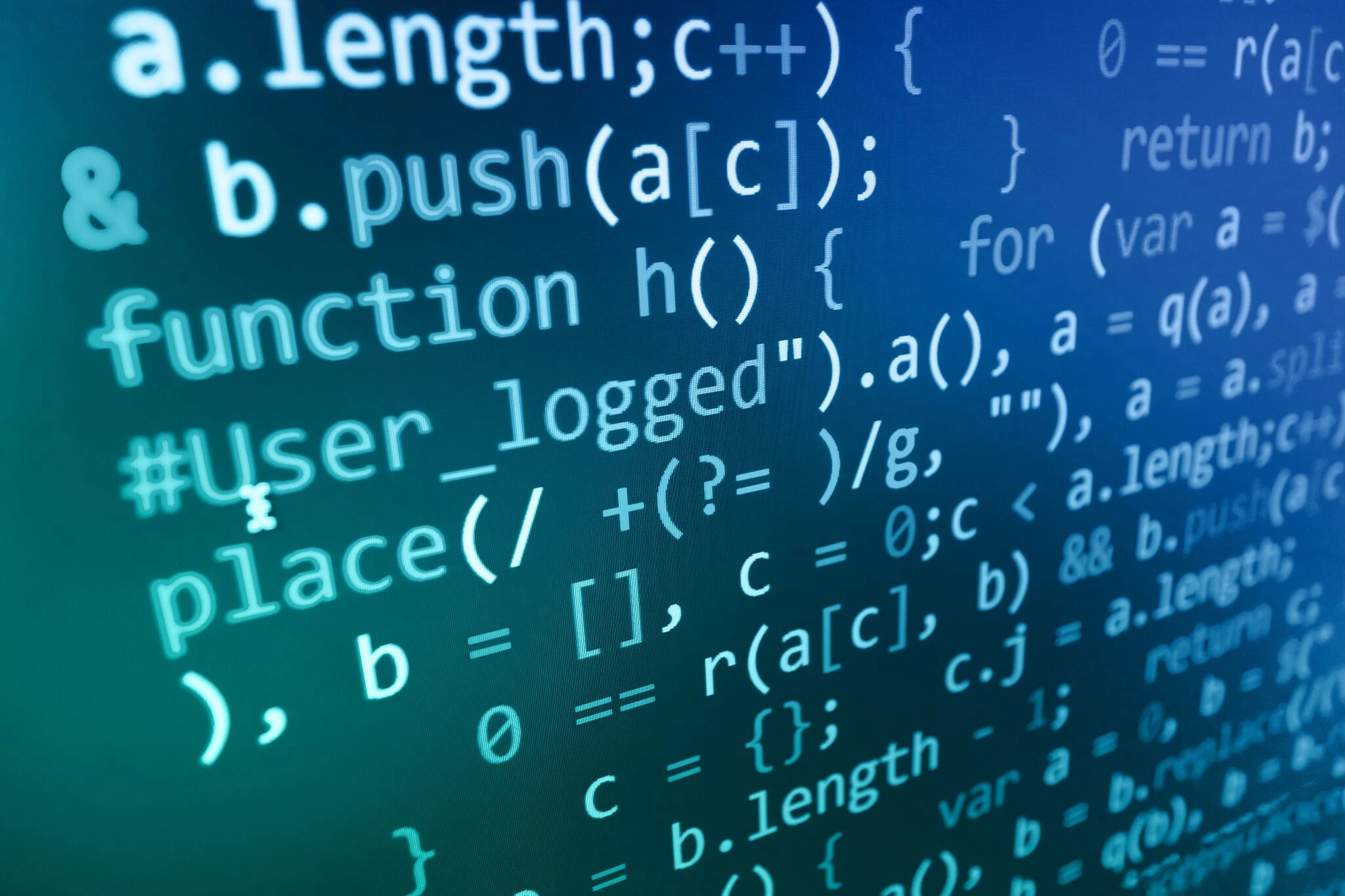 Amazon is Busily Leveraging Data; So Should You
Data is king, and Amazon benefits from the direct feedback of shoppers. The combination of customer's choices and product reviews lets Amazon know what they like or dislike about an item.

How many brands can so effectively and on such a large scale use their own internal search data in order to carefully curate future private-label products?

Just Imagine . . . what would it be like to be able to dig through years of product reviews in order to source what customers love or hate about a product?

Or, how about having a better understanding of a customer's desire to see a well-regarded product in another color, fabric or configuration?

All that is visible to Amazon. They are in a position to capitalize on that valuable information in their creation of new niche products to fill in gaps in the market.

How You Can Take Advantage of Crucial Data

Amazon has already done the heavy lifting. Through a mixture of e-commerce super-gravity and undeniable influence, they have stretched the selling possibilities as far as the horizon.

The vastness of this new online selling frontier is what makes new opportunities for individual sellers so numerous.

Private label sellers on Amazon simply need to identify the lucrative gaps in the freshly tilled business landscape.

Your goal should be to find a way to duplicate Amazon's successful approach and mine that same crucial data that will become the difference between being on the first page with the Buy Box or languishing on page five of a prospective customer's search results.
Cloud Computing, SaaS, and Helium 10
SaaS (Software as a Service) is a method of software delivery that allows data to be accessed from any device with an internet connection and a web browser.

It's not a new idea, but like much of the prescient thought that springs forth from our institutes of higher learning, the idea out-paced the technological architecture to deliver it.

The origins of a shared resource environment such as cloud computing date back to the 1960's. In a 1961 speech to MIT students, John McCarthy, a renowned computer scientist that won the Turing award for his work in Artificial Intelligence, famously said, "computation may someday be organized as a public utility."

Now it's here and this is where the company I work for comes into play.

Those of you who read my blog-posts have hopefully come to understand that I truly enjoy writing about technology and e-commerce. I try to report what I see. I do work for Helium 10 and love the company. We have a great work culture that combines adult-size portions of both excellence and fun.

Having said that, my first responsibility is to look for facts. In reporting for this article, that path travels in a direct line straight through cloud computing to SaaS and Helium 10's suite of software tools.

Beating the Helium 10 drum is not something that I am required to do as a blog writer for this company. I'm lucky. They send me out to look for e-commerce technological truths.

And, here's a big one.

There really is no substantial difference between the way that Amazon is able to exploit their proprietary information and the way that you, as Amazon sellers, can drill down to find endlessly useful data models with these invaluable tools available from Helium 10.

How Helium 10 Can Help Amazon Sellers
Haven't decided what product to sell on Amazon yet? With over 450 Million ASINs, Black Box is our extensive product research tool that yields advanced product results in just seconds. Black Box could help you find a top-selling product you never would have thought of.

Use Xray after narrowing down your product niche to reveal crucial and highly-accurate market data such as estimated monthly revenue.

Review Insights allows you to uncover valuable customer insights to help you create products that are better than your competition's. Filter hundreds of reviews in seconds, saving hours of manual work.

Trendster allows you to quickly analyze products to determine sales strategies based on seasonality and to better plan for revenue fluctuations and cash flow decisions.

Profitability Calculator allows sellers to make essential pricing decisions by uncovering vital net profit or loss results based on cost factors in your Amazon business.

If you're not leveraging the power of data to scale your business, you are missing out on crucial opportunities. Make sure and fill in the gaps with the best information possible.
E-commerce and selling on Amazon is continuing to change right in front of our eyes. Conventional ways of doing business might be enough to keep your business going, but it takes the ability to adapt, and change with the times to really crush it!
Helium 10 is here to help you every step of the way.
Click here to try Helium 10 for free.
Achieve More Results in Less Time
Accelerate the Growth of Your Business, Brand or Agency
Maximize your results and drive success faster with Helium 10's full suite of Amazon and Walmart solutions.