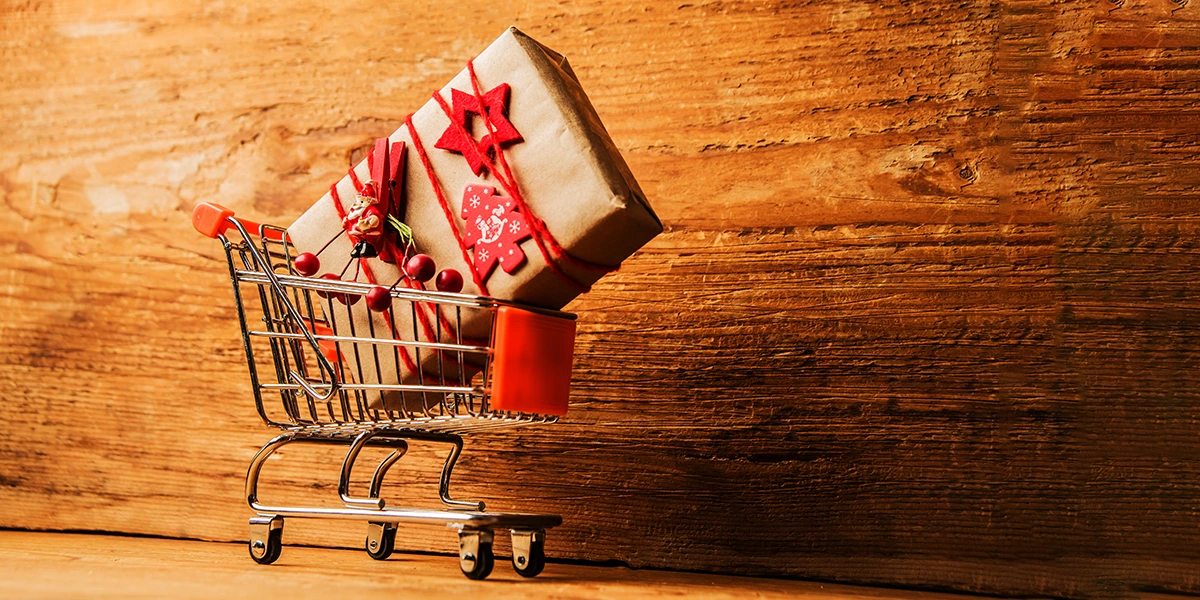 10 Steps to Prepare Your Products for the Holiday Season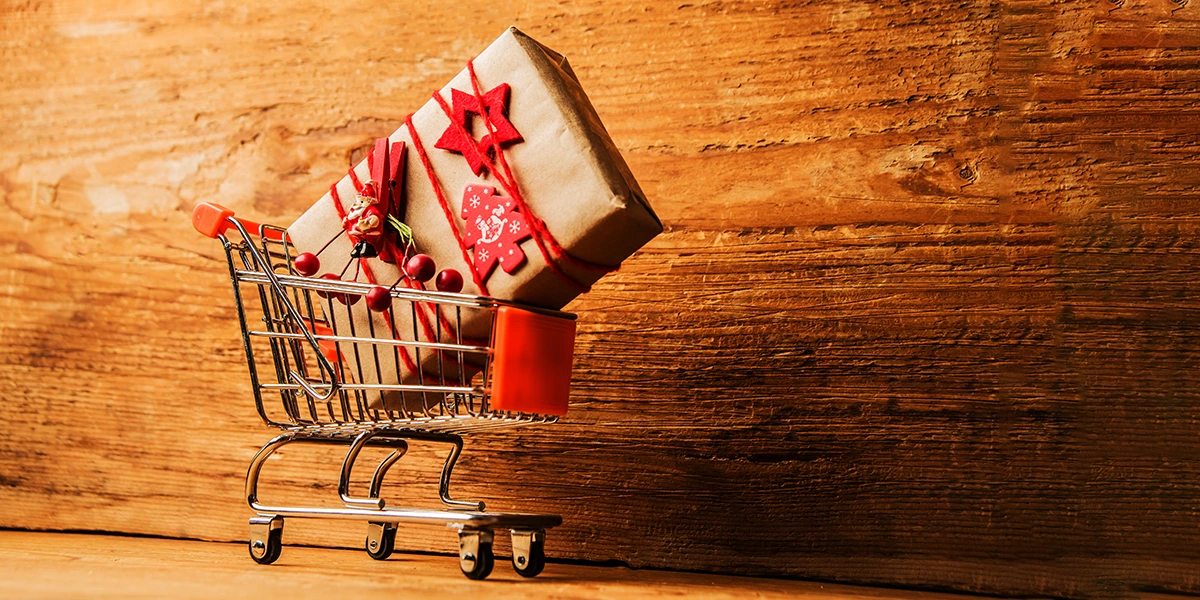 10 Tips for Amazon Sellers this Holiday Season
Part of my mission in life lately has been to try to clear up misconceptions that persist in the Amazon ecosystem. One of the most dangerous to Amazon sellers is the notion that Amazon is a "set it and forget it" process. After launching your product, you just kick back on the beaches of Aruba and rake in the profits.
Unfortunately, that's far from the truth.
Your success on Amazon is directly related not just to what you do for your launch, but also what you do AFTER the launch. I'm not just talking about a short period of time either, but for the LIFE of your product.
This is never more critical than during the holiday season. In this article I will outline 10 steps you need to take to make sure that you are not leaving money on the table.
1) How to Project Demand During the Holidays for Your Product
It does not take a rocket scientist to deduce that if you are selling Christmas tree lights or jack-o-lanterns, demand and sales for those products will skyrocket during Christmas, and Halloween respectively. However, what if you have a (seemingly) holiday-neutral product? Your sales still could go up and down around the holiday season.
Here is a way to find out.
Let's consider a product that I have seen "Frequently Bought Together" with our Project X Coffin Shelf, a Skull Makeup Brush Holder.
What happens to demand for this product during the Christmas shopping season? There are two ways we can check this. First, we could examine the competition who are in the space, and take a look at their sales.
Here is a product that was selling in this niche last year.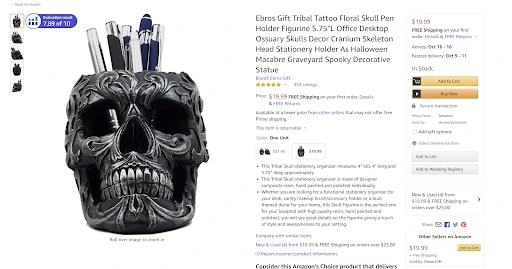 I'll scroll down to see the BSR history chart from the Helium 10 Chrome Extension.
Basically, the higher the BSR on Amazon, the lower the amount of sales. The lower the BSR number, the higher the sales.
What else do you notice here?
It's easy to see that nearing Black Friday, sales start to pick up for this product. It continues to increase all the way through Christmas. Then, sales dramatically drop right after that and on into January. This gives me some insight into the demand for this product.
Make Sure and Validate in Different Ways
But, I like validating data multiple ways. So, the next step I am going to take is to check the main keyword for this product.
Using Cerebro, I can see that one of the main keywords for this product that is driving its sales now would probably be "skull makeup brush holder." It scores over 1000 in search volume, and the last time Helium 10 checked, it was page one, position 2 in the search results.

Now, if I click that chart button next to the search volume, I can check the historical search volume of that keyword. I'm looking to see if during the Christmas season, there is any increased demand on the keyword side that might be driving the increased sales we saw on this product.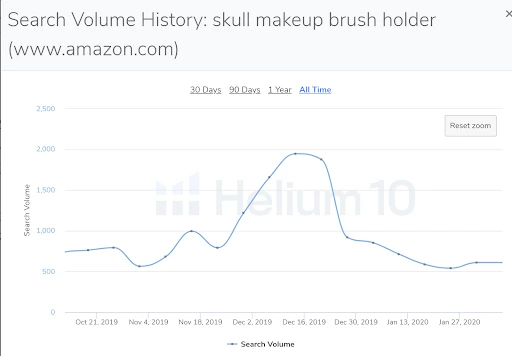 BOOM goes the dynamite.
Take a look at that curve. Last year, in the month leading up to the holiday season, monthly searches averaged around 500-600 a month. However, coming up on Black Friday and all the way to Christmas, we see that searches for this product skyrocketed to 1500-2000 per month! It seems that there are a lot of people out there with friends who are into gothic decor and were looking for a product just like this to purchase for them.
Now, I have confirmation that I need to prepare for an increase in sales during the holidays for this product, even though it doesn't necessarily have anything to do directly with Christmas.
2) Forecast Your Inventory
As an Amazon seller, one of the worst things you could do is not have enough inventory on hand for the holiday season. Let's use our Project X Coffin Shelf for example. If I were to run out of stock from December 1- December 20, I could potentially lose thousands of dollars of sales.
This loss is permanent!
I do not make those sales back. If someone searches "coffin shelf," and does not see our product there, they're not going to think to themselves, "Hmmm…I don't see the Project X Coffin Shelf….I'll just wait until after Christmas and it's back in stock to buy it for a gift."
That would never happen. What would the customer do? They would simply buy a competitor's product. For me, those sales are gone.
Conversely, let's use the makeup brush holder example above.
What if I didn't pay attention to that steep drop off in sales that happened after Christmas?
That could easily result in my over ordering, thinking that higher sales would continue on into the near year. In that case, I would be overstocked, and have to pay storage charges to Amazon or to my 3PL Warehouse. I also would needlessly have my money tied up in products that aren't even selling.
This is why forecasting your inventory is crucial during the holidays.
You can use spreadsheets and your own formulas to do this, or if you already have Helium 10, use our new Inventory Management solution in order to forecast demand and make sure you do not run out at the worst possible time.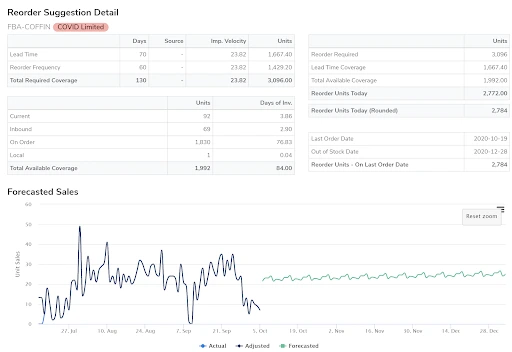 3) Optimize for Holiday Related Keywords
Are you indexed for Holiday related keywords relevant to your product?
Let's go back to that example of the Skull Makeup Brush Holder. If I want to know if there are keywords that pop up, seemingly out of nowhere during the holiday season, one way you can find out is with Brand Analytics from Amazon. (Keep in mind that to use Brand Analytics, you need to have Brand Registry 2.0)
Brand Analytics gives insights into the top products that are clicked on for a given keyword within a certain timeframe. I can also enter an ASIN and see what keywords that product ranked for as one of the top 3 most clicked items. In this case, I selected that Skull Makeup Brush, and looked at December, 2019.

Notice how two keywords have come up that include the word "Gift" in them.
Interestingly, the rest of the year, skull gift isn't even a keyword that has detectable search volume. It seems to only appear during the holidays. However, it is a very common search during this time frame. The product owner has obviously incorporated the word "Gift" into their title, no doubt because of this!
Keep in mind that the optimization of your listing will also affect your PPC since you can only manually target keywords that you are indexed for. In addition, Amazon looks at your listing copy in order to gauge your relevancy to certain holiday related niches.
4) Adjust Your ACOS Targets for Increases Over the Holidays
During the holiday season, your Cost Per Click could increase by as much as 2X to 3X. This in turn will increase your ACOS. Make sure that you know what your break even ACOS is. You might want to adjust your ACOS targets higher during the holidays to make up for some of the increased costs.
Don't let it get away from you!
You want to make sure that you can remain profitable despite the increased costs.
5) Create Holiday-Specific Short Term Campaigns
For our coffin shelf product, Halloween related keywords did terribly for the product during the summer. People just were not ready to buy things for Halloween yet. Because of that, I ended up having to negative match those keywords in our PPC campaigns.

Those same keywords that did not perform well in the summer, most likely are ones that will perform great in October when people are ready to buy Halloween products. That's why I'm planning on creating a campaign just for this holiday's keywords.
6) Enable Dynamic Up and Down Bidding
What is dynamic up and down bidding? Here is the official description from Amazon:
"When you choose the dynamic bids – up and down strategy, Amazon will increase your bids in real time for clicks that may be more likely to convert to a sale, and reduce them for clicks that are less likely to convert to a sale."
Using this method during the holidays will help you account for the volatile changes in bid prices that could happen. It gives Amazon the ability to increase your bid by up to 100% for eligible placements, and is a great way to temporarily increase your ad spend during the holiday season. To change this in Seller Central, go to your Campaign Settings, and then select the appropriate bidding strategy.

7) Put Coupons to Work
This is a great evergreen strategy that makes your listing stand out more in search.
Coupons are those green discounts that appear on the listing page, and in search results.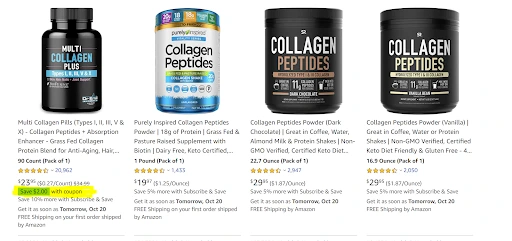 Keep in mind that for each coupon clipping, you will be charged by Amazon $0.60. So, set your budget for the campaign which will cover the discount you are offering, plus that Amazon redemption fee.
Start a new coupon campaign by going to Advertising, and then Coupons. You can choose a money off, or a percentage off.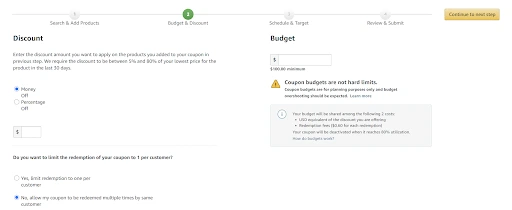 8) Consider Increasing Your PPC Bids and Budget
As mentioned earlier, Amazon PPC during the holiday season becomes much more competitive. There is more advertising activity, and more sellers increasing their ad spend to get a piece of that holiday (pumpkin?) pie!
If a $1 bid was giving you good PPC placement in search, it's doubtful that you will maintain that placement during the holidays without increasing your bid. CPC from Amazon will increase across the board for many search terms and products, and if you do not increase your bids, you could lose position and impressions to competitors.
With this increase in bids and CPC, your overall spend will also increase. That's why you should also consider raising your budgets so that your ads do not turn off in the middle of the day due to a depleted budget.
Even without the increased CPC, your spend will organically increase due to the fact that more people are shopping during the holidays, and more people will be clicking on your sponsored ads.
Amazon sellers can adjust their PPC bids and budget easily with Helium 10 ADS.


9) Employ Sponsored Display Ads
Sponsored Display Ads are another way to help generate a lot of leads during the holidays. Just like with real estate, when it comes to an Amazon listing, location is everything. These very prominent ads will appear in the prime sections of your competitors listings, such as right under their buy box.
Unlike regular sponsored product and brand ads, you can also run retargeting campaigns with Sponsored Display ads that target off-Amazon audiences.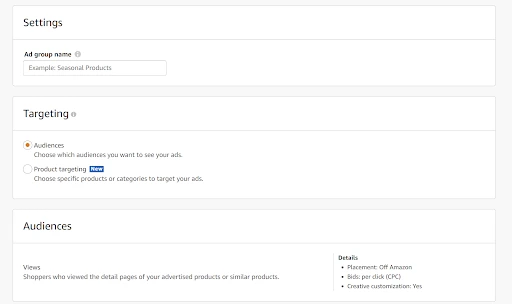 In addition to targeting specific products, you can target products that are in a category, and laser focus it to products that meet certain criteria.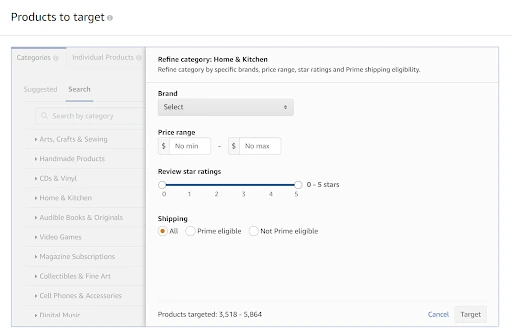 Results show that running Sponsored Display Ads lead to an increase in conversion rate, along with an increase in overall impressions; two SUPER important metrics to crushing it during the holiday period.
To use Sponsored Display Ads, you need Brand Registry, and don't forget to check out our recent blog on how one of our accounts was able to get it in just 10 days.
10) Start Preparing for Holidays of 2021
Do you want to launch a Christmas related product?
Obviously, it's too late for 2020. However, during this holiday season, start your research so that you will be better prepared to crush the 2021 Holiday season.
For example, if you wanted to launch a product in October or November that was Christmas related, when would you place your orders from a factory in China?
July? August? September?
If that's the case, how would you do your product research during that time?
As an example, if your product was something like "Christmas Cookie Cutters," it would be hard to do product research in July to see who the top sellers are and how they have their listings set up. I would venture to say that 90% of the top sellers for that niche in Christmas, might not even have their listings active in July.
Because of that, during the peak of whatever niche you are looking into, run ASIN Grabber on that search page to get the list of the top 100 listings that show up.
You will see the top ranked products, and have a list of their ASINs so that next July, even if they are out of stock, you can take a look back and then do research that will help you plan for next Christmas.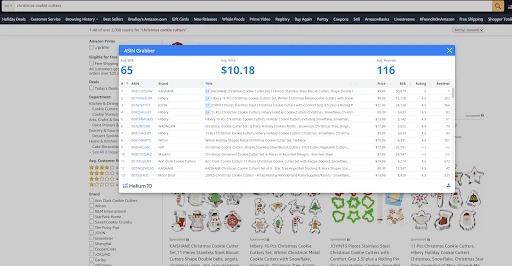 These 10 Steps Help You Prepare for Long Term Success on Amazon
Remember that your Amazon journey is a marathon, not a sprint. Along the way you need to adjust your tactics as obstacles and opportunities present themselves.
Depending on your niche, there's a huge opportunity for an increase in sales during the Q4 Holiday season, but only if you take the necessary steps to optimize your products for this unique time!
Achieve More Results in Less Time
Accelerate the Growth of Your Business, Brand or Agency
Maximize your results and drive success faster with Helium 10's full suite of Amazon and Walmart solutions.