Por qué es útil añadir tu clave MWS a Helium 10
Integrar la información de Amazon con estas herramientas te ayuda a desarrollar una estrategia superior basada en datos fidedignos para tomar las mejores decisiones.
Originally published on: March 30, 2022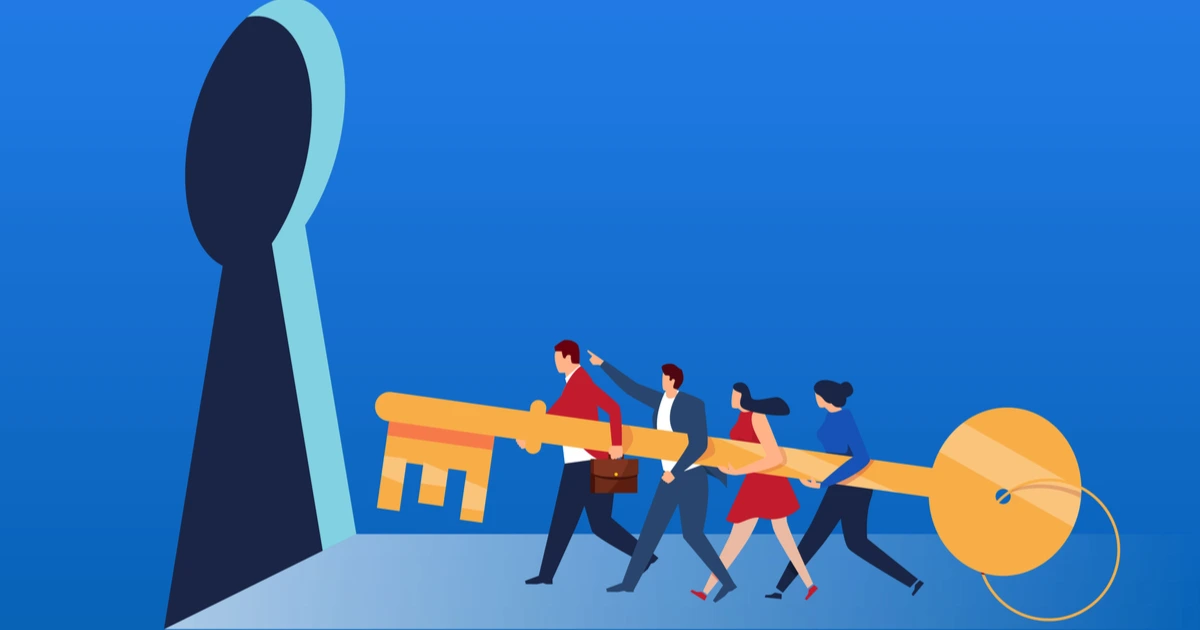 Añadir tu clave MWS a Helium 10 te permite conectarte de forma segura a tu cuenta de vendedor desde las herramientas de Helium 10 para generar reportes que te ayudarán a tomar mejores decisiones. Las herramientas a las que les puedes sacar más provecho una vez que ya esté conectado tu clave MWS con Helium 10 son:
Alerts
Inventory Protector
Listing Builder
Refund Genie
Profits
Adtomic
Follow Up
…entre otras…..
Y sí, tenemos herramientas que los vendedores de Amazon pueden utilizar sin introducir sus claves MWS. Aún así, no le estarías sacando todo el provecho a tus herramientas ya que al integrar la información de Amazon con las herramientas, pudieras desarrollar una estrategia superior basada en datos fidedignos para tomar las mejores decisiones.
A continuación te decimos toda la información y funcionalidades extras a las que puedes tener acceso al hacer la conexión vía la clave de MWS:
Profits: Esta herramienta integra múltiples puntos de datos que juegan un papel fundamental en la rentabilidad de tu negocio en Amazon. Profits te muestra tus datos financieros en tiempo real, tanto positivos como negativos, para que tengas una mejor idea de cómo se encuentra la salud financiera de cada uno de tus productos. Esta herramienta toma en consideración para sus cálculos todas las actividades que generan dinero (como los ingresos brutos e ingresos netos) así como todas aquellas que generan costos (todos los costos asociados a tus productos).
Follow Up: Esta es una herramienta de automatización de correos electrónicos que te permite estar en contacto con tus clientes para incrementar la satisfacción del cliente y como resultado, la calificación del producto y/o del vendedor. Aquí puedes configurar diferentes tipos de automatizaciones utilizando plantillas de correo electrónico personalizadas. Follow up te ayuda a asegurarte de que el contenido del correo este dentro de los términos y condiciones que Amazon pide que los vendedores cumplan al contactar a los clientes.
Listing Builder: Esta herramienta te guía paso a paso en la creación de un listado de productos totalmente optimizado. Listing Builder se va actualizando de manera  dinámica conforme vas escribiendo y te va sugiriendo palabras clave a incluir en el listado así como las mejores prácticas para asegurarte de que todo tu listado incluya toda la información necesaria.
Refund Genie: Esta herramienta analiza automáticamente los reportes de tu inventario para ver si Amazon ha perdido, dañado o ha tenido algún problema con tu inventario que requiere un reembolso. Amazon no es perfecto y de vez en cuando se le puede escapar reembolsar el costo de algunas unidades que haya perdido. Refund Genie te te simplifica este proceso al enviarte un archivo con los reembolsos específicos que Amazon te debe y que después puedes enviar a Servicio al Vendedor de Amazon para que te depositen el dinero.
Y esos son sólo unos cuantos beneficios que obtienes al tener tu cuenta de Helium 10 conectada con tu cuenta de vendedor. Así es como puedes conectarlas entre ellas:
Primero, asegúrate de que ya has iniciado sesión en tu cuenta de Amazon a través de Seller Central en una pestaña o ventana aparte. A continuación, vas a ir a tu cuenta de Helium 10 para hacer clic en la esquina superior derecha, donde se encuentra el logotipo de Helium 10, y haz clic en "Connections":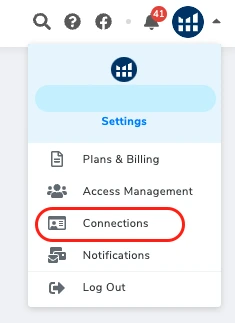 Seguido a eso, le vas a dar click a "Add Seller Account."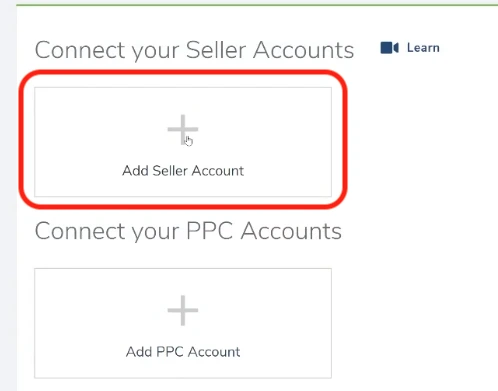 Aparecerán dos opciones. Haz clic en la cuenta que quieras conectar. En este ejemplo, conectaremos la cuenta de Amazon Seller Central con Helium 10.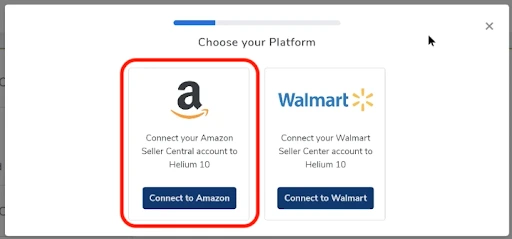 Ahora, tendrás la posibilidad de nombrar tu cuenta de Amazon y elegir qué regiones te gustaría conectar a Helium 10.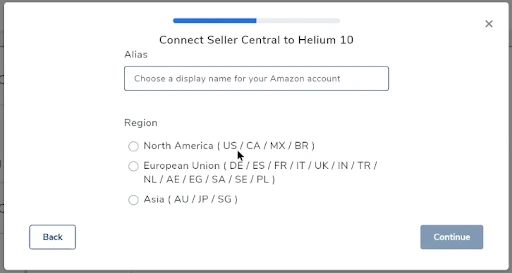 Cuando completes eso, notarás que aparecerá una ventana para entrar directamente a tu cuenta de Amazon.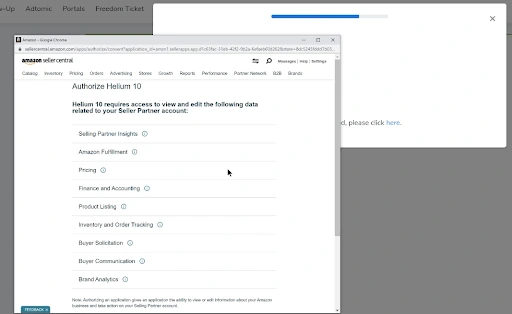 Asegúrate de leer toda la información que aparece en esa ventana y, una vez que hayas terminado de leer, da clic en la casilla que dice "direct Amazon to provide Helium 10 access to [your] Seller Partner account and related data.". Haz clic en "Confirmar".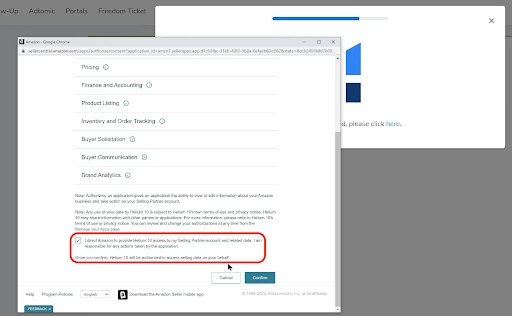 Una vez hecho esto, verás un mensaje de confirmación que dice que puede que tengas que esperar hasta 24 horas para que todos tus datos se sincronicen correctamente con las herramientas de Helium 10.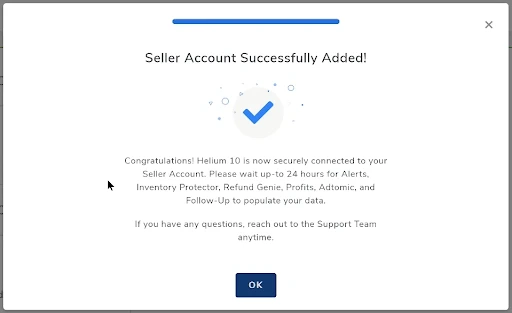 ¡Y listo! Felicidades y ahora sí, a disfrutar del poder de la tecnología.
Preguntas Frecuentes:
¿Cómo utilizan mis datos? Utilizamos tus datos para ayudar a alimentar las herramientas para darte reportes más completos y útiles. Nunca utilizamos sus datos para otra cosa que no sea tu propia cuenta.
¿Va esto en contra de las condiciones de servicio de Amazon? No, en lo absoluto. Helium 10 tiene una relación muy estrecha con Amazon. El proporcionar acceso a las claves MWS a softwares es algo muy común para dichos softwares y es permitido por Amazon ya que saben que todo es para ayudar a los vendedores como tu a crecer su negocio.
Si comparto mis claves MWS con ustedes, ¿es permanente? No, para nada.Tus claves MWS son tuyas y puedes eliminar el acceso de Helium 10 cuando quieras.