Amazon FBA Case Study: So THIS Is What A Successful Launch Looks Like
Finding profitable products to sell on Amazon doesn't have to be expensive or complicated. We show you how we did it, and the profit potential too.
As we near the end of our Project X Amazon Case Study, on today's episode we'll go over:

The results of our egg tray launch
How we scaled TOO FAST with the coffin shelves
Projections of what future seasons will look like for these products
What should be done with the profits
In the last episode, we showed some of the early results of the coffin shelf launch and went over in detail the steps we took to launch both products (if you missed it, check it out HERE).
We Answer the BIG Question

When people get into this business and start finding some success, they inevitably run into the question…

What do you do with the profits?

Which leads to more questions. Do you reinvest ALL of it? Do you reinvest forever? At what point do you actually pay yourself? And how much?

This is what we want to tackle today.

But first…

Our Egg Tray Launch

We set up our PPC in the same way for the egg trays as we did for the coffin shelves. We focused on longer tail keywords and managed just over $500 in sales in 20 days.

Remember, the purpose of any launch strategy is to drive organic sales, and to do that our listing must be found through relevant keywords. In the beginning, it is unlikely a new listing will land on page one for many (if any) keywords, so promos, PPC, Facebook ads and other tactics all aim at increasing visibility for those keywords.

Looking back at our PPC strategy for the egg trays, our "exact match" campaign performed the best (with only a 16% ACoS). This is likely because of the long tail keywords we were targeting. These niche down keywords gave us easy profit wins (and that's why it's a good strategy).

A note on the "honeymoon period"…

It has been often speculated that new products are easier to rank for specific keywords due to a period in the beginning of less "friction." This is because of, perhaps (among other things) a sparse sales history or it may even involve keyword indexing and relevance.

Whatever the reason, many have reported a certain ease in ranking listings right out of the gate. This was our experience as well.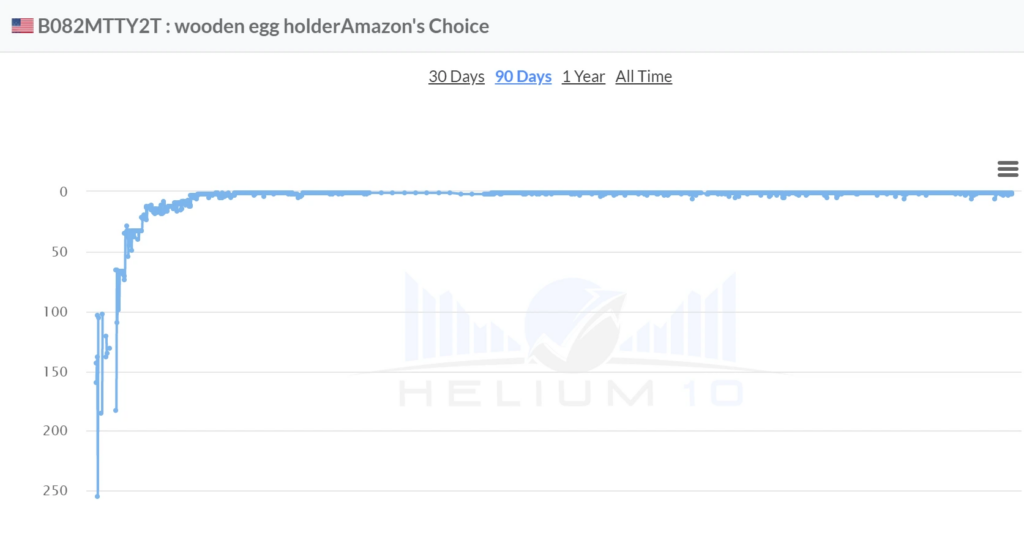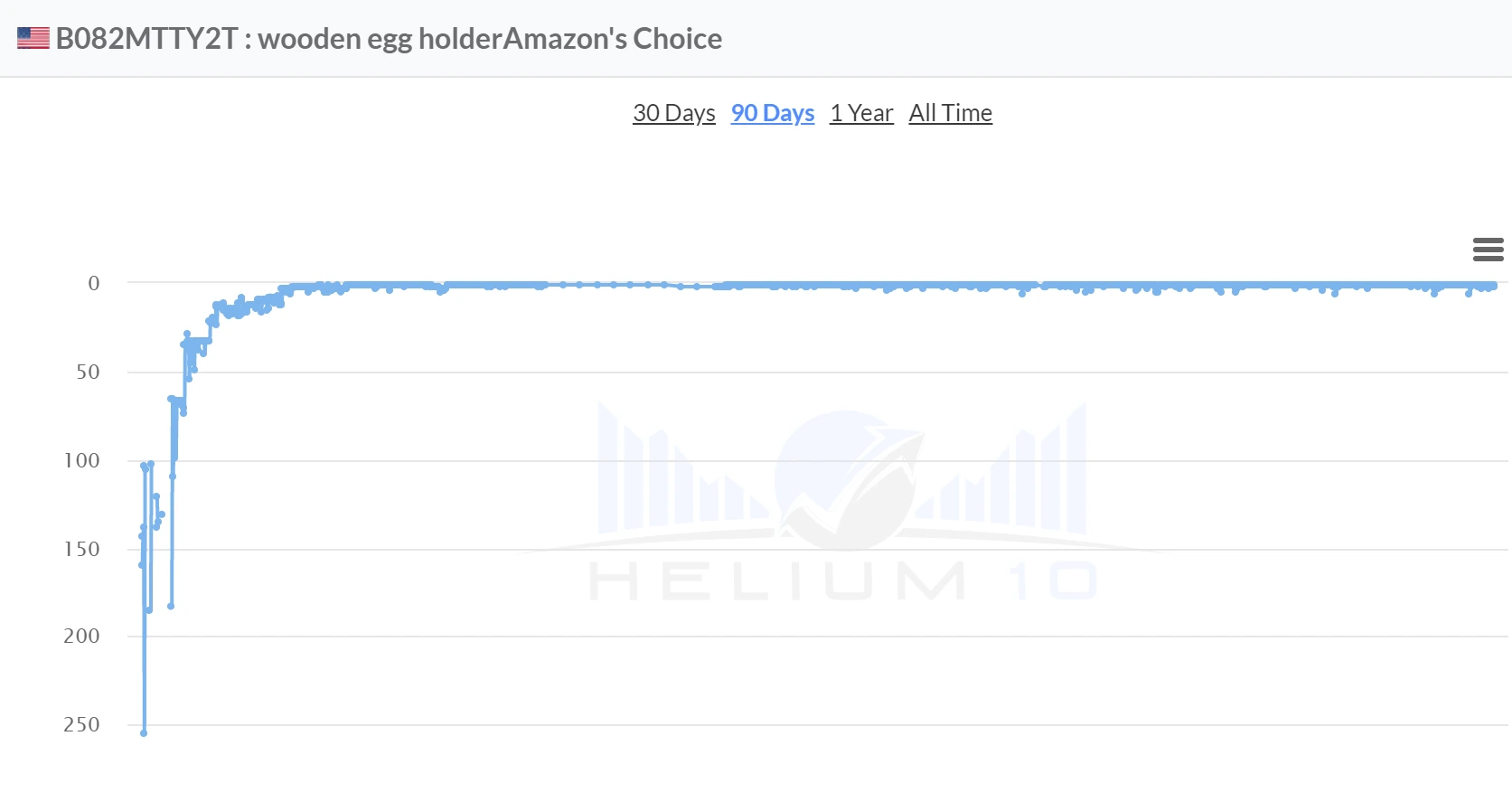 If we look here we can see that our keyword "wooden egg holder" jumped dramatically to position one after only a few PPC sales and one single rebate promotion unit.

In fact, our listing jumped from position 185 to position 12 in just three days!
And it only continued from there.

But that's not even the crazy thing. The crazy thing is the power of the honeymoon period.

The keyword "wooden egg holder" only gets around 500 searches per month. However, within it is the keyword "egg holder" which gets a lot more attention (over 7,000 monthly searches).

In our efforts, we targeted longer tail keyword "wooden egg holder" and yet, we still managed to make significant rank gains for the keyword "egg holder."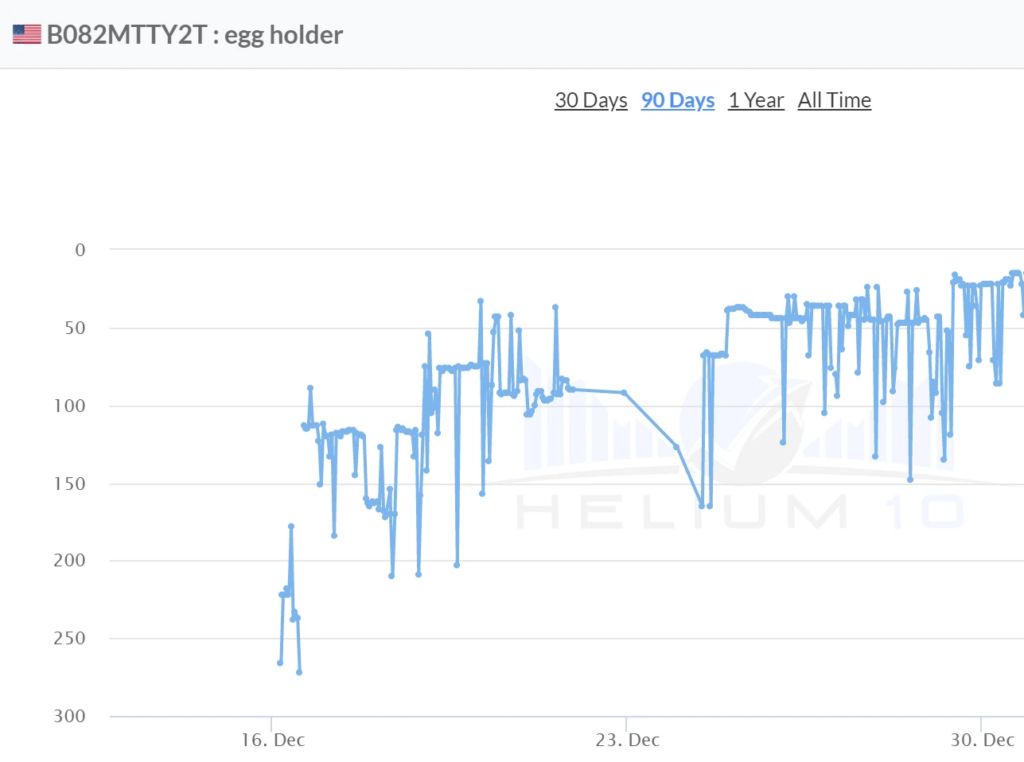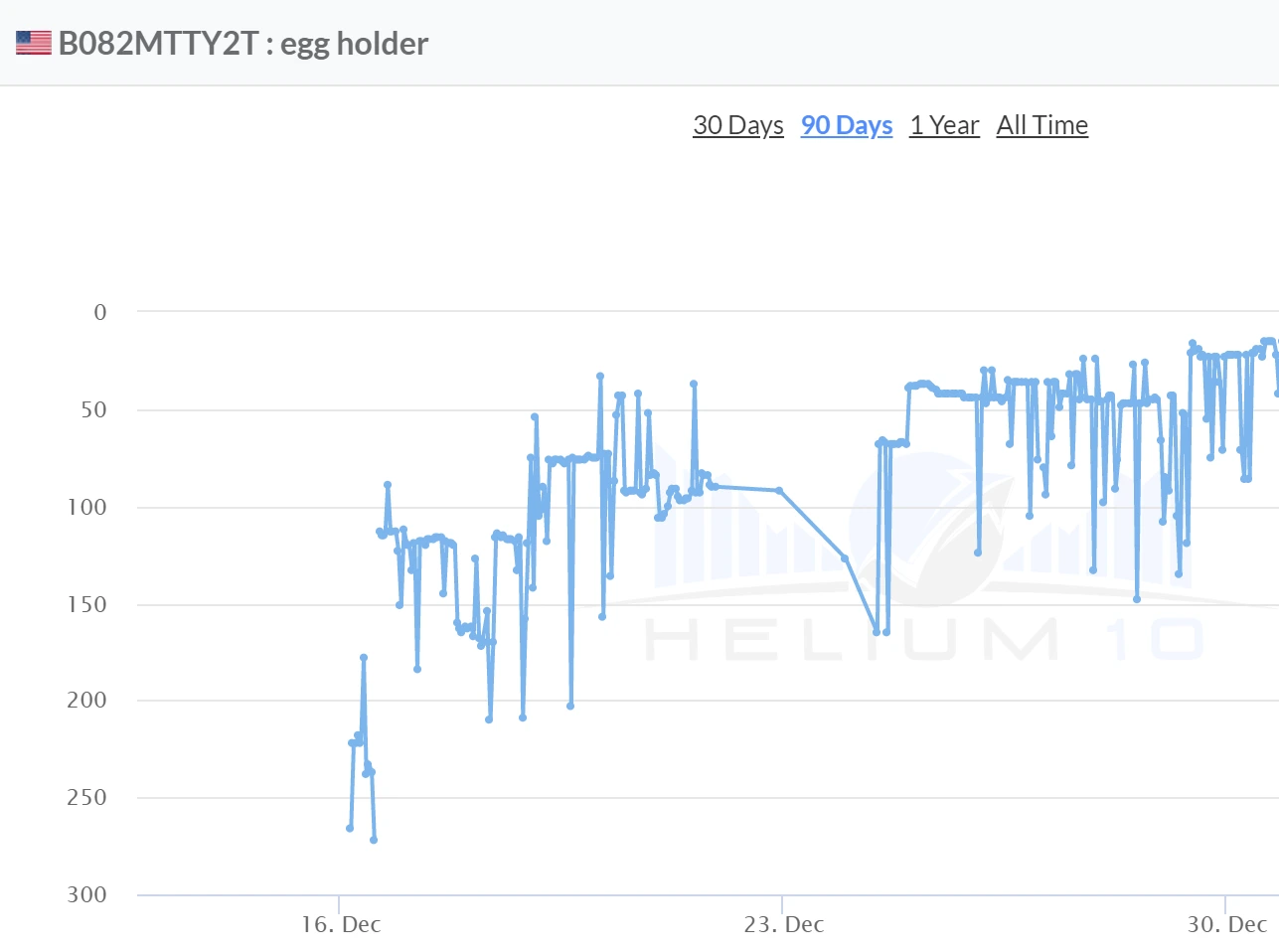 Our listing climbed from position 272 for "egg holder" to position 42 in just nine days!

Normally, with a much higher volume keyword like this we would save our efforts to target it for later (when we are trying to "storm the castle"). But since we did so well so fast, we decided to run a rebate promotion targeting "egg holder" as well.

After just twelve rebate sales using the service AZ Rank, we jumped from a position in the 40's to number 2 on page one!! It only took five days to do this too.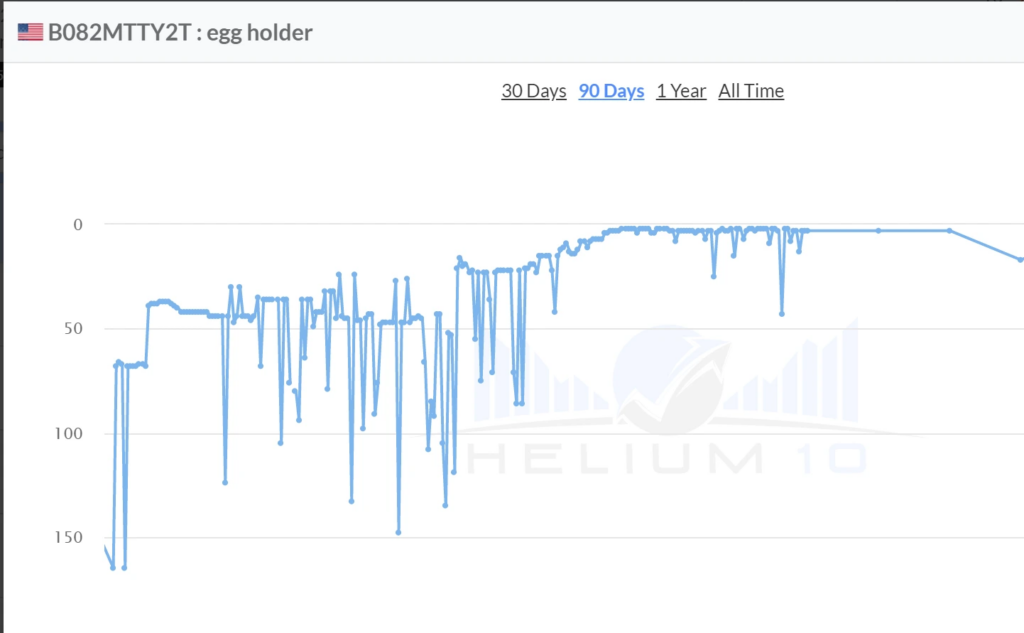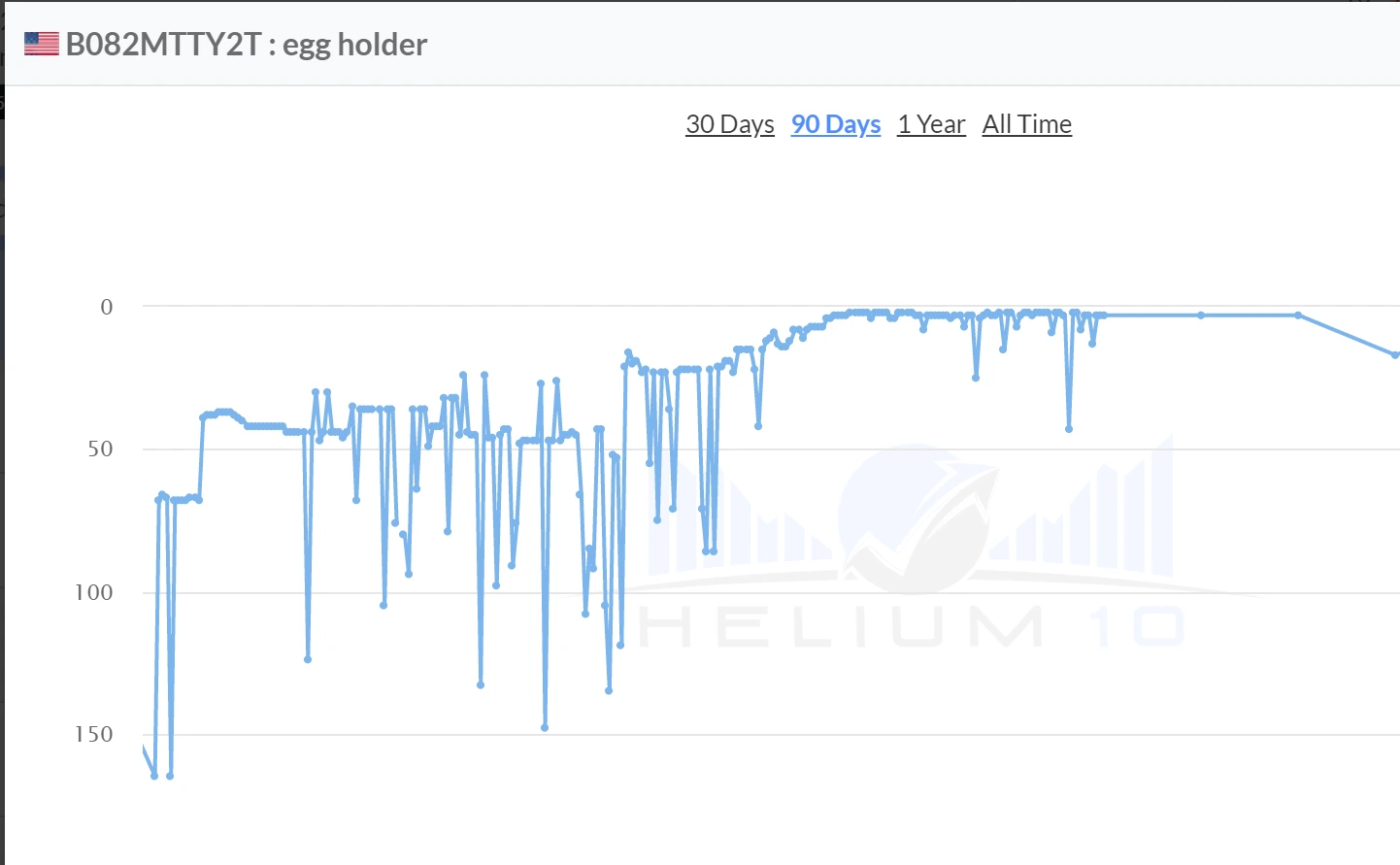 It's important to recognize why this worked so well. It isn't due to the magic of rebate promotions, or even because of the honeymoon period really. We could probably rank for just about any keyword using these same methods. However, these results stayed consistent over time because we took such effort, in the beginning identifying relevant key terms.

We also took special care to optimize our listing for those relevant terms. Ultimately, it was because of our research and preparation in the beginning that we can enjoy such solid results now.

The Launch Results

First, to this day we are still ranked on page one for our "castle keyword" egg holder.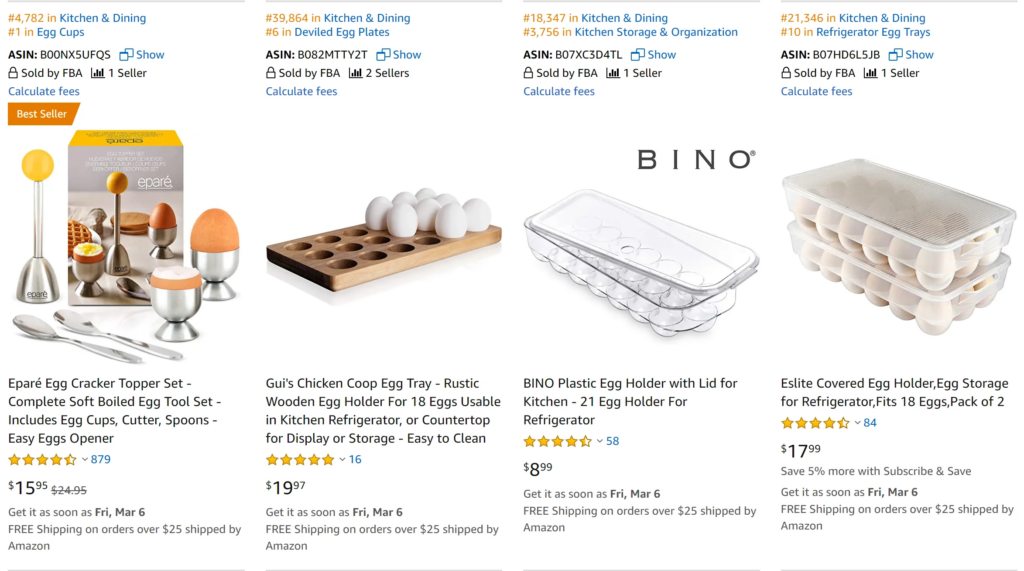 We've also managed to get over a dozen reviews. Upon studying those reviews, we even discovered a new way that people are using our product.



This prompted us to add more keywords to the listing to cover these long-tail keywords ("chocolate display" "cheese ball tray" etc).

A quick note on the Early Reviewer Program…

The Early Reviewer Program is essentially a program where Amazon incentivizes the first few reviews for listings that don't have many.



By offering buyers a gift card, Amazon prompts customers to give their feedback on the product.

Enrollment costs the seller $60 and they are guaranteed at least five reviews. Enrolling is simple. Under the advertising tab in seller central, just choose the Early Reviewer Program.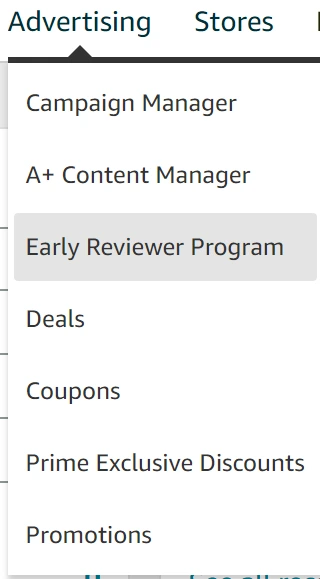 Then enter the SKUs you want to enroll.


Overall, our efforts of ranking for long tails using PPC and some light promotions have helped us to rank for 17 keywords in the top 10 results. The total search volume for those 17 keywords is also over 13k.

Our estimations for the egg tray reveal an expectation of around $50,000 in sales per year and a 20% profit margin. This would lead to an extra $10,000 in pure profit per year from this single product.

The numbers for the coffin shelf look even more promising.


We've managed to maintain over 20% profit margin so this is playing out exactly the way we'd predicted.

What To Do Next

The point of this case study was to show you all that finding profitable products to sell on Amazon doesn't have to be expensive or complicated. We believe we've succeeded in that endeavor.

If you follow along in our journey and even track our products and progress yourselves, you'll see our listings grow in keyword rank for a number of keywords, decrease in BSR (as our sales increase) and overall excel in all the ways we all hope a product will.

Overall Recap

Episode one – we set expectations and worked to eliminate discouragement.
Episode two – starting from ground zero we showed you how to look for product opportunities.
Episode three – we used creative methods of validating products and keywords on and OFF Amazon.
Episode four – we created a test listing to gather validation data.
Episode five – we set up a test PPC campaign to further gather data to use in our decision.
Episode six – we conducted product planning to get ideas on how to differentiate and create a compelling offer.
Episode seven – we showed how to find suppliers and source products.
Episode eight – we went over shipping and logistics, tariffs, freight terms, and much more.
Episode nine – we went deep into keyword research for listing and PPC optimization.
Episode ten – we went over listing copy optimization and created our listings.
Episode eleven – we went over image optimization and talked about photography.
Episode twelve – we went over product launch theory and discussed a solid product launch strategy called the "storm the beach" method.
Episode thirteen – we showed the initial launch results for our coffin shelf and set up more PPC.
Episode fourteen – we showed the egg tray launch results and showed our overall profits and expectations for the future.
So what do we do with the profits?
From here we have more options. We can go deeper into branding for these products, or spend that time, money and energy to source and launch even more products.
We prefer to keep launching products, making our way to the "land in front of the castle" rather than focusing on ranking for all the big keywords. However, what YOU decide to do will depend on your goals.
If you're trying to build a brand you may wish to dominate page one of big search terms. If you're trying to build a stable of …. well …. stable products, you may wish to rinse and repeat the methods we teach here.
The great thing about sourcing and launching products the "Project X" way is that it doesn't require a ton of money. So, you can use only a portion of your profits to expand at the pace you want to expand.
And then you can pay yourself the rest (ya know…for all your hard work).

For more in-depth training on the how-to of selling on Amazon, check out the Freedom Ticket course (free for Helium 10 Platinum, Diamond and Elite subscribers).