Amazon FBA Case Study: Success or Failure; Did Project X Find Profitable Products?
In the last episode, we went over Tim's special product launch method (the "Storming the Castle" method).

This method goes over the steps necessary to launch new products on Amazon with very little risk.

(If you missed it, click HERE)

In THIS episode we follow up with results! We'll show you how we successfully launched the coffin shelf and what we did at every step in the process.
Recap of What Project X Has Been All About

As you've seen, this case study has NOT been about how to make your first million on Amazon.

We don't go over expensive launch methods and obsess over getting on page one of big keywords.

We've been showing you how to find under-served products that fit in niche gaps. These products don't attract a ton of hype and popularity (yet) so they don't attract common problems like hijackers or massive competition.

These are what we've commonly referred to as "fly under the radar" products and strategies.

With these methods you:

Don't have to have a ton of money
Don't have to be a designer
Don't have to have much experience
Don't have to be a patent holder
Hopefully, what we've shown you is that this is a pretty easy process and one you can employ over and over again.

Coffin Shelf Launch Results

Our coffin shelf launch actually turned out exactly as we expected.
There wasn't a huge, spectacular ramp up. However, we also didn't have to put a lot of money into the launch.

We didn't grow to 50 sales a day, but we expected that because this is a lower volume product. Nonetheless, the results in the first three weeks have been rather shocking.

In just under four weeks the coffin shelf had 119 orders!

We made it onto the BEACH!!!

So how did we do it?

Well, remember what we said; we don't sell products on Amazon, but keywords. So the main goal has been to rank for all of the long tail keywords we identified for this product.

Our first step was to identify the keywords that our main competitor is likely to make sales from (using Cerebro by Helium 10). Then to focus on ranking for those specific terms.

We achieved this by optimizing our listing to make sure those terms were in the title, bullets, description, or back end, depending on how important to us they were. Also, we have been running PPC targeting important key terms.

Then, we tracked our progress using Helium 10's Keyword Tracker.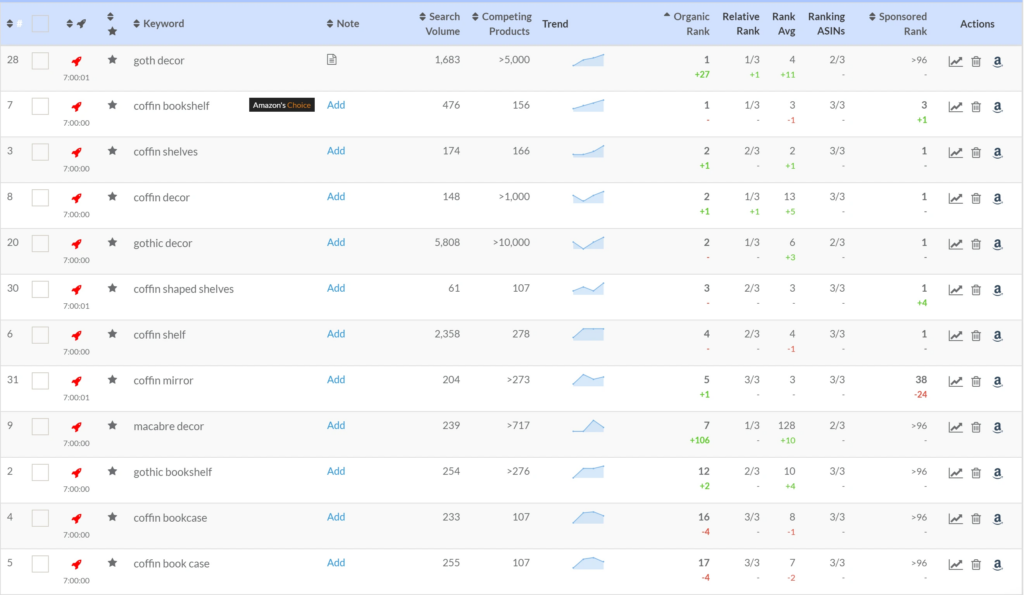 As you can see, we are moving up in rank quite nicely. Let's look at the process our main keyword "coffin shelf" went through.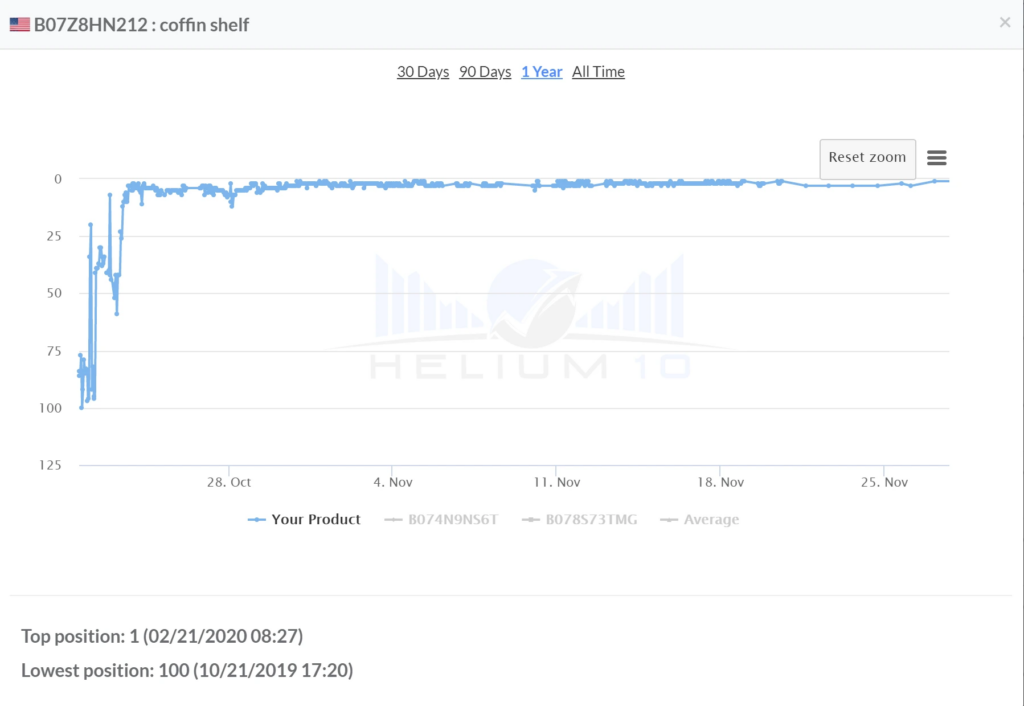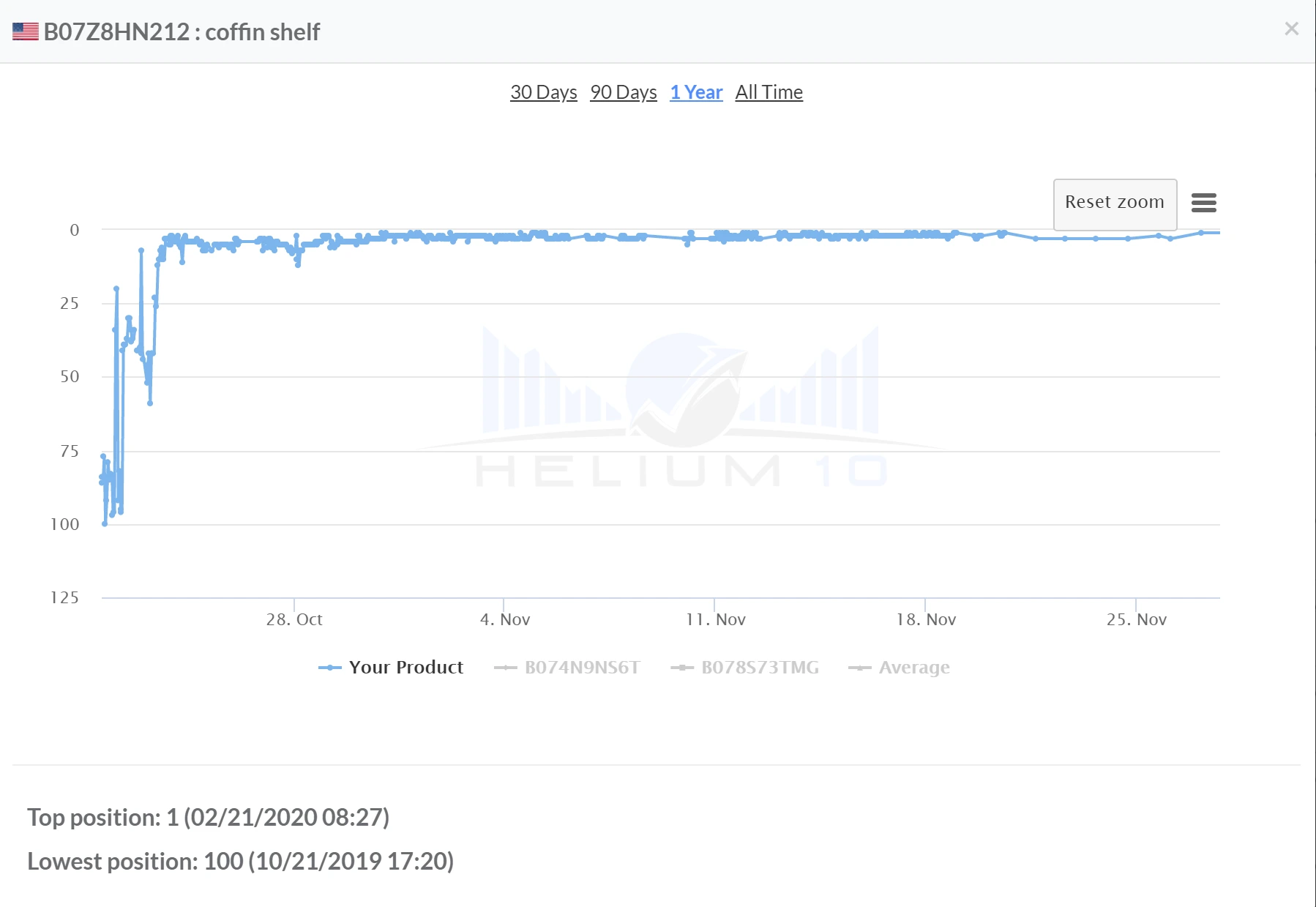 Here you can see it only took a couple of weeks to make massive leaps in keyword rank. This is the power of going into a market with little competition.

This just further validates the assumptions we made while doing our research. The main keyword had decent volume (close to 2k searches per month) but little to no competition, so it should only take strong optimization and a little PPC to rank well. And that is exactly what happened.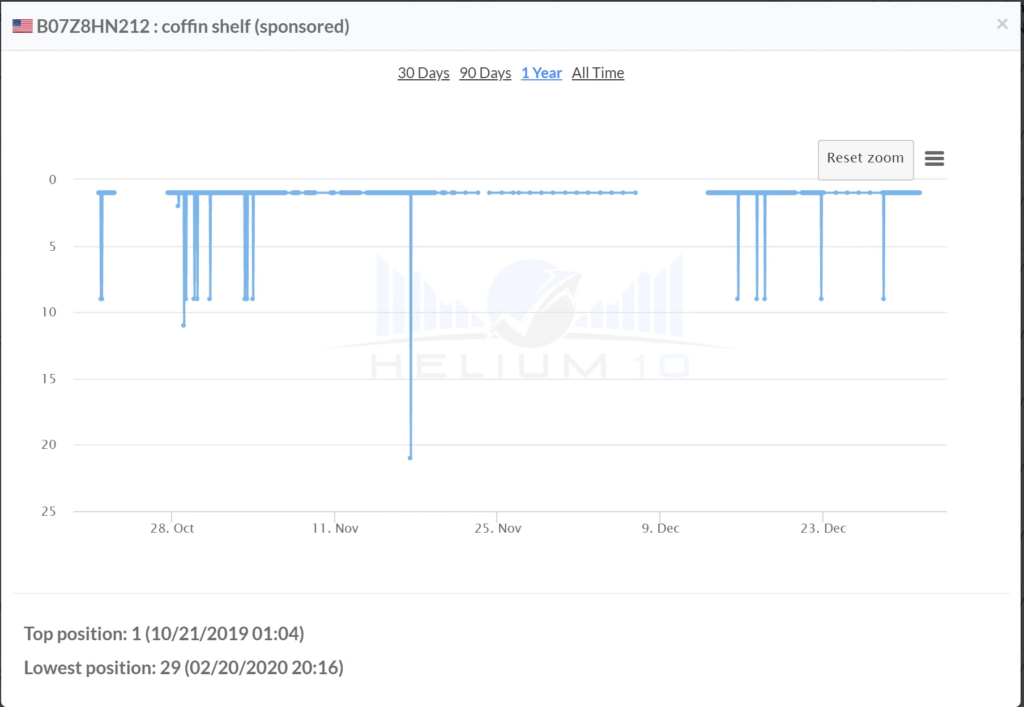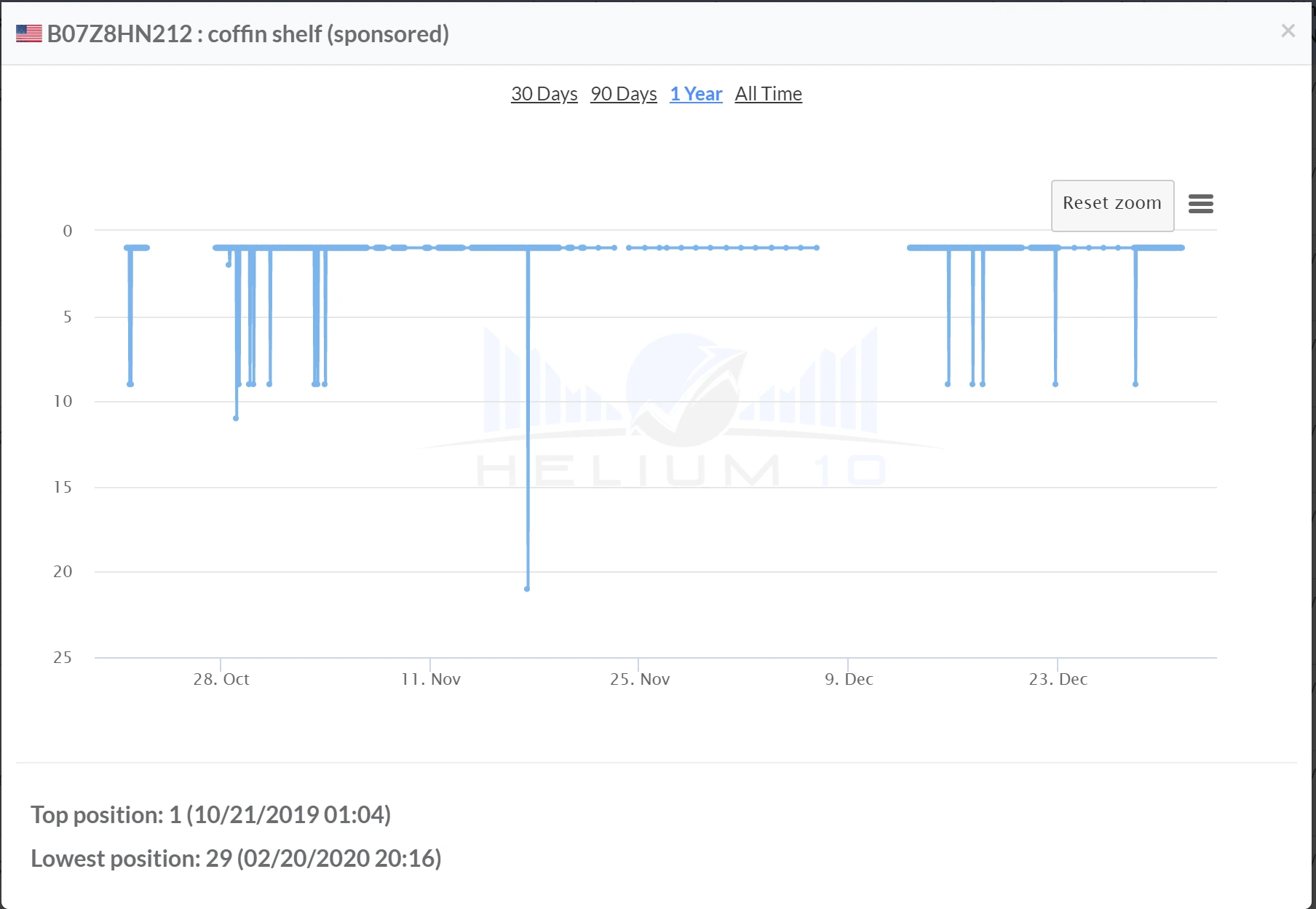 Our sponsored rank shows that we bid high enough to ensure we stayed on page one with our PPC ads, effectively buying a top position, until the sales caused organic rank to increase.

The other thing our listing has benefited from is that since we've ranked well for our initial set of keywords and have been making steady sales, Amazon has indexed it for many more key terms.

If you add up the search volume from all of these new terms, you'll see that we are getting a large amount of volume per month.

So we've been able to rise in rank for several other terms we hadn't even identified. All this contributes even more to the visibility of this listing, and therefore increases the chances of being found, seen, and purchased.

A note about PPC costs…

In the beginning, you might lose a little money on PPC because you'll be spending more than you are netting in sales. This is OK, because you are paying for information.

Your auto campaigns will likely reveal key terms that convert that you would have never thought of. This is exactly what happened to our coffin shelf.

After collecting this data and ranking for more terms, you can also optimize your campaigns (by moving terms from the auto campaign to a manual campaign to allocate a better budget to converting terms) ACoS (average cost of sale) will go down.

Search Find Buy Method

To bolster our ranking effects and accelerate our results for the purpose of this case study, we commissioned the help of our friend Izabela Hamilton and her service Rankbell. The service is a Done-For-You search, find and buy ranking platform.

Essentially the service provides buyers who purchase your product with the promise of a full rebate. In the process of purchasing, the buyers search for your selected key term, find your product on Amazon and then buy it.

We chose to target the longer-tail keyword "goth decor" which has a little over 1600 searches per month (a decent amount but not as high traffic as "gothic decor").

The service provided us with the sale of 11 units over the course of four days in this manner. This catapulted the rank for our coffin shelf to page one position one!

As a happy but completely unintended consequence of our promotion and PPC strategy, we managed to also reach page one position one for the larger term "gothic decor" as well. This is without us spending any money on things targeting this keyword.

The best part is that this didn't happen as a result of a hack or a trick. This was entirely because of our strategy. We tested and validated products that fly under the radar and now we have a consistent seller.

A note on search volume and strategy…

After our launch, our coffin shelf managed to rank for a number of keywords within the top ten spots. Those keywords collectively have over 16,000 searches per month.

Traditional methodology might teach you to find a 16,000 search volume keyword and spend all of your money and effort ranking for it. This could be a costly effort that leads to no results. Our method puts your product in front of more eyeballs for a lower cost and with a more solid foundation.

Listing Maintenance

An important thing to do after you launch your product and start making consistent sales is to protect and maintain your progress. One of the best ways to do this is with Helium 10's Alerts.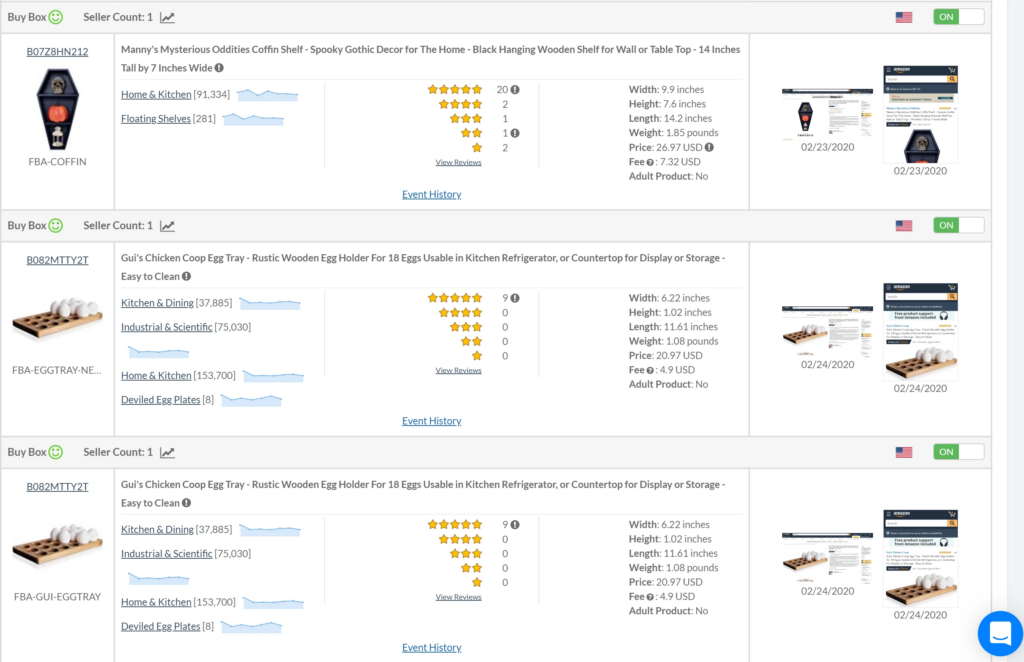 What Alerts does is allows you to track any changes that may occur to your listing, including:

If a hijacker jumps on the listing
If you lose the buybox
If your images change
If your category gets changed to "adult"
If your product dimensions change
These changes could be made by Amazon themselves or by malicious competitors.

Another important thing to track is profit and losses. For this, Helium 10's Profits tool tracks all the important financial metrics.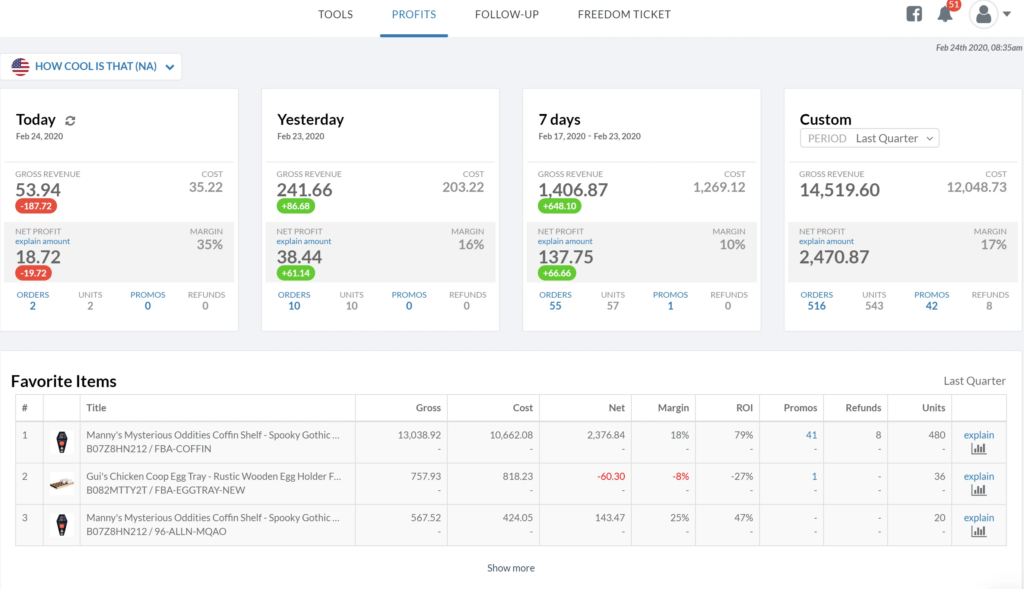 The Profits tool shows a number of important data points:

Sales
Storage/warehousing fees
PPC expenses
A note on reviews…

Another important aspect of a successful launch is obtaining initial reviews. We chose to enroll our products in the Early Reviewer Program. This program is run by Amazon and only eligible for products with less than five reviews. Amazon then follows up with customers and incentivizes them with gift cards to leave a review.

Beyond ERP, another great way to get consistent product reviews is by using Helium 10 Follow-Up and communicating with customers your desire for their feedback.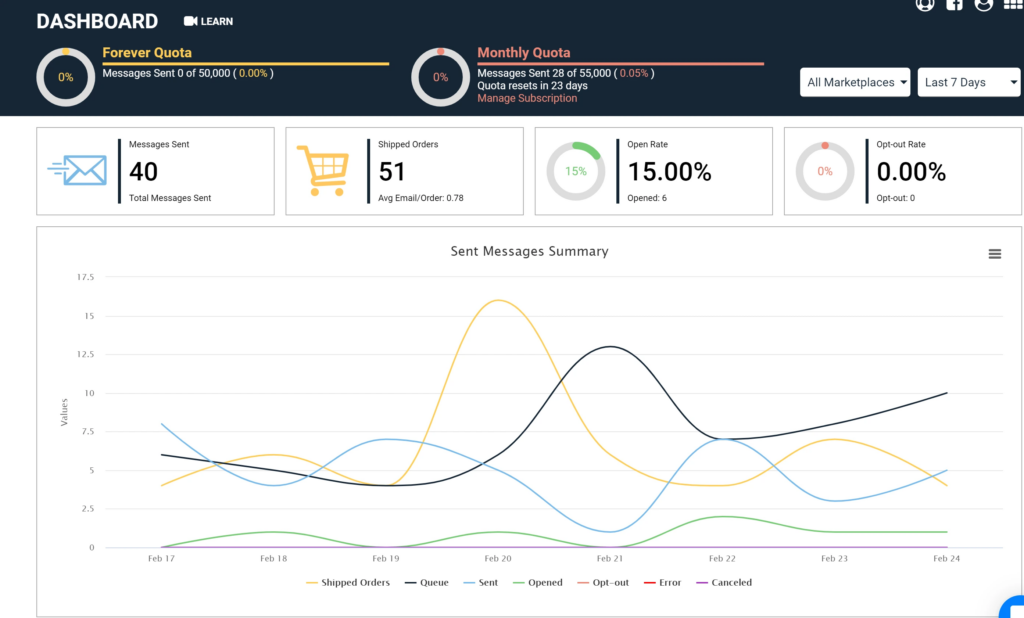 Using Follow-Up not only can you provide customers with better support, but also request feedback and reviews on their product purchases. If you struggle with what to say, the tool features a number of premade templates you can customize as well.


And this is the process, from product choice to launch, for finding and selling profitable products on Amazon. Here in Project X, we've shown you a repeatable strategy for growing your business on the Amazon platform.

Achieve More Results in Less Time
Accelerate the Growth of Your Business, Brand or Agency
Maximize your results and drive success faster with Helium 10's full suite of Amazon and Walmart solutions.