Amazon FBA Case Study: How To Source & Negotiate Anywhere In the World
Sourcing products, especially from overseas, can seem daunting. Learn how to negotiate the best deal and build partnerships that last.
In the last episode, we went over how to gather competitor intel and even customer sentiment to find out how to make your product really stand out. We discuss differentiation and other means to make the perfect product for your market.

(If you missed it, click HERE).

Today, let's talk about the RFQ.

What is THAT?

RFQ stands for Request for Quote. This is a document (or set of documents) that helps improve communication with suppliers as well as improve internal organization. By getting all of the thoughts and details on paper about a potential product, it starts the relationship with your supplier (and helps you get your thoughts on paper).
The Method
To create the simplest RFQ form, just build it out in Microsoft Excel or Google Sheets. Make sure you include the following:
Date
Requested By
Email
Other communication channels (such as Wechat or Whatsapp)
Name of product
Quantity requested (may need to be "MOQ" – minimum order quantity)
Product description (send images as well)
Product dimensions (specify inches/oz or centimeters/grams)
Requested materials
Packing specifications
Shipping requirements
Similar products or links
Other links
The purpose of this is to over-communicate so there aren't any surprises. So long as all details are agreed upon beforehand, you won't be caught off guard by extra stickering fees, or a lack of individual packaging, or any number of shortcuts that might be taken because the details weren't provided.

Another potential advantage of the RFQ is it allows you to share enough details about the product you hope to have manufactured. This reduces the risk of failed sample iterations. The more precise you can be with your descriptions and examples, the closer your eventual factory will get to getting it right.

Also remember to consider Amazon's inbound shipping requirements with regard to dimensions and weight.

Another thing to keep in mind before sending out an RFQ is to make sure it looks professional. The RFQ is one of the first touch-points you'll have with your hopeful supplier so you want them to take you seriously. By following Tim's simple yet detailed formula, you can achieve that.

A note on Barcodes…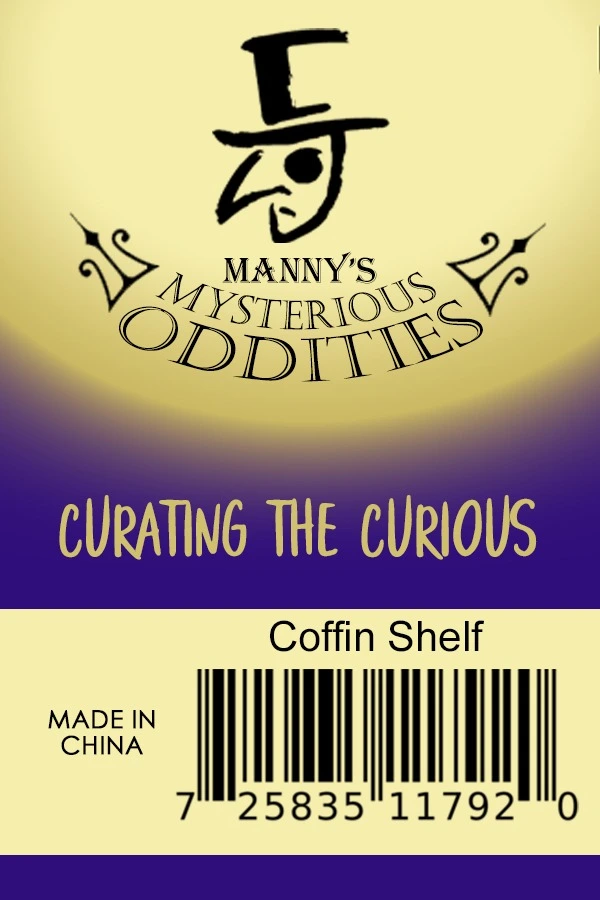 Amazon requires an FNSKU (Fulfillment Network Stock Keeping Unit) barcode on most products (especially private label). You can have your supplier print the stickers and apply them to your products, but they may charge for that.

You may also have Amazon apply them for you at a cost of $0.20 per unit. Or, you may wish to include the FNSKU barcode directly on your labels or packaging. Just remember it must be scannable, so it should be on the outermost portion of your product.

It is also a good idea to include the label file or packaging design with your RFQ so it is clear how much space or area your branding will take up on the product or custom package.

Packaging designs, die-cuts, labels, and other custom art typically should be in .pdf or .ai file format.

A note on Sourcing Countries…
There are a lot of places around the world to source from. China is very popular because of how many factories they have (wide selection), how easy they make exporting (superior logistics), how simple it is to communicate (sourcing technologies), and how affordable products are. For these reasons, we recommend China as a great place to source your first product.

However, other options that provide excellent manufacturing are:

Vietnam
India
Mexico
Haiti
Pakistan
Peru
USA
And many more.

For those of you who may be concerned with tariff (import tax) increases on goods coming from China, we don't think you should be concerned. These methods we teach should offer you the ability to have such high margins that it isn't an issue.

The How…

The first step in our process of sourcing is to find suppliers of the products we wish to sell, and open up a dialogue with them. Since we've decided to source our products from China, the most common way to reach suppliers from outside of the country is Alibaba.com.

Alibaba's website may appear to look a lot like a marketplace (sales platform) itself. However, as Tim puts it; "Alibaba is the most sophisticated phone book in the world."

The site was originally created by founder Jack Ma to be a business directory for manufacturers to be found locally. However it grew as a viable resource for manufacturers and trading agents worldwide, and with the popularity of importing to the US on the rise, it has become a staple resource for Amazon sellers.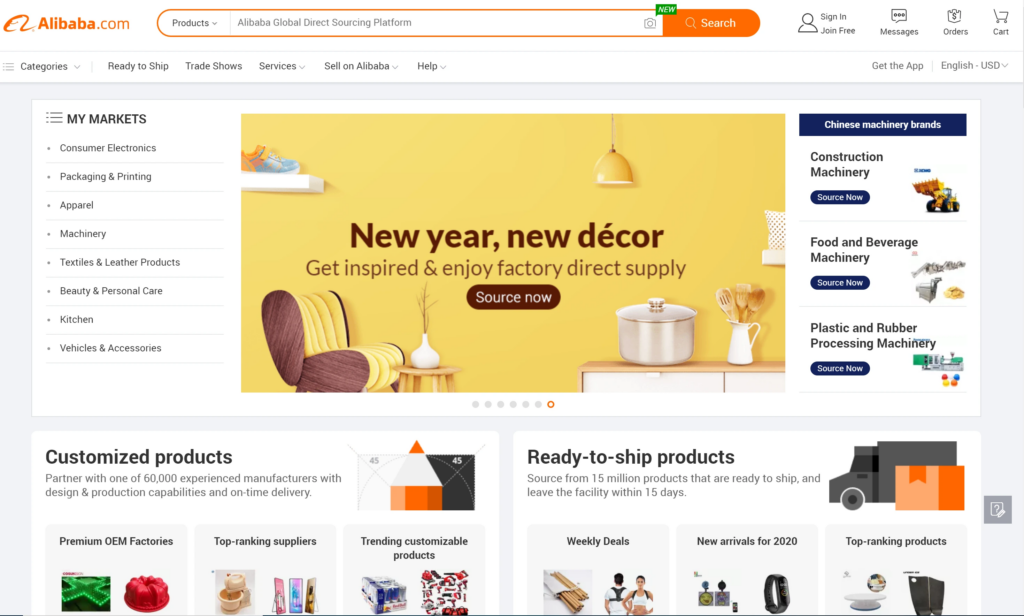 The thing to remember when using Alibaba to connect with suppliers is that the platform is not for finding a product, but for finding a manufacturer for a product.
Our Results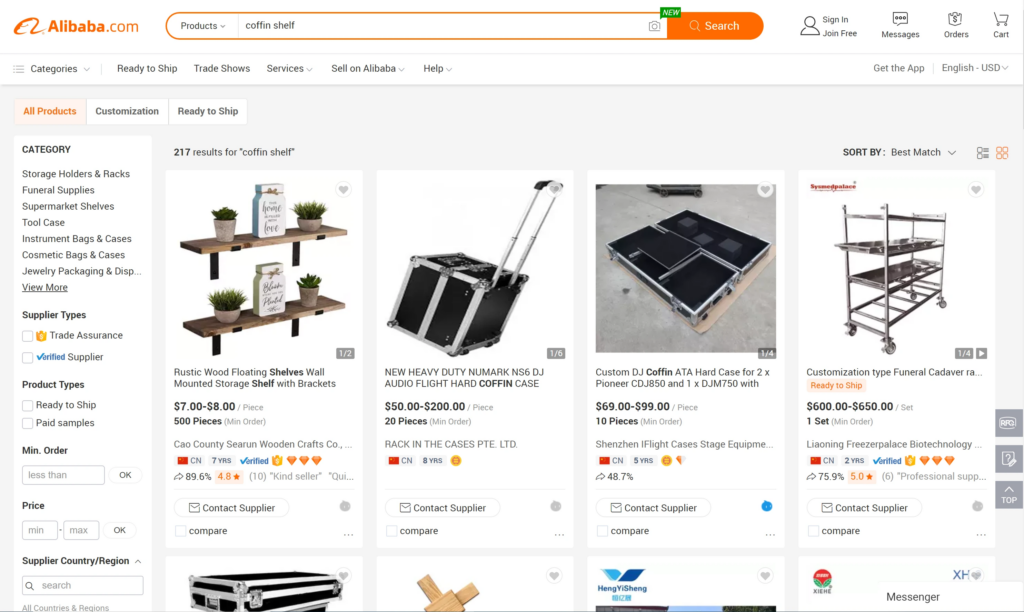 Our search for "coffin shelf" supplies both good and bad news.
The good news is, the lack of results illustrates that there likely isn't a saturation problem (like the burrito blankets). However, the bad news is, if we cannot find a manufacturer for our coffin shelf by searching for "coffin shelf" then the question is; how will we find it?

There are a couple of creative options. First, since we are specifically searching for a manufacturer and not the product, then we could reach out to wood product manufacturers and simply ask them if they CAN make a coffin shelf.

So if we search for something like "small bookshelf" we come closer to seeing similar products to our coffin shelf.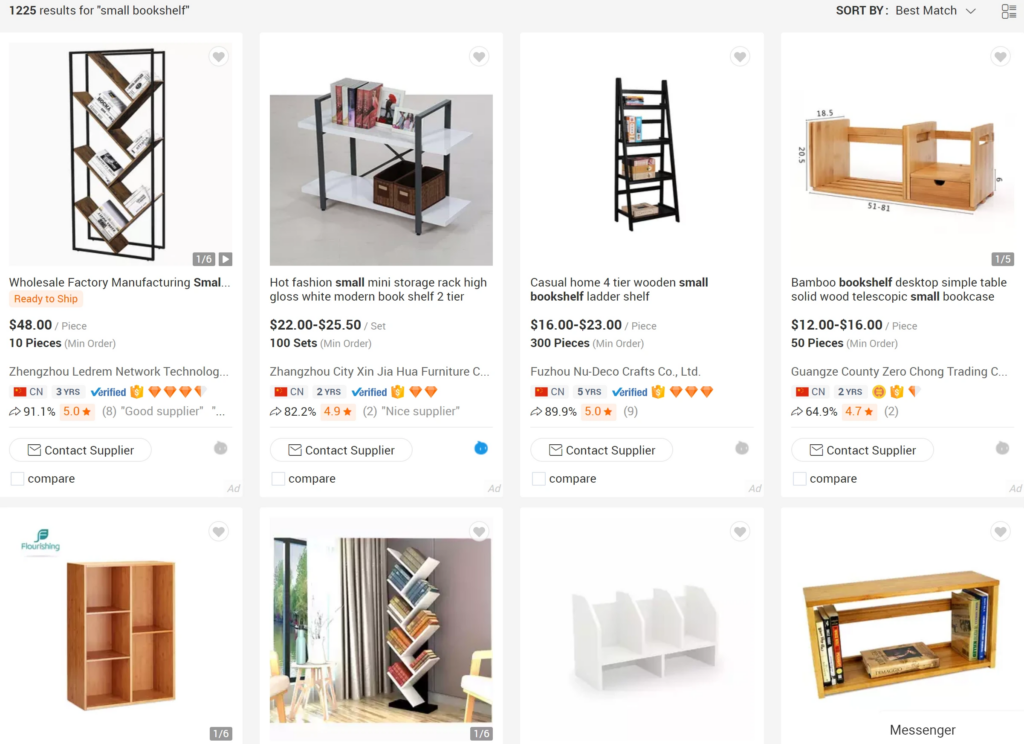 And if we get even more specific with "desktop bookshelf" which narrows the search to the most likely products that are similar to our coffin bookshelf, we see some truly viable options.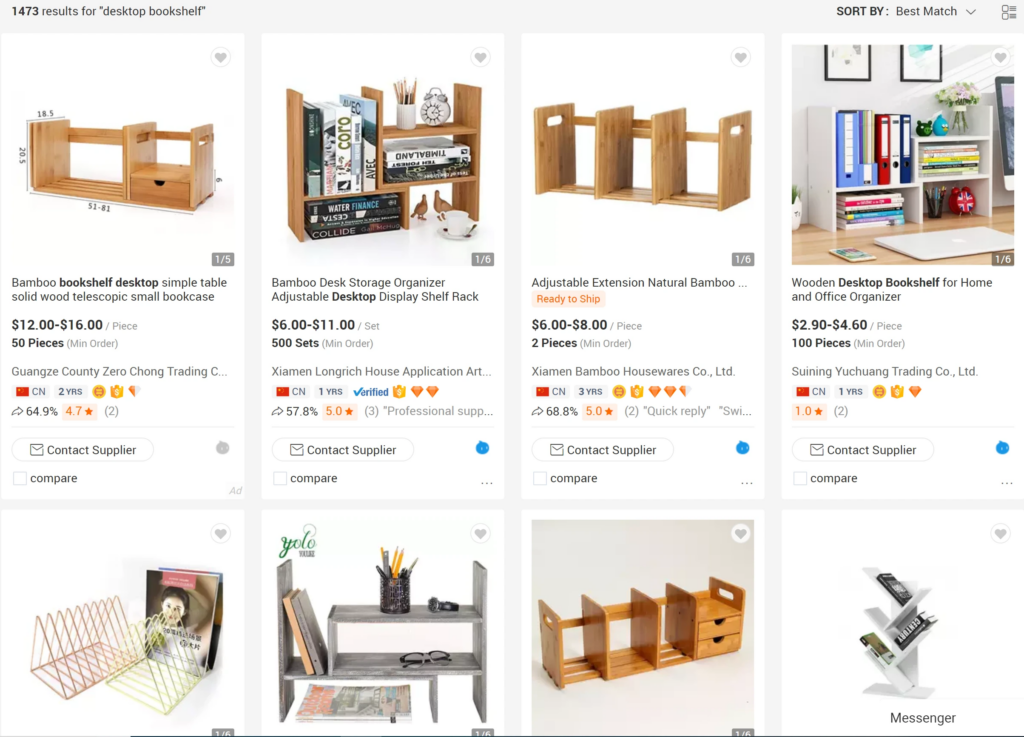 The next step is just to contact suppliers using the platform's messaging capabilities. Alibaba makes it extremely easy to do this.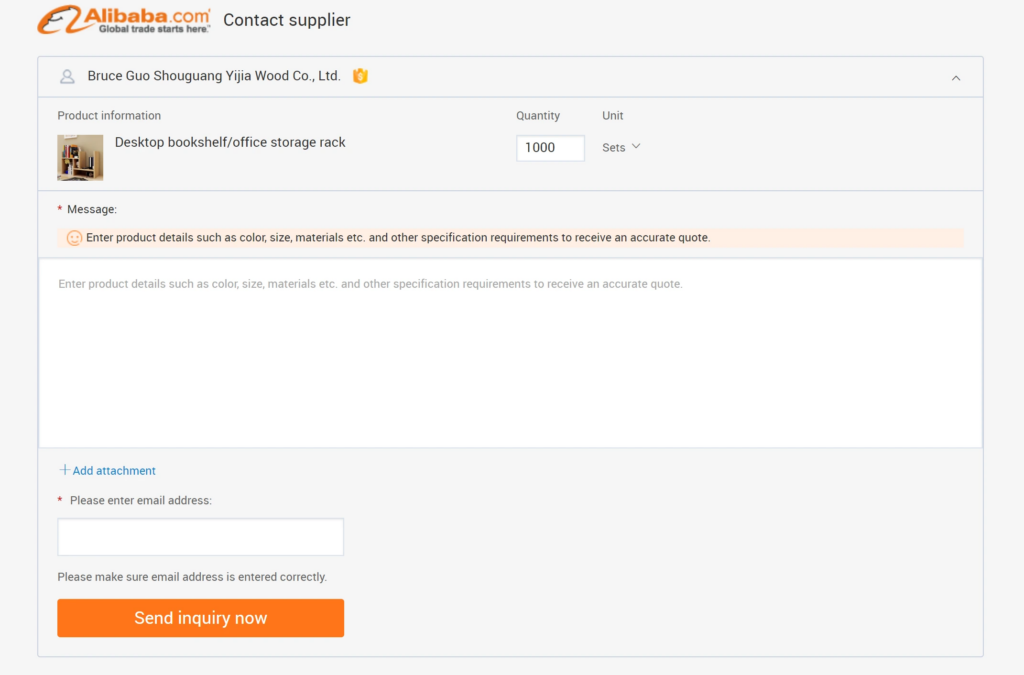 Just be sure to be as specific as possible. The RFQ, label, picture of the product, etc can all be attached to the message. Do this with as many suppliers as you can find and you'll have plenty of potential supply partners to choose from.

One thing to keep in mind, however, is that the listings may not necessarily give accurate information. The price per unit and listed MOQ might not reflect a relationship. If a listing claims $4 per unit with an MOQ of 50, that likely just means you can get the items AS LOW AS $4 or AS LOW AS 50 units, but not necessarily at the same time. Don't get angry or get caught off guard by this.
Additional Methods for Sourcing
Another great way to find a good supplier is through a sourcing agent. While yes, you'll pay a commission fee for the agent's work, you'll also be able to leverage a local person in China, who speaks the language and understands the culture. This allows you to leverage their existing relationships and negotiation skills.

To fast-track a relationship with a factory and get the best deal possible, finding a sourcing agent that you trust is a fantastic option.

Another way (Tim's favorite way) to find suppliers is by traveling to markets and sourcing fairs, of which there are many in Asia.

Being in person and shaking hands allows you to really accelerate building relationships. You'll also be taken much more seriously if you take the time to fly thousands of miles to meet your potential manufacturer. This will help you to get better pricing right from the start.

Two of the biggest trade markets in China are:
The bi-annual trade show Canton Fair
The Yiwu sourcing market
There is no ONE right way to source products. In fact, it is best to use all these methods if possible. This is because going wide is more important than going deep.

What does that mean?

Going wide allows you to cast a broad net so that you find the right supplier. Going deep casts a smaller net and relies more heavily on the sourcing capabilities, products and resources available to a smaller pool of suppliers.

A note on communication…

Communicating with suppliers, especially when they are overseas, is facilitated by the great advances we've made in technology. Don't be afraid to use them.

A few popular platforms to communicate with suppliers from China and worldwide are:
Alibaba messaging
WeChat
Whatsapp
Skype
Email
What is great about a lot of these platforms is they often have built-in translation capabilities. Be that as it may, it is important to be clear and concise. One way to ensure your message isn't lost in translation is to say things TWICE. What we mean by that is, find multiple ways to say the same thing.

If you are sourcing a lamp, call it a lamp AND a desk light, for example. Just to make sure.

Beyond that, make sure you are polite and professional.
It is likely worth doing some research to learn cultural differences. Just spending a little time on Google can reveal some basic formalities that will serve you well.

Ultimately, you are building a relationship. And that relationship will be the most valuable aspect of your business arrangement.

A good relationship with a supplier can uncover:
Better pricing
Better information
Better quality
Better opportunities
The next step after sending your RFQ to suppliers is to read the quotes you receive. Many of these will be in the form of something called a "pro-forma invoice" which is just a preliminary invoice, or quote.

We received several quotes for the products we were sourcing.
One of the quotes, for the coffin shelf, was from a supplier claiming they would be willing to create a batch of 500 units (their minimum order quantity) for $4.24 per unit (total of $2,120).

This is most likely the total price per unit, including the packaging and stickering, since those details were included in the RFQ.

One thing to note; if you find a supplier through Alibaba and request the quote through the messaging system, that quote must be attached to an existing listing on Alibaba.
So, if you see the quote attached to a product that is not what you are looking for, don't get scared away. They may not have a listing for that product on Alibaba, but if you were thorough with your RFQ, they know what you want and are claiming they can make it for you.

After you are happy with a quote, the next step is to ask for a sample. This is critical because you need to know if the factory can make your product exactly the way you planned it to be made.

It is wise to get multiple samples in order to compare quality.

If the factory already makes the product you are looking for, then they should be able to send you a sample cheaply and quickly. If they have to custom make it, that will add time and money to the process.

Bradley's quick sourcing hack…

Step one, go to Google translate and translate your product from English to Chinese (Simplified).



Step two, visit 1688.com and paste the Chinese translation into the search bar at the top.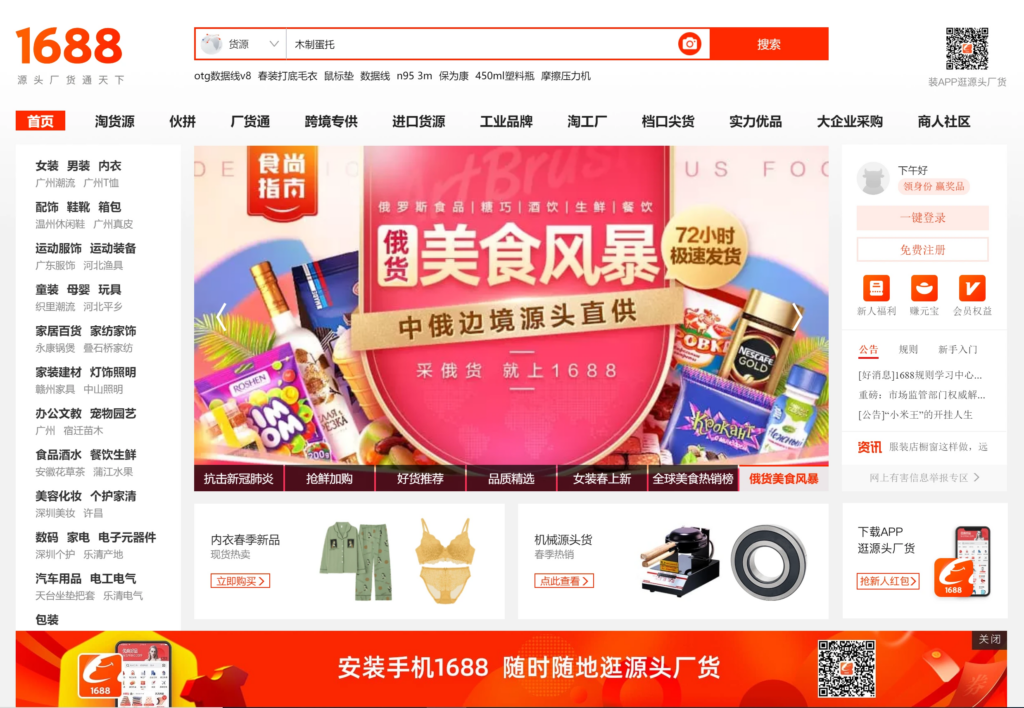 Step three, look at product listings.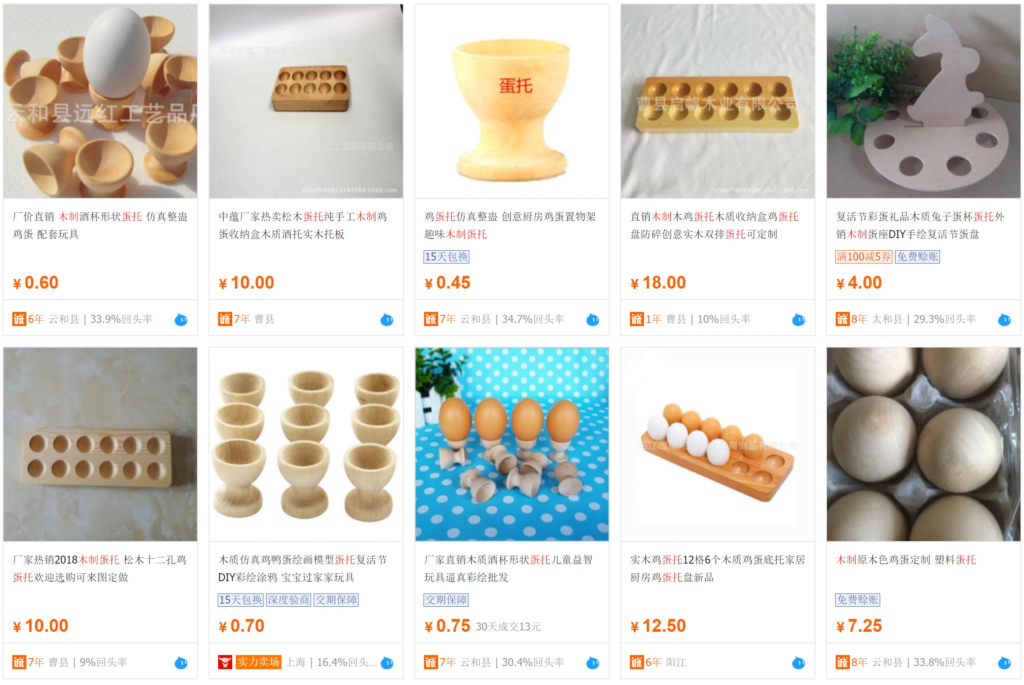 Step four, go to xe.com and adjust the currency converter to; From CNY to USD. Enter the amount from 1688.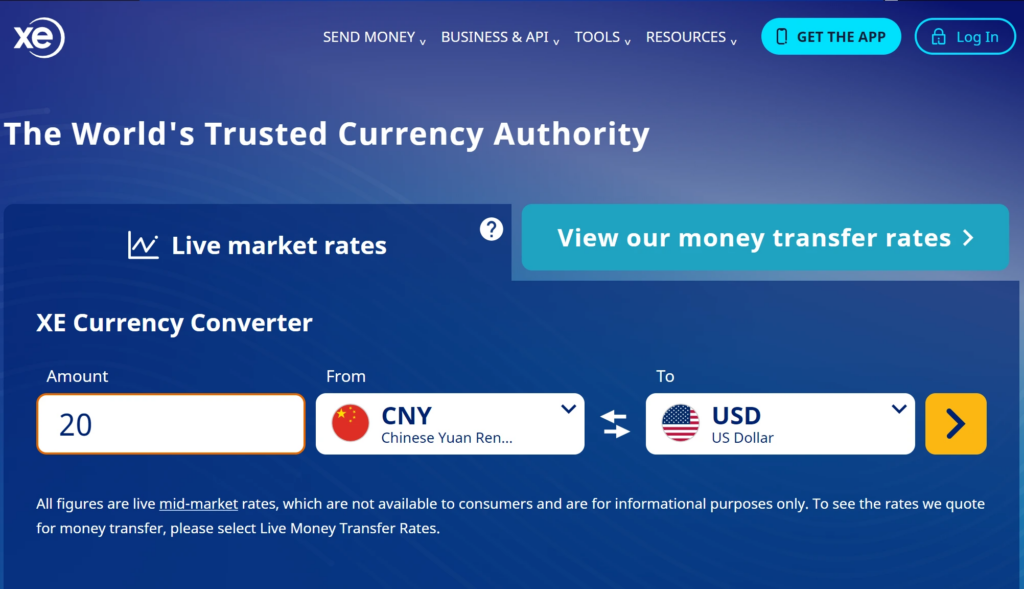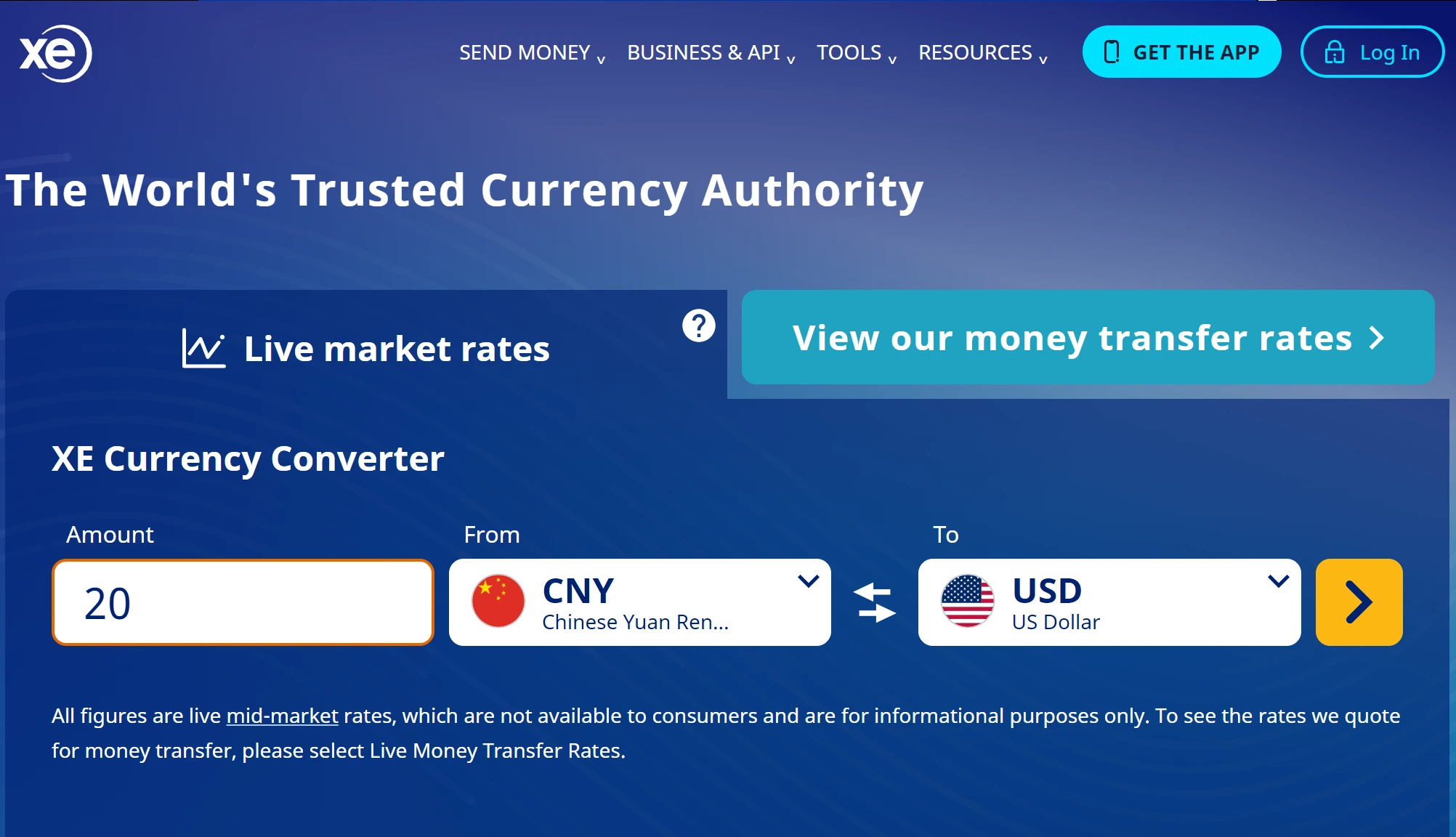 Then convert the currency.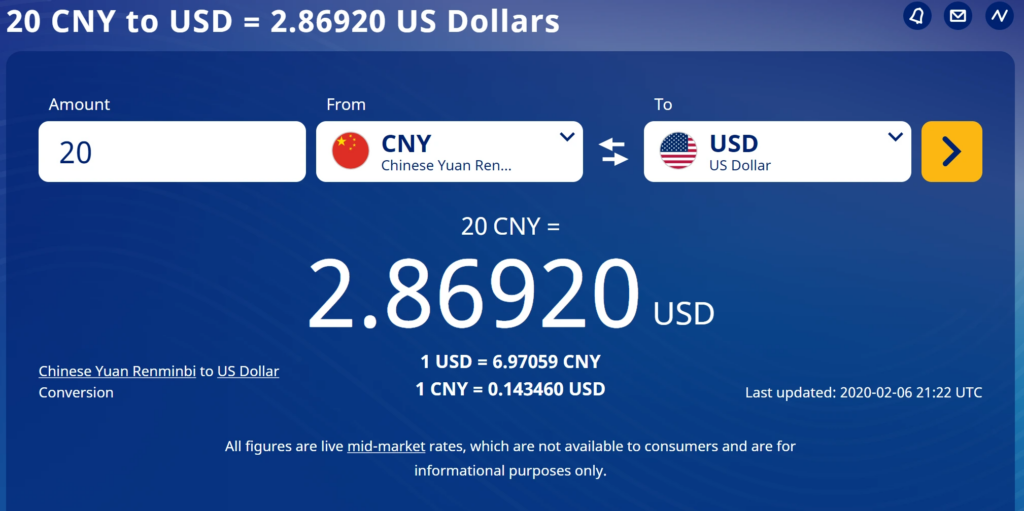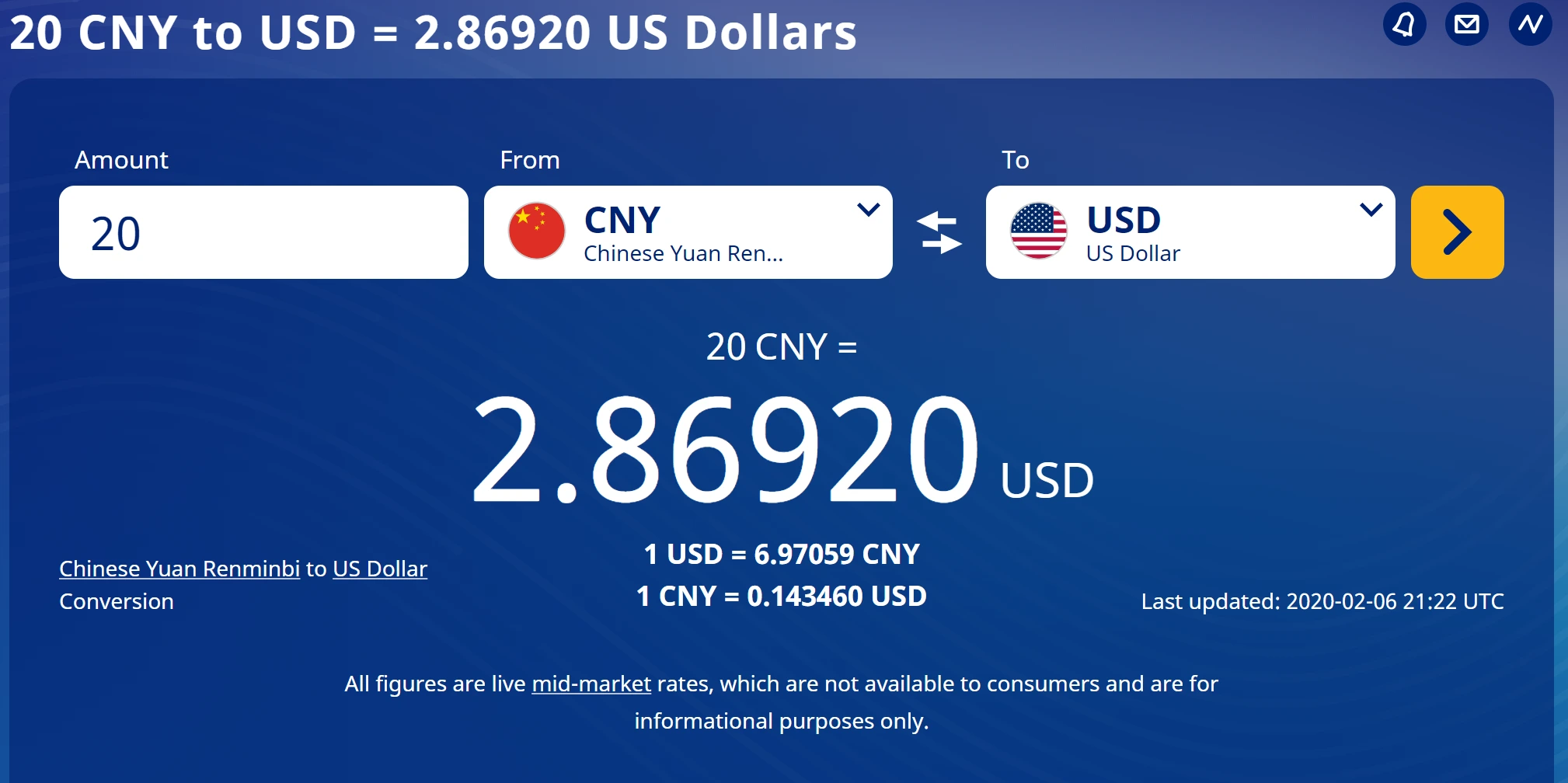 If the price on 1688 is significantly lower than the quotes you receive from Alibaba, you can use this in your negotiations. By providing screenshots and links to those listings you can ask the suppliers you are speaking to why they are charging so much more. This may persuade some to lower their quote.

After getting quotes, you'll need to look at profitability. Basically, based on what you can source the product for, it is time to see if the average sale price on Amazon allows for enough of a profit.

Here we check on our coffin shelf by plugging in the details we received from the quotes into the Helium 10 Profitability Calculator.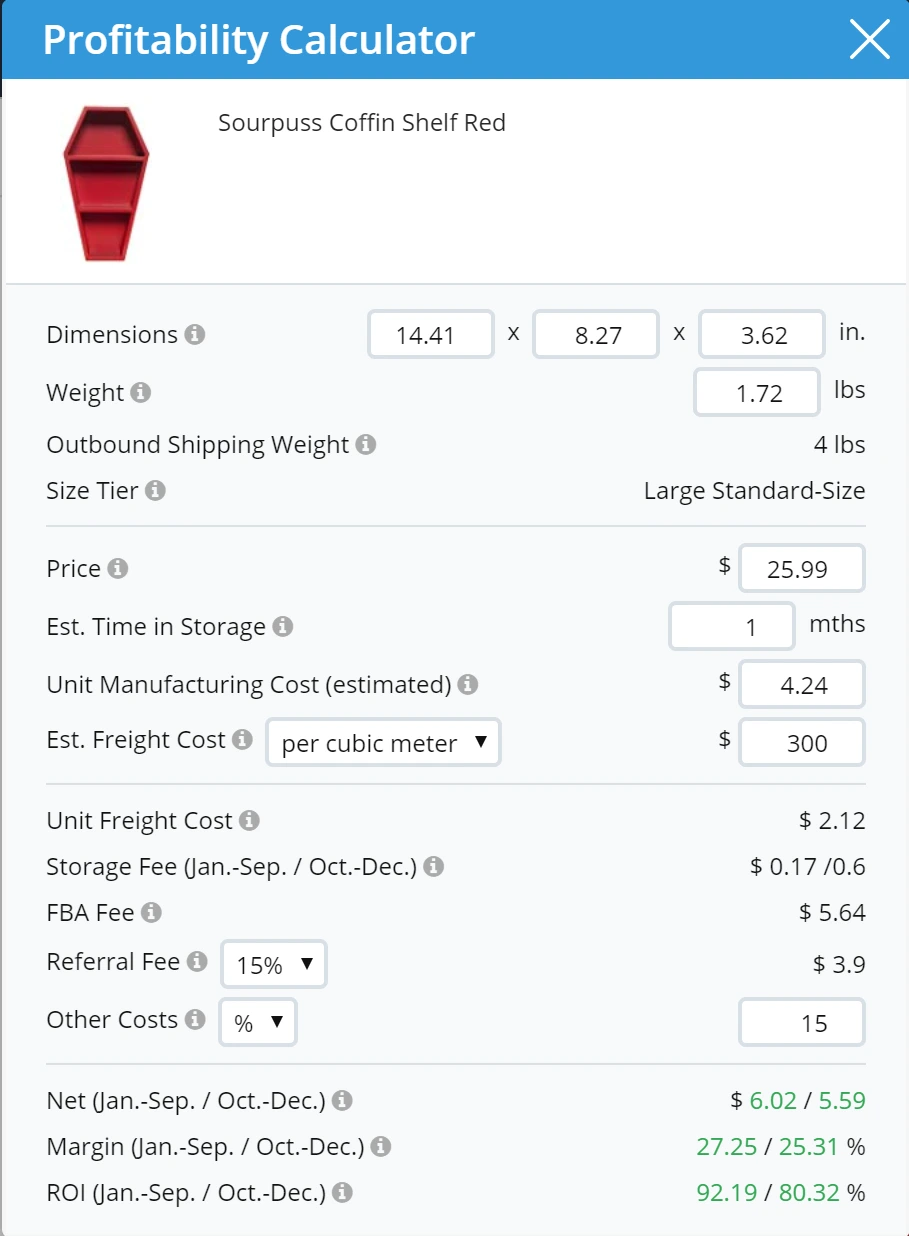 Of course, you can play with these numbers, but this gives us an idea of how much we can expect to make.

Also, this is a good place to determine whether you need to make dimension changes to make it more profitable from Amazon.

If you make any changes, make sure you get a new sample. TAKE YOUR TIME. Get as many samples as you need. Remember to "cut once and measure twice."

A quick note on payment platforms…

Alibaba has a payment platform called Alipay, but not every supplier has the ability to use that. The most common payment type is T/T (wire transfers). Sometimes they can take PayPal, although the fees can be high.

This is where relationships matter. If you have opened up a healthy dialogue, you can communicate with them on what payment type works best for them and why. You can also ask whatever questions you need to feel comfortable. Generally speaking, most suppliers are looking to develop a good working relationship (a business partner) so they aren't looking to rip you off.

Also, never except 100% upfront payment terms. Generally, bulk orders require a 30% to 50% deposit. The balance of the payment is usually due before shipping, however, you should ALWAYS require an inspection of the goods prior to shipment or final payment.

Just because your supplier isn't trying to rob you doesn't mean there aren't instances where they might cut quality corners. You do not want to pay for sub-par or low-quality goods, so always get a pre-shipment inspection.

A quick note on price negotiation…

Suppliers typically don't need you as much as you need them. This does not mean you can't negotiate on price, but it's good to know when negotiation is fair and when it might be disruptive.

Remember, cheaper doesn't always mean better.

On the flip side of that, don't take a bad deal. If you are being overcharged, it is ok to walk away. There are over two and a half million factories in China alone. You can move on.

In the next episode we'll go over:
Until then, what is your biggest fear with regard to sourcing?