Amazon FBA Case Study: Plan To Make The Perfect Product
It has been said, and many would agree: Amazon success is in the product. Learn how to differentiate and stand out in a sea of same.
In the last episode, we went over what "indexing" means and why it's important. We also used Helium 10's index checker to make sure our listings are indexed for the appropriate key terms.

We also set up a test "PPC" (pay per click) ad campaign to collect data, and we went over what to do with that data once we collect it.

(If you missed it, click HERE).

In this episode, it's time to make decisions using the data we collected. This will require even more data collecting and decision making.

We'll analyze competitor listings and reviews to determine what people like and don't like.
We'll figure out the exact dimensions and features of our products.
We'll discuss package design.
We'll discuss branding and what role it plays in our decisions.
The Method
We need to carefully assess our data and the competitive landscape in order to make good decisions. This is because these decisions affect and determine more long-term and invested steps.
The How…
We'll do in-depth competitive analysis on Amazon as well as employ our arsenal of off-Amazon research sites.

We'll dive deep on competitor listings
We'll dive into product reviews
We'll check details and dimensions
We'll look at packaging
We'll discuss branding
These decisions inform and shape our long-term results. Analysing this data is important because we'll be stuck with these decisions for awhile.

This means we'll be running down more "rabbit trails" that will determine whether we bundle products, how to determine packaging or customer experience, how much effort to put into branding, and more.

A note on Bundling…
"Bundling" refers to selling a bundle on Amazon. It is also a great way to differentiate your listing from competitors and provides much more value in a single sale to customers.

Using the traditional product research and launch framework, bundling is often a tactic to sell saturated products. Adding multiple products to the same package allows for a new ASIN to be created (effectively a new product) and offers more of a value proposition for the listing.

One of the easiest ways to come up with bundle ideas is readily available right on every Amazon listing too. This is not just a great resource for selling saturated products, but also provides invaluable data for understanding customers.



For our wooden egg tray, we want to see if this section provides us with any valuable insights. Unfortunately, because this niche is so small and these products have relatively low sales history, most wooden egg tray listings don't have a "Frequently bought together" section at all.

So we need to be a bit more creative if we want to truly understand our future customers.

First, we can still mine Amazon for more data. We just need to search for the broader, more mainstream "egg tray" keyword.



Here we find some interesting results. Deviled egg trays are being purchased, and along with them are a couple of logical complementary products (like egg storage and a filling syringe).

A search for a few more uncovers new ideas (like berry baskets), but primarily just gives us more data on what people purchase, what they use these products for, and what they may need in the future.

Another creative tactic for figuring out potential bundle items is to look at subscription boxes. Often subscription box services have already done the research to determine the best items to bundle together for buyers.

When Googling the term "best subscription boxes for kitchen" we can get some ideas for potential bundles or product upgrades for our wooden egg tray product (for example).

This search ended up leading us down a rabbit trail that uncovered some potential ideas for our forest axe product.

So what do we do now?

Do some research. Analyze our findings. Make some decisions. We'll decide:
What color should our products be?
What should their size or shape be?
What should the packaging look like?
Should we bundle?
Two places we can find some great data are:
Product reviews on Amazon
Product reviews on Etsy
Our Results
On Etsy, where sales history appears stronger, we can gather information on what buyers like and don't like. We can get an idea of what color our egg trays should be, what type of wood they should be made of, and any shortfalls other trays suffer.

Focusing on what negative things people experience with competitor products is actually a great way to identify how you might differentiate your product. This tells us what we should improve on when we launch our product.

To illustrate, let's look at the negative reviews of some of our competitors on Amazon (there are very few, but still good to see what IS there)…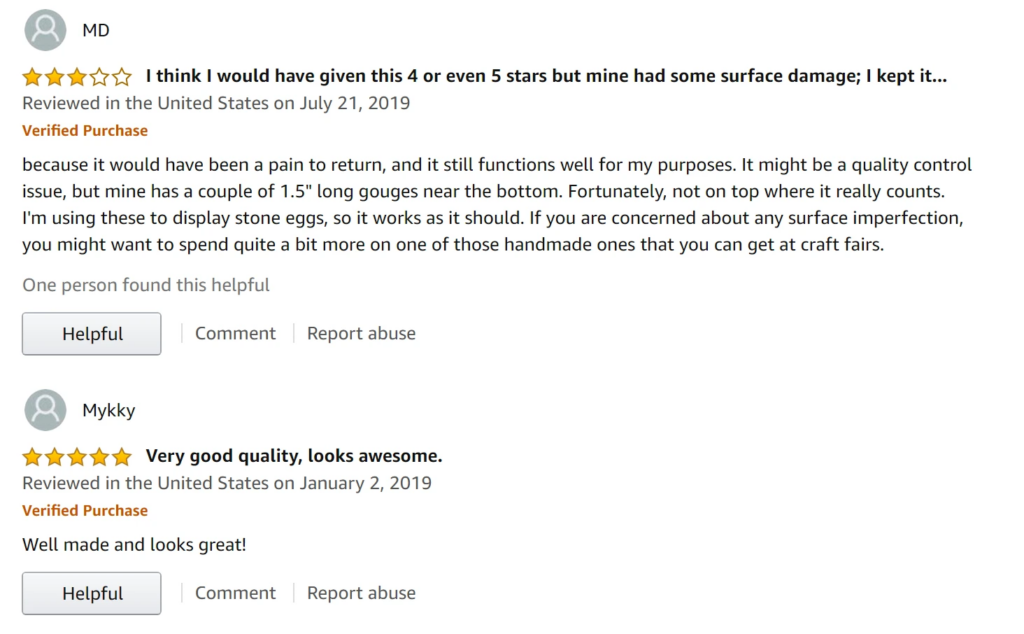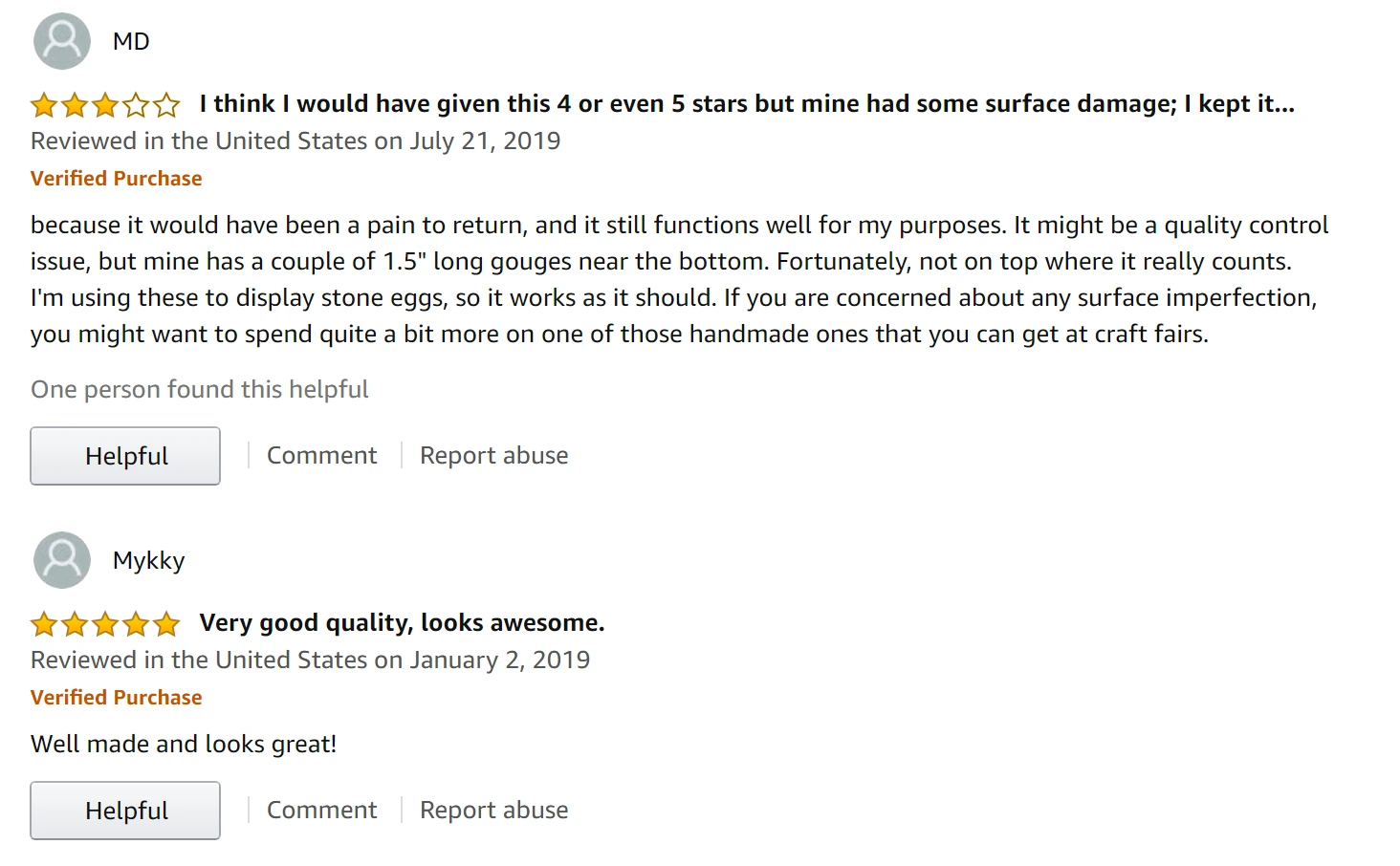 While this isn't a wealth of knowledge, what we see from this one critical review is that it is important to ensure these egg trays are delivered in one piece. This means packaging will be important.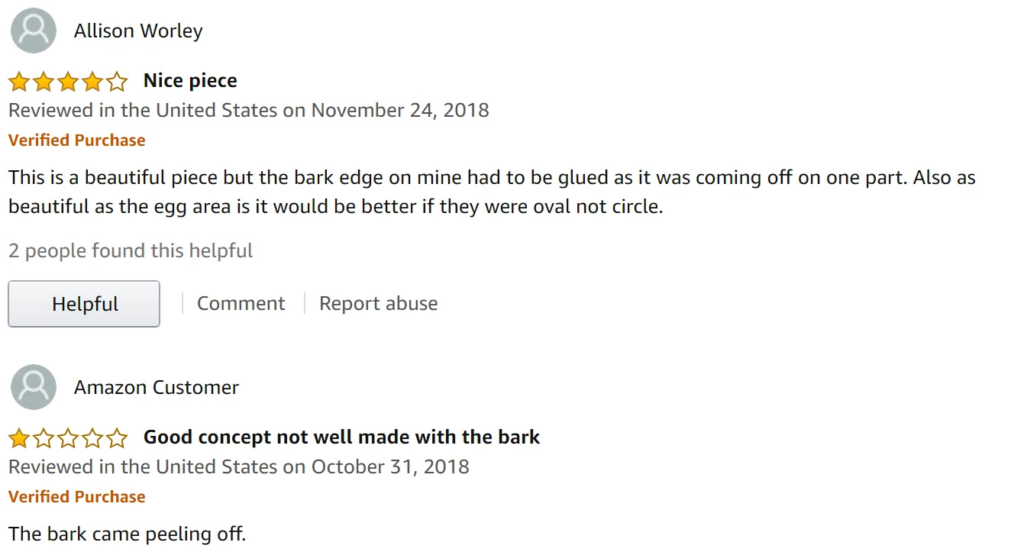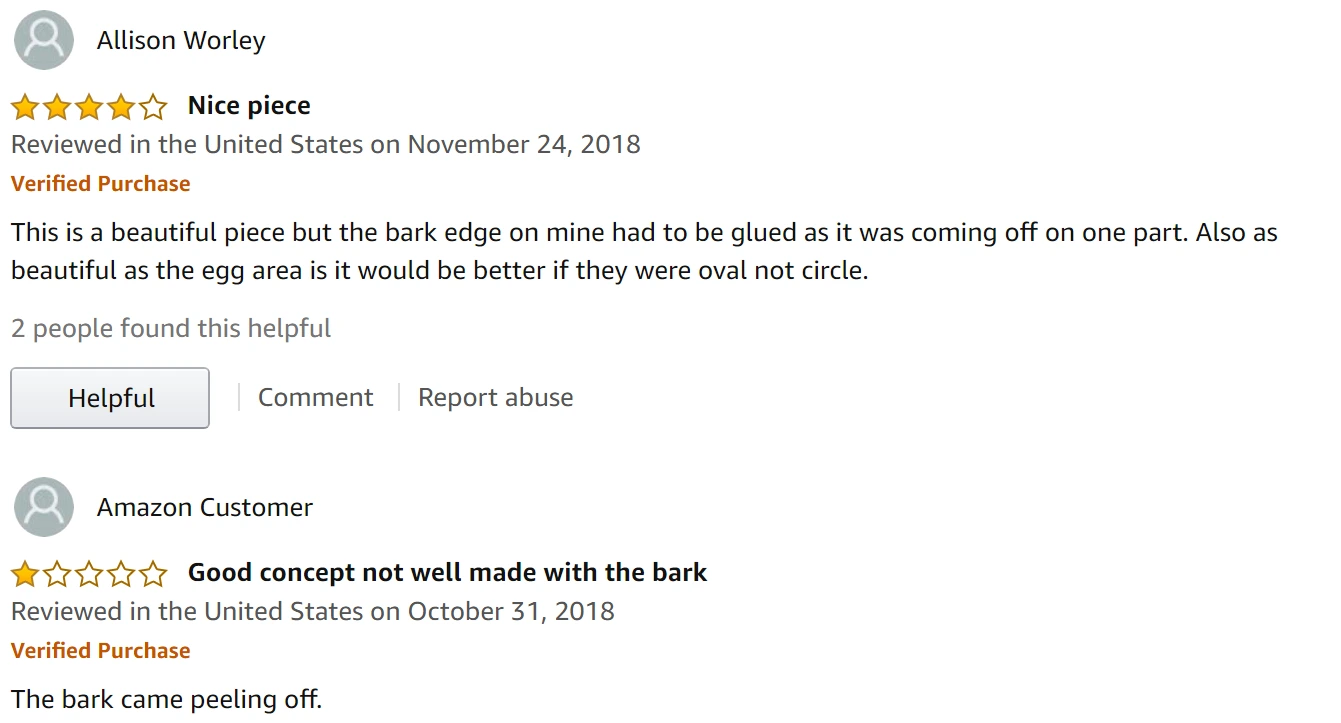 Here's another example of good information from critique reviews. When ordering from a factory, we will want to make sure a part of the quality inspection process checks any glued pieces (if there are any).

Another awesome resource is Helium 10's Review Downloader. This incredible tool downloads all of the reviews for a listing on Amazon and then automatically analyzes the text to identify frequent phrases.
This is almost like conducting a focus group, because it allows you to dive into customer sentiment (without having to pay a market research firm).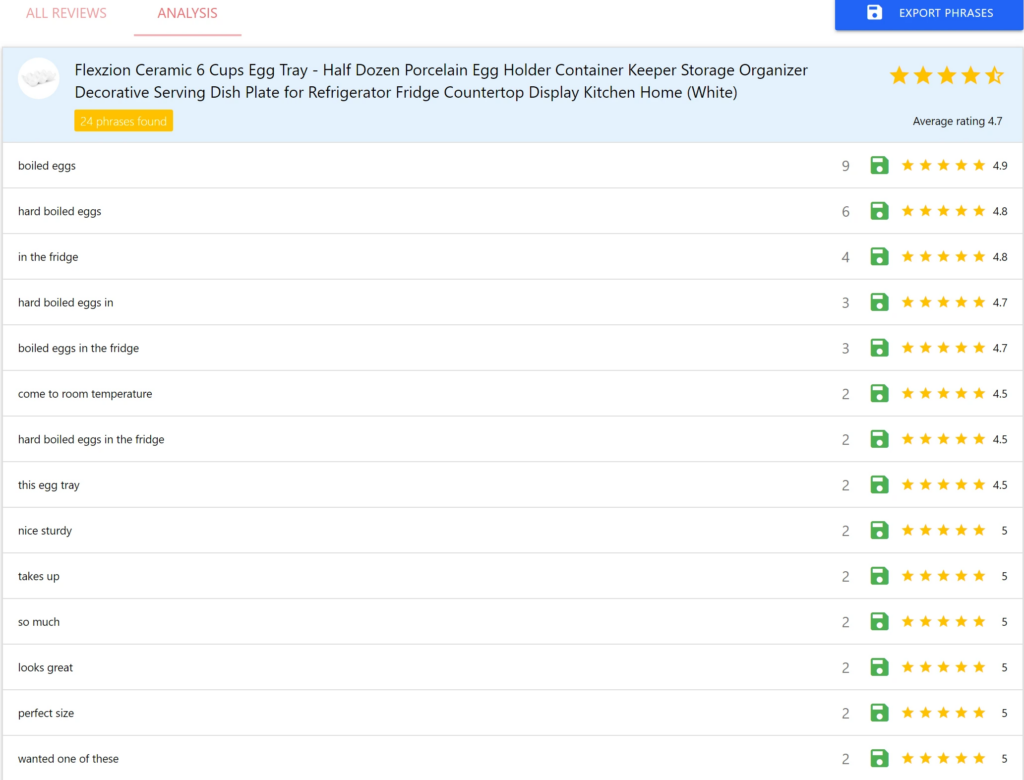 Here we can make some decisions on size, material, packaging, and also identify some keywords we hadn't thought of before.

After our research, we've concluded on the "wooden egg tray":
It needs to be high-end/luxury looking
It needs to be made of a scratch-resistant wood
It needs to be packaged well to avoid damaging the aesthetics
It needs to fit larger eggs
We need to stay within the $20 to $30 price range
What About Brands?

One consideration that many sellers have at this point is what to do about branding. What to call their brand, how much effort to put into branding, etc.

Realize at this stage that the name of the brand is not extremely important. The brand does NOT have to be the same as your seller name. The brand does NOT have to be the same as your business entity. You can have multiple brands under the same selling account with no issues. You can name the brand for any listing whatever you want.

What does matter?

Have a little fun, but make it something relevant that looks legitimate. Gui's Chicken Coop is a great example.
Moving on to the next product….the coffin shelf.

Our first examination of a competitor product listing revealed that a common problem, at least for them, was that the product arrived damaged. This tells us that it is important to have a very solid product with excellent packaging to avoid similar poor reviews.

As we continue this line of research, we discover the things important to purchasers of this type of product; size, quality, aesthetics, price etc.

We can address each of these issues by making sure we price competitively, have the highest quality, and ship carefully. For addressing size, while we don't want to sell something different than what seems to be the standard for this type of product, one thing we can do is ensure the dimensions are clearly defined on the listing.

After our research, we've concluded on the "coffin shelf":
Black is the most popular color
Sturdiness is important so it isn't damaged in transit
Some people like the option to hang on the wall (so we need to add a hanger)
Material and size are standard (same as the sample)
We need to stay within the $20 to $25 price range
We'll run the same process for the forest axes as well.

Because our primary competitor example has plenty of reviews, this is a good candidate to use Helium 10's Review Downloader. Here, we can easily sort the reviews by star rating.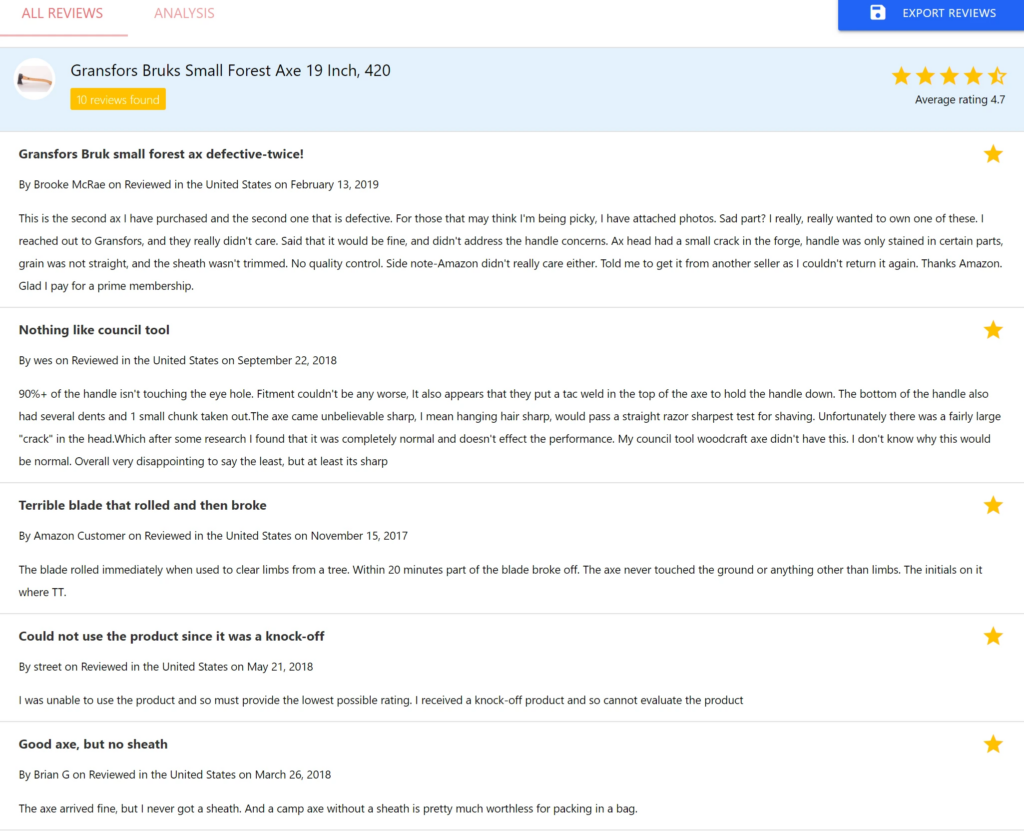 Here we discover that a sheath is important to purchasers of this product. We also learn from analyzing the positive reviews that a "razor sharp" axe is something that buyers like.

Looking at Xray for the keyword "forest axe" we also identify the standard size.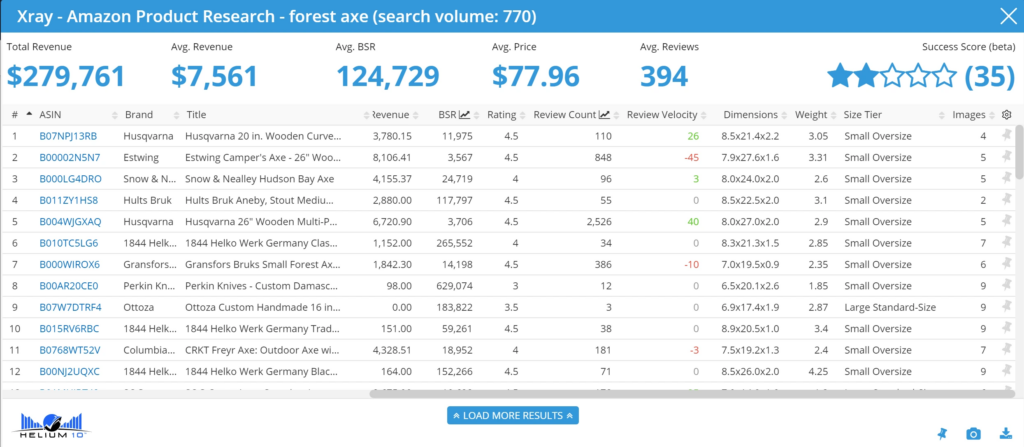 We'll also take a look at Bespoke Post (notice a forest axe on their homepage).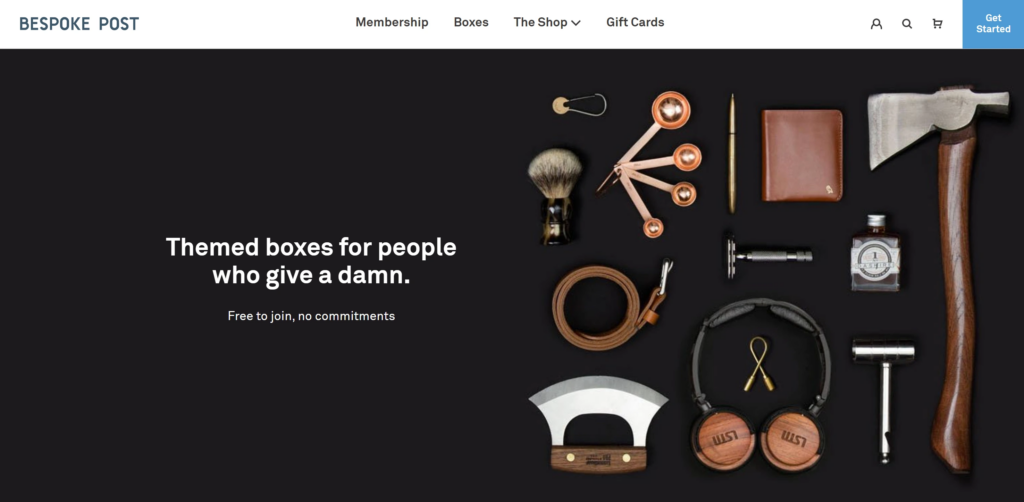 And Pinterest…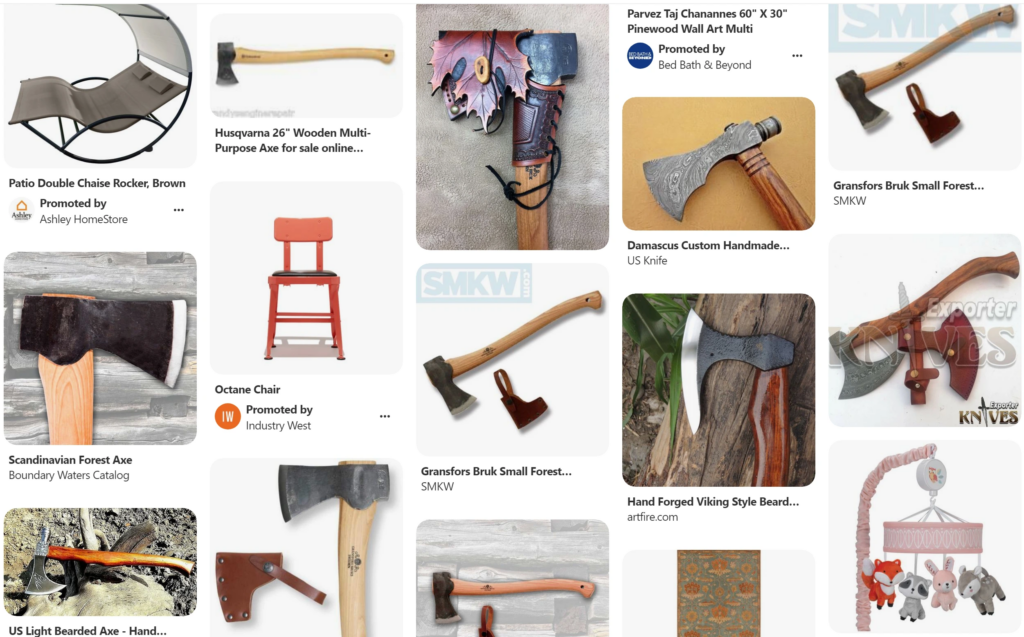 After our research, we've concluded on the "forest axe":
We need to have a razor sharp edge
It needs to be made of a hard, sturdy wood
It needs a leather sheath
Its dimensions should be "small-oversized"
We need to stay within the $30 to $50 price range
Our research also uncovered another "rabbit trail" for the key term "axe sheath."

Don't Overthink It

We've been pushing you to do research and follow the necessary steps. While being thorough, it is important to not overthink things.

In true not-overthinking fashion, we've come up with our brand names for these three products:

Gui's Chicken Coop for the "wooden egg tray"
Manny's Mysterious Oddities for the "coffin shelf"
Irvine Axes for the "forest axe"
In Closing
We've talked about how to use competitor information to come up with differentiators for our products.
We've looked deep into the customer sentiment with an analysis of their reviews.
We've discussed branding.
We've discussed packaging.
We've talked about bundling and how to decide bundling products.

Next episode we'll discuss how to set up an "RFQ" (request for quote). We'll also go over where to source, how to negotiate with suppliers, how to read a "pro-forma" invoice and more.

Until then, which of our brand names is your favorite and why?