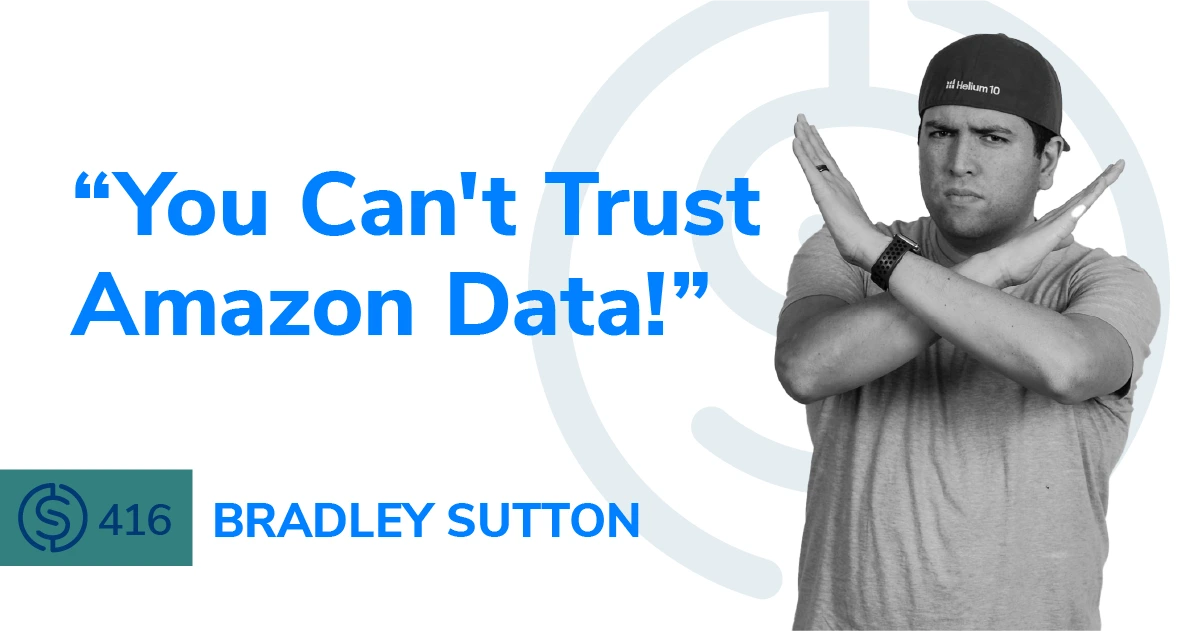 #416 – "You Can't Trust Amazon Data!"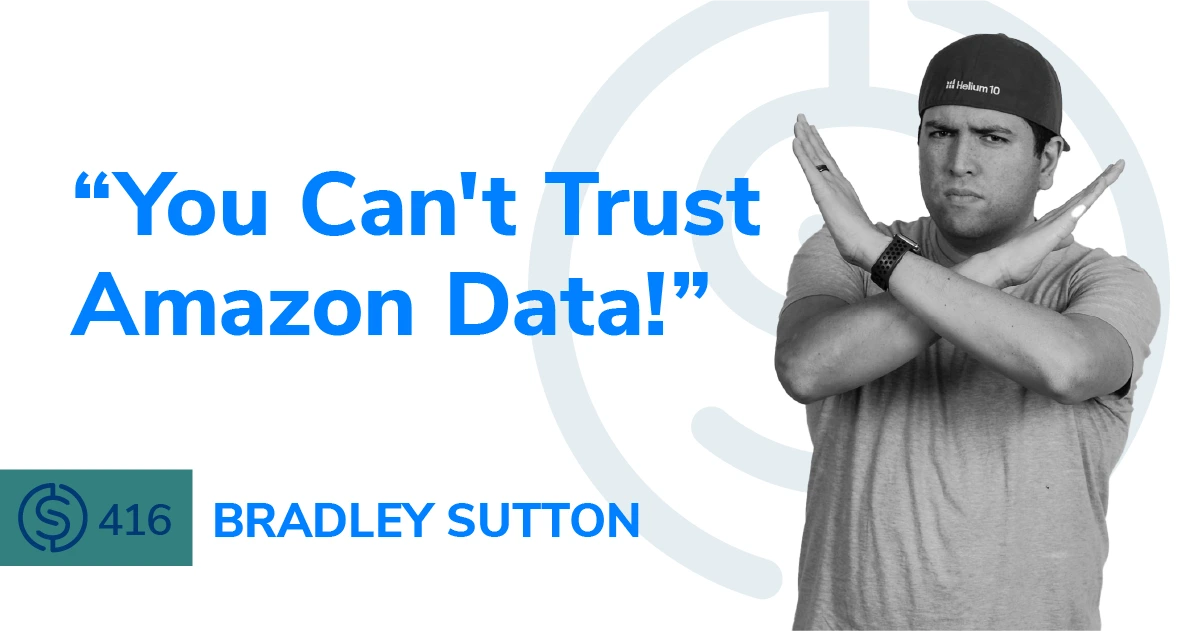 Today, Bradley shares one of his recent case studies to look into the state of search volume nowadays and what's going on with these Amazon data points (Brand Analytics, Product Opportunity Explored, and Search Query Performace). We also explain the discrepancies in the data between Amazon, Helium 10, and other tools. It is crucial that Amazon sellers understand search volume data and how to use it properly to prioritize their keywords and eventually "crush it" in their businesses. This episode has tons of value because you'll learn how Bradley found out how search volume is being gathered and shown and what Amazon data point is the most valuable in the present time.

In this episode, Bradley also talks about why Brand Analytics is no longer his favorite Amazon data tool and how there is a new kid on the block to take its place in terms of accuracy. Curious to know what it is? Let's start listening to find out!
In episode 416 of the Serious Sellers Podcast, Bradley discusses:
01:35 – "You Can't Trust Amazon Data!" – Not Bradley's Words
03:25 – Data Is Always Not Going To Be Perfect
05:00 – Let's Talk About Search Volume And Why It's Important
09:45 – Diving Into Amazon's Product Opportunity Explorer
15:40 – Brand Analytics Is Not My Favorite Anymore?
16:40 – They New Kid On The Block: Search Query Performance
20:00 – Why Search Query Performance Is Better
21:00 – How Does Helium 10 Calculate Search Volume?
25:00 – The Advantages Of Using Tools & Amazon Data
26:00 – Discussing Bradley's Search Volume Case Studies
30:10 – Is The Exact Number Important?
33:00 – Why Does Bradley Like The "Normalized" Data?
34:30 – Stay Tuned For Part 2 Of This Episode
Transcript
Bradley Sutton:
Today I'm gonna give you guys information that maybe you've never heard about before, such as like what exactly Brand Analytics and Search Query Performance are covering and not covering, and Product Opportunity Explorer, and why there's so many different search volumes in Helium 10 and in Amazon and much, much more. How cool is that? Pretty cool I think.
Bradley Sutton:
Are you browsing a Shopify, Walmart, Etsy, Alibaba, or Pinterest page and maybe you see a cool product that you wanna get some more data on? Well, while you're on those pages, you can actually use the Helium 10 Chrome extension Demand Analyzer to get instant data about what's happening on Amazon for those keywords on these other websites. Or maybe you want to then follow up and get an actual supplier quote from a company on Alibaba.com in order to see if you can get this product produced. You can do that also with the Helium 10 Demand Analyzer. Both of these are part of the Helium 10 Chrome extension, which you can download for free at h10.me/extension.
Bradley Sutton:
Hello everybody, and welcome to another episode of the Serious Seller's Podcast by Helium 10. I am your host Bradley Sutton, and this is the show that's a completely BS-free unscripted, and unrehearsed organic conversation about serious strategies for serious sellers of any level in the e-commerce world. And first off, let me just apologize because I did what I hate other people to do which is do like some clickbait title here for this podcast. I'm not sure how you landed on this, but you might have seen I put there like, "Can't Trust Amazon Data!" But if you notice, I put those in quotation marks because those are not my words. But the reason why I did something so cringe with such a terrible title is cuz I wanted to get people's attention. You know? Did want to you guys to stop the scroll because I do think this is a super, super, super important episode.
Bradley Sutton:
One of the most maybe important ones I've done this is I'm going over stuff that it took me like over a month to compile. I did like some case studies to really do a deep dive into the state of what search volume is nowadays and also what's going on with these Amazon data points and, and you know, how to explain the contradictions between them. So I think you guys are gonna get tons and tons of value. Now, first of all, the reason why that quote was in quotations, like you can't trust Amazon data. If you guys remember a couple weeks ago on the Weekly Buzz we were talking about different news stories such as Amazon's holiday ad glitch cost add up where it turned out that Amazon was showing the wrong PPP C data.
Bradley Sutton:
So people are overspending underspending, and, and people got kind of messed up because of that. And then you know, later on in Facebook you would see posts like, like, here's one from I'm showing on the screen here from Cara was saying, Hey, I got this in my Amazon app, this reporting error for business reports and the manage orders page. So a lot of people were lately have been seen some discrepancies on Amazon numbers, and you know, that just happens. You know, that doesn't mean you can't trust Amazon data, and that's what people are saying, oh, I can't trust Amazon data. I mean, at the end of the day, Amazon fixes whatever issues it doesn't matter how big or small of a company you are, data is not gonna be perfect.
Bradley Sutton:
Computers break down, algorithms break, whatever cases are, but you know, whether it's Helium 10, whether it's Amazon itself, whether it's a smaller company, every, everybody gets things in order. So this is not like something to like panic over or have conspiracy theories that Amazon's gonna hide sales from you or give you a bunch of fake clicks and charge you when you're not supposed to be charged and things like that. Things could happen here and there. But Amazon usually corrects itself just like it's doing in that ads situation. Now, today, like I said, we're gonna do a little deep dive into search volume. We're gonna talk about how it differs like a Search Query Performance dashboard with your Brand Analytics and Product Opportunity Explorer, and the bottom line at the end of the day is you need to know what data you can trust.
Bradley Sutton:
You know, so can you trust Amazon data? You know, can you trust Helium 10 data? And not just that when there are so many different metrics and analytics out there, you've got tools and you've got Amazon giving you data. You know, if you can trust at all, first of all, can you trust at all? And then if the answer is yes, well, how do I deal with this information overload? You know, like, which one do I act on? You know, like, I got this thing telling me this search volume, I got this thing telling me this dashboard and analytics part. How do I put all of this together and at the end of the day, use this data to increase my sales on Amazon? That's what we all wanna do, right? And so that's what we're really gonna be going over today. All right?
Bradley Sutton:
Now first of all, let's talk search volume, right? This is probably one of the most important metrics when you're doing research, whether it's product research, keyword research, but what is search volume? Why is it important? So when we're talking in the Amazon world I think this is kind of a word that regardless of what you're talking about, whether it's Google or other things, it kind of means the same thing. But let's just talk specifically about the Amazon ecosystem. When we use the word search volume, it basically means, hey, the velocity of how many times people are searching for a certain keyword. And usually historically we're talking about this in the monthly kind of context. Like, hey, this is about how many times customers have typed in this certain search volume in the last 30 days, in the last month, monthly, historically, whatever the case may be.
Bradley Sutton:
Usually, it's monthly. Now for those who don't know, years ago you know, Amazon used to make that data point public it would tell you the know, search volume, the kind of like 30 day search form. Now, the interesting thing was that it wasn't like exact number of searches for the previous 30 days. It was kind of strange the way that Amazon displayed it. But hey, it worked. I mean, this was something that Amazon was giving out no other platform that I know of, even to this date, you know was exposing that information to its sellers you could, it was literally telling you hey, here's the estimated search volume velocity based on what was going on for the last week. So that's why it was kind of weird for some people.
Bradley Sutton:
So this search volume was the monthly search volume, but every week it would change and you couldn't like, add the numbers up. Like it wouldn't make any sense. Like, theoretically speaking, if you started counting search volume on day one and then you had a monthly search volume for one week, two week, one week two, week three, week four, well, you should be able to add some of those up and that should have equaled the full like month, right? And it didn't, in other words. And so it was determined that, hey, this is obviously kind of more like a velocity, like, so based on what's happening this week, this would be kind of like the projected monthly search volume if things kept going as is. So that's why the numbers kind of look weird, but hey, at the end of the day, it was cool, it was usable.
Bradley Sutton:
All right, so that brings me to the next question. Why do we even care about search volume? And then why was that number, even though it's not an exact number, why was that usable? Why does it continue to be usable? Well, the reason why we want search volume is we wanna prioritize keywords. There are million tens of millions of keywords on Amazon. Not everyone relates to your listing, but there could be hundreds, there could be thousands of potentially relevant keywords to your listing. You do not have room for hundreds of thousands or thousands of different keywords to put 'em one by one. So when you optimize your listing for the Amazon algorithm, you have to prioritize for the keyword phrases, first of all, that have the potential to bring you the most sales, all right? The highly relevant keywords that are gonna bring you the most sales.
Bradley Sutton:
And you want to get those in phrase form in your listing, especially in your title, right? So again, since you can't put 300 keywords in phrase form, you might only have 10 or 15 keywords that you have room to really optimize your listing around. And so the way that you would prioritize that, obviously, number one is relevancy, right? If I have an egg tray and there's a keyword, you know let's say egg tray is a keyword word that's obviously super, super relevant. Now, you could have a keyword such as boho decor, which maybe you want to be indexed for, but it's not as relevant, it's not as high of a potential to bring you a sale if somebody searches that and sees your product as it is for wooden egg tray or egg tray if your product is an egg tray.
Bradley Sutton:
So you could have up to 100 though, maybe super, super relevant keywords to your product. Again, I say it cause this is important to understand. You can't put all of them in your listing and phrase for me, you can't optimize around 100 different keywords. So the way that sellers prioritize which ones they are gonna really focus on usually is by search volume. You know, because search volume sometimes is indicative of how many potential sales it can bring you, right? I if 10,000 people search for a highly relevant phrase, and another equally relevant phrase, only has 50 search volume will, obviously the one that has 10,000 searches is gonna give you more sales than that one that only has 50 Hope that makes sense. All right. Okay, let's start going into Amazon data points. The first one I'm gonna be talking about is the Product Opportunity Explorer.
Bradley Sutton:
And spoiler alert, this is the one that I, let's, I don't wanna say dislike. Well, let's just say like the least out of the Amazon data points and even comparing to Helium 10. All right? And let me explain why. Let's go ahead and hop right into it. For those of you who are watching this on YouTube, you can follow along if you're watching, or if you're just listening to this in your car or something, I'll try and describe it. But Product Opportunity Explorers available for everybody who are Amazon sellers, even those who do not have brand registry. Now, the way it works, it doesn't, first of all, the first thing is, is that it has a very limited number of keywords, like a very, very small number compared to the millions of keywords that Amazon has. There's only a small number of keywords that it actually has data on.
Bradley Sutton:
But for example, l let me type in, as you can see here, coffin shelf. Now, how this works is it works by niche, all right? And then it tells you the search volume of the whole niche. S it says, first of all, the search volume, again, that's what we're talking about here, 85,000 for Coffin Shelf. And what that is is it refers to the last 360 days, and it's not for the keyword coffin shelf. What it means is all of the keywords that are in the coffin shelf niche, all right? Now, now first of all, this is just kind of a little bit strange because if you see here says 85,000 search volume, like, like I said, but if I were to add up all of the search terms in this niche right here it says Coffin Shelf by itself has 53,000 coffin bookshelf has 15,000.
Bradley Sutton:
But first of all, these numbers, which also says 360 days, does not even add up to this number that it says here is the 360 days. So that's the first reason that I'm kind of like, ah, I don't really want to use this too much if I have something better, but it still gives some good information. For those of you who don't have brand registry, don't have Helium 10, you have absolutely no way to see how many times people are searching a niche. This is gonna be good, but here, this niche, according to Opportunity Explorer is made up of about what, seven keywords here, including coffin shelf. All right? So what I like about this is that I can actually see here the conversion rate, the last 360 days, all right? This kind of sucks because conversion rates change throughout the year.
Bradley Sutton:
So you know, like, I'm sure it's different around Halloween time or something, but at least this is information. This is how literally from this Product Opportunity Explorer, this is how I launched the coffin bookshelf. And as you can see, our product right here is the number one selling coffin bookshelf. And the reason I discovered that niche was looking at Product Opportunity Explorer. So again, I'm not trying to bag on Product Opportunity Explorer here, but I like it more for product research as opposed to keyword research. Now here, if I actually click on the product, this is kind of cool, like our Project X coffin shelf showed up here, I can actually dive in and see some more information. Like I could see the history of the clicks and reviews. Now, again, here's another reason why I'm kind of like, I'm not sure about this because like for example, right here, it says that last week we had 900 clicks overall for this product, right?
Bradley Sutton:
Right here it says 900 clicks the last week for this product, last seven days. But if I go over to the Search Query Performance that we're gonna be talking about later, and this product, like if you see the entire number of clicks, the number one click was 187, and then there's 13 nine, it only adds up to like maybe 275 clicks. So again, this is just like, since there's not that much documentation on what this is, like, I'm not even gonna look at this because how in the world can this be 900 clicks, but in product or in search crew performance, it's 275. As you guys are gonna, I'm gonna show you in a little bit, Search Query Performance now has crazy amounts of documentation to really let us know what it's talking about. So I'm gonna go with the Search Query Performance on this.
Bradley Sutton:
Now, the other thing in Product Opportunity Explorer I like doing is clicking on trends. All right? So if I click on trends this is showing me a chart of the search volume of all of the keywords in this coffin shelf niche. Like I said, it was like eight or nine keywords, and it's showing it. But again, the reason why I really don't like to use this as gospel is remember, it's showing me 85,000 search volume total, but if I were actually to go week by week, right here with, with the information on the same exact page it's displaying to me, it kind of gets close to this 85,000 number, but it is, it is over this 85,000 number. So it's really strange, like how in the world I'm on the same page and it's 360 days data where this search volume changes over time, right?
Bradley Sutton:
So this is why I do not like using Product Opportunity Explorer in order to kind of like gauge a search volume, because there's just a lot of inconsistencies. But again, if you don't have brand registry, you don't have Helium 10, you don't have another tool, you're kind of stuck with this and it is better than nothing. All right? Hopefully the niche you're looking for is in here, but again, for the majority of you, I'm hoping that you guys either use Helium 10 or you have brand registry, and then you're gonna understand why it's better to use these other tools for search volume. Alright, let's go into Brand Analytics. Now, again, you have to have brand registry, a registered brand in order to use this, and this before was my favorite. This was before my favorite part of Amazon Analytics was Brand Analytics.
Bradley Sutton:
And I'm gonna give you a spoil alert at the end because of this case study I did is no longer my favorite for some things, like, it's not as great as it used to be, but it still is amazing. And there are some things which I absolutely love it for. So let me explain how Brand Analytics works briefly, if you guys already know still stick around this, this soil will still be good. The reason why I used to love Amazon Brand Analytics, and I still do was that it gives you up to like 2 million, and now it's up to 3 million of the top keywords that are searched every single day or every single week. So that's a cool thing. You, you could look at it on a daily basis, a weekly basis, a monthly basis, or a quarterly basis to see which are the top keywords.
Bradley Sutton:
And this Search Frequency Rank, this basically means, think of this as like search volume. So the, the number one most searched or the Search Frequency Rank, number one for example, in, in, in December here was women's gift for Christmas. That means, let's just say this was searched 3 million times. Well, this second one, men's stocking stuffers has Search Frequency Rank of two. Well maybe it's search for 2,900,000 times. All right? So it's, it ranks all of the two or 3 million keywords in order of how many times it gets searched. All right? So this is really cool. You can look up any keyword. It can be about any part of Amazon, it, it doesn't have to be related to your niche, all right? So even if you don't have a product, as long as you have brand registry, you can do some research with this to kind of see, you know how often something is being searched for in relation to other keywords.
Bradley Sutton:
And also what were some of the top three clicked products for it. Now the new kid on the block you know, we did a deep dive into this and it keeps getting better and better is called Search Query Performance. All right? Now this is a little bit different Search Query Performance because this it still has to do with only if you have brand registry. But now it only is about products that you are selling. Like, you have to be actively selling a brand for this to populate, and you are only gonna see keywords related to the brand or products that you are selling. So, for example, I'm looking here at the brand Manny's Mysterious Oddities, and it's giving me like almost a thousand keywords that brought me the most traffic using Amazon's algorithm.
Bradley Sutton:
It kind of takes in consideration impressions and clicks and add to carts and things, but way, way more detailed than Brand Analytics as far as telling me what's going on with my own produc, and it gives us a lot of different data. This is something that's new, like in the last couple of months Amazon has really opened up to tell you exactly what it is referring to. All right? So like for example, it's telling here that the search query score, this orders the queries from top performance to lease performance. We share the top 100 scored queries. Now this is much more than just the Product Opportunity Explorer, because look at this, when we're talking about search volume, it's telling me the number of times it was searched again, either quarterly or weekly or monthly. Now, again, do you remember what that Product Opportunity Explorer said for Coffin Shelf for one year?
Bradley Sutton:
It said 55,000 searches, right? Look at this for just three months. Search Query Performance is saying Coffin Shelf had 65,000 searches. So basically it's saying that it had more searches in three months than Product Opportunity Explorer is saying that happened in the whole year. Now, something to, to note about how search queries of volume is, is kind of calculated inside of the Search Query Performance. It says here, we include all queries issued within a day. For example, if the same query I'm quoting from Amazon, by the way, if the same query is issued by the same customer session in a 24 hour time period, more than once, we will include all of those instances in the total query volume. Also, clicking on the next page of search results will increment search volume. So I'm gonna show you kind of like I played around with this to try and determine what was considered by search career performance and what's not.
Bradley Sutton:
But in a nutshell, the difference between this is that it's it's de-normalized, all right? A lot of the other Amazon tools such as Brand Analytics are like normalized, meaning that, let's say I search in the morning for Coffin Shelf, and then I go to page two, I go to page three, I go to page four 12 hours later, I go back and I search coffin shelf. I click back, I click another product, I click back in Brand Analytics and perhaps other Amazon tools, including like Helium 10. This all counts as only one search. All right? Now in Search Query Performance, this is counted all those times. Like all those things I said, it might be 11 searches know potentially. So again guys, it, the, the search volume is like way higher than you're gonna see anywhere else because it's counting these things over and over again.
Bradley Sutton:
That may be some other tools even inside of Amazon is not counting. Now Helium 10 has the most historic data for search volume of any tool out there. And we were actively getting that search volume number from Amazon for years when it was being opened. So that's why we have the most data. And what happened when Amazon closed it is we since we had all that historical data, we were able to develop an algorithm using new data points plus using what we knew how Amazon's algorithm worked in order to estimate search volume, even though Amazon did not have that data point open. So the way that Helium 10 search volume works is different than anything we've talked about so far other than the original old Amazon. So the way that Helium 10 calculates search volume is just saying that the old Amazon algorithm used to do it, that was public, but it's different than Product Opportunity Explorer, it's different than Brand Analytics, and it's different than Search Query Performance.
Bradley Sutton:
So for example, like for example, let's say I would enter in garlic press inside of Helium 10, I could see that it says a search volume of 75,000. This basically means that, it doesn't mean that there's been exactly 75,000 searches in the last 30 days, but based on last week's velocity of searches, then this is kind of like the monthly sales velocity of what it would be, 75,000 again, going by the old way that Amazon used to calculate it. And then, so going week by week, I could see that this number changes. You know, we see here 91,000, 85,000, 65,000, 75,000, et cetera. So that's how helium 10 calculates search volume. So when you see a number in magnet in Cerebra or anywhere else, this is again, the estimated monthly search volume.
Bradley Sutton:
And every week this number is gonna change based on what is happening the previous week on Amazon. Now there's only kind of like one other competitor out there. You know, that's on the map, kind of the number. I think the consensus number two out there is definitely Jungle Scalp. Now, how they calculate search volume you know, I don't, I obviously don't work there like I work at Helium 10. I can't tell you exactly how they're doing it, but you see a similar number here, like for garlic press over there, it was like 88,000. I think in Helium 10 it said 70 something thousand. Now the part that I can't understand though, is like, you saw how we had the we had the weekly historical data here. Well, it looks like Jungle Scout has something similar, but as you see here, it said 88,000 in the last 30 days, but then they, they actually go week by week.
Bradley Sutton:
And now the weird thing is, if I would add this up, like 20,000 is the first week, and then it says 15,000 the previous week, 13,000 and then 16,000. So if you add all of this up, it's like barely even half of 88,000. So how Jungle Scout adds this up. I'm not sure is this a sign that it's probably kind of inaccurate if, if the numbers don't even add up, kind of like the Product Opportunity Explorer could be, but again, I checked all their videos to try and figure out how in the world why this number doesn't match up. But I couldn't find it. But, but in a nutshell, the number is very similar to Helium 10, as I'm gonna show you throughout, across the board, all of the numbers are usable, almost, whether you're using Helium 10, Jungle Scout, Product Opportunity Explorer you know, search crew performance, I'm gonna show you that in action.
Bradley Sutton:
You're almost always gonna end up with the same kind of decision no matter which tool you're using. So I'm not trying to like pee on Jungle Scout's leg or something, but you know, if you're trying to look at more accuracy, obviously Helium 10 is more accurate. Now, the reason why I think you know, using tools like Helium 10 or Jungle Scout is a little bit more advantageous than, for example, Search Query Performance is because I can look up any keyword. It doesn't have to be even related to my brand, you know I could, I might be wanting to like first we were selling coffin shelves and then we were gonna sell egg trays later, right? Well, if I only was using Search Query Performance, I would not have been able to do any kind of keyword research for egg trays because the only thing that I was gonna get data on search for performance would be coffin shelves, right?
Bradley Sutton:
But if I was using Helium 10, if I was using a tool like Jungle Scout, I could do keyword research and look at search volumes of any niche. So that's a one advantage of using Helium 10. It's also advantage similar of using Brand Analytics, which again allows me to look up any keyword. Alright? Now, the first case study I did was, what I did was I just did like a random experiment where like, hey, let's say I was re optimizing my coffin shelf listing and I really wanted to get more relevant for a goth and gothic related keywords. And I came up with a list of five keywords that to me, were the most searched, right? Based on whichever one I looked at first. And I don't even remember what I looked at first, but I'm gonna show you how you can validate this.
Bradley Sutton:
And then I'm like, okay, now, which, how do I prioritize these five goth or gothic related keywords so I know which one to put in my title? So what I did was I went in, I checked the Search Frequency Rank in Brand Analytics, see what Amazon said was the most search to the lease search. I checked Search Query Performance search form to see which was the most search to the lease search. I checked Helium 10 and I checked Jungle Scout. All right, now check this out. This is pretty cool. Again, this was just complete random thing. I'm not trying to rig anything. This was literally the very first five words that I tried. The keywords that I chose were goth, gothic, decor, gothic, home decor, gothic and goth decor. This is, is a very realistic situation here cuz you literally can make decisions like this for your Amazon listing, right?
Bradley Sutton:
So if you notice what I did was I made this chart, and again, you guys can watch this on YouTube later. I'm showing this on my screen here. The exact search I did where I can see, I put in the Brand Analytics Search Frequency Rank, and based on that it had it ranked one through five and then I put the Search Query Performance search volume, and I put the Helium 10 search volume. Now let me just throw something out. You'll notice the Search Query Performance search volume is actually very similar to the Helium 10 number, but let me tell you, the Helium 10 number is actually monthly search volume. Just like I told you before, this Search Query Performance is a week. So some people might say, oh my goodness, Helium 10 is like 400% off. But again, Search Query Performance is de-normalized results.
Bradley Sutton:
Like it's taking, it's almost taking, I can see across the board it's almost like four x the normalized number of searches. All right? Now, regardless of which one you like, like let's say you, you want, oh, I only wanna look at normalized search results, or I only want to look at search form, that's de-normalized. Regardless, check this out cuz you know, helium 10 is doing it one way. Search Query Performance is doing it another way. But look at the results. The rank of which is search the most, at least is identical from Helium 10 to these others. And actually Jungle Scout is a hundred percent identical. If you look at the rank of what it ranked it, all four of these data points, Brand Analytics, Search Query Performance, helium 10, jungle Scout, you would've made the exact same decision even though all of these numbers are different.
Bradley Sutton:
But what's not different is the order, which is at the end of the day what is important, which is also why I like Brand Analytics, cuz it kind of simplifies things and just tells me the order of the rank of what is search more. Now here's something interesting, and this is why it's important to look at this on a week to week basis, and this is again, why I am not even considering Product Opportunity Explorer here is because Product Opportunity Explorer only shows me search volume in a full month's timeframe, right? Take a look here, 1225 to 1231, this is one week before this first week of information that I was giving you, the order changed, all right? Before the least searched keyword was gothic home decor in this list, or I'm sorry, the least searched keyword was goth decor. But now gothic home decor was the least, but yet again, this is a completely different week.
Bradley Sutton:
I pulled all of the information from all four tools, every single one was I again, identical. So again, like I said, I don't know how Jungle Scout's algorithm is working, but whatever it is, it came out to write the same as Helium 10, it came out to the same as search trade performance. It came out to the same as Brand Analytics. So this is at the end of the day important. Now, some of you might say, oh I wanna know the exact number, but guys, really it's not that important. And the fact of the matter is there is no exact number. You have no idea what is the "real number". You can't even say it's the Amazon data because Amazon itself shows three different search volumes for the same exact keyword in the same exact time. So you can't just say, oh one is more right than the other.
Bradley Sutton:
You've gotta pick which one that you're gonna go with as your standard, and then you can compare data. But here in this case, it doesn't matter which one you would've picked, whether it's Helium 10, whether it's Search Query Performance, whether it's Brand Analytics, everything lines up. Now it's not always like that, it's not, I'm gonna show you another case study I did where it kind of deviates sometime, but at the end of the day, don't be so worried about the number because remember, at the end of the day, what you're trying to do is you're trying to prioritize. And unless something is way off, like by a factor of like five or six, the order is going to be the correct order in that you'll be able to properly prioritize your keywords. Now the next case study that I did, analyzing keywords, again, I tried to do real life scenarios, okay, so what I did was I actually went into Search Query Performance and I took the top one 200 or 198 keywords that Amazon was relating to one of the Manny's Mysterious Oddities products.
Bradley Sutton:
I don't remember exactly which one it was. It could have been the coffin shelf. I don't even know. It's not important. I just copy those numbers. And then again, I went looking at Brand Analytics. I went comparing it to Helium 10 search volume. I compared it to the Search Query Performance that I took it from the search volume there, and then I also compared it to a Jungle Scout. And for me, again, I personally, I like the normalized results, all right? Because that's a little bit better of an apples to apples comparison for me when it's normalized because like for example, I don't search things like 17 times in one day. You know, I know other people do. But I'd rather look at the kind of way that I search as opposed to, to these people who are so indecisive.
Bradley Sutton:
So that's why I like looking at the normalized number that Brand Analytics is showing. And so what I did was I actually took all of those keywords, all right, this took me forever to do 198 keywords, home decor, floating shelves, bookshelf, et cetera, et cetera. I took Brand Analytics, Search Frequency Rank, I put the Helium 10 search volume, I did the Search Query Performance search volume, and I did Jungle Scout just, just for kicks and giggles to kind of like, see, and as you can see, again, all of the numbers are like way all over the place. But how did it, like, let's say you're like me and you kind of want to use the Brand Analytics Search Frequency Rank as kind of like your standard as far as what is searched the most to the least Helium 10. Out of those 198, we had it in the right order.
Bradley Sutton:
94.9% of them were right in line. It wasn't a hundred percent, but 94.9% was right in line with Search Query Performance. Jungle Scott was only 56%, right? But it's, again, I'm not trying to like throw them under the bus or something they're the ones who are always trying to say, oh, we're like 3.7% more accurate. But this is a pretty big number. But at the end, don't get me wrong, guys, don't get me wrong. Again, not trying to throw into the bus. The point is you still probably in most of these situations would have made a similar decision. But for all those who like to try and make this some kind of war of which one is more accurate, it's clear that Helium 10 is more accurate. But if you're out there and you're using Jungle Scout, I'll tell you right now, you probably gonna be okay.
Bradley Sutton:
You are not gonna make like a terrible decision because Jungle Scout is like, so far off the, the order is fairly similar, right? So even though like 40 something percent of the time it was off, but not by so much where it would've like caused you harm or something. But I was very proud of that 94.9%. What I love about this, this is something that you guys can check yourself, right? Th this is not, oh, I don't know if I can trust that Bradley did some kind of like test where he maybe he tried to manipulate the results to make Helium 10 look like it's the most accurate. No, this is like directly from Search Query Performance. So I go do it to your own. Go take your top 200 most search keywords from search for your performance and then it's gonna take you some time.
Bradley Sutton:
But you can do this exact same test I did and then also compare it to Helium 10. You'll see how accurate it is. But, so that was the next test I did to see, all right, how does Helium 10 search want me to stack up with Brand Analytics? All right guys, I'm actually gonna have to cut this episode off because we're going too long and there's just too much good stuff. I don't want, you guys have to listen to this for a full hour. So we're gonna come back and then we're gonna finish this off. I got some crazy, crazy stats and stuff that you've probably never seen before showing what exactly Search Query Performance is looking at and like how I tested to try and break it. So make sure to come back to the next episode for the second part in this series.
---
Enjoy this episode? Be sure to check out our previous episodes for even more content to propel you to Amazon FBA Seller success! And don't forget to "Like" our Facebook page and subscribe to the podcast on iTunes, Spotify, or wherever you listen to our podcast.
Get snippets from all episodes by following us on Instagram at @SeriousSellersPodcast
Want to absolutely start crushing it on Amazon? Here are few carefully curated resources to get you started:
Achieve More Results in Less Time
Accelerate the Growth of Your Business, Brand or Agency
Maximize your results and drive success faster with Helium 10's full suite of Amazon and Walmart solutions.