Helium 10 Buzz 9/9/22: New Product Opportunity Explorer Updates
In this special episode of the Helium 10 Weekly Buzz episode, Bradley breaks down the newest updates inside the Amazon Product Opportunity Explorer.
Originally published on: September 9, 2022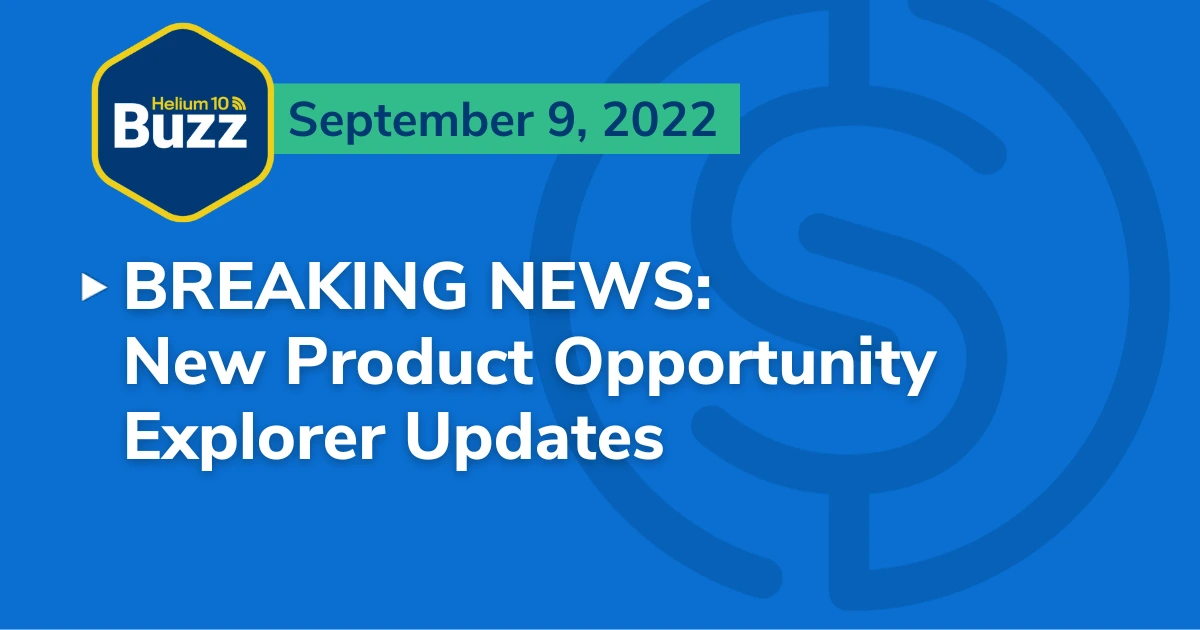 BREAKING NEWS: Amazon just released new metrics and features inside the Product Opportunity Explorer. If you're not familiar with this tool inside Amazon, you can read more about it here. In this episode, Bradley takes a deeper look into the tool and the new metrics and data points available. Make sure to listen to the very end and head over to your Amazon seller central account to explore these new updates. Join the conversation and share your ideas on how you would use these new updates and what other tools or data you would like Amazon to release in the future!
In this episode of the Weekly Buzz, Bradley talks about:
00:12 – Breaking News In The Amazon World
00:28 – New Metrics On The Product Opportunity Explorer
02:30 – Customer Review Insights BETA
05:25 – Impact On Star Rating
09:25 – Showing Exact Click Count Of Products On Amazon
11:25 – What Bradley Thinks About These New Data Points
14:00 – You Can Check Your Competitor's Products
15:30 – Customer Review Insights Compared To Helium 10 Review Insights
18:45 – Checking Out Other New Metrics Inside
20:05 – Bradley's Favorite Tool/Data Inside Amazon
---
Enjoy this episode? Be sure to check out our previous episodes for even more content to propel you to Amazon FBA Seller success! And don't forget to "Like" our Facebook page and subscribe to the podcast on iTunes, Spotify, or wherever you listen to our podcast.
Get snippets from all episodes by following us on Instagram at @SeriousSellersPodcast
Want to absolutely start crushing it on Amazon? Here are few carefully curated resources to get you started:
Everything for your business on Amazon.
Find out more about our products by signing up or speaking with one of our
Customer Success representatives today. With us in your corner, you can enjoy
more sales and increased engagement from your Amazon business.
Chat with a Support Specialist