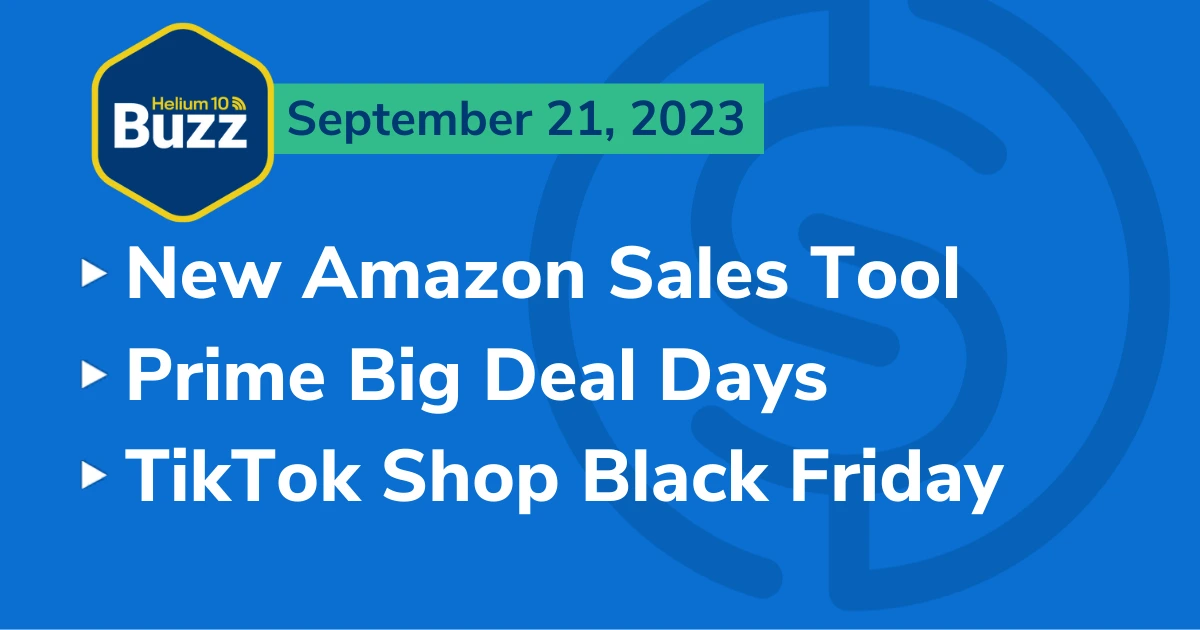 Helium 10 Buzz 9/21/23: New Amazon Sales Tool | Prime Big Deal Days | TikTok Shop Black Friday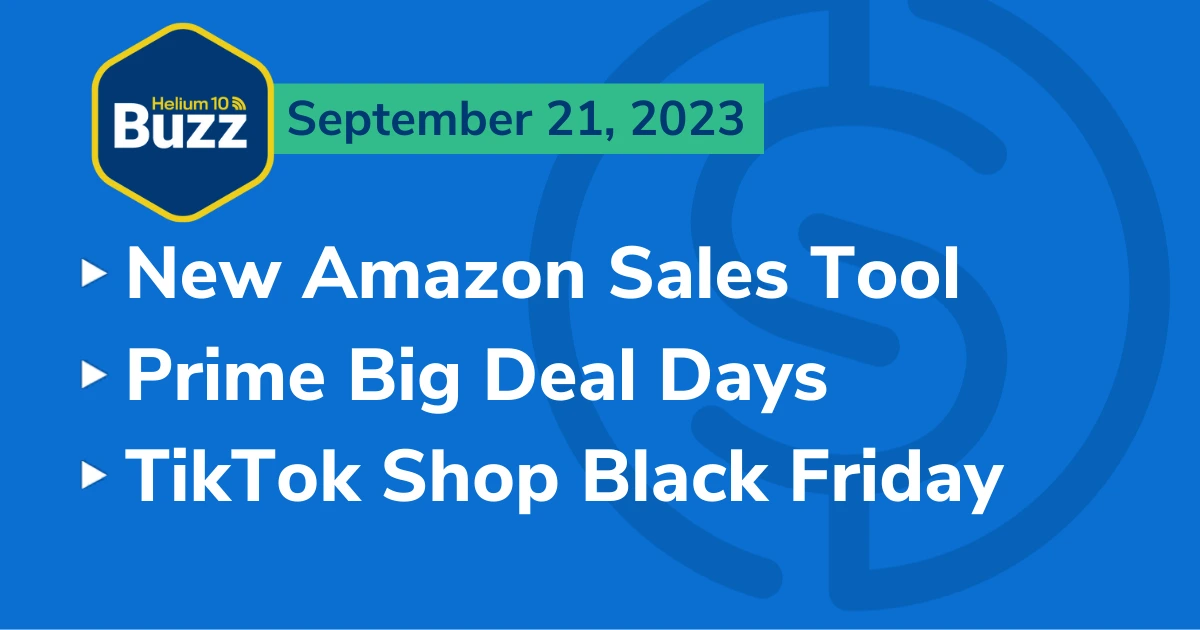 We're back with another episode of the Weekly Buzz with Helium 10's Chief Brand Evangelist, Bradley Sutton. Every week, we cover the latest breaking news in the Amazon, Walmart, and E-commerce space, interview someone you need to hear from and provide a training tip for the week.
Amazon Sales Trends / Sales Estimates New Feature
https://www.helium10.com/blog/amazon-sales-trends-sales-estimates/

TikTok Shop to rival Amazon with early Black Friday deals
https://www.dexerto.com/entertainment/tiktok-shop-to-rival-amazon-with-early-black-friday-deals-2302091/

Amazon brings generative AI to Alexa
https://techcrunch.com/2023/09/20/amazon-brings-generative-ai-to-alexa/

Amazon is hiring 250,000 employees for the holidays, and making its largest ever annual investment in U.S. hourly wages
https://www.aboutamazon.com/news/workplace/amazon-hiring-seasonal-holiday-employees

Amazon drops planned merchant fee as FTC lawsuit looms
https://finance.yahoo.com/news/amazon-drops-planned-merchant-fee-202022592.html

Lastly, Carrie Miller shares the training tip of the week on how you can use the BlackBox Product Targeting tab to get new keywords and PPC. Listen in as we share these crucial news, updates, and training that will surely impact your Amazon-selling and E-commerce journey.
In this episode of the Weekly Buzz by Helium 10, Bradley talks about:
00:50 – Amazon Sales Trends Tool
02:48 – Prime Big Deal Days
03:48 – TikTok Shop Black Friday
04:32 – Alexa Generative AI
05:51 – Amazon Hiring 250K
07:00 – 2% Fee Cancelled
08:48 – Listing Attributes
09:30 – Helium 10 On Twitch And Twitter
10:10 – Pro Training Tip: BlackBox Product Targeting Tab
12:27 – Catch Bradley On These Conferences
Transcript
Bradley Sutton:
New Amazon tool for sales estimates makes Helium 10 Chrome extension unnecessary. Prime big deal days is coming. Tiktok shop is starting Black Friday early. A 2% fee going away at Amazon. These new stories and much more on this edition of the Helium 10 Weekly Buzz. How cool is that? Pretty cool, I think. Hello everybody, and welcome to another episode of the series sellers podcast by Helium 10. I'm your host, Bradley Sutton, and this is the show that is our Helium 10 Weekly Buzz. We give you a rundown of the new stories that are going on the Amazon, wall art and e-commerce world and we give you training tips the week that will give you serious strategies for serious sellers of any level in the e-commerce world. Let's see what's buzzing this week. All right, we got a lot of new stories. Let's go ahead and hop right into it.
Bradley Sutton:
To the first one here that is actually from seller central. You might have seen it in your seller central news section and it's entitled. Customers will now see sales trend For your eligible listings, as product listings for certain categories, including health and personal care, home and sports, will display a sales trend and Basically it's kind of like in the format of 10k plus bought in the last month. In case you guys haven't seen it. You know it's been. They've been doing tests on this a lot. You'll see right here It'll say like 50 plus bought in the past month or a hundred plus. You know the bigger listings will say 10,000 plus and there's been different tests going on Amazon where you might have seen it was weekly. Sometimes it'll show views. But this is now official. This is no longer a test. Amazon is rolling this out. Does that make the helium-tent chrome extension unnecessary for sales estimates? No, it's interesting to note that this is not even a sales estimate. What it is the number of customers that have purchased this product in the last 30 days. So that's just interesting itself.
Bradley Sutton:
If you want a, if you're a mathematical person or you just want to dive a little bit more into All of the frequently asked questions like is it at a child level? Is it at a variation level? Is it the last 30 days? Is it the last calendar month? You know what does this mean for customers? How come my listing doesn't see it? I do a super deep dive. That's like six in the morning right now when I'm recording this.
Bradley Sutton:
I stayed up the whole night actually doing this blog. I haven't even slept yet, but if you guys please reward me for my hard work. The data science team did a good job. You know getting me some data and I put together this blog. Go to helium10.com/blog and it should be probably at the top of the search results there, helium10.com/blog. Click on the one about the search or sales trend data and You'll get everything you needed to know and a whole bunch of stuff. You didn't even want to know about this new thing, but it's actually very interesting. I think it could be cool for customers, could be cool for sellers as well.
Bradley Sutton:
All right, the next news article today is you know, we talked about this a little bit earlier this week, uh, on our Tuesday podcast. By the way, guys make sure to check out that Tuesday podcast. It was a breakdown of the entirety of Amazon Accelerate. Uh, you can catch that episode at h10.me forward slash 493, uh, where we talk about Amazon Accelerate. But anyways, in that podcast I said, hey, prime big deal days is coming. It's going to be October 10th to 11th. It's kind of like you know different kind of prime day. Amazon, you know, says here in the news that you know the, the, the FBA inventory date for prime big deal days has passed. So if you try and get some inventory and now it might not make it, but you can still participate in prime exclusive discounts, uh, coupons. Obviously you know sponsored ads. So I'm just curious what? What are you guys going to be doing for, uh, prime big deal days? Uh, are you doing any lightning deals? You just doing some coupons, heavy PPC. You know it's kind of something newish. You know it's not the regular prime day, so a little bit of uncharted territories, but probably similar to that second prime day that we had last year. All right, uh.
Bradley Sutton:
Next article up here is from dexterto.com, I don't think I've ever quoted this uh news source before, but their article was entitled tick tock shop to rival Amazon with early black Friday day deals, all right. So this is interesting because they're actually going to be starting a black Friday deals as early as October 27 and they're trying to move $20 billion. Uh, it said this holiday season. You know, the tick tock shop debuted in the U? S earlier this September. We kind of talked about that on this show and, uh, be interesting to see what's going to happen. You know how many, how many of you are selling on tick tock uh shop out there and are you guys doing anything special for Black Friday?
Bradley Sutton:
Another uh, there's a lot of Amazon announcements going on um, at some kind of like release event and, anyways, this news article is from tech crunch and it's entitled Amazon brings generative AI to Alexa. Now, this article has nothing to do with Amazon. You know FBA or prime or anything. So you might be wondering why in the world am I linking to this article? Well, this is something I've been talking about for I don't know maybe a year or so, where my, my theory has been that once. I mean that's not my theory, I mean it was Amazon said they're bringing generative AI to Alexa. The part that was my theory was that, hey, once that starts happening, as it starts developing, the shopping experience is going to become exponentially more robust on Alexa. Like, the shopping experience for me right now in my Lexus is like sucks, like it's impossible to buy stuff, and so I don't think a lot of Amazon sellers are optimizing enough for Alexa. Like you probably should, but if you're not, you're probably okay, all right Cause, not that many sales are coming from Alexa. But now, with generative AI perhaps giving Alexa a boost, I would say that you know, this year we are going to start seeing some, some, some more people shop on Alexa and you're going to have to start thinking about, you know, optimizing your listings a little bit more for the Alexa experience, all right.
Bradley Sutton:
Next article up here is actually from Amazon and it says Amazon is hiring 250,000 employees for the holidays, making it the largest annual investment in US hourly wages. Now it's interesting this is not the most they've hired, right? They say the largest annual investment in hourly wages. That's because minimum wage is ridiculous these days. I think this article talks about how they are actually the average hourly pay for these seasonal workers $20.50. That's crazy. $20 used to be like you've got a really good job and can support your family, like 10 years ago. Now $20 is like the grunt work in a warehouse kind of insane. But anyways, I always like looking at how many employees Amazon hires for the winter because it kind of like shows what their projects and are going to be Like when they don't hire hardly anybody. It's like uh-oh, there might be seen some signals where sales aren't going to be that much during the holiday. $250,000 is a pretty robust, hefty number there, so it'd be a good sign. All right.
Bradley Sutton:
Next article is from Yahoo Finance and it's like it's kind of like fake news If you can hear in my voice, guys, if you're listening to this on your car or something, if you're watching this, you obviously can see my face. This is ridiculous. This irritates me about news. It says Amazon drops planned merchant fee as FTC lawsuit looms. So right off the bat. The title is like trying to paint this as something like Amazon is running away with their tail between its legs because of this FTC thing. But it has, in my opinion, literally nothing to do with each other. Right, and it's not even that big of a deal, that whole FTC thing. But that's a side topic. We've already talked a lot about that. But in this article listen to this, guys it says effective October 1st, amazon was planning to impose a 2% fee on every sale by third party sellers that ship their products themselves. Guys, that is 100% incorrect. Yahoo, you know you're not some blogger. I mean, get your stuff together. This is not right. This 2% fee was only for those sellers opting into seller fulfilled prime. Seller fulfilled prime is where you get the prime badge on your listing. As long as you're able to deliver to a customer within a few hours or within a day, or within two days and hit the the certain metrics, all right. This was not for all people doing fulfilled by merchant, like this stupid article is saying. And the rest of the article goes in this tie in the FTC thing like it has anything to do with that. So it doesn't. But the bottom line is that if you were planning to enroll in seller fulfilled prime, you don't have to pay the 2% fee, as Amazon had announced. And Amazon did announce that the reason why they're taking away the fee had nothing to do with FTC. But they're like hey, you know, we want this program to succeed, so we want to go ahead and take away that fee to get some more people involved in the program. Our next article is from seller central, or actually the last article of the day, and this is just something simple. We've been talking about this for a couple of months now. How? October 3rd, there's going to be new listing attributes, so this, this go around, has a 213 product types are going to require it. So if you just if you want to check if this is going to affect you, just going to your seller central dashboard, there will be a link to this article in your seller central dashboard and then you'll be able to see which product types you might have to take care of. So that's it for the news today.
Bradley Sutton:
You guys have been asking for us to get on different platforms that we weren't on with some of our videos and lives and content. So one thing just keep in mind, guys we are now on Twitch, all right. So if you guys have Twitch, we're going to stream our first training next week on twitch.tv. But you know, you guys probably use Twitch on some kind of app. I just look for @helium10software on Twitch. @helium10software.
Bradley Sutton:
We're doing a live broadcast next week about a new tool, new features that that helium 10 is coming out with. And also, if you guys are on Twitter we're not doing too much on Twitter, but right now I'm going to start, you know, maybe tweeting a little bit more. Find us at @H10Software all right, @H10Software on Twitter. We're also going to be doing live broadcast from there as well. All right, now for our training tip of the week. If you're wondering how to do product line extensions or perhaps find new ASINs that you can target in your product targeting ads, there's a certain tool that you can use in Helium 10. Carrie's going to show you how to use it in 60 seconds.
Carrie Miller:
Today I want to share with you a little strategy on how to find some good products to target with your pay-per-click advertising. It's actually using our BlackBox tool, which is kind of the last tool that you probably would think about, but I'm going to show you how to do this. The first thing you want to do is you want to log into your Helium 10 account and go to black box and then, under black box, you're going to click on product targeting okay. So once you're in product targeting, then you're going to take whatever ascent it is that you are going to try to, you know, boost your PPC. So this is your product I'm putting in our coffin shelf right here, and what we're going to do is we're going to click on search, okay, and this is going to actually come up with a bunch of similar products, and the idea behind this is that once you find a lot of these similar products, kind of in the same niche, you could potentially advertise on these and they could be kind of compatible products.
Carrie Miller:
So, if we look, we've got, you know, like a web floating shelf, which would be a great way to, you know, advertise on that. We have a bat shelf, we've got some mirrors that you know could potentially be a good target audience. So there's a lot of options in here that you can utilize to test this out and, you know, see which one of these is a really good idea for product targeting. In addition, as you can see, there's a lot of really cool product ideas. So if you did actually want to take your ascent and put it into BlackBox, under Product Targeting you can actually see similar items so that you can actually expand your brand and, you know, reach your the same customers that you have within your own brand. So basically, for our coffin shelf, something like a you know 3D large school ice cubes is definitely the same target market. So it's in a really simple tool, the product targeting, but it's so great for optimizing your pay per click advertising when you're doing the ascent targeting and you can also find some new products that you could potentially start selling on Amazon. So check out product targeting in BlackBox and let us know what you think.
Bradley Sutton:
All right, thank you very much, Carrie, for that tip. How many of you guys out there are using the product targeting tab in black box? I hope you are and if you haven't been, hopefully you start using it today going forward. One last thing I'm going to be doing a lot of traveling. Probably, as this is airing, I'm about to take off to go to Istanbul for Friday. We might do a little mini meetup Friday night. So reply to this If you are in the Istanbul area.
Bradley Sutton:
I'll be in Maldives this weekend recording episode 500 of the podcast. On October 17th and 19th I'll be in Vietnam, both in Hanoi and Ho Chi Minh City, at an Amazon conference. Just go to h10.me/vietnam If you're interested in tickets there, and then directly from there. On the 19th to the 23rd I'll be in Seoul, Korea, Amazon Seller Kingdom Conference. You can find more information on that h10.me/kconference for that one, and then I'm flying directly from there to New York, amazon unbox. It is now officially sold out for in person tickets, but if you just search for Amazon unboxed New York, you'll be able to get virtual tickets to that event. And if you're in the area on the 23rd we will be doing a Helium 10 Elite workshop for Elite members, but if there's not enough Elite members who go, I might open up some scholarship spots for some of you out there. Anyways, guys, that's it for this week. Hope you enjoyed the news. We'll see you next week to see what's buzzing.
---
Enjoy this episode? Be sure to check out our previous episodes for even more content to propel you to Amazon FBA Seller success! And don't forget to "Like" our Facebook page and subscribe to the podcast on iTunes, Spotify, or wherever you listen to our podcast.
Get snippets from all episodes by following us on Instagram at @SeriousSellersPodcast
Want to absolutely start crushing it on Amazon? Here are few carefully curated resources to get you started:
Achieve More Results in Less Time
Accelerate the Growth of Your Business, Brand or Agency
Maximize your results and drive success faster with Helium 10's full suite of Amazon and Walmart solutions.