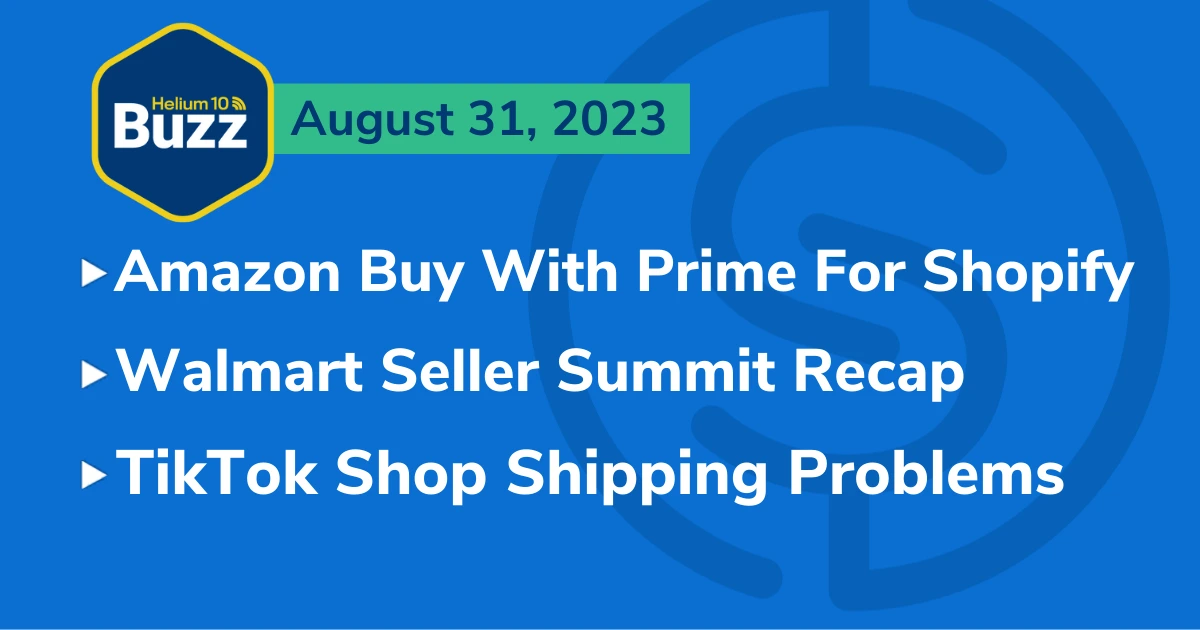 Helium 10 Buzz 8/31/23: Amazon Buy With Prime For Shopify | Walmart Seller Summit Recap | TikTok Shop Shipping Problems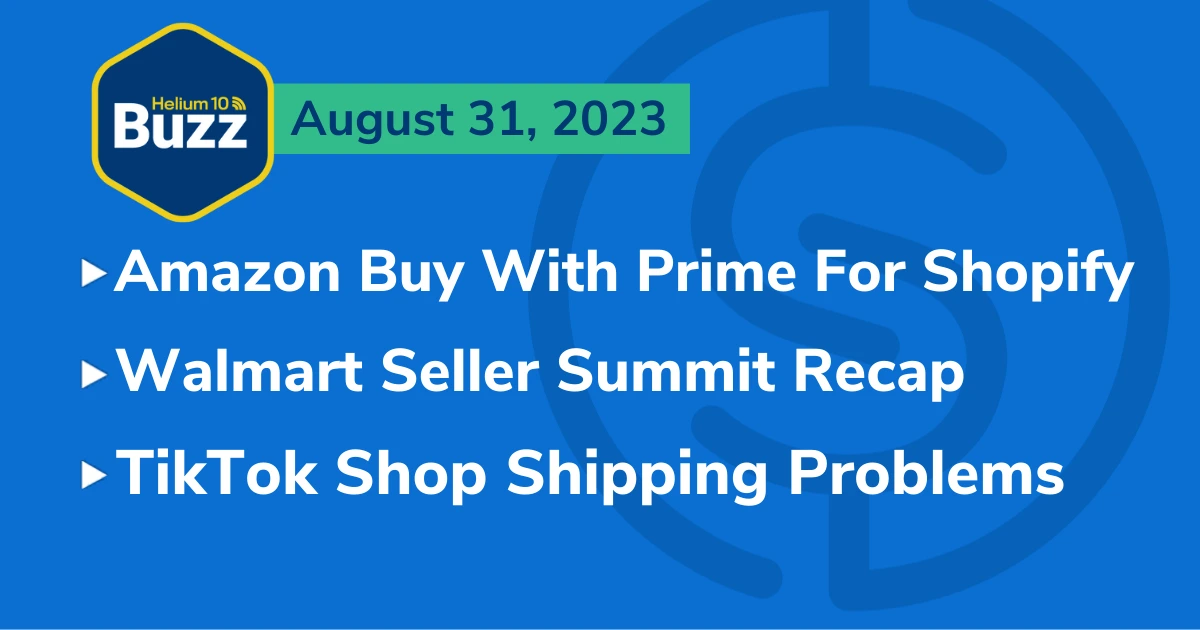 We're back with another episode of the Weekly Buzz with Helium 10's Chief Brand Evangelist, Bradley Sutton. Every week, we cover the latest breaking news in the Amazon, Walmart, and E-commerce space, interview someone you need to hear from and provide a training tip for the week.

E-commerce rivals Amazon and Shopify reach truce on 'Buy with Prime' integration
https://www.geekwire.com/2023/e-commerce-rivals-amazon-and-shopify-reach-truce-on-buy-with-prime-integration/

Amazon Announces App Integration for Merchants to Enable Buy with Prime on Shopify Stores
https://press.aboutamazon.com/2023/8/amazon-announces-app-integration-for-merchants-to-enable-buy-with-prime-on-shopify-stores

Everything you need to know about Amazon Key In-Garage Delivery, an exclusive Prime member benefit
https://www.aboutamazon.com/news/amazon-prime/what-is-amazon-key-in-garage-delivery

Walmart ramps up efforts to grow third-party marketplace with Las Vegas event, new perks
https://www.cnbc.com/2023/08/30/walmart-tries-to-grow-third-party-marketplace-with-las-vegas-event.html

Marketplace Makes Its Mark: News From Walmart's First-Ever Seller Summit
https://corporate.walmart.com/newsroom/2023/08/30/marketplace-makes-its-mark-news-from-our-first-ever-seller-summit

Amazon raises free shipping minimum for some non-Prime members
https://edition.cnn.com/2023/08/28/business/amazon-raises-shipping-minimum/index.html

'We got thousands of new followers a day but then we started to have issues': Brands report major logistics challenges with TikTok Shop
https://www.modernretail.co/technology/we-got-thousands-of-new-followers-a-day-but-then-we-started-to-have-issues-brands-report-major-logistics-challenges-with-tiktok-shop/

Amazon is making plans to deliver products to Americans' doorsteps even faster in the coming years.
https://cbs4indy.com/news/4-your-money/amazon-planning-more-same-day-deliveries/
Did you know that we have the Serious Sellers Podcast in both Spanish and German? If you speak these languages, make sure to subscribe to these shows!
Lastly, Bradley revealed the new Helium 10 Chrome Extension Tool released yesterday! He walks us through the cool features and how you can utilize this to crush it on Amazon
In this episode of the Weekly Buzz by Helium 10, Bradley talks about:
00:53 – Amazon Buy With Prime For Shopify
04:23 – Amazon In Your Garage
06:34 – Walmart Seller Summit
09:49 – Prime Shipping Prices
13:40 – TikTok Shop Problems
16:13 – Same Day Deliveries
17:33 – New Amazon Layouts
18:23 – Listen to SSP in Spanish and German
18:43 – Training Tip: New Helium 10 Chrome Extension Tool
---
Enjoy this episode? Be sure to check out our previous episodes for even more content to propel you to Amazon FBA Seller success! And don't forget to "Like" our Facebook page and subscribe to the podcast on iTunes, Spotify, or wherever you listen to our podcast.
Get snippets from all episodes by following us on Instagram at @SeriousSellersPodcast
Want to absolutely start crushing it on Amazon? Here are few carefully curated resources to get you started:
Achieve More Results in Less Time
Accelerate the Growth of Your Business, Brand or Agency
Maximize your results and drive success faster with Helium 10's full suite of Amazon and Walmart solutions.