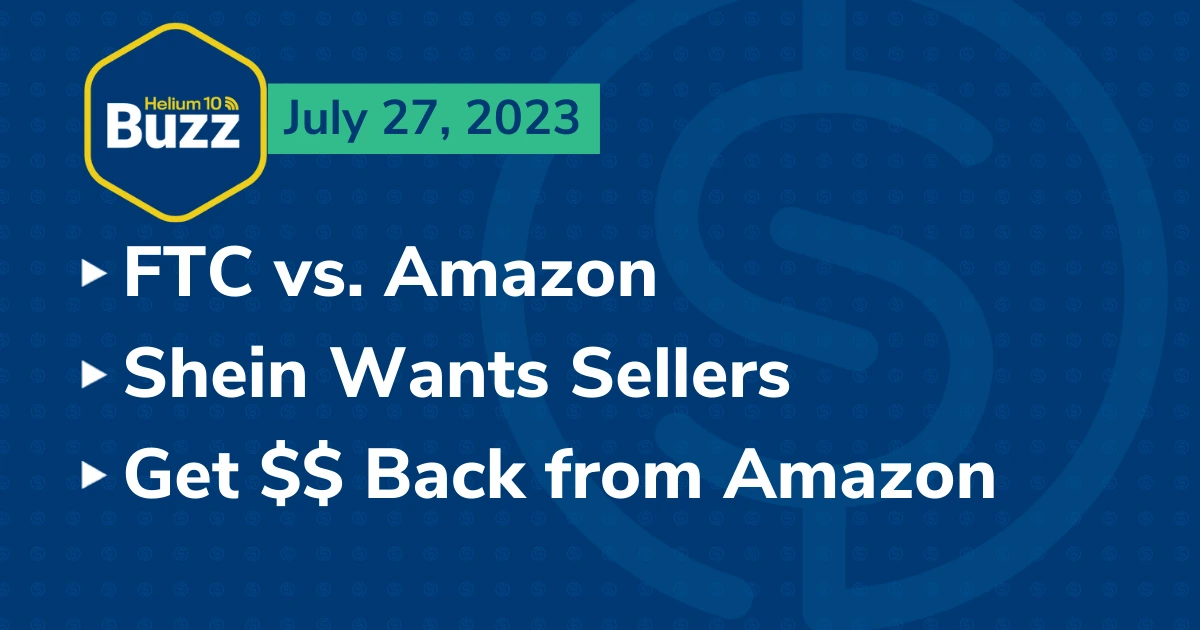 Helium 10 Buzz 7/27/23: FTC vs. Amazon | Shein Wants Sellers | Get $$ Back from Amazon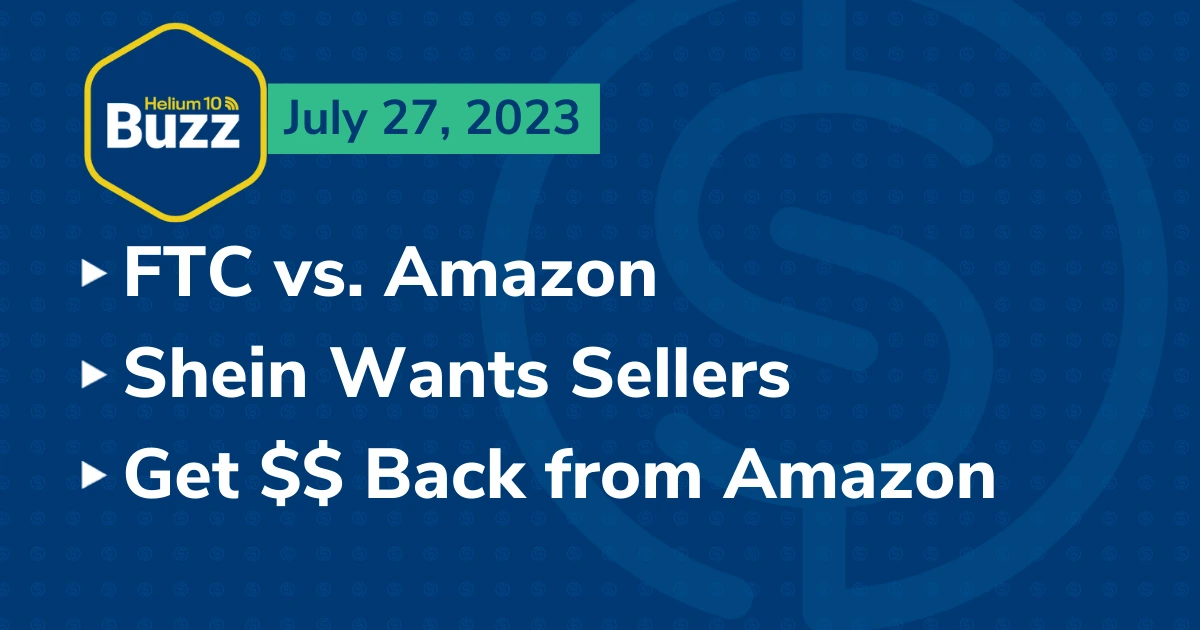 We're back with another episode of the Weekly Buzz with Helium 10's Chief Brand Evangelist, Bradley Sutton. Every week, we cover the latest breaking news in the Amazon, Walmart, and E-commerce space, interview someone you need to hear from and provide a training tip for the week.

FTC readies lawsuit that could break up Amazon
https://www.politico.com/news/2023/07/25/ftc-lawsuit-break-up-amazon-00108130

TikTok to launch e-commerce program to bring Chinese goods to the US
https://www.reuters.com/business/retail-consumer/tiktok-launch-e-commerce-platform-us-sell-china-made-goods-2023-07-25/

Amazon takes action against vendor after hundreds of Amazon boxes stack up on Virginia woman's doorstep
https://www.wusa9.com/article/news/investigations/amazon-boxes-packages-delivery-brushing-vendor-scam-fufilment-center/65-74b77e1f-789f-4b90-923b-bdcd0671b99a

Walmart and Expedia Group Launch Travel Benefit for Walmart+ Members
https://corporate.walmart.com/newsroom/2023/07/25/walmart-and-expedia-group-launch-travel-benefit-for-walmart-members

Amazon wants Alexa to bring AI into the home
https://www.axios.com/2023/07/26/amazon-alexa-ai-home
Shein seeks Amazon sellers for its online marketplace
https://www.digitalcommerce360.com/2023/07/26/shein-marketplace-recruits-amazon-sellers/

Amazon Accelerate distinguished guest speaker announced
https://sell.amazon.com/blog/announcements/amazon-accelerate-distinguished-guest-speaker

Join the Helium 10 team at the Amazon Accelerate 2023 event in September!
Lastly, Bradley shares the Pro Training Tip of the week about how Helium 10 can help you get refunded money that Amazon owes you. And no, this does not involve Refund Genie!
n episode of the Weekly Buzz by Helium, Bradley talks about:
01:14 – FTC Vs. Amazon
04:21 – TikTok + Chinese Products
05:37 – 1K Headlamps Delivery
08:28 – Free Amazon Transparency
09:00 – Walmart+ Travel
09:53 – Amazon Shipping Options
11:00 – Amazon Alexa AI
12:30 – Shein Vs. Amazon
14:00 – Accelerate Speaker
14:40 – Amazon Accelerate Event
15:30 – Pro Training Tip: Getting Refunds Without Refund Genie?
---
Enjoy this episode? Be sure to check out our previous episodes for even more content to propel you to Amazon FBA Seller success! And don't forget to "Like" our Facebook page and subscribe to the podcast on iTunes, Spotify, or wherever you listen to our podcast.
Get snippets from all episodes by following us on Instagram at @SeriousSellersPodcast
Want to absolutely start crushing it on Amazon? Here are few carefully curated resources to get you started:
Achieve More Results in Less Time
Accelerate the Growth of Your Business, Brand or Agency
Maximize your results and drive success faster with Helium 10's full suite of Amazon and Walmart solutions.