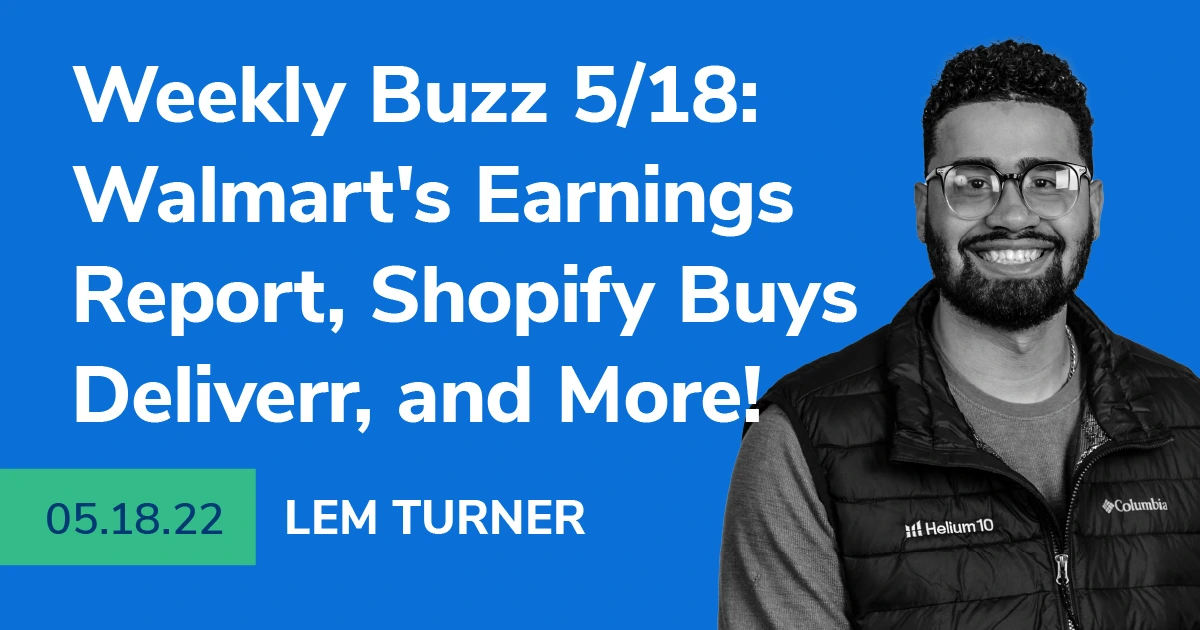 Helium 10 Buzz 5/18/22: Walmart's Earnings Report, Shopify Buys Deliverr, and More!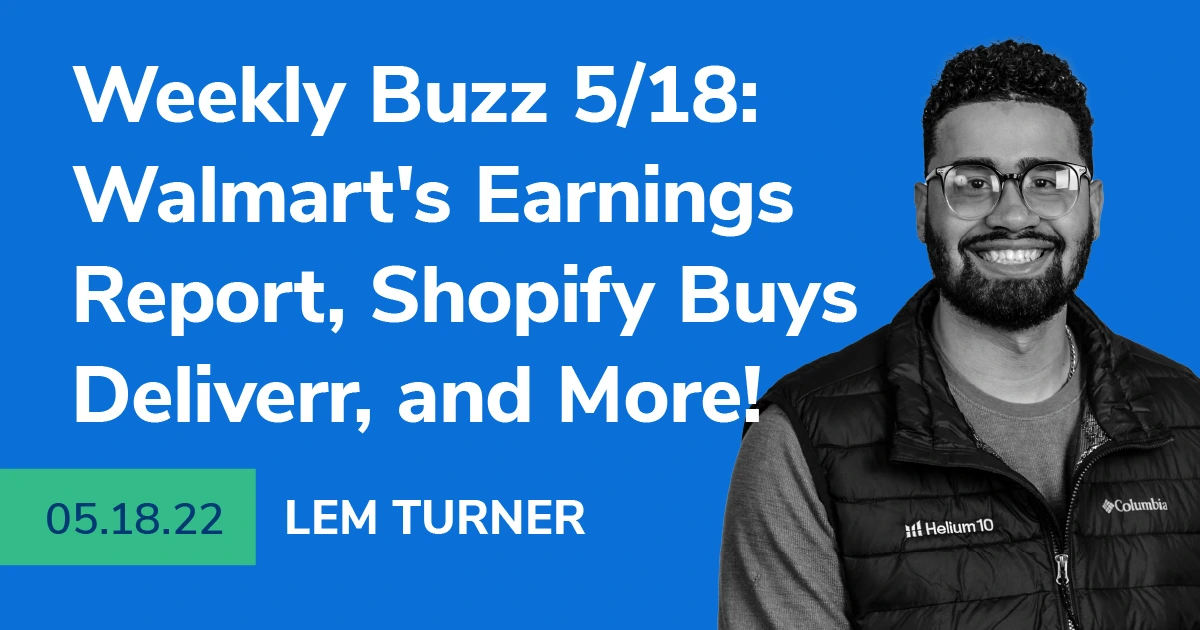 We're back with another episode of the Weekly Buzz with Helium 10's Brand Evangelist, Lem Turner. Every week, we cover the latest breaking news in the Amazon and E-commerce space, share exciting announcements, and provide a training tip for the week.

Walmart just released its earnings report for Q1. Walmart U.S. company sales grew 3.0% and gained market share in grocery. They also provided an updated outlook for Q2 and full year.

Shopify announced earlier this month that it would acquire California-based ecommerce fulfillment company Deliverr for $2.1 billion in cash and stock, representing the largest acquisition in Shopify's history.

As supplies of baby formula are running low across the United States, Amazon is focused on ensuring customers continue to have the great shopping experience that selling partners deliver every day. With that, Amazon reminds sellers that price gouging is not allowed in accordance with their longstanding Marketplace Fair Pricing Policy. Given the ongoing scarcity of this product, Amazon recommends you consider limiting the quantity of baby formula customers can purchase in a single order. Amazon Retail has set this limit at 4 units per week.

We also talk about Helium 10 turning 6 years this week and some exciting trivia games inside our social media channels. Make sure to participate and join to win prizes!
Helium 10's Brand Evangelist, Carrie Miller, closes out the episode with the Pro Training tip of the week on how to use Keyword Tracker for your Walmart Listings.
In this episode of the Weekly Buzz, Lem talks about:
00:46 – Walmart Releases Earnings Report
01:19 – Shopify Finds Their Way Into The Logistics Industry
02:15 – Price Gouging For Baby Formulas
03:30 – Helium 10 Celebrates Its 6th Year Anniversary
04:00 – Get $100 Off Sell And Scale Summit
04:50 – Pro Training Tip Of The Week: Keyword Tracker For Walmart
Transcript
Lem:
Hello everybody, and welcome to another episode of the Helium 10 Weekly Buzz. My name is Lem Turner, and this is the show where we get you familiar with the latest news in the Amazon and e-commerce space interview people in the industry that you need to hear from, and provide you with a Training Tip of the Week that will give you serious strategies for serious sellers of any level in the Amazon, Walmart and e-commerce world. So now let's see what's buzzing this week. Today, we're gonna be going over our top news of the week, which includes Walmart's earnings report. Get into some potential Helium 10's trivia and show you how you can win some Helium 10 swag, and then talk about our upcoming bigger, better launch. So now let's get started first with our news of the week. Our first piece of news for the week is Walmart has released their earning support recently, which has gotten some interesting statistics.
Lem:
E-Commerce has grown around 1% or 38%. If you can compare it on a two year stack. And our global advertising also grew by more than 30%. So it seems that people are starting to really realize the value of Walmart's advertising. Now within their earnings report, Walmart does reference a blend of inflation specifically on food and fuel as a reason for why their operating costs have increased, but they do seem pretty optimistic about for the future. So we shall see. Moving on to our second news piece of the week, we get into Shopify finding their way into the logistics industry. They have recently acquired deliverr with two "R's" for 2.1 billion, which is the largest acquisition in Shopify's history. And they will also be absorbing their 400 plus employees as well. So now Shopify says it plans to use, deliver to combine it with their own Shopify fulfillment network, as well as to use it to power their own shop promise guarantee, which is a new service that will provide customers with a two day delivery or next day delivery definitely seems like Shopify is getting its gears ready to the arrival for the buy with Prime initiative into especially for third party merchants looking for a faster, more reliable shipping solution outside of Amazon sellers for Amazon prime.
Lem:
So let us know, what do you guys all think about this? Are you happy about the acquisition and the potential for increased shipping and warehouses and things of that nature? Now onto our third news piece of the week, we're gonna be pivoting back to Amazon with the latest announcement and reminder about price gouging. Now, as big supplies of baby formula are running low across the United States, Amazon has stated that they are focused on ensuring that customers continue to have a great shopping experience and will not tolerate any sort of price gouging. In reaction to this, they have set limits across all baby formula products at four units per week for customers to be able to purchase– for individual customers to be able to purchase in order to prevent sellers from being enticed to price gouge as well as to be able to prevent buyers from hoarding materials.
Lem:
So definitely keep that in mind. If you're looking to try to jump on this ship of being able to sell baby formula, but in the end of it all, if you are trying to sell baby formula or you're within that niche, please, please don't price gouge. Ultimately it's just not worth it. And it will result in short term gains that will inevitably lead to long term losses. So you highly recommend you don't do it because Amazon does take this issue pretty seriously and will take action quickly. Now that marks our end for the news of the week. So now we're gonna transition into our celebration of Helium 10's birthday. We wanna take a moment to recognize our customers as Helium 10 turned six this week. Now this is only the beginning because as we grow, so does your businesses and we wouldn't be here today without you and especially without your valued feedback, suggestions, and support over the years.
Lem:
So definitely keep an eye on our, all of our social channels this week for some really fun birthday celebrations, and to see how you yourself can get involved in those celebrations. Now, if you missed the recent news, we recently crossed into having over 2 million members back in April. Now, on the celebration of that, we're gonna be doing a Helium 10 trivia game, and the person who wins this trivia game is going to win some awesome Helium 10 swag. Now one last announcement. I'm sure you have all heard about our Sell and Scale Summit, where it's gonna be filled with over with tons of industry experts talking about over 30 different e-commerce topics. Now, if you're interested in going, I got an exclusive code for you guys. You can use the code below S3LT100 to get a hundred dollars off your tickets. Now you can go ahead and save yourself some money and have a blast at the Sale and Scale Summit. Now you can get your tickets at sellandscalesummit.com. So be sure to go ahead and check that out. Now with the announcements out of the way, let's transition into a video with our Brand Evangelist Carrie Miller. So we gonna talk to you guys about how to track your keywords on Walmart
Carrie:
Today. I'm gonna talk with you about one of our newest features for Walmart, and that is Keyword Tracker. Keyword Tracker for Walmart is very similar to our Amazon version, but there are a few differences. So I'll show you those. So I'll go ahead and share my screen. So this is actually Keyword Tracker. The first thing you wanna do when you get into keyword tracker is you want to go ahead and choose the market. So I chose Walmart already, make sure that you do this. It's usually defaulted on Amazon, so you're gonna wanna choose the drop-down and choose Walmart. And then I have actually a product that I've already started tracking. And I'll show you that in a second, but I wanna show you how to add a new product. So adding a new product is very easy. All you have to do is click on, Add a New Product.
Carrie:
And what you're gonna do here is you're gonna find the Walmart URL or product ID. So I'm gonna use the product ID. And that is actually on this Walmart listing right here, it's in the URL right here, or you can pull the Xray extension and you can copy the product ID from that as well. So I'm just gonna copy that and then I'm gonna put it in this section right here. And then this is where you're gonna enter in the keywords that you want to track. So egg tray, egg holder, egg container. I'm just gonna start with those. You can always go back and add more keywords later if you'd like, and this is Walmart.com marketplace. Everything down here is all good. I'm gonna hit start tracking. Okay. So then it says product added and you can just click, okay. So you're not gonna see something right away.
Carrie:
You are gonna need to wait a few hours. Sometimes it could take up to 12 hours to populate the actual information. So just be patient with that. And you're going to want to put all the keywords in as much as you know, from the beginning to get those keywords tracked and get the history going. So I'm gonna go ahead and show you our 12 egg storage tray because we already have the organic rank for that. So the keyword is right here. You can add any notes that you want to right here. It shows the competing number of products. And then also right here is your Organic Rank and Sponsored Rank. It doesn't show anything for us because we're actually not advertising right now. So we don't have any of that, but it shows you the time position as of this time.
Carrie:
Okay, so you can also sort your Organic Rank so you can see your highest at the top, and then you can track all these. Now you have 250 total keywords that you can track. And that's because Walmart, you're usually gonna focus on a smaller number of keywords than Amazon. So you don't need as many as Amazons, maybe even just 20 per listing, because you wanna focus on those more general keywords. So I don't have that many in here for the 12 egg storage. Something else that you can do is you can actually do boosts just like on the Amazon version. So you have 25 boosts. And this basically means that you can check your rank every hour for 10 days. So if you are implementing strategies to get yourself ranked and you're doing a bunch of stuff and you wanna see what it looks like every hour, you can go ahead and do a boost and that'll help you to do that.
Carrie:
So that's basically it. Other than you can export your results here, you can also edit here by adding keywords. You can mark things as more important, you can copy keywords to a clipboard. So anything else you want to do is right here. And again, if you needed to add more or delete keywords, you could do that. You can add them here, or you can go, if you wanted to delete you can also hit this delete button right here. So that's not a big deal at all. And this is gonna help quite a bit because sometimes it's difficult to track your rank on Walmart and just figure out where you're at. But another thing is that if you are using, if you're running sponsored ads, you're not gonna see necessarily your organic rank, because usually what happens is you're gonna either on Walmart, if you're doing a sponsored ad, you'll only show up for the sponsored ad and not organically.
Carrie:
So that can be confusing sometimes. So it'll basically maybe show your Organic Rank as of the last time it was checked, but it, so sometimes it won't move up or down. And you know, when you're doing pay-per-click advertising, you do like to see your Organic Rank go up. So if you notice that you'll have to turn off your ads in order to see what your Organic Rank is. So keep that in mind, that is a little bit of a trickier part to this. So that is all we have for Keyword Tracker for Walmart today. I hope that you love it and you start using it right away. It's definitely a very helpful tool. Thank you.
Lem:
Well, that's it for our weekly buzz this week. We'll see you next week.
---
Enjoy this episode? Be sure to check out our previous episodes for even more content to propel you to Amazon FBA Seller success! And don't forget to "Like" our Facebook page and subscribe to the podcast on iTunes, Spotify, or wherever you listen to our podcast.
Get snippets from all episodes by following us on Instagram at @SeriousSellersPodcast
Want to absolutely start crushing it on Amazon? Here are few carefully curated resources to get you started:
Achieve More Results in Less Time
Accelerate the Growth of Your Business, Brand or Agency
Maximize your results and drive success faster with Helium 10's full suite of Amazon and Walmart solutions.