Helium 10 Buzz 2/16/22: 700K+ Chrome Extension Users, Listing Image And Video Tips, Introducing Heat Maps, & More!
This episode talks about the latest on Walmart+, new Amazon features, how to get the best results for your listings, introducing a new tool, and more!
Updated on: February 17, 2022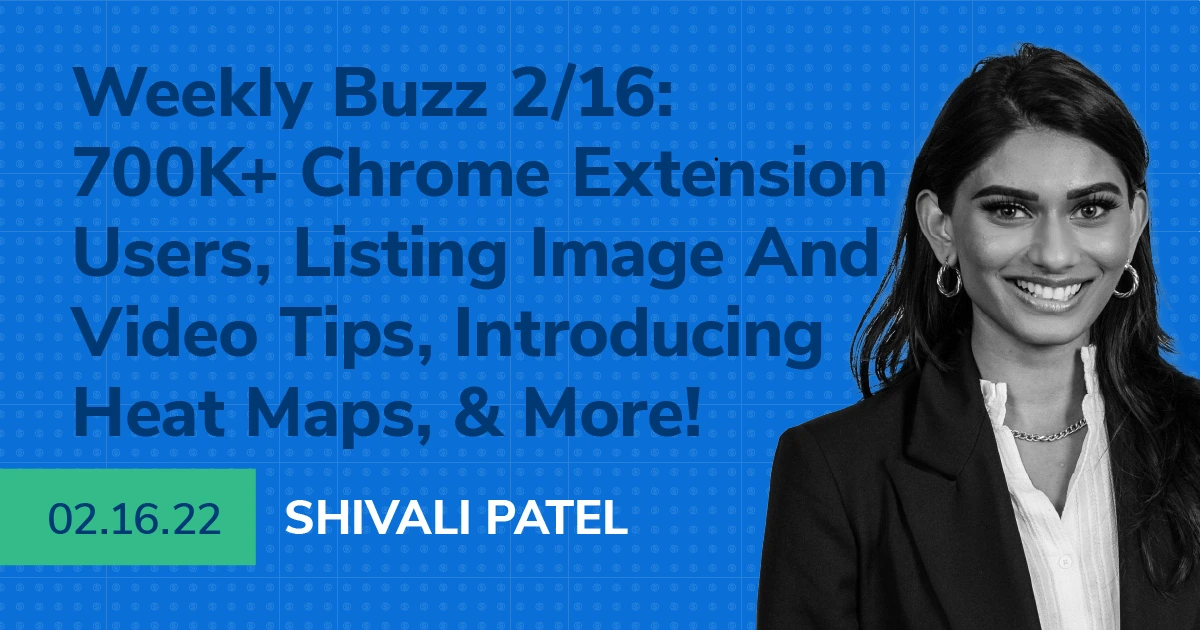 We're back with another episode of the Weekly Buzz with Helium 10's Brand Evangelist Shivali Patel!
Every week, we cover the latest breaking news in the Amazon and E-commerce space, interview someone you need to hear from, and provide a training tip for the week.
This episode features the latest news about Amazon releasing themed email campaigns within the Customer Engagement tool in beta, Walmart+ hits 11.5 Million members, and Helium 10's Chrome Extension Tool hits 700,000 users!

Shivali also interviews Jasleen from AMZ One Step to discuss the importance of images in your listing. She discusses whether or not you should use a professional to create your images, the importance of your main image for conversion. What types of videos eCommerce sellers should create for their products.
Helium 10's Director of Training, Bradley Sutton, closes out the episode by showing users our newest Heat Map Analytics tool for Amazon sellers. The heat map tool shows where your Amazon FBA inventory is located. He explains all of the benefits of this new tool!
In this week's episode of the Weekly Buzz, Shivali shares the latest on:
00:58 – Themed Email Campaigns Inside The Customer Engagement Tool
02:00 – Walmart+ Reaches 11.5 Million Members
02:50 – Planning To Sell On Walmart? Make Sure To Check Out Project W
03:30 – Helium 10's Chrome Extension Has Hit Over 700,000 Users
04:30 – Q&A With AMZ One Step's Jasleen Bajwa
05:00 – Agencies Vs. Freelancers For Listing Image Creation
06:30 – Is The Main Image Your Most Important Image?
07:30 – How Do We Know What Type Of Video To Create?
08:45 – Introducing A New Tool: Heat Map Analytics
17:00 – Get Tickets For Helium 10's Prosper Show Social Event
Transcript
Shivali:
Hello everyone, and welcome to another episode of the Helium 10 Weekly buzz. My name is Shivali Patel, and this is the show where we get you familiar with the latest news in the Amazon and e-commerce space interview people in the industry that we think you need to hear from, and provide a training tip of the week that will give you serious strategies for serious sellers of any level in the Amazon, Walmart and e-commerce world. Let's see, what's buzzing this week. Today, we'll cover exciting Walmart metrics among other breaking news pieces. Talk to a customer success manager from AMZ One Step and tell you a little bit about our latest tool called Heat Maps or Heat Hap Analytics inside of our Profits suite. Now up first is an update released on the seller central platform. So you can now create themed email campaigns within the customer engagement tool that is in beta.
Shivali:
So this is a tool that is typically available only to brand owners who are registered in brand registry to encourage them to be more engaged and interactive with their Amazon followers through email. So this means that if you have an Amazon store with any number of followers, especially if you are a store that's hitting some of those larger numbers, you know, thousand and upwards, then you're a seller who should really be making use of this feature. Now, what do themed email campaigns mean? It means that you can browse a set of holiday banners that are launched every month to frame your products as a gift aligned with what's occurring seasonally. All right. So whether that's New Year or Valentine's day or Easter, et cetera you know, you get the gist, but for step by step instructions and how to set up that flow, just go to the, manage your customer engagement page.
Shivali:
Next up, we have some exciting Walmart news. So as many of you know, Amazon Prime's arrival since 2020 is Walmart+ and in recent news reports by the consumer intelligence research partners, Walmart+ has hit 11.5 million members. So super exciting stuff you guys. It accounts for a little over a quarter of Walmart.com's total customers and that difference is really apparent in both visits and in spending. So when it comes to spending Walmart plus shoppers spend roughly $79 on average per online visit, whereas the non-members typically spend $62 and the Walmart plus users will typically visit 11 times as more likely. So amazing news for sellers, whether you're already selling on Walmart, or even if you only sell on Amazon, because this is opportunity, right? It's opportunity for you to capitalize on a brand that you are possibly already building on Amazon, and then tap into a larger customer base with equally as strong buyer intent.
Shivali:
So speaking of be sure to check out Project W this was just released on our Helium 10 YouTube channel. There's also a link for it on our helium10.com page, but it's kind of like Project X, but for selling on Walmart. So super cool. It's spearheaded by Carrie Miller from Helium 10. She's a Brand Evangelist here. Hopefully, you guys are already familiar with her. She's in a lot of our videos, as well as Tim Jordan from Private Label Legion and AM/PM Podcast. And they kind of walkthrough just building out a listing on Walmart. So don't forget to go watch that. Hit like, hit subscribe, cuz we're always trying to put out the best content for you. Lastly, we are excited to share that we've also hit a major milestone Helium 10's Chrome extension tool, which is our only on browser tool has now hit over 700,000 users.
Shivali:
And that number is only skyrocketing. I mean, I remember it was like 300,000 when I first started at Helium 10, which was only about a year ago. So we're moving quite fast and it's really exciting to see so many users take advantage of this tool that has the capability to not only help you pinpoint customer demand by revealing those estimated sales and the inventory quantity, et cetera. But more than that, also just help you instill confidence in your decisions, whether you're looking to find your first or next product or just analyze markets. So that's all the breaking news that we have for you today. Let's move on to the next segment. All right, now the person that we're bringing on this week is incredibly important to your Amazon journey in any listing on Amazon or e-commerce website it for that matter, the way that you describe or persuade your prospective buyer to purchase a product is through your bullet points and your images or video. So a few weeks ago, we tried to bring on Saddam from AMZ One Step. And today I want to bring on Jasleen Bajwa, who is a customer success manager at that same company, to answer some questions for you regarding one of the most crucial components to a high converting listing. Jasleen, hi how are you?
Jasleen:
I'm doing great. Thank you so much for having me. Shivali
Shivali:
It's wonderful to have you, I know that our viewers are here, they're in for a treat. So listing images are one of the most important pieces to a great listing. I was hoping you could answer some questions. Like, do you think that it's better to go with an agency or freelancer when getting your listing images created?
Jasleen:
Okay, great question. So to really answer this question, it's important to understand your objective. Your objective in the project that you're working with. So as a seller, are you looking to sell a successful product or more so establish a brand? If your objective of is to run a successful brand, then you can definitely use freelancers because they have the knowledge and experience in the services that they offer and platforms like Upwork and Fiver. The benefit of using them is that they have vetted freelancers, that you can definitely trust along the way. And in comparison, if your goal is more so to establish a proper brand, I definitely recommend moving forward with an agency. Just because you have access to an entire team of specialists, whether that's a Project Manager, Image Optimization Specialist, Production Team, Designers, they're all involved in the process. And when you're establishing a brand, you need consistency and uniformity across the board. And an agency provides you with access to a team of highly skilled professionals that can collaborate with you to provide efficient solutions. And of course, if you're interested, Helium 10's partner directory does offer shortlisted vetted agencies that you can work with.
Shivali:
Wonderful, wonderful. Now, when it comes to imaging, you know, there's quite a few images that you can put up on the Amazon listing page. So is your main image, the most important image would you say? And how does a seller's main image help them, you know, get more attention than their competitors?
Jasleen:
Yes. So the main image is definitely the most important because as you know when you're searching something up on Amazon, the main image is what pops up in that search page. And it is definitely the gateway to your listing because that is what's directly impacting your click through rate. So what's a click through rate. It's the percentage of individuals that click on your listing and your job as a seller is really to attract individuals to follow through and click on your listing and the role of the main image is that it will set you apart from your competitors. It needs to catch the attention of the shopper. It should very clearly explain what your product is and it needs to build interest and curiosity so the shopper wants to know more about your product by clicking on your listing.
Shivali:
All right. And then what about video? So how can someone know what type of video to create for their product?
Jasleen:
So in terms of video, it's very crucial to understand the thinking process of your target demographic and what they need in a product and your video should definitely highlight those features specifically. So if we take a look at a backpack, for example, you, as a seller, when you're looking to find a video, you need to think about what the thought process is of your target audience. What are they looking for in a backpack? What features are you highlighting? And that's why a product focused video is a great option because that's exactly what it's doing. And to know what videos are going to work, you really need to know what video options there are. And of course, there's so many different ways that you can make a video. You can use product focus like we mentioned, you can move forward with a lifestyle video that includes models, animation videos, like 3d rendered videos are great for more detailed products. And of course, how-to videos, and unboxing videos, which are becoming increasingly popular.
Shivali:
Wonderful. Well, thank you. Jasleen for all that awesome information. I know that our viewers found that invaluable and you know, that insight, it just goes such a long way. So thank you so much. I appreciate you coming on.
Jasleen:
Thank you so much for having me. It was great talking to you.
Shivali:
Likewise. All right. You guys. So as we wrap up our news and guest interview segments, naturally, we move on to the tip of the week and I wanna pass it over to Bradley's Sutton, our Director of Training here at Helium 10. And he's going to in the coming clip, be talking to you about Heat Map Analytics, which is inside of our Profits suite. And it's especially beneficial for you when you are launching or relaunching your product.
Bradley Sutton:
Hello everybody, I'd like to introduce you to our latest tool here in the Profits suite of tools in Helium 10, and this one is called Heat Maps or Heat Map Analytics. Now let me just explain what this tool is and why it would be beneficial for you. First of all, Heat Map Analytics. What it's gonna do is it's gonna give you a map and it's gonna show you all of the different warehouse locations where your Amazon FBA inventory is stored at right now. Now, why would you care about that? Why did people even ask for a tool like this? Well, there's a lot of different use cases, but the most common one that we see has to do when you're launching or relaunching a product, you know, in freedom ticket, how we train you, Hey, when you first launch or you are at out of stock and now you're relaunching your product, you know, keep your listing may be closed or suppressed when the inventory just gets there until it's distributed a little bit wider across the country.
Bradley Sutton:
And the way we tell you to look at that is like, okay, go to your manage inventory, see how many units are available. If you sent in 1000 units, don't put your listing active if only 100 say available. Now, here's why, as soon as you set in those 2000 units or 1000 units, let's just say it's to one warehouse. Maybe it's in Southern California while you're listing. If it was active, it would be available to purchase. People would start seeing it in search results in PPC and things like that. But let's say it just gets that California warehouse, somebody in New York or New Hampshire is searching for your keyword. They see your product in PPC. They click it. So you've got charged like two bucks right there, but then they're like, oh, this product looks enter, wait a minute. It says it's gonna be two weeks until it gets to me.
Bradley Sutton:
That's literally what they're gonna see. Even though it's a prime item because Amazon hasn't sent it to the east coast yet. And so that could have cost you a click. It could cost you, your conversion rate could cost even page placements, your page sessions. It really can affect you across the board. So what you wanna do usually is wait until your inventory is distributed a little bit more. So if there's like a thousand units, we'll say, all right, check. You know, at least 500 or 600 units say available. Maybe it's probably safe to go turn on your listing. Everybody has their own, you know, methodology they use, but there's a more exact way to do it in Amazon. You can actually print off this report that shows you all the different warehouse locations that your inventory is being stored at. Now, the thing is a lot of these reports are just have these little three digit codes where you don't know what city, what state this is in.
Bradley Sutton:
Right? So what we did is we now have this inventory Heat Map Analytics tool. Let me show you exactly where to find it. It's right here in your profits dashboard on the left hand side, you just hit Heat Maps, and then you will find this right there. All right. So how can you use this tool? Well, here I can select which product I'm looking for. I can say change product and just, I can start typing in like maybe an ASIN or my SKU. And it's going to find that product now, this is my coffin shelf here, right? You can see here that it's updated once daily, and here is the map of all the different locations where we show your inventory is being stored at. The bigger the circle that means more inventory is there. Now, as you notice here, there's a lot of coverage here in California.
Bradley Sutton:
Well, the fact that there's a lot of coverage here in California like your inventories is in a lot of different warehouses here. Look what happens here. If I search for coffin shelf, and if I am here in the Irvine, California area, and I scroll down here to the coffin shelf, it is going to show me that it can be delivered within two days. Yeah. Delivered within two days. Today is February 14th. Let's take a look at this map. I see tons of coverage here in like New York, New Jersey. Here I entered in my old address in Brooklyn, New York, and take a look here. It's even able to deliver tomorrow. Now, another thing you notice here, look at this Montana. There's not much coverage out here right? Now, there's nothing much I can do here. I've got enough inventory here, but look what happens in Montana, if I'm in Montana and I'm looking at the coffin shelf, it is gonna tell me it's probably not able to ship for a few days.
Bradley Sutton:
Look at that three day shipping the February 17th another location let's see, where is this? I think this is here in North Washington state. If you remember right here in this heat map, there's nothing, nothing going on up there. Right. So sure enough, right here, if I were to find the coffin shelf, let me look for it here in the search results. Look at that again, it's gonna take three days to get there so you can see that it does have an effect where you have your inventory location at what's another use case for this apart for launching or relaunching a product like trying to keep your listing close until you have more distribution. Well, another use case could be like, maybe there's a fire at a warehouse or Amazon employees go on strike at a certain warehouse. You know, we just had a recent case a few months ago.
Bradley Sutton:
I think there was like a hurricane or tornado that kind of shut down entire FBA warehouse. Maybe you want to know, Hey, did I have inventory of a certain product there? You'll be able to tell with this tool now, what are the different locations here in Helium 10, where you can find this inventory map tool. Let's take a look at that right now, let's go back. Like I said, it's right here on the left-hand column, once you are inside Profits another place that you can get it at is anywhere where you see your Profits dashboard or where you see a certain product in Profits. There's gonna be this map icon that you're gonna be able to see. And if you click on it and expand it, it will open up the Heat Map. So right here, you can see this little map here.
Bradley Sutton:
You hit that, and it will show you kind of like a smaller version of that map. And if I wanted to expand it out, I would click this button here, view all in Heat Maps. Now, if I scroll down here, it tells me all of the other details of my inventory. How many sellable, how many are damaged, how many are defective, and what's the total. And then I can actually see the different IDs that I was referring to of how Amazon calls their warehouses and then what city and state they are in what is the status of that inventory? Sellable, damaged, defective, et cetera. And then if there's multiple pages I will be able to see it down here. And if I want to export this to like Excel, I can do that right here. So we wanna hear from you as far as, you know, what you think of this tool.
Bradley Sutton:
It's still in beta. You know, let us know if you see like a warehouse where it says, NA maybe we don't know where that warehouse is. Let us know. We definitely wanna be able to fix that. And this is just the beginning of some of our geographic maps that we could do. It's sometimes interesting to kind of like map pun intended there, your inventory location with how many sales you make. Like, I just did a little test here and sure enough, you know, California and Northeast, they had a lot of sales of these coffin shelves. I haven't sold any of these coffin shelves in Montana, Wyoming, North Dakota, South Dakota in a week or two, you know, could that be a why maybe you know, there's not many sales, cause there's no inventory there. Maybe the customers aren't seeing as much, or maybe there was already history that Amazon knows that there's not many sales here, so they're like, we're not gonna send warehouse is over there.
Bradley Sutton:
It's really intriguing. Once you start digging into to how your inventory locations map to what the customer's seeing and eventually what they're buying. So, guys, this is something you should be looking at, especially those of you who are about to launch a product or you're about to relaunch a product that's been out of stock. Watch this map page so that, you know, once your inventory gets distributed enough so that you can't turn on your listing. And again, as always, we'd love to hear your feedback. So make sure to let us know what you like, what you don't like about the tool, and we'll try and help you guys out. Thanks. And we'll see you in the next video.
Shivali:
Isn't that something, I mean, like you said, it's not just useful for launching or relaunching a product, but also in situational circumstances. So whether that's, you know, natural disasters or something else, it's also great for understanding the correlation between your customer locations and shipping time. So make sure you're taking full advantage of all of our super neat tools. Speaking of utilizing the resources that are available to you, I'm very excited to wrap up today's episode by announcing tickets for our annual Helium 10 Prosper Social are now open. So last year we had an incredible time networking and just learning and passing along insights. We would love for you to join us this year as we do it all over again. So Kevin King, Tim Jordan, Miller Bradley Sutton, Jasleen that you met earlier, and I will be there along with your favorite Amazon influencers.
Shivali:
So make sure that you get your tickets this year. It's being held at Music Hall at House of Blues at Mandalay Bay. And we have some super cool sponsors like Foskett, North Bound Group, and Spot. So that is also on top of who our live performer is, which is Mark McGrath from Sugar Ray and he's performing live. So how cool is that? If you are an '80s or '90s, baby, this is your childhood coming back to life. Don't miss out, get your tickets. That is it for today. We'll catch you on next week's episode of the Helium 10 Weekly Buzz.
---
Enjoy this episode? Be sure to check out our previous episodes for even more content to propel you to Amazon FBA Seller success! And don't forget to "Like" our Facebook page and subscribe to the podcast on iTunes, Spotify, or wherever you listen to our podcast.
Get snippets from all episodes by following Bradley on Instagram at @H10bradley
Want to absolutely start crushing it on Amazon? Here are few carefully curated resources to get you started: