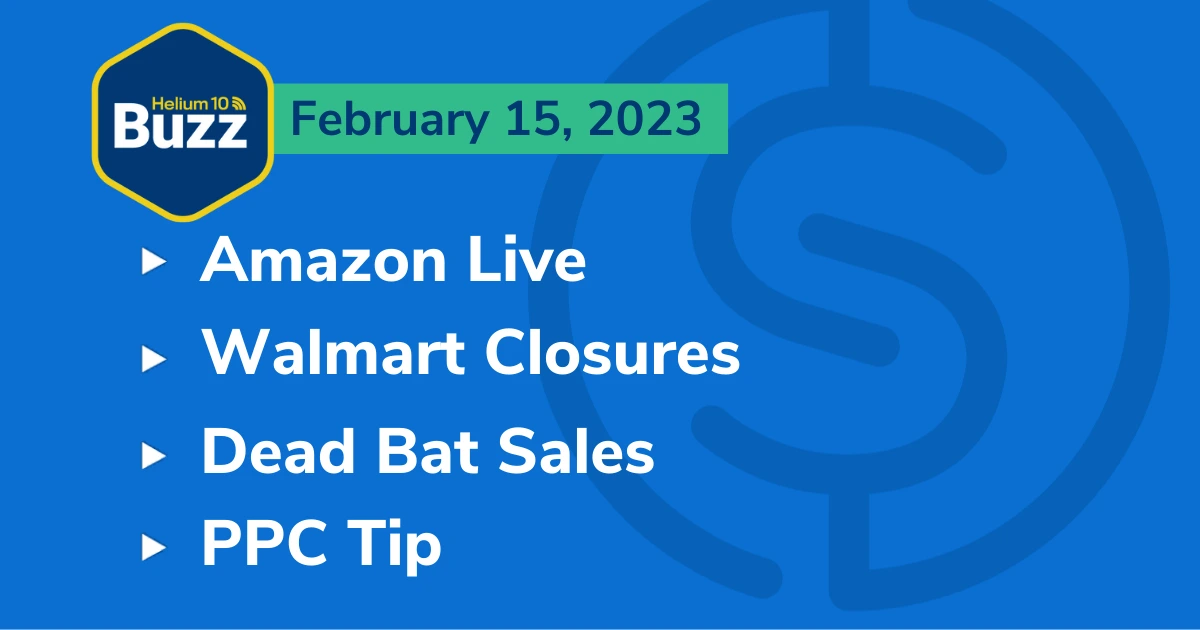 Helium 10 Buzz 2/15/23: Amazon Live | Walmart Closures | Dead Bat Sales | PPC Tip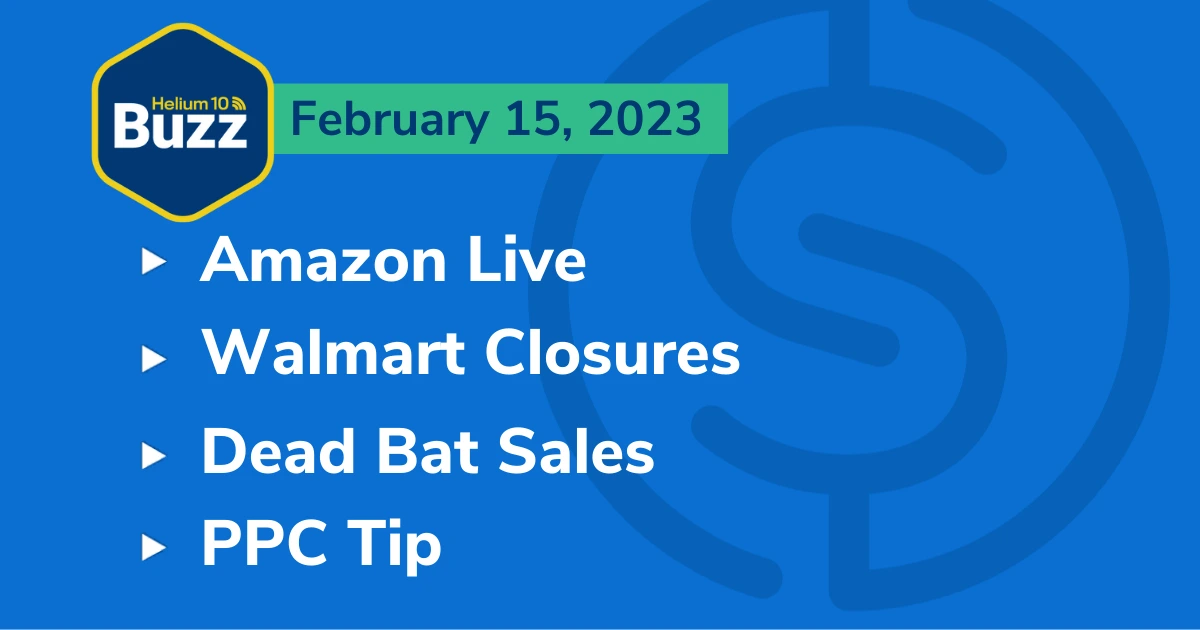 We're back with another episode of the Weekly Buzz with Helium 10's Chief Brand Evangelist, Bradley Sutton. Every week, we cover the latest breaking news in the Amazon, Walmart, and E-commerce space, interview someone you need to hear from, and provide a training tip for the week.

Livestream shopping took China by storm. Now Amazon, TikTok and YouTube are betting the QVC-style pitches will take off in the U.S.
https://www.cnbc.com/2023/02/14/us-livestream-shopping-a-target-of-tiktok-amazon-live-and-youtube.html

Walmart shuts the door on e-commerce-only stores.
https://www.grocerydive.com/news/walmart-shuts-the-door-on-e-commerce-only-stores/642714/

Amazon plans to eventually 'go big' on physical grocery stores.
https://www.engadget.com/amazon-plans-to-eventually-go-big-on-physical-grocery-stores-154524344.html

Chinese e-commerce giant PDD splashes on Super Bowl ad for its Temu U.S. shopping site
https://www.cnbc.com/2023/02/13/super-bowl-2023-temu-ads-launched-by-chinese-e-commerce-giant-pinduoduo.html

Etsy and eBay Are Selling Dead Bats and Scientists Are Concerned.
https://www.onegreenplanet.org/animals/etsy-and-ebay-are-selling-dead-bats-and-scientists-are-concerned/
Save the date for Helium 10 and Pacvue's Prosper Show Party on March 13th, 2023.

Is your listing being affected by a glitch on Amazon? Find out with our Amazon Anomaly Tracker. In this week's Pro Training tip, Bradley shows us how to easily manage your PPC campaigns in a fraction of the time using Helium 10's Adtomic.
In this episode of the Helium 10 Buzz, Bradley covers:
01:00 – Amazon Live
03:44 – Walmart Closures
05:00 – New Seller Incentives
06:15 – Amazon Grocery
08:00 – Temu 
09:30 – Bat Selling
10:40 – Save The Date: Helium 10's Prosper Party
11:20 – Valuable Resource: Get Notifications From Our Amazon Anomaly Tracker 
13:22 – Pro Training Tip: How To Manage Your PPC Campaigns In A Fraction Of A Time
Transcript
Bradley Sutton:
Hello everybody, and welcome to another episode of the Serious Sellers Podcast by Helium 10. I am your host, Bradley Sutton, and this is the show that is our Helium 10 Weekly Buzz, where we give you updates on all the goings on in the Amazon, Walmart, and e-commerce world. We also give you training tips of the week that'll give you serious strategies for serious sellers of any level in the e-commerce world. Now, today we have got some interesting news stories one about Amazon potentially pulling out a little bit of the grocery, but maybe having that be a long-term play for their brick-and-mortar grocery stores. A new player in the e-commerce world, or a newer player in the e-commerce world kind of made a splash at the Super Bowl. Also have some stories about how Amazon Live might be something that Amazon sellers need to watch out for this year.
Bradley Sutton:
And we've also got some training on how to use a cool feature of Helium 10 Adtomic in order to manage your PPCc campaigns in a fraction of the time. So let's go ahead and see what's buzzing in the news. Alright, the very first article we have today is actually from CNBC. This is article by Katie, who's always done a lot of really amazing stuff for talking about the Amazon world. And this is actually just in general about livestream shopping. All right? This is something that hasn't really been too much of a thing in the United States, but thi this article is called Livestream Shopping, took China by Storm. Now, Amazon, TikTok and YouTube are betting the QVC style pitches will take off in the US. Now, for those who don't know, like livestream shopping whether you're old school and you should do QVC or newer generation, it's basically people you know, go start streaming live and are selling products while you're watching them.
Bradley Sutton:
And that might seem like a foreign concept to you. And it's actually interesting because in China, some facts and figures in this were, were pretty amazing. So in China 74% of people said they had bought products through a shoppable live stream in 2022. 74% of everybody surveyed. That's crazy. Guys, if you think about it, con compare that to the US where 78% of people had never even watched a live stream, much less purchase. So it just kind of shows you the potential of livestream for that to have such success. In China, back in 2020, the first 30 minutes of China's annual Singles day shopping festival, Taobao Live streams generated 7.5 billion in transactions, which was a 40% jump from the year before in, in the entire year of 2020. Livestream shopping generated 170 billion. All right?
Bradley Sutton:
So it's kind of been proven to work well in China. Now the question is, is it going to kind of take off here in the us? Well know Amazon, Walmart, Shopify, they're all kind of betting that it will be, even, even TikTok has, has gotten into the game. So this is something, guys, I think we should you should take start considering adding to your repertoire, be bringing people on, in the coming months that help with Amazon live to the podcast. But check out this article because it's really interesting to see what the potential is and, and how even now people are taking advantage of this in the States. And check back on our episodes, we had an episode where we interviewed a Gracey Ryback, right? She's a very popular streamer here in the States for Amazon Live.
Bradley Sutton:
She talked about how even months ago, this was even last year, how she's having some pretty big success with that four sellers. The next article here is about Walmart shutting the door on e-commerce only stores. Now, this is something that I wasn't even aware of too much. I guess it's something that they've, they've been doing for about 10 years. They had a few stores that were e-commerce only, meaning that people would just buy products online. And these stores were not for shopping, but just for picking up orders. Now, this is the part that I found interesting though, the reason why, not just that it had kind of like low sales, low ROI, but check this quote out. It says, Walmart concluded that for the time being at least, it no longer le needs e-commerce only stores because the company has added pickup and delivery options or operations to thousands of full-time service locations in the years since that first e-commerce only store open.
Bradley Sutton:
So, yeah, this is true. Walmart kind of doesn't need this because they've made a network now where there are so many driver delivery drivers and they have you know, contracts with other delivery services where you can be anywhere almost and order from like walmart.com and have the option to actually have it delivered within hours or a couple of days through Walmart service. So this is kind of interesting. It's kind of like some might see it as a sign of failure, but it's almost a sign of success about how they've really grown their footprint for delivery. Next article is just directly from Seller Central. This is for all of you newer sellers who have been kind of like, maybe you signed up for your Amazon account and haven't started, or you've been holding off on that.
Bradley Sutton:
Well, there's an article that came out at Seller Central was that there's something called new Seller Incentives that maybe you guys knew or didn't know about. But if you list your first product in the US after you've kind of registered for your account after a certain time, well, you could have like benefits for up to like $50,000 that have to do with Vine and FBA and Amazon coupons and things like that. Now, starting March 1st, that new eligibility window is actually shrinking from one year to three months. So if you've been like putting off, like maybe you started your Seller Central account, but you haven't started your own product, now is the time to start thinking about getting out there because you, if you want to take advantage of this program, then you've gotta kind of have to hurry up and get the show on the road as it were.
Bradley Sutton:
So if you, if you guys have not signed up for Seller Central yet you're brand new to Amazon, you want to get started, qualify for this, go to h10.me/amazonstart, h10.me/amazonstart. Next article here comes from n gadget.com, all right? And it says, Amazon plans to eventually go big on physical grocery stores. Now, this might be in contrast to what you have seen happening out there in the news nowadays because you know, that maybe Whole Foods hasn't really made as big of a a splash and these other actually Amazon is pulling back on some grocery stores that they were, that they were doing. However, CEO of Amazon said, Hey, we're still just in the early stages. We want to go big on the physical side of these grocery stores.
Bradley Sutton:
So I know you might think that this doesn't apply to you unless you're selling like in the grocery category, but something to be thinking about, like, as Amazon grows, it's like brick-and-mortar footprint. I think that's going to offer a lot more opportunity to even like just regular third party sellers out there for advertising cross promotions. Like, you saw some announcements last year at, like, I forgot if it was in Amazon Unbox or Amazon Innovate on, on like sponsored or DSP ads and sponsored display and things actually potentially showing up in the grocery stores. Like, so can you imagine maybe you don't necessarily sell a grocery or you do, but then somebody's walking in one of these new Amazon grocery stores and they see like a billboard or something, and it's advertising your product. I mean, that would've been something unheard of before where you would think that as a smaller seller like under 10 million or under 5 million, where you would have the potential to be advertising in like a brick-and-mortar store that has a lot of foot traffic, like that wouldn't be something that you'd even think about, but that potentially could be could happen if Amazon's footprint in these brick-and-mortar stores.
Bradley Sutton:
Gross next article, a lot of you guys watched the Super Bowl. Some of you who didn't care much about the teams like myself couldn't care less about either of those teams. Sorry to Philadelphia and Kansas City fans out there, but I like watching the commercials. It's always interesting to see it. And one kind of newer commercial or newer company, maybe you might have noticed is this one called Temu, right? So, so they had an ad or two on there, and this was kind of rare. This article here is from CNBC and it's entitled Chinese E-Commerce, giant PDD I think that's formerly known as Pinduoduo splashes on Super Bowl ad for its Temu US shopping site. And it says, it's rare for a Chinese firm to buy a Super Bowl ad spot, which costs millions of dollars, but this company is worth $116 billion.
Bradley Sutton:
This article says, and in the week through January 29th, GMV, Gross Merchandise Value of this Temu website. Now, this is before Super Bowl obviously be before it kind of blew up and had this had all this promotion transactions were 46 million in just a week. So I'm, I'm just curious how many, how many of you guys knew about Temu before that this Super Bowl ad came up? And do you think this is a potential threat to start taking little bite size pieces into Amazon's market share online? Be curious to see your thoughts on that. I might try and invite some people onto the show later who can talk about websites like this, who are up and coming here in the United States. Now, as far as our strange e-commerce story of the week, we've got this article from one Green planet.org, and it has a very unique title here.
Bradley Sutton:
It's called Etsy and eBay are selling dead bats and scientists are Concerned. So this was an actual interesting article. It says, national Geographic reported that last October alone, over 500 listings of dead bats appeared on Etsy and 71 on eBay and a few other platforms. Now this actually has some environmental and, and animal safety concerns. And so it was actually just interesting article that guys like even us maybe we're Manny's Mysterious Oddities, this is our Project X brand. We might see some search volume on like bats or something like that. But guys, please do not sell dead bats on Amazon or Etsy or other platforms. You know, that's actually not a great thing. I'm actually thinking about getting into the bat category though. Front management series odds, there's been a popularity surge of like bat shaped shelves, kinda like coffin shelves, right?
Bradley Sutton:
But guys, please do not sell dead animals that are endangered on e-commerce platforms. Lastly, we just save the date announcement, guys. We put out yesterday, Cassandra did March 13th. Guys, this is the date of our Prosper Party, right? We, we always have epic Prosper parties in Vegas every time we go to that show. So March 13th say block out your evening time, that's like the day before the main event starts at Prosper. Or if you're just going to be in Vegas at all or around the area, you want to come hang out and network and you know we always do a really good party there. So make sure to save that date, March 13th, and we will see you there. That's it for the news this week. Now, moving along one call kind of link I wanted to give out to you guys is something that a lot of people will kind of sleep on, and that's Amazon anomalies.
Bradley Sutton:
This happens when all of a sudden you start getting de-ranked for keywords, right? Have you have this ever happened to you? Were you ranked on page three, page two, page one, consistently, all of a sudden you're de-ranked and it's because you're de-indexed. In other words, you, you, not only do you stop ranking, but you, you're not indexed at all for it. And a lot of people have called this before, like Amazon search glitches, right? And it doesn't happen too often, but last year it was actually happening a lot towards the end of the year. What you guys are looking at here is our chart our Amazon anomaly tracker, all right? And you'll see that there was some small glitches that were happening on Amazon and the first part of January, and then there was some pretty big ones happening like November.
Bradley Sutton:
Maybe those affected some of you where all of a sudden you notice your ranking went out. So if you're wondering if it's just you, like just your product your product could be maybe marked as adult or something like that, and then that'll dein index you. That only affects you. But these Amazon search anomalies or search glitches, what happens is they affect like a wide variety of people. And so since Helium ten's tracking so many keywords and products, we can actually kind of show you when there is like a widespread outage. So this is a great place to bookmark guys, h10.me/asa h10.me/asa. I recommend bookmarking it. I recommend signing up just to get the free e email alerts. You're only gonna get if it happens, like it hasn't really happened in the last four months, so you probably wouldn't have even gotten an email if you signed up for it, but bookmark that page.
Bradley Sutton:
And then if you ever notice like a mass din indexing of some of your main keywords, check this page first to see if it's like a known glitch that's happening out in the Amazon world. And if you don't see this go to like the yellow or red zone, that means it might be isolated to you. And then there's something more that you can do about it as opposed to just waiting for Amazon to fix it. Alright, for our training tip of the week, I wanted to share with you guys just an example of how powerful you know, running your Amazon campaigns through Adtomic is. So I managed probably over 250 campaigns and one of them you've seen me talk about this case study account that I've been doing for hemp cream, this hemp cream product.
Bradley Sutton:
And one of the things that we can do in Adtomic, when I create my list, my campaigns, or even if I had campaigns and I brought them into Adtomic, is I can create rules. Like, for example, this is my positive rules set up, and it might look like if you guys are looking at this on the screen, like, oh man, this is so complicated. Takes like less than four minutes to do, and I'm never gonna have to go into here again. But I basically have a whole bunch of campaigns for the same product. You know, I have proven performance campaigns, that's my exact manual campaigns. I've got product targeting campaigns, I've got broad match campaigns, which I call research campaigns. I've got auto campaigns as well. Now, one thing you don't notice here is I don't have sponsored brand campaigns, and that's because Amazon doesn't allow hemp products to have that.
Bradley Sutton:
But anyways, I have all of these campaigns connected and talking to each other. And the reason is because I might come up with a keyword in my auto or broad campaign that I didn't know was important to my niche and I wasn't targeting it. And it's great if I get conversions there, but it would be even better if I started manually targeting this, right? So what I do is I put this rule here. Say, Hey, if I get two orders, right, if I get two orders of the same keyword or the same search term in a campaign, and guys, this goes for those of you who don't even use Adtomic, you can use this strategy too, but, and max ACoS of 40%, I kind of have a higher ACoS threshold because this is kinda like a Replenishable product.
Bradley Sutton:
And so I get people on subscribe and save, then I say, Hey, suggest to me that I move it to an exact match campaign. All right? How would I do this? Normally, like if you didn't have Adtomic, you'd have to download all of your, you'd have to download all of your reports, right? Your Excel files and then run a pivot table to kind of see which has more than two conversions at less than this ACoS, and then which ones are not in your exact match campaign. And then, okay, now you gotta identify that and you can go back and find those campaigns and put them in. It's like a long time. But watch this, the Adtomic suggestions just shows up here. Like I just have to click once and now I can see, for example, here is a keyword that I wasn't targeting because you know, the brand name's in motion, which is one word no spaces.
Bradley Sutton:
Look at this. Here's a keyword in space motion hemp roll on for pain. I got 14 clicks and 11 orders. You think that's a relevant keyword to my product? 11 orders out of 14 clicks, that's insane at only a 7.65 ACoS and I got this from like, I must have gotten this from a broad campaign, but I obviously want to target this as an exact manual, which I wasn't doing. So all I have to do is click this plus button, boom, goes to dynamite, it's done. All right? So this is just one of the many like benefits of using Adtomic. Just one really quick one, I also put negative rules in there too, where I'm like, Hey, if I get something that has either like this many clicks or this much spend with no sales, suggest to me that I negative match it so I can stop the bleed, right?
Bradley Sutton:
And look at this here. Here's a keyword that I didn't know. Looks like product targeting ASIN, right? I spent 26 or $27 on that last week and got zero sales, alright? So instead of having to go find this campaign and really calculate it out, all I have to do is hit this plus button, boom. Now it's going to negative match it in that campaign. So guys, if you have not tried Adtomic before, I highly recommend it. You know, I've been using it for, for two years, more than two years since, since it got started. I don't know what I would do without this cuz I have so many case study accounts and I only have like a couple of hours a week to really work on them. You know, how I would manage my PPC if I didn't have Adtomic?
Bradley Sutton:
I don't even know. So make sure to check it out get, get a demo. We have a full training course as well on it. You, you can get more information on Adtomic at h10.me/adtomic. And if you get started they have this like eight week bootcamp where our customer success team will, will kind of hand walk smaller groups of people onto how to like set up your campaigns and everything, guys give it a try for a couple of months. It's definitely worth it. It was definitely worth it for me. I know people who are paying hundreds or even thousands of dollars a month on PPC agencies and things, which, hey, if you need that, that's great, but you know, before you do that, or like before you really know that you need and to get professional help, I highly suggest trying to do it on your own with the help of a software like Adtomic. So, so give it a try, guys, h10.me/adtomic and get a demo on it. All right guys, that's it for the news and tips of the week. I'll see you guys next week to see what's buzzing.
---
Enjoy this episode? Be sure to check out our previous episodes for even more content to propel you to Amazon FBA Seller success! And don't forget to "Like" our Facebook page and subscribe to the podcast on iTunes, Spotify, or wherever you listen to our podcast.
Get snippets from all episodes by following us on Instagram at @SeriousSellersPodcast
Want to absolutely start crushing it on Amazon? Here are few carefully curated resources to get you started:
Achieve More Results in Less Time
Accelerate the Growth of Your Business, Brand or Agency
Maximize your results and drive success faster with Helium 10's full suite of Amazon and Walmart solutions.