Helium 10 Buzz 12/08/21: Amazon Logistics, Your Questions Answered, & the New Amazon Anomaly Tracker
This week, we cover Amazon's newest programs to help in logistics, a new segment that answers your questions, and Helium 10's new Amazon Anomaly Tracker
Updated on: December 16, 2021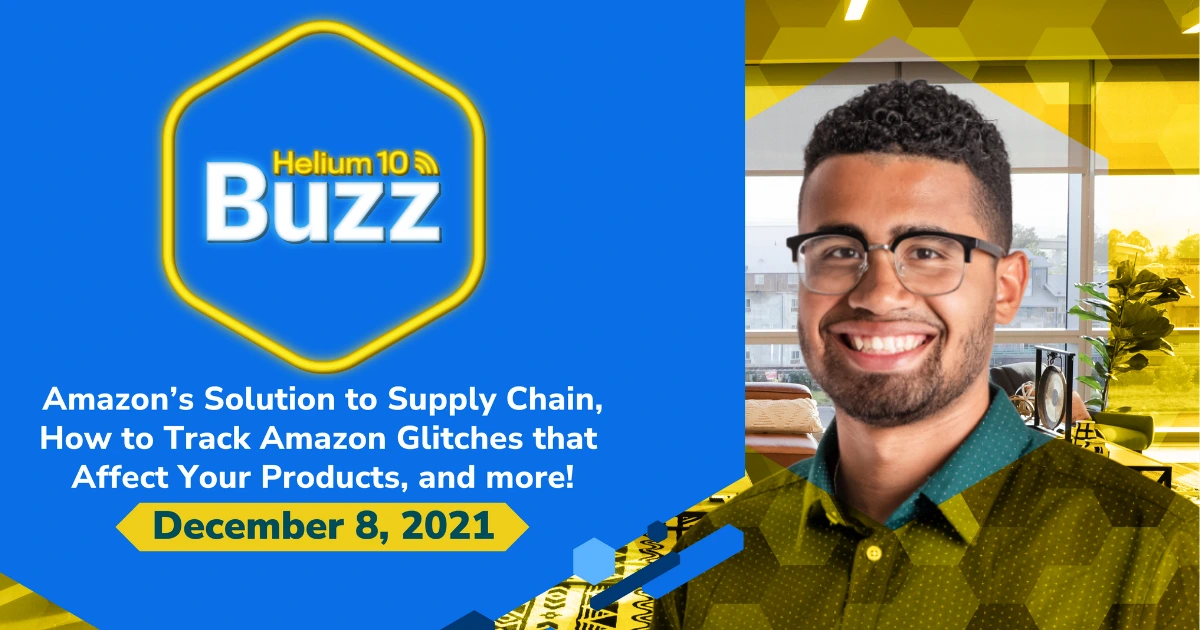 This week's Helium 10 Weekly Buzz is hosted by Helium 10's Brand Evangelist Lem Turner!

Every week, we cover the latest breaking news in the Amazon and E-commerce space, answer your frequently asked questions, and provide a training tip for the week.

This episode features Box Level Inventory Placement, Amazon's newest partner carrier program that is aimed at improving distribution across all Amazon fulfillment channels. Amazon is using its own containers and ships to import goods faster than established carriers. Amazon Outage causes issues for customers and sellers
We also answered some of your most frequently asked questions. If you have any questions that you would like answered on the Weekly Buzz, please email our customer service and let them know you have a question for the weekly buzz!
Helium 10's Director of Training, Bradley Sutton, closes out the episode with Helium 10's anomaly tracker that is free to use even if you aren't a Helium 10 member! This tracker will help you track and detect any indexing glitches related to your products. Here is the link: www.helium10.com/asa
In this week's episode of the Helium 10 Buzz, Lem talks about:
00:50 – Box Level Inventory Placement
02:00 – Amazon Makes Its Own Shipping Containers
03:00 – Amazon Outage
4:00 – How You Can Ask Us Anything
7:00 – Tip Of The Week: How To Use Helium 10's New Tracker
15:15 – Listen To The AM/PM Podcast
Transcript
Lem:
Hello everybody and welcome to another episode of the Helium 10 Weekly Buzz. My name is Lem Turner, and this is a show where we get you familiar with the latest news in Amazon and e-commerce space. Then we also, gonna interview people that you need to hear from and provide a training tip of the week that'll give you serious strategies for serious sellers at any level in the Amazon, Walmart and e-commerce world. So let's see what's buzzing this week. Today, we're gonna be going over some of the top news of the week, including the Amazon Outage yesterday, a new feature of going over some of the most frequently asked questions that you have submitted, and getting into a brand new tool called an Amazon Anomaly Tracker. So stay tuned to the end when we get to that. So let's get started first with our news of the week.
Lem:
So our first news piece of the week comes directly from Amazon Seller Central news piece about the brand new initiative called box level inventory placement through Amazon's partnered carrier program. Your shipments can now be eligible for box level inventory placement. Amazon says that it'll improve the distribution of your products across Amazon's fulfillment network at no additional cost to you by separating your shipments into multiple box groups, which will allow your products to reach the fulfillment centers faster. Now, keep in mind, this does not affect your shipment fees and full transparency is provided so that sellers have complete visibility over the shipment status of each of their box groups. No action is required from sellers in order to take advantage of this initiative, as Amazon will automatically inform you if your shipment qualifies for a box level placement when you create a shipping plan, this will allow for more inventory to be placed in different locations that are closer to your customers without having to pay for the cost of sending multiple shipments to multiple different fulfillment centers.
Lem:
So what do you think about this new shipping feature? Will you use it to send in shipments to Amazon? To now getting into our second news piece of the week. We get into an article from a business insider that goes on to say that Amazon has been making its own shipping containers and chartering its own ships since 2018, in order to avoid massive delays as many sellers and brands have experienced. The article goes on to say that this strategy has proven massively successful for Amazon as they've been able to bring goods into ports. In a matter of just a few days when Amazon first started building its transportation ecosystem in 2018, the company used it to ship less than 47% of its goods. But since then, it's grown all the way up to 72% as shipping container prices have fluctuated as high as $20,000.
Lem:
Amazon-made containers can ensure that Amazon can prioritize where the containers are needed most without having to send them back to Asia after each delivery. With the sharp charting of its own bulk freighters, Amazon can also control which ports to visit in order to avoid backlogged once, which is proving to be very bold and very costly. So we'll see if this really pays off for Amazon this year. So now getting onto our third and largest news piece of the week, CNBC reports that on the Amazon outage that occurred yesterday on December 6th, it appears to have affected Seller Central more than amazon.com. Although there have been reports of missing search results when searching for products on Amazon. Most of all, though, it had a critical impact on Amazon fulfillment centers and delivery orders and internal apps that were used to track and scan packages were deemed completely useless during outage.
Lem:
If any of your orders were affected, there's a possibility it could result in negative Seller Feedback, but to double-check that and to ensure that if you do get negative Seller Feedback about the delayed shipping times, that you can make a case about it and get it removed according to Amazon Seller Feedback Guidelines because if it's about a product or about the shipping times, that's considered something that you can get removed since it doesn't speak directly to the Amazon seller experience. So what about you sellers out there? Do you have access to your Amazon seller central in interrupted this week? Did you notice any slowdown in your sales on that day or any delay in your reporting? Okay, so that marks the end of our news for the week, we are gonna get transition into our new, ask us anything serious, a frequently asked questions from our users.
Lem:
Now, this is something we're gonna be doing every four weeks. So if you have any at all, feel free to email our customer support and let them know that it's a question for the Weekly Buzz and we'll get right to it. Now let's get into our questions for the week. So our first question is how do I figure out what keywords were used to purchase my products for organic sales? Now, Amazon does not publish this exact data. So Helium 10 cannot show it either. However, based on what's known about the Amazon algorithm, there are ways where you can figure out what keywords many of your organic sales come from. Now, first of all, you're gonna wanna run your product in Cerebro and then filter out keywords are at least a hundred thousand search volume, and that you are organically ranked for between 1 and 10 because you wouldn't have gotten this high ranked. If you weren't getting good interaction on those keywords for your product from Amazon customers.
Lem:
In addition, if you have brand registry, you can use brand analytics to see any keywords where you were one of the top three clicked on for a period of time, like a day, week or month. And then if you were one of the top three clicked, you can look at your purchase share, which refers to how many of the total sales generated by searches for that keyword did your product get. So hopefully that answers your question. So moving on to our second question, and it's a pretty popular one, is that, is there a way to do product research via BlackBox during the holidays without getting seasonal items? Because we're not all trying to sell Santa hats during the holidays. So usually many of the holiday-specific items have a set of keywords in their title.
Lem:
So for Christmas, it might be Christmas, X-mas, Holiday, et cetera. Right? So what you would do in BlackBox for products is used to filter called, Exclude From Title for each of those words, followed by comma so that the results were not show that it's a pretty simple fix, but very, very underrated. So lastly, our third question, what is the best strategy to implement if I'm close to running out of Inventory? Now, that's a really great question that many people have. One of the mistakes that Amazon sellers make is that they try to slow down their sales velocity by doing things such as turning off PPC, raising the price, things like that. Now, this is completely not advisable. You definitely don't wanna do things that are gonna hurt your conversion rate, your sales velocity, or keyword page ranking, unless you are gonna be outta stock for a long time.
Lem:
Usually, you do not lose too much of your page ranking when going outta stock. However, if you take steps to slow down velocity, you might also be hurting yourself more than helping. Since you can also start to lose your page ranking even before you go outta stock, meaning that you are making a task of getting back to the top of page one, which is the name of the game. That much harder when you get back into stock. So if you are close to running out inventory, just keep things the way they are. You can close and suppress your listing after that since sometimes that can help to not lose too much ranking. And will also help if you are worried about hijackers taking over your listing. So with that said, that does it with our questions. So now let's get into our tip of the week.
Bradley Sutton:
I'm gonna explain to you what exactly is the Helium 10 brand new Amazon Anomaly Tracker. First of all, what in the world is an Amazon anomaly. Now, this is not some of official term. This is even necessarily a term from Amazon sellers. This is just something that we're calling this page here at Helium 10 to track two different things. Now, version A, which is what you might be seeing now is tracking one thing. Version B is going to track another thing, which is called the Amazon Search Shuffle that we kind of coined that term for about three years ago. And what that detects is when an abnormal amount of listings are fluctuating greatly like when you're looking at Helium 10 Keyword Tracker and you have it on boost, you'll notice at one hour of the day, it'll be maybe page one, position five, but then, you know, one hour later at a different geolocation or different address that Helium 10 is checking or different brow, you'll see it on, you know, page five position 150 or something going back and forth.
Bradley Sutton:
I mean, it's normal to have, you know, minor fluctuations about, you know, 5 to 10 places, but it's not normal to be going back and forth all over the, you know, the keyword charts. And so we call that the ASS or the Amazon Search Shuffle. Now what the Amazon anomaly tracker is tracking right now, that's remember said, version two is called the Amazon Search Glitch (ASG). Now, this is something that is a little bit newer than the search shuffle that people started noticing last year, especially. And you would see things in Reddit, in the Amazon forms, and in our Facebook groups where people are like, oh my goodness, like a lot of my main keywords. It's not just that I'm not ranked, I'm literally de-indexed for. Alright now, again, there is a certain level where this is normal behavior. Alright, there are certain situations where this could happen.
Bradley Sutton:
Of course, you would get de-indexed, you know, maybe if you're out of stock, alright, I'm not talking about that, but let's say you have a product that's in stock. Everything is seemingly fine. And all of a sudden, you're not indexed for your main keywords. Well, sometimes times that just happens in a random glitch, just, you know, sometimes it lasts a few hours or a day, but it's just like maybe to your listing, that's about it. Other times it could be because your listing maybe got suppressed or it could have gotten the adult product classification by Amazon, or maybe the category change and so you were de-indexed for keywords that Amazon doesn't think are relevant to your new category. Alright, now, those things, a lot of those are things that you have control over in that you can just open up a case with Amazon and say, Hey, look at this. My product is classified as adult, it's not an adult product, please fix this.
Bradley Sutton:
However, what you saw last year was a couple of times in the year where just tons and tons of people were saying that this all happened to them. So obviously it wasn't that everybody got classified as adults. This was what people, what sellers were calling an Amazon search glitch where an abnormally high number of listings seemed to be de-indexed for their main keywords. So what we did at Helium 10 since we have a lot of historical data here. We were able to develop an algorithm that kind of detects when this happens. You know, we kind of first set a baseline of, Hey, what is the normal behavior for search results? You know, keeping in mind that sometimes, you know, keywords do de-index for one of those other reasons.
Bradley Sutton:
And then what are the baselines of when it's like, Hey, wait a minute, something probably is going on here that, you know, sellers need to know about. Right. Thus we have the Anomaly page. All right. So how you can get to this page is helium10.com/asa. All right. So just remember that helium10.com/asa, and right here on the page you don't have to have a Helium 10 account by the way, in order to get into here. You can do it right from this page area, or you can completely view it, but if you do have a Helium 10 account, if it's a free or a paid one, what's gonna show up here is your email address. And just make sure to hit this, get updates, because if we start detecting a glitch, we will send you an email if we have your email on here.
Bradley Sutton:
Alright. So this page here, basically what it does, it just kind of explains what exactly an Amazon anomaly is. Some of the things that we just mentioned and then the steps to take, if you think that you might be experiencing one of these search glitches, where it's not affecting other people, what are some of the steps that you might take? Like, for example, checking your Keyword Tracker using Index Checker, to see if your index, and then, of course, making sure that you have Helium 10 Alerts activated so that, you know if your category gets changed, or if you get classified as an adult product nowhere on this chart here, this is where the gold is. I'm looking at this chart and it default is past seven days. And by the way, this is only in the US marketplace for now.
Bradley Sutton:
But if I were to go back, let's just say to all of 2021 right here on the graph, you can see that there are different times where these anomalies or these glitches, Amazon Search Glitches happened. You'll notice that there's three colors here. There's red, yellow, and green. Now the green means this is that thing I was talking about where it's kind of normal expected behavior. There's a certain number of listings that probably get de-indexed within abnormal parameters. The yellow is like there might be something going on here, but it's not so widespread where we can say it definitively the red is like, oh yeah, there's definitely something going on across the board with a super abnormal amount of listings and keywords. So you might wanna check your own keywords to see if you're affected. Alright. And if you notice in all of 2021, we detected two of these one here in the middle of May and then another one in the middle of August.
Bradley Sutton:
All right. So what would it look like on your Keyword Tracker or something if you were affected by this? Well, let me show you guys one of these examples, here's a product in Helium 10 Keyword Tracker that we're looking here on the screen where right there in the middle of May, just like we're when we said we detected that glitch, look at that they were on page one, position 10 to 15 consistently, then all of a sudden for right there in the middle of May, it just fell off the charts and notice when you're looking at Keyword Tracker, if you lose rank or that Amazon search shuffle that I told you guys about, there would not be a break in the line on the Keyword Tracker graph. It would just drop like a Richter scale, right? But here there's a huge gap in the line in the Keyword Tracker.
Bradley Sutton:
And that is because it was probably de-indexed because it completely fell off the top seven pages. It's not guaranteed that it's de-indexed, but at least it fell off the top seven pages. So you can see that right here. If you remember the other glitch that it detected was in the middle of August, here's a different listing. Look at this one. This one actually lasted for like four days. You can see a huge dip right there, or not a dip, but a gap, right from August 12th, all the way to like August 16. So this one actually was affected by four days. Imagine if you're a de-index from your main keyword, you know, for four days, that's kind of crazy, but right here that Amazon Search Anomaly page that we have was able to detect something that did affect this listing and this account.
Bradley Sutton:
So again, this is kind of important to know, because this does come up. A lot of times people are like, Hey, I'm de-indexed. And it's not always an Amazon Search Glitch that's affecting a lot of people. It could be something that's just your listing, but if you ever are in doubt, or if you hear somebody ask memorize this link, all right, guys, remember anybody can get to it. Even if they don't have a Helium 10 account, helium10.com/asa. Take a look at today, the last seven days, the last two weeks is there anything that we have detected that is kind of widespread as far as an Amazon search anomaly? And then if it is, then you know that there's probably nothing you can do about except wait it out. But if you are not indexed and we haven't detected anything, that means it could be because there's something that you could potentially fix in your listing or get help from Seller Central on. So I hope you guys can find this page useful. Don't forget to sign up for the updates on here so that we can tell you if we do detect a glitch so that you can check your own listings, hope you guys found this useful, and we'll see you in the next video.
Lem:
Now don't forget to sign up for updates on that page by going to that link that Bradley mentioned helium10.com/asa well before we sign off, I just wanted to remind you to listen in to the AM/PM Podcast by Helium 10 and hosted by Tim Jordan from Project X. Now, this podcast was developed to inspire and motivate current entrepreneurs, inspiring entrepreneurs or people who just love business. The AM/PM Podcast dives into business model, financial strategies, and income-generating tactics in e-commerce. You can listen to it on Apple Podcast, Spotify, or any other app that you use to listen to podcasts. Well, that's it for our Weekly Buzz this week. See you next week.
---
Enjoy this episode? Be sure to check out our previous episodes for even more content to propel you to Amazon FBA Seller success! And don't forget to "Like" our Facebook page and subscribe to the podcast on iTunes, Spotify, or wherever you listen to our podcast.
Get snippets from all episodes by following Bradley on Instagram at @H10bradley
Want to absolutely start crushing it on Amazon? Here are few carefully curated resources to get you started: