Helium 10 Buzz 12/22/22: 2nd Amazon Buy Box | Walmart Drone Delivery | China Opening
In this episode, we cover the latest news on Amazon, Walmart, interesting updates worldwide, and an excellent tip on how to automate your review requests.
Originally published on: December 22, 2022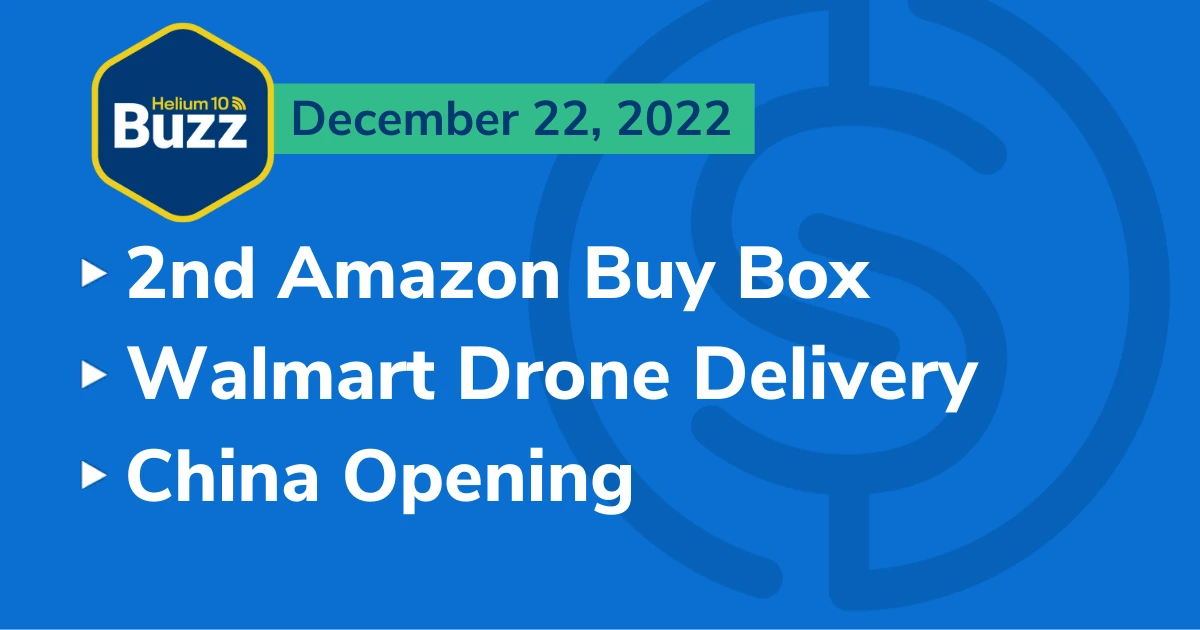 We're back with another episode of the Weekly Buzz with Helium 10's Chief Brand Evangelist, Bradley Sutton. Every week, we cover the latest breaking news in the Amazon, Walmart, and E-commerce space, interview someone you need to hear from and provide a training tip for the week.

The European Commission has made commitments offered by Amazon legally binding under EU antitrust rules. Amazon's commitments address the Commission's competition concerns over Amazon's use of non-public marketplace seller data and over a possible bias in granting sellers access to its Buy Box and its Prime program.
https://ec.europa.eu/commission/presscorner/detail/en/ip_22_7777

Walmart has some exciting news for residents of Florida, specifically in the Tampa and Orlando regions with the use of drone delivery for some purchases for a flat fee.
https://original.newsbreak.com/@r-a-heim-561160/2863964950830-walmart-is-now-using-drones-for-delivery-in-florida

Sponsored Display video creative now supports contextual targeting to better showcase products and brands
https://advertising.amazon.com/en-us/resources/whats-new/sponsored-display-video-creative-to-contextual-targeting/

Sponsored Display launches view metrics for video creative
https://advertising.amazon.com/en-us/resources/whats-new/sponsored-display-view-metrics-video-creative/

China will scrap the compulsory quarantine measures for all inbound travelers starting from January 3, according to the Hong Kong Satellite Television (HKSTV). The report cited sources that the Chinese authorities will optimize its quarantine measures to a "0+3" policy for the visitors next month, "which means China will fully open up in 2023."
https://www.thestandard.com.hk/breaking-news/section/4/198412/China-to-scrap-compulsory-quarantine-for-inbound-travellers-on-Jan-3:-HKSTV
We continue this episode with tips and strategies from our SSP 30-Second tip clip, with Kamal talking about the label it strategy and Bradley with the Pro Training tip of the week on how to use Helium 10 Follow Up to automate your review requests.
In this episode of the Helium 10 Weekly Buzz, Bradley talks about:
01:00 – 2nd Buy Box?
04:30 – MCF Updates
05:20 – Walmart Drones
06:48 – Sponsored Display Updates
08:15 – China Open?
09:50 – Sign Up For The Helium 10 Academy
11:10 – SSP 30-Second Tip Clip
13:20 – Pro Training Tip: Automating Review Requests
---
Enjoy this episode? Be sure to check out our previous episodes for even more content to propel you to Amazon FBA Seller success! And don't forget to "Like" our Facebook page and subscribe to the podcast on iTunes, Spotify, or wherever you listen to our podcast.
Get snippets from all episodes by following us on Instagram at @SeriousSellersPodcast
Want to absolutely start crushing it on Amazon? Here are few carefully curated resources to get you started:
Everything for your business on Amazon.
Find out more about our products by signing up or speaking with one of our
Customer Success representatives today. With us in your corner, you can enjoy
more sales and increased engagement from your Amazon business.
Chat with a Support Specialist