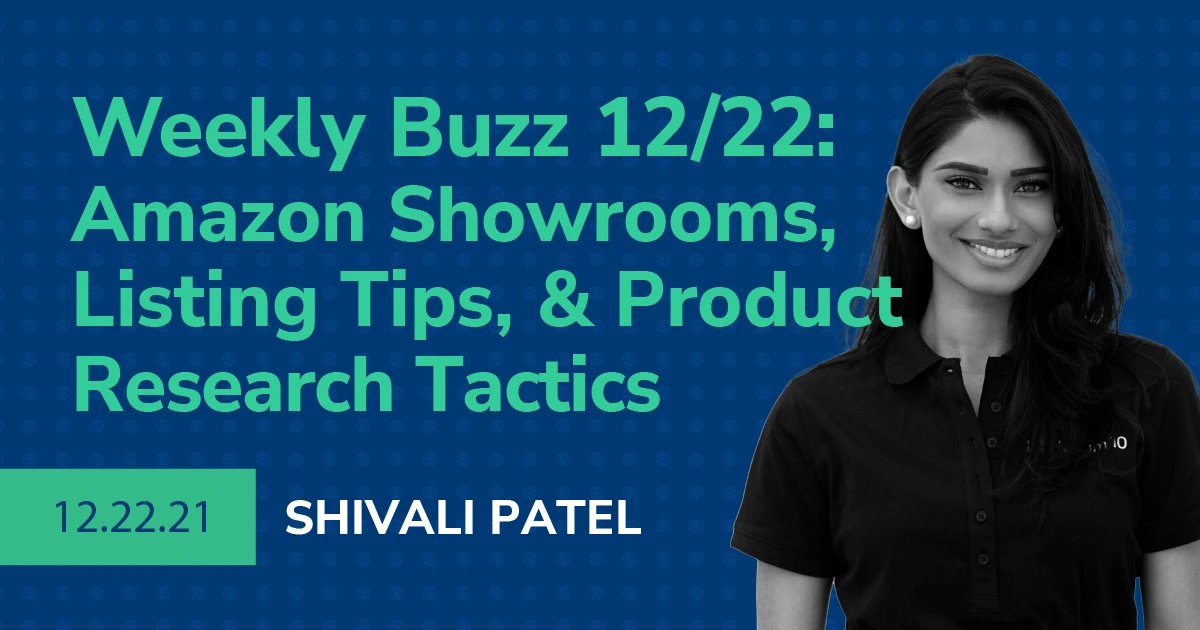 Helium 10 Buzz 12/22/2021: Amazon Showrooms, Listing Tips, & Product Research Tactics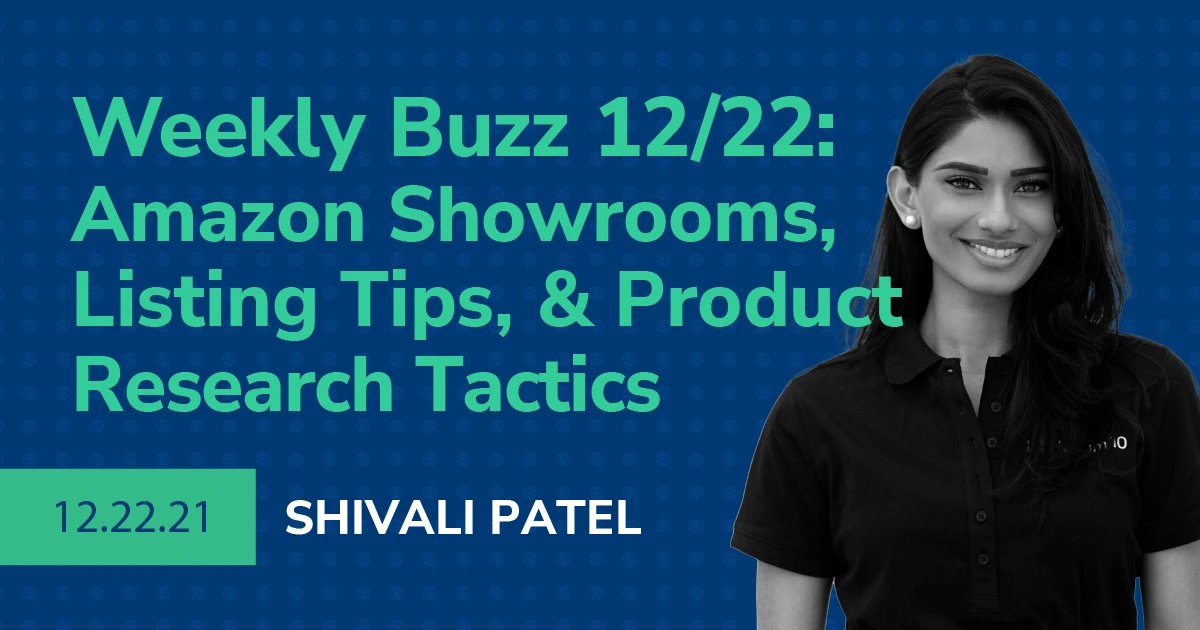 We're back with another episode of the Helium 10 Weekly Buzz with Helium 10's Brand Evangelist Shivali Patel!
Every week, we cover the latest breaking news in the Amazon and E-commerce space, interview someone you need to hear from, and provide a training tip for the week.
In this episode of the Helium 10 Weekly Buzz, Shivali talks about:
01:00 – Amazon and Showrooming
02:30 – Amazon Driver, A Local Hero
04:00 – 2 New Podcasts In Other Languages
05:30 – This Week's Interview With Carrie
08:15 – Product Research Tips From Lailama
13:15 – How To Get More Product Research Tips
Transcript
Shivali:
Hello everybody, and welcome to another episode of the Helium 10 Weekly Buzz. My name is Shivali Patel, and this is the show where we get you familiar with the latest news in the Amazon and e-commerce space. We interview people in the industry that we think you need to hear from, and we provide a training Tip of the Week that will give you some serious strategies for serious sellers of any level in the Amazon, Walmart, and e-commerce world. Let's see, what's buzzing this week today. We're gonna talk about a new that just came out from the numerator. So let's dive right in. The first news piece that we have is Amazon and Showrooming.
Shivali:
So if you're not sure what showrooming is, it's the practice of consumers visiting a Brick-and-Mortar retail store first looking at the item and then purchasing it online. So the new study from numerator says that 3/4 of shoppers who visit Walmart target or Costco actually end up shopping on Amazon on within the first 24 hours. That is an incredible stat, right research was done in the first nine months of 2021 to avoid any sort of holiday specific shopping. But it's interesting, cuz it also goes on to show why the wholesale model and arbitrage are still very viable things to do currently. Now, if you have a way to offer a brand name product at the same price that it's listed in one of these stores, then you can really get those sales. And what's even more fascinating is 30% of people said that it was due to ease of delivery and not so much for lower prices.
Shivali:
So, lower prices only made up 20% of the reason. Then again, I know that that's the case with me as well. Lots of opportunity you guys again three fourth of shoppers. They purchase on Amazon even if they're shopping in person. So let's move on to the next piece of news, which is an Amazon driver who is deemed a local hero. So I wanted to throw in a feel good story just because you know, the holidays are right around the corner. And it's great to just get into that holiday spirit of giving and just feeling good and positive news. So there was a dramatic doorbell video that recently captured of a brave Amazon delivery woman by the name of Stephanie Lance. And she saved a young woman by the name of Lauren Ray and her dog from a vicious pit bull attack.
Shivali:
So the footage showed Lauren Ray petting the bull just seconds earlier. And when her dog stepped out, the pitbull basically went into a manic state. So goes to show that though the scene itself could have been quite horrific. Amazon drivers can really play that part of your local hero as well. Lance actually mentioned in an interview that Amazon drivers can be involved in lot more than just deliveries. She had actually saved a baby that was yet to turn two days old just days prior to that incident. And she had a coworker who put out a fire. So Amazon drivers, other people who are there when nobody else is sometimes. And there are plenty of feel, good stories to make you trust that you are in good hands. The Amazon on workers and 702 logistics was a local career company, which is contracted by the e-commerce giant. They actually rewarded Lance and her family with four tickets to an attraction in Las Vegas in the city that they're based in. So yeah, that is pretty, pretty good. Feel good news to know.
Shivali:
Last story of the day, I'm very excited to share this one, cuz this is super relevant to Helium 10. As you guys know, we have, you know, two podcasts. We have the AM/PM Podcast and then we have the Serious Sellers Podcasts. Serious Sellers is the number one podcast in the world for the Amazon space. We have over 90,000 listeners every month on average and we just launched our first podcast in other languages. So you guys ask for it, you know, we're here to deliver, we just launched one in Spanish. So we have the Serious Sellers Podcast en Español. And you can find that at www.helium10.com/spanish. So helium10.com/spanish. You can find that first version of the Serious Sellers Podcast in Spanish, which by the way, the Spanish version is by Adriana Rangel and Bradley Sutton. But we also have the German version. So the German version is with Marcus and Bradley and the Serious Sellers Podcast Auf Deutsche that can be found at www.helium10.com/german. Now, now that we've wrapped up with the news, I want to move forward to our interview for today. So, Carrie, do you wanna just talk a little bit about the importance of maybe why you feel it's important to build a brand on Amazon?
Carrie:
Yeah, I think it's really important to build a brand end because it's something that's gonna protect you. So building a brand and customer loyalty is gonna set you apart from all the other sellers on Amazon. And right now I think a lot of sellers like if you're ever at conferences, they're always afraid to tell what they're selling. And I think that when you build a brand, you don't have to be afraid. So there are some sellers that are like, I sell this or this is my brand and they're not afraid because they've built customer loyalty. They've built a brand in a following and it really safeguards you in a lot of ways because people do like to follow brands that they like the things that the brand is putting out. So I think that's definitely something that is really important for building a brand per you know, safeguarding yourself for long term.
Shivali:
Absolutely. Now do you wanna talk a little bit about like the main images and video, just, you know, a listing has so many components to it that are so important. I mean, everything from the bullet points to the way that you optimize that listening and just you know, convert the traffic that's really attending your page. So do you wanna maybe speak a little bit on tha importance or the weight of a main image versus a video?
Carrie:
Yeah. Images are extremely important to just convert people. I mean, people, most of the time are not reading back, you know, going down to the description. So they're seeing the images first, so the videos and that's it. So I've seen a huge conversion rate with my video ads because the video ads, they're very simple. It's so crazy. It's just like you put a slideshow together really quick of all the benefits of your product and people really like to see that cuz they wanna know quickly. What is the benefit of your product? So with your images using infographics, really good lifestyle pictures with, you know, little selling points for your product. I think that's extremely important for conversion right now. And yeah, just making sure that you're keeping up with the competition because if you don't have good images, then you're not gonna convert as well.
Shivali:
Yeah, absolutely. All right. Well, thank you so much for, you know, stepping in and we appreciate all your knowledge per usual.
Carrie:
Thank you.
Shivali:
All right. You guys, let's move on to the last segment of this week's weekly buzz and that is our Tip of the week. So for our Tip of the Week, this time around, we're gonna give you an excerpt from our recent product research webinar. So you know, our team wanted to do something for 2022 and that was our 22 product research strategies you can use to get started in 2022. And in this upcoming clip that we're gonna share with you, Lailama is going to give you three completely different ways on how you can find your first or your next product to sell on Amazon.
Lailama:
All right, let's dive right into the product research strategies that I have for you. And my first strategy is going to be gift guides. So you simply run a Google search for top holiday gifts, birthday gifts, anything you want. I personally went for top sustainable gifts just because who doesn't love a good a gift, which is also environment friendly, right? So chances are, you're gonna get a plethora of articles on gift ideas, but what you wanna do is sift through as many as possible and look for the ones that are unique. So you're not entering a market that is already saturated. Now just by the way, guys, this gift guide strategy was also mentioned by Tim Jordan in one of the Project X videos in case you guys missed it there. And wow, I'm getting some brilliant suggestions already. So you guys have to check this out.
Lailama:
I think my favorite is going to be this one, just to point out opportunity could mean something completely different to you than me, but as you're scrolling through these lists and lists of product ideas, you wanna keep in mind what signifies opportunity to you. I personally like going for a product between, let's say $20 and $70 so that I get a good profit margin, but I also don't wanna spend too much on inventory costs, right? So keep these benchmarks in mind and whatever you select as your top favorites, make sure to run different Helium 10 tools on them to validate that this is in fact a good product now onto strategy. Number two, which is Black Box's, advanced filters, and a newer way to use Black Box for keywords is by analyzing the top 10 listings on the page. So for example, I could say Helium 10, show me keywords with at least 3000 in search wall in the baby category with at least 6 of the top 10, having more than 5,000 in revenue and less than one 50 in reviews.
Lailama:
And the reason this would be valuable is that there's at least six listings with that kind of revenue. And then I know there's obviously demand for the products and not just the keyword itself, right? If, and if there's less than one 50 reviews, then I also know that there some room for me to enter the market. So, I did a test. Okay. And on some of these keywords, like the braided crib bumper, and when you look at it on Amazon, there's definitely some opportunity to tap into and the last strategy would be Pinterest trends. Now I always come across the most unique products when I'm scrolling on Pinterest. And it's honestly such a great place to look into if you want to be one of the very first people in the market. So you would go onto trends.pinterest.com and check your news for any training ideas.
Lailama:
Sometimes it has great suggestions, but because it is holiday season right now, a lot of the stuff you will find on here will be seasonal. So if that doesn't work for you, then you could just start with a keyword search on the search bar and maybe wait for all to complete to see what is trending from me. I'm gonna go for a rattan just because I'm thinking along the lines of home category, maybe decore and so far, I have to say it does look promising from the trends that's showing me. So you can just keep looking at different products until something catches your eye. And for me, I came across this cute rainbow shaped decore item. So I guess I'm gonna go for a keyword with this. Maybe it's rattan rainbow. And to further validate my information, I can go into Demand Analyzer to get a rough estimate of the average revenue, average price. And honestly, this looks like an opportunity to me. So maybe I can further investigate it with other tools, but that would be it for me. That would be all for me today.
Shivali:
All right. You guys, so those are just three of our 25 plus product research tips. I know I said 22 earlier, but there are some bonus strategies. So you'll definitely wanna check it out, check out the complete workshop that we did. And if you want to find more inspo, you can find that complete workshop at www.productresearchnow.com again, that's www.productresearchnow.com. So you guys that is it for this week's Weekly Buzz next week, we will not be doing one just because it's the holiday season and we hope you guys can spend it with your loved ones. But we will be back in 2022, of course, with a brand new episode with Carrie Miller, I believe leading our weekly buzz. So we look forward to seeing you then wishing you the happiest set of holidays.
---
Enjoy this episode? Be sure to check out our previous episodes for even more content to propel you to Amazon FBA Seller success! And don't forget to "Like" our Facebook page and subscribe to the podcast on iTunes, Spotify, or wherever you listen to our podcast.
Get snippets from all episodes by following Bradley on Instagram at @H10bradley
Want to absolutely start crushing it on Amazon? Here are few carefully curated resources to get you started:
Achieve More Results in Less Time
Accelerate the Growth of Your Business, Brand or Agency
Maximize your results and drive success faster with Helium 10's full suite of Amazon and Walmart solutions.