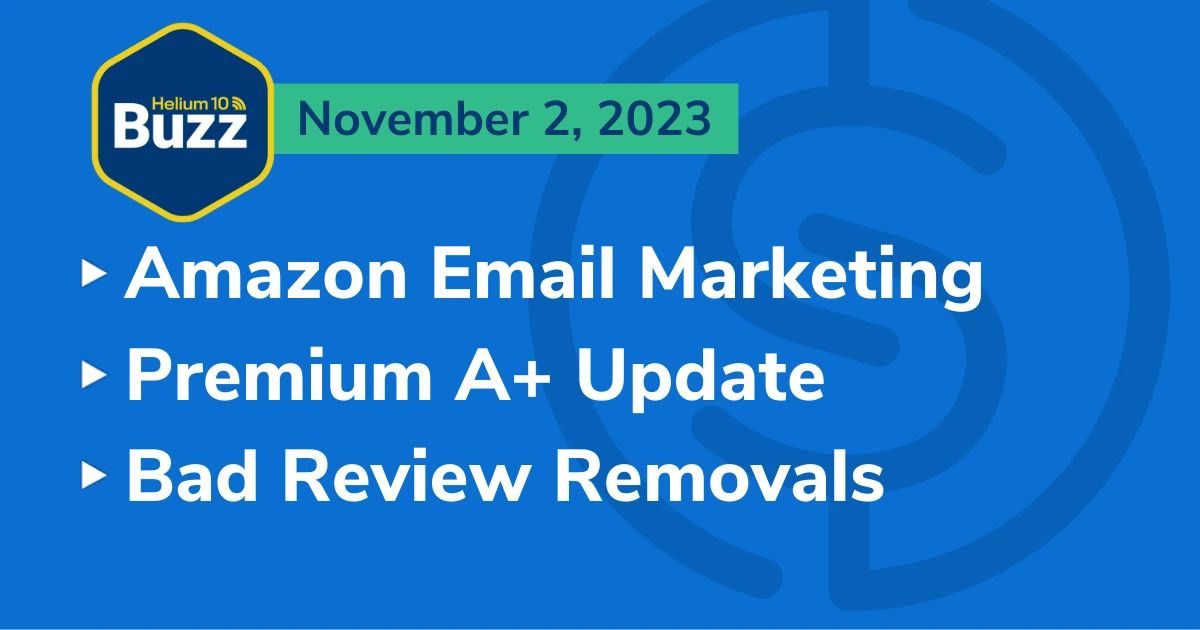 Helium 10 Buzz 11/2/23: Amazon Email Marketing | Premium A+ Update | Bad Review Removals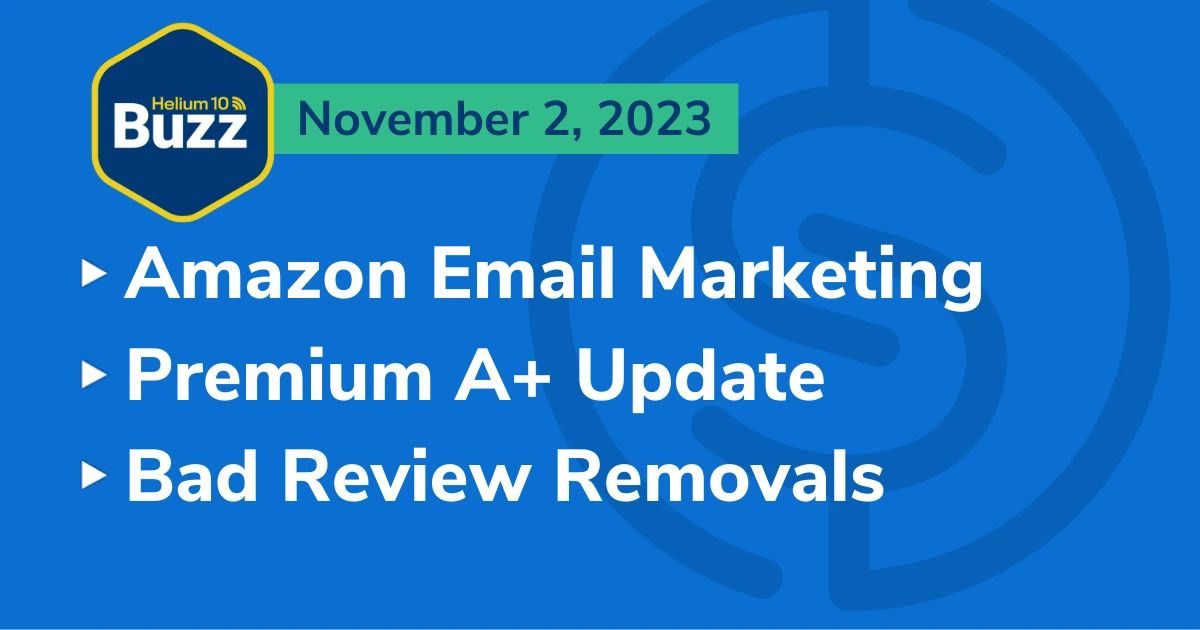 We're back with another episode of the Weekly Buzz with Helium 10's Chief Brand Evangelist, Bradley Sutton. Every week, we cover the latest breaking news in the Amazon, Walmart, and E-commerce space, interview someone you need to hear from and provide a training tip for the week.

Walmart Announces Black Friday Sale Details and Previews Early Deals
https://www.cnet.com/deals/walmart-announces-black-friday-sale-details-and-previews-early-deals/

EU Store Transparency Report
https://assets.aboutamazon.com/cd/28/4d02dd2e41ec8c6d1bc341e9d919/amazon-eu-store-transparency-report-jan-june-2023.pdf

Bad Review Removal
https://www.linkedin.com/posts/h10bradley_dont-remember-getting-this-notification-activity-7125484541426708481-WmJx/
Amazon's Counterfeit Crimes Unit's collaboration with brands and law enforcement result in global raids
https://www.aboutamazon.com/news/policy-news-views/amazons-counterfeit-crimes-unit-successful-raids-worldwide

Exclusive: How Walmart is using AI to supercharge its holiday plans
https://finance.yahoo.com/news/exclusive-how-walmart-is-using-ai-to-supercharge-its-holiday-plans-190849969.html?guccounter=1

Shopify merchants seek AI boost for key sales decisions
https://www.reuters.com/business/retail-consumer/shopify-merchants-seek-ai-boost-key-sales-decisions-2023-11-01/

TikTok tests new ways to embed commerce into the in-app experience
https://www.insiderintelligence.com/content/tiktok-tests-new-ways-embed-commerce-in-app-experience

And don't miss our deep dive on how to generate unlimited Amazon Post graphics using AI. Let's discover how to elevate your business and create engaging content for your customers. It's an exciting time to be in e-commerce, and we're here to help you navigate it!
In this episode of the Weekly Buzz by Helium 10, Bradley covers:
01:12 – Amazon MYCE
02:37 – Walmart Black Friday
03:38 – FBM Update
04:22 – Premium A+ Content
05:21 – Amazon EU Details
06:33 – UK SAS Program
07:24 – Bad Review Removal
08:22 – Amazon CCU
09:41 – AI Everywhere
12:30 – Follow Helium 10 x Pacvue on TikTok
13:05 – ProTraining: How to Generate Amazon Posts using AI
19:48 – Helium 10 New Features Alert
23:48 – Did Bradley Hit 1 Mile?
Transcript
Bradley Sutton:
Amazon's allowing sellers to send emails to customers for Black Friday and Cyber Monday. There's new requirements for premium A plus content, amazon's now sending emails out when they remove bad reviews, and there's tons of new AI news in the e-commerce world. This and much more on this week's weekly buzz. How cool is that? Pretty cool, I think. Hello everybody, and welcome to another episode of the series sellers podcast by Helium 10. I am your host, Bradley Sutton, and this is the show that is our weekly buzz. We give you a rundown of all the goings on in the e-commerce world this week. We also let you know what new features Helium 10 has and we give you a training tip of the week that'll give you serious strategies for serious sellers of any level in the e-commerce world. Let's see what's buzzing this week, all right? So first of all, if you're watching this on YouTube, you see I'm moving a lot. Well, I'm trying to be the first ever newscaster here to do a whole news segment while walking a mile on a treadmill. So that's what I'm doing. You guys know I've been trying to push health and wellness this year, so I'm trying to put my money where my mouth is and do some exercising here. Live on this show. My goal is to do one mile before this broadcast is over. Anyways, let's go ahead and hop right into the news. There's lots going on, all right. The first news article of the day is actually from Seller Central. It's on your dashboard and you may or may not have known this, but you can do marketing emails, all right. So now what you can do. This article here is talk is entitled increase visibility of your holiday deals with marketing emails. And so if you're a brand registered, you're able to use manage your customer engagement tool to you know market, to repeat purchases from existing customers and also your brand followers. Like you know, maybe you've gotten some brand followers thanks to Amazon Post, and if you take a look at this article, it talks about that. You're you can offer percentage off discounts, seven day deals and product launch announcement emails, and they're especially saying hey, you should try and do this during Black Friday and for Cyber Monday. So where you can do this, you can hit the link for manager experiments right there in that article. You go to your manager customer engagement page, you hit create campaign, you select your brand and then basically, what you can do is you can hit market product or promote a promotion and then you can market to recent customers brand followers or more and once you hit the next on this entry form, you're going to be able to pick your product and write the email, put the delivery window and more. So a lot of cool stuff that maybe you haven't taken advantage of, but if you've got some brand followers, you're going to be able to go ahead and take advantage of that.
Bradley Sutton:
All right, the next article of the day is actually from CNET and it's entitled Walmart announces Black Friday sale details and previews early deal. So this is kind of like a cool because it gives you kind of like a timeline of what is going on on the Walmart side. So they've actually got multiple events. So, like the first one is actually starting Wednesday, November 8th, you know, super early, at 3pm Eastern time, and Walmart plus early access goes from 12pm Eastern time. The second event starts on November 22nd and then Cyber Monday, November 27th, and so I'm bringing this out because you know if Walmart is going to be pushing these deals, that means there's going to be more traffic on Walmart.com, and if you're selling on Walmart.com might be a great opportunity to do some kind of discount or promotion or just be expecting extra traffic, so don't think that you have all the way until Black Friday, Cyber Monday, in order to start getting some more traffic on Walmart. It's starting as early as November 8th, according to this article.
Bradley Sutton:
Next article is also from your seller central dashboard and it's entitled update on default handling time for seller fulfilled orders. So if you're doing seller fulfilled or FBM, you know traditionally you've had like two days in order to fulfill the orders. But make sure to check your dashboard. There's some new news. It's talking about how more than 85% of seller fulfilled orders are shipped within one day. So it's going to start putting by default one day, all right for the order window, and so I think this, you know this could be good because, if I'm assuming that, if this happens now, customers are going to see one day less as far as the estimated delivery time and obviously that's going to help your conversion rate, theoretically speaking. So check out that update in your dashboard and see if that affects you.
Bradley Sutton:
Next update is again your seller central dashboard a lot of the news articles in your seller central dashboard that you need to be checking out and it's entitled update to premium A plus content eligibility requirements. All right, so the new update is that first of all, I think before you actually had to have like 15 approved A plus content modules to be eligible for premium A plus. Well, now All you need is five All right, so five in the last 12 months. And then also you need a brand story module published on all of your brand-owned product listing. So again, premium A plus content allows you to put like really unique information, like video and other things. So if you're able to do that, make sure to qualify yourself for that. You know, so you can also get, even if you only have one or two products. You can still get qualified by having that brand story and then doing five times, getting some kind of A plus content approved, even if it's for the same listing.
Bradley Sutton:
Next up, there is an article from Amazon Europe and it goes it's just called a transparency report and it goes like super into detail about tons and tons of facts and figures of what's going on on Amazon Europe and, like you know what they do to protect sellers and things. But the thing I wanted to show is the number of monthly active users for Amazon on the customer side for each of the countries in the EU. Now, obviously, uk is not in the EU, so that's not here. But if you guys thought that the number one country was Germany, you would be right 60 million active users. What do you guys think is the number two country? Number two country is actually Italy at 38 million, number three is France at 34 million and number four is Spain at 25 million. Those are the only ones that are in that bracket. The next one is Austria, with five million monthly active users in that country and there's not even an Amazon Austria, so they're probably shopping on Amazon Germany or one of the other marketplaces. So again, check the link in the description below. Kind of interesting if you guys want to see this whole EU transparency report.
Bradley Sutton:
Next article, again going right back to the seller central dashboard, but this time in Europe. All right, so if you are in Europe, you now are able to get a SAS or a strategic account services representative. You know sellers in the US have been using this to do tricks like what's called anything in the buy box. We've had that on the podcast before. But again, you UK and EU sellers, go to your seller central dashboard. You've got this notice. That's not on the US side, but you are now able to register here for the SAS plans and it's actually migrating a couple of the existing EU plans where you were able to have some kind of rep into this SAS core You'll rep service. So make sure to check the dashboard. You'll see a link that will allow you to go ahead and see if you can apply and then see if you qualify.
Bradley Sutton:
Next up there's this email that I got this week from Amazon. I hadn't seen it before. I'm not the only one who's gotten a lot of sellers I've been getting it some this week, some last week, some the week before where Amazon is now letting you know when they remove bad reviews or reviews from bad players on Amazon. So if you look, I put a link in the description on one of my LinkedIn posts where I talk about this. But here this is how the email looks. It says we remove product reviews from bad actors. All right Now, by bad actors. It doesn't mean Owen Wilson, sorry, bad joke, but anyways by bad actors. It means you know, whatever, they're probably abusing the system somehow. But I got an email that said hey, we notice there's some bad actors. We removed X and Y and Z reviews. You know happy selling pretty much. So I'm curious did you guys? Have you guys gotten this? Click the link below to my LinkedIn post and reply there. Let me know if you've gotten this email or not.
Bradley Sutton:
All right, for the next article, we have a theme song for it. Yes, we are talking about the Amazon department called the Amazon law and order CCU the counterfeit crimes unit. That actually is a real thing, guys Amazon counterfeit crime units. If you guys are listening on the radio or the your radio in your car or something, hopefully you heard the law and order theme song right there. But anyways, amazon has had this CCU, this counterfeit crime unit, where every month they seem to be doing new things to kind of crack down on counterfeits out there, and so they have a latest update that gives and kind of updates on the kinds of things that they've been doing. They did like raids, like crazy raids on with 150 Chinese law enforcements in China to like kind of like break down this smuggling ring on a bunch of fake products that were coming out. They took action against counterfeit rings across Europe. But this, this department, is doing some some cool things to try and break down on the bad players that are out there. So make sure to take a look at the link that we left in the comments below or in the description below, so you can see the kind of steps that Amazon has been taking to keep Amazon clean from the bad players.
Bradley Sutton:
All right, the last few articles we're going to talk about are all about AI, and it's kind of crazy how AI is just taking over every marketplace, as being like in the news. Last week, as you guys know, we talked about the announcement on Amazon how they have now generative AI to help make images. We're actually going to have a demo of that in just a couple of minutes here. But now even Walmart is getting in on the AI. Bandwagon says how. This article from Yahoo Finance talks about how Walmart is using AI to supercharge its holiday plans, and it's talking about how they're using it to try and distribute the inventory across the country a little bit better across there, more than 4,000 stores and this is going to be able to allow them to deliver same day to more locations by having the right inventory in the right distribution centers and stores Again, a benefit for Amazon sellers.
Bradley Sutton:
Moving on in this AI craze, there is an article out of Reuters about Shopify Says. Shopify merchants seek AI boost for key sales decisions. So make sure to check out this article, where it talks about Shopify's new kind of like features that are now featuring AI. And then, of course, not to be outdone, TikTok shop is testing new ways to embed commerce into the in-app experience, according to insiderintelligence.com. Now, this was almost the most interesting story for me, because they're rolling out this kind of like AI tool that can use AI to identify products in videos and suggest similar items for sales on its e-commerce marketplace. This isn't using the affiliate program.
Bradley Sutton:
Now, this is interesting because, like, what that means is, let's say, somebody has got a just dancing video or they're doing a Amazon or a TikTok shop or a TikTok live or something, and then, in the background, all right, they've got I don't know some barbecue. Well, it sounds like what's going to happen is the AI is going to try and like, detect if any TikTok shop seller has a that exact barbecue or something similar, and then give a suggestion to somebody who's watching this regular TikTok video hey, do you want to buy that product that you see in there? You know, I mean, people follow these influencers and they want to copy them. They want to have what they have. They want to have their same furniture or have their same phone case and stuff. Now, without the influencer even promoting directly other products, TikTok shop is going to be promoting other TikTok shop products from there. Now I think the influencers might get a little bit upset, because this article talks about that. They're not actually going to get any affiliate commission for this. Anyways, this is interesting Another way that AI is being used. All right, that's it for the news this week.
Bradley Sutton:
Now, before we get on into the next segment, one quick thing. Speaking of TikTok, do you know that Helium 10 has a TikTok page? Guys, make sure to go to it, add it. Go to your TikTok app, search for Helium 10 pack view. All right, helium 10 pack view, no spaces, and then you'll see tons of videos from our social media team. Like Sydney, we've also got clips from this podcast and we've also got educational content on there. So again, give us a follow, like a couple of the videos to help the algorithm. Helium 10 pack view is the name of our account. All right.
Bradley Sutton:
Next up, we've got our training tip of the week, and this is a great one by Shivali. She's going to be talking about Amazon post, but did you guys know that you can actually have an infinite number for free of Amazon post, that you can post pictures every day and you don't have to make new images by yourself, or you don't have to take new pictures and you don't even have to make the captions. Guys, all right, it is completely done by AI, thanks to Amazon and thanks to Helium 10's new AI feature for Amazon posts. You guys want to find out how to do it. Shivali is going to explain how in this next video.
Shivali:
Hi there, Shivali. Here I want to talk to you about Amazon posts, which is a really powerful tool that you can use to elevate your business, create engaging content for your consumers, all while showcasing your products in a way that tells the story behind your brand. Now there are a lot like social media posts, but you can't just copy over the product listing copy and images. There has to be some intentionality, because it has to be visually appealing and attention grabbing. Let's take a look at an example. You can find Amazon posts by selecting the storefront underneath the product listing page and navigating to posts here. As you can see, it's not just a plain image with boring description. In fact, it's designed to be visually appealing and catch your attention, and that's what you really want. This brings me to my next point, which might answer your question, and that is what if I don't have a bunch of photos laying around from a fancy photo shoot? Well, that's what AI is for. You can use Generative AI to generate the content that you need. It can create images, captions and even suggest the best times to post for maximum visibility. It's kind of like having a creative assistant right at your fingertips, making your Amazon posts look like a million bucks, even if you're on a budget. I'm going to show you a quick and easy way to enhance your sponsored brand campaigns on Amazon. So I'm going to go ahead and navigate to my Advertising Panel, click Campaign Manager and, once I have that open, what you will want to do is select the sponsored brand campaign that you want to try this with. If you don't have one, no worries, you can just create a new active sponsored brand campaign and then, once that page has loaded, you are going to click on Create so Creative is on the left-hand paneling once again and then select Edit Creative.
Shivali:
Here comes the fun part. So you select Custom Image, click Change Image and then click Choose an AI-generated image. So this is in beta at the moment of recording, and what you will want to do is select whichever product that you want to try this with. I'm going to type in an image description, so this one's quite simple. It just says Product Hanging on Wall in a Bedroom, above the Bed with a Gothic Bed Frame. I would click Generate and ideally, what you would see on your end is multiple image options. Then you would go through and select the ones that you like that you find appealing. As you can see, we were given three outputs based off the query that we inputted, so I would then go ahead and open each one of these up and click Save to Creative Assets. I'll show you where these are getting saved in just a moment here, but let's go ahead and click Save for each one of these. All right, let's X out of that and then, once we have that stuff saved, it's going to be in Creative Tools, underneath Creative Assets, right here.
Shivali:
This, guys, is your gallery of images of your creative assets that you can really use anytime that you have generative AI images being saved. This is where they are being funneled. So what I'm going to do is just click this three dots icon and click Download and then, once I have that downloaded, I can then go into my brand content, go into Posts and begin creating a post. Let's select Manny's Mysterious Audities and then click Create Post and upload our image. Here I have the AI generated image, click Open and, as you can see, for us it's saying the image is too wide because, again, this design was built underneath our sponsored brand campaigns when we were trying to just generate AI based image. Keep in mind that this has saved us a lot of time and money and efforts in just being able to get images without actually having to do a photo shoot. So it's pretty simple to throw this image then into a sizing machine or even something as simple as Canva to resize it and then upload it.
Shivali:
After that I'm also going to need a caption. So what I'm going to do is go into our listing builder and as long as you have the product characteristics, the brand information, product name, tone, target audience, etc. Filled out at the top of your listing builder, then you can actually go all the way down to Amazon Posts or just select the tab right here and click Write it for me. I did already go ahead and click Write it for me, just to save a little bit of time so you guys can see it. But, as you can see, it's really good. This pulls from your keyword bank, it helps with your generated search volume and it absolutely makes your Amazon posts process a lot easier. Let's jump back into Amazon Posts and get that pasted in and once you have that part filled out, you can just add in your product. I'm going to click Add. Mine says out of stock, so it says one available. ASINs won't show in your post and posts have to have, of course, at least one ASIN in stock to be visible, but this was just an example. I wanted to go through and show you guys just how easy it is to generate images and captions so you can quickly create posts even if you don't have access to a wide gallery of images. Go ahead and click Submit for review. As long as you've followed along and you've created this with me, I hope you guys recognize that, with this new AI generation tool and the listing builder tool with Amazon Posts, now you really have access to a never ending supply of Amazon Posts. So with that, we look forward to seeing your content on Amazon.
Bradley Sutton:
Alright, thank you very much for that, Shivali. So, guys, that's available. I believe you might have to have diamond for some of that feature functionality inside of Listing Builder, the feature that she talked about for Amazon Post or creating those images that's pretty much open to anybody. So, guys, you, there's no reason anymore for you not to do Amazon Post. You can generate the images now for free and then, limited amount, you can generate captions for free, so you don't have to always be thinking about what am I going to write for a caption. So, guys, get into that now. And we've got announcements coming soon. Guys, that's going to make that process even more easy because we have an exclusive Helium 10 as an exclusive arrangement and access to a certain I can't really, you know, completely spill it, but a certain data point and a certain functionality that only Helium 10 has for the next few months, and we're going to try and give you guys that functionality as soon as possible. Stay tuned for more, all right.
Bradley Sutton:
Next up is a brand new feature that we're going to start doing weekly. Helium 10 is actually launching new features every week, guys. You know, sometimes you guys might not know everything that we're releasing. So here in the weekly buzz. Starting this week, we are going to start letting you guys know in a special video here what all we have launched in the last week so you can see if it benefits you and then make sure that you and your team use it. All right, so this week's Helium 10 new feature alert, let's hop right into it. The first one is actually on your dashboard in Helium 10. All right, or it's actually in a couple places. So you just go to your insights dashboard right here as soon as you log into Helium 10, if you've got the diamond plan on the above, you've got. You're going to see all of your information down here at the bottom. That's not new. What is new is that now, if you put your mouse over any of your products, you have this whole new widget of information that is going to come out where you can see the BSR in the parent category, the BSR in the sub category of your product, your listing age, you know who's, what seller has, the buy box, what your current price is, the review count. Now, that's for your product. So maybe you're thinking like, well, I already know all of my product stuff, but the other thing is on our competitors page. All right. So we have a competitors page now. If you're tracking your competitors, you can also again now mouse over and then you're going to see all of that same information. So that's a one cool thing that just got launched in Helium 10 insights dashboard.
Bradley Sutton:
A couple of things now in Cerebro. If you're in Cerebro and you do a multi-ASIN search, one of my favorite filters were the advanced rank filters. Now they are no longer called advanced rank filters. I just wanted to let you know we change the name so it's a little bit more easier to understand what the advanced rank filters do is. It allows you to filter out and say, hey, I want to see at least this number of the competitor ASINs and this multi-ASIN search are ranking between this and this right? Well, now, now in those headings, if you guys want to find those features, it's right down here and it's called number of competitors. This is the filter the artist, formerly known as advanced rank filter, one which really kind of like confused some people. So again, what you're looking for is number of competitors, and then you put a minimum and maximum here of of how many of the competitors you want to kind of be ranking a certain range. All right, so if you put in 10 competitors and then you put a minimum of two and a maximum of five, basically, what you're saying is, hey, of these 10 competitors, I want minimum two and maximum five of them to be ranking between X and Y. And that's where you go to the very next field, which is called competitor rank. So you can say, hey, I want these to be ranking between one and 20. I want to know all the keywords, or at least two of these competitors, but a maximum of five are ranked page one, position one to 20. So, again, this is not a new filter. Is this a new name? And I'm just kind of reminding you guys about it. Again, it's called number of competitors and competitor rank.
Bradley Sutton:
Now, if I actually go in and hit the show historical trend, we've got a small update feature there. This comes directly from you guys. So if I hit this, I can actually go in and pull out hey, show me the certain ranks, let's say, of June 2022. And now what you see? When you see this search volume, like before, we just picked the last week of this month. All right, so this is showing me the ranks of all of these products during the month of June of 2023. But now what this search volume represents that you see in the search results. Again, this is by, you know, customer request. It is now showing for that month of June, the week that had the highest search volume. All right, so 1468 was what the highest search volume was during the month of June. All right, that's it for this week's Helium 10 new feature alerts. Well, guys, that's also it for this week's Weekly Buzz. As you can see, I didn't hit my one mile goal here on my Apple watch. I only got 0.67 miles in. I'm going to have to keep walking for the next 20 minutes to hit that one mile. Anyways, guys, thanks for tuning in this week. We'll see you next week to see what's buzzing.
---
Enjoy this episode? Be sure to check out our previous episodes for even more content to propel you to Amazon FBA Seller success! And don't forget to "Like" our Facebook page and subscribe to the podcast on iTunes, Spotify, or wherever you listen to our podcast.
Get snippets from all episodes by following us on Instagram at @SeriousSellersPodcast
Want to absolutely start crushing it on Amazon? Here are few carefully curated resources to get you started:
Achieve More Results in Less Time
Accelerate the Growth of Your Business, Brand or Agency
Maximize your results and drive success faster with Helium 10's full suite of Amazon and Walmart solutions.