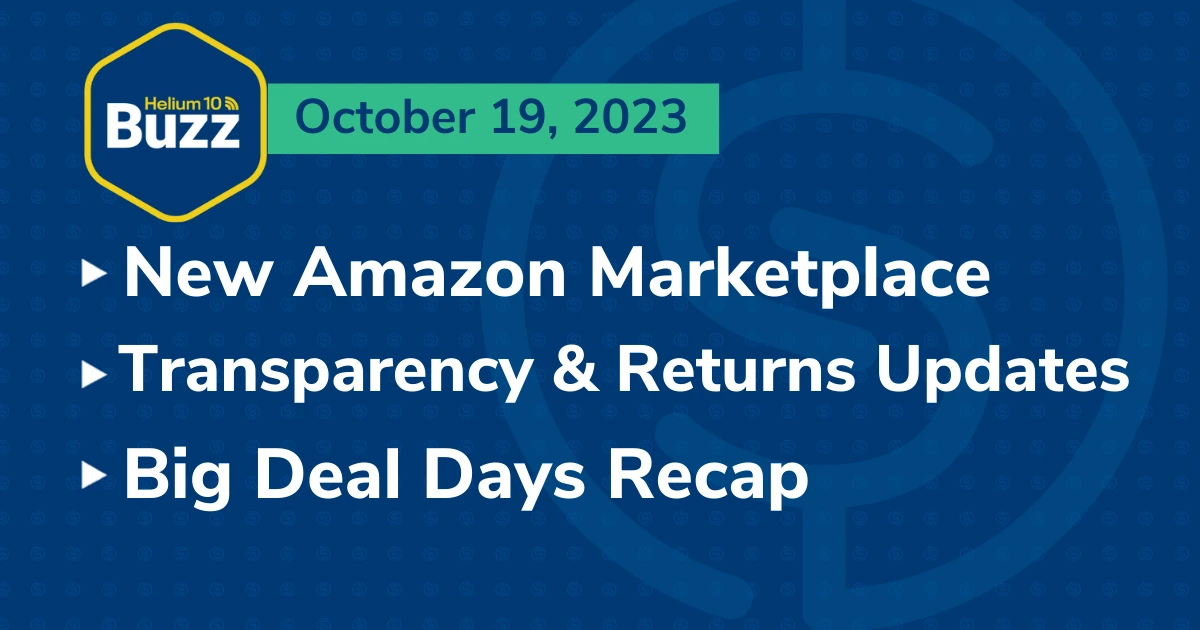 Helium 10 Buzz 10/19/23: New Amazon Marketplace | Transparency & Returns Updates | Big Deal Days Recap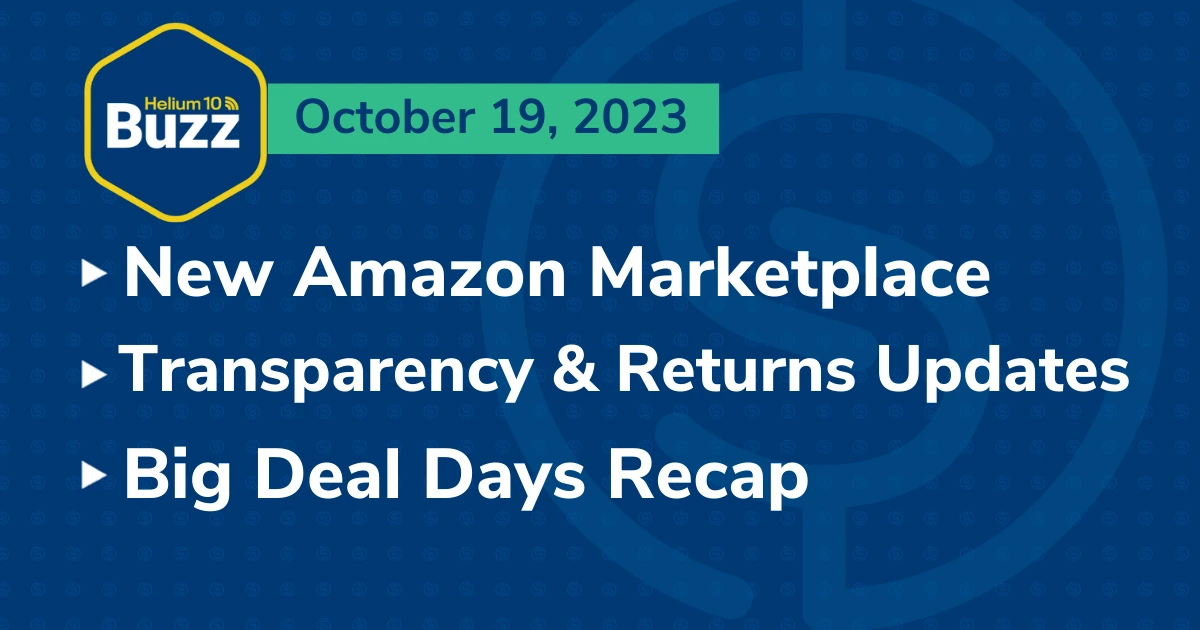 We're back with another episode of the Weekly Buzz with Helium 10's Sr. Brand Evangelist and Walmart Expert, Carrie Miller. Every week, we cover the latest breaking news in the Amazon, Walmart, and E-commerce space, interview someone you need to hear from, and provide a training tip for the week.

Amazon announces the launch of Amazon.co.za in South Africa in 2024
https://www.aboutamazon.com/news/retail/amazon-south-africa-store-launch

Amazon makes it easier for brands to join Amazon Transparency through new interoperability features
https://www.aboutamazon.com/news/policy-news-views/amazon-makes-it-easier-for-brands-to-join-amazon-transparency-through-new-interoperability-features

The internet is littered with fake reviews. Amazon, Glassdoor and others are trying to fight back
https://apnews.com/article/fake-reviews-amazon-glassdoor-expedia-trustpilot-43a478ac0b27d6bb773a3bbdba1858b1

Amazon's Prime Big Deal Days Was the Company's Largest Two-Day October Holiday Kick-off Event Ever
https://press.aboutamazon.com/2023/10/amazons-prime-big-deal-days-was-the-companys-largest-two-day-october-holiday-kick-off-event-ever

We'll also introduce you to the game-changing tool, Market Tracker 360 – your trustworthy guide in navigating a rapidly changing market. Get a demo of the MT360 tool here. Lastly, maximize your holiday profits with Helium 10's Q4 Strategy Guide – a step-by-step roadmap to unlocking the full potential of Amazon's peak sales season. h10.me/q4guide

In this episode of the Weekly Buzz by Helium 10, Carrie covers:
00:47 – New Amazon Marketplace
01:52 – Amazon Transparency Update
04:30 – Fake Reviews
06:26 – Prime Big Deal Days
07:39 – Walmart Listing Update
09:18- Return Policy Change
10:16 – ProTraining Tip: Market Tracker 360 Demo
16:30 – Download The Q4 Strategy Guide
Transcript
Carrie Miller:
Amazon is opening up a brand new marketplace. The Walmart marketplace has created a brand new program to help sellers save on their referral fees, and Amazon is making it easier for brands to join Amazon transparency this and so much more on this week's episode of the Weekly Buzz. How cool is that? Pretty cool, I think. Welcome back to another episode of the Serious Sellers podcast by Helium 10. My name is Keri Miller and I will be your host, and this is our weekly buzz episode, where we bring you the latest and greatest news related to Amazon, Walmart and the e-commerce space. We'll also give you a tip or strategy for serious sellers at any level. Let's go ahead and see what's buzzing. Okay, so let's start off with one of the most exciting stories of the day today, and that is that Amazon is opening up a brand new marketplace. This marketplace is going to be in South Africa. So if you are a seller in South Africa, this marketplace is going to be opening in 2024 and it's open to currently local South Africans. So they basically announced that you can start applying for this marketplace now at seller.amazon.com/southafrica and that's going to be where you're going to apply, and it's already set up and ready to go for you to do that. It's a very, very exciting opportunity for anyone who lives in South Africa, because a lot of sellers are in that area and you're selling in Europe and you're selling in the U? S and other parts of the world, but now you can sell locally to your neighbors, and so it's a very, very cool time to be able to bring your brand to Amazon with that fast shipping in South Africa. So let us know below if you're a South African seller and you are planning on applying and selling in this marketplace.
Carrie Miller:
All right, next up, we have another amazing announcement by Amazon, and that is that they are making Amazon transparency a lot easier for brands to join. Before, they had a basically a 2D data matrix barcode that they would put on products and you had to label your products physically with this with your packaging. So this meant that if you wanted to join the Amazon transparency, it would take quite a bit of time to get that all set up and going, because you have to wait till the next run of your packaging and get it on your packaging, or you would basically have to repackage all of your products if you wanted it on your current inventory, which would be very expensive. What's really exciting about this is that they are making it easier for brands through new interoperability features. So, again, you know they had it available to a lot of brands, but they had to do their packaging with that special barcode on it and as of 2020, I believe they said as of 2020, there were more than 10,000 brands that did Amazon transparency, and now 33,000 brands are actually enrolled. So I think that that number is going to jump up dramatically and this is really good for sellers and for consumers because of the fact that you know, when you have that assurance that you're not going to get counterfeit products, it makes the whole process better for sellers, for their account, health and for consumers. They're getting the product that they paid for.
Carrie Miller:
So you know, I can imagine that it's going to be very, very easy, and so what's going to, what's going to happen is you can take codes that are already on your packaging and they can use those codes to verify whether or not your product is not a counterfeit. So, if we take a look, there's an example down here and Logitech actually has done this. So Logitech started out with this kind of using their own codes and what they did is they used the serial numbers that were used for warranty purposes, so those were the codes that they were able to use for this transparency and able to validate these. And so what they do when they, when Amazon's shipping is out, they scan these codes before shipping it out to verify that this particular product is the original and not a counterfeit, and then they can send it out. If it's not, if it's not anywhere to scan, or they're you know something is wrong, then they'll put it to the site because it's counterfeit, and that saves you a lot of hassle. Now this is going to be available in Australia, Canada, France, Germany, Italy, Spain, the UK and the US, so that's pretty exciting that they're really trying to roll this out worldwide. I think it's going to be an amazing thing to be able to roll this out quickly. I know I'm very interested in getting this going on my, you know, on my brand as well, because I don't have to go back and repackage everything. Are you going to start enrolling in brand transparency and do you think this is a good thing, or do you think it's going to be a hassle? Let us know. Whatever it is that you think below. Okay, going into our next article.
Carrie Miller:
The next thing is about reviews. Now, this goes to you know kind of with the theme of counterfeit and whether or not they're real, and, as you can see here that you know, this article is saying that the internet is littered with fake reviews, and we do know that this is true on Amazon, on Glassdoor, on TripAdvisor. I know for myself, I went and looked at reviews for a restaurant that I just opened and it had so many great reviews and I was like, oh my gosh, this place is going to be so amazing. And I went there and it was absolutely terrible. And what I realized, it was a lot of friends and family that were making, you know, these reviews go, you know, to five stars and they were putting these glowing reviews for it. And it was literally not the customers, because later on the actual reviews started rolling in and I could see that it wasn't the truth. So there is a lot of that that's going on, and so I think that this could be potentially a really good thing.
Carrie Miller:
It says in this article that they are, these big companies are actually teaming up now. So we've got Glassdoor, trustpilot, expedia, bookingcom and TripAdvisor. They're saying they're all launching a coalition to protect, you know, the consumer reviews, and so what they're going to do is they said that they are going to be sharing methods on how to detect fake reviews. This, I think, is going to be great, you know, for all of us to make sure that you know, when we're buying something, that we're seeing the actual reviews of actual customers, and then also just for those brands, because it's going to help consumers to know exactly what they're getting. So I think this is going to be good on all friends, for everyone. They're probably going to come up with some really great technology to really, you know, detect those fake reviews. So those competitors that you have that you know that are putting up those fake reviews. We're going to hopefully stop that, and so we'll see what happens with that. And let us know if you've had any issues with reviews. I know I've had some issues with fake reviews from competitors on my own listing. I'm curious to know if you've had any issues with fake reviews, so let us know in the comments below.
Carrie Miller:
All right, this next article is actually something that I was a little bit surprised by, and the reason for that is it's talking about Amazon Prime Day, big deal days, and I you know the economy is kind of struggling right now and I didn't feel as much momentum going into this day as I think a lot of other people probably did. And so it shows, because Amazon's big Prime Day deal day was the company's largest two day October holiday kickoff event ever. So that definitely tells me that I was wrong in my thinking. I thought it was kind of, you know, not that much excitement going on, but there clearly was. They had a billion dollars across in savings across all the Prime members. They also had 25 million items that were delivered either same day or next day delivery, which is incredible. They were busy delivering packages. Let me tell you, one package was even delivered within 54 minutes. So really, really interesting that this is, you know, kicking off so strong, especially with the economy the way that is. I think that this is a really good indication that we're going to have a really big Q4. I'm very excited for Black Friday and Cyber Monday and just the whole holiday season. This is always my biggest time of year. So really, really great exciting news to see that it's still going strong in sales on Amazon.
Carrie Miller:
All right, the next piece of news is from Walmart. So if you're a Walmart seller, I wanna see if you are seeing the same thing that I see in my dashboard. So I basically kind of logged in today and saw this in my dashboard it's the pro listing savings. Now it looks like what happened. Is I qualified for a pro listing savings? I think you'll have to be a pro seller in order to be eligible for this, but what I'm gathering is they choose listings that are doing very, very well, selling quite a bit, and you actually get refunds on your referral fees. So I have, as of today, this just starting about $3.12 in savings. So that's pretty cool. I know it says over the last 90 days, but I know this just started, so it's definitely not over the last 90 days. I think this is gonna be bigger and bigger as time goes on, and it's very, very cool to see this kind of thing because Walmart's really incentivizing sellers to join the Walmart marketplace and I think this is another incentive. As fees go up on other marketplaces, Walmart's giving discounts and you can see on the next screen here this is.
Carrie Miller:
I kind of looked more into it and it's based on competitive pricing and fast and free shipping. So I use WFS and I also have, you know, the same pricing that I do on Amazon. So I think that's what helps me with that, and so you get 10% commission savings. That's pretty amazing. So I'm curious to know if any of you have seen this in your dashboard. Let me know in the comments. Let me know if you have any other additional things to add about that. I think it's a very, very exciting thing for Walmart sellers to just save money. You can put that money either towards more ads or just it'll add up over time. So we'll see how long they keep this going for, and I wanna make sure I can get all of my products eligible for it.
Carrie Miller:
Okay, last piece of news, but not the least for sure, this is just an announcement about the return timeframe, and this happens every single year on Amazon.
This is really nothing new, and so they're basically extending the holiday returns policy for consumers that purchase items between November 1st and December 31st, so they're returnable all the way through January 31st of 2024, except for Apple branded products, which are returnable only through January 15th. Now this policy applies to seller fulfilled FBM, fba and Amazon retail orders, and basically this happens every year. So it's something that I know a lot of us are very used to, and it's just another kind of added benefit for people to buy products during the holiday season on Amazon, and I think it does help us all in the long run. So just so that you're aware that's what's going on with returns. If you get some returns from November all the way into January, you'll know exactly why. Okay, so up next we have an amazing demo by Shevali. She's gonna be talking about Market Tracker 360 and how it can benefit you. So take a look at this demo.
Shivali Patel:
The tool I'm about to share with you is a great way for you to gain insights into niches, regardless of if you are a scaling seller, large brand or business that has been in the industry for years. When it comes to dominating sales, monitoring, tracking and staying on top of any rapidly changing market is important, and so, yes, you could go into Amazon and try to keep up with all the new competitors flowing in and out of your market, but wouldn't it be easier if you just had a tool that allows you to market create, curate and understand dynamic markets in one place? Well, that, my friends, is exactly what I'm about to share with you. Let's jump into market tracker 360. So, with market tracker 360, we do have logic in place. If it's your first time inside of this tool, you will be taken directly to market creation. However, once you've created markets, you'll be funneled directly to market list, which is this page right here. But what exactly is market create? Well, let's talk about it. When you click create market in the top right hand corner, you have access to four choices. We'll talk about these three in this video. For the custom market that is based on products, the system will pull in products that are adjacent to the ASINs you select. You can add in products from your list that you build inside of helium 10, type or paste them in directly into the search field box. Or, if you are a token connected user and your account is connected to your seller central, just click select my products to add and checkmark any of the ones that you want before clicking add. The only thing to note for ASIN markets is there is no filtering step. Let's click back and going back. As you can see, you can also define your market based on up to 15 keywords, either from your curated keywords list inside of helium 10, just by typing them in, or using our integrated Cerebro and magnet tools for relevant keywords without having to leave the tool. So if I were to type in matcha kit, I could click this auto complete, which, by the way, is simply what people are typing in on Cerebro, magnet and black box inside of helium 10. Click analyze keywords to receive this output of additional keywords. Use the information given to figure out which keywords you want as part of your market. You can also use this option to create hybrid markets of keywords and ASINs, though you don't see any ASIN additions.
Shivali Patel:
On the second stage of this process. You will see it in the third where it says optional set custom rules. Let's go ahead and jump into the next example for a full walkthrough. Now, if you do have your token connected, we are also offering what we're calling the auto magic creation, which simply means we will create your market. For you to do this, you just need to select up to five of your product lists based on their category, and we will find associated keywords to base your market on, though you can still enhance the market with keywords of your own choosing after the fact. You'll notice in the first step of this particular choice, our product pool is already grouped based on the lowest shared subcategory node, so we want to create one based on, let's say, coffin shelves. I'm going to select these two product pools. Select next to receive a prompt that asks if we want to set any custom rules for our market or simply go ahead and review and create our market. I'm going to click yes. Take me to custom rules.
Shivali Patel:
The third step we're looking at is the filtering step I mentioned before. You'll see this step on three of the four choices of market creation, with the exception being ASIN only creations. Now, if you wish to have a very granular view of your product markets. Setting custom rules is a good idea, as it allows you to generate a default viewing criteria. This is a feature for every market creation option, except for product only or ASIN only markets, as I mentioned, and just think of it as a top level filter. So when we do automatic market updates, only the selections that apply to these filter sets will show. You will always have the capability to add individual ASINs to your market at this level. So if there are any specific ASINs you want in your market view, go ahead and add them here, be it from your list or from your own products, we'll click next. That brings us to review and create, which is the fourth step in this process. Give your market a name. I'm going to call this auto magic coffin shelf market. We can set a default date range. Perhaps I'm only interested in seeing the last 12 months. Give it a default currency. I'm going to select USD. Choose your method of market updates. If you want products to be directly injected into the market without needing any approval, then you could select automatic how we relay the keywords to the products after.
Shivali Patel:
Market creation is typically modeled based on a fusion of the best seller rank, sales volume and search volume Controlled is similar to our original market tracker. It will give you the opportunity to refine by showing you new products under the suggested products tab to add or remove from your market, and the disabled option is just a static market, which would direct all the products that we receive to the removed products and suggestions section within market settings. From here, you can then review all the information that we just discussed, be it adjusting your product list, fine tuning your category, subcategory information or your additional filters. I'm going to click create market. That's going to take us back into our market view. We'll see the new market reflected on our market list page in about 10 to 15 minutes. Hopefully now you know how to create markets inside of market tracker 360 using keywords, keywords and asins, asins only, or even auto creating that market, as long as you have that token connected. Of course, you can gain a lot of insights and analytics with market tracker 360, but it all starts with this first step, so make sure you go and do that first step.
Carrie Miller:
Thank you so much, Shivali. That was amazing. I know that this is such an incredible tool, especially for larger sellers, to really help view the market overall. So check it out. If you haven't already, we'll put a link below to where you can schedule a demo in the market tracker 360 arena so you can get more information about it if you're really interested in it. And the final thing I want to leave you with is we've actually made a queue for checklists for sellers to get ready and prepare their listings and their business for hopefully the biggest queue for ever.
Carrie Miller:
And I basically put this together along with a bunch of resources that we have and it's things that you can use. You know Helium 10 for, and then also just tools on Amazon that are going to help boost your business during the holidays. So it's, it's in a checklist. There are videos to go with a lot of these particular items to show you how to do them, and I think it's a very, very beneficial thing for you to. You know, implement a lot of these strategies. It's still not too late to implement them.
Carrie Miller:
So take a look at the checklist. You can download it, you can print it out, look at some of those videos and I promise you, if you implement some of those, you'll see some positive results from this checklist. I think it'll be a great, great resource for you that you can use this year and in the years to come. So we'll put the link below and so that you can check that out too. Thanks again for joining me this week on the weekly buzz. I think Bradley will be back again next week, but thank you for letting me kind of step in for him this week. I hope you all enjoyed the news articles that we have. I think we have some great exciting stuff going on in e-commerce, and so we'll see you again next week to see what's buzzing. Bye everyone.
---
Enjoy this episode? Be sure to check out our previous episodes for even more content to propel you to Amazon FBA Seller success! And don't forget to "Like" our Facebook page and subscribe to the podcast on iTunes, Spotify, or wherever you listen to our podcast.
Get snippets from all episodes by following us on Instagram at @SeriousSellersPodcast
Want to absolutely start crushing it on Amazon? Here are few carefully curated resources to get you started:
Achieve More Results in Less Time
Accelerate the Growth of Your Business, Brand or Agency
Maximize your results and drive success faster with Helium 10's full suite of Amazon and Walmart solutions.