Helium 10 Buzz 10/12/22: Fulfilled by TikTok | Amazon Return Window | Sales Heatmaps
In this episode, we discuss the latest news in Amazon, Walmart, and E-commerce. Discuss the latest tips and features of Helium 10 tools to help your business crush it.
Originally published on: October 12, 2022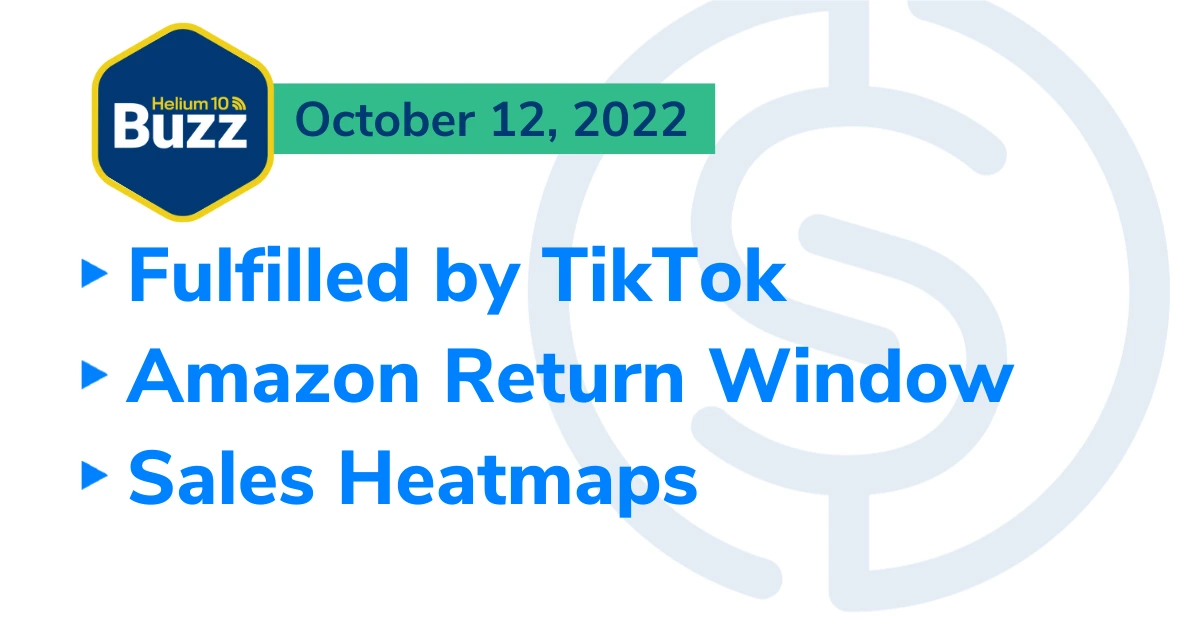 We're back with another episode of the Weekly Buzz with Helium 10's Chief Brand Evangelist, Bradley Sutton. Every week, we cover the latest breaking news in the Amazon, Walmart, and E-commerce space, interview someone you need to hear from, and provide a training tip for the week.

TikTok appears to be deepening its foray into e-commerce with plans to operate its own U.S. warehouses, the kind of packing and shipping facilities more associated with Amazon or Walmart than the social media platform best known for addictive short videos.
https://abcnews.go.com/Business/wireStory/tiktok-big-us-commerce-job-listings-offer-clues-91354425

The 2022 extended holiday returns window will be in effect from October 11 through December 25, allowing customers to return most items through January 31, 2023.
https://sellercentral.amazon.com/gp/headlines.html?ref=nswg_scgw_GWQKFRQMJ8DGQ2PP_en_US_0_nslp

Walmart expands marketplace opportunities for Indian exporters ahead of the busy holiday season in the U.S. and Canada.
https://corporate.walmart.com/newsroom/2022/10/05/walmart-expands-marketplace-opportunity-for-indian-exporters-ahead-of-the-busy-holiday-season-in-the-u-s-and-canada

We continue this week's episode with Shivali's interview with Simon Suh, Product Manager of Helium 10's Chrome Extension, to talk about the newest updates to the tool. And lastly, we have Lem Turner with the Pro Training Tip of the week about the Helium 10 Inventory and Sales Heat Maps tool and how you can use it to level up your Amazon-selling game.

Bradley concludes this episode with a reminder to register for the next Bigger Better Launch webinar this October 20th. Go to helium10.com/launch to sign up for the event. Also, catch Bradley as he embarks on a journey to Asia for Amazon events in Singapore and Vietnam.
In this episode of the Helium 10 Weekly Buzz, Bradley talks about:
01:05 – FBT?
03:05 – Holiday Returns
04:30 – India Sellers on Walmart
05:57 – Sponsored Brand Update
60:50 – Holiday Hiring
08:30 – Interview with Simon Suh, Product Manager Of Helium 10's Chrome Extension
14:30 – Pro Training Tip: Inventory And Sales Heat Maps
19:50 – Signup For October's Bigger Better Launch Webinar Next Week!
20:30 – Catch Bradley At Amazon Events In Singapore And Vietnam
---
Enjoy this episode? Be sure to check out our previous episodes for even more content to propel you to Amazon FBA Seller success! And don't forget to "Like" our Facebook page and subscribe to the podcast on iTunes, Spotify, or wherever you listen to our podcast.
Get snippets from all episodes by following us on Instagram at @SeriousSellersPodcast
Want to absolutely start crushing it on Amazon? Here are few carefully curated resources to get you started:
Everything for your business on Amazon.
Find out more about our products by signing up or speaking with one of our
Customer Success representatives today. With us in your corner, you can enjoy
more sales and increased engagement from your Amazon business.
Chat with a Support Specialist