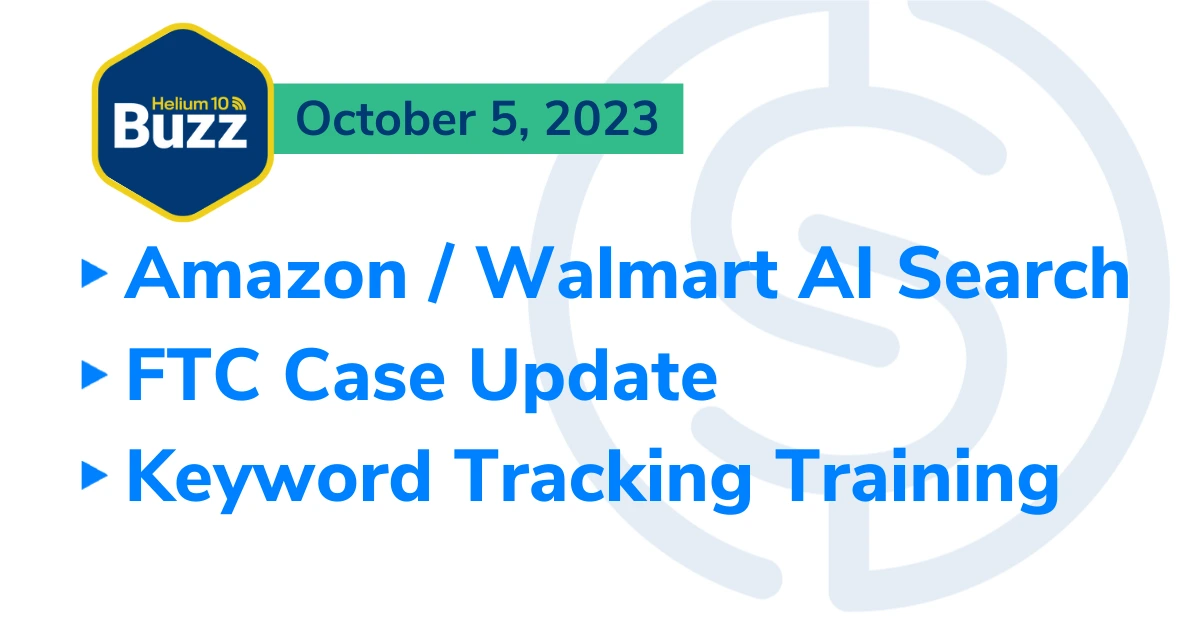 Helium 10 Buzz 10/5/23: Amazon / Walmart AI Search | FTC Case Update | Keyword Tracking Training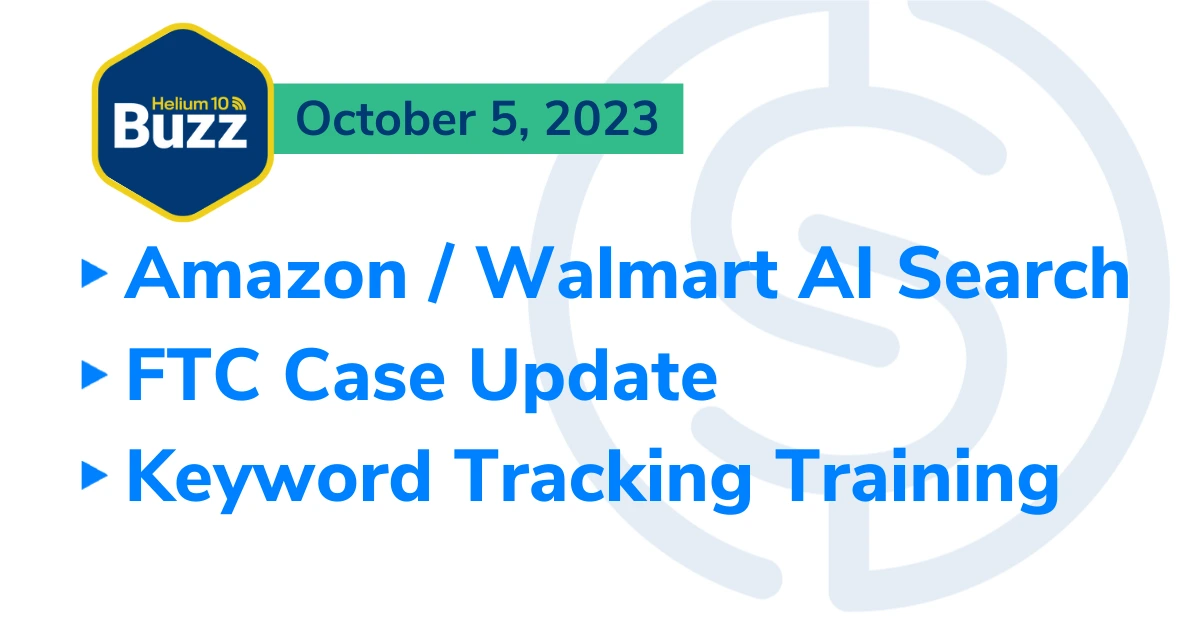 We're back with another episode of the Weekly Buzz with Helium 10's Chief Brand Evangelist, Bradley Sutton. Every week, we cover the latest breaking news in the Amazon, Walmart, and E-commerce space, interview someone you need to hear from, and provide a training tip for the week.

Amazon planning major AI revamp that will change the search experience
https://searchengineland.com/amazon-revamp-change-search-experience-432913

Walmart experiments with generative AI tools that can help you plan a party or decorate
https://techcrunch.com/2023/10/04/walmart-experiments-with-new-generative-ai-tools-that-can-help-you-plan-a-party-or-decorate-a-space/

TikTok halts e-commerce service in Indonesia following ban
https://www.cnbc.com/2023/10/04/tiktok-halts-e-commerce-service-in-indonesia-following-ban.html

Report: Amazon made $1B with secret algorithm for spiking prices Internet-wide
https://arstechnica.com/tech-policy/2023/10/report-amazon-made-1b-with-secret-algorithm-for-spiking-prices-internet-wide/

Serious Sellers Podcast #497 – Amazon Vine 101 + Changes to the Vine Program!
https://www.helium10.com/podcast/amazon-vine-101-changes-to-the-vine-program/

Etsy "experiments" lead to loss of income for many Sellers. Sellers noticed a significant decrease in sales without knowing why. After the issue began to be addressed in Etsy Forums, sellers did not know whether it was a technical problem or an "experiment".
https://www.ecommercebytes.com/C/letters/blog.pl?/pl/2023/10/1696187388.html

Shopify CEO discouraging staff from side hustles that divert attention from company
https://torontosun.com/business/money-news/shopify-ceo-discouraging-staff-from-side-hustles-that-divert-attention-from-company
Lastly, we delve into the ins and outs of Helium 10's Keyword Tracker and it's boost button which allows you to track your keywords 24 hours a day in various browsing scenarios, a tactic endorsed by none other than Manny Coats, the founder of Helium 10. We discover the direct impact of inventory levels, keyword ranks, and inventory heat maps on your page views and impressions. To top it all off, we'll teach you how to prepare for the unexpected by setting up alerts for sudden drops in keyword ranks and understanding how your inventory location might affect shipping times. This episode is packed full of insights, strategies, and revelations that every serious seller must know – so get ready and join us for the ride!
In this episode of the Weekly Buzz by Helium 10, Bradley discussed:
01:12 – Amazon AI Search
04:02 – Walmart AI Search
07:11 – TikTok Shop Closes
07:45 – Secret Amazon Algorithm?
12:42 – Amazon Vine New Prices
13:34 – Etsy Testing Troubles
14:55 – Shopify Side Hustle
16:15 – Catch Helium 10 In Rumble
16:30 – ProTraining Tip: Boosted Keyword Tracking in Browsing Scenarios
28:52 – Keyword Fluctuation & Inventory Impact on Amazon Rankings
Transcript
Bradley Sutton:
Amazon and Walmart are all in on generative AI search. TikTok shop in a certain country closes. Is there a secret Amazon algorithm that costs consumers a billion dollars, plus a special in-depth pro training on why you should be tracking keywords at different browsing scenarios. All of this and more on today's episode of the Weekly Buzz. How cool is that? Pretty cool, I think.
Bradley Sutton:
Hello everybody, and welcome to another episode of the Serious Sellers Podcast by Helium 10. I'm your host, Bradley Sutton, and this is the show that is our Helium 10 Weekly Buzz, where we give you a rundown of all the news stories that's going on in the Amazon, Walmart and e-commerce world and we give you training tips of the week that'll give you serious strategies for serious sellers of any level in the e-commerce world. Let's see what's buzzing this week. We've got a lot of news articles that we're going to go over today. And make sure to stay to the end, because I'm going to go in-depth on a topic that I think might change the way you track your keywords. Nothing new, but it's something that you guys need to be doing, and I'm going to demonstrate exactly why it's important. So let's go ahead and hop into the news right now. The first article that we're going to go over is actually from searchengineland.com and it's entitled Amazon Planning Major AI Revamp that will change the search experience. This article says All right, now, this was a document that they're calling this project Nile or something like that, but basically they're talking about Amazon creating AI-powered conversational shopping agents. Now, I saw a lot of the documents that this was on and there's some like maybe some contradictory information. Like they did talk about how, like when, non-personalized search results actually perform better, but then, at the same time, they're talking about okay, this new initiative is going to really put an emphasis on personalized search results. So a little bit of contradiction. I'm not sure which side of the coin I'm on, but at this meeting that Amazon had, they said hey, before you commerce, the sales person in the store was your search engine and that individual knew everything about the products. They would look at you and know what you might want, because customers like you have been to that store before. So this is something that has been talked about for a while, about how Amazon is investing heavily in AI, and then the question is going to, of course, end up being well, how is that going to change the seller experience? We don't know.
Bradley Sutton:
They say this is going to come out sometime in 2024. I find it very, very hard to believe. It's just going to be like some chat GPT prompt. It's going to take over the search bar. I mean the search as it is now. It's hard to beat that. You test, type in two words like coffin shelf, and boom, you get pictures and prices of exactly what you're looking for. How do you beat that? Anything more is going to cost the customer more work. So I don't think this is going to be something that takes over all search, but some niche searches. Maybe somebody might want to go a little bit deeper and say I'm looking for a coffin shaped shelf that customers feel can be used for displaying shot glasses and has multiple color options. Now could there be somebody who might want to search like that? Sure, I'm not one of them. I'm not going to be sitting there typing all those words with my fingers on a phone, but hey, there's definitely going to be people out there who might want that level of detail, and so it's going to be interesting to see how you can do that, how Amazon's going to integrate this. Is this going to change the way Helium 10 works, or the necessity to optimize, or listening for the right keywords and looking at what has search problem? Of course, not, not at all. It might add stuff later on that you might have to optimize for, but the core functionality you guys have been doing probably is going to stay the same, all right.
Bradley Sutton:
The next article here is from TechCrunch and also about search and AI, this time about Walmart. This article is entitled Walmart experiments with generative AI tools that can help you plan a party or decorate. It's so funny, like these days, like Amazon news comes out with something, Walmart comes out with something similar. Like the next day, Walmart comes out with something and Amazon comes out with something. I love the arms race here. This is good stuff. It's good for sellers, good for consumers, that these giants are kind of like racing to integrate different tools and experiences. Now, Walmart didn't say in this article which AI models it's going to use to develop these features, but they're experimenting with generative AI and it's going to include a shopping assistant, you know, kind of similar to what Amazon was talking about, and it says here that it's going to allow customers to have a more interactive and conversational experience, as it can answer specific questions, provide personalized product suggestions and share detailed information, all right. So this is going to be something interesting, you know, like it gives an example. It says, for example, if a customer wants to plan for a unicorn themed birthday, the AI displays a wide array of products such as balloons, paper napkins, streamers and so on, instead of having to type in numerous separate searches. Walmart's new AI search tools designed to save customers time that wouldn't save me time, like when I'm about to buy something. I know what I want, you know. So, again, this is going to be something that some people are going to love. Some people are like nope, just give me the old search. You know I'm talking about. When I say some people, I mean consumers, you know. So it's going to be interesting how this goes on.
Bradley Sutton:
Now, if you're, if you guys are, new to AI and have never you know, have never really worked with it, you know, just real quick segue here inside of helium 10, if you want an experience about how this kind of works, it's not shopping, obviously. But inside of helium 10, guys, on the very top right, okay, on the top right of your screen, right next to like, there's a what's new tab. Hit the button that said that that looks like a magnifying glass. All right, looks like a magnifying glass. And if you do that, it actually opens up a chat window. All right. Now this is using, I believe, chat GPT, and you could say things like how do I track keyword ranks daily? I'm just going to give an example here and I enter it in and what this AI is doing is it's looking through, like our videos and our knowledge base and things like that, and then right here it gives an answer to track keyword ranks daily. You can use the keyword tracker feature in helium 10, simply enter the keyword, blah, blah, blah. So so, guys, I'm not sure how many of y'all know that. Let me know in the comments below how many of you guys knew that there's a full chat GPT AI assistant inside of helium-10 that can, like, answer questions on how to use the tools and stuff. So make sure to use that. And then now think about how that's going to look now inside of Amazon, something similar like that. You know something to think about?
Bradley Sutton:
Alright, let's switch from Amazon and Walmart and let's go to the next article. This is from CNBC and it's entitled TikTok halts E-commerce Service in Indonesia following ban. Alright, this is not new news. We talked about this last week, how in the Indonesian government gave TikTok an ultimatum of one week, say, hey, if you don't remove TikTok shop and make it separate, we're shutting your whole platform down. So what did TikTok do? Like, fine, we're gonna go ahead and and take away, you know, TikTok shop. So that's a huge blow to TikTok because Indonesia is a the largest market for them in that, in that region. So RIP TikTok shop in Indonesia.
Bradley Sutton:
Next article is from arstechnia.com and it's entitled Report Amazon made one billion dollars with secret algorithm for spiking prices internet-wide. Now this, this is one of those, those articles that kind of made my blood boil. First I'm like, okay, this is interesting, like what this is? You know, this is new stuff that hasn't been talked about and and if this is true, you know, obviously that's an issue, you know. Finally, I was thinking, wow, finally is there a legitimate thing that Amazon is being investigated on by the FTC. But this thing was called they say, codename Project Nessie, and it says it allegedly works by manipulating rivals, weaker pricing algorithms and locking competitors into higher prices. The controversial algorithm was allegedly used for years, all right, and helped Amazon improve their profits. Now, first of all, it even says here that they stopped using it in 2019. So, first of all, guys, this has nothing to do with any of you sellers right now, because even the FTC, it seems like, admits that this was stopped in 2019, or somebody said it was stopped in 2019. But the weird thing is here is the FTC alleges says Amazon has successfully taught its rivals that lower prices are unlikely to result in increased sales. The opposite of what could happen in a well-functioned market. Like this doesn't make sense.
Bradley Sutton:
You know the Amazon price matching. Price matching, like, always helps everybody, you know, except a seller. Sometimes you guys remember how I mean those of you who you know. Four or five years ago even, you know you would shop at Best Buy and then you could like price match Amazon and vice versa. Where you could price, you know, if somebody else had a cheaper, amazon would give you, you know, like, a little rebate. Vice versa, if Target had a cheaper Walmart, you know it would make up the difference and things like that. Like that actually helps consumers, because when somebody's running a coupon, that means, like all the other major players would have to, you know, like, run a coupon or run a discount to try and match it. So like I'm not sure exactly what is the problem for for sellers.
Bradley Sutton:
Now, you know, amazon right away responded and then they said hey, you know, this was a project. Yeah, there was a such thing as Project Nessie. Who named it? You know, they didn't say, but it says they were trying to stop price matching from resulting in an unusual outcomes where prices became so low that they were unsustainable. Okay, it's kind of kind of reasonable. You know, I'm not a little bit of a not sure what's going on there, but hey, that sounds reasonable, right, they didn't work as intended. They said, so we scrapped it several years ago and they kept saying, hey, this is not how competition works. The FTC has it backwards and if they were successful in this lawsuit, the result would be anti competitive, anti consumer, and that's what I've been saying to you. It's like the things that Amazon, that the FTC was complaining about I don't know about this Nessie thing, but was like hey, amazon is like making sellers match low prices on other websites I mean, that's like for the consumer. It's so weird how the FTC is talking out of both sides. Now, this is just what made my blood kind of boil here.
Bradley Sutton:
Later on they did a press release the FTC and get a load of this. All right. They said Amazon's far reaching schemes impact hundreds of billions of dollars retail sales over here. First of all, yes, I mean like now, you know, best buy Walmart, everybody's got a price match Amazon, you know. And if Amazon, you know, has these, you know that's why Amazon is doing big deal days. The entirety of Walmart now has a big deal day, or I don't know what they call it, holiday big day or something like that. You know, yes, amazon is is affecting a lot of sales, but in a bad way? I don't think so. It's in a good way. It's in a good way because now everybody has to try and keep up with Amazon. And then take a look at this. They say they touch hundreds of thousands of products sold by businesses, big and small, and affect over a hundred million shoppers. The FTC's press release said sell them.
Bradley Sutton:
In the history of US antitrust law, has one case had the potential to do so much good for so many people Said this dude from the FTC like bro, come on, are you serious around? Like, like we Amazon sellers are, are very scared of this even ever happen? I don't. I personally don't think this is gonna go through, just because it's so, so ridiculous, some of these, these things. But but I mean, you're not helping anybody now who knows? A lot of the FTC thing is still redacted. So who knows? There might be stuff in there that are legitimate complaints, because we know Amazon sellers have a million complaints About Amazon, right, you know there's a lot of things that we don't like. You know, I was just dealing with something today where a removal order was taking like 90 days or something. It's just a pain in the neck sometimes. But the weird thing is the stuff that has been released in this FTC thing, none of it is the stuff that Amazon sellers are mainly complaining about. Yet they're just coming up with this random, random stuff here. Anyways, I don't want to go down this rabbit hole too much.
Bradley Sutton:
Let's go ahead and go to more positive news here, and the. The next one's coming from seller central, and it is about a new pricing tiers for Amazon Vine. So now, instead of having to pay $200 from one up to 30 reviews, you can get two reviews in Vine for free. All right, you or you can say hey, no, you know what, I only want to get up to 10 reviews and then that's only gonna be $75 or the existing tier up to 30 for $200. So if you guys want more information on this, we actually interviewed one of the leads At Amazon for the Amazon Vine program. Ah me, she was great. It's her first podcast. She did awesome, so make sure to check that out. Episode 497 you could get that episode h10.me forward slash 497 tons more information in that document or in that podcast about the new Vine program.
Bradley Sutton:
Switching marketplaces we're going to Etsy. This was from e-commerce bites. It says s e-test lead to lost income from sellers. So we think we got problems on Amazon. Etsy just like on their own, just start deciding to do some tests with the titles. Actually, amazon was doing that too for a while, but Etsy gave no notice for these changes. And then they were. They were just like taking random words out of the title and taking punctuation out of title and making it look like the sellers Can't even speak English because the titles didn't even make any sense. And so at you know Etsy sellers. It says they were trying to go back in and fix the listings and stuff. But it's kind of crazy. You know, like Etsy does so many things, like Etsy remove like a few of my products, saying it violates and, and, and you guys think that Amazon seller support is bad. Etsy is a billion times worse. Let me just say that right now, like there is no support, like like they completely suspend the listing and they say there is no way that you can, you know, follow up on this. It's a final you know, don't even ask us about it. Basically, they sent me a message. I'm like what in the world this is like. This is very you know, this is a legitimate Etsy product. So, guys, you know, like, where there's no marketplace out there, that's gonna be perfect, right? Amazon has mistakes, Esty has mistakes, Walmart has issues. We just got to, you know, figure out a deal with it and move on.
Bradley Sutton:
Speaking of different Marketplaces, Shopify CEO, is this next article from Toronto Sun? Says he's discouraging staff from side hustles that divert attention From the company. Now, this is just something that doesn't necessarily have to do with e-commerce, but I wanted to get your guys opinion on this because, basically, here he said hey, he doesn't want staff to take on side gigs that divert their attention away from the company, says I'm not talking about, like, yoga classes on the side and coaching a, a soccer team or something. You know my kid soccer team but he didn't want people like doing their own Shopify stores and then having it like go big. He's saying, hey, no, if you're a Shopify employee and you actually do, you know, do a Shopify store and it gets bigger, you know, higher staff, or give it away or something. That's kind of interesting. So the reason I brought this article up was I'm just curious about about you guys. If you have Employees in your Amazon business, are you okay with them having like side hustles on the side, you know, like having their own Amazon business on the side, or do you want them a hundred percent focus on your business? All right, that's it for the news today. We had tons of be interesting to see what happens with some of these things that are that are ongoing.
Bradley Sutton:
Now, before we move on to our really important pro training Wanted to, you know, let you guys know, we're launching new platforms every week. You know, last week we launched on Twitter where we're doing a live video, so make sure to follow us on on Twitter, on twitch as well, and then one platform that a lot of customers want us to get on was rumble. You know it's. I didn't even know what rumble was. It's kind of like YouTube, and then I started watching rumble because on YouTube my sumo wrestling that I always watch Got canceled on YouTube, you know, for some, whatever reason. Now they're on rumble. So I'm like, okay, now I know rumble for sumo wrestling, but now instead of just sumo wrestling, you can know it for helium 10. So, guys, go to h10.me Forward slash rumble, make your own account if you don't have one h10.me forward slash rumble, and then hit follow here and then you'll be able to see we're uploading like old helium 10 podcast Episodes and training videos and things like that.
Bradley Sutton:
All right, guys, let's talk about keyword tracking. You know a lot of customers ask me what is that boost feature and why is it important. You know, like why? It's kind of annoying, I don't want to have to click it every 10 days, so I'm just gonna forget about it unless you tell me why it's important, all right. So for those who don't know, boost is the feature where, inside of keyword tracker, you hit this rocket ship Over here and then what it does is it starts checking keywords 24 hours a day, 24 times a day in different browsing scenarios. All right, so that's the key there, and so I'm gonna show you why helium pen has been doing this. Oh, I mean and this is, this is nothing new like 2017, when keyword tracker first came out 2018 as well, it had boost, all right, so so this is something that Manny coats, the founder of helium 10, is very important to him. But why is the question?
Bradley Sutton:
Well, why do we need to check different browsing scenarios? First of all, what is different browsing scenarios mean? Different browsing scenario is an edge browser, a chrome browser, edge in private mode, chrome incognito mode, safari browser, a mobile browser, a zip code in Minnesota, an address in Miami Florida. So it's like geo location, you know, like different addresses. It's also different browsing scenarios logged in, logged out. Basically, what happens is is Usually for like that. You know, the biggest selling products, a lot of their keyword ranks, stay kind of steady. You know, regardless of the browsing scenario, you know a lot of the keywords will stay pretty steady, but on the flip side, there might be just as many products and just as many keywords.
Bradley Sutton:
We're based on these browsing scenarios. You know whether I'm using a chrome browser, whether I'm signed in, whether I'm signed out, whether I'm using Safari, whether I'm in in Brooklyn, new York, whether I'm in San Diego, California, you might see different search results, right, and that's always been the case, like where people say, hey, how come you know my, my keyword tracker, my cerebral, looks different than what I'm looking at on Amazon? That's cause we're not using your Chrome browsers to actually go search for keyword ranks. You know, whatever your scene in keyword tracker is not necessarily the same as what the rank that we put, you know what browsing scenario that we chose. So I want to go in now and kind of like really illustrate just how much of an impact this potentially can have and why you should be using boosted, why you should care about different browsing scenarios. All right, let's hop right into it. Right now I am in an edge browser, right, Microsoft Edge. Like can't believe anybody uses that, huh. And I am here in the San Marcos zip code. All right, san Marcos is very near to me here in San Diego and I searched coffin shelf.
Bradley Sutton:
All right, now you take a look at the first line of search results. You see, you know three competitors. There's a makeup coffin shelf and then here's at one of our products. You know, one of our coffin bookshelf products is page one position for you know the second line of results, there's a bat shelf, three coffin shelves and a couple other coffin shelves and a makeup shelf. Now let's just compare. I am in the same exact browser, which is edge. All right, here I put a different address. I put my old address in Brooklyn, new York, one one, two, one Brooklyn Heights, right there. All right, this is the same search done at the same time. Now, if we look at the search results, the very first line, it looks like it's the same. But look at page one, position three, this is actually a completely different makeup shelf. That is here. All right, the other three products are actually the same. Like I said, you know a lot of times it is the same, but here this, this epic gifts coffin shelf, is completely different.
Bradley Sutton:
What has page one, position three from San Marcos, california, compared to Brooklyn, new York? As I scroll down to the next line of search results, it's even more different. You know, like like, this bat shelf is nowhere to be found. Here is that one. That's page one, position three, in one address, and now it's like page one, position 10 in another one. All right, so this is basically what we mean by, first of all, like the geo location or different address, different city. You know that you're putting in to Amazon. You could have different results in the same exact browser based on that and that, I think, kind of you know, makes sense to most people.
Bradley Sutton:
Now, one interesting thing it's not necessarily about the shipping time, all right. So, for example, remember that that that listing we said was different. The page one, position three, the coffin makeup shelf. Here, as you can see, for New York, it says it would be delivered on October 10th or October six is the fastest delivery. All right. Now that same exact product in San Diego. It's page one, like position 10,. You know it's way down the page. But look at the shipping time. It's either October 10th or October six, exactly the same. So the keyword rank here it wasn't that, oh, it can ship faster to New York. That's why it's going to be higher up there. Now, sometimes that might be the case, but it's. You can't always think that, oh, okay, this 100% ranking has to do with how fast Amazon can ship, because that's not the way that Amazon, uh, works across the board. All right.
Bradley Sutton:
Now next thing let's, this was edge signed in. Let's now go to edge in private, all right, so this is now like edge in Cognito mode, I guess, if you were, I did the same exact addresses. All right, again, San Marcos, California, and then I did Brooklyn, New York. Now this is like literally the same address. So the difference is one is an edge browser and one is edge in private mode. All right, take a look at the first line. There's like two here for San Marcos. There are two coffin make, those two coffin makeup shelves that were at different places. On the other, uh, listening, or the other, uh, browsing scenario. These are all in the top row. Now let's again compare it to the same exact city. Right here, this is San Marcos. Right, look at the top line of search results Completely different. Where's our, our product? Our double coffin shelf is nowhere to be found on on the same exact one.
Bradley Sutton:
Let's go ahead and scroll down. It's not in the second line of products, it's not in the third line of products. It's all the way in the fourth line of products. All right. And again, was this necessarily about shipping? No, look, look at our product. It says delivery on the 12th or seventh. All right, in the same scenario delivery on the 12th or seventh. But one is ranked page one position for and just because of the different browser we're using, the other one was ranked halfway down, uh, page one, all right. Now take a look at this. If I scroll down page one in the in private, I see this crazy ugly looking grotesque, grotesque here, uh, like knife holder. That's a skull, right, it's gross. Looking Now in Brooklyn on the in private, let's see if I see that. Yep, there, it is right, there, it's all the way down the page.
Bradley Sutton:
Now, guys, this was not anywhere on page one, one in the same exact address, just a different browser, that that product was nowhere to be found. So you guys see, this is what we mean by different browsing scenarios. It's not just about address, it's not just about shipping time. You could have different search results. All right Doesn't mean one is right, one is wrong, just different results. It is what, it is, all right. What are some other examples? Let's go ahead and switch to a Google Chrome. All right, now I'm in Google Chrome. Now here's the thing Some people, you know, might think that, oh well, is the different locations? Is it only about, like, different states, or maybe it's different cities, or no, it's not cities, it's zip code. No answer is none of the above Amazon.
Bradley Sutton:
Sometimes, even within the same zip code, will have different rankings in the same exact browser. All right, watch this. This is Google Chrome, right here? Right, I put in look at this 92078 up here as a address and then in this other window 92078, I actually put a specific, a different, specific address that the other one. All right, so two different addresses, same exact zip code, same exact browser. Let's take a look at the search results. All right, line one, it goes uh, the, the Amazon's choice, and two coffin makeup shelves and then one other coffin shelf. Let's take a look at the other address Only one coffin makeup shelf and then another product that wasn't even in the top of the page. Okay, this is the same exact zip code, guys. Just two different addresses, same exact browser and we are getting different results. If I go further on this page, I found another listing that was on one on page one. It wasn't even on page one on the other one.
Bradley Sutton:
Now, the other reason why you know it's not just about the address is, like you know, there's fulfilled by merchant. All right, so take a look over here. I just actually activate. This was a test product. I was doing some keyword testing on for episode 500 that's coming up on the podcast and it's a coffin bath tray, right, and I just threw it on here here I put Brooklyn, New York, all right, Brooklyn, New York address. And this is fulfilled by merchant. And I'm obviously in California. Amazon knows I'm in California, they know where I'm shipping from, I've got my shipping tiers and it's saying this is page one, position five, looks like five or six, right here, all right, and this is a fulfilled by merchant. Now, if I actually change this zip code, let me go ahead and change this zip code to let's go ahead and change it to something in San Marcos, really close to me, right, so that Amazon knows I, you know I'm shipping it, it's probably gonna deliver the next day, you know, because I'm shipping it right from here.
Bradley Sutton:
Let's take a look at the search results. You would think that it would go all the way up to page one, position like two or three. Let's take a look, nope, nope, it's in the exact same position and this time, page one, position six, Like. So again, if Amazon was like just strictly going on shipping time, you would see a little bit more consistency with the fluctuations. Now, that being said, the whole reason why we check different addresses and different browsing. Scenario again is that there is fluctuation, sometimes based on an address, sometimes based on a browser. And why is this important? All right, like why. Why should you care about this? Let me show you a great example of this.
Bradley Sutton:
Going back to that coffin shelf product all right, here is my keyword tracker that I had on boost sometime this summer, in May. All right Now, as you can see those of you watching on this look here like in the beginning of May, I had like pretty consistent rank. I had boost on and you could see it was only fluctuating my rank between like five and 10,. Right Now, look at what my impressions were for that day. Like the way you can see your impressions and page views is right on your insights dashboard of helium 10, your dashboard. You just set the dates. I set it right here to May six through May 13th and I scroll down here. I can see this at the parent level. I just wanna see all the impressions at the parent level and let's see what it was 1310 page views, 603 sessions. All right, it was doing pretty good here at the beginning of May.
Bradley Sutton:
Now, going back to that keyword, look what happened the second week of May. You guys see what's happening. All of a sudden now you start to see fluctuation in the different browsing scenarios. So you can see, instead of just going between five and 10, it's going back and forth between like five and like 15 and 16. Did this have an effect on the number of page views and impressions we were getting? Let's go to helium 10 insights dashboard.
Bradley Sutton:
Let's enter the next week 514 to 521, and take a look at the impressions it went from let me see, 1310 down to 881,. All right, it went down by a pretty big number here. All right, because of that keyword fluctuation. Let's go more on this keyword tracker graph. Take a look here the very following week. Look at some of this fluctuation at in one hour, in one browsing scenario it's position six, and the next hour it's position 25,. Even position what is this? 45, probably falling off of page one, all right. So what happened there? Let's go to the page views for that week 427, all right. So remember, just compare it. That first week where we were doing pretty good, it was pretty steady, your keyword ranks, right, you had 1310 page views. But because of this fluctuation on rank that probably was happening on multiple keywords it went down to 427.
Bradley Sutton:
Now, what is the reasons? Could it be inventory? Absolutely it could be inventory. Let's take a look. You guys probably didn't know this, but in helium 10, there's a tool called inventory levels inside of profits, and I can actually go to a certain date range. I'm gonna pick April to May here and see, hey, every day what was my inventory. And sure enough, here at the end of April I had some inbound inventory, all right, and at the beginning of May I had some pretty good numbers. So the number actually, you know, went up between the end of April and the beginning of May. And actually if you look I actually show the page impressions all the way back from the end of April. It was actually pretty bad when my inventory was low. And then as soon as my inventory got in stock, my impressions went up and my keyword ranking, you know, potentially got a little bit better. So absolutely your inventory levels plays a role. That's why we have this here.
Bradley Sutton:
But, as you recall, as May progressed, even though my inventory was not going down much at all, I was still at the mercy of Amazon. You know we call that like the search shuffle, where Amazon was not consistently keeping me at the top of page one. So now another thing that people ask about is inventory heat maps. All right, so you know, helium 10 has inventory heat maps and that allows you to kind of see where your inventory is stored at across the country. And like, for some strange reason, here in inventory heat maps I can see where Amazon is storing my products and it's only in two warehouses. All right, it's only in Kansas and Ohio. So right off the bat, that tells me like probably I need to send more inventory in.
Bradley Sutton:
But that being said, it doesn't always mean that your keyword ranks across the board are completely affected. Don't you remember that even when I was in the Brooklyn zip code and I was in San Diego, like, I was still ranking at the top of page one about? So what I did? I was just out of curiosity. I'm like if Amazon only awarded keyword rank based on where my you know product is being stored, well, let me go ahead and pick an address very close to this place where they has most of my inventory. So let's take a look at Kansas, all right. So here I picked a zip code and the address right here in Kansas, and if you look, I mean you would think, hey, my coffin shelf should be at the top of page one. It's not in the first line, not here at the sec, or it is here at the second line, all right. So here it's, page one, position five, all right. So not too bad.
Bradley Sutton:
But look at the shipping time, guys. It says Tuesday October 10th, friday October 6th. Does that sound familiar? Do you remember how it was when I was in San Diego, california fastest delivery October 10th or, I'm sorry, regular delivery October 10th, fastest delivery October 6th, the same exact shipping time, even though it has to go cross country just to get to me, all right. What about the other address which was Ohio, remember? So I put a Cleveland zip code in here. All right, not in the first line, not here in the second line, not in the? Oh, it is in the third line. But here, even though the inventory is stored right, like literally next door to this address that I picked, it is actually showing a later shipping time. It's saying the fastest delivery is Monday, october 9th for this. And it also has this, you know, a little bit toward down, towards the page.
Bradley Sutton:
So you know, again, part of the moral of the story is nobody, we, none of us know. Amazon probably doesn't even know the ins and outs of the Amazon algorithm. It's obviously, first of all, not consistent. All right, it's not based on one thing, you know. It's not just all hey, on this browser, you're always going to see these results. If you're signed in, you're always going to see this results. If you're in this address, you're always going to see these results. If you have inventory close by to a warehouse, you're always going to have this. That's not the way, unfortunately, as of now that Amazon works.
Bradley Sutton:
But at the same time, there's a reason why helium 10 made all these tools I just went in keyword tracker with boost, inventory levels, history, inventory heat maps is because you need visibility into what's going on, so you're not scratching your head wondering what you can do or why your your page views are gone, have gone down, or why your page views have gone up. You know, conversely. So again, the takeaways here, guys, is number one turn boost on on your main keywords, keep it on, all right. Go into your dashboard and set up the insights where you'll get an alert if, if your keyword, uh, if your keyword drops in in keyword rank, you know, uh, more than four times in a row. All right, uh, set up an alert for if your page impressions go down. You like that that actually we have. This product is underperforming insight on insights dashboard. It'll let you know. Hey, your page views are down by 30% or whatever. All right, and that should trigger you to like.
Bradley Sutton:
All right, let me go check my keyword ranks. Which keyword is resulting in this? Is Amazon like all of a sudden shuffling me around? Uh, take a look at your inventory levels. Do you need to send more inventory in? Is Amazon distributing your inventory? Like to me? They're not distributing my inventory across the board, but it doesn't look like it's affecting me too much. On keyword ranks, my keyword ranks are pretty uh stable at the top of page one across the board. So even though you don't have too much control over what's going to go on, as far as the search shuffle goes, it's important you understand what is happening out there so that you know you can take action uh in your account. So I hope this uh special training deep dive here uh was able to help you and, uh, you know, let me know in the comments below if you guys have any questions and we'll see you guys in the next episode.
---
Enjoy this episode? Be sure to check out our previous episodes for even more content to propel you to Amazon FBA Seller success! And don't forget to "Like" our Facebook page and subscribe to the podcast on iTunes, Spotify, or wherever you listen to our podcast.
Get snippets from all episodes by following us on Instagram at @SeriousSellersPodcast
Want to absolutely start crushing it on Amazon? Here are few carefully curated resources to get you started:
Achieve More Results in Less Time
Accelerate the Growth of Your Business, Brand or Agency
Maximize your results and drive success faster with Helium 10's full suite of Amazon and Walmart solutions.