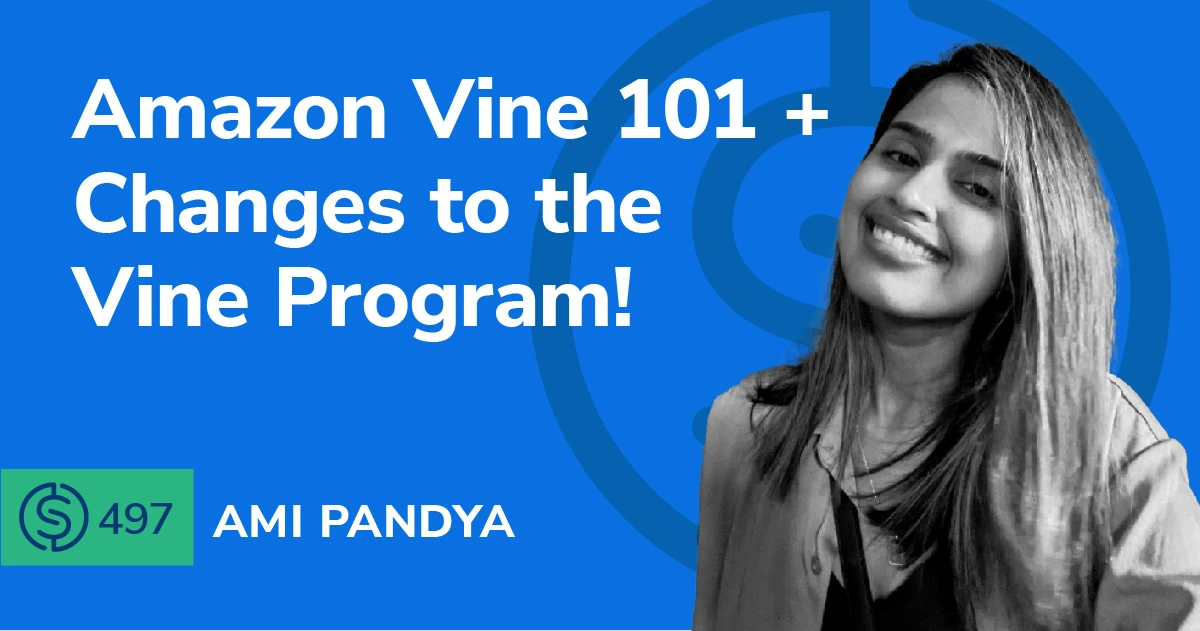 #497 – Amazon Vine 101 + Changes to the Vine Program!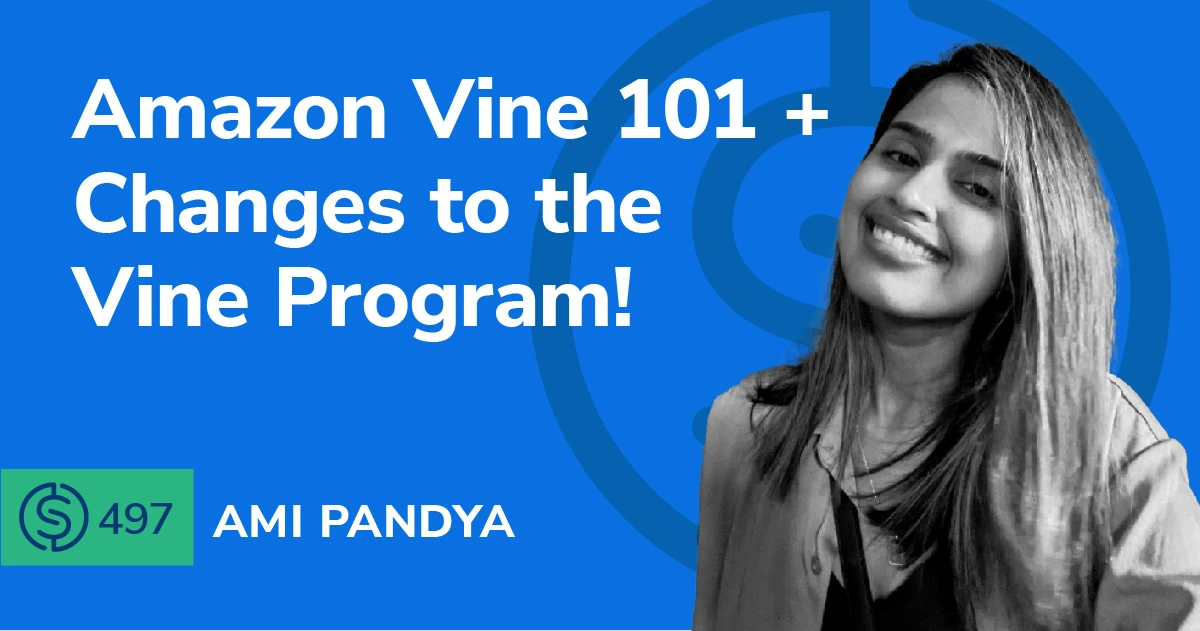 Video of the episode at the bottom
Get ready to learn more about Amazon's Vine program with our special guest Ami Pandya, Sr Manager of Product Development at Amazon and a leader from the heart of the program itself. We caught up with her at Amazon Accelerate to bring you an inside look at this game-changer for brands on the Amazon marketplace. From the importance of reviews and the program's unique approach to maintaining authentic and balanced reviews to the timeline to generate a first review after enrolling an ASIN, Ami offers a comprehensive understanding of the Vine program plus new big updates that can impact your Amazon businesses.

But it doesn't stop there! Ami lets us into the global reach of the Vine program, touching base in the US, Canada, Europe, and Japan. She also shares invaluable strategies for brands to maximize the benefits of the Amazon Vine program, demonstrating how to pick the perfect sample size for your units, timing your enrollment just right, and ensuring your product appeals to a mass audience. This candid conversation with Ami is a golden opportunity for any brand aiming to crush it on the Amazon marketplace, and a fascinating insight into the inner workings of the Vine program for all the curious minds out there. Buckle up and enjoy the enlightening ride!
In episode 497 of the Serious Sellers Podcast, Bradley and Ami discuss:
00:00 – Amazon Vine Program Q&A at Accelerate
06:02 – Amazon Vine Sellers Eligibility and Changes
09:53 – Authenticity of Balanced Vine Reviews
17:09 – Quality Reviews in the Vine Program
20:03 – Automatic ASIN Enrollment in Vine Explained
Transcript
Bradley Sutton:
Today's a special episode, as we're here at Amazon Accelerate and, for the first time ever, having somebody from the Amazon Vine program to answer all of the questions you've got about the program. How cool is that? Pretty cool, I think. Hello everybody, and welcome to another episode of the Series Sellers podcast by Helium 10. I am your host, Bradley Sutton, and this is the show. That is actually a special episode, as we are here at Amazon Accelerate and, for the first time ever, we've got somebody from the Amazon Vine program who's going to answer all of the questions that you submitted for this program. And let me go ahead and introduce her now. Ami, thank you for joining us. How are you feeling today?
Ami:
I'm feeling great. Thank you for having me over here.
Bradley Sutton:
Thank you for being here Now this. We've done a little over 500 episodes now, but is this your first podcast episode that you are doing?
Ami:
This is my first podcast.
Bradley Sutton:
I've got the privilege of being the host on your very first of, I'm sure, many podcasts. What I like to do with guests when they come on the show for the first time is just get a little backstory. So you actually were born and raised in India, that's right what part Mumbai. Mumbai. Okay, excellent. Now I do a little bit of Zumba dancing on the side. I've done some Bhangra moves, so we might have to collaborate on some of some moves a little bit later.
Ami:
Yeah, absolutely Okay. I love dancing, so I take you Now growing up?
Bradley Sutton:
did you do dancing, or what do you think you were going to be when you got to this age?
Ami:
That's interesting. I did do a lot of dancing. I am a classically trained dancer.
Bradley Sutton:
I didn't know that, I just pulled that out of nowhere. It was true, all right, excellent.
Ami:
Yeah, it's just something I did. So I did that for eight years and then what I wanted to become I think I wanted to do this is just being the business. I mean, I'm in the business. That's what I thought I would do.
Bradley Sutton:
Did you go to university there in India?
Ami:
Yeah, I did a couple of my masters over there and I worked for a little over close to four years where I was also running my own startup back in India, and then I moved over here from my second masters and after that I've been over here at Amazon what?
Bradley Sutton:
were you studying? What was your major?
Ami:
Management.
Bradley Sutton:
Management okay, and so you were kind of got into the entrepreneurial life a little bit with your own startup over there.
Ami:
Yeah, that's right. Which?
Bradley Sutton:
is why I love working for Sellers and then, when you came here to America, is that when you started working at Amazon?
Ami:
Yeah, that's right. I came here, I did my MBA at University of Michigan Ann Arbor, and I'm at A Wolverine.
Bradley Sutton:
Yes, okay, all right. So then coming to Amazon. What was your first position?
Ami:
So I started my career at Amazon as a senior product manager on the listings team and my responsibility there was to build cellophasing listing tools that helps them list easily on Amazon. So I did that for a little under two years and then I moved into the selling performance team where I was responsible for building a bunch of tools, including ML models and experiences, that ensures customer trust in the shopping experience on Amazon. And right after that I moved to Sellers University and in Sellers University we just were responsible for building tools that ensures sellers know how to sell on Amazon and make the most of the Amazon store. And right now I'm in the brand experience and excellence team where I lead a bunch of programs that helps brands drive success on Amazon store, and one of the programs is Wine, which is why I'm here today.
Bradley Sutton:
Okay, so let's go ahead and get into that Now. The first thing for people who are brand new to maybe selling on Amazon, why are reviews so important in the first place?
Ami:
That's a great question. Well before I ask that question, Bradley, can I ask you do you look at reviews when you shop online?
Bradley Sutton:
I'm very picky with reviews, Absolutely 100%.
Ami:
Yeah, I'm the same. I look at reviews all the time, so product reviews are extremely important for customer shopping experience. As we've seen in an external study, 79% of customers have actually told that they look at product reviews and trust it as much as they trust the recommendations from their family and friends. In another study, we've seen that nine out of 10 customers have said that they do not make a purchase decision without looking at the review. So, just like us, other reviewers also pay a lot of importance to product reviews. We also know that product reviews is very helpful for brands. Brands have said to us that they have seen increase in their discoverability conversion leading to sales, as a result of having reviews, especially on new products. Some of your sellers might also know this that if you have a product with zero reviews, even with ads, it's very difficult to get sales, and having reviews on especially new products can dramatically change the productivity of new reasons, which is why, as reviews are important for both brands and sellers, both brands and customers, we launched the reviews ability with the wine program and we launched it first for my little friend.
Bradley Sutton:
Hold on, hold on real quick. There's just going to be a historical part right here. Guys, I was looking at some of her, the history that she gave me of wine. Now you guys out there, if you were to guess what year wine started, what would you say? If you're in your car, just say something out loud right now. All right, ready, three, two, one. I guarantee you're 100% wrong. What year did wine actually start?
Ami:
It started in the year 2007.
Bradley Sutton:
2007,. That just blew my mind when I read that. So go back and like how in the world did wine start in 2007?
Ami:
Yeah, absolutely so. We wanted to give a way for our manufacturers and publishers to be able to get legitimate reviews from the Amazon store, as well as help customers make more informed purchase decisions, which is why we launched it. Then we realized that this was important for new product sales for all selling partners, which is why we extended it to sellers in 2019. And you have the program that you have now.
Bradley Sutton:
So the 2019 version of wine is probably the one that sellers out there kind of know and loves. That's really interesting. Now, like I said, I can promise I had a lot of questions from you that you guys had submitted, so we're going to start from the simple questions to the more advanced ones Now. First of all, brand new Amazon sellers. They were like some people when I put out this message in our group. They're like I don't even know what Amazon wine is. How do I become eligible to participate in it? So how would you answer that question?
Ami:
Yeah, the program is open for any brand owner that's registered in the Amazon brand registry as a professional selling account, and they want to enroll an ASIN that has an FBA offer and has less than 30 ratings. So those are the eligibility criteria.
Bradley Sutton:
OK, sounds straight up forward Now. A couple of years ago everybody was so happy Like vine was free, actually for a period of time. Another question that we got here was what is the pricing structure now for vine if I want to enroll an ASIN into the program?
Ami:
Yeah, with respect to the cost for every ASIN that is enrolled in the wine program, the enrollment fee is $200, which is charged after you receive the first review, and with this enrollment fee, you can enroll up to 30 units and you can get up to 30 reviews, depending on how many products get claimed and reviewed. Having said that, we've received feedback from some sellers that they wanted to have a more flexible pricing structure. I'm sure some of your sellers would have also given you that insight. We heard that feedback loud and clear, as we always do at Amazon, and I'm excited to tell you, bradley, that we are going to launch a new pricing structure in Q4 this year. The new pricing structure will have more flexibility for sellers to decide how many units they want to enroll, and the three tiers essentially will be a $0 tier, which is a free tier, where you can enroll up to two units per ASIN. The second tier would be a $75 tier in which you can enroll between three and 10 units per ASIN, and then the third tier is what is the current pricing, which is $200 fee for enrolling between 11 and 30 units.
Bradley Sutton:
Wow, this is the first seven or nine months. This is groundbreaking news here, very nice, all right. So for those who wanted the old days about, hey, is there any way to get free reviews at all? Well, now there is going to be a chance. So it's zero to three. Did you say Zero to two units? Zero to two? Okay, excellent, I'm sure you gave us a little bit more answers than I even thought. All right. So now the next question that some sellers had was how does Vine reviews improve sales on new items? So you talked about this a little bit before. You know we were talking about the importance of reviews, but you know most people are aware of that, about the $200 price structure. So they were like, wait a minute, why would I even want to pay $200 for 30 reviews? I'm sure you guys have some studies that show of how reviews improve sales on newer products.
Ami:
With Vine specifically, we have seen if you enrolled in a Vine program, you can boost sales by up to 30%, driven by increased discoverability, conversion and product insights. So that's how Vine essentially helps you. Having said that, Vine can help you boost sales on new products, but if you want to continue the longevity of the success of your ASIN then you need to make sure you manage your catalog really well and customer expectations.
Bradley Sutton:
Yeah, really interesting. You talked about that and also about how Vine can do up to 30 reviews. So at Helium 10 a few years ago we actually did a study and our data science I'm not smart enough to look at stats and stuff, but our data science is like we're looking at the success of a lot of newer products and they found like a sweet spot was actually within like 20 to 25 reviews, whereas something with 70 reviews was almost the same thing. But before the 20 reviews it's kind of like hard to get that momentum and then once they kind of hit that 20 range, then that really started getting in its groove and look, buying that has a system where you can get those first reviews. All right, going back to the questions, now here's a question from a lot I had multiple people ask this. It says am I guaranteed positive reviews if I roll my product in Vine? And a couple of people said why can't I just get everyone to say they love my product?
Ami:
Okay, we want Vine reviews to be as authentic and trustworthy as possible, regardless of whether they are positive or negative. The decision of whether to give a review, when to give a review and the nature of review actually depends upon the individual and a lot of other factors like what are their preferences, usage patterns and their experience actually with the product. Having said that, I can give you a couple of anecdotes. Actually, recently, one of the sellers in a survey told us that they really appreciate how balanced feedback they've received from Vine. They liked that the positive reviews highlighted the innovation and the quality of the product but at the same time, the negative reviews help them understand better how can they improve their presentation and packaging. So many sellers have told us this that they appreciate the balanced reviews that they get from Vine program. Another thing is that Vine reviews are very insightful, so Vine reviews contain helpful votes, are more likely to also contain images as well as videos. Finally, I'd say that reviews are nothing but a representation of a customer experience. So if you and your sellers focus on creating a great product, vine can help customers see that.
Bradley Sutton:
Excellent, all right. So guys, whoever asked that question, know there's multiple ones. No, it doesn't give you guaranteed positive reviews, but at the same time, it gives you guaranteed valuable reviews. Whether it's negative or positive, it's gonna help you with your business, all right. Another good question and even I have this question because I haven't used Vine in a few months, I haven't launched any products lately. How long does it usually take for reviews to start coming in after I go ahead and do it? Because in the Facebook group sometimes I'll see people say, oh, I put something into Vine and then boom, I had reviews right away. And another person's like wait a minute, it's been a few weeks. Like is something wrong? Like I don't have any reviews yet On average. What can you tell us?
Ami:
Yeah, so on an average, the number of days it takes for a first Vine review to be generated after an enrollment of an ASIN in the program is only nine days globally, and it also depends on when the product was claimed and what type of product it is. So, for example, if it's a technologically complex product, or it requires a lot of safety considerations, or it's a feature with many, or if it's a product with many features, in any of those scenarios you will need more time as a voice to give and review, to review and actually submit the review right. So that's one thing. The other thing is, once the review is submitted, Amazon takes time to evaluate and ensure that the review is complying with the policies and guidelines so that the seller receives the fair feedback, and then, once everything looks good, then it goes live.
Bradley Sutton:
Okay, interesting, all right. Now it's something interesting. You mentioned like different products might have different timelines. At the same time, different products might have different kind of like responses. Like I talked to somebody who had a lot of mixed reviews, actually with Vine, but he had a. It was like a chrysanthemum tea, right? Have you ever had chrysanthemum tea? It's, I had it for the first time. I actually got his product. It's a very unique taste. And so what happened was that that kind of tea is for a specific kind of customer, right? Who has? You know, like anybody who knows that tea is like they're gonna give that tea a, probably a five star product. But the thing is, when you're in Vine you can't say, hey, please only give this tea to people who love chrysanthemum tea, right, you know anybody can have it. Maybe an Earl Grey tea drinker might not really vibe with that as much. Like you said, technology, you know products might take longer, might be mixed, but it's something to keep in mind when you are doing reviews. Now, another question that we got here was let's say, you know I submitted this fee. A product only gets a couple of reviews, you know, not the full 30, not even 10 or so. Does the seller get refunded at all?
Ami:
Yeah, so we charge the sellers after they receive their first review and, unfortunately, we cannot refund the seller if they get lesser than expected reviews. Having said that, I can give you two interesting data points. One is the fact that, on an average, globally, across all the stores that we have Amazon Vine review program available, we have seen that the Vine program generates 19 reviews per race in. So that's one. And then the other thing as I was just telling you before, vine reviews are more likely to have images, videos and be more insightful in terms of helpful votes. So if you keep those two things in mind, you know that it's still going to drive value for you. The other thing is we just talked about the new pricing structure. So let's say, for example, if you're looking to only enroll fewer units with the new pricing structure for the couple of reviews, use case, if they only enroll two units, they can get the enrollment fee waived off, or they can enroll in the second tier, which is the $75 tier, which is only up to 10 units. So they can choose cheaper tier if they want to go for fewer units in the program.
Bradley Sutton:
Okay, good to know. Good to know. All right, we're rolling through these questions now. This is when I get, regardless of it's Vine or not. But somebody said is there a way we can contact a reviewer to ask for additional feedback or provide products? I know the answer to this, but multiple people asked this, so let's go ahead and get the official answer.
Ami:
Protecting data privacy and ensuring unbiased reviews is of the highest importance to us, and because of that we cannot allow any interaction between the voices and the selling partners outside of the regular customer support.
Bradley Sutton:
Okay, makes sense. Now, just remember, in general, guys, for reviews there's actually a newer way. You can't really contact them but using there's a template, and this has nothing to do with Vine per se, but you can actually, if you're brand registered, you can go into the brand registry section and you can reach out to customers with a template that those who have left a three or less star and perhaps get something taking care of that way. But again, that's only if you're brand registered. So there's another reason to have brand registry. But as far as Vine reviews go, no, you're not supposed to be contacting them. All right, next question here One person that asks this is Vine reviews. Are they all free form or can sellers request reviews? Can they do it in a questionnaire format? Now, this is something I never even thought about before, but I was like when they asked this, I was like that almost makes a little sense to ensure the review produces relevant, useful information. I would imagine the answer to that is no, you tell me?
Ami:
Yeah, all wine reviews are free form and follow the same format and guidelines as regular retail reviews. We don't believe in putting any constraints, like having a template, and this is just to make sure that the review represents the authenticity and the unique experience of the reviewer. This also means giving a chance to ensure that you get personalized reviews and not a generic review, as well as this also means giving a chance to make sure that if somebody wants to write a detailed explanation about a positive or a negative experience, they can do that outside of the template. So that's the reason why we can't do templates Makes sense, All right.
Bradley Sutton:
Next question here how do you ensure sellers get quality reviews from Vine, Because you mentioned that a number of times here. Like hey, you know, usually like you don't require them per se to leave videos and things like that, but it just so happens that usually the best reviewers do leave reviews, so it kind of shows that hey, the Vine program does have some good reviewers. How are you even able to achieve that?
Ami:
Yeah, our goal with the Vine program is to ensure that each and every review which is generated out of the Vine program is of high quality as well as trustworthy. We invest in a lot of resources in Vine to ensure this. First of all, if you might know this, but Vine is an invite-only program, so we have a robust invitation criteria that takes into account multiple customer trust parameters to ensure that only the best quality customers who write, who return good feedback, are enrolled into the program.
Bradley Sutton:
Can you get me into the Vine program? Nope, guys, that would be dangerous If I was in the Vine program. I don't know, helium 10 might be looking for a new evangelist because, like, I'd be just reviewing products all day long.
Ami:
I know it sounds really fun and exciting thing to do Once you're in the program. We ensure that voices give trustworthy reviews by making sure that they comply with the review guidelines and policies, not just in the Vine requirements, not just as per the Vine requirements, but also as per the Amazon community guidelines, and then we are continuously evaluating to see if there are any bad actors and bad voices and if we see suspicious behavior, we want and ban them completely from the program, using heuristic models as well as expert investigators.
Bradley Sutton:
Okay, very interesting. So it's not like, once you're in the club, you can never be voted out.
Ami:
No, absolutely not Okay.
Bradley Sutton:
Interesting. Okay, good to know. I had a follow-up question it wasn't one of the ones that the audience submitted, but along those lines is how much of the listing can the viewers or the Vine reviewers see before actually choosing Like, is it just the title, or they can actually click into the listing itself and see everything?
Ami:
Yeah, they can actually click into the listing and see the detailed page and then make a decision.
0:19:33 – Bradley Sutton:
Okay. So then, for example, even if I do have a specific product I don't even know what phone I have, like iPhone XR or something I can freely put that into Vine because knowing that the viewer or the I keep saying viewer the re-viewer will be able to see oh, that's my phone and it's not like the chrysanthemum people, they just think it's just regular tea, but they're like well, if I have a Samsung phone, I'm not going to get this iPhone case, so they can see. Okay, yeah, all right, good to know. All right, we're moving along. I think we've done over 10 questions already. We're coming to here to the end. Another one that we got a few people asking was is there an option to automatically enroll my new ASIN? So we talked about on one hand, somebody was concerned about, hey, choosing which ones. There might be people out there like no, I just want to do everything. Can I just click a button and then automatically throw everything into Vine?
Ami:
We actually want the sellers to decide what they want to enroll in Vine and in what quantity. This is because, like we were just talking about, not every ASIN might be a good candidate for wine, so it's just good to see whether the ASIN is not a niche ASIN and do they want to enroll or not enroll in Vine. So that's one thing. The other thing to keep in mind is the fact that if the sellers may actually want to enroll different types of quantities and they may want to enroll one or more variations, so we want to give that flexibility to sellers, which is why we don't have the option of automatically enrolling in Vine.
Bradley Sutton:
All right. Another question I had was I mainly sell Amazon USA, canada. Where is the Vine program available for?
Ami:
Yeah, the Vine program is available in US, Canada, but also available in Europe as well as JP.
Bradley Sutton:
Okay, excellent, good to know. All right. So something that we do on this show is we always ask for our what I call that 30 second tip, or 60 second tip, depending on what it is. But go ahead, what is your tip? You know you've been giving us a lot of strategies throughout this episode here, but what's a 30 or 60 second strategy you can give our listeners in regards to the Vine program?
Ami:
That's a good one. There are three things to keep in mind when you decide whether you want to enroll and get the maximum value out of the Vine program. The first is to ensure that you have a product which is good for mass audience and not a niche product. So let's say, for example, if you have a very specific car accessory for a specific car model, a lot of Vine reviewers may not even have the base product to begin with. So because we are ensuring that we have diversity in the representation of the reviewers that we have, you want to make sure it's something for the mass audience. The second thing is the timing. Timing is key. If you launch the product, then make sure that you enroll in Vine as soon as possible so that you get reviews early on to get yourself your product accelerated. And then the final tip I would say is just think about the right sample size for the number of units you want to enroll in Vine. We allow sellers to enroll up to 30 units, but do you really need 30? Like, let's say, if you are an expensive product seller, then you might want to consider what's the optimal number of units that will give you the ROI that you're looking for. So yeah, those are the three tips Okay.
Bradley Sutton:
Now, you've been at various departments here at Amazon, so one of my final questions then, I guess, is what have you enjoyed the most about working in your current position with the Vine program?
Ami:
Yeah, I absolutely love working for the Vine program. My favorite thing about this is that I get to lead a program which impacts both brands as well as customers in a very large scale, so that's very gratifying to me personally. I also love the team that I work with. They're awesome colleagues to work with and, in terms of work, there's never a boring day in Vine. One day you could be getting escalations related to tax or compliance in a given store. The other day, we are figuring out what's the right pricing structure for our sellers. The third day could be thinking about what's the community trust parameters to ensure we get, like, high quality reviews, and then so on and so forth. So there's really never a boring day and that's why, because of all of these reasons, I love working for Vine and brand experience.
Bradley Sutton:
All right. One last question to like. We went through a lot of the users' questions here. I'm sure that there might be people out there listening to this. They might have other questions that we didn't go over. How can they like reach out for support or maybe look up some resources in order to get more questions answered about the Vine program?
Ami:
There are three resources that come to top like come top of my mind. First is they can go to sell Amazon to get a general understanding about what the Vine program is. Alternatively, they can also go to seller university where they can see content on Amazon Vine. Or they could go to the help pages on seller central where they'll have more information.
Bradley Sutton:
Awesome, awesome. All right guys I'm excited about like I said, I haven't run Vine in a while. I'm launching some products here in Q4 and in Q1 in 2024. I'm definitely gonna hop in on some of those the new price instructions so be on the lookout on when that goes live and you guys need to jump in on the Vine program as well. Ami, thank you so much. I think you lied to me that this is your first podcast. By no means like you're, so. I wish I was as calm, cool and collected as you and might when I was first doing podcasts. But thank you so much for coming on here and we'll see you guys in the next episode.
Ami:
Thank you so much for having me.
---
Enjoy this episode? Be sure to check out our previous episodes for even more content to propel you to Amazon FBA Seller success! And don't forget to "Like" our Facebook page and subscribe to the podcast on iTunes, Spotify, or wherever you listen to our podcast.
Get snippets from all episodes by following us on Instagram at @SeriousSellersPodcast
Want to absolutely start crushing it on Amazon? Here are few carefully curated resources to get you started:
Achieve More Results in Less Time
Accelerate the Growth of Your Business, Brand or Agency
Maximize your results and drive success faster with Helium 10's full suite of Amazon and Walmart solutions.