Helium Buzz 1/5/2022: Amazon Restock Limits, Elite Seller Story, & Request A Review Automation
Today, we talk about record-breaking sales on the holidays, Amazon restock limits, an elite seller's story, and how you can automate your review requests.
Originally published on: January 5, 2022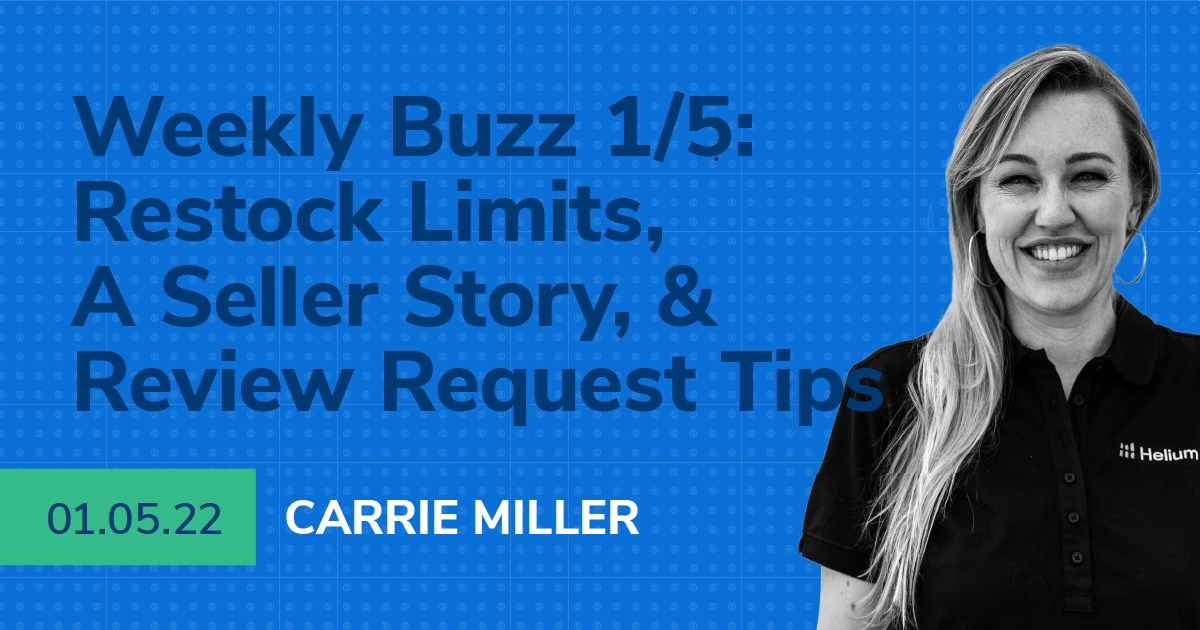 We're back with another episode of the Helium 10 Weekly Buzz with Helium 10's Brand Evangelist Carrie Miller!
Every week, we cover the latest breaking news in the Amazon and E-commerce space, interview someone you need to hear from, and provide a training tip for the week.
Third Party Sellers hit record sales over the holiday weekend with over 130,000 sellers surpassing $100K in sales. Amazon spent more than $100 million to help small and medium-sized businesses reach more customers during Prime Day and throughout the holiday season. https://h10.me/amazon-sales-record
Amazon made changes to their Restock Limits by decreasing the IPI threshold for FBA Storage limits from 450 down to 400. This change was implemented and effective on January 1, 2022. With this IPI change, less than 10% of sellers will have storage volume limits! https://h10.me/sc-2021
New blackhat from sellers techniques have come to light with the "brushing scam" where sellers send unauthorized inexpensive items to unsuspecting victims in order to boost their rankings on Amazon and can even occasionally result in credit cards being charged on the Amazon account. https://h10.me/dont-waste-money
We also interviewed one of Helium 10's Elite members, Jonathon Fitzgerald, about how he got involved in Amazon and what his background is! He dives into how he approached his Amazon business as well as what his thought process was when he eventually made the step to fall into his eCommerce business on a full-time basis!
Helium 10's Brand Evangelist, Lem Turner, closes out the episode by getting into how users can set up and automate Amazon's Request a Review function via Follow Up in order to increase product ratings and reviews. He also gets into some quick tips on how to maximize the effectiveness of these automations based on your specific goals in mind!
In this episode of the Helium 10 Weekly Buzz, Carrie talks about:
01:00 – Record-Breaking Third-Party Amazon Seller Sales This Holiday Season
02:00 – Amazon Reducing IPI Threshold For FBA Storage Limits
03:30 – Brushing Scam And Unexpected Packages
04:45 – An Elite Amazon Seller Shares His Story
10:45 – Jonathon's Advice For New Sellers This 2022
12:00 – How To Request A Review Automatically Using Follow-Up
20:20 – Tons Of Resources Inside Helium 10's Blog! Visit helium10.com/blog
---
Enjoy this episode? Be sure to check out our previous episodes for even more content to propel you to Amazon FBA Seller success! And don't forget to "Like" our Facebook page and subscribe to the podcast on iTunes, Spotify, or wherever you listen to our podcast.
Get snippets from all episodes by following Bradley on Instagram at @H10bradley
Want to absolutely start crushing it on Amazon? Here are few carefully curated resources to get you started: