Helium 10 Buzz 1/19/22: Call Me Now Feature, FBA Shipment Policy Updates, & 2021 Supply Chain Summary
In this episode, we tackle the latest news on Amazon's call me now feature, FBA shipment policy changes, and a summary of the supply chain in 2021.
Updated on: January 20, 2022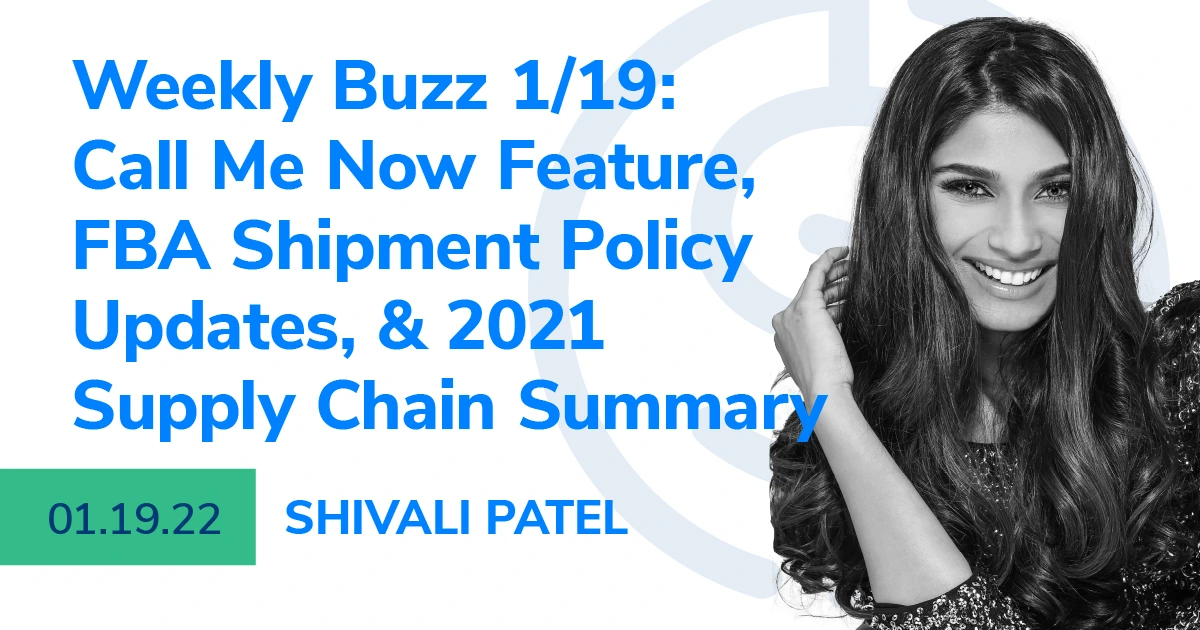 We're back with another episode of the Helium 10 Weekly Buzz with Helium 10's Brand Evangelist Shivali Patel!
Every week, we cover the latest breaking news in the Amazon and E-commerce space, answer the questions you've submitted, and provide a training tip for the week.
An update on the Call Me Now Feature, which Amazon originally launched in 2021.
FBA shipment policy changes.
A reminder on price gouging by Amazon for sellers.
https://sellercentral.amazon.com/gp/headlines.html
Amazon UK's decision reversal on Visa credit card payments.
https://www.chargedretail.co.uk/2022/01/17/breaking-amazon-reverses-decision-to-stop-accepting-visa-payments/
Sourcing with Kian's Kian Golzari, a leading sourcing expert, closes this episode with a summary of the supply chain in 2021!
In today's Weekly Buzz episode, Shivali talks about:
00:50 – Call Me Now Feature Updates
01:50 – Amazon Reverses Decision On VISA Payments
02:50 – FBA Shipment Policy Updates
04:30 – Price Gouging Reminders
05:30 – Summary Of Supply Chain In 2021 By A Leading Sourcing Expert
07:30 – Supply Chain And Transportation Issues
09:30 – Power Outage Situation In China
10:30 – Shortage Of Raw Materials Affects Your Prices
13:30 – Supply Chain Responsibility
15:00 – Make Sure To Have Product And Transport Insurance
Transcript
Shivali:
Hello everyone and welcome to another episode of the Helium 10 Weekly Buzz. My name is Shivali Patel, and this is the show where we get you familiar with the latest news in the Amazon and e-commerce, interview people in the industry you need to hear from, and provide a training Tip of the Week that will give you serious strategies for serious sellers of any level in the Amazon, Walmart and e-commerce world. Let's see what's buzzing this week. Today, we will cover a decision reversal from Amazon, UK among other breaking news pieces and get you familiar with an exciting new series, Helium 10 is conducting in partnership with an extremely knowledgeable sourcing guru. Up first is an update on the Call Me Now feature, I'm pleased to share that account health support has expanded its on demand service to a hundred percent of professional sellers in 2022. In 2021, Amazon had launched a call me now support feature for some of their sellers that could be accessed through their account health page.
Shivali:
In 2022, they've now extended that coverage to a hundred percent of professional sellers. That is if you are a seller who is paying for a professional account, this expansion comes as a needed addition to existing preventative support since it facilitates sellers with the capability to proactively connect with the Amazon team to resolve account health issues and answer any concerning questions. This includes, but is not limited to things such as order defects, rates, chargebacks intellectual property violations, and more. Our next update in the Amazon space is specifically for the Amazon UK market. If you didn't know, originally Amazon UK's website had told customers it will stop accepting payments made with UK issued visa credit cards from January 19th. That is today. The decision was cited due to high fees that visa charges for processing credit card transactions. And it was going to impact millions of people. Basically anyone that was using a visa credit card to buy products on Amazon UK's website and or pay for their Amazon prime membership.
Shivali:
But that decision has now been reversed and the e-commerce company has announced the expected change regarding the use of visa credit cards will no longer take place and they're working closely with visa for a potential solution so that customers can continue using their visa credit cards on Amazon. And in the case that they make any changes, they have also planned to provide advanced notice. So if you're a paying customer that is watching or you know, somebody who's a paying customer with a visa credit card in the Amazon UK market, you can rest easy for now. Something else to keep in mind that was just released today in seller central is based on FBA shipment policies. So effective from April 1st, 2022. If you send, canceled, or deleted shipments to Amazon, your shipments can be rejected and even suspended going forward. The delay can be a result of deleting shipping plans after you've approved them, miss routing shipments and sending incomplete shipments such as ship that are either canceled or deleted after the fact as this can cause a need for further processing handling and rerouting
Shivali:
In the past, some sellers just in order to bypass having to send items to multiple fulfillment centers would only send to one of the two or three warehouses that they were assigned and then try to delete other shipments. But now this means that to ensure you are abiding by the regulations and keeping your accountabilities in good health after approving a multi destination shipping plan, do not delete any part of that shipment or send these shipments along a different route. The last bulletin that newly released article states that communicate with your career to ensure that your shipment is delivered to the address on the FBA box ID label as soon as possible, but no later than 30 days. But there are some sellers that have been confused about that because shipping now from China takes anywhere between 60 to 90 days and we've seen some sellers reach out to Amazon for clarification on this and we should be the lookout just in case that 30 day rule only applies to domestic shipments.
Shivali:
Lastly, Amazon also just released yesterday that they've observed an increased incidence of price gouging, particularly on COVID products. I believe this comes with the rise of Omicron and just some of the other variants. So you guys just be mindful of the marketplace fair pricing policy that protects customers from unfair, excessive, and misleading prices and non-compliance with the policy that can trigger offer removal and account suspension. While their prevention systems do take variations of local laws into consideration. They also do evaluate the cost of goods, freights and labor to adjust those price gouging thresholds. Okay. If your listing's been impacted by what I just mentioned, be sure to visit the pricing health page to view and restore any listings that may have been deactivated in accordance with the fair pricing policy.
Shivali:
So that is all the breaking news we have for you today. Let's move on to the next segment. So usually on these Weekly Buzzes, we typically bring a person on to interview for you guys and we provide you with the Tip of the Week, but this week is a little bit different. I want to first begin this second portion of today's episode by telling you about a special someone who is one of the leading sourcing experts in the world. He's someone who's personally visited over 500 factories, attended more than 20 plus Canton fairs, and sourced over 2,500 products, even going on to work with multiple infamous, big brands. He specializes in everything from product design to manufacturing, best practices, price, negotiation, et cetera. And if you follow Freedom Ticket Extra, you might know who I'm talking about. I'm talking about Kian Golzari.
Shivali:
So what I'm about to share with you is a clip from a new series that Helium 10. is doing in partnership with him and his YouTube channel, which is called Sourcing with Kian. The series is intended to be a place you can turn to when you want updates every few weeks on the most current sourcing and shipping issues coming out of China. And whenever there is an new episode, we'll showcase a snippet on the Helium 10 Weekly Buzz, just to keep you guys up to date too, since sourcing and shipping is such a large part of the e-commerce world. So in the video clip that is about to play in just a moment. Kian talks about a summary of supply chain in 2021. Of course, don't forget to head over to his channel and subscribe to watch the full clip. But for now, here are six of the eight topics that he covers in that first episode.
Kian:
2021 supply chain summary here we go. Eight main topics that we're gonna cover. The first one, the freight situation. We don't need to go into too much detail because even if you're not involved in e-commerce and you're just beginning the journey now, I'm sure you heard a lot about it in the news about the prices soaring and it kept continually going up across the year. And the prices actually stayed up because we had a lack of capacity. We had port closures in both the China side and in the US side, we had long beach port where all of the container ships sort of like with tens of 20,000 vests containers, all on a vessel. And we saw like 40, 50 up to a hundred vessels getting stuck there. Then we had, you know, vessels going to different ports to try and ease that congestion but a capacity remained an issue all year long
Kian:
On top of that, we had this SWO canal issue which blocked the Swiss canal and that big massive vessel. And then that messed up the flow of air empty containers going back as well, caused a lot of delays and then just the capacity issues as well. The prices drive up because there was less capacity. There was less capacity because the containers are getting stuck in the US and the empty ones are not going back to China, but there's more, there's a lot more business coming outta China with less containers to actually use, which is causing the prices to go up. Now, we will see that decrease after Chinese new year not only sea freight but all modes of transport were affected. Airfreight was also affected because there was a less commercial airlines in the air and for air freight and air cargo, they used commercial airline space as well that drove the price up a little bit, and also with trucking as well, chassis were low in capacity. Drivers were low in capacity as well.
Kian:
So you saw a lot of delays with trucking. You saw a lot of delays with sea freight and a lot of price increases with both and air freight as well. Now, moving on to the next topic the power outage situation in China as well. What's interesting to cover here was that I think it was around about October. We noticed that a lot of factories were actually shutting down or they're operating under less capacity. And the main reason for that is, you know, I in China for many years and the main energy source in China comes from coal-production, but coal-production is a massive pollutant. And that's what causes those big polluted black skies. So in order to reduce the pollution when it gets too much and it was getting too much because factories were working overtime because there were so many different demands on manufacturing.
Kian:
So the government just decided to write cut off. And in that way, they won't go over their quota for their energy output. And then as a result that not only affected the factories, but it also affected just the human side, like the workers as well, going home, and they didn't have electricity, they didn't have heating, they couldn't cook their food. Traffic lights were going out. It caused all sorts of mess in China. And then the power came back on and we saw the factory start to operate at about 40% capacity. And the power outage situation only operate only sort of covered maybe 50% off China, but it's still relevant because that situation could go on into March next year. And with it being wintertime at the moment was gonna be a lot more demand on energy.
Kian:
So watch that situation closely, the power could get cut again. So definitely check in with your manufacturers to see that their power situation is okay. And if you don't have backup suppliers now would be the absolute best time to have backup suppliers. So you won't be affected if it happens again. Covering raw materials. What did we notice there? Well, raw materials can come in many different shapes as forms. You know, you've got your steel, you've got your aluminum, you've got your lumbar, you've got your plastic and wood, coal minerals, all that sort of stuff. And whenever there's a shortage, that's when price increases and you might be thinking, well, why does raw materials affect me? Why do I need to stay on top of that? Why do I need to know what's going on? Well, imagine your supply to chain. You have like tier one and tier two suppliers.
Kian:
If you are doing, let's say a metal product, like an outdoor furniture chair and they have steel or aluminum legs. Well, the factory making that chair for you, isn't also producing the metal. They're gonna get their steel from a steel raw material factory. So if there's a shortage of steel, or if there's a price increase in steel, that's gonna then affect your, the price of your goods. And I kind of view it as like my furniture chair factory, it's my tier one supplier, but then the raw material factory making the actual steel, which then the furniture factory is gonna twist and bend into your chair is that your tier two suppliers? So you should be very familiar with what's happening with your tier one and with your tier two suppliers.
Kian:
Now, I'm sure this is an easy one to guess here we can see this is the carton. So this is referring to the warehouse situation. I'm sure everyone is affected by what was going on in their supply chain with warehouses. As we know at the start of year, Amazon had their inventory limits, which made it a little bit more difficult in terms of how much stock we could send into Amazon. So then we had to decide, okay, do we wanna do in house warehousing, can we do, can we hold stuff in our own warehouse in our own homes? What can we do about it? How often can we send goods into Amazon as well as that a lot of companies were growing in the last year, as well as you're growing, but Amazon's reducing how much stock you can hold in. You have to rely on your 3PLs a lot more. So do you have good 3PLs? Do you have good supply chain partners?
Kian:
You might be increasing your stock levels as well because of the shipping delays and because of the tracking delays. So you might be ordering more stocks, you have to hold more stock. So you have to really make sure you're getting the best rates. And as well, you know, these are quite interlinked because when we talk about the shipping situation based on the shipping delays, you're holding onto more stock, but you might also be shipping to different ports as well, because when there's that backlog at LA port, we might decide, okay, now we're gonna ship into Oakland or now we're gonna ship into Houston. And now what's the tracking cost of getting our goods from Houston. Do we need to get 3PL which is we're to Houston now? Or do we need to get a more centralized warehouse if we're shipping to both ports?
Kian:
So a lot of these sort of supply chain challenges we had to figure out in 2021, but don't worry if you haven't gone through those situations yet, every month, every episode we're gonna cover these topics and what we can do about it, today's video is just the overall summary. Now, the fifth point, you can probably tell about that logo. That's quite an easy, easy one to get. This is all about supply chain responsibility. And this was a key topic. Not just dealing with all the problems we had, but supply chain responsibility is something which has been emerging and growing over the years. And as we get, you know, further on in time and as technology advances, this is gonna be a topic which has become, gonna become more and more important. And it's not only being responsible in your supply chain with your tier one and tier two suppliers, but also what materials do you use?
Kian:
You know, we talk about raw materials that you incorporate into your products that are responsible, that are recyclable, that are organic, that are not destroying the planet. You know, live the amount of plastic you use, the packaging that you use. Can it be, can it be a function of the product? Can the packaging then be reusable? Can it be a use of the product? Can it carry the product? Not only to try and support the goods like to the store or as delivery, but can you also make use of it? Like, could it be a pouch that holds the product when you go to the beach, if it's a yoga mat or if it's a hollow or anything like that, and also is packaging recyclable because you know, that also links to the power outage situation as well.
Kian:
You know, like, are you getting good quality controls? Are you making sure that your products are fit for industry standards? They don't end up in a landfill. They don't end up in a dumpster. So then we have to make more goods out of China than the energy assumption is more than the power outage situation is more. And then the demand on freight and capacity is more. So in my mind, all stems from having a responsible supply chain to making sure that you are using sustainable materials when you can, that you are using recyclable packaging that you aren't, that, that you are testing to the highest standards to make sure that all your products are fit for purpose and compliant to the highest standards. So they don't end up in a dumpster or a landfill. So supply chain responsibility is gonna be a key focus and something we're really gonna take a deep dive into as well.
Kian:
Now we had three more can you guess what they are? That's not my phone number. This umbrella, can you guess what that is? Umbrella symbolizes insurance. Now we've got two types of insurance. We've got product insurance and we've got transport insurance. And those were a key feature in 2021 as well, product insurance, because as we said, being compliant and making sure our groups don't end up in a landfill making sure that we are manufacturing goes to the higher standards. And then if there was any mistakes in the supply chain process, in the production process that came from our manufacturers while making sure that we are not personally liable for it, and that we get compensation. If we get any damaged stock that we can't sell. The other thing was transport insurance. You saw what happened in the Swiss canal and transport insurance becoming more and more popular to make sure that if there is a delay and that you are out of stock as a result of that delay in freight that you are now getting compensation for that because you got insurance on your transport. So two key factors to look into, if you are growing into a big seller, that's gonna be very, very important going into 2022
Shivali:
Great stuff, right? Make sure that you check out that full video and to close out today's episode. I just wanna wrap things up by mentioning that we currently have over 20 positions open at Helium 10. So we would love to have you join our team, just visit www dot helium10.com/careers to see of becoming my colleague is fitting for you. With that, that is it for today. We'll catch you next week on the Helium 10 Weekly Buzz.
---
Enjoy this episode? Be sure to check out our previous episodes for even more content to propel you to Amazon FBA Seller success! And don't forget to "Like" our Facebook page and subscribe to the podcast on iTunes, Spotify, or wherever you listen to our podcast.
Get snippets from all episodes by following Bradley on Instagram at @H10bradley
Want to absolutely start crushing it on Amazon? Here are few carefully curated resources to get you started: