Helium 10 Buzz 1/18/23: Amazon Inventory Change | Keyword Strategy Refresh | Funny Reviews
In this episode, we cover the latest news about Amazon's new FBA capacity management system, how to buy pink sauce at Walmart stores, and a refund experience from an Etsy store that went viral.
Originally published on: January 18, 2023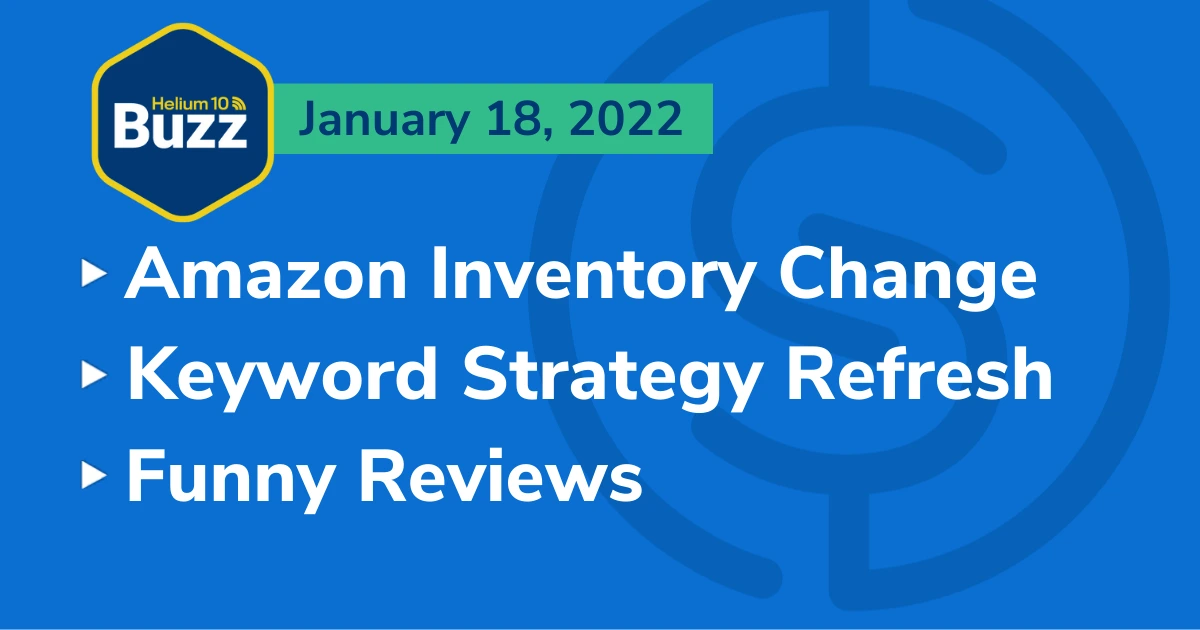 We're back with another episode of the Weekly Buzz with Helium 10's Chief Brand Evangelist, Bradley Sutton. Every week, we cover the latest breaking news in the Amazon, Walmart, and E-commerce space, interview someone you need to hear from, and provide a training tip for the week.
Amazon's new FBA capacity management system will give most sellers greater capacity limits, provide more predictability and greater control to get more capacity when sellers need it. These changes provide sellers more visibility and control over capacity limits in order for them to better plan and manage their inventory and supply chain.
https://sell.amazon.com/blog/announcements/fba-capacity

Remember that pink sauce that went viral on TikTok last summer? Now you can buy it at Walmart. TikTok creator Chef Pii first unveiled the Pepto Bismol-colored dipping sauce on the social media network last June. As interest bubbled up, sales grew and so did some criticism.
https://www.usatoday.com/story/money/food/2023/01/14/walmart-pink-sauce-tiktok-viral-condiment/11055361002/

A woman's experience getting a refund from an Etsy store went viral after she shared a rude exchange on TikTok. In the video, which racked up 2.3 million views, Elisabeth Manente is told to "have the day you deserve" by a store selling candles, which accuses her of shopping while drunk or high.
https://www.entrepreneur.com/business-news/etsy-store-owner-goes-viral-after-customer-service-exchange/443099

Join us for this 2023's first Bigger Better Launch Webinar, where we talk about the latest features and actionable strategies you can do to help maximize their use for your Amazon and Walmart businesses. Go to: h10.me/launch to register

We conclude this episode with the training tip of the week from Bradley, where in 60 seconds, we can see how you are doing versus your competitors at the keyword level. Without having to know all of Helium 10's fancy filters. 
In this episode of the Helium 10 Weekly Buzz, Bradley talks about:
01:20 – Big Amazon FBA Update
08:30 – Pink Sauce
11:00 – Viral Etsy Customer Service
14:00 – January's Bigger Better Launch Webinar
15:00 – Pro Training Tip: Faster Keyword Comparison Button Feature
Transcript
Bradley Sutton:
Hello everybody, and welcome to another episode of the Serious Sellers Podcast by Helium 10. I am your host, Bradley Sutton. And this is the show that is our Helium 10 Weekly Buzz, where we give you a rundown of all of the news and goings on in the world of e-commerce that affect you as a seller. And we also have interviews and training tips of the week that'll give you serious strategies for serious sellers of any level in the e-commerce world. Let's go ahead and see what's buzzing this week. Now we've got some different news articles. Mainly, we're really gonna focus on that announcement that Amazon made earlier this week about the FBA inventory storage, how that is now going to change. So that's gonna be our main topic of the week. We also have a couple things on the lighter side, just a little kind of like, just to keep things a little bit light here, but some funny stories that come from the world of Etsy reviews and also another one having to do with Walmart.
Bradley Sutton:
I've also got a train tip of the week that will help you within 60 seconds be able to see, Hey, how are you doing at the keyword level compared to your competitors without having to know a million fancy filters and having to go through some complicated thing. You could just find that out in just a couple of clicks. So I'm gonna show you how to do that. It's very important here in 2023. So let's go ahead and hop first of all right into the news. Our first news article of the day, you guys probably saw we I put it on my LinkedIn a couple of days ago where Amazon put out a notice. Maybe you got this email simplifying FBA capacity limits for your business. So, so this is something that you saw in Seller Central, and basically what it says here is it says, Hey, effective March 1st, we're replacing the weekly restock limit and quarterly storage limit with a single monthly capacity limit per storage type to give you more predictability and control over your inventory.
Bradley Sutton:
Okay? So I think one of the, first of all, let's just analyze why this came about. You know I think people understood that during Covid there was a lot of inventory restrictions because things were getting kind of outta hand during the pandemic. And we saw for the first time kind of like capacity limits and, and there was times where you couldn't even send inventory in, right? But then as kind of pandemic effects wound down I think most of us Amazon sellers thought that, okay, this is the end of these, just like out of the blue restrictions on inventory. And then what happens in Q4, and we talked about this in the Weekly Buzz, all of a sudden people were getting hit with inventory restrictions again and didn't make any sense.
Bradley Sutton:
People were like, what is going on? Like, Amazon has so much space they're even trying to cancel making new warehouses. Why in the world do I have inventory restrictions? And there's a lot of speculation going on. People thought maybe there was more kind of movement than they expected, and from what they projected. But whatever the case is, sellers, sometimes once a week, were all of a sudden seen, sometimes their unit restrictions go from even like 60,000 down to 20,000, right? So let's say you've got like 40,000 units of inventory in stock, and your inventory limit was 60,000 units. Well, you thought yours like sitting pretty, right? So then you're like, Hey, you know what? I need to order five different skews for a total of 10,000 units and just go ahead and put them on the way to Amazon.
Bradley Sutton:
It would've been no problem. And then you wake up in the morning on Monday to to set up your shipments and it says, no, you are overstocked by 20,000. you're not gonna be able to send anything for like two months. And of course a lot of you sellers are very concerned about this, and it was affecting your business, and you guys are trying to come up with different hacks and strategies and trying to get inventory in and hey, you were complaining to Amazon and Amazon hurt. All right? So, so this is what basically they said was the reason why they made this move is like, Hey, people want Amazon sellers want to be able to know more about what's coming down the pipeline instead of going to sleep Sunday night with one inventory restriction, and then in the morning it's completely different.
Bradley Sutton:
So basically this article here says that now there's gonna be a single month long FBA capacity limit, all right? So it is one for the month, it's not gonna change like every week. And it also says capacity limits for the upcoming month will be announced in the third full week of each month via the capacity monitor in Seller Central and an email location. And they're going to give estimated capacity limits. Again, not so, it's not gonna be just overnight. It's, they're gonna give you estimated ones three months in advance, and it's part of it is going to be measured by your inventory performance score. Now, here's where it really starts getting new and interesting. It says, there will be now an opportunity to request a higher limit with our new capacity manager says you can request additional capacity based on a reservation fee that you specify.
Bradley Sutton:
So it's almost like, I don't know I kind of like like this like an eBay auction or something where you can kind of bid on getting more space all. So like for example, let's say you've got 20,000 units, you're like, Hey, I know I'm gonna need 30,000. Well, you can like submit a bid for this extra space and then Amazon might grant it. Now that might, you somebody might instantly say, Hey, this, this is ridiculous. This is Amazon trying to get more money out of my pocket for something I actually have anyways. But I think Amazon is concerned about people abusing the inventory system and just using Amazon as a 3PL remember Amazon actually is we talked about that last year. Amazon is starting kind of like a 3PL service, but what they said here is that they're actually, you're actually gonna be able to get that bid back potentially, like if your sales reach a certain threshold, you have a chance to get everything that you bid for that extra space back to you so that you really ended up paying nothing.
Bradley Sutton:
So that the people using the space are really the ones who need it. And if you are using all this, this extra space and your sales aren't that great, well, you probably didn't need the space in the first place and you're gonna get charged. So I can see the pros I can see how some sellers might not like this, this bidding thing. Anytime more money is involved, but hey, if you don't use this space anyways, why were we even bidding for the extra space in the first place? It's kind of like my rebuttal to that. So very interesting. Here, the other thing is that the capacity limits, it says here are going to be volume versus units to better reflect your capacity usage. So instead of like, number of units that you're gonna be able to store, like it is now, it's going to be like your volume and you can kind of measure it as far as size goes now.
Bradley Sutton:
Some things are not fully kind of like specified, like this other blog that come out that we link to in the comments below. It says like, storage limits today, overage fees will apply if a seller's on hand inventory and Amazon's fulfillment centers exceeds their capacity limit, right? Not including open shipments. Overage fees are calculated based on the highest estimator or confirmed limit we've provided for the given period. Now, this to me, I mean, there's always been some kind of overage fee for storage fee, but this almost seems new to me. So this, they kind of slid this one under the radar. So I kind of want more information about this overage fees cuz sometimes in the past we would, we would be like, like in that scenario that I gave you, we might have 60,000 units and our limit is 40,000 if this happens.
Bradley Sutton:
Does this mean now that we have a new charge? So, so that's something that I'm sure that they'll specify down the road, but I, I highly recommend guys going into your seller central and you hit the news section and then you hit the more details on this capacity manager. And what you'll see is a whole bunch of like, examples and use cases for this, and it talks about the performance credits. It even has a chart like saying, Hey, what if this was your original capacity limit and you got this extra amount, and then this was your actual sales. Well, here's what's going to happen as far as what you're gonna be charged for and what kind of credit you're gonna get. So a lot of they try to like think of everything here. So find that in your dashboard and then go ahead and take a look, take a look and see if you can plan it out.
Bradley Sutton:
But I'd be curious, what do you guys think? I haven't seen too much feedback on it yet, but go into our Helium 10 Facebook group and let me know or, or comment on this YouTube video and let me know what you guys think of this change if you think it's positive or negative. All right, moving on now just kind of a semi off-topic story, but I wanted it to kind of like you guys to be thinking about the potential of influencer marketing and how social media can really affect kind of like your, your business strategy. And there's this article in the USA today talking about pink sauce. Alright, so the reason why I found this interest, I don't think it's applicable to every single seller, but this is what I wanted this article to inspire you to do, how this story goes.
Bradley Sutton:
Is it was from USA Today and says, where can you buy pink sauce? Walmart now sells viral TikTok condiments. So I'm not a talker, by myself, so I never heard of this, but I guess back in June this TikTok creator, Chef Pii I'm not sure how you would say p i I had this like Pepto-Bismol color dipping sauce, and I guess it went viral. This is like June of last year. But long story short, it ended up now being produced and now it's going to be sold on Walmart shelves. Now, here is why I'm bringing this article out. This is something that went viral in June of 2022, like what, seven months ago. And the virality of things on TikTok or social media sometimes is very short-lived, you might think, right?
Bradley Sutton:
So I doubt this is viral necessarily now, but now this influencer who started this, she ended up getting a deal for Walmart, brick-and-mortar, right guys, which is more than anything she could have done on Amazon. if you get something in Walmart, brick-and-mortar, and all the dcs are carrying this for all their stores, I mean, we're talking a po in the millions of dollars here. And so this just illustrates the power I think of if something goes viral on social media. So number one, don't think that just like by getting these TikTok products or producing it yourself, like maybe you have nothing to do with TikTok, but you just get an idea there. Don't think that you only have like a couple of weeks to come out with something like, and make it in your backyard and mass produce it to catch the wave.
Bradley Sutton:
Here is somebody who took something that went viral all the way back in June and now is making tons of money on it by getting to brick-and-mortar. so the things that really go viral have a longer shelf life than just how long it stays trending on TikTok, for example. And this also just shows the potential of what you can do. Like if you do have a product that really takes off due to some influencers, guys, the sky's the limit. Not only can you have massive success online, like on Amazon, but you could eventually get your product into brick-and-mortar. So, interesting story. Another kind of like on the lighter side here it's kind of a warning, but also kind of funny, is this article about a woman's awful experience that says getting refunded for a $19 candle on Etsy went viral after the store kept insulting her.
Bradley Sutton:
And this was from entrepreneur.com. Well, this lady asked for a refund for this hairstyles candle or something, right? And then the seller just kinda like went off like, alright, fine, I'm gonna give you a refund, but man like, have the day you deserve. And like, when you were shopping, were, were you high or drunk? Like, like they were going back and forth on here. And they didn't know that this lady here was actually a kind of like semi influencer. She's got like thousands and thousands of followers. So she just went on TikTok and posted all about her experience and then basically the seller, their business came like kind of crashing down because of this. And, and so the first part of why I wanted to bring this out is I don't think you guys, I think you guys are smart enough to know that you can't insult your customers in Amazon buyer-seller messaging because Amazon is very, very super sensitive as far as the seller or the buyer experience goes, and they're monitoring those messages.
Bradley Sutton:
And so you can't be doing stuff like that. But also always just have good customer service. you never know if somebody's gonna like, take your screenshots in something and try and make it go viral and your business could be potentially ruined by that. It's kind of like shocking that what this seller was doing. But that got me thinking too, like about viral reviews or reviews that you have. Like, I bet a lot of you guys out there have some pretty funny reviews. So this was a funny seller who was like, kind of crazy. How many of you have like, kind of like crazy buyers out there? And, and what, what kind of things do, do they say in your, in your messages? I went to our coffin shelf listing and I found a kind of funny review here.
Bradley Sutton:
Alright, so this is a review of our coffin bookshelf, and I'm gonna read this for you guys who can't see it. It says "my wife is into all sorts of dark arts and horror, et cetera. If it's not a horror movie on tv, it's the ID channel. I don't know what the heck Id channel means. So when she asks me at the table, if I would order her a coffin, I shot soda out of my nose at the dinner table. Then I worriedly thought maybe it's for me did I forget our anniversary? But no, thankfully it was just these awesome little coffin shelves for her to put her makeup. And dude dads around her vanity area, just like all regular normal wives want coffin shelves, right?" Right, guys, help me out here, fellas. All right, so that was an actual review right there on our listing.
Bradley Sutton:
So I'm just curious. I want to know how many of you have checked your reviews? Just, just for the funny side of it. I want you guys to do that. I want you guys to find your funniest review and then share it in the Helium 10 members Facebook group or talk about it here in the comments below. Just a lighter side of doing business online. You get some funny reviews sometime. All right. That's it for the news this week. Next up, I just wanted to give you guys a heads up. Next week we'll be doing our first bigger, better launch of the year. Alright, so this is our webinar series where we talk about different features that could be helping you. And we want to make this sentence is the first of the year, kind of like have a different theme where we're really diving into strategies.
Bradley Sutton:
It's gonna be a strategy session on what you need to do now that we're in January of 2023 in order to get a leg up on your Amazon and Walmart competition. So guys, make sure to register for this webinar, you can go to h10.me/launch, h10.me/launch. I want you guys to register myself, Shivali, and Carrie will be giving you guys all of the kind of like optimizing strategies that you can do to your current listings or your newer ones in order to make sure you're being the competition in this new year. So I'll see you there next week. Alright, next up, speaking of this is gonna be one of the strategies we're actually gonna be talking about next week. But if you already have an existing product, maybe you made your listing six months ago, if you haven't taken a look at your keywords, then it's something that you should be doing.
Bradley Sutton:
You know, you can't just make your listing and just leave it. Alright? So how do you kind of like redo your keyword research in just a couple of minutes to see how first of all you are performing versus your competition? And also is your competition using keywords that you might not have even known about? So let me just show you really quick how to do this in just a couple of minutes. Alright? So if you are on these search results of your main keyword, so like, for example, right here, I'm on the coffin shelf keyword. I would click on Xray just a quick one tap here. And I, what I wanna do is I wanna see who are the main sellers and then compare them against me. So the very first ASIN I'm going to select an Xray is my own, because I want to compare the competition to me, right?
Bradley Sutton:
So select your ace in first. And then the other thing I do, I wanna see who are the most relevant sellers. Alright, because on this coffin shelf page, there's a lot of just random products on here that have nothing to do with coffin. And there's also some products like makeup shelves that I might not think are my direct competitors. So what I'm going to do is I'm going to select the ones that I am directly competing for a coffin shelf sale. And as you can see, I am number one. Project X is number one in coffin shelves right now, right? So I'm gonna select the number two guy right here, gothic life coffin shelves. I'm not gonna select our coffin bookshelf because to me that's a different kind of product. Here's another product I wanna look at.
Bradley Sutton:
And then let me do three or four more here, but not the ones that are makeup shelves. And I just have to hit this button, run Cerebro. And what this is gonna do is it's going to open it up inside of Cerebro. And remember, it's important that you select that first option or that first product as your product. Because what happens is, is now Helium 10 is going to be able to compare the performance of my listing versus these others as a group. So as you can see here, it pulled right up, and you don't have to know about all these fancy filters. I'm just gonna click one. I'm gonna hit top keywords. Alright? So what are the top keywords in this niche? And I can see right here, like just took one click, I can see coffin, bookshelf, coffin, shelf coffin shelves.
Bradley Sutton:
And then what I wanna look at is my relative rank, alright? Because that means how I'm doing versus my competitors. So then if I hit this, I can see, hey, I'm, my relative rank is four. That's not great. I'm showing up fourth on this page on coffin shelf itself. I am showing up first. I might not be first on the page, but more importantly than your organic position on the page is your relative rank if you are comparing yourself against your competitor. So here I can see my relative rank is one. So what you want is your relative rank to be one. Now the other thing that i I like to do is I like to hit the opportunity keywords to find out are there any keywords that only one of the competitors are doing well on? So it's just a one click button.
Bradley Sutton:
You just hit this button called Opportunity Keywords, and I could see a couple of keywords that maybe nobody's paying attention to goth shelf and black aesthetic room decor. And then why did these keywords come up? Well, it is because that only one or two of them are crushing it and the rest are not. So, like, for example, on this one, one of my competitors is positioned six on page one. Nobody else is even on page one. Or maybe I am, it says here, I'm 37, but I'm way down the list. And on this other one, I'm not even ranking at all, but one of my competitors is on page one, position eight. So here's a keyword that maybe I am not even indexed for. At the very least, I'm not ranking for, I just found this keyword with one click, right? I'm doing this live, guys, I didn't prepare this.
Bradley Sutton:
I didn't even know this keyword was gonna come up. I'm pretty sure I'm not indexed for black aesthetic room decor, and I just discovered a keyword that my competitor is getting sales from, but I am not. So those are just our one click filters. But if I want to keep going, I could just say, Hey, show me a keyword that has 400 search volume, right? And I want at least one competitor. I go into advanced rank filter, I do a minimum of one, at least one competitor, and then I go into the second advanced rank filter, and I say a rank between one and 10, right? So I, what I'm saying is Helium 10, show me a keyword from all this list where it has at least 400 search volume. It's ranked between, or there's at least one of them who is ranked between one and 10.
Bradley Sutton:
And then I'm going to put position here, rank zero and zero. That basically means I'm not ranked at all. So I'm gonna find even additional keywords that I'm not ranked for. And of course, that black aesthetic room decor is coming up here, but some other ones come up here, Halloween bedroom decor, goth room decor, aesthetic. So right there, just within a couple more seconds, I was able to find even more keywords that I might not be ranking for. And as you saw there, I'm already the number one seller in this niche for my coffin shelf. So don't think that just because you're the top seller, that you don't have room to grow your competitors on an individual level, the ones that are doing worse than you, almost always you're gonna find that there's a few keywords that they might be getting sales for that you are not. So this is something that can help in you widen that gap in order to make sure that you not only stay at number one, but solidify your position there. So guys, make sure to use this tip as you go into 2023 and we're gonna do more tips just like this next week. Alright, guys. I hope you enjoyed this edition of the Helium 10 Weekly Buzz. I'll see you next week to see what's buzzing.
---
Enjoy this episode? Be sure to check out our previous episodes for even more content to propel you to Amazon FBA Seller success! And don't forget to "Like" our Facebook page and subscribe to the podcast on iTunes, Spotify, or wherever you listen to our podcast.
Get snippets from all episodes by following us on Instagram at @SeriousSellersPodcast
Want to absolutely start crushing it on Amazon? Here are few carefully curated resources to get you started:
Everything for your business on Amazon.
Find out more about our products by signing up or speaking with one of our
Customer Success representatives today. With us in your corner, you can enjoy
more sales and increased engagement from your Amazon business.
Chat with a Support Specialist