Helium 10 Buzz 1/12/2022: Shipping Rates Increase, Your Questions Answered, And The New Pinterest Trends Finder
In this episode, we talk about shipping rates increase, how to acquire more capital for your FBA business, and introducing the new Pinterest trends finder.
Originally published on: January 12, 2022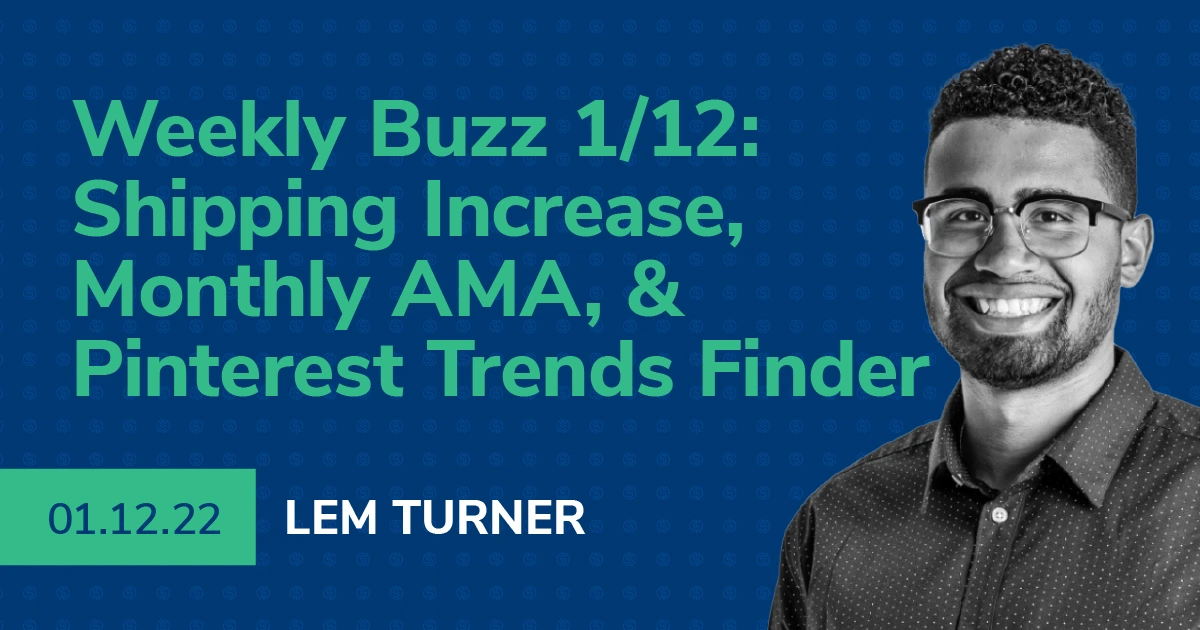 We're back with another episode of the Helium 10 Weekly Buzz with Helium 10's Brand Evangelist Lem Turner!
Every week, we cover the latest breaking news in the Amazon and E-commerce space, answer the questions you've submitted, and provide a training tip for the week.

New shipping rates are coming in January 2022 by all major carriers. UPS has already implemented some rate changes in the past few weeks. https://www.eseller365.com/guide-shipping-rate-increases-2022/
FedEx Express warns of delays due to the surge of COVID-19 Omicron infections and severe winter weather across the country. https://www.eseller365.com/fedex-express-warns-covid-weather-delays/
Amazon has been overtaken by three e-commerce rivals you've never heard of. Although Amazon continues to hold the top spot in the e-commerce market in the US, foreign competitors have now surpassed the company when it comes to app installs on the global stage. https://www.techradar.com/news/amazon-has-been-overtaken-by-three-ecommerce-rivals-youve-never-heard-ofWe also answered some of your most frequently asked questions. If you have any questions that you would like answered on the Weekly Buzz, please email our customer service and let them know you have a question for the weekly buzz!
Helium 10's Director of Training, Bradley Sutton, closes out the episode with Helium 10's Pinterest Trends Finder! This new tool will help you find potential product opportunities and ideas. Check it out inside your Helium 10 dashboard.
In this episode of the Helium 10 Weekly Buzz, Lem talks about:
00:42 – Shipping Rates Increase On Major Carriers
01:30 – FedEx Delays
02:20 – Amazon Bags 4th Place For Global Shipping Apps
03:30 – How To Acquire More Capital For Your Products
04:30 – How To Find A Verified Agency/Business To Help You
05:20 – How To Improve Your IPI Score For Amazon
06:20 – Introducing The Pinterest Trends Finder
15:00 – Checkout Freedom Ticket Xtra
---
Enjoy this episode? Be sure to check out our previous episodes for even more content to propel you to Amazon FBA Seller success! And don't forget to "Like" our Facebook page and subscribe to the podcast on iTunes, Spotify, or wherever you listen to our podcast.
Get snippets from all episodes by following Bradley on Instagram at @H10bradley
Want to absolutely start crushing it on Amazon? Here are few carefully curated resources to get you started: