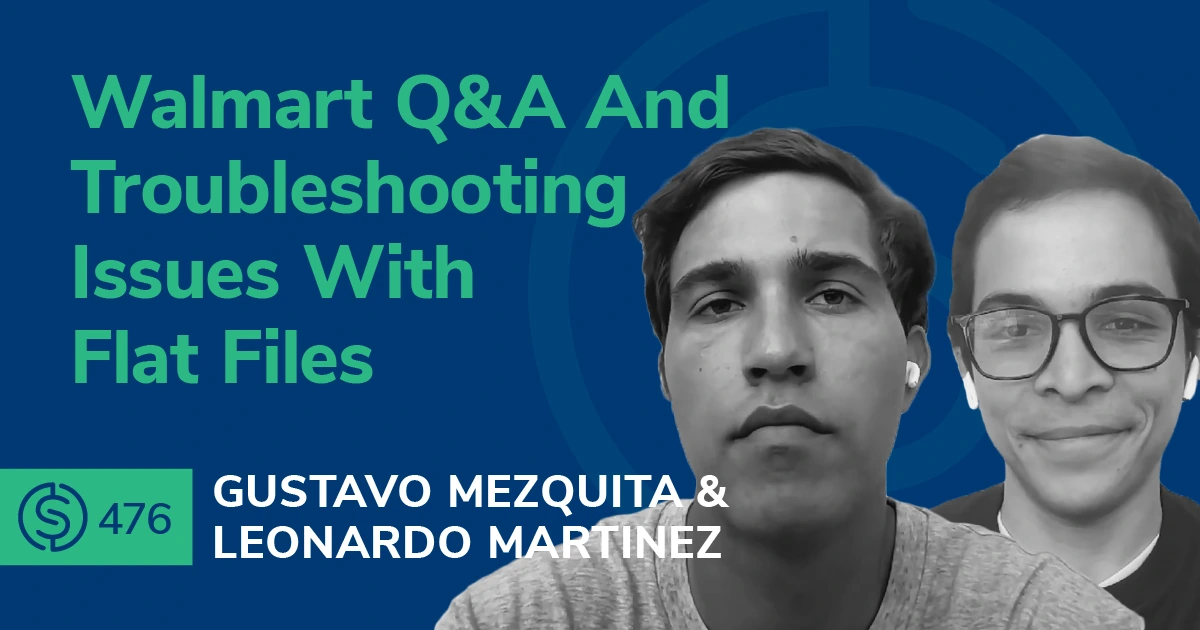 #476 – Walmart Q&A And Troubleshooting Issues with Flat Files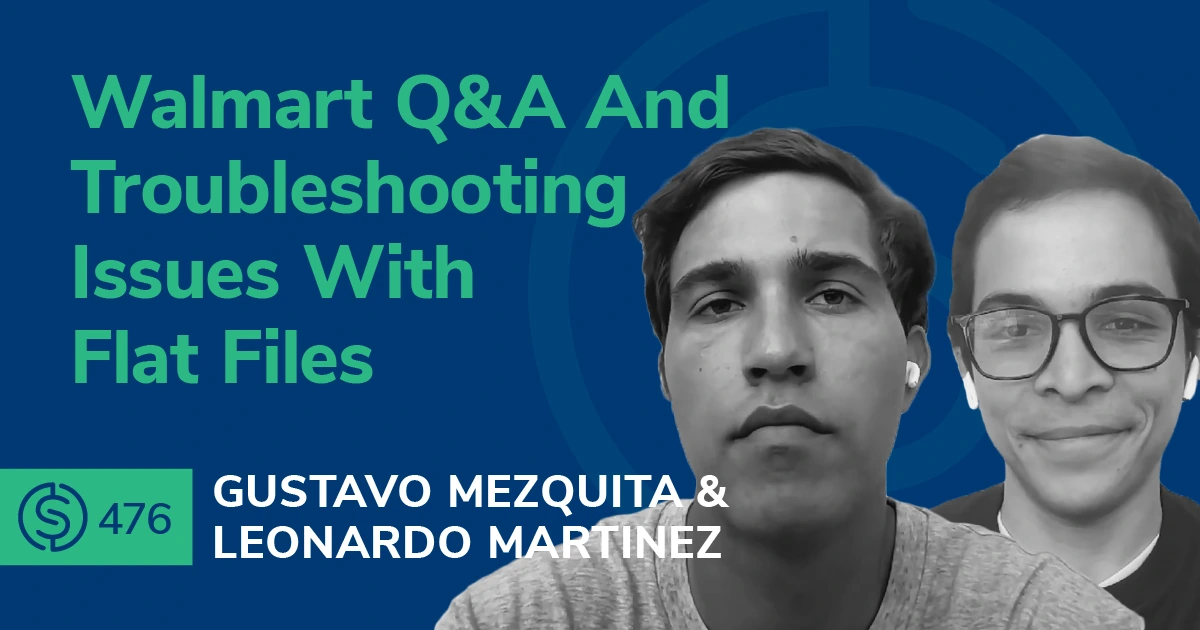 Video of the episode at the bottom
Welcome to another episode of our Winning with Walmart Wednesday series! Today's host is Carrie Miller, and she sits down with two sellers who found massive success in the Walmart marketplace. They share their inspiring stories and reveal the secrets behind obtaining the coveted Walmart Pro Seller Badge. From speeding up inventory check ins WFS to mastering the art of A/B testing for different product types, this dynamic duo provides valuable advice on how to excel selling on Walmart.com. Tune in to learn about their 90-day product launch plan, how to use flat files to solve your technical problems, and the latest Walmart parameters for the Pro Seller Badge eligibility!
In episode 476 of the Serious Sellers Podcast, Carrie, Gustavo, and Leonardo discuss:
02:06 – Gustavo And Leonardo's Backstories
03:03 – How Much Are They Selling In Walmart.com?
04:23 – Why Did They Choose Walmart?
06:10 – 90-Day Product Launch Plan In Walmart.com
09:22 – Walmart Changing Parameters For The Pro Seller Badge?
11:20 – Optimizing Your Listings For Walmart.com
14:15 – The Buy 3 Variations In One Listing Technique
15:38 – A/B Testing Your Listings And Product Types
19:07 – Reduced Pricing Strategy
22:07 – How To Get Your WFS Inventory Checked In Faster
23:56 – Check Out The Walmart Lessons Inside Freedom Ticket
25:50 – Selling Liquids In Walmart.com
27:10 – How Do I Turn One Of My Images Counter Clockwise?
32:14 – Walmart Selling Advice
Transcript
Carrie Miller:
Today we are gonna be talking to two Walmart sellers who have found quite a bit of success on the Walmart marketplace. They're going to share their listing optimization strategies, tips on how to get the Pro Seller Badge and tips on how to get your Walmart inventory checked into WFS quicker. How cool is that? Pretty cool. I think
Bradley Sutton:
If you guys would like to network with other Walmart sellers, make sure join our brand new Facebook group called Helium 10, Winning with Walmart. You can actually just search for that on Facebook, or you can actually go to h10.me/walmartgroup and you can go directly to that page. So make sure to join, you can tag me and carry with questions, and ask questions of other Walmart sellers or even share your own experiences in that Facebook group.
Carrie Miller:
Hello everyone. Welcome to another episode of the Serious Sellers podcast. I'm gonna be your host, Carrie Miller. And this is our winning with Walmart Wednesday that we do every month where we give you some great Walmart information and we answer all of your Walmart questions. So today I'm really excited because I have two new guests that you've probably never seen before, and they are Walmart experts. They've been selling on Walmart, and so they've got a lot of great knowledge to share. So we'll ask them some questions, you'll get to know them about their story. And then we'll go ahead and take your questions live. Go ahead and bring on our guests and introduce them to you. So we have Gustavo and Leo and they're from Venezuela. So thanks so much guys for joining. How are you doing?
Gustavo:
Thank you so much, Carrie, for having us.
Carrie Miller:
Yeah. So I'm pretty excited to talk about your story. You guys are pretty inspiring. You're, you know, been working really hard on Walmart. And so I wanted to just kind of give people a background about you just about your kind of e-commerce start and how, you know, your, your company got started. So can you tell us about, you know, just how you got started in, in e-commerce?
Gustavo:
Well, I don't know about inspiring. But we started on Amazon in around 2016. We sold household items in the UK. We eventually launched in the US and after a couple of years of trial and error we did reach the bestseller badge with several of our products and, and we got excited and launched new brands and we grew those as well. And so more recently we did hear that Walmart was starting to grow a ton. We decided to give it a try. We knew some people and some brands that have launched there successfully. And so far it's been really exciting. We really didn't expect the platform to work as well as it is. Walmart's like a sign us an account manager. They're adding new features every day. It's kind of cool cuz you can see some of the like Amazon features that we've known you know, for years starting to pop up on Walmart. So it's like they're really putting money into this. And you know, we're already reaching a good amount of sales things are growing, so it's exciting.
Carrie Miller:
Can you tell us maybe how many sales you guys are doing on like a monthly basis or just to give people kind of an idea of like what your sales are in Walmart so far?
Leronardo:
Sure. We just launched into Walmart, but right now we're doing that between 20 after eight k a month right now. For the top product in our assortment, we are in average selling like 45, 45 units daily. Even without having top organic ranking position. We even launch for the same position right now. We have the, the second position after, you know, a month of alert work of optimizing our listings, adding rich media, tested the main images, mainly all the, basically all the Amazon, Facebook, and also all the send resources and also suggestions available in your podcast and in your webinar. So we're very thanking for that.
Carrie Miller:
Oh, that's awesome. Yeah, so I mean, 45 sales a day for some products is pretty amazing. I mean that's you know, more than some people are probably doing on Amazon for some of their products. So really, really exciting news and really inspiring knowing that there is some, you know, definitely some good opportunity on Walmart. So basically the main reason you guys decided then is just you wanted to expand. Why did you guys choose Walmart to start selling?
Gustavo:
Right. Wo we've seen several successful Amazon brands launch to to Walmart. And I mean, we do a lot of modeling. Like, we try to see what the, what is the best brand out there, what are the best brands doing? And if we can, you know, take a similar path, that's usually a good choice. And so we've seen like, hero Cosmetics obviously had a fantastic run at launching from Amazon into retail. I think they recently got acquired by like hundreds of millions. Yeah there's like, we, you know, there's like Angry Orange True skin, like a lot of really good brands that have launched from Amazon to retail. So it's, to us it was like, okay, some of the big brands are doing it, like they're really successful people are doing it. Like there's gotta be something there. To us it's better to come in early.
Gustavo:
So if Walmart continues to grow, like, I guess, you know, the brands that are in now have a, have a headstart. It's also easy to find, like in walmart.com particularly, you can look at a lot of information with tools like Helium 10. Helium 10 is actually the one we use the most. Cause you can actually like, analyze the sales. There's not, like on Amazon, there's like a thousand softwares that do that, like in, in walmart.com, there's not too many. It's also like part of a multi-channel strategy for us. So walmart.com is like the first platform, but ideally we're trying to look at can we get into Target and Ulta that we've heard are fantastic platforms as well. And like, there's other ones as well. So it's a, it's a first step into, into a retail expansion and understanding how other markets work. And we're seeing that applying a lot of the Amazon strategies do actually work. There's not a lot of people doing these things. You know, optimizing listings, optimizing your images, doing all the things that you kind of know from Amazon.
Carrie Miller:
Yeah. That's awesome. So I guess that leads into my next question cuz when I talked to you before Leo, you mentioned that you have like a 90 day plan when you launch on Walmart and that's kind of the day, the amount of time that it takes you to even get to considered for the Pro Seller Badge. So can you just kind of like walk us through your 90 day plan when you launch a product on Walmart, all the things that you do to optimize and then get the Pro Seller Badge?
Leronardo:
Yes, for sure. Due our experience in Amazon, we link our strategy of launching Walmart into the process of obtain the Pro Seller Badge in Walmart. Because this, the badge involves all the key elements that are successful seller must have in any marketplace. He wants to participate at first they want, they have to provide a great customer experience through onsite deliveries and also providing great customer services. They have to also target a 90% listing quality score in order to drive conversion across the whole assortment products. Third, they have to be compliant with any Walmart target product policy and content policy in order to have a reliable offer in this marketplace. And also to have consistent sales over these 90 days. So the first thing that we, we, we do to achieve that is to use WFS to reduce our sales exposure to any delay in our shipments and also in the imagery handling in order to fulfill this orders.
Leronardo:
The second thing that we do is optimizing our listings based on the warmer suggestions, based on the huge same suggestions and also using the best practices that are competitors are using in their listings in Amazon on also in Walmart. The third thing that, that we use is having all our complimentary information updated. I'm referring to the MSDS, I'm referring to the in Snowbird and also to the product labels that are needed to adverse to sustain a case of product content, product ownership, and also to convert our products to WFS. And the fourth, and I think is the most important thing for our company and for our brand is to have a great product. We have a great product that match our customers expectation and also the promises that we make in our business.
Carrie Miller:
Yeah, that's very good. That's really good. I mean, it's true. The Pro Seller Badge is kind of like a guideline to help you to really not only rank, but just get more sales, but then also people start filtering for the Pro Seller Badge too, which gives you even more sales. So it gives you more exposure. But something I think people don't know about the Pro Seller Badge too is that you actually get 20% discount off of your referral fees, which is really cool, a really good perk cuz it's gonna increase your profitability. But did you guys get the email, I think I got it today that said that they're changing the parameters for the, for the
Leronardo:
Yes.
Carrie Miller:
What did you think about that?
Leronardo:
Yes, and I think it's a way that Walmart is going to filtering more the sellers that are participating into Walmart because as customer, I always buy, even if we're in any part of the United States from Walmart, cause it has reliable prices, it has shipments. So I think for one hand it's a great idea in order to feature in more sellers for the other hand maybe be difficult to meet some of those requirements if you are not participating in programs like WFS. Yeah. If you're, yes, because you have to, to reduce all exposure to those delinquencies that warm is more targeting this one.
Carrie Miller:
Yeah, definitely. So if you are fulfilling products yourself, you have to be very careful because the, the qualifications are, I mean, there's just really no margin for error when it comes to, you know, shipping. So you pretty much have to use WFS if you want the Pro Seller Badge. They also increase the number of sales you have to have within a 90 day period to 250. So I'm curious to see, you know, how many people maybe drop off of the the, the pros seller badge, but that'll be that'll be something to watch.
Gustavo:
We made that mistake at the beginning. We, we launched with our own warehouse and we were fulfilling orders ourselves, but it is just much better. It's like with Amazon, you eventually realize that you, you need to be using FBA. It's just works much better. Fees are better, you'll get the prime badge. Like same thing with Walmart. You, you just need the WFS badge, like we were fulfilling in three days. But if like it was ever four and then you would start to get like you know, your score would decrease cuz you're not fulfilling on time. And so it is just like go all in. If you're gonna go to Walmart, just go all in, just send your inventory. It's gonna be much simpler longer term.
Carrie Miller:
Yeah, I agree with that. Yeah, cuz especially cuz you can get kicked off the platform if you make certain little mistakes. So it's, it's just easier overall, less anxiety probably. Okay, so what tips do you have just in general for optimizing your Walmart listings? Just to, to get them so that they're going to, you know, rank and, and convert the highest on Walmart?
Gustavo:
So we track our conversion rate the most. I think that's one of the, obviously the, the biggest or most important metrics along with like sessions. But when you're tracking that the main thing, you're obviously, you're looking to increase it. But what we do is we will maybe test main images for sure and then the other images in the listing, but it's like very targeted, like you wanna change, like the position of the product, the appearance of the product, the lighting, everything, anything you can, any items that are inside the product, like in the, in the main image for sure. That's like super important. It's probably, you know, with the 80 20, it's definitely in, in the 20% of things that, that produce 80% of the results. Helium 10 has audiences, which works great for that. Shorter titles, like we've learned stuff along the way.
Gustavo:
Like we used to have long titles like on Amazon and now it's shorter titles we're realizing work better. We've also realized we can upload videos, which increased conversion a ton. So that's by creating a case. You can upload videos, which is fantastic for conversion as well. We're testing out a ton of stuff with the copy inside, so just changing the copy, like the main bullet points stuff that you say inside the listing. Anything that you can to really just bump up your conversion rate, then you just have to be tracking it. Like if you're not tracking it, you don't know the result. So you just have like a weekly tracker or even a daily tracker of your conversion rate and you can go, okay, I mean I changed this on Tuesday, it's been four days. Like how's it changing? It's been, it's been a week. Like sometimes there's a delay.
Carrie Miller:
Yeah, well I love how you guys, you know a lot of people just put their listing up on Walmart and they're like, oh, it should be converting. It's just like Amazon. But I love that you guys have taken the time to really optimize for Walmart and doing, you know, you can use audiences like you said to split test images because images on Walmart are, I think, the most important thing because you literally have people advertising right. Below you and you have to sell the customer pretty much in the images. So that's a really good point. But I love how you're really testing these things and really focusing on all the things that are available on Walmart to, you know, get to the top. And it shows you guys are, you know, successful so far. So it, it's been
Gustavo:
One example of that is we've realized that a lot when we went, when we went to our orders, we actually have several variations and people were buying all three of the variations at the same time. Yeah. So we saw a lot of people were buying 'em, but we're, we were never promoting them together. So in the listing we now talk about you should get these all three together cuz they actually do go together. But we weren't like, oh sweet, we, we weren't promoting them together after we realized a lot of people are just buying all three right away. We're like, okay, maybe we should put that on the list and go, you can grab these, you know, together. So that's just how–
Carrie Miller:
How are you putting it on the listing? Are you just writing it on there?
Gustavo:
On one of the images, you could just go, these three go well together and you can give the reasons why they go well together and then you can grab 'em all here and kind of put it–
Carrie Miller:
How do you help people find it? Do you just like say grab 'em on Walmart or find them on Walmart or
Gustavo:
Well there if you, we would have all three variations on that same listing so that you could, okay. Like people can easily see that like all those three products are there. It's just a reminder that you can buy all three right away.
Carrie Miller:
That's a really good point cuz some people don't really think about it. Sometimes you have to tell them what to do. That's really, really a good like a strategy. So that's even good for Amazon. So if anyone's listening that isn't on Walmart yet, that's something, you know, you could definitely remind people that they, you know, to get all, all the products on your, all the variations basically.
Gustavo:
We actually got that idea cuz we try to talk to customers as much as possible. So we had customers on our website and stuff and we call them every so often. And one customer said, oh I, you know, I always buy, I like your product because I can buy all three that I need at the same time, can I just click on add to cart to all three variations? And we're like, oh, that's, that's a good idea. Like, then we checked our orders, we saw that a lot of people were doing, then we're like, oh, we should, we should really remind people that they can do that here.
Carrie Miller:
That's that's such a good point. Oh my gosh. The little things that really can make a difference. Okay, so going along with you know, AB testing, what do you all think about AB testing the product type and do you have any strategies for that?
Leronardo:
Yes, it's very important for us. At first we target the product type and also the path that our competitors have for every keyword. Because if we don't have the correct product also path, our product is not going be index for the main keywords we're targeting to. So our recommendation should be to use, maybe to use Helium 10 or also to search manually through the search grid what are the prototypes that our competitors are using. And also because if you, if you target the correct prototype, you're gonna have a bunch of filtering attributes displaying your listing that were being displayed to the customers before. So these filtering attributes are also very important to be find, to be search searchable in all the keywords that your customer are looking for in, in warmer any changes can be made using a case by submitting a case in support center, even for the club side and also for the shelving bag. We also recommend to use a case instead of changing it through the growth opportunities dashboard because it is more directly and also it's going to be, you're gonna, you're gonna be, you have received a response maybe in the next couple hours, no more than that.
Carrie Miller:
Do they give you better product type options when you do it that way?
Leronardo:
No, I usually search for the prototype.
Carrie Miller:
Well, you know which one you want.
Leronardo:
Yes, I know what whatever. Because in the, in the growth opportunity dashboard, they, they show you a couple of of them, but sometimes it's not best. And sometimes also your competitor has a more accurate prototype depending on the first, on the first vaccination that Walmart gave gave to you.
Carrie Miller:
Okay. Where are you finding these, the product types of your competitors? Is it on the, the shelving path on the listing or where are you looking?
Leronardo:
Yes. AB testing.
Carrie Miller:
Okay. Yes.
Leronardo:
The second last we're targeting to.
Carrie Miller:
Okay. Yeah, I mean it's interesting how much more exposure you can get. Cause I noticed myself just having a challenges getting into certain keywords. So it is really important to, you know, AB test the product type. So how many times is there a product that you had to do multiple, multiple changes on the product type? Like what's the most you've had to change the product type to find the right one?
Leronardo:
We have a product that has like bestseller product, let me say like around creams, bestseller creams. So you have to look for any specific prototype that is also go, is going help you also to achieve maybe the vessels batch in that category because we know that the four top five, the four five products are going to have the vessels branch. So depending on the prototype, ah, their picks, the popular picks or this kind badge, like the best seller badge are gonna be assigned to you. So it's very important.
Carrie Miller:
Yeah. That's really, that's a really good point. Yeah, so look at the products. They're the best seller badge products so that you can look at their product type cuz they probably have the right product type. That's a really good point. Okay, so something else I wanted to talk about is reduced pricing because a lot of sellers have a hard time getting the reduced tag. And so you've actually explained the reason for that to me and maybe a different strategy to get a reduced price on Walmart. So can you talk a little bit about the reduced price strategy that you guys have?
Leronardo:
Sure. Walmart, since Walmart used the 90 day average price to calculate whether you're giving the strikethrough or not, you should have a strategy based on when you are going to display it and how much are going to display. At first our, our story is to have two prices. The main pricing that we are advertising any point of time without being containing a deal. And the second price we are using for the flashback and also for campaign or maybe special days we are targeting like weekends where maybe the traffic warmer is higher than other days. It's very important since Walmart demands that some items in order to participate in these campaigns are also flashbacks, have the strikethrough. If they, if they don't have it, they're not going participate. So you have to be very careful. And the second strategy we use is the timeline. If you, you have to, to narrow the timeline, you're displaying this strike through because if you're not, if you're not going to narrow it, the the 90 day average price is going to become lower. So if you want to add, to get this right through to this and also to increase your conversion rate, you're, you're gonna have, you're gonna a lower and lower price. Ok. So in order to be, to get the structure,
Carrie Miller:
Yeah, so that's really interesting. I didn't realize it's the previous 90 days. So you have to kinda keep beating that 90 day average price when you do the strikethrough. But Flash Picks is probably a good one. So you have your, your main price and then if you get the plat flash picks deals. And I think you mentioned to me too that you can open up a case if you don't see Flash pick steals available to you in your growth opportunities. Is that correct? Is that what you guys did?
Leronardo:
Yes, and also because you have to submit offer for any case, for any flash pick or for any campaigns. And you have to be, you have to work with former in order to monitor all this, your submission status. Cause sometimes maybe the campaigns already started and sometimes you get in time, but there are some, maybe if you are offer is not good enough if you're, if you're selling also your products in other market places, so search on Amazon and your price is not getting bid by that, but that the price you're advertising there, maybe you're not considered. So, but thankfully to our account manager, we, we have been, we run through this and we are taking care of any flash pick on any campaign we're advertising.
Carrie Miller:
Very nice, very good. Another question here is we were talking about WFS Walmart fulfillment services and how sometimes, I mean for me it's taken like two weeks and sometimes a little bit longer to check in inventory and I think you have a strategy to get the products checked in faster. What, what do you think about that and what, what's the strategy that you use to get your products checked in faster?
Leronardo:
We usually know that for the timing longer for hazardous products at first to convert our products we use flat file from changing from server fulfillment to warmer fulfillment. We received this advice from support center. Cause at first we were having issues also to cover our products to WFS and the second advice is to having an US compliant MSDS. Sometimes warmer does reject some products, even if they're not hazardous since they don't have an MSDS, which is complained to to the US regulations. The second thing we, we need to consider is that we have to, is better to send a print images of the packages instead of a picture. Because in the plot file is is mandatory to send a print picture of the label. So in order to avoid any delay, they should send a print images instead a picture. And the third consideration should be also the, the type, the product type you are sent, you are inputting in the flat file because we at first considered that our products were notone instead since chemicals, they should be considered as them even if they don't have any hazards component in their formula.
Carrie Miller:
Okay. Yeah, that's really interesting. Yeah, so flat files are probably the best way to go on Walmart. And we actually have instructions on how to use flat files for Walmart in our freedom ticket on Walmart. It's under, for all helium 10 subscribers, it's in our Freedom tickets. It's week 11. So our our freedom ticket course that comes with every paid subscription. You can go into that and we'll, we show you how to do that. There's another thing that you mentioned to me about flat file uploads though, that was like you were having a hard time updating the product and you said that you need to use the, the original flat file upload in order to update products. Is that right?
Leronardo:
Yes, that's right. There are like two flat files. The new items set up flat file or maybe all the conversion flat file or even the change some specification from the prototype but different from the new item setup. The new item setup allows you also to display more keyboard feature attributes and more attributes are display in the, in this flat file. They are not going to be displayed even if you use manual setup the product or even if you change after using the other type of app file. So for us it's always the best way to also to update any images, to update on any descriptions. Even the key features we copy the with when, since the key feature has like a specific formula, like specific, I have to say like a way to input it in the Walmart seller Central, we always start at first the key features in the manually setup product setup. And then we copy the exact formula that Walmart give us is like a code for a website, you know, when they have like molding, when they have any specific character and then input it into the flat file and put it into a Walmart.
Carrie Miller:
Wow, that's pretty interesting info. Okay. Another thing is too, cuz you sell, I think you sell kind of liquids and I, I've actually run into an issue on trying to get a product into WFS because they want you to label as a pesticide first and then they check it. And did you have that situation where like for our product we were trying to upload it to WFS, but they said we have to label it as a pesticide and then send the safety data sheet. Did you guys have anything like that when you were trying to get into WFS because you had liquids or were you, did you get accepted right away?
Leronardo:
We get accepted right, right away since we changed correctly the ide, which was a chemical. Okay. And secondly, we already sent the MSDS stain pesticide product. It wasn't like any, doesn't have any hazardous check the standard requirements that are needed to send an MSDS a compliant msds. And some key features like as you said, pesticide, any canus component, any even California regulations that are ingredients should need, it should be staying in the MSDS. As soon as all these criteria are met, we they're good to, to go.
Carrie Miller:
Okay. Very good. Very interesting. All right. It looks like we have a question here. How do I turn one of my main images counter clockwise 90 degrees and how do I change the order of variance on an in seem color size? I, I've had this issue too, like literally my sizing, it'll go large large, medium, extra large. It, it's not an order for the sizing. And I don't know something must be happening with his images where they're not like showing up correctly. So do have you guys had this issue?
Leronardo:
No, we haven't. We, we, we shouldn't try to any, any images we submitted into Walmart or any marketplace. We when we upload in this cloud, we try to check if the images are the correct, have the correct size, and also are the correct ones we're trying to submit. We haven't, we haven't confirmed this issue. I dunno, it should even as
Carrie Miller:
Do you upload your images directly or do you do it in the flat file with a url?
Leronardo:
We use a flat file with URL might, what you used to do is we, we use Google Drive link. You can, you cannot submit a Google drive in the normal form to download or your copy from Google. You have to transform in a specific formula. We find even in the internet that you would allow to any, any person to only click in Daily Link and that automatically is gonna download the file into your computer without doing anything, without showing display. Like, I dunno, like any new screen,
Carrie Miller:
Is it like a tiny URL or something like that? Or,
Leronardo:
Yes, it's.
Carrie Miller:
Okay.
Leronardo:
I can even share with you the formula in order to use it.
Carrie Miller:
That'd be great. That would be awesome.
Gustavo:
And that, and that's probably the best way to upload images. Cause if he is or or if they're uploading images using like the edit button on the listings, that's like the worst way to try to upload images. It sometimes they won't go through so as, as I said flat files are probably best using the link. Otherwise get
Carrie Miller:
And you have to create new links though for each time you upload on a flat file though, because I've noticed that they, when you upload the same flat file or the same images again, it doesn't, or maybe you wanna change a few or the order you have to change the URLs. Is is that still the case for you guys or changing the URLs every time you re-upload a flat file?
Leronardo:
What happened with us is at first we weren't able to modify the order because we have like WFS conversion request pending is while the, we have other conversion WFS conversion that already got involved into Walmart. Ok. So maybe we think it's a problem in the system on one hand. The second thing that we do is we change the world that we're displaying. We use like a open hosting cloud in order to always been changing this images. If this is not happening, we always create a case. A case we get a case and we submit the flat file in order to Walmart to consider also the assets and the change on those assets we're requiring to.
Carrie Miller:
Okay. Yeah, so maybe that's probably the way to fix that, is to submit a flat file exact so that you can fix that the image issue. And then what about the order of the variations? Do you use case, do you, did you have to just submit a case when this happened to you? Or what do you do to fix that?
Leronardo:
We haven't confirmed this issue. We know that the first a variant that's going to display or is, is the primary variant. If it's this is not happening we always create a case in Warren in order to maybe change the order of those variants we we're displaying.
Carrie Miller:
Okay. So maybe the yeah, maybe the primary variant should always be the size you want to come first. Maybe that's something I'll try. I actually have opened multiple cases because my sizing is wrong too, so that's really, really helpful.
Gustavo:
And there's also a way to change, like the image that appears in the variant, which is, I mean, something small, but like you can maybe use an Oh really add something else to highlight whatever it is you're, you're selling. Like if you have different flavors and you have berry and stuff, like you could put like an image of a, of a berry there, like something that can show a little bit more what the berry is.
Carrie Miller:
Wow. That's, that's even better.
Gustavo:
It's something small, but it's kind of cool, which is like, can highlight whatever it is you're selling.
Carrie Miller:
Very cool. I think this was a lot of really great Walmart information for everybody who's listening. So I think it'll be really helpful, especially just troubleshooting and knowing you should, you know, there are some ways to fix things like with flat files especially, but then also opening up a case is always a good idea too. I wanna thank you guys so much for joining. Is there anything else, any kind of advice that you have as before we let part ways and just that you have advice for anyone who's wanting to sell in Walmart or thinking about it? What do you guys think?
Gustavo:
So there, I mean there's, there's definitely a couple thing we've learned. We were told that Amazon, at Walmart, I can say Walmart Amazon, Walmart might suppress. I, I think Walmart might suppress you if your price like higher than in your other channels. So you, you definitely wanna make sure that you have, you have similar pricing as you have. Like say if you're selling on Amazon or other marketplaces, try to match those prices. Focus on quality listings. Rich media is a big one, I think like Rich Media is coming up and that's gonna be very big. I think similar to how Amazon added the a plus, you know, yeah, there's tons of room to, to explore with adding images, videos, stuff inside your rich media. That's, that's gonna be very big. I think it's gonna help with conversion and a ton of stuff like that. People post reviews quite fast. I think that's not happening as much with Amazon with like new products. Like people will post reviews fast. So I think it's important to have a quality product right off, right off the bat. And yeah. And you'll have to invest in pbc We're, we hired a, a manager for now, but I think that's, that's definitely key as as just as it is with Amazon.
Carrie Miller:
Yeah. It's actually crazy how many people, when I ask them if they've started pa pay-per-click on Walmart, they're like, no. Cuz they're like, you know, they'll say, oh, I have no sales on Walmart. And I'm like, well, did you do pay-per-click? No. So you would never do that on Amazon. Right. So it's crazy.
Gustavo:
You, you have to, yeah. Yeah. It's part of the, it's part of just like, you know, knowing how to play that game.
Carrie Miller:
Yeah, definitely. Well thank you guys so much for joining. Really appreciate you guys taking the time to answer questions and just, you know, show, tell us all the things that you've learned. I think this is a lot of really great info for anyone selling at Walmart. I think people are gonna be really excited about it. So thanks again and I guess I'll see you all later. Bye everyone.
Gustavo:
Thank you Carrie.
---
Enjoy this episode? Be sure to check out our previous episodes for even more content to propel you to Amazon FBA Seller success! And don't forget to "Like" our Facebook page and subscribe to the podcast on iTunes, Spotify, or wherever you listen to our podcast.
Get snippets from all episodes by following us on Instagram at @SeriousSellersPodcast
Want to absolutely start crushing it on Amazon? Here are few carefully curated resources to get you started:
Achieve More Results in Less Time
Accelerate the Growth of Your Business, Brand or Agency
Maximize your results and drive success faster with Helium 10's full suite of Amazon and Walmart solutions.