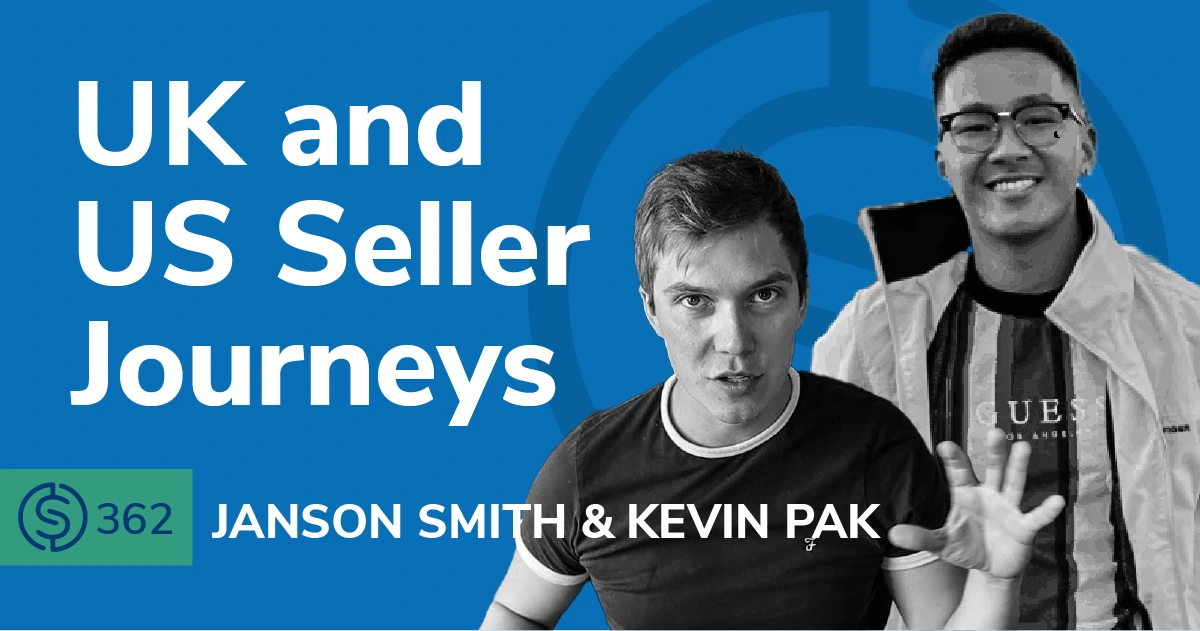 #362 – UK and US Seller Journeys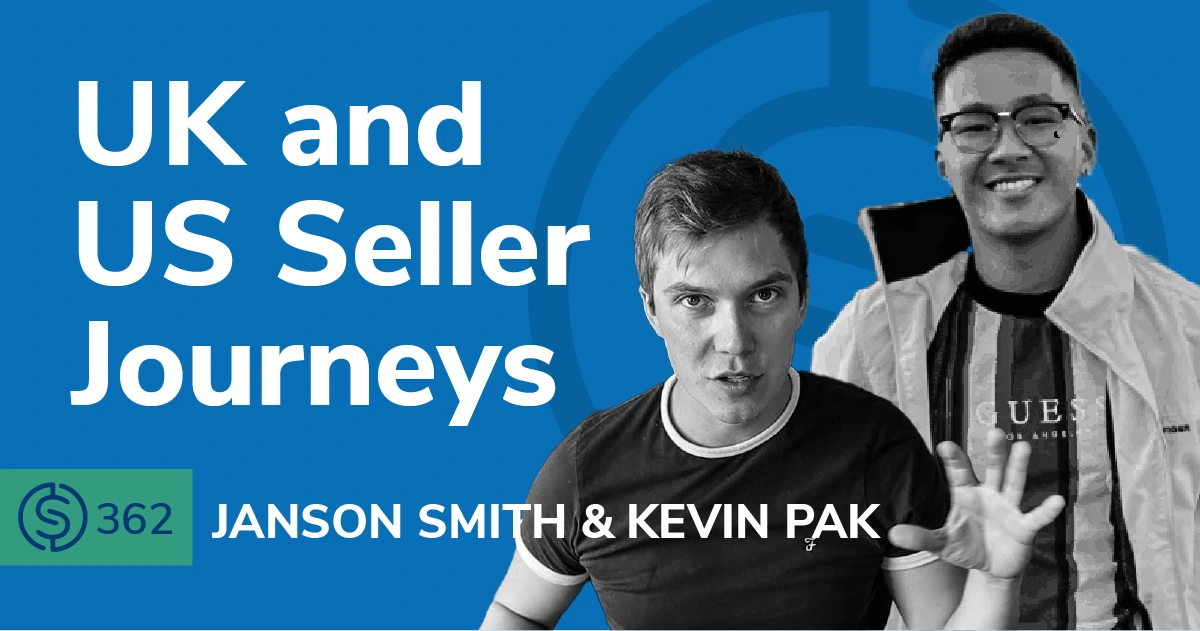 In this episode, we welcome Janson Smith and Kevin Pak to talk about everything from their Amazon journey to all the strategies they used along the way. We also talk about all the latest updates on selling on Amazon UK. Is it easier now than before? What are the disadvantages for foreign selling looking to sell in the UK? What is the current state of shipping times and the supply chain in the UK? Kevin Pak shares his biggest wins and losses in his journey and some tips on how to start getting reviews to your listing through the Amazon Vine program. This and more so make sure to listen to the end!
In episode 362 of the Serious Sellers Podcast, Bradley, Janson, and Kevin discuss:
03:00 – Janson's Backstory And His Amazon Journey
06:45 – Kevin's Backstory And His Amazon Journey
08:40 – Is It Easier To Start Selling In The UK?
12:00 – Disadvantages Of Foreign Sellers In The UK
15:45 – The Biggest Win And Loss In Kevin's Selling Career
21:50 – Amazon Reviews And Getting Feedback On Your Product
25:49 – Shipping Costs And Times In The UK
28:20 – Kevin and Jansen's Thirty-Second Tips
37:21 – Kevin and Jansen's Favorite Helium 10 Tools
38:25 – How To Get In Touch With Kevin And Jansen
39:02 – Meet Kevin And Jansen At The Sell And Scale Summit!
Transcript
Bradley Sutton:
Today, we're gonna talk to two sellers who have sold millions of dollars on Amazon from opposite sides of the world. And they're gonna share with us their journeys and strategies that have helped them along the way. How cool is that? Pretty cool I think.
Bradley Sutton:
How can you get more buyers to leave you Amazon product reviews? By following up with them in a way that's compliant with Amazon Terms of Service, you can use Helium 10 Follow-Up in order to automatically send out Amazon's Request a Review emails to any customers you want. Not just that, but you can specify when they get the message and even filter out people that you don't want to get. That message such as people who have asked for refunds or maybe ones that you gave discounts to. For more information, visit h10.me/followup. You can sign up for a free account or you can sign it up for a platinum plan and get 10% off for life by using the discount code SSP10. Hello everybody, and welcome to another episode of the Serious Sellers Podcast by Helium 10. I am your host Bradley Sutton, and this is the show that's a completely BS-free unscripted, and unrehearsed, organic conversation about serious strategies for serious sellers of any level in the e-commerce world. And we've got a couple of people here that I don't think I've ever, have I ever met either of you guys in person before
Kevin:
I've met you in person at the AMZ One Step conference in Canada.
Bradley Sutton:
Oh yes, yes. That one.
Kevin:
Yes. Yes.
Bradley Sutton:
But what about you, Janson? Have I met you in person?
Janson:
Just a dream to meet you, Bradley, I think I've interacted with you in the Helium 10 group, but we've never met. That's the problem with being based in the UK?
Bradley Sutton:
No worries. Well, the world's opening up now, but what happens is, you know, I meet so many people that, and I love doing it, but with my bad memory, sometimes I'll have like, "I've never met this person." "Oh no, no. We've met 17 times at different conferences." I'm like, "oh, whoop my bad. But the point is that you know, whether we've met or not like we're all in this e-commerce space together. And it's just really cool to get different, different perspectives. Now you two, have you ever like interacted before personally?
Kevin:
No. Online
Bradley Sutton:
Or in person it's
Janson:
We haven't, it's really weird, isn't it? You don't think that the Amazon FBA kind of world is, is that big. I've been, you know, selling and doing YouTube videos for four years now, but I'm, I think Kevin's been around a fair amount of time as well, but I've never interacted with the algorithms, never show me his videos. I love it. So, yeah, it's, it's great to meet you.
Bradley Sutton:
This is, you know, this is another kind of like trying another thing I try and do a little bit differently in the podcast where I bring people from literally opposite sides of the world who I've never met. And, and we're all together here, all three of us now on, on the same podcast, because we're all in this, you know, e-commerce space and, and there's something that we can learn from, from all of us. So let's go ahead and since this is the first time that either of you have been introduced to our audience as a whole, let's just get a little, a little background, let's start with you Janson, where, where are you located? You know, where are you from and tell us about how you know, got into e-commerce.
Janson:
Yeah, so my name's Janson I'm based in London in the UK, so British. I first kind of came across Amazon FBA late 2017. My background is kind of financing banking. And at that time I was going through a lot of stress and anxiety from work, and I was just desperate to seek some sort of second income stream to kind of relieve me of that. Bitcoin at the time was supercharging to 20k, which ironically it's back towards now. And I was kind of looking at that, looking at bot trading and anything to do with that. And then Amazon FBA just came up on YouTube and I've always been a bit of an entrepreneur Wheeler dealer, you know, at school. I was always the kid to be selling candy and all sorts. So I thought this looks really attractive and yeah, basically ever since then started learning, it started selling and I've just grown and grown. So I started selling in late 2018.
Bradley Sutton:
In Europe or in America?
Janson:
Yeah, well I initially started in just the UK. Then I expanded out towards Europe then good old Brexit happened, which you guys know about. And I kind of thought, you know, there was a lot more admin issues raised because of that. I wasn't that good at French, Spanish and German, even though I had learned a bit at school, but just not enough to kind of make it worth that additional effort. So I exited from Europe. I now do just the UK.
Bradley Sutton:
And that's where you just started too you started with UK and then
Janson:
Yeah.
Bradley Sutton:
When you got started, did you go right into Private Label? Did you do any arbitrage or drop shipping or you just like started with a private label product from day one.
Janson:
I just went straight in there. I thought for me, Private Label was the most scalable and something that would kind of require the least amount of time once I was established. Whereas I thought with arbitrage, you're always hunting for deals and got I suppose to hire.
Bradley Sutton:
You're still selling that first product?
Janson:
I am. Yeah. I've still got my same first product and I've expanded to two different products now. So–
Bradley Sutton:
That's not it guys. I hope you're listening out there. That's not, that's not always up coming though. That's what, five years ago, right?
Janson:
Yeah.
Bradley Sutton:
To be still selling the same first product, you know, a lot of people they start and I don't want people thinking, Hey, they're gonna knock it outta the park on their first product. A lot of people ask that same question to like, oh no, you know, that was kind of a failure by using a learning experience. Here we go. Janson got off on the right foot, still selling that same first product. Impressive.
Janson:
Absolutely. And it's certainly not been an easy ride to get to where I am today. And that was, you know, something that I thought would be really interesting to your listeners today to hear about some of the stuff that I've been through, you know, in terms of the lows, but yeah, it's been such an enjoyable experience. I've got like 20 products now under two different brands, just in the UK. I am really keen to try out the US, but, you know, cash flow is so stretched. You know, doing like $180,000 a month revenues just in the UK. So whenever Amazon pays me, that's going straight out the door to my supplier. So I've just kind of not really had the opportunity or the cash flow to be able to expand further, but the markets be market's big enough in the UK, I feel for my particular niche show. Okay. Yeah. Maybe when I get to be a bigger fish I'll come over to you guys. I'll come over to California where you're based and hopefully meet you.
Bradley Sutton:
All right. All right. How about you Kevin, like where's your origin story start?
Kevin:
Yeah, so my name's Kevin Pak and I am also based out in California as well. And yeah, I've been selling for the last four years or so. I think I actually started the same time as Janson around like 2018, late 2018. And yeah, so before Amazon FBA, I was a personal trainer. So fitness was a big part of my background was doing that for years. But I soon came to realize that I could not stand personal training people for the next 30, 40 years of my life. And I was like, yeah, these bones are gonna start aching. So I needed to find an exit plan out and that's where I just came across Amazon by just literally just like Google searching, how to make money online. And Amazon was one of those things that came up and, you know, there was other things like real estate and like dropshipping as well.
Kevin:
But Amazon just made a lot of sense, you know, shop on Amazon all the time. It only made sense that I just, why not put my product in front of there as well. So, yeah. So I've been selling for the last four or five years or so, and actually like Janson actually, I'm still selling my first successful product. That's been running around for about like three years or so, something like that. So yeah, that's where I've been at and yeah, it's been a pleasure and crazy journey for sure. On the road, a lot of ups and downs as well, especially during like the COVID time as well. We're picking up the pieces back from where that all left off and yeah.
Bradley Sutton:
Now, are you only selling the US, or have you expanded? Are you doing any other marketplaces, you know, like Canada or Europe or anything like that?
Kevin:
Yeah, currently I'm just in the US market as well. I'm just gonna focus on honing in on that one. Currently don't have any plans to go to like Canada, Mexico, or the UK at the moment.
Bradley Sutton:
Okay. All right. Now, going back to Janson here, you know, we have a lot of listeners that are based in the UK now what's the process like, you know, is it easier now after Brexit where it's like, Hey, you're not even having to worry about having about 17,000 different VATs, you know, for each country is like, all you have to worry about is your, your UK account and your inventory all goes to one warehouse, or how does it even work? What's it like for a UK based seller selling only in the UK?
Janson:
Yeah. So if you're a UK based seller selling in the UK, then pretty much the process is unchanged. The only slight difference is historically if your supply was based in China, they'd send goods via, I don't know, UPS if by air or, or by sea. And it would go through customs clearance in like a central hub in Germany, which is massive. And then it would clear customs. And then because UK was part of the European Union, it would be pretty much next day delivery. Okay. now, because we're not part of the EAU, you have to send goods, and the clear in the UK, the customs hub, there is a lot smaller. So the wait time for clearing the customs is a little longer, it's probably like a week or so. But in terms of other differences, it's negligible.
Janson:
The only kind of difference now is if you do want to sell it in Europe, then it's a little bit trickier. So before you could have your goods stored in the UK with Amazon, and if a Spanish customer, French customer, whatever, bought something from you, then Amazon would just ship the goods from the UK warehouse to the customer in Europe, and they wouldn't need to pay taxes or duties. Right. Whereas now, because we're not in the EU, if a customer wants to do that, they're technically importing from a foreign country. That's not part of the same customs agreement, so they'd have to pay additional duties and taxes. So it's more expensive for them. I guess you guys would have it the same in the US, if you import from Canada, maybe, I don't know if you would pay duties or whatnot.
Janson:
So there's that, and then Amazon runs a program called the Pan-European program, where before Brexit you'd have goods, you know brought over to the UK and Amazon would automatically distribute those goods throughout Europe for you. They pause that program for about a year and a half when Brexit happened. I think they've just reinstated it, but it's a lot tricky. Now. I think people, what they're doing more experienced sellers are just shipping straight to a German warehouse or a French warehouse, and then letting Amazon distribute that way, as opposed to the easier option, which was shipping to a UK warehouse and then Amazon, you know, can do it all for you. You, you can't really do that now. But for those of us just looking to sell purely in the UK, you know, it's, it's not really that different and it's still really attractive. The UK is one of the biggest markets in Europe for Amazon. You've got Germany, which is growing at a huge, huge rate. But Spain, Italy, France, they're still, you know, pretty young in the life cycle. And then Amazon's also introduced Turkey, and Sweden. They do more and more countries every month, but those markets are so, so small compared to the UK. So I don't see it at the moment as, you know, a great disadvantage to just selling in the UK versus other.
Bradley Sutton:
Now this next question is kind of related, but I'm not sure if you know the answer to it, but I'm just curious, you know, you as a British citizen selling in the UK, me let's American citizen, let's say, I want to sell in the UK. Do either of us have advantage or disadvantage, like, am I paying the same exact taxes as you? Or are you paying more because your local or I paying more as a foreigner, I'm just curious how how that works, if you know.
Janson:
Yeah. So you would have an immediate disadvantage versus a brand new seller, because if you are got US LLC, so us company versus a UK seller, you immediately need to register for VAT in the UK, which is like your sales tax, except it's 20% here. So brand new sellers here there under the VAT threshold don't have to charge that 20% like sales tax, whereas you do so your margins are gonna be a little bit thinner. And that was something that the Chinese sellers historically avoided because they would under declare the value of their goods when importing, and they just wouldn't be paying that sales tax to, you know, our government effectively. So what Amazon did last year is they changed the rules where they said now, any foreign seller that sells on our platform within the UK, we are going to deduct 20% from your sales price. So, you know, taking that off and basically collecting that tax on the tax collector's behalf. So that's kind of a disadvantage that you'd have, you are immediately having to have that sales tax incorporated in your revenue price.
Bradley Sutton:
So the price that's listed on the detail page, is the retail price.
Janson:
Yeah.
Bradley Sutton:
That's including that extra. Like I set a price in seller central, but then Amazon is adding me as a foreign seller. Amazon is adding 20% to that?
Janson:
No, they deduct, they deduct. So in the US, when you see a sales price, you have to in your head add the sales tax. Am I right with that? Well,
Bradley Sutton:
Like for a lot of the states, we have something called marketplace facilitate almost all the states. Now I, if not all basically have something called marketplace facilitator tax, where there's, you know, the retail price is the retail price, but then Amazon is adding on tax in the checkout portion. But like that doesn't, that doesn't affect the seller at all. Like, Amazon's collecting that, they're submitting that, but I'm just, what I'm curious about is the detail page before the checkout process. How does it work in the UK?
Janson:
Like, is that same? It's the same for the customer? So the customer goes on the detail, right. Page sees 20 pounds. That's how much they pay, but that 20 pounds includes the sales tax effectively. So these foreign sellers such as you, if you wanted to sell in the UK would have, you know, two pounds, three pounds deducted from what goes in your balance. Because that's the sales tax that they collect. So that's the disadvantage you get. And then beyond, beyond that–
Kevin:
Doesn't pass on to the customer.
Janson:
No, it doesn't. I mean, they basically just say to you, the price that you want to charge includes sales tax already. So whereas if you are a brand new seller or a brand new company in the UK, and you are based in the UK, you only have to register for this VAT when you hit 85,000 pounds in revenues. So for a brand new seller looking to get started, that has a huge advantage versus the international size.
Bradley Sutton:
Okay. Interesting. All right. You know, Kevin, you've been selling for a while. I'd like to know about your biggest win and biggest loss. Now, now the win could have been planned. Like, Hey, you had this strategy of some influencer marketing campaign and it worked exactly as you thought, or it could have been just completely random how you had something go viral. Say same thing on the loss, you know, like what, what's the biggest L you've taken in the last four years and, and you know, what sellers can learn from the biggest, let's start with the good news first. So, so what's like you think the last four years, like the most incredible thing that either on purpose or randomly happened to you in your Amazon business
Kevin:
The best thing that ever happened to me on Amazon was when I prepared just enough inventory for Q4. So I sell in the toys category. So like, okay, that's a huge time for my product line. Right. and sometimes like predicting inventory, you have to predict your inventory back in August. That's when you need to know, like how much you wanna send into it. So you have it on time. So predicting the, that month, or just predicting Q4 inventory for me and just hitting it right. Was huge for me. Cause that allowed me to have enough inventory to keep up with all the demand and allowed me to hit a record month of like I think I did like 206,000 during December. And so that was like my best month ever, but it only happened because I ordered just enough inventory for that. And like, I literally sold out like on like January 1st, and then I was outta stock for maybe
Bradley Sutton:
Was it random or what did you base, what did you base on? Were you looking at what your competitors were doing or how did you land on that? Such a good number?
Kevin:
So I projected it based off of the previous year's number, looking at my competitors as well, and then how I was doing currently for the year. And it's kind of multiplying it from my previous experience, but then, because I kind of predicted cuz of the whole pandemic circumstances, the, the and there's more customers on Amazon. I just a little bit more than what I usually would've done. So in my just inventory management planning has, I feel like, has been like my biggest win in the last four years is just doing that pretty consistently. And then also utilizing my cashflow pretty properly. Yeah, so that's probably my biggest wins.
Bradley Sutton:
And then what's like the biggest hit you've taken on something
Kevin:
Biggest hit. I tried a seasonal product, so I tried a product that was like Valentine's product. And I totally missed like the manufacturing process of it took way longer than I was supposed to. And I ended up missing like the time I should have gotten an inventory in. So like I was supposed to get inventory in–, this is a Valentine's product and I was like, you know what, I wanna just try a seasonal product. And it was like a training product and then I saw it I thought I was supposed to come in and have my inventory in by like January 10th. But what ended up happening is I didn't end up getting my inventory until February 10th. And so that you only got like four days of, until Valentine's left at that point, it was too late for that point, so yeah. So poor timing for sure.
Bradley Sutton:
So then what happened part,
Kevin:
What happened was–
Bradley Sutton:
How many units was that?
Kevin:
Well, I think I ordered like a thousand units for that product. Okay. And, but it wasn't like, it wasn't very expensive either. It was only like a dollar a piece.
Bradley Sutton:
So, then did you like leave it at Amazon? Did you pull it out to a warehouse and, and saving it for the following year or what happened to all that stuff?
Kevin:
It's currently still sitting there to be honest in Amazon. So it's still sitting in Amazon actually, so I haven't fully decided what to do on it just yet, because it's, it still sells a little bit. But it's not like a huge velocity, like if it was like during Valentine's day. So it's one of those like anniversary type of gifts. So it's like, technically you could sell it throughout the year type of thing, but it would've hit really well during that time. So yeah, with the factory, they just took a lot longer than they expected it to be. And then the shipping was still kind of it was still on the fence there, shipping hadn't fully recovered just yet. We were still getting delays of like an extra like 10 days or so. So these things add up like each of these days add up over time. And so I didn't predict well enough for that and that's what happened.
Bradley Sutton:
So I think a lot of people were in the same boat the last year, the shipping delays and port shutdowns and manufacturing delays, you know, has caused a lot of people to have issues. That's just something important to know that, you know, you know, there are some product it's not that big of a deal, you know, but if you guys are doing a seasonal product, you know, you might want to give yourself you know, a couple months extra, extra leeway on things to make sure something like that doesn't happen. Now, have you launched any new products like in the last, like eight, nine months, you know, since the changes Kevin in like, Hey, now you can't do search, find, buy, and two step URLs and things like that? And if so in the last eight, nine months, like, what's your strategy these days on how you're getting the initial kind of momentum for new products that you launch
Kevin:
So that seasonal product was the most recent one I've launched so far. So I haven't launched any new ones, but I do have two products.
Bradley Sutton:
So did you just kinda like, not even give any efforts since, you know, you missed Valentine's or did you still try and do a little something extra, be it PPC or something like that?
Kevin:
Yeah. I still tried a little bit, so I was pretty conservative with it. I knew that because it was basically technically out of season, I couldn't go super aggressive, otherwise, I was just gonna burn through like PPC. So what I did was just, I kept my campaigns pretty conservative, so I just had like a few manual exact campaigns, a few or just like automatic campaigns as well. And I kind of just put low budgets on that and kind of just tried to let this run out, like sell in the background over time type of thing. And I also use the Vine program actually is pretty good. So I like using the Vine program as well to get initial early reviews as well. And if you guys don't know what the Vine program is, basically you and boil your products in, and these customers on Amazon get these products for free. And they basically present a very honest review and they have like their own little badge when they leave a review on Amazon.
Bradley Sutton:
Now, what about you, Janson? Have you launched any products like in the last eight months or so, and regardless of what's your strategy that you're promoting?
Janson:
Yeah, so yeah, I've launched a number of products over the past few months and I've kind of been testing different strategies. I actually just launched one last week with no reviews. I was just quite interested to see what the performance would be like. So I started off with setting up pay-per-click campaign. So I've done an exact targeting campaign and a phrase campaign, which I just basically got from running Cerebro on competitor listings and looking at the keywords that they were ranking for and which had volume. So I've done that. I always put a coupon on. I find that if you launch at the same price as a competitor, adding a coupon on which in, in the UK gives you like a little orange badge, I dunno if it's the same color in the US, but it's really eyecatching.
Janson:
So I do that. And yeah, I basically just keep increasing the PPC budgets day by day. Keeping an eye on how the rank position's doing with rank checker and yeah, I find that works pretty well, really. When I'm doing my product research and when I'm trying to understand the niche, I always make sure that my hero image, so my main image looks a little different to everybody else's. So you've got the eye catching aspect there. Something else that I always do, and this definitely would work for you guys in the US is throughout my listing, I just absolutely hammer it. The I'm a UK brand and you know, one of my bullets, I say we're a UK brand that is passionate about, and then I talk about my niche and I say we'd love it if you were to support us, et cetera, et cetera. And that really, really works for me. I get reviews so frequently that say really happy to support a UK company. That's the reason I chose this and so on. So little things like that, the coupon, the mentioning the UK brand, having a better picture, and so on, that kind of all adds to the conversion level that you can get. And, you know, obviously, that's really important during those initial few weeks of your honeymoon period when you were launching.
Bradley Sutton:
Yeah. I mean, in general, you know, like you have to be always, obviously very careful about reviews, but in general, like even some of the services that used to do search, find, by, they've kind of like pivoted towards kind of like, not necessarily review groups, but it it's getting feedback, you know, not even necessarily on Amazon, but you know, like I've talked about AZrank, how they used to do search, fine buy, but, you know, they have tens of thousands of customers, but now instead of trying to get them to do, you know, two step BRS and things we use a service to have them buy the product and then go through the flow and give, you know, real feedback to us. And this is something, yeah, you could do with people in your network where it's not even necessarily about reviews, but now if they want to leave a review on their own, that's up to them.
Bradley Sutton:
But I've always preached that, Hey, stop thinking that you yourself know a hundred percent the best of what your product needs and what's the best, you know, value points and what are the positives and negatives, you know nine times outta 10, you have, you know, 5, 6, 7 people get your product. They're gonna give you insight on things that you probably didn't even consider. So, it is a kind of good thing to get that initial initial thing. And yes, you know, sometimes, you know, people are afraid that, Hey, you know, maybe if I'm using my own Facebook friends or just people in my network or people who have been on my wi-fi, maybe Amazon will know. So you can ask friends of friends, but to get that initial feedback is really important.
Bradley Sutton:
So that's good that you guys are, are doing that in different ways now. Are you Janice, are you manufacturing everything in China for your products? So how has that been obviously for Americans it's or Americans for people selling Amazon USA, I should say, regardless if you're American or not you know, we've gone from, you know, like maybe, you know, two years ago take like four, four weeks to get stuff here to, to sometimes two, three months. It has been similar situation over the last year in the UK where shipping times shipping cost and time have both doubled or more?
Janson:
Yeah, it's the past few years has been really, really testing actually when it comes to ping and Amazon seller, and it's a lot of that is due to shipping costs and just shipping transit times. So the costs themselves have increased or historically did increase huge amounts. They've actually started to come down now. But I was paying per unit by sea around 15 cents. That's increased to about 50 cents per unit at the height of the pandemic. And now it's probably on average about 40 or 35 when, when you work it out. So yeah, the cost have increased a huge amount. I'm actually pretty lucky because one of my products are really small, but I know tons of people that have had, you know, larger bulkier products that have just had to stop selling them because they just became uneconomical.
Janson:
I dunno if this hit the news over in the US, it probably did. But you heard about the huge what's it was it ever something shipped that got stuck in the Suez canal? So that obviously kind of added fuel to the fire massive increased delays because of that. And every time a delay or something happens or something disrupts the shipping transit times, it pushes costs up makes delays even worse for a number of months. So I dunno, touch wood things are actually going okay at the moment in the sea shipping world, it's probably taking about four or five weeks for the ship to port, we don't have the Matson liner that I think you guys do, which is like an express line.
Janson:
Our is just really slow boat. But yeah, I was actually looking at my lead times today and it's, it's around 60 days in total from the moment I order it to the moment it comes in. So that's why it can be a real challenge with, with cash flow and with planning because you're having to pay your supplier upfront. And then you're not actually gonna be seeing revenues from those products for could be two or three months. So you have to be really careful with your planning and what type of product you buy. Like I said, my product's quite small, so I have got the flexibility of getting air shipping if needed. But yeah, just in summary it has been a real struggle, but I'm confident if you've made it through this period, think how much money you're gonna make when things do truly normalize and shipping costs come down to what they were.
Bradley Sutton:
For the rest of the episode. I wanna do what we call the TST 30-second tips it doesn't have to be exactly 30-second, but I wanna, I wanna see, you know, I like focusing on strategy too, and you guys are both successful sellers. And so I wanna hear like what your unique 30-second tip might be that, and it's something it's not like, okay, Hey I try and keep my ACoS down or something, no brainer. I want some kind of unique stuff here where it doesn't have to be something that only you do you think you're the only person in the world doing it, but something what are some of the strategies that have helped you that you think you know, other people can implement? It's something that, you know, not 90% of people already know how to do. Let's start with Kevin. We'll just go like one, one back and forth between you two here.
Kevin:
For sure. Yeah. So one tip that I have because a lot of people wonder, like, we talk about differentiating a lot, right. But people don't know what that means. Like, what do you mean differentiate? What could I do to differentiate. So I kind of narrowed it down to five points of differentiating that people can always kind of rely on one of them is bundling. The next one would be aesthetics. The next one would be quantity. And then the next would be functionality and then quality. So these are five things that I always kind of revert to when I always want to think about, like, how do I differentiate a product? Can they match any of these five? Or ideally, I mean, all of them.
Bradley Sutton:
What's your criteria on the bundling? You know, I like that. And there's different ways to do it. You know, there's not just one way. So are you like one of the ones who like maybe looks at existing single product, and then you notice that there's always frequently bought together about another one, or you kind of come up with some new ideas or how do you decide what to bundle together for a new product?
Kevin:
Yeah. So when I see like frequently bought together of the same item, I feel like that's more of a quantity type of differentiation. So like five packs, 10 packs, et cetera, when it comes to bundling, I like to think of it as is, is there anything frequently bought together? That's different complimentary items. I also like to look into the reviews and see if people wish it comes with something else. I also like to think outside of the box as well, and seeing like, what is the niche as a whole and what kind of people are gonna be buying this product? Is it gonna be like a mom? Is it gonna be like a dad? What kind of person is it gonna buy this product? And what would they additionally like to add on to this offer, this product offer you gonna, it doesn't make sense? Obviously, it can't be random. It needs to make sense. And I think sometimes people will take bundling as a double-edged sword, cuz sometimes it'll be like, you bundle the right thing and people want it, but then if you bundle the wrong thing, then people are like, I don't wanna pay extra for something I don't want or needs like, you know, so those are some tips I have about bundling as well.
Bradley Sutton:
Okay. Let's go, Janson what's your first 30-second tip of the day.
Janson:
Yeah, so I guess it kind of furthers onto Kevin's point about differentiation. You know, a lot of people out there say, yeah, you've got to differentiate somehow, but one of the hardest parts of doing that is just figuring how so a method that I kind of started doing immediately, and it's worked really well for me over the past few years with, with finding new products is, is getting suppliers to help you with your product research. So what I'll do for example is if I'm doing, you know, just looking for a product idea, I'll start with say Helium 10, or just browsing on Amazon. If I then find a product that I think looks good, it's got demand. It seems profitable rather than just approaching supplies and saying how much for, you know, this product and finding something that looks identical to what is already available.
Janson:
I'll always say to them, do you have a newer model version of this product? Or can you send me your sales catalog so I can see the other models that you have. Okay. And that's actually something that I did with one of the latest products that I launched this year. I saw that everything on Amazon looked the same. It was all the same model. It was the same supplier. And I just said to them, do you have an updated version of this? Or are you working on anything else? And they said, yep, we've got something coming out. It's gonna be ready in the next six weeks. So I said, can you just send me the sample ASAP? And they said, we can actually send you it now, but it's just not finalized. So they did. So because of that, I got straight to the front of the queue before anybody else.
Janson:
I then launched that product in January. So I've had like, nearly six months now of, of having that product before anybody else. It's nice. Honestly, it's only this week that other people are now starting to come to market with, you know, a similar looking product I've already got over 150 reviews and, you know, it's doing really, really well. And it's all because I kind of took that initial step of thinking ahead. And saying rather than just, you know, going for what everybody else is getting and trying to differentiate by like bundling or having a better listing. Of course, those are important. I thought to do something that looks different because the customer will immediately notice that and it'll step out. So that is my key tip. I, you know, love sharing that one because okay. Assuming that anybody can do.
Bradley Sutton:
All right. Back to Kevin, for one more tip from you.
Kevin:
Okay. Another good tip I have is when it comes to like pay-per-click advertising, I think a lot of people overcomplicate the concept of it. And people sometimes feel overwhelmed when it comes to like optimizing their PPC. So one thing I always tell people is keep it simple. And at the end of the day if you're struggling, if you're feeling overwhelmed with your PPC advertising campaign, just always remember that you're always gonna put more money to what's working and less money to what's not working. So that way you can kind of distinguish, you know, more like, okay, if this is clearly a high ACoS, I shouldn't just sit there and just leave it there. I know that it's a high ACoS. So let me bring down the bidding for that or something like that. Right. And I feel like people get into like an analysis paralysis type deal with PPC sometimes. So when you kind of break it down, simply just remember that you're always putting more money to what's working and then less money to, what's not working. It kind of simplifies things. And, and really at the end of the day is allows you to take further action instead of just letting your PPC just kind of like do its thing.
Bradley Sutton:
All right. The kiss method, keep it simple, stupid out there is what we should be doing for PPC. I like it. All right. Janson, one more tip from you.
Janson:
So mine would be try your best to connect with the customer and help them to resonate with, with your brand. So I was speaking earlier about making a big point on your listing about the fact that you are a US or a UK based brand. One of the thing that I also do as well, and my wife kindly volunteered for it is I just had a, I have a photo of her on my listing, holding the product, saying, "hello, my name is Steph I'm the founder of this brand. It was created because, you know, there were so many problems with the existing ones on the market. I'm incredibly passionate. And if you love doing X, Y, Z, then you'll love my product." And that really works. And I kind of bring that all together in my images. So she's in my images as well as in the kind of A+ Content.
Janson:
And within my follow up sequence that I have, you know, I sign it off. I say, "hi, it's Steph here. I'm the founder of, this brand that you've purchased, just emailing to say, thank you so much. It means a lot. Thank you for supporting my business. And then, you know, please leave a review, whatnot," doing all that together. It really, really works. And like, like I said, I do get a lot of people reaching out and saying first of all, they say, wow, you're a genius for inventing this product because they don't understand what Private Labeling is. So I'm happy to take the credit there, but, you know, they say I'm really happy to support a British business. I love the personal touch. No one else gives that. It really surprises me actually, I guess, emails from people saying this is the first time I've ever had a seller reach out to me following a purchase.
Janson:
And, you know, I guess to those of you, those of his that follow Helium 10 and whoever on YouTube doing follow up sequence is kind of just like standard practice. But probably when you look at the entire seller universe, it's actually a very small proportion of people that do it. You know, when I think about it, I don't think I've received many myself. So it's little touches like that. Just making the customer realize that it's a real person selling this product. And if you can, you know, highlight them that it's a person rather than a huge corporation, those little things there would make them far more inclined to want to purchase from you, give you a positive review support. You recommend you. And so on. Sorry, that was a bit longer than 30 seconds, but
Bradley Sutton:
Yeah's fine. The T TST, there was two minutes instead of 30 seconds. All right. Real quick back to Kevin what Helium 10 tool would you not be able to live without and why?
Kevin:
Keyword Tracker? I love Keyword Tracker that one's probably like my go to ride or die tool right there. Keyword Tracker is definitely what I use to just make sure the business is on point flowing the way it should be. I can tell what kind of changes I need to make if I chart ranking on things, or if I'm increasing ranking on things, I can make the appropriate decisions when I have Keyword Tracker. So that's my, that's my boy right there. Keyword Tracker right there.
Bradley Sutton:
All right. Janson, what about you? What's your favorite Helium 10 tool strategy or just tool in general? I think
Janson:
The favorite feature of mine is like the Best Seller Ranking chart that you get on the listing page, it gives you a really, you know, quick insight into price changes that competitors have done sales history. Like I use it all the time, just when I'm being nosy as well on products that I want to buy, like having a look at how the price has changed. But yeah, that's been instrumental in helping me do launch strategies and so on when understanding prices to charge.
Bradley Sutton:
Excellent. Excellent. All right. Kevin, if people wanna find you on the interwebs maybe reach out to you, how can they contact you?
Kevin:
Yeah. So the best way to get through to me is in my Instagram, which is @kevinpakman, that's P A K. And yeah, I'm pretty responsive on Instagram. I'm also on TikTok. My my handles on that are all the same, @kevinpakman. But yeah, that's where I'm mainly at.
Bradley Sutton:
All right. And you Janson?
Janson:
Yeah. So just Janson Smith on YouTube, Instagram, TikTok, Twitter, I'm hooked up to them all. So yeah, if you just tap my name, it should come up.
Bradley Sutton:
Excellent. Will I be seen either, or both of you at the Sell and Scale Summit in September in Vegas?
Kevin:
Very highly likely.
Bradley Sutton:
Actually. Gonna keep it
Janson:
I'll look into it very keen though.
Bradley Sutton:
All right. Everybody needs to come. Everybody needs to come to my Zumba class on the first day, so we can get our, our bodies. Right. we'll have we'll have Kevin do it shirtless and he's a bodybuilder, he said, so that'll bring some more crowd to our Zumba class right there. But anyway, guys, if you haven't heard of that, you wanna get more information, Gary Vee's gonna be speaking there and a lot of great speakers, Kevin King, inside and outside of the Amazon world. We have Walmart as the main sponsor there over the Walmart representatives there. You guys wanted to ask questions them directly, there'll be Amazon representatives there. It's gonna be one of the biggest Amazon conferences or e-commerce conferences overall that has ever been made. So guys go to h10.me/s3 for more information, h10.me/s3. If you want to go ahead and sign up, you can use my coupon code to get a hundred dollars off is S3BS100, S3BS100. All right. Janson, Kevin. I hope to see you both in September there, and then we could all hang out in person and if not I'll be, you know, definitely keeping in contact and, and wish you the best of success in your future Amazon journeys.
Janson:
Thank you very much. Thanks for having me.
Kevin:
Thanks for having me man, appreciate it.
---
Enjoy this episode? Be sure to check out our previous episodes for even more content to propel you to Amazon FBA Seller success! And don't forget to "Like" our Facebook page and subscribe to the podcast on iTunes, Spotify, or wherever you listen to our podcast.
Get snippets from all episodes by following us on Instagram at @SeriousSellersPodcast
Want to absolutely start crushing it on Amazon? Here are few carefully curated resources to get you started:
Achieve More Results in Less Time
Accelerate the Growth of Your Business, Brand or Agency
Maximize your results and drive success faster with Helium 10's full suite of Amazon and Walmart solutions.