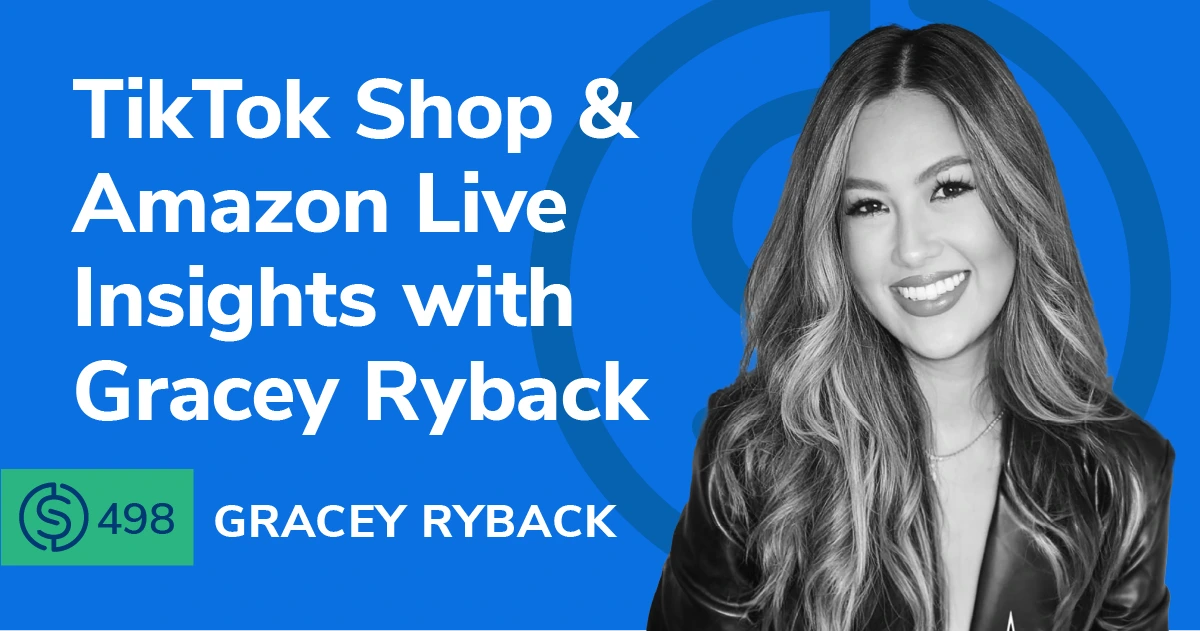 #498 – TikTok Shop & Amazon Live Insights with Gracey Ryback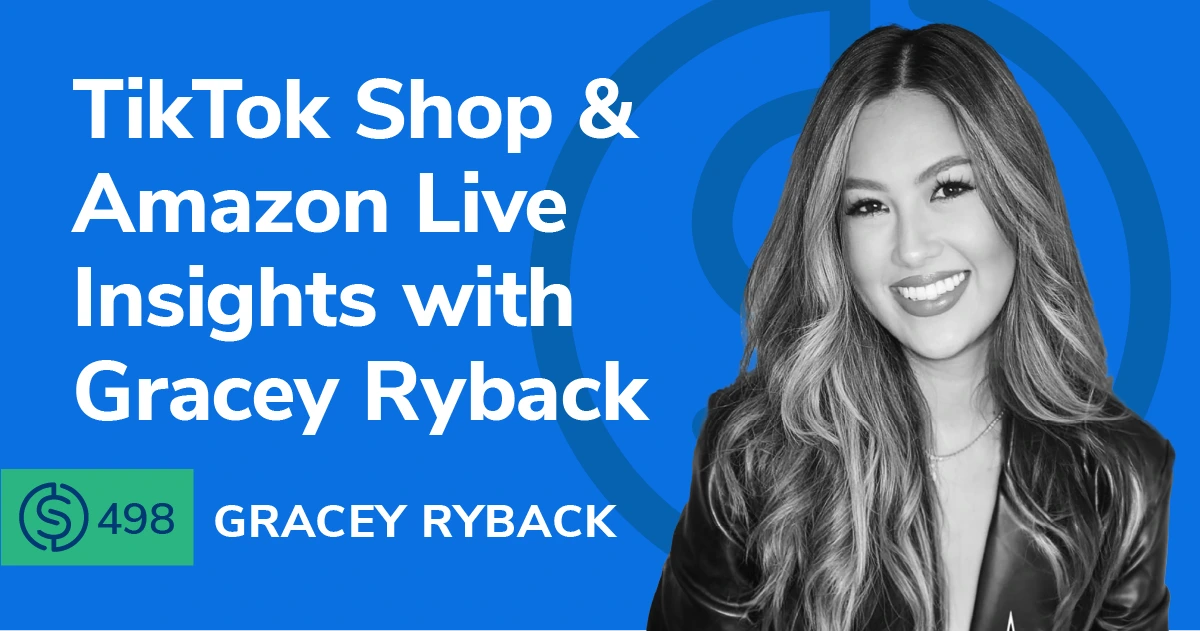 Video of the episode at the bottom
A warm welcome back to the Serious Sellers Podcast for our returning guest, the queen of TikTok and Amazon Live, Gracey Ryback of Deal Cheats. With her world-famous influence reaching almost 2 million followers across all platforms, Gracie has been making waves in the world of influencer marketing in social media. Over the past year, she's been a force on Amazon Live and Amazon affiliates, producing more content, and gearing up for Q4. While considering venturing into TikTok Shop – following the footsteps of other creators like Alex Earl, the "it girl" of TikTok, who's been able to leverage their massive following effectively.
The heart of our conversation explores the power influencers have in promoting products on platforms like TikTok – a goldmine for brand visibility. Gracey gives us a peek behind the curtain of her success promoting products on Amazon and shares insights on the higher commission rates offered on TikTok Shop. We also dive into the potential of using TikTok shop to build your Amazon FBA brand, drawing examples from creators who have successfully taken advantage of this feature.
As we round up our chat, Gracey shares a wealth of actionable tips for Amazon and Walmart brands and influencers to increase their visibility and appeal. Bradley also explains some cool Helium 10 strategies for tracking competitor listings and leveraging the Helium 10 Insights Dashboard to find deals, monitor price drops, and keep an eye on coupon codes. Lastly, we take a deep look at Amazon Affiliates – a platform that offers influencers a chance to gain popularity and make an impact, and how TikTok Shop can be a potent platform for boosting your sales. This episode is full of insights for anyone interested in the fast-paced, ever-evolving sphere of influencer marketing, Amazon affiliates, and TikTok Shop.
In episode 498 of the Serious Sellers Podcast, Bradley and Gracey discuss:
00:00 – Welcome Back Gracie on Podcast
08:42 – The Importance of Authenticity in E-Commerce
14:32 – TikTok Shop's Impact on Views/Sales
22:27 – Expanding Audience With Non-English Videos
27:02 – On-Site Videos and Community Growth
32:12 – Amazon Insights Dashboard
38:05 – Importance of Amazon in Boosting Sales
Transcript
Bradley Sutton:
Today we're bringing back the queen of TikTok and Amazon Live, Gracey, who's going to be talking about how she now has almost 2 million followers across all channels, why she thinks everybody should be getting on TikTok Shop and some cool ways to have some side hustle as an Amazon influencer. How cool is that? Pretty cool, I think. One, two, three, four, I've used this tool. Find out what it can do for you by downloading it for free at h10.me/xray. Hello everybody and welcome to another episode of the Serious Sellers podcast by Helium 10. I am your host, Bradley Sutton, and this is the show. That's a completely BS, free, unscripted and unrehearsed organic conversation about serious strategies for serious sellers of any level in the e-commerce world. And right now I've got a shirt. I actually have people make fun of me. I have a document that documents what shirt and what hat I wear each episode, just to make sure I'm not doing the same one. I'm wearing a shirt I haven't worn before. It's one of my old school shirts. It's called I'm Huge in Japan. I did that because we're bringing somebody on the show who's pretty much huge in the entire world. All right, Gracey, the world famous Gracey, How's it going? Welcome back.
Gracey
Hi Bradley. What an introduction. That's wild. I'm happy to be back, love this podcast, one of my favorites. Thank you, Bradley.
Bradley Sutton:
Thank you so much. Thank you so much. It's like it's hard to believe that it's been over, actually over a year since you were on the podcast last. So before we get into, you know, talking shop and stuff shop, Literally. We're going to be talking about TikTok. Shop is what I want to talk about. There's no pun intended there, but let's just talk about what's going on with Gracey the human being. What's been going on with you in the last year?
Gracey
Good question. So I mean, right now, no news is good news to me. So, still working on everything I've been working on, I'm still creating content still, but doing Amazon live, still doing my social media thing and still growing there and it's going really, really well. I'm excited for you know, q4 to come around. That's been a huge topic. I just spoke at a virtual summit about that and we're talking about TikTok shop now. That's what actually what I talked about there, but upcoming projects and, like my human being, life is hopefully getting on YouTube soon as a attempt to dwell into more like a long form content instead of just doing everything so short form. That's something I'm working on.
Bradley Sutton:
Wait, wait. You didn't have a YouTube channel before, Never. You were only Instagram and TikTok.
Gracey
Facebook and Twitter and everything else except YouTube pretty much.
Bradley Sutton:
Oh, my goodness, I didn't realize that. Okay, what across all your platforms? Now, how many followers are you up to combined?
Gracey
Probably close to 1.4 million, majority of them being on TikTok. But yeah about 150K on Facebook now, which is my second leading one.
Bradley Sutton:
Oh, okay, interesting. Is it a Facebook page group or what so?
Gracey
I have both about 50K in the page, 150k in the group. Yeah, yeah, both I guess.
Bradley Sutton:
Okay, Cool, Cool. Now just taking a step back for anybody who maybe is new to the podcast. You know, people know how I usually try and get people's complete backstory, like where they were born and stuff. We're not doing that here because Gracey, as I said, has been on the podcast before. So if you guys want to get her backstory, go to h10.me forward slash 360. So she was on episode 360 of the podcast and you can find out her story, which I forgot most of it since I have. What was that movie? Is it 51st date? What's the movie where Adam Seller forgets his memory or not? Adam Seller? Drew Barrymore forgets her. It might have been. Is it 51st?
Gracey
date I don't know, but that movie sounds about right where.
Bradley Sutton:
Well, one of them, yeah. She forgets, she resets her memory like every few days, but that's pretty much me. Anyways, let's talk. You know you said most of your followers are on TikTok. So before I even get into, you know TikTok shop for other people. Is that ever something you would consider doing, or are you just happy doing the promotional side of it?
Gracey
Do you mean you like selling on TikTok shop?
Bradley Sutton:
Like actually selling on TikTok shop, Since you've got the followers like you know, like would you ever, you know, start your own store it has crossed my mind.
Gracey
Have I done it yet? No, but I think it would be a really great opportunity for other creators to like start dishing out their own product and start, you know, creating something in that world, because I think there is a shift. I have seen it just in the past couple of weeks that creators are like hey, I came out with my own clothing line, here it is, I'm making content about it, people are buying it, creators are making commission and, of course, the sellers making their, their earnings as well. So it's kind of like a win-win. And then I actually saw a guy he he created like a journal and it was totally based off his content, his contents like motivational, how to create the life you want. And he made a journal and I guess I was pretty cheap of him to do not cheap of him to do, but like cheap to create. And and then he actually talked about how Alex Earl who do you know who that is?
Bradley Sutton:
I do not.
Gracey
She's like the it girl of TikTok. She's like blonde and really pretty but also relatable, and whatever she talks about sells out. She has like millions of followers and like all the brands are going after her because she's like the TikTok it girl, so like everything she talks about is I thought you were the TikTok girl.
Bradley Sutton:
Oh my gosh, oh my gosh.
Gracey
But she ended up promoting his journal just like organically and he was like I didn't pay her a dime and brands are paying her many dimes for her to promote their product. So it's just really cool how, like creators are just picking stuff up organically from TikTok shop because they have the incentive to do so, you know so and like.
Bradley Sutton:
Now is live selling happening on TikTok at all, either through the shop or just naturally, cause I know you know that's always been a topic. It's going on three years now is why you know people can't figure out why live shopping is not taking off in America, when it is everywhere, or at least in Asia. Yeah, we'll talk about Amazon a little bit, but is live selling a thing on TikTok?
Gracey
Absolutely. So, like we can talk about the official thing and we can talk about the cultural thing. So the official thing is absolutely TikTok shop. There's three ways to shop it. There is the live shopping, where you can link products to a live stream. You have the way you can link products directly in a TikTok video like a normal TikTok. And then there's the storefronts that are on people's profiles where you can like have products linked. So those are the three ways. So officially, absolutely live selling is a thing for TikTok shop. Shall we talk about the cultural aspect.
Bradley Sutton:
Let's talk about it.
Gracey
So this is really interesting and I think it's something I've seen a lot of platforms get into recently. It's like YouTube has a new affiliate monetization platform not platform, but like program for creators to directly link products into their YouTube videos. That's like a new thing they're rolling out. Pinterest is doing it. All these different social media platforms are trying to keep people on their own platform with their interest in buying a product. That's the new thing. So you can see this huge integration of shopping and social media. But not everyone is happy about it, because TikTok is normally an entertainment app. People wanna go there to escape the corporate grind, escape the rat race, like they wanna go there to like forget about work and forget about money and all that. So there have been a couple of videos I've seen that's like how to block TikTok shop videos from your free youth feed, cause I'm sick of it. I'm sick of TikTok now and TikTok shop. I see it every other video.
Bradley Sutton:
I think I did the weekly like have you ever seen my weekly buddy show? I do right, so what was I do Like? So when I do that once a week where I just like scour the internet for new stories and one of my keywords that I follow is TikTok shop, and boom, like I swear, there was 10 articles last night about what you just said, where people are like the four you feed is like ruined. Like I got all this TikTok shop stuff, so continue, but I definitely don't wanna talk about it.
Gracey
Like people are like sharing hacks on how to basically like not have that, like those TikTok shop videos in their feed, and I just think that, regardless that that is where the future of social media is going. It's like integrating shopping and integrating e-commerce into it. However, I wanted to just say that the importance of being authentic, the importance of being like real, like people wanna see a real review but they don't wanna be sold to, and I think that's also why you mentioned before that how like live shopping isn't taking off as it is in China or in other countries, it's because people don't like being sold to here, they don't like products pushed in their face. But if they see a product, they're like, okay, that's cool, I discovered it. And they wanna feel like, okay, like, I want the product organically. They don't wanna be like, oh, someone's trying to sell me something. So that just like highlights the importance of authenticity and being real when you're talking about a product and integrating it organically instead of like coming off like an ad.
Bradley Sutton:
Interesting, interesting. Okay, now you mentioned Alex. Well, I can't believe I remember her name. Alex, you just randomly mentioned this guy's journal, right, but that was an organic thing. But as far as TikTok shop goes, what are influencers like yourself or others doing on a non-organic way? Cause, like the traditional way of promoting on TikTok is all right. Here's a link. Amazon affiliate link or hit the link in my bio or whatever the case is. But now if somebody has TikTok shop, are there like affiliate links that go directly to there that an influencer can get?
Gracey
Yeah, so basically the way that people shop is there's a little tag product in the lower left corner and it says eligible for commission on the bottom and then if I was interested in the product I could click that and it would take me to basically the shops page on the back end where I could check out and all that good stuff. Something I've noticed is that the shipping times are a bit longer. Like, I wanted to purchase something yesterday and I got influenced and I think it was like gonna deliver like mid-October, so that's like close to a month away. So there's that.
Bradley Sutton:
But in terms of like, that person had to have been out of the country then I would imagine, because unless they can sell stuff out of stock, because if you're shipping for America, why would it?
Gracey
take you Right, and it wasn't out of stock because if it was out of stock the little button of tagged product would disappear, so I wouldn't be able to click on it.
Bradley Sutton:
Yeah so. Okay interesting.
Gracey
Yeah, I see there's that. And then there's also, of course, the marketplace, for both creators and shoppers. Like, you can search products, you can sort by category. There's different products and there's so many joining each and every day, like when I remember when it first came out earlier this year, it was like very few. There was like maybe 10, 20 brands up there, and now I'm starting to see a lot more mainstream products come along and like now, if I'm like, oh, like, I have this product, I wanna make a video about it. More likely than not, I can find it in TikTok shop now, which is great, and I can just kind of have a product I already have in my hands and like talk about it in a video, if I want to.
Bradley Sutton:
So then You've got like this portal, kind of like the Amazon associate or affiliate associates where, by the way, I became an Amazon influencer a couple weeks ago. I haven't done anything yet, but I got the account set up, I sent some links to some friends, but I'm trying to figure out what the next step is, because I want to get I have this channel that has like 30,000 followers On YouTube and I want to like go ahead and use that to to start my Amazon influencer career. Anyway, there's a side note like that, but I noticed, you know, I can just like find a product that's on Amazon in my portal and then it creates the link. So you're seeing, on TikTok you have something similar where it's not like the, the, the owner or the, the brand has to reach out to you and give you special links. You can just see something that you're like oh, I think this might pop off, let me go ahead and create a link, and then you're sending traffic.
Gracey
Yes, so it's not really a link. It basically is like on the page before you post the video there's an option to add a product tag and then you'd like click it, add product. You search product, add a video, blah blah, and that's how it shows up.
Bradley Sutton:
Mm-hmm. How are the percentages on there?
Gracey
commission percentages. Yes really good, really good, like for the better than Amazon, I guess 50%. Not all of them are 50%, not all majority, maybe like 10 wait, wait, wait.
Bradley Sutton:
50% higher than Amazon or 50% commission commission. How was that? Even real life? Yeah, how is that possible?
Gracey
I agree the journal that I'm talking about with Alex on the whole thing. The guy created it. He was like I made it 50% commission to incentivize creators to talk about it. So maybe he's like maybe selling At a very, very, very small margin right now, but the brand awareness like that, that could be something like a big brand one day. That he's just like doing the promotion right now but creating a brand in the long term. So like I'm not saying everything's 50%, that's not sure but upwards of 50%, and I see I think a lot of them are around like 10 to 20, 30% commission, which is pretty good. I mean absolutely More than what most affiliate platforms offer.
Bradley Sutton:
Yeah, I'm just seeing her Dumbfounded because that's, that's crazy. Like I heard, tick tock is also kind of incentivizing both the sellers and and influencers and trying to like subsidize a little bit. So I, man, that this is pretty interesting stuff, have you? Do you have? Have you had any success yourself, like where something went off, or you know, you know, I know, back in the day, you know you've talked about how you've given some sellers like six figure weekends, you know, like over a year ago. But what if that was on Amazon? What about on tick tock shop? Any, any cool stories?
Gracey
I've Humbly sold out a couple products so far, but, admittedly, I'm still focusing on Amazon a lot. I I still I haven't, like you know, sold my soul to leaving that yet, or like I still doing Amazon mostly. However, I am delving more into tick tock shop without trying to be annoying and filling my feet with it, but yeah yeah, there was a bodysuit that I did a video of and it was so silly and and Dumb it was, it was like me try it on. It was like oh, look at my belly before and then like don't even look, okay, anyway. It was like oh, this body like Now I want to find this video. But it was like, oh, here's my stomach now. And then like, oh, here's how slim I look after and it was a really good bodysuit Like I liked it, I feel, as it was good quality. It did slim. You know, it was like kind of like a shape wear bodysuit, so it was really cool. It was like a really quick like before and after it got, I think, over a million, almost two million views, something like that, and it ended up selling out and it was a million views your video.
Yeah, but but here's the thing Ticktock is absolutely pushing videos that have tick tock shop product.
Bradley Sutton:
Yeah thanks like the algorithm is favoring towards okay.
Gracey
Yeah. So what I have like organically gotten those views, who knows? But because it was a tick tock shop video, I think that definitely boosted in the algorithm and it boosted the sales and it ended up selling out the product, so that was great. I don't know how long they're gonna keep pushing the videos, but that's why it's like that. It's so time-sensitive right now. It's like joining the platform as a seller is time-sensitive. Making the videos as a crater is time time sensitive. Like don't wait until it's super saturated and everyone's in on, and like they don't do these promotions anymore.
Bradley Sutton:
I know of a somebody who's in this niche From Amazon and I think it's very similar products, I believe, and they've done on tick tock shop.
Gracey
Yeah.
Bradley Sutton:
I think something like one or two million in four, four months or five months.
Gracey
It's just that that's amazing.
Bradley Sutton:
It's just crazy, I mean.
I mean it's so new and and people are just like you know, just going viral, like like, yes, she had a few videos that you know, like like yours. Yeah, that one viral and that's all it takes. You know, you know like not everyone, and you're like I'm looking at your channel here. It took me a while to find it. The reason I could find it is because it's not like every single one of your videos has one million, so I can just ease your skin. I mean, you're in the 10,000s, 100,000s, but you know, it's just like sometimes, so that you'll get one that gets a. I saw another one you were doing like a treadmill that had like two million. Yes, or something like that amazing product.
Gracey
Yes, that one is great and super popular. I will absolutely make another video about it. It was like a deal for a walking pad, but, yeah, it is definitely, definitely something that People should be hopping on, like on that topic. It's like on the creator side of things, tick tock is also giving creators like product samples. They're giving us coupons like hey, like get this much product and like, as long as you make videos about it, like product samples, like they're so, so, so, pushing it, and I love that because they're very supportive of both sides of like the seller, the Creator, and like they're wanting it to be the best of both worlds, which is what I was all about forever.
Bradley Sutton:
So Now would you suggest to people I mean, obviously there's influencers like yourself and I. There's obviously clear benefit with with hopefully you know somebody like you with a 1.1 million followers, you know About po, you know linking to their product, but at the same time, would you suggest to anybody who does have or is starting with tick tock shop, they should be putting out their own content as well, because who knows, you know, even without the followers, something of theirs could go viral as well. Or do you think that they should just stick to the shop and and just let the professionals do these, these videos?
Gracey
100,000%. And this is a little bit of a contradiction from like what I said before, because before I was, you know, in the Amazon world, it's like what you could do as a seller, like one of those things being live streams. I always said like hey, like, if you don't have all the time in the world to like be doing Amazon live, maybe just like focus on the brand selling part and then like have like a Amazon live Influencer or creator, do the stream for you. But in this scenario, I would absolutely a hundred thousand million percent Recommend that the brand also has, you know, content based on their product. Specifically, there is a brand of Chamoy. You know the sauce, chamoy sauce. There's a brand that is going absolutely viral on tick tock shop right now with their Chamoy and they basically make their Chamoy without any like color and whatever, but the the lady behind it. She makes so much content. She answers questions from the comments she gets. She shows the process of Making the product. She's like we sold out today, like so sorry, like more coming.
Bradley Sutton:
Do you know what that channel is?
Gracey
Yes, it's like their brand is called. I love she's an amazing example of a brand. She made it, she has a story and she's this yes, she's Kelly.
Bradley Sutton:
Don't take. So this is a brand, yes, and then now wait, this is her like this, she's doing her own.
Gracey
It's just like insight, like just like backstory. It's like, oh, like there's a real human behind this brand. This isn't a huge corporation. This isn't like it's just this lady. And she's asking questions, she's being interacted, like that is such an amazing brand example and hopefully not gonna take too much time and effort, like look, you can just make the video. It's like-.
Bradley Sutton:
Now, one thing I don't like and now I'm having to do it here is, unless I'm doing something wrong, I can't see TikTok shop on web right Like. I have to see it on my phone Cause like when I was doing something like on somebody else's the other day and I couldn't see their TikTok shop. But then I opened up my phone and it was there. I'm looking here and I can definitely see her store, her shop, on mobile, but for some reason TikTok is not allowing you to see the shop Like. So how much money is being left on the table for the old school people who are on their desktop?
Gracey
They're watching TikToks on their computer.
Bradley Sutton:
Yeah, interesting, anyways, okay. So, guys, I love Chamois is an example of somebody who is a brand owner and who's doing her own content. Let me go back to your page. Here Is there a video that's a good representation of like hey, here's something simple that almost anybody can do without, you know, having to have fancy equipment and stuff. Do you remember anything that I can just like look for real quick here?
Gracey
Pretty much everything I do is very, very, very low maintenance, like it's nothing studio. It's like me with my phone up with like a ring light. It's like nothing that everyone doesn't have. So let me see if there is one that I have. The bodysuit one was probably the easiest and simplest one that I have ever made for TikTok shop. Here's one. So it's a plumping lip gloss. Can I show a video? That's not mine.
Bradley Sutton:
Oh, it's not even, yeah, yeah.
Gracey
Okay, and her pinned video has 20, almost 24 million views.
Bradley Sutton:
That was like 20 seconds long.
Gracey
Yes, and she's in like a dimly lit room.
Bradley Sutton:
On mobile. Is this one actually going to like a TikTok shop or anything?
Gracey
It's been sold out.
Bradley Sutton:
It's been sold out, okay, but it did. It did at one time.
Gracey
Yes, it was a TikTok shop video. It says eligible for commission, but the product is no longer tagged cause it's sold out. There are alternatives because it's now viral and I think she made it viral. So there's other products on TikTok shop that are probably the same or similar, but this specific one been sold out. And like you could do that, I could do that, our dog could do that, like anybody could make a video.
Bradley Sutton:
I've looked at it five times in a row while you're talking and I'm just like in shock. Here that's something like this could go viral. It's not, it's not unique. It's not like you know, mic drop or anything. That's that, just. That should just show yes, so how does that happen then? Is it just?
Gracey
People love a before and after. People love it simple. And here's another really interesting hack tip. Okay, so you know the, the creator named Kobi Lame. Kobi Lame, so his whole thing is that he's amassed such a huge audience because he doesn't speak in his videos, so you're not like constrained to English speaking audience. You could. You could reach any country, anybody. They don't. There's no like necessarily any need to understand English to understand what's happening in the video. Similar to that, the mega viral videos millions and millions of you, not one or two million, like millions.
Bradley Sutton:
Yeah, yeah.
Gracey
They're very like. They're usually no speak, no, no speak, no talking. So, yeah, that is kind of a hack. It's like if you want to reach more people Mr Beast is the same thing he like translate his videos to like other languages to reach more more people. And like, once you start going viral on TikTok, they start promoting your videos to different countries. So, like if I had a really mega viral video, people start commenting in French and German and Italian. Like people start commenting in different languages. So don't cut yourself off. If you do like a simple like showing the product, no words, or maybe just text on screen, super simple. You're not talking before and after done.
Bradley Sutton:
Now, where? Where can I go or anybody listening to sign up to be? What is it called? Is it called TikTok affiliates or TikTok partners?
Gracey
So yeah, there, if you're a creator, I think there's a requirement of a minimum of 5,000 followers and on TikTok it's not like Instagram, it's like on TikTok you could do that in two, three weeks. If you're like consistent and you try, you could get those followers. So that's the requirement If you are an affiliate or a TikTok shop creator. If you're a seller, I don't think there's any requirement to be able to you know, sell or Link to your own, let your own stuff, because you're not you're not getting like a commission on your own stuff, Okay that makes sense yeah.
Bradley Sutton:
Okay, yeah, I just had recently the Rainmaker family on and they were talking about the Amazon influencer program, how it's a great way for people who you know they have this big community of like stay at home moms that's what they focus on and a lot of them don't have a lot of startup capital to just start their own private label business. So one thing they've been doing in their community for those people is that they become Amazon influencers and then they just start making all the you know Videos of everything in their house you know that could be found on Amazon, start uploading it to all those listings and then, you know, some of them make, you know, $500 a month, can make up to $1,000 a month. That's just, you know, a little steady income to build up some capital. So I think that that it almost sounds like the. Probably there's probably a higher ceiling on TikTok for somebody to do that, but the caveat is they need to have the 5,000 Followers first correct, and also for the Amazon influence program.
Gracey
There there is like a small gateway to get into the program, but once you're in the program. I just wanted to add on to what you just said. Yes, people can make $500 a thousand dollars a month. I also know people making Unbelievable amounts of money from just on-site videos.
Bradley Sutton:
So let's go ahead and switch back to Amazon. Now, then. Like, what is taking up your time on Amazon? Like, how much are you spending Amazon lives? Are you doing what I just said, like just doing videos for, for random products you think might go viral, or you just doing collabs with brands? So what's your? What's your day-to-day like on Amazon?
Gracey
Yeah, so I'm still doing Amazon live. I've been doing that consistently since start of 2021. I still do that two to three times a week and that is something I plan to keep doing until the cows come home, I don't know, and yeah. And then a lot of what I do day to day is just social media posting of like promo code deals, helping people find the requests of products that they're looking for Deals on. Like a lot of times I'll ask my community, like what are you guys looking to buy today? And then I'll they'll be like oh, baby, products, treadmill, whatever, whatever long list of items. And I'll just do a lot of research, finding the best deals, promo codes, coupons. That's a lot of where my time goes and then posting them. But I post them knowing that there's somebody looking for that specific product. So I know that there's an audience for that and I can also just like cater to what they're looking for instead of just posting willy-nilly. And then there's also, of course, the video creation of like TikTok, instagram reels, the short form content that you see on my TikTok. There's that, that as well, and the on-site video, which is like another aspect of this whole thing. Now, I haven't focused as much time on on-site videos as I absolutely should have, or have already, and the reason what's on-site video? It's like the shoppable videos that people can post their storefront and the listings and they get okay, okay. When you mentioned. Yeah, so I haven't been focusing on that as much because I've been focusing so much on all the off-site aspect. But the reason for that is because On-site will forever and always be controlled by Amazon, like they have, you know, the ability to Rotate videos out, rotate videos in they they can change the video placements and there's all those different options that are kind of out of our control. So I want to focus more on growing what I can control my own audience, keeping up with that community, and you know, like when you have a community, you got to keep showing up for them. Yep to keep them, and so I think I want to dedicate more time to on-site videos, but I can't do so at the loss of my community, so I just thought I like time, manage it better and Do more on-site videos, of course, because that is super lucrative if you put a lot of time into it. And Amazon, I definitely see, is focusing more on quality over quantity and obviously doing more quality control for their inspire feed as well. You know so there's a million ways to make money in this program. It's almost overwhelming.
Bradley Sutton:
Are you on On Instagram? Are you sending all of your traffic to to Amazon still, or have you started funneling some to tick-tock Shop at all?
Gracey
Um, so I can't really do tick-tock shop Traffic directing on Instagram, so most of my Instagram is still geared towards Amazon, but I try to keep the tape.
Bradley Sutton:
How do you do that, by the way? Probably talk about this before. Are you doing like a Lincoln bio, or or? Okay, okay.
Gracey
Yeah, yeah, so I'll just have the Link under the product and then I'll have that page where in the profile where people can click on it if they want something. Yeah, that's what you can do. And another thing that I've seen a lot of people do is like using chatbots, so that there's like a double edge to benefit to that, actually, because whenever I say like you can see my description of my Instagram posts, it's like comment this keyword for the link and then Whatever people comment on your post, which boosts engagement, then they would get sent the link to the link page, basically Similar to the page in my bio, but they could then get the link to Amazon from there. So I've seen that a lot of people do that and it's going well.
Bradley Sutton:
Yeah, now, if I, if I'm a brand, you know, be it on tick-tock or be on Amazon, and I'm trying to, like you know, get somebody of your caliber and following to post my product, it's gonna probably cost me a decent amount of coin. But then, like you said, you sometimes just find stuff on your own, you know? Yeah, like that's probably most of what you do. How do I Make myself more Findable by you or become more attractive to you when you're searching the? You know the, you know whatever you're searching? How can we do that to get on your radar?
Gracey
So are you talking like Amazon or tick-tock or kind of just?
Bradley Sutton:
Both, both.
Gracey
Okay. So I Am specifically like a deal person, so I'm always looking for the best deals. If you have a good deal running and it's a good product for my audience, I'm more than likely post it. But I understand that not everyone can have these hefty promo codes and deals that they put on their products. So I Would say, if you have some sort of like buzz going around your product and that could literally just Be a micro influencer posting about it, and then it catches on and it goes viral and that will start a tidal wave of you know a trendy product, and there's that, of course. But it requires a little bit of luck and very dust. I'm trying to think there there is the structure of like increased commission. I've been getting a lot of inquiries about my brands on tick-tock shop. They're like hey, if you create a product with my tick-tock shop link, then I will give you 30, 40, 50 percent commission and that's like a deal that you can do. Instead of like 50 percent commission for everyone on tick-tock shop, it's like just for you working with the brand. So you could offer a very hefty increased commission with the offer of just including my product in your video. You could do that too, and I'm sure if you reached out to the right people they would be down to do it because again, like they're getting paid on performance and they're getting paid a good commission, a commission you probably. It's very hard to get on Amazon 50% unless you're working with yeah affiliate program.
Bradley Sutton:
But yeah, I'm gonna give you something that I probably shouldn't make public, but Okay, like I was gonna do this on my own, it's something new that helium-10 has, but maybe now you know you can get, you can definitely use this new feature of helium-10, but I don't know. I really should keep this myself. It's that, it's. I think it's pretty valuable, but I Like to give, so I'm gonna just so, and then you can tell me if that my concept is even correct. Again, I'm an I'm a newbie when it comes to being an Amazon associate or whatever it's called. So we have this new thing called Insights dashboard. It's been out for most of the year, but the new part is you're going to be able to track competitor listings. Now, how it's worked until now is like if I'm a seller on Amazon, I've got my coffin shelf. Well, I'm gonna track just five of the other coffin shelves and. I wanna know, like when they're running coupons or if they go out of stock or this or that happens. But how it's gonna be soon is you can add products to track that aren't even tied to competitors. So somebody like you is not selling on Amazon. You don't have competitors per se. So what I was planning to do and now everybody can just go ahead and copy this but what I was planning to do is like go in and grab, go to some top BSR list of some trending subcategories be it body suits or whatever that I think I could sell and then just add like the top 100 BSRs, and then I can set notifications like let me know if they lower their price by this percent, or let me know if they start running a coupon, or let me know if this one goes out of stock, because now I know this other one, but it'll just give notifications instead of me having to like refresh pages every day. Like that theoretically should work right, like it'd be cool for an influencer like you know me.
Gracey
Do you read what I think? So like the question. There is like the promo code or the deal would have to be public facing it would be like a price drop or a coupon.
Bradley Sutton:
Yes yes. Because you got me thinking about that too, and when you were talking about how you're looking for deals.
Gracey
I mean, that's the whole name of your and not all of them are public facing, which is like the whole. Like time to search? Yeah, okay.
Bradley Sutton:
Yeah, some just go to prime members, some just go to repeat buyers but then, like a lot of times they don't even do a coupon or something because they don't want to have to pay Amazon for every. You know, if they're running an Amazon coupon, they got to pay Amazon, you know, a certain amount. So they might just do a sale price and then we can detect that you know like where they guess. And actually most of the time I do that for my products because the badge that shows up. If you just do a sale price, like if it's the lowest price in 30 days, it's like, just as you know, stick outable yeah, if that's the word it sticks out just as much in the search results as like a coupon. So sometimes I'll do that. But, all right, there you go. Guys, there's a tip of the day If you want to become, or hack of the day, a cheat, a deal cheat of the day if you want to find some deals on Amazon, you know, once that feature comes out in Helium 10, just add a whole bunch of some trending stuff so that you can get a notification as soon as a coupon or a sale price goes on.
Gracey
I definitely think it's helpful because there are, just like in my head, a bunch of best sellers that have done well, regardless of the season, regardless of whatever I'm talking about. So like. I would be able to, you know, add those best seller products and then, whenever the deal happens yeah, I'm just thinking through my head, but absolutely I think it's super helpful.
Bradley Sutton:
All right. So I mean, I know we haven't. We've been kind of jumping all over the place because that's the way my brain works, guys, but I hope you guys can see the potential here. I mean, we could probably have a three hour podcast where we just talk about all of the cool videos that we see and what she does, but we're just scratching the surface, guys. So there's two ways to look at this, in my opinion. Number one if you're a brand owner and you don't wanna dance or do anything, totally fine, there's influencers who might pick up your product. Or you can get them in front of influencers like Gracey, who might show your product and, who knows, they might even do it organically. So, but you gotta be on TikTok shop in the first place to even let that happen. And then, or number two you know, if you're a brand owner, you can be like that. I already forgot what it was. What's your-.
Gracey
Chamoy Chamoy.
Bradley Sutton:
I love Chamoy I love Chamoy. Right, I love Chamoy and she is bringing hundreds of thousands, millions of views and visibility. You know what? I'm gonna just check something real quick. I'm gonna do this live and if it doesn't work, it doesn't work. I'm on Amazon here. I was looking at your page, by the way, I love Cham. Oh my goodness, look at all of this. Look at this.
Gracey
I love this. This is.
Bradley Sutton:
Helium Tendetta 5,000 search volume for this brand that probably nobody had ever heard of on Amazon, but because of the TikTok All right, I love Chamoy. Sugar free is 3,000 search volume. So this is what happens, guys. You know you have something go viral. Yes, you're gonna start getting some action on TikTok shop, but then there's other people who are old like me and who are trying to look at TikTok on a desktop and couldn't even get to the shop. So if that happens, what am I gonna do? I'm gonna go to Amazon and look up I love Chamoy. Maybe I don't know what this old TikTok shop is, as dang whippersnappers doing this. I'm gonna go to Amazon because I trust Amazon. So, and two days ship or same day shipping. Oh my God, I can't imagine it. I live in the suburbs and I get same day shipping all the time. It just boggles my mind. I'm not even in the big city, but anyways, guys. So this is like this is gonna be the thing in. I mean, it might be the ready to thing right now, but I think in 2024, like TikTok shop might start giving Walmart a run for their money as far as number two next to Amazon. They don't have the distribution at work. Obviously, that's gonna be a big. Like you said, one month shipping time is nobody wants that, but the views are there. This is where people of all generations I'm making fun of my oldness here, but people way older than me are addicted to TikTok. It's not just for young people. But anyways, any last strategies on something that we haven't talked about or something that we have, but you can just say something a little bit different.
Gracey
I just wanna highlight the thing we just found out. It's like, while it might be viral on TikTok shop, those sales always translate to Amazon because their Amazon has the consumer trust, they have the easy checkout process, they have the fast shipping, the customer service. Even sometimes I am like I don't wanna wait even a week for shipping on TikTok shop, but I see it, it's viral, it's available on Amazon, I'll always buy it on Amazon. So it's like those sales, even if it has nothing to do with Amazon, it actually does and you just saw that with Chamoy.
Bradley Sutton:
Yep, I love it. I might buy it right now, as a matter of fact. All right, so people want to find you on the intro. We almost went through all of your socials already, but go ahead and repeat how people can reach out to you or find you out there.
Gracey
It is dealcheats on all platforms D-E-A-L-C-H-E-A-T-S, and my email is contact at dealcheats.com.
Bradley Sutton:
Gracey, thank you so much for bringing your very unique knowledge. I've been talking a lot of people about TikTok. I've been talking to Norm, who I know is your. Are you a Star Wars fan at all? A little bit you suck. But I was about to say Norm is kind of like your Padawan apprentice, you're like the Jedi master, because he was telling me you're training him to be an official Amazon influencer and he seems to be doing a good job. Like I saw I was looking at his channel. But anyways, like everybody knows a little bit about this stuff, but like you're the one, you're the go-to person in the industry. We just kind of cool when I think about it. You came out of nowhere, I did you know. Like all of a sudden I was like who's this person? I see popping up everywhere that's talking about influencers. I just love how Amazon, just like you know, things go viral on Amazon, things go viral in the Amazon influencer world like this. So it's awesome, I think.
Gracey
I'm out of nowhere it does and I love it, and I've discovered so much and learned so much from the brands and sellers as well. So a great team, I think.
Bradley Sutton:
Awesome, all right, thank you, Gracey. I hope to see you at an upcoming event, if not this year, then maybe sometime next year.
Gracey
Sounds good, thank you.
---
Enjoy this episode? Be sure to check out our previous episodes for even more content to propel you to Amazon FBA Seller success! And don't forget to "Like" our Facebook page and subscribe to the podcast on iTunes, Spotify, or wherever you listen to our podcast.
Get snippets from all episodes by following us on Instagram at @SeriousSellersPodcast
Want to absolutely start crushing it on Amazon? Here are few carefully curated resources to get you started:
Achieve More Results in Less Time
Accelerate the Growth of Your Business, Brand or Agency
Maximize your results and drive success faster with Helium 10's full suite of Amazon and Walmart solutions.