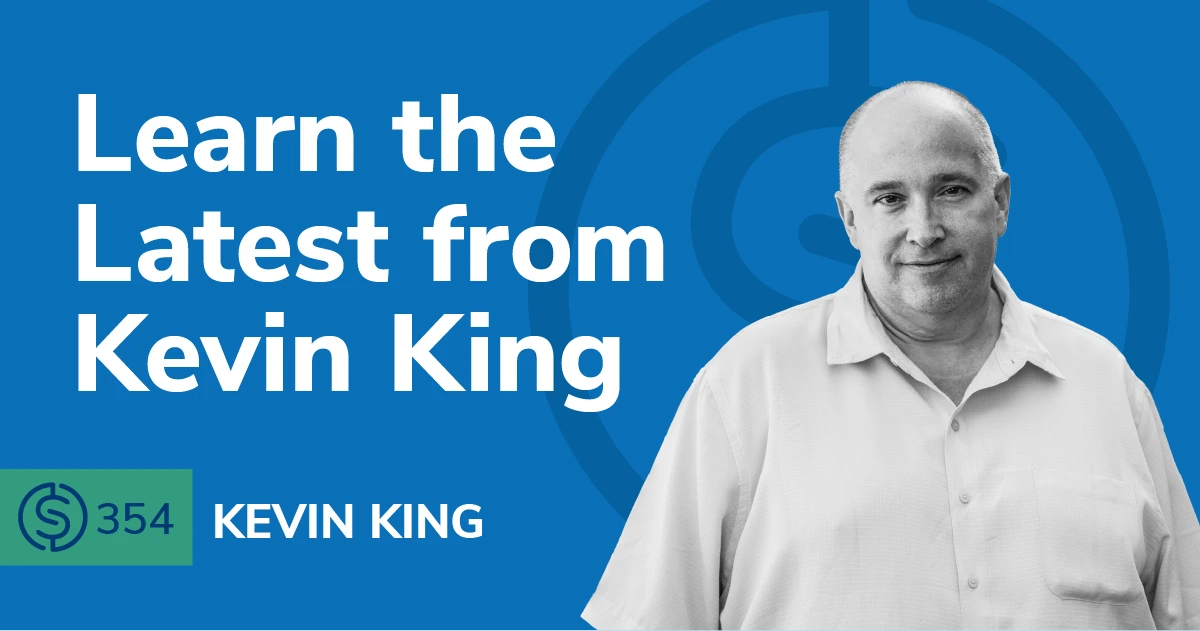 #354 – The Latest from Kevin King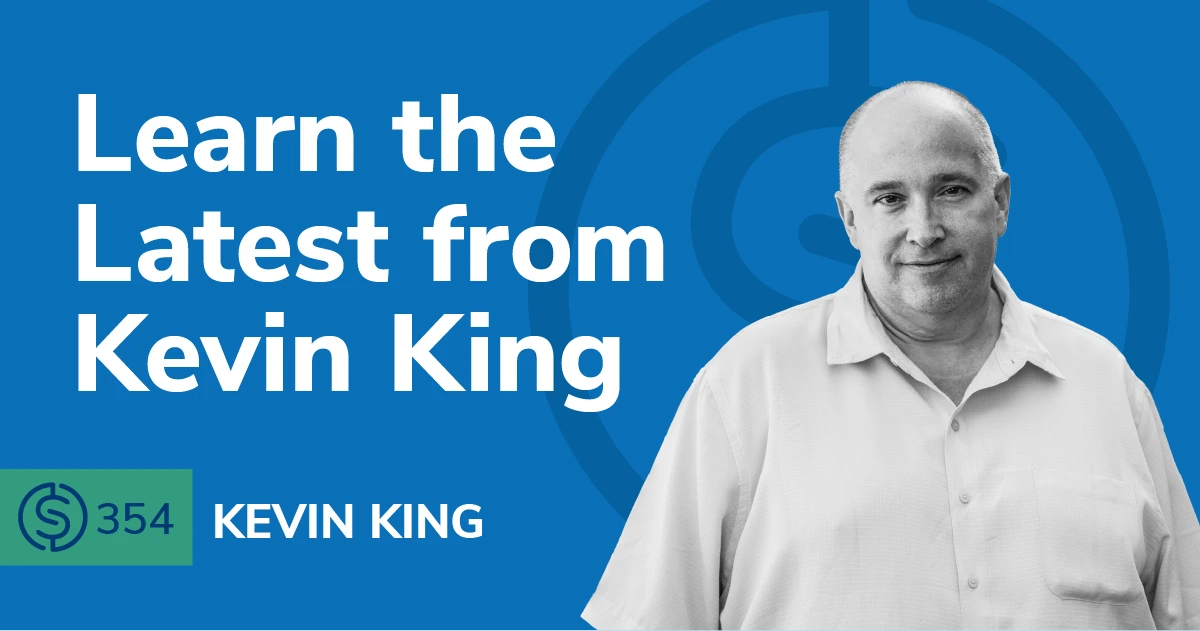 In this episode, we catch up with Kevin King to talk about many topics, including how NFTs can help with Amazon product launches, the power of Helium 10's new Estimated Keyword Sales tool, and the perks of being a Helium 10 Elite member. Also, he is now the host of the podcast that introduced him to the Amazon selling community, the AM/PM Podcast!
As a bonus "peek behind the curtain," Kevin shares some unique stories about his first guesting on the AM/PM Podcast with Manny Coats and how it's come full circle now that he's the host. What stories will the new AM/PM Podcast focus on? What content should you expect on his show? Will he be doing his signature golden nuggets/ninja hacks in the end? We'll answer these questions and more, so be sure to listen to the very end!
In episode 354 of the Serious Sellers Podcast, Bradley and Kevin discuss:
01:30 – Meet The New Host Of The AM/PM Podcast
03:45 – Using NFTs and Web 3.0 Technology To Launch Amazon Products
06:30 – Watch Out For The Full Presentation At The Sell And Scale Summit
08:00 – The Power Of Estimated Keyword Sales Tool
11:00 – How To See The Backend Of Every Amazon Listing
12:30 – The Advantages Of Being A Helium 10 Elite Member
13:50 – How To Join Helium 10 Elite
15:20 – Stories From The AM/PM Podcast By Kevin King
18:30 – What Stories Will The New AM/PM Podcast Focus On?
19:30 – The Late Show And The Late Late Show Analogy
20:00 – What Content Should You Expect For The New AM/PM Show?
22:30 – Kevin King's Signature Closing For His AM/PM Episodes
24:00 – Subscribe To The AM/PM Podcast And Listen To Kevin's First Episode As Host
25:45 – Kevin's Thirty-Second Tips
30:00 – Join The 6th Billion Dollar Seller Summit  
Transcript
Bradley Sutton:
Today, we've got the king back on the podcast, Kevin King, to talk about how NFTs can help Amazon product launches, some new Amazon listing hacks, and how he's the new host of the podcast that introduced him to the Amazon world. How cool is that? Pretty cool I think.
Bradley Sutton:
Wanna keep up to date with trending topics in the e-commerce world, make sure to subscribe to our blog. We regularly release articles that talk about things such as shipping and logistics, e-commerce in other countries, the latest changes to Amazon Seller Central, how to get set up on new platforms like Newegg, how to write and publish a book on Amazon KDP, and much, much more. Check these articles out at h10.me/blog. Hello everybody, and welcome to another episode of the Serious Sellers Podcast by Helium 10. I am your host Bradley Sutton, and this is the show that's a completely BS-free unscripted, and unrehearsed, organic conversation about serious strategies for serious sellers of any level in the e-commerce world. And we've got back with us, somebody who now has like a new title, as first of all, what was that funny word that you came up with with one of our Elite workshops as your title? Some quintuplet entrepreneur, some weird word.
Kevin King:
Contrarian or Centenarian
Bradley Sutton:
I don't know what it was. And then Amazon seller entrepreneur, I mean expert, I mean, you have so many titles here name and now your newest title is host of the AM/PM Podcast.
Kevin King:
That's right. Yeah. We just launched the first episode of the new version of the amp and podcast with me hosting
Bradley Sutton:
It's so great. We're gonna talk about that in just a little bit, but before we get there, I want to kind of switch gears on what I've been doing. There's been a couple of people that we've had on this show recently and kind of shorter episodes. Like we're not gonna have this one be as long as we normally do. That's why if do you notice I'm moving around a lot? I actually use the standup part of my desk, you know, usually, when Kevin King comes on the podcast, I'm like, all right, I gotta get comfortable here. I'm gonna be here for a couple of hours. So I put the desk down and get all comfortable with my chair here, but I got the standup going here, cuz I know we're gonna, we're gonna be in and out a little bit faster, but anyway, I've been having some people on the podcast lately to talk about Sell and Scale, the ones who are speaking there and just giving a like not giving away exactly. Every single thing that they're gonna talk about in their presentation. But you're gonna be talking about something very unique that I actually have not seen given on stage before at an event. And so, is there a little bit that you can kind of like give us a little carrot here, a dangle of carrot here for us to let us know why you think it's important or what you're gonna be talking about at a Sell and Scale Summit.
Kevin King:
Yeah, sure. There are actually a few speakers that are gonna be kind of talking about this subject. You know, one of the headline speakers keynote speakers is Gary Vanderchuck, you know, and he's probably the number one influencer in the NFT space, you know, Isabella Hamilton's gonna be speaking and she's you know Rank Bell. But she's gonna be speaking about how you can use some of this new technology to help you with products, but I'm gonna be taking it full circle because I'm actually doing it right now with Amazon, you know, Amazon's become a lot more sophisticated in the last year or so the days of just finding something on Alibaba, sticking your logo on it and putting it up on Amazon are pretty much over.
Kevin King:
I mean, it still happens from time to time, but it's a much more sophisticated place right now. And you gotta really build a brand and really build an audience. And so to build audiences, people have been, you know, there's all of the different hacks. You hear like you have your own customer list or you go and build a Facebook group or you do Mancha or there's, there's all these different ways, or you borrow somebody else's audience. But one of the best ways, in my opinion, to actually build an audience is using NFTs. And a lot of people are like, what the heck is an NFT? I don't understand is that's some crypto thing I thought crypto was dead. I thought NFTs are just little JPEG pictures that you can just right. Click and save 'em and I just don't get it?
Kevin King:
And I didn't for the longest time either, you know, I kept hearing things about it, but what we're doing is I have a company that we actually launched two years ago to sell on Amazon and the company. What we do is we do products that are sustainable products. So products are made out of recycled waste. So we have like dog life jackets that we take bottles outta the ocean. And we melt those down. We have a process you know, companies that do this for us and we melt those down into threads. And so 80% of this dog life jacket is made of sustainable materials. A recycled, you know, materials that are coming outta rivers and, and so forth. And we have a license with a body glove to do that for them. And we have several other products, but to launch those products, it's difficult.
Kevin King:
They're very highly competitive niches. And so, you know, the days of search, find, buy are kind of number. I mean, there's still some people doing it out there, but for the most part you gotta be careful and you can run PPC ads, but on competitive niches, if you don't have your own list, it can take a while. It can be difficult to correct that. So we're using NFTs and web three to tie it to web two. So we're building communities around the NFTs that will drive launches to Amazon to help launch products on Amazon. People on Amazon that will get it to page one. There are people that don't know anything about NFTs that will buy the product. There'll be an insert inside the product that will say, "Hey join our NFT club".
Kevin King:
And people are like, what the heck is this? Let me go check it out and they'll see what we're doing. And it's gonna create this whole, this whole flywheel effect. And not only by owning the NFTs, but there's also a gamification part, similar to what Manny's doing with his project. And there's also the rewards part. So, as an NFT holder, you share in the profits of all the sales that happen on Amazon or Walmart or wherever. So there's a reward system there you know that, that by holding this NFT you're gonna gain from plus it's fully transparent. So a lot of companies say, we donate 10% of our profits to save the whales or plant trees in Africa or something. And how do you know they actually do that?
Kevin King:
Yeah. With a blockchain, with NFTs, you have literal proof of it. And so people are gonna be able to use this to show they're really environmentally conscious to be able to say, Hey, I'm proud that I cleaned up the earth. I bought these products that are doing that, and you're gonna be able to earn rewards and points and your avatar and your PFP and all kinds of stuff. So we're trying 'em all together. We think it's gonna be a huge success. And I think it's part of the future of selling or launching communities or selling. And a lot of people don't understand it. And so at Sell and Scale, I'm gonna be doing a presentation all about this and like a real case study, not some general theory, not some, if you do this, it's like, this is what we're doing.
Kevin King:
This is how it works. This is what you need to look for. This is how to do it. And I'm gonna be showing that. And I'm super excited. I think it's gonna blow some people's minds and get them thinking about a whole different way to tie Web3, to Web2, to selling physical products. And then these communities are gonna dictate some of what we sell. So they're gonna come in and say, Hey, you know, as a community, we, we want a baby stroller made out of recycled waste and we'll use Helium 10 and, all the other tools to actually see if that makes sense. And then we'll go back and say, we'll do it. And so instantly we have an audience that will go and buy this product and launch it immediately to the top of Amazon. So it creates this whole flywheel and we're super excited about it. And that's what I'm gonna be sharing at Sell and Scale.
Bradley Sutton:
Awesome. Alright, well say no more, you know, we don't wanna spoil the whole thing, but, I just learned some stuff right there. Cuz there, you mentioned some stuff that I have not heard you say. So it's very, very interesting to me, you know we're gonna talk about a little bit about your first episode on AM/PM and how Manny's actually talking a little bit from a different angle on those NFTs and that's interesting as well. But before we get into that, you know I wanted to talk about what we had last week, the Bigger, Better Launch. And we do that once a month and we launch, you know, different new tools and things. And one of the ones has got a lot of people excited, it actually happens to be something that's only available to Helium 10 Elite members and that's the Estimated Keyword Sale.
Bradley Sutton:
So now I know you've been playing around with that a little bit yourself, you know, you and I have been going back and forth when you're using that Helium 10 Elite Analytics tool, but just in general, why is it important to, to have an idea an estimation of sales generated by the keyword? You know, why you know, it's not necessary to say that search volume is bad, but why is this even better than just that search volume estimate, regardless of whether the search volume pumps from Amazon or if it comes from Helium 10.
Kevin King:
Yeah, before Helium 10 launched this for elite members. There was some another tool out there that kind of had this, but you guys have just knocked it out the park. And this is probably the most valuable information in my opinion, better than search volume, better than SFR better than any of that stuff because it tells you the true data the true numbers because you can look at a lot of people like, oh, I need to go after the big search terms or people say, I need to only look for–, I'm in Black Box only look for 300 or more searches per month, or they wanna go after stuff with 20,000 searches or 50,000 searches. But a lot of times that's not where the money is.
Kevin King:
The money is actually in knowing exactly where the conversions are because something with 20,000 searches a month might have a 5% conversion rate. So maybe that generates, you know, 5% of 20,000, what's that doing a quick back in my head a thousand. And so that has a thousand sales per month off of that keyword, but another keyword that may have 3000 searches per month let's say has a 40% conversion rate because it's just a better keyword, longer tail keyword. So that's 1200 sales per month. So that 3000 keyword is much more valuable than the 1200. I mean, sorry, the 20,000. And so it's probably gonna be easier to most likely it be easier to rank. It'd be easier to do things. So if you know that, and especially on the lower end, there's some of the keywords that may have 200 searches a month, that a lot of people are just cutting off because they have this minimum that some guru said somewhere on a YouTube video, and those are getting like 50% conversion rates, you know, and those are like low lying fruit.
Kevin King:
You put a handful of those together, you can crush it. So I like to take that data from Helium 10 Elite, and I do percentages on it. And I'll take a look at what is the conversion percentage, the buy to not, not the clicks, you know, it's SFR will give you clicks or it'll give you conversion share, but this is like buys to searches. And if I can find something that's over 10% that tells me this is a very valuable keyword that I need to take a hard look at. And if I can rank on that keyword, or if my product has five or 10 of those and I can rank good on those, I'm gonna knock it outta the park. So that's why it's super, super valuable information.
Bradley Sutton:
Yeah. So guys, you know this is exclusively available to Helium 10 Elite members and, you know, Kevin King is a big you know, trainer in that program. Every month he's doing monthly workshops anything stick out in your head, is there something that you have brought out or one of your guests in the last two, three months that in one of your monthly workshops where everybody was like, oh my goodness, I'm putting that one to use right. Right away.
Kevin King:
Oh yeah. There's a bunch. But one that comes to mind is we do the training on Helium 10 Elite every month. As you know, we do a training it's about a three hour training. I bring on two to three guests that cover all kinds of a range of topics that you don't hear on podcasts. You know, it's much more detailed. It's not just the simple stuff. And then I always do, what's called the seven ninja hacks at the end of every one of them. And that's, that's really popular. And one of the ones I shared recently about two months ago, I guess, was how to actually see the back end of every Amazon listing. And this is not some BlackHat thing. It's a public URL you know, right on Amazon. That's just public you know, and a lot of people didn't know about it and it's not just the back end you've heard of like, you know, a couple of years ago, there's this big thing.
Kevin King:
Like, let me see what the backend search terms for are for my competitors. And people are like really trying to get that, but this is the entire listing, like platinum keywords and what they put in the weights and measurements and the hidden fields that you just don't show up. It's it's everything. And we shared that and people were like, holy cow, this is awesome. And so people started using this to download data on their competition, to reverse engineer, to see like, shoot, what am I missing in listing that they're doing? What is Amazon doing? You know, Amazon basics or something doing that's, maybe they have an unfair advantage and you can see some things that is an unfair advantage and so, but to get this data, it comes in this like it's just a mess.
Kevin King:
So what we do every month, it's hard to read. You gotta kind of parse it and it's difficult a little bit. So what we do in Helium 10 is we also have a Helium 10 Elite Roundtable every month. So every month we jump on a zoom call with me. I mean, there are some other ones that are weekly, but I do it once a month and we get a big group of us on there. And it's just open. We just talk about whatever, and it's some amazing stuff. So we talked about this about two last month and several people raised their hand and say, Hey, I know how to parse this. I know how to write Jsons which is a coding thing to actually parse this data and put into nice spreadsheets to make it easy to read and use. And so the group, actually, this is not in the Facebook group. This is not anywhere else. This is only in this zoom call created this and shared it with each other. And so just things like that just by being a Helium 10 Elite member give you a huge leg up. And so that's just to answer your question. That's something that just was put into immediate use and the whole community came together and made it better.
Bradley Sutton:
That's pretty cool. That's pretty cool. Yeah, a couple of years ago, we didn't have this networking call, but I can't take credit for somebody else on my team, I think will have that idea or maybe it was your idea.
Kevin King:
It was my idea.
Bradley Sutton:
Okay. I was like, I'm not smart enough to have this idea. I don't know. I don't know who it was, but I know it wasn't me, but I was like, whoever thought of this was pretty good. And then, like you said, we have other weekly meetings that, that you're not on, you know, you'll drop in every now and then, but that we have with the evangelists and the Elite people, it's just cool. You know, so there was actually one where we actually just did talk about NFTs because as somebody, one of the eight figure sellers in our group was, was talking a lot about it. So we have some good conversations guys. So you know, the Helium 10 Elite gives you extra access to Helium 10.
Bradley Sutton:
It gives you extra access to Kevin King. It gives you extra access to all this networking. So guys, if you wanna sign up, it's usually closed. You know, I would say a good 96% of the year, you wanna get into Helium 10 Elite. It is closed, but right now it is open through the end of the month. An, if you're listening to this way in the future, you're wondering when this was recorded, this is June 2022. So through the end of June, you can get back in, just go to h10.me/elite, h10.me/elite. If you wanna sign up and give it a try, you know, there's no obligation, there's no contract, you know, we're not gonna, you know say, Hey, you've gotta be a Helium 10 Elite member for one year, no money back. No, it's month to month.
Bradley Sutton:
And after a month you try it. I'm pretty sure you like it, but, but everybody's circumstances change. Hey, you know, inflation's getting crazy you know, gas, it takes an Elite membership just to fill up your tank of gas nowadays. But if you ever, if you decide that it's not for you just, just call customer support, you go right back to your platinum or, or diamond plan if you want, but, but take advantage of this. And you can imagine the number of money people would pay to be able to sit on a zoom call once a month with Kevin King and with other smart people as well, you know who even who can make JSON I don't even know what JSON is, let alone know how to make a JSON extractor, whatever the heck that is.
Bradley Sutton:
So we got some smart people in the Elite program. So again, h10.me/elite. Now, let's switch gears and talk a little bit about the AM/PM Podcast, you know, I actually was digging in the archives and I found the actual episode where you made your debut. And I'm not sure when it was recorded, but when it went on YouTube and I found this on the AM/PM Podcast, YouTube channel it was May 10th, 2016, which is now more than six years ago. Now this particular part, you kind of alluded to in the episode but didn't go too much into detail. Like, it was in a Facebook group is how you met Manny? Which almost sounded like my story, which is how, how I got on the radar of Manny. But did, am I understanding the story correctly, if, how you got on that podcast?
Kevin King:
Yeah, it was a Highrollers Facebook group.
Bradley Sutton:
The original Highrollers Facebook group still exists.
Kevin King:
5000, 6000, 8,000 members back then, you know, he had just a handful of members, and yeah, I posted on there. Manny had reminded me on the poke. I couldn't remember exactly what I was posting, but he reminded me this had to do with Spanish keywords back six years ago. And then I think I clarified a few other people. Some people, you know, just parrot stuff on Facebook. They're like, oh, this is how, you know, you gotta do this if you're gonna do a landing page. And so everybody starts taking it as gospel and I'd step in and say, no, no, this is BS. This is not how it works. So that's how it started. So Manny liked some of what I said. So he reached out to me on Facebook.
Kevin King:
And at that time I had, I think, two friends on Facebook. I had nothing on Facebook. Now I have, I think I'm maxed. I have 5000. I have to go and delete dead people. You know, I have to go and look sometimes allow other people that friend me, if I want them in, I have to go and like scroll through and find people who there's profile pictures missing and delete dead people. So but back then I had, as a picture of a dog is you didn't even know what I looked like. So he reached out and I think it was April of 2016 is when we recorded it. He said, will you come on? I was like no, I'm not interested, man. I'm just a seller. I'm launching five brands right now.
Kevin King:
I'm not interested. He said, oh, just come on, dude, just come on. So I agreed. And it was like, I think on a Saturday that we recorded, I was in my garage because I had a shipping station in my garage. I was out there like packing boxes and it was kind of echoey. And I had like the worst, like $3 headset or something, you know? And it sounds like you're in a tin can, it was just horrible audio. But we recorded, he put it out and it resonated. And so I think to this day, it's still one of the most downloaded episodes and we just talked, I just said it like it is cuz so many people and still today, but especially back then people come on, they just talk fluff. They don't talk specifics or hey talk in generalities or whatever.
Kevin King:
And we just laid it out, me and Manny and it just hit. And then other people heard it, other podcasters heard it and they said, Hey, would you come on our podcast, people that were doing events said, would you come and speak at our event? And that just kind of evolved. And then Manny and I, and Guillermo started doing some stuff together where with the Helium 10 Elite to it back then it was called Illuminati. And we, we, they asked me to come in and kind of help organize and, and run that. And so that's kind of how things evolved.
Bradley Sutton:
Cool, cool. Now, you know, for a while, when Tim Jordan was running the AM/PM Podcast, we kind of like, you know, at the beginning of it, we were like, you know what, let's keep the Serious Sellers Podcast, you know, more kind of like, you know, Amazon and, and Walmart related and let's have the AMPM Podcast have like a completely different angle, you know, maybe not even the same guest and it's just general e-commerce and off Amazon, off Walmart things and mindset and motivation, all of which are important. And then when it was the first idea to have you come on to be the new host of the AMPM Podcast, which I believe that the first one to think of that was Bojan. Again, you guys see a trend here, like all the best ideas somehow are not mine.
Bradley Sutton:
I'm not gonna try and I'm gonna tell it like it is, you know, no BS other than my initials here, but anyway, yeah. Like Bojan you know, had that idea. I was like, at first my initial reaction was like, wait a minute. You know I don't think Kevin's gonna wanna come and talk about the same thing that Tim has, you know, Kevin's kind of die hard in e-commerce and or Amazon, especially. But then, you know, Bojan actually shared like kind of like analogy with me. And I was like, that totally makes sense. You know, you've got the late show and then you've got the late, late show, you know, it's the same network, you know? They're interviewing a lot of the same people, but they bring a completely different vibe and it's a different interview because they're talking about different subjects and they have different personalities and things like that. So we're like, Hey, if Kevin wants to talk about Amazon and Walmart, sure. Why not? It's not gonna sound like a carbon copy version of the Serious Sellers Podcast, cuz Kevin and I are completely different, you know, personalities and different people. So what is like the vibe that you're going for? Like what can people expect now that I let them know, Hey, this is not just some like Serious Sellers Podcast, you know, identical flow here. What can people expect, who subscribe to your new podcast?
Kevin King:
Yeah, that was one of my concerns too, that when Bojan asked me, I was like, how's Bradley feel about this. He's like, no, he's fine. So I actually reached out to you. Dude, you know we have chatted before I accepted and said, how do you feel about this? You know, cuz it's in a way, if I'm starting to talk about Amazon it's competition, you know, Letterman used to be at 1230 at night and he eventually took over the Leno spot at 1130. So I'm gunning for you, Bradley. I'm gunning for you.
Bradley Sutton:
I've got the Premo Tuesday and Saturday spot and Kevin's coming out on Thursdays, but he's gunning for that Tuesday prime time.
Kevin King:
That's right. But no, so I plan one of the themes is AM and Manny always said that you make money in the AM and the PM. One of my slogans has always been money, never sleeps. I've always said that for years that, you know, money never sleeps. And so that's what we're gonna be doing is how to make money that never sleeps. So, we're gonna be focusing primarily on Amazon. We'll cover some other e-commerce like Walmart and some other stuff, but actionable stuff. You know, the guests that come on are gonna be I'm not gonna let 'em get away with any just general stuff. If someone says yeah, I just ran a Facebook ad and you know it generated I don't know, $4,000 in business for my launch, I'm gonna say, how much did you spend on that ad?
Kevin King:
What was the conversion rate? Where did it run? What was your Audit? We're gonna drill down, you know, I'm not gonna, and they can't answer that question. They're gonna be called out on the spot, you know, love it. So, so there's gonna be things like that. So actionable stuff, you know, and I wanna be a proxy for the listeners because a lot of times the listeners have questions or they're thinking of things and they're like, man, I wish they would ask this, or I wish they would ask this guy this. And so I'm gonna hopefully be able to, to step into their shoes and, and, and ask the questions that they wanna know the questions that nobody else is asking. And I'm not gonna be focusing on what's your background, what'd you eat for dinner? You know, how did you get into e-commerce?
Kevin King:
Who cares about all that? You know you might get, you know, 30 seconds of that because if it's relative to the story yeah. But we're gonna dive in and we're gonna be like, this is what you could do. These is the action steps to take. This is what works. This is what doesn't work. I tried this, it failed. And so that's the angle. So yeah, we'll have some of the same guests, but like you said, I will treat it differently. And so I'm excited about where it's gonna go. Hopefully, people won't be scared to come on after a while. But it should be good.
Bradley Sutton:
And now, you know, on this show, we end with our "TST", TST 30-second tips. Now you came up with your completely own unique idea on how to close episodes. You wanna give a little sneak peek on what that's about
Kevin King:
Sure. Yeah. You have that great little thing where at the end you ask somebody to give a little ninja tip or something. And people know me a lot for ninja tips. So if I go and speak at an event and I do something that doesn't include ninja tips you know, or hacks or whatever people wanna call 'em. Some people are like, man, that was a great talk, Kevin, but I wish you would've done some of those hacks. So I was like, you know what? Bradley's already got that covered. He's got the "TST", I can't say it right by the, you know, you got the little thing like, I'm not gonna do that. I'm gonna do more of life and general business type of hacks. So for the last 15 years, every time I read something, I see something on TV.
Kevin King:
I get some different emails, different newsletters of inspiration, and different things. If I see a quote or a line, like a one or two-sentence line that I think is just really, really good, you know, like money never sleeps or something. I will actually put that into my notes app on my iPhone. And so I have a, just a huge list. So I just grab it and copy it and put it right in there. And it's like pages and pages and pages. And every once in a while, you know, if I'm bored on a plane or something, I'll scroll through it. Like, oh, and I took some of these at one of the Billion Dollar Seller summits a couple of years ago. And at the end of the talk, I did a whole talk about actionable stuff. And at the end, I spent about five minutes or so doing like six or seven of these little things.
Kevin King:
And people came up to me afterward and they were just like, that was freaking awesome. That was inspirational. That was awesome. I love the hacks, but that was the best part of the whole talk. And I'm like, you know what, let me take that and put that onto the AM/PM. And so I'll close out each episode. So after the guest is gone, make sure it's like stand for the credits, you know, at the movie where everybody sits through the credits and there's that little, extra little preview thing at the end, or some extra cut scene or something, that's what you're gonna see. And so make sure you stick all the way through, you know, if you listen to the music, don't turn it off listen through and I'm gonna share one of those on each of the episodes to close it out.
Bradley Sutton:
Awesome. So guys if you are not already subscribing what I want you to do right now on your phone, it's not gonna, it's not going to cause you to get out of this episode is just take whatever you're listening to this right now, whatever you're listening to my voice, unless you're listening to this on a desktop computer, take your phone out, go into the app and go into that search function type in AM/PM Podcast and then space and by then it should come up, but if not then type in podcast, and then you'll see a picture of Kevin right there. And, and then I want you guys to hit that subscribe and then hit the notifications bell that Apple podcast and Spotify has so that you can be notified when there are new episodes, but a new episode will drop every Thursday.
Bradley Sutton:
There's one out there right now with the founder of Helium 10, the founder of the AM/PM Podcast, Manny Coats super, super interesting information there that you're not gonna hear that anywhere in the Serious Sellers Podcast. You're not gonna hear that in most of the e-commerce podcasts that you might listen to. So some very unique information on what Manny's been up to there, and some strategies that you guys can implement. So I'm gonna subscribe to it, make sure you guys do as well and leave it a review and let's get this ball rolling. Let's spike the algorithm with some search, find, buy podcast lessons here guys, and some five star reviews, huh? Our five star reviews. Okay. We can ask for that.
Bradley Sutton:
Anyways. You know, let's, let's go ahead and close out the last, like five minutes instead of just 30 seconds and let's do some "TST", let's do some two minute tips or 30-second tips, however, you want to you know, to space it out there, but, but stuff that you maybe you've been implementing in the last few months, or you've heard an elite member do it, or, or somebody in your network or somebody from one of the conferences you've been to, what are some things that people can be implemented for their Amazon businesses?
Kevin King:
Yeah, one of the things I'm doing now is, you know, at the last Billion Dollar Seller Summit, we had someone come on. I think she's been on your podcast too, Vanessa, and talked about Spanish keywords and how a lot of people are missing that. You know what, and coincidentally, I talked about that six years ago, you know, that's why Manny brought me on to the AM/PM Podcast or one of the reasons but there's more than Spanish keywords that you could find on Amazon. There's a lot of people that are typing some of the Indian languages, German depends on your product. It may actually appeal to Russian even on that's being searched for on amazon.com or vice versa. If you're on the UK marketplace and you wanna know what are people searching for on the UK marketplace, but they're searching for it in Dutch or something.
Kevin King:
And what are those keywords? You know, you can use Helium 10 and go into the Magnet tool or the Cerebro tool. And you can download, you know, if you go into do a reverse ASIN search on Cerebro, you know, depending on the product you might download, I dunno, five, six, 10,000 keywords, depending on what is, and, and most of those you might think are those are irrelevant. So you're doing all kinds of filters. What are on page one, you know, all the stuff that Bradley teaches, but what if you could find the actual words there in all the different languages, not just Spanish, but all those, all the words that are say in Dutch, or if your product appeals to that audience or in German or in whatever, same for the US. So what I do is I take that Magnet, Cerebro tool, I do my reverse search.
Kevin King:
I download the text file, the CSV of, you know, five, 10,000, whatever the number is for that particular item, download it and download it. And then I run it into Excel, but you can also use Google sheets. And I run it through a, a, I add a couple of fields to it. And I add something that says detect language. And you could just, I don't remember the exact command off the top of my head, but if you just Google you know, type into Google, say "detect command to detect language and Google sheets or Excel", it'll show you like, this is what you need to type. And so I put a call another column on that spreadsheet, and I put that little formula in there that detects the language, and it will spit out an instant, you know, EN for English or DK for Dutch, or you know, what is ES for Spanish and so forth.
Kevin King:
And you can filter, and you can see all these different keywords. There are people who are typing in different languages that may be relevant, that you should actually put into your listing or into your backend that may have like we just talked about earlier 200 searches a month. And so people are usually skipping those. But if you then take that to the Elite Analytics tool and you look at, okay, wow, this Dutch keyword on amazon.com has got 200 searches a month, but it's got 113 sales and nobody's freaking indexing for it. Nobody's looking for it. You can just instantly grab some sales overnight instantly to the top of the page. And so that's some of the stuff that I'm doing that's in some, some products you won't find hardly any, you know, it depends on what you're selling, but beauty products, some of the pet products, some of the automotive products, there's tons of them.
Kevin King:
So if you're not doing that, and this works across all marketplaces, so you can do this, you know, I know you guys last week in the webinar, you just announced you know, the UAE but what are, and you said in the webinar, you actually said, Hey most stuff is in English, but it's also Arabic, but what UAE has a lot of freaking people that come from Europe that are moving to the UAE. You know, it's a huge ex-pat community there, and there may be Israelis typing in Hebrew. There may be Germans, or there may be who knows. And you can find instantly in that market, you know, it may not be huge search volume, but it's okay it adds up. So that's something that I think a lot of people need to pay attention to.
Bradley Sutton:
Super, super cool. All right. So we talked about, you know a little bit about Kevin's upcoming presentation on Sell and Scale Summit. Don't forget if you guys wanna a discount there's h10.me/s3. You can use my code S3BS100 you could save a hundred dollars. We talked about the AM/PM Podcast. You guys know how to get there. We talked about Elite opening up only until the end of the month, h10.me/elite. You've referenced a couple of times Billion Dollar Seller Summit. If people are interested to get more information on that, how can they find that out there?
Kevin King:
Yeah. The Billion Dollar Seller. So I'm about to do the sixth one. So you've been to almost all of them, I think Bradley.
Bradley Sutton:
I think I'm like one of like three people who have been to every single Billion Dollar Seller Summit.
Kevin King:
There are actually quite a few more than that.
Bradley Sutton:
Oh, there's more. Okay.
Kevin King:
Oh yeah.
Bradley Sutton:
No, you just wanna make me feel not so special. Okay, that's all right.
Kevin King:
That's 'cause you're sleeping over to the side. You don't notice all. No, I'm just kidding.
Bradley Sutton:
I'm never gonna live that one down.
Kevin King:
Bradley was sleeping at the F1 track while everybody was racing. Well, let go. There's Bradley's like, yeah, I didn't get any sleep. You know, he was working around the clock back then, but anyway, so yeah, it's in August here in Austin August 14th, to the 19th it's a, you can go to billiondollarsellersummit.com. Don't get turned off by the website. It's not a flashy website. It looks like a 1995 HTML page because
Bradley Sutton:
Web negative one, not Web3.
Kevin King:
Exactly. I don't need to do anything. It sells out. You know, it's limited to a hundred people. It's expensive. But if you're looking for high level stuff that's where it's at. You know, the speakers that come on stage are the best in the industry. And this time we have actually five of the winners from the previous events that are voted on by the audience who won. And so they're coming back and they're all competing to try to up their game. They're like, it's almost like an all star list. And they're really trying to just knock it outta the park. So if you're interested in that checkup, billiondollarsellersummit.com.
Bradley Sutton:
All right. Well, Kevin, thanks for coming down here. And I noticed that you had the Freedom Ticket shirt, the famous Freedom Ticket shirt. I know you've got a whole closet full of those. You gotta you know, autograph, some of them and we'll use it as a giveaway or something on the podcast or on a sale and scale summit or something.
Kevin King:
I thought it was interesting. Speaking of that on the AM/PM Podcast a few days ago, before we launched it, Bradley said, Hey, do you have a picture of yourself that you can send over that we can use in the ads or the icons and stuff? So I sent over one of the pictures, but the shirt is green in the pictures, and the shirt is green. So today or last week when the podcast came out, when we launched it last week, I was looking at the house like, wait a second. I don't have a blue and white striped shirt that looks like.
Bradley Sutton:
Did they Photoshop it?
Kevin King:
So they actually went in there and photoshopped and took the green and made it blue. Helium 10 Blue. I was like, that's pretty freaking cool, man.
Bradley Sutton:
I haven't you even noticed. They did a good job too.
Kevin King:
Yeah, its awesome. I was like, man, I was like, it was tricking me. I was like, man, where did that shirt man? Did I throw that away? Where did that shirt come from? And I was like, wait a second. They changed the color of the shirt.
Bradley Sutton:
Nice. Nice. We have an amazing graphics team, here at Helium 10. All right. Well Kevin, thanks for coming on here. Whatever wardrobe you're in. It's always a pleasure. And I'm looking forward to seeing you soon at the next Elite workshop and then or online workshop and then of course in Billion Dollar Seller Summit and then in sale and scale. So we'll be seeing you soon.
Kevin King:
All right man. Thanks, guys.
Achieve More Results in Less Time
Accelerate the Growth of Your Business, Brand or Agency
Maximize your results and drive success faster with Helium 10's full suite of Amazon and Walmart solutions.