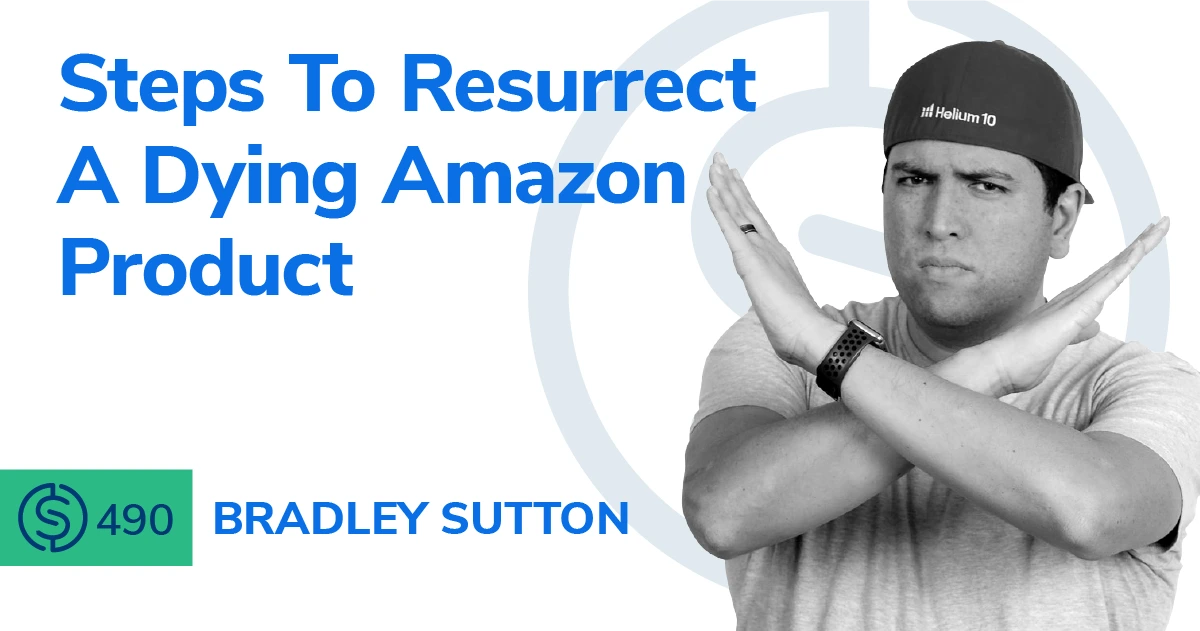 #490 – Steps To Resurrect A Dying Amazon Product – Project X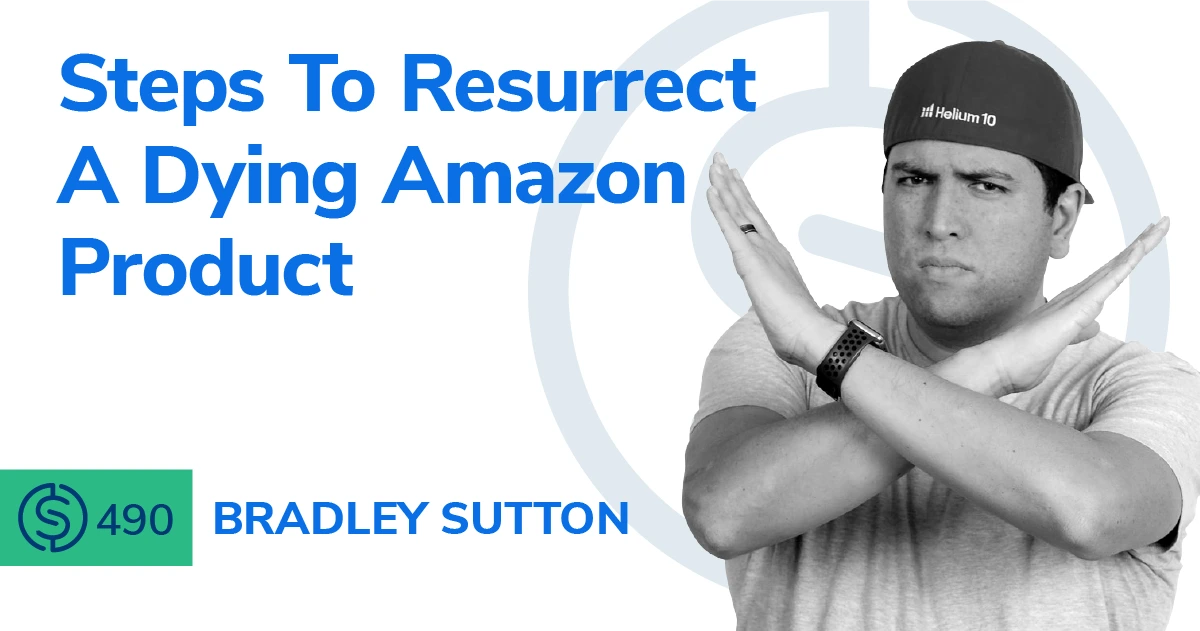 Video of the episode at the bottom
Ever wondered what it takes to breathe new life into a product whose sales have hit rock bottom? Well, we're about to pull back the curtain on the process. Kickstarting the journey to redemption, we delve into the realm of listing optimization, cross-examining ASINs, and pinpointing top keywords for single or group listings. In this highly practical session, we use our Project X egg rack product as a case study to illustrate the steps to revitalizing sales, from initial setup to shifts in market trends.
Then, we navigate the rough seas of competition research, undertaking a meticulous analysis of competitors' pricing, product dimensions, FBA fees, and reviews. We reveal how powerful tools like Helium 10's Market Tracker can unlock a comprehensive understanding of the market share held by various competitors. Wrapping up this segment, we ponder the implications of our competitors' profitability on our pricing strategies, equipping you with the knowledge to make informed decisions and stay ahead of the curve.
Lastly, we dissect sales and keyword performance, shedding light on the art of effectively monitoring them. Discover how Helium 10's Keyword Tracker, Cerebro, and Adtomic can unravel the mystery behind your listing losing rank and sales. We also discuss how subtle tweaks in prices and keyword targeting can help reclaim your competitive edge. Rounding up, we explore the process of competitor analysis on Amazon, offering a wealth of insights on identifying keywords your competitors are ranking for, and assessing your own keyword performance. This is a must-listen for anyone keen to understand when to pull the plug on an unprofitable product and how to give it a fighting chance at survival. Tune in to gain a wealth of knowledge and strategies that could just save your product from the brink of extinction.
In episode 490 of the Serious Sellers Podcast, Bradley discusses:
01:13 – Project X Is Back?!
03:42 – Revitalizing Amazon Sales With Project X
06:31 – Analyzing Competitor Pricing and Profitability
07:29 – How To Leverage Helium 10's Market Tracker Tool
16:01 – Amazon's Test On Hiding The Bullet Points
16:08 – Results After Emma Helped Improve Our Listings
18:13 – Analyzing Sales and Keyword Performance
24:27 – Analyzing Keyword Rankings and Sales
26:54 – The Power Of The Cerebro "Time Machine"
30:48 – Competitor Analysis Process in Amazon
39:22 – Revitalizing Old Products & Introducing New Projects
Transcript
Bradley Sutton:
Today's episode marks the return of one of our most popular series ever Project X. We're going to talk about the steps that any Amazon seller should take If they have a product that has tanked in sales. Can we revitalize it? How cool is that? Pretty cool I think. Do you want to see how your listing or maybe competitor's listing rates as to best practices for listing optimization? Or maybe you want to compare a group of ASINs or Amazon products to see how they compare to each other? Maybe you want to see within seconds the top keywords for a single listing or a group of listings? You can do that and more with the Helium 10 tool Listing Analyzer. For more information, go to h10.me/listinganalyzer.
Bradley Sutton:
Hello everybody and welcome to another episode of the Serious Sellers podcast by Helium 10. I'm your host, Bradley Sutton, and this is the show. That's a completely BS free, unscripted and unrehearsed organic conversation about serious strategies for serious sellers of any level in the e-commerce world. In this episode we are bringing back Project X. Maybe once a month or every other month I'm going to start doing some Project X follow-up episodes. There's a lot coming. We actually started recording season two last year and we got some great footage and some products are actually coming into stock. That was from those recordings. We're going to follow up on some of the original Project X products, if you'd like. What in the world is this Project X that Bradley's talking about here?
Bradley Sutton:
A few years ago, we did this case study. It was mainly on YouTube and you can go back and watch it, but it was all about trying to take some products from zero to hero. We did this reality TV show, vibe program, where we showed you every step of the way how we were able to find products, get them launched, optimize them and then scale them up in the feature. Ever since that show maybe three years ago, four years ago now we did that We've been maintaining those products, not doing that great of a job because we're not full-time Amazon sellers here. I try and run this in my spare time. That's part of what we're going to be talking about today is I've been neglecting some of these products and sales have gone way down. That's what we're going to be talking about today is do you have a product that maybe you've neglected, maybe you haven't been neglecting it, but sales are way down? It's a product that's one or two years old and you're just not doing as well as you did in the past. What are the steps that you can try to take in order to revitalize it or in order to try and get those sales back up and see if you can salvage all the time and effort that you put in a product? Now, what we're going to do today, guys, I'm doing 100% live. I'm not going to prepare this or try to pre-do some research here. I'm going to air this episode right after I film it, a few days after I film it. We're not even going to have time to see the effects. It's going to take maybe a month or two to see, or I did the things that we do actually have an effect. I started noticing this product going down a few months ago. We've already done a little bit of work. We've actually talked about it on this show, where we had Emma from Marketing by Emma come in and revitalize a little bit some of the images and also some of the copy. Now it's like, hey, let's see how that did and what more needs to be done.
Bradley Sutton:
Let me give you some background first on this product. This product wasn't one of the original Project X products. This is something we were doing when we expanded the brand, we made this brand called Gui's Chicken Coop and then it was an original in Egg tray. We still have that product. But then we're like, hey, along those same lines, we found that there were these stackable egg racks that were trending on Etsy and Pinterest. The same way, we found the original Project X products. We're like, hey, let's be the first person to make these.
Bradley Sutton:
On Amazon, which we were and we were just dominating, we had some really, really great sales. Let's actually go in and take a look at some of the sales here I am on our Insights dashboard and I knew that even I put here last year and it was one of the top five products. You could see that towards the end of last year we were doing well. We were doing, I mean, for Project X. It was doing about $5,000, $6,000 a month. Profit was decent. Let's take a look at what the profit was towards last year Over $6,000 worth of profit. So it was decent. It actually overtook some of the original Project X in sales.
Bradley Sutton:
But let me show you what happened since the end of last year. We started off with a bang, but then some competitors started coming to the marketplace. We were the first ones and they're like hey look, how good these Project X guys are doing, we're going to try and undercut them a little bit. Let me show you what happened to our sales because of that. All right, I'm going to go ahead and show you this year's worth of sales. You can see, at the beginning of the year we were still doing about $6,500 a month, but then sales just took a nosedive. It halved in March down to $3,000. April it was only $1,000, and then it's been hovering between like $1,000 and $2,000. First of all, you got to understand what happened. Now. Unfortunately, I wasn't running Market Tracker on this the whole time. Otherwise I could show you guys exactly when people started getting into the market. Maybe you're like me and you weren't running Market Tracker the way you should have. I am now and I'm going to show you guys what I can see in the last couple of months on Market Tracker. But let's go ahead and go to Amazon and take a look at what the competition has been doing. All right, so I'm going to go ahead and enter a stackable egg rack here on Amazon.
Bradley Sutton:
Let's just take a look at a couple of these big players. Some of them have been around for a while, but this guy here, this Kinlin, has been just crushing. Now, first of all, take a look at this price point $20.95. Let me tell you I was actually selling this product for $38. We were the only ones and we couldn't even keep them on the shelves Right off the bat.
Bradley Sutton:
You can see an issue here $20.95. Well, let's just take a look at the Helium 10 BSR chart here to see has he been doing this price the whole time? First of all, let's take a look at when he started getting serious. You guys notice anything here. It was right exactly in March of this year. You can totally tell that by looking at this BSR chart, where it looks like he maybe was experimenting with some units here and there, but he really wasn't selling that consistently. Then all of a sudden, come March of this year, he just starts going bonkers. His price point has actually always been looks like $20.95. He stayed pretty consistent on his price, but literally almost half the price of our product. That's one of the issues right there. His sales are like you know maybe five, six, x what our sales are. So it wasn't just him, though there's other people who have jumped in the market.
Bradley Sutton:
Let me actually show you I actually set up market tracker a couple of months ago. This is not market tracker 360 that you have to pay a lot of money for, that's for like huge, like five, $10 million brands and agencies, but the regular market tracker that all you helium 10 users have. I created the market to kind of like track who are the players, who are my direct competitors for the stackable egg rack market? And, as you can see here, I picked about 17. Now, keep in mind, for almost a year we were the only sellers of this product. Like like nobody had anything that was like ours, where you can just buy these extra levels of this egg rack and then stack them up. Now there's 17 players that have come in and take a look at a lot of their price points $20, $30, $22. Here's one for 38, but it has four racks, all right, mine only has two, um $27. Uh, here's another one that's like $15, $28. So everybody's coming in at this cheap price point.
Bradley Sutton:
Uh, you can take a look at my market share. My market share used to be a hundred percent, right, my market share used to be a hundred percent. Now it is 11.2%. That product that came in in March, is crushing it. They have 50% of the market right now, and so that's obviously a problem, right Like that's why my sales have gone down. So the question is what can I do about it? Can I just lower my price? And can you guys lower your price almost by half and still be profitable? Probably not.
Bradley Sutton:
I actually did some research and that was one of the first things. I look at my dude like like I might have to discontinue this product. Let me look at what the numbers are. So actually, let me take you through what I did. Uh, I went and checked my product price. I forgot I think I was paying too much for this, but you know I was the only seller. I was making a ridiculous profit. It was like probably like more than 30, 35% or so, and so I didn't. I didn't care really what price I was paying. So I was just curious. I was like how in the world can this product sell so cheap?
Bradley Sutton:
So I first looked at their at their page. I was like, okay, are, are, is their dimensions a little bit different? Let me actually go ahead and open up my product in another window here. Okay, here we go. I've got my product open. So now you guys are going to kind of see the comparison.
Bradley Sutton:
So the first thing I was just wondering was what's going on with, like, their FBA fee? Now, look at this. Their FBA fee is only $8.83. I'm like what in the world? Like how is that possible? All right. So I look at the size of their package and it's 14 by six and a half by two. All right, now compare that to mine. I've got $12.43 FBA fee, okay, and my product size is 15, seven by four. So, right off the bat, it's like how in the world can they do this product in half of the width of my product? Because I'm like, wait a minute, you know it's the same exact product, right? So I actually ordered one of theirs. You can actually see it here in my Amazon window when I go to their page and says, hey, you purchased this, you know, back in July and it's interesting. Their product first of all. They make it like almost like an IKEA package. You actually have to put this together. It's in pieces Now to me.
Bradley Sutton:
I would have thought they would got some bad reviews for this because they don't say that in the listing. You know my product. It already comes all assembled. You're good to go. Go ahead and put your Huebles in there, your eggs, right? But no, they don't have any bad reviews.
Bradley Sutton:
But, like me, if I bought that, I literally would have left a bad review even if they weren't my competitor because I'm like I think I'm not time for this. I buy from Amazon for convenience and now all of a sudden I have this two layer egg rack that literally comes in one, two, three, four, five, six pieces and I got to like screw it together and do like Lego and stuff and try and figure out how it works. I'm like, no, I didn't get time for this. So, just, it was just shocking to me. How can people not complain? I guess maybe because the price is so low or something. But I was like, okay, well, there's one thing I'm not going to do, right, so if they're saving a couple or four bucks on their, on their FBA fee, so I'm like there's an advantage that they have right off the bat.
Bradley Sutton:
But even besides that, what I did was I was like, well, what kind of profitability might they be having? So I actually ran the profitability calculator and then if they, if this is their price, and let's say they're doing, you know, they're doing some um PPC, that maybe they have 10% tacos on there. So if they're doing 20% profit even with this lower uh you know shipping price that Amazon is charging them, that means that their product manufacturing costs is got to be like around $4. And mine is like seven or eight or something. Uh, something like that was what mine was.
Bradley Sutton:
And so then I went into, you know to, to my listing. I'm like, well, this, this kind of sucks, how can I, how can I compete? Now, remember before I was like at 38, 97, and I think my manufacturing cost was like, let's just say it's $8, right? And then if I had 10% tacos, all right, uh, in order, you know I was doing. Third, like I said, I was doing like about 30% profit here.
Bradley Sutton:
But then I'm like okay, what if I were to have to lower my price like $21? Well, what's going to happen? Look at this my profit is negative, 2.85. So you know I wouldn't have lowered the. You know I don't like race to the bottom anyways, but rather about my. Okay, obviously I'm not going to lower my price. But what if I lower my price to like $30, or let's just say 33. If I'm at $33, what kind of profit? Can I make 20%? Maybe it's okay, you know.
Bradley Sutton:
So I actually did that. I lowered the price temporarily just a little bit ago to $33. But knowing that, hey, I've got to go to my factory because $30 is $33 probably isn't going to cut it. I need to get a discount. So if I can go to my factory and lower my manufacturing costs from like, let's just say, $8 to $30, let's go with $6, for example, now, all of a sudden, if I lower my price to like $28 or $29, right, I can still maintain that 20% margin. So I might even try and get a little bit more aggressive on this and actually get a little bit aggressive on the box size to see what's going on.
Bradley Sutton:
So here's the first part. You know, without even worrying about, you know, conversion rate or how's my listing, optimization or what keywords I'm on, I'm looking at just like the kind of logistics of everything, right, so here's their. I bought their product, here's their box. Now I see what they're doing. You know, let me see what I can do. Now I'm considering a little bit, like, is there a way to still do this kind of stackable thing that they're doing without screws and without so many pieces. You know I'm still considering it, but at least I know that if I want to lower my price to under $30, it's still doable. But I've got to, you know, take down my costs by a couple of dollars. But in the meantime, I just started doing experiments. I was like, let me just lower the price and so you can see. If you look at this product right now on Amazon, I put it down to $33.97 and because it's the lowest price in 30 days I had this nice big red sticker that comes up in the search results and it actually comes up right here on the page. So I'm like, who knows, maybe that will, maybe that will help me out. You know, just a little bit.
Bradley Sutton:
All right, so, as I said, I, ready a couple of months ago, started trying to say, hey, we need to get Emma in here, and let's do some some of the images a little bit different and let's see how it, how it performs. So she came in, she, she gave like you know new title. She had Chevali do some new images here. So Shivali actually took a lot of these images by herself and so we kind of revamped what we were doing here with these images. I actually told Shivali, hey, I need you to change this image. But she didn't do it. I'm gonna have to remind her. Now I'm looking at this. I didn't like this last image because it needs to not get multiple sets to have all the storage like it needs to be. Hey, get more top racks in order to get all the storage you want. So I got to get what Shivali to change that.
Bradley Sutton:
But anyways, Emma went in and did a lot of updating. By the way, I hate this test that amazon is doing right now where they Hide the bullet points. All right, because, like, for example, when I saw that that competitor had Um, you had to like assemble it in order to Make it. I made that my first bullet point. I said no assembly was required, unlike the others. You see out there, this comes ready to use out of the box no screws, no multiple pieces. But of course, after I did that, amazon is like doing this experiment for the last month or so where they're hiding the bullet points, so annoying.
Bradley Sutton:
Anyways, as you can see here, Emma put in some A plus content. We never had a plus content, uh, in the past, and so first thing I wanted to see was wait. First of all, when did I change this Um, and then how were the results? As far as like conversion rate at the very least? So I had forgot when I changed it. So, um, what?
Bradley Sutton:
Let's go ahead and take a look here on my insights dashboard. When you do things to your listing It'll you'll get an alert, but then also I can put my own notes. So I'm pretty sure it was May. Let me just put my mouse over here. All right, view all, and sure enough, all right. Here we go.
Bradley Sutton:
Um, I put an updated Listing and a plus content looks like May 16th. So I put a note here, I uploaded the listing and and did a plus content at that time. All right, all right. So what I'm going to do is I'm going to check what the Conversion rate was like, kind of like the few weeks, or actually a couple months leading up to that. A plus content and listing content change and let's just see how it was after.
Bradley Sutton:
So let's go ahead and hop back into the insights dashboard. As you can see here, I've got for one April 1 to May 15, and of course, you can do this in your Seller central as well, but obviously just easier, do it here in your insights dashboard. You don't have to go into Seller Central or try and Find where it's at. Uh, here's the egg rack, and then I'm here under listing so I can see here All right, we've got a conversion rate of 3%. Okay, unit session percentage of 4%, right. So let's go ahead and take a look at what it was After the change. Let's go ahead and go from like may 18th To the end of june and we're going to look at the same number, looking for the conversion rate for Egg rack, and look at this Wow, 8% almost, and 6% conversion rate. All right, so definite increase. So you, you could see like, hey, maybe the sales would have even been worse if we didn't make that change. We were able to to not quite double, but you know pretty, pretty nicely increase our unit session percentage and conversion rate.
Bradley Sutton:
So now, what else can we do? Because it's probably Not just about the price. Price is probably the big thing. What you want to do, guys, if you have a listing that has lost a lot of sales, is you want to see like, have you lost, you know, keyword rank? So let me first let's go outside of helium 10 and let's hop in a search query performance and see if we can go ahead and do some Diagnostics there. All right, so I just started search query performance here. I'm going to look at ASIN view. All right, let me go ahead and look at my double rack. Here it is.
Bradley Sutton:
And let's go ahead and look at one of the months where we were just kind of crushing it, like like we were doing really well In January of this year, right? So let's take a look at some of the top keywords here and then let's go ahead and open up in another tab this same report and let's take a look, let's see if there's any information for August. You know, August we had probably like only One-third the number of sales. So let's go ahead and compare. Looks like they don't have information for August yet. Uh, here in search query performance. So let's go ahead and look at july. All right, let's compare.
Bradley Sutton:
So in January, uh, the number one keyword for us was egg holder countertop. We got eight sales from it. You know, 48 cart ads. Wow, 48 cart ads. So there's probably even more sales. That happened after there for the egg holder countertop. All right, let's go switch over here to july. An egg holder countertop brought us Zero sales, wow, okay. So where, where in the funnel, did we leave? So this is the beauty of search query performance in In January there was 25,000 searches and we had 13,000 impressions.
Bradley Sutton:
All right, all right, let's go ahead and take a look. All right, July 13,000 search volume, so a lot less search volume, first of all, all right, 25,000 versus 13,000, okay, so search volume, you know, just overall, might be down, but then the impressions was 3,000, all right. So you guys remember we had a Search Query Performance team on this call. What does that mean? If there was 13,000 searches and I only had 3,000 impressions? It means that my organic and sponsored rank most of the time was in the top of the page. So at this point, at this point, what I'm gonna do is I'm gonna go back to Helium 10 and this time I'm gonna open up Keyword Tracker and let's just see what's going on with my keyword ranks for Egg Holder Countertop. All right, so let's go ahead and do that together. All right, so I got Keyword Tracker open. I was tracking all items and the variation here is the Egg Holder Countertop.
Bradley Sutton:
Let's go ahead and look at the history of Egg Holder Countertop for the organic rank and specifically, I wanna take a look at what was going on in most of January, all right. So you could see here in January I was towards the top of the page a lot of time, like in the top 15 results. Look at that Top 15 results almost across the board for organic. Let's take a look at what my sponsor was. Was I even advertising for this keyword at that time? Okay, now I'm looking at sponsored and what. This is kind of weird. So it looks like I've never advertised for this keyword. So that's kind of strange. So, like I definitely wanna check my Adtomic. But that's interesting. That means most of my.
Bradley Sutton:
Let's go ahead and look back at Search Query Performance. Okay, it makes sense. My search volume was 25,000. I only had 13,000 impressions. That was 100% organic. So that right there is like a miss. I don't know what was going on or why I wasn't advertising against my number one keyword. So there's potential right there, where I have a history of converting for this keyword. Maybe I need to start go ahead and put that in my sponsor as a matter of fact. I'm gonna go ahead and do that right now. All right, so here I am in Adtomic. Let's go ahead and open up one of my performance campaigns. That means that's what I put my exact manual. I'm just gonna go ahead and add this as a target. Here we go, let's go ahead and add target and let's enter a new keyword, exact match, and we'll call this egg holder counter top. And there we go. All right, there we go. So we just made one potential move. Again, now it's from search crew performance. So the rest of what I would need to do is I need to go through and take a look at these other keywords that I was getting sales from, like.
Bradley Sutton:
Here's the second one, just an egg holder. I was able to get three orders from back in January. Here I got six orders. From what keyword is this? Wooden egg holder, all right, wooden egg holder got me six purchases and I actually had 184 clicks on 4,000 impressions. So that's pretty impressive.
Bradley Sutton:
Now Wooden egg holder is still my number one keyword. Only 2,000 impressions, 29 clicks. Wow, guys, that is pretty crazy. My click share is only 3%. So I had 29 clicks out of 2,000 search volume or impressions.
Bradley Sutton:
But before egg holder countertop or a wooden egg holder, I had 184 clicks with only double. So that just shows me that's gotta be price, guys. All right, that's the price effect right there, if nobody even clicks it. You know, and I have a similar image that means people are like why am I gonna click on this 33 or $38 product when we've got these $20, $22 ones, all right. So in this case, you know what I already lowered the price of 33. I wanna do a test on if I can go further and I wanna get that. Since I have that lowest price in 30 days, let me double up on the badging and let me go ahead and throw a coupon in there at the same time. So I got that red lowest price in 30 days badge and I've got one of those green coupons, so I'm just gonna go ahead and hop in and throw one of those coupons, all right.
Bradley Sutton:
So for those who haven't done coupons before, you just go to Seller Central. You go to advertising and then hit coupons, all right. And then let's go ahead and create a new coupon, all right. Next step is you're gonna hit, search your catalog and let's go ahead and put the ace in in here. Here's the product. Let's go ahead and select it and hit continue.
Bradley Sutton:
Next step you're gonna do is set the start and conclusion date. Let's go ahead and start this like on September and let's have it run all the way to the end of September. Let's make it a percentage off. I'm just gonna go. Let's go with 10% off, a double-digit number there, limit redemption to one per customer and let me make a just a budget of a hundred bucks on this. Let's just test it out. Next thing you gotta do is you gotta fill out this coupon title and targeting. I'll do that off-camera. Okay, so I got my coupon set up. That's gonna go active in a few days.
Bradley Sutton:
We're gonna come back in October and then take a look at all right, how much did that increase? You know, click-through rate, because I'm never even gonna get to the add to cart, I'm not even gonna get to the purchase If I can't even get them to click the listing in the search results. I might even have to go to a deeper price based on what these competitors are doing. So we just covered search, create performance and how I can go dive in there and look at all the keywords that were working for me before, and then look at all the ones in search, create a performance at least, and then look at all the ones that is happening now. Now, remember I was selling crazy units a day like five 10 units a day. Back in January, if you look at a search create performance report, it only showed like about 15, 20 sales for the entire month. And remember that's because Search Query Performance doesn't cover a lot of the other scenarios of how people purchase.
Bradley Sutton:
So looking at where I was ranking as a whole is important, and let me show you how I can do that. I can look at a holistic look at where I was ranking organically and sponsored and then do that comparison. It's gonna give me a lot more keywords to look at. Let me show you how. So what I wanna do is I wanna go back into my listening. I'm just gonna run Cerebro on my own listening, so I just have to go ahead and hit this keywords button. If I'm in the listening, I scroll down to the Healing 10 Chrome extension here, just hit the keywords button, or I can just enter my ACE into Cerebro and get it All right. Here's all the keywords I'm ranking for now.
Bradley Sutton:
Now, same thing that I was doing in Search Query Performance. I'm actually gonna keep another tab open here and I wanna run another instance of Cerebro, and the reason is is because I'm going to compare what's going on right now to what was going on in January, which was like the most recent killer month that I was having. So how I can do that is when I'm in Cerebro I'm gonna hit this show historical trend button and I'm gonna go ahead and check what was going on in January. You can see I was organically ranking for a decent amount of keywords. Let's go ahead and apply the filters and now let's see what I was ranking Like, let's say, organically, in the top 10. So what I'm looking at now, guys, I'm like taking a time machine. That's why it's called historical trends, but I call this Cerebro time machine because I'm just literally taking a time machine back to January of this year and I'm running Cerebro as if it was still January and let me see where I was ranking on average for that month. So to see what you know decent search form keywords I'm gonna go ahead and enter a minimum of 500 search volume and let's go one to 10 on the organic rank and let's take a look at some of these keywords. And, sure enough, I'm definitely gonna expand it out to more than just one to 10, because I get sales from other parts of the page too.
Bradley Sutton:
But take a look, there are those keywords that were right from search through performance. That's why you know I could have just skipped that search through performance and got the data here as well. But here we got wooden egg holder, egg holder tower top and there are a few other keywords. Now let's actually switch to right now. Let's take a look at where I'm ranking for on some of these keywords. So what I wanna do is I actually wanna check on these top 10 keywords. Where am I ranking now?
Bradley Sutton:
So let me take this a wooden egg holder, for example, keyword and then let's look at Cerebro. What is going on right now for this keyword? All right, so here I just did a filter for a wooden egg holder in July, and look at this my organic rank is 25. So there's there's definite drop in sales. I went from organic rank two, to sponsored rank one, and then now it is sponsored rank five, organic rank 25. So there's a big fail. I need to kind of, you know, improve on what was the highest search volume keyword at the time Egg holder countertop. We already looked at that one. Another one here is a chicken egg holder, all right. So let's look at chicken egg holder and then go ahead and look up where I was ranking in last month for this chicken egg holder organic rank 53, sponsored rank nothing. In other words I wasn't sponsored at all. But back in January, I was organic rank seven, and sponsored rank five. So there's another kind of plus there, guys, where for whatever reason I let some keywords fall off and I'm not even advertising for them anymore.
Bradley Sutton:
Now the interesting thing here is is back in January I was not really getting play for very specific keywords to my product. And when I say very specific, that would mean, like this is a specifically a stackable egg holder or a stackable egg tray or a multi-tier wooden egg tray. You know, those are very specific to what this functionality was. It's interesting because since my product was kind of like the first to this niche, people weren't really searching for those keywords because they didn't even know it existed. But now I bet, if we would look at it, you know, there's some other sellers probably getting some play for those keywords. That that I'm probably not right now, because we almost, like, created a niche. That's why there's so many different coffin shelves and things like that. We were the first to really, you know, go hard with that kind of product and now there's just a million coffin shelves. But anyways, as you can see there, even just comparing myself to myself, I took my foot off the gas off of some keywords for whatever reason, and that definitely, regardless of price, is probably playing a role in my drop in sales.
Bradley Sutton:
Let's now take a look. You know, instead of comparing myself to myself, which is what we're doing in search, career performance, and cerebral, let's compare what's happening now myself, my product, compared to some of those competitors who have overtaken me in sales. Are they getting sales from keywords that maybe I don't even have in my listing? Let's hop in and let me show you how to find that. All right, so I'm here in the search results for stackable egg rack, and now what I want to do is or what you guys want to do, you know, I hope, if you're following along, do this in your own product. What you need to do is go to Amazon and go to the search results of, like your main keyword or main page. You can also do this inside of Helium 10.
Bradley Sutton:
If you're, if you're tracking your competitors, I like doing it from Xray, just because it's a nice visual experience and the first product that you click on in Xray. Now again, I know this is kind of harder for you guys who are driving around or running around or riding a bicycle and trying to picture what I'm doing. Make sure to go to YouTube to watch the version of this episode to really get the full feel. But hopefully, I'm describing this, you know, decent enough for you. All right, so the first thing you want to do, since you're comparing your product versus your competitors, you go into Xray and you choose your product first. So I'm looking for Ghee's Chicken Coop here. It is right here.
Bradley Sutton:
And then now you pick like four or five of who are the best sellers right now. And you know, sometimes I sort it by sales. This category sometimes trips out and, and you know people switch categories. So I'm actually going to sort it by BSR and let me pick the closest ones to my product that have the lowest BSR, the ones that have a better BSR than me, meaning that at least for the last few hours or today, they were selling better.
Bradley Sutton:
And here's that number one product, kinglin. Here they're the ones I want A hot look at. This Kinglin product has sales of 666. You see, I knew there was something. There was something weird going on with this product why he could sell so much. You know, deal with the devil. I see how it goes, okay?
Bradley Sutton:
Anyways, seriously speaking, though, let's go ahead and select him. We definitely want to know what keywords he's doing, and I'm only choosing the products that are very similar in function to my products, like here's a quail pigeon egg holder. You know, mine is not for quail pigeons, so I'm not going to pick that one. All right, there we go. I was able to pick a few products, and now we're just going to go ahead and run Cerebro.
Bradley Sutton:
Now, the first thing that you want to do is you want to see if are there keywords that they're getting sales from that I am not even ranking for, let alone not on page one. For all right, let me show you how to do that. I have their products compared to mine. I'm going to say position rank that's my, my product zero, minimum, zero, maximum. All right, I'm going to go ahead and put a minimum search volume of 300. And then the next thing I'm going to do is I am going to do advanced rank filter minimum one. All right. Advanced rank filter number one, minimum one. That means I'm looking for a keyword that at least one of the these other competitors is ranking in the top 10 that I am not ranking for at all. And to do that, I go to advanced rank filter, number two, and I put minimum one, maximum 10. All right, there you go. I mean, as a goal, you want no keywords to come up here, and sure enough, there are no keywords that came up for mine, thank goodness, all right. So that means that hope you guys understood what I just did. I was checking are there any keywords that I am not ranked for at all but at least one of my competitors is in the top 10? The answer to that is no. You guys want that to be no as well for yourselves, all right. Step two All right, I know there's not one that I'm not ranking on, but what? Are there any keywords where I'm ranking like between like 15 and 306, but at least one of my competitors is ranked in the top 10.? And I would assume that there's a number of them. And sure enough, look at all these keywords here. All right, so wooden egg holder is one.
Bradley Sutton:
Let's take a look at what's going on here. Wow, look at this. There are a couple competitors ranked for and ranked five, and yet my position is 25. So there's a keyword that potentially I can try and increase on my sponsored rank to get some, you know, to start competing with those other two products. Here's another keyword here. Look at this, this counter egg storage. You've got one competitor at position seven, another one in the first 20, but or two more in the top 20 organic positions. And me, where am I ranked? 91. There are a total of 50, 17, sorry, 17 keywords on this list or at least one of my competitors is most likely getting sales from because they're in the top 10 positions in the organic results. And yet I'm like anywhere from 25, and here's one keyword that's, I'm all the way at 220. So there still is some low-hanging fruit. So there's a lot more stuff I'm going to go into.
Bradley Sutton:
I'm going to go look at my Adtomic. If you guys don't use Adtomic, you're not going to be able to do what I do, because I'm going to be able to go in and look at my history on what keywords I was crushing it on back in January and February and see what's going on with those keywords Now, like, did I accidentally pause it? Or did one of the healing 10 employees who keeps screwing with my account because they're trying to run test, accidentally archive something. The reason I say if you don't have Adtomic, you can't do that is the only way you would be able to look at that is if you were downloading your search term reports from Amazon during that time because Amazon only lets you see I think it's like two or three months worth of data, and that was January February. With Adtomic I can go back like two years, so I have no problem. So that's my next step.
Bradley Sutton:
I'm going to do I already did, you know some listing optimization, but I'm also going to do some next level list optimization. Once I take a look at all these keywords and look at the keywords I'm not doing great in, I'm going to check in Listening Builder. Do I have them in phrase form? Or maybe that's why I'm not doing so great for it is because I'm just indexed for it, but I don't have the full phrase in there and that will help. That could help my relevancy. So I'm definitely going to optimize that.
Bradley Sutton:
I told you I'm going to go into those images and I need to kind of like make people understand that they can buy extra racks, to kind of like stack it up. That's another thing I'm going to do. Another thing I'm probably going to do is I'm probably going to go to azrank.com and do some customer testing, like have some customers search for some of these keywords and then let them give me a report on what they think of my listing versus these other ones and which ones, like, would they pick first, second and third, and which one last and then, and then I might get some insights there from, like, real customers on. Is it really just the price that people are kind of tripping on? I'm going to go ahead and hop in and use Helium 10 Audience, which is powered by pick food.
Bradley Sutton:
I'm going to run some split tests. You know, like I just told you that we changed the images right, but was that the right move? I'm going to? I think that the A plus content definitely was the right move because you know it helped our conversion rate, but that main image we actually didn't change. So I'm going to check. Did they take any more pictures that maybe I could split test on? I might not want to split test this on a live listing because you know it could hurt my conversion rate, but let me go ahead and run a Helium 10 audience so that I can, you know, pull 50 Amazon buyers and then see, see what they think.
Bradley Sutton:
And then, like I said, for my next order, I got to get a price that's at least like 20% cheaper, if I can, from my factory, and I might even look into changing a little bit of the dimensions. Actually, matter of fact, you know what this is important. So let's go ahead and hop in here and see what we can do. Let me show you something cool, alright, so let's just go hop into my listing and let me show you how I can kind of like play around with the pricing here. Let's go ahead and run the profitability calculator once it comes up and let's see if I can like maybe shave a couple of inches off of this. What might happen? Let's take a look. Alright, so if I can get my manufacturing cost down to like $6, and still with a 10% ACoS, and if my price I want to put this at like $28 more or less, what would happen if I can shave just maybe an inch off of the length?
Bradley Sutton:
So let's go 14.12. It was at 17% profit. That brings me to 18% profit, so not much. What about this width? Let's bring this down to seven. Wait a minute. Wow, did you guys just see that? I just took the other width or the height, from 7.28 inches. I just took off a quarter of an inch and it increased my margin by over 4%. That's kind of crazy. Let's try that again 7.28. Yeah, it was 18%, large standard size, but then I take it down to seven and it drops me under three pounds outbound shipping weight. So that might be an easier win to just shave off a quarter of an inch from the height and I get 4 percentage points back on my profit margins.
Bradley Sutton:
Now, that is definitely doable. You see, you see guys, like, like how you just got to like, dive in there and start playing with this. You never know what might happen. I think it's because I was right on the cusp of that dimensional weight for three pounds and it put me at 2.99 pounds just by changing 0.28 of an inch. On one side of the product, I say 4 percentage points.
Bradley Sutton:
So these are the kind of things that you guys need to do and at the end of the day, let's just say I do all of this stuff and I start losing money on PPC because I have to spend so much and I just can't, I can't compete, I can't stay profitable. Yeah, you got to be able to pull the plug. You shouldn't have complete emotional connections to your products, guys. You got to be able to pull the plug sometimes. But, anyways, these are the steps I want you guys to take.
Bradley Sutton:
If you have a product that's been out for a couple of years and you're like man, can it be revitalized? Don't just give up without even trying these things. There are things that you can do to maybe get some traction back. So again, this is one of the Project X products. We're going to have some more Project X episodes coming out on some of the products you know and some of the launches of some brand-new projects. These are brand new products that we've been doing in our Project X that you guys haven't even heard about yet. So look forward to that in the next episode. I'll see you guys there.
---
Enjoy this episode? Be sure to check out our previous episodes for even more content to propel you to Amazon FBA Seller success! And don't forget to "Like" our Facebook page and subscribe to the podcast on iTunes, Spotify, or wherever you listen to our podcast.
Get snippets from all episodes by following us on Instagram at @SeriousSellersPodcast
Want to absolutely start crushing it on Amazon? Here are few carefully curated resources to get you started:
Achieve More Results in Less Time
Accelerate the Growth of Your Business, Brand or Agency
Maximize your results and drive success faster with Helium 10's full suite of Amazon and Walmart solutions.